10 Impressions from a Walt Disney World-Loving Newbie to Disneyland
I'm back from the Happiest Place on Earth, and if you read my blog post last week, then you know that I took a Newbie with me!  So you won't get tired of reading the word "newbie" over and over, and I won't get tired of spell check hating that word, we'll call her by her first name which is Missy.  Missy has actually been to Disneyland, but the last time she went she was 7 and it was more than 25 years ago.  Disneyland has changed crazy amounts in the past year alone, not to mention the past 25!  I was so excited to see what she thought about it all and told her I was going to be taking notes on her thoughts and comments in a very normal research kind of non-stalkerish way.  I will say I was amazed at how vivid some of her memories were from her trip so long ago.  She remembered going through the Matterhorn on the skyway, she remembered the Submarine Voyage, Mr. Toad's Wild Ride and a few other things.  But much of it was completely new territory.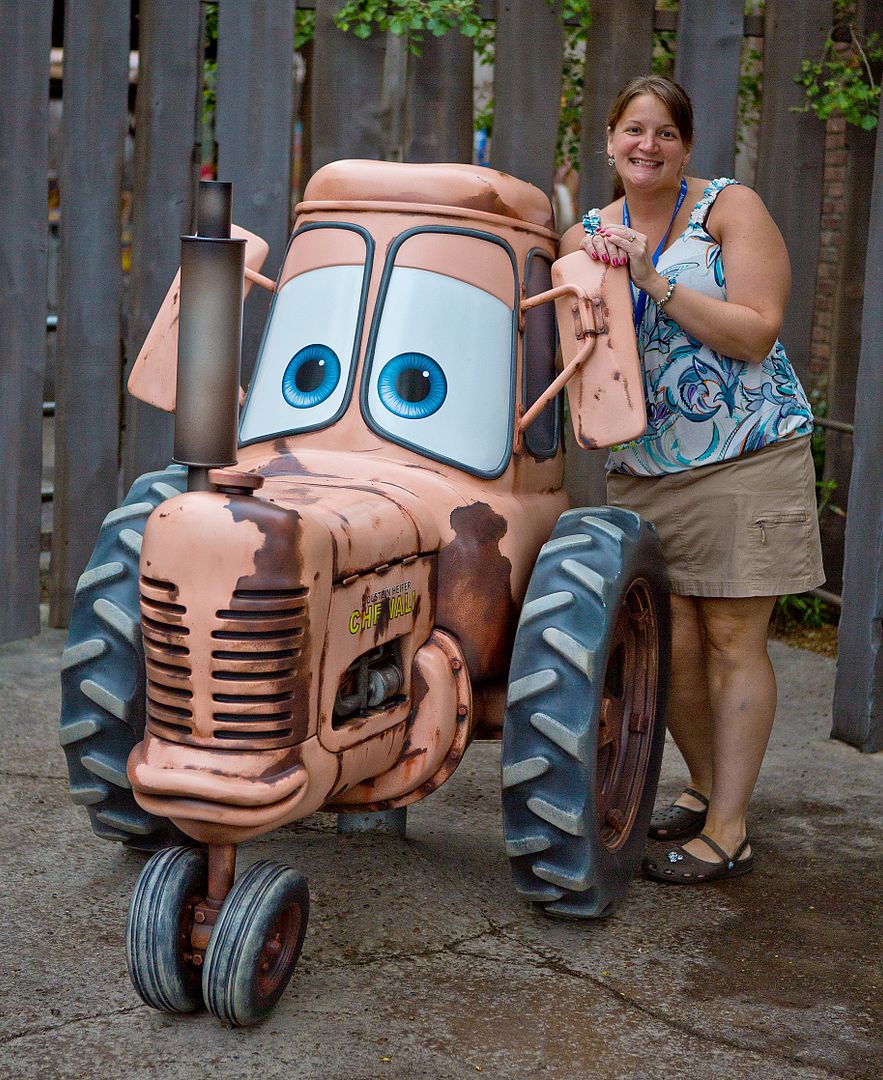 Missy is an AP holder and frequent visitor to Walt Disney World.  So she naturally spent a lot of time comparing the two.  How did Disneyland hold up?  Read on to find out some differences that stood out to her!
1. Disney's Grand Californian Hotel and Spa vs. Disneyland Hotel – We stayed three nights at the Grand Californian and one at the Disneyland Hotel.  Since I manage to put in a plug for the Grand Californian in about 90% of my blog posts, no one is surprised that the Grand Californian remains my favorite.  Missy's choice?  The Disneyland Hotel!  I know!  I can't believe it!  Now to be fair, we had an awesome, oversized room with a gorgeous view of Downtown Disney over at the Disneyland Hotel.  At the Grand Californian, we were in a standard room over by the Disney Vacation Club villas and it was a decent walk from the main area, so that probably influenced her.  I will also say that while I love the elegance and richness of the Grand Californian, the floor to ceiling windows in our bright and airy room at the Disneyland Hotel were an appealing change.  Of course, the amazing mahogany with the inlaid light up fireworks didn't hurt either!
2. The Proximity of Everything – Anyone who has ever visited Disney World before they visited Disneyland knows that the closeness of everything is the biggest difference between the two.  Missy was no exception.  Every time we walked out the front entrance of either park and right into the other park, she said something along the lines of – "This is so weird."  I think she meant that in a good way for Disneyland.  In fact one night when I complained that I had forgotten something at the World of Disney  store and had to walk back there from the Disneyland Hotel, she about slapped me upside my head.  She didn't, but I'm pretty sure she thought about it.  Instead she reminded me if we were at Disney World it could have been much much worse!!


3. Temporary Set Ups – Missy did not care for the temporary set ups of some things.  At Disney World when you go through the bag checks, for example, they look like they were meant to be there.  At Disney California Adventure, when you enter through the Grand Californian, there are a couple of folding tables set up to lay your bag on.  The same with the bag checks outside the Esplanade.  I hadn't thought about it before but she's right.  The folding tables look cheap and hastily thrown up.  Not a huge complaint obviously, but a valid one.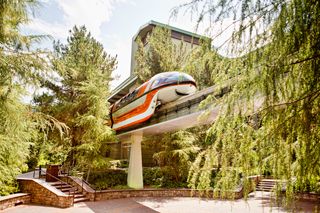 4. Differences are Disorienting – Missy did find the differences between the two resorts very disorienting.  Even in Disneyland where the similarities to Disney World's Magic Kingdom are striking, the differences can be big as well.  Even though Star Tours: The Adventure Continues fits in perfectly with the Tomorrowland theme at Disneyland, it's a little strange for a Disney World vet to see it there.  And why is Pirates of the Caribbean practically right next to Haunted Mansion and Splash Mountain at Disneyland?  Also, at Disneyland, the castle (lovely though it is) can't be used as a reference point like it is at Magic Kingdom.  If you get turned around at Magic Kingdom in Florida, just look for the castle spires and you can work your way back to the center of the park.  At Disneyland, the castle is so much smaller that it's kind of hard to do.  So poor Missy kept getting lost!  And I don't think she liked that!
5. Rides that Are on Both Coasts – Some rides are on both coasts and were easy to compare.  Missy loved Soarin' over California – in California.  I think she thought I was trying to serve her more Disneyland Kool-Aid when I told her it's better at Disneyland because it feels right.  After we got off, she agreed!  She loved seeing Disneyland's Main Street,  U.S.A. and Sleeping Beauty Castle at the end knowing she was actually near them both.  Also, after we got off Space Mountain, Missy had a good quote.  She said – "Disneyland crams a ton of stuff into a tiny space and Space Mountain is no exception."  I thought that was very well said.  Space Mountain at Disneyland is smoother, has more comfortable seating, and more, but the inside of the building feels much smaller.  The ride itself however is two minutes longer than it's Disney World counterpart!  Missy liked the The Twilight Zone Tower of Terror too.  At Disney World she's ridden over and over again and knows right when those drops start.  At Disney California Adventure, she had no idea when to prepare herself and she loved the anticipation.
6. "New to Her" Attractions – Of course, there were attractions she'd never ridden before too.  When our car at the Indiana Jones Adventure came to a stop she declared it was "Fantastic!!" She said the Matterhorn was fun, although a little jerky, and it wasn't crazy fast and jerky which would have been too much.  California Screamin' got two, slightly nauseated, thumbs up.  The Zoetrope got a full out open mouthed "Wow." And the Genie in Disney's Aladdin – A Musical Spectacular, with his very timely Snooki's baby joke, was also the subject of many compliments.
7. Hated Not Having Disney's Magical Express – Missy absolutely hated having to lug her bags around the airport and hotels.  I don't think she even would have minded paying for the transfers if they just would have retrieved her luggage for her like they do in Florida if you are taking Magical Express.  I have always found the Disney World commercial where it asks "What are you looking forward to the most?" a funny commercial because one of the answers to the question is "bags that magically appear in your room".  I've always thought, "Really? Out of all the things at Disney World you're excited about luggage?"  Well, apparently that is a big deal!  Let's just say that standing in baggage claim and then dragging bags out to the curb where she had to decide which bus was the correct one and wonder if she was standing in the correct place, wasn't the most magical way to start a vacation.
8. Cars Land – Not surprisingly, Missy absolutely loved Cars Land.  Of course she did.  How could she not?  It's a masterpiece.
9. No Smells – Missy thought Disneyland was lacking a distinctive smell.  She insists that at Disney World there are certain smells that instantly define where she is.  The hibiscus (?) smells at the Disney's Polynesian Resort, the floral smell in the Disney's Beach Club Resort, things like that.  She was even missing the (manufactured) bakery smell outside the bakery.  I'll admit, I've got a bad sniffer, so I've never noticed either way.  The predominant smell of both for me is popcorn!  And I've got no complaints about that.
10. Longer Trip – Coming all the way from the East Coast where Missy lives is hard on the system.  Missy felt like if you were going to be on a plane for 6 + hours and you were going to really adjust to the 3-hour time change, you really needed more time than 4 nights.  In fact, she thought the next time she came, she'd combine a Disneyland vacation with some other local options like the beach, the San Diego Zoo, Legoland, etc.  Or how about stopping at Disneyland for a few days on your way to Aulani in Hawaii?  That sounds like a winner to me!
So what do you think?  Do you agree with Missy's observations?  Are there more that you would add yourself?