10 Frequently Asked Questions about Disney's Armed Forces Salute
Disney is, once again, saluting our Armed Forces, so to speak! Yay, Disney! Let me begin this blog post with a heartfelt thank you from me to Disney on behalf of our military personnel and their families. As a military spouse for 24 years now (and a military brat* before that), I understand the personal sacrifices that are made each and every day by Service members and their families, and it is awesome to know that Disney recognizes it, as well. So, let me give a big ol' "SAA-LUTE!!" right back at Disney (rare "Hee Haw" reference right there for those old enough to remember).
Disney has sold slightly discounted (in the neighborhood of 5%) tickets for the Armed Forces at military bases for many years. The last several years there has been an additional discount for military, but with many more restrictions and much bigger savings. Once called the Armed Forces Salute, the last couple of years Disney hasn't really made a point of calling it anything other than a military discount. Because those slightly discounted military tickets are still sold, I'll call the newer/bigger discount the Armed Forces Salute to differentiate it from the older/smaller discount.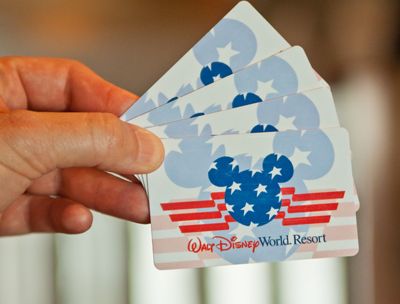 For what should be a pretty straightforward offer, the Armed Forces Salute can be a bit confusing. To be fair, the military has lots of categories of military personnel (active duty, Reserve, National Guard, retired, separated, Allied military assigned to the US, etc.), so it's no surprise there are lots of nuances to Disney's Armed Forces Salute. It seems like every time it's announced, there are small details and restrictions that have changed and need clarification. So let me see if I can help clear some things up!
1. Who is Eligible? – The first question you will probably ask is, "Am I (or a family member) eligible?" Eligibility has changed over the years and actually seems clearer now. Any active duty or retired Service member, National Guardsman, Reservist, or Coast Guard is eligible (yep, Coasties may not be in the Department of Defense, but they are one of the five US Armed Forces alongside the Army, Navy, Air Force, and Marines). Foreign military assigned to US military bases (with a US ID card) in the United States are eligible, as are 100% disabled members with an ID card that says "DAV/PRIM," and Medal of Honor recipients. If the eligible member is not present, his or her spouse is eligible. That's it, though. No matter how deserving some others are, Disney did not choose to include those groups within this promotion. But, even within these rules there are complicated situations, so call Disney (or ask in the comments section below) if you still have questions.
2. What Are the Dates? – The current Armed Forces Salute will end on September 28, 2013. Tickets must be purchased by September 25, and those tickets will expire on the September 28 whether they have been fully used or not. Next year's promotion has also been announced; it begins September 29, 2013, and ends on September 27, 2014. There are blackout dates for both promotions, however. Last year's blackout dates have passed, so next year's blackout dates are as follows: all of Walt Disney World has blackout dates on December 20-31 and April 13-20 (and, just to be confusing, July 4 is blacked out just at Magic Kingdom). Disneyland has blackout dates on December 19-31, April 13-20, and July 4.
3. Where Can I Buy Tickets? – The first place I would suggest buying tickets is your local MWR (Morale, Welfare, and Recreation) on base. The reason I suggest buying them there is two-fold. First, you will not pay sales tax (which can add up quickly). Second, some bases actually sell tickets for a few dollars less than the advertised price. We actually saved more than $25 a ticket buying them on base last year. It's a mystery why some bases do this. If you can't get them on base and really want to save sales tax, Shades of Green at Disney World is another option. My caution here is that the lines at Shades of Green can be insane at certain times of day. If you happen to be staying at Shades of Green, you can pre-order your tickets and avoid the line, which is awesome. If you don't buy your tickets on base, the most convenient option is to buy the tickets at Disney. You can get them at Guest Services in Downtown Disney at Disney World, and at any ticket window at Disney World or Disneyland. FYI, at Disneyland there are reports that Disney does not seem to be charging tax at the ticket windows.
4. How Many Tickets Can an Eligible Member Buy? – Each eligible member can buy 6 tickets at Disney World and 6 tickets at Disneyland during each promotion's time period. If a member cannot be present, the member's spouse can buy 6 tickets, but the Service member cannot return and buy a seventh ticket later. Each eligible member OR his or her spouse can get 6. The spouse must have an ID card stating he or she is a spouse. If the member's immediate family is larger than 7, Disney will allow the member to buy more. Immediate family includes the spouse and dependent children – not nieces, nephews, grandparents, etc. Some military bases are not familiar with this exception, so this may have to be done in person at Disney.
5. What Do the Disney World Tickets Include and How Much are They? – The Disney World tickets are 4-day tickets. The discount is significant; they're a little under half the price of a similar full-price ticket. Each ticket comes with either the Park Hopper option or the Water Park Fun & More option. The tickets that expire in September of 2013 cost $156 without tax (regular price is about $359). You can get a ticket with both the Park Hopper and Water Park Fun & More options for $184 without tax (as compared to $386 regularly). Next year's tickets cost $169 without tax, and a ticket with both options is $198. These tickets are not like typical Disney tickets in that they do not expire 14 days after the first use. They expire at the end of the promotion period they were purchased for. You can use 2 days now and 2 days a month later if you like.
6. What Do the Disneyland Tickets Include and How Much are They? – At Disneyland, there are no choices regarding which ticket you want to buy using the Armed Forces Salute. There's just one option, and it's a 3-day park hopper ticket for $125 without tax for this year's promotion ending in September, and $129 for next year's tickets. Tickets purchased for the current promotion expire on September 28 of this year, not 13 days after the first use. Tickets purchased for next year's promotion expire September 27, 2014, not 13 days after the first use. The current regular price for a 3-day Park Hopper is $260, so this is a significant discount.
7. What is Activation and How Does it Work? – If you purchase the tickets on base or at Shades of Green, they must still be activated. Being activated just means that Disney will gather information about everyone that will be using the tickets. Everyone needs to be there for activation. If you buy them at Disney, they are activated when you buy them, and everyone needs to be there for that. You do not have to use them the day they are activated. To save yourself long lines in the morning, you may want to activate them the night before you use them. At Disney World, once the tickets are activated everyone can split up. At Disneyland, the eligible member must enter the park with the group using the tickets every time.
8. What if I Need More Tickets or Longer Tickets? – If your trip is longer than 4 days at Disney World and 3 days at Disneyland, you have a few options. At Disney World you could add the Water Park Fun & More Option to your ticket. You will get 4 entries into one of the two Disney water parks, DisneyQuest, ESPN Wide World of Sports (with 30 minutes of gameplay at PlayStation Pavilion), a round of mini golf before 4:00 at one of the two Disney mini golf courses, or a round of golf at Oak Trail. These entries do not have to be used the same day you enter a theme park. You can essentially make your 4-day ticket an 8-day ticket by using them on different days. For instance you could go to Magic Kingdom one day, Typhoon Lagoon the next, Epcot the next, Blizzard Beach the next, and so on until 8 entries are gone. If you leave Typhoon Lagoon during the day and come back later the same day, that will only count as one entry. For clarification – if you leave Typhoon Lagoon during the day and go back to Blizzard Beach later that same day, that will count as two entries. Another option if you don't have very many people in your group is to use two sets of the 6 tickets you are allotted. The savings are not huge on this option, though. Compare prices of the ticket you want (with all add on options and tax taken into consideration) with the cost of two military tickets. Your last option is just to go to a military base or Shades of Green and purchase the slightly discounted multi-day tickets that are always available.
9. Are There Any Room Discounts Available? – Yes there are! The Armed Forces Salute room discounts at Disney World and Disneyland are great. Each eligible member can reserve up to 3 rooms at once. Each member can do this as many times as he or she likes; there is no limit. At Disney World, the discounts range from 30-40%. At Disneyland, the discounts are up to 40%. The blackout dates for room discounts at Disney World and Disneyland are November 28-30, December 23-31, and April 14-19. A Disney Dining Plan can be added to a military discounted room, as well, but the Dining Plans are not discounted .
10. Are There Any Disney Cruise Discounts? – There are not any standard cruise discounts included with the Armed Forces Salute. Disney does offer military discounts for cruises from time to time, though they tend to be off-season and are not usually announced until 30-60 days before sail dates. The eligible group of people is expanded for these discounts to include Department of Defense civilian personnel. To learn about these, figuratively keep your ears to the ground on the Internet.
So do you have any questions about the Armed Forces Salute? Do you have any experiences with it that you'd like to share? For an excellent overview of military discounts related to Disney, don't miss this website by Steve Bell.
*In case you didn't know, "military brat" is a term of endearment among those of us who grew up in military families. It's not an insult, but a badge of distinction we are proud of!