3 Things a Parent Needs to Know about Peter Pan's Flight
In the first of our series, we're covering what parents need to know about attractions that they may want to take their young kids on. First up, three things parents need to know about Peter Pan's Flight in Fantasyland at Magic Kingdom.
1. Queue and Loading Experience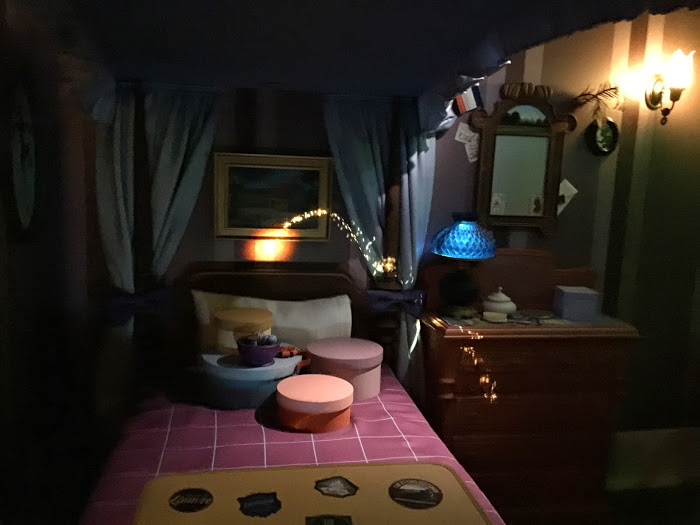 Because this is a slow-loading ride with very low capacity, wait times for this attraction can get lengthy. Way back in the day, the queue was just a series of narrow switchbacks with nothing to see or do. With wait times frequently going over 1 hour, this was certainly not a magical moment for many families! Within the past few years, a new interactive queue experience was designed, thankfully indoors in air conditioning, with lots to see as you prepare to board the ride.
When you get up to the loading area, your pirate ship ride vehicle will be moving at the same speed as a moving platform. Although most children have no problem climbing on, remember to hold their hand and, if necessary, give them a nudge to help them load and be seated on the ride vehicle quickly.
2. Some Children May Find It a Bit Scary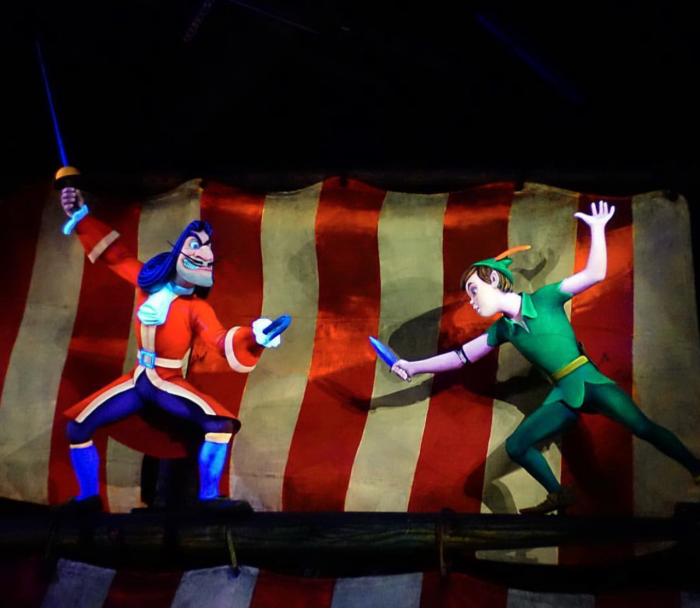 Although this ride is perfect for guests of all ages — my daughter went on it first when she was in a chest carrier at age 6 months — there are a few things to be aware of for young kids. First, it is a classic dark ride, and although there are no instances where you'll be completely in the dark, young children may need reassurance about that. Second, there are a couple instances where the ride vehicles "dip" along the track. It isn't a drop, but if you have a child who is afraid of falling, you may want to be prepared to reassure them that it is okay. In one particular scene, a dip is accompanied by a cannonball being fired in your direction. It's not as in-your-face as you'd find at Pirates of the Caribbean, but something worth noting. Third, although there's no scary scenes that will traumatize children for life (like the former Fantasyland attractions like Mr. Toad and Snow White's Scary Adventures, which have left marks upon my psyche!), the larger-than-life day glow characters, including Capt. Hook, pirates, and the giant crocodile might make a young child nervous.
3. It's a Long Wait for a Short Ride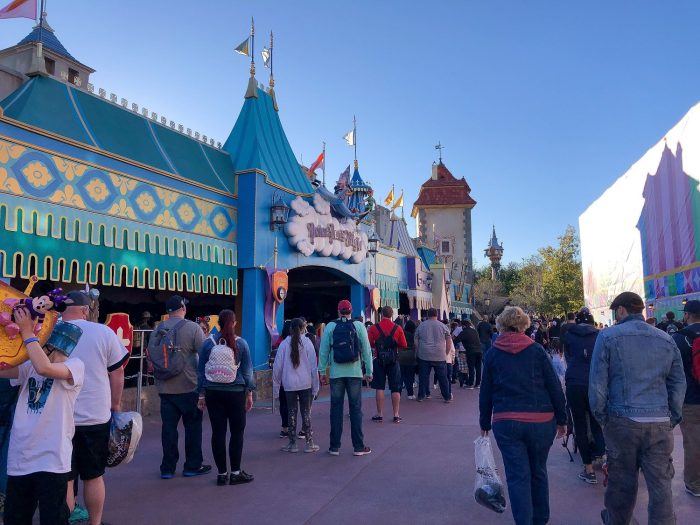 Overall, most kids love this attraction — it is rated 4.4 out of 5 for preschoolers and 4.2 out of 5 for grade schoolers in our Lines app. If you have a child who doesn't like it, the ride is over in the blink of an eye with a ride time of around 2 minutes. On the other hand, if you have a child who loves it and gets off with the desire to do it again, wait times for this slow-loading attraction can be long. Remind your child that there are other exciting things to see and do — or check our recommendations in the TouringPlans Lines app for the best time to ride with the shortest wait. Oh, and always remember to visit the nearby Tangled-themed restrooms before getting in the line!
Have any other tips for parents about Peter Pan's Flight? Let us know in the comments.