Best Bets at EPCOT's Festival of the Holidays 2022
If you've been following our Festival coverage then you've already seen our recommendations for the best way to spend $50 at this year's Festival of the Holidays. But what if you don't have a limit? What if you're laser-focused on seafood, or have picky eaters? Then this is the post for you.
We'll run down the best dishes in each category, as well as the best drinks and a review of everything on the Cookie Stroll. If you don't have time to read all the way through, use the links below to jump to individual sections.
Best 3: Meat | Seafood | Plant-Based/Gluten-Friendly | for Picky Eaters
Dishes You Should Really Skip
Best 5 Drinks
Cookie Stroll Review
Top 3 Meat Dishes
Beef and Noodle Soup Bowl from Shanghai Holiday Kitchen, $9.25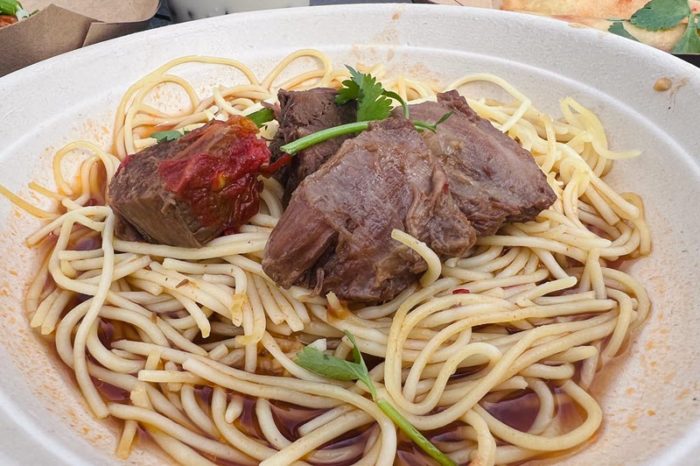 We've tried this 3 times just to be totally sure. The beef is tender and delicious. The noodles are perfectly al dente and there are lots of them. The broth is so flavorful and lovely- that tiny spoon won't be enough so just go on and turn up the bowl after you eat the noodles and beef. We won't judge, 'cause we will probably be right next to you wearing our soup, too.
Don't be afraid of the "Chili Oil" in the description; this is very mild and would be perfect for spice weenies. Dare we say this may even be good for picky eaters? No totally outrageous or unusual flavors – just good ones.
Pork Schnitzel from Bavaria Holiday Kitchen, $6.50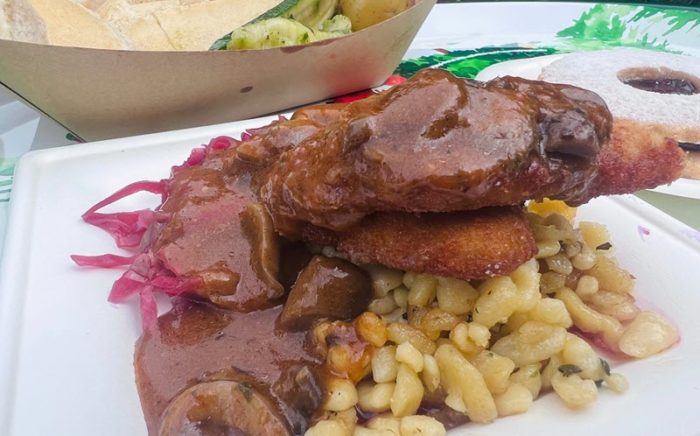 This is such a good value (at least in Disney terms) and it's so tasty! The wine reduction in this sauce is sweet and tart and the cabbage is cooked down and wonderful. If you have picky folks, you can ask for no sauce.
Slow-roasted Turkey from American Holiday Table, $6.00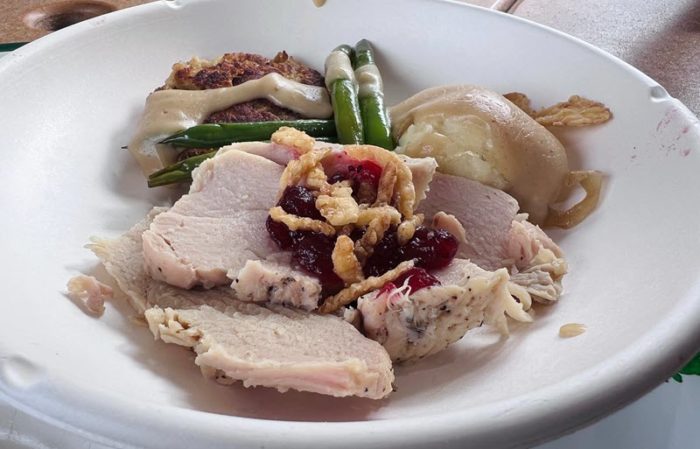 Another great value and every single thing on this plate is familiar and safe from spice. It's all put together after you order so if you don't want the cranberry sauce or the french fried onions, just let them know! This isn't the snazziest dish at the festival but it's a good representation of what it is – and you don't have to make the turkey yourself in order to feel like you're having a holiday meal.
Top 3 Seafood Dishes
Blackened Catfish from American Holiday Table, $6.50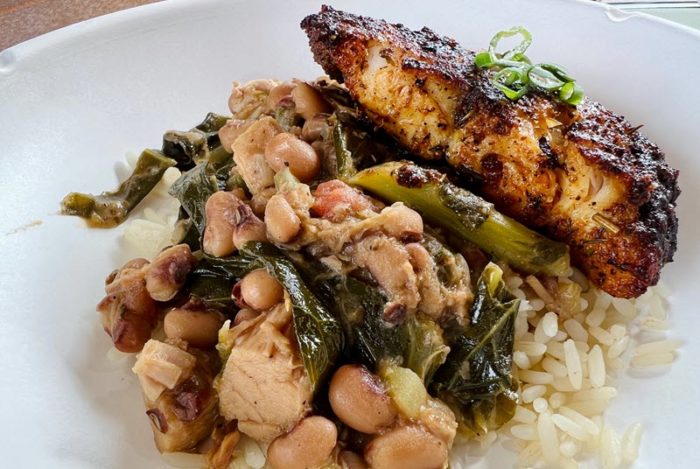 Look at America with two dishes on our Best Bets! The last few Festivals have been so disappointing for this country. No more! The buttery fish has a thick blackened seasoning that keeps it perfectly flaky and fabulous. The Hoppin' John and Comeback Sauce are part of this giant portion.
New Year Celebration Soba, Shi Wasu Holiday Kitchen, $8.50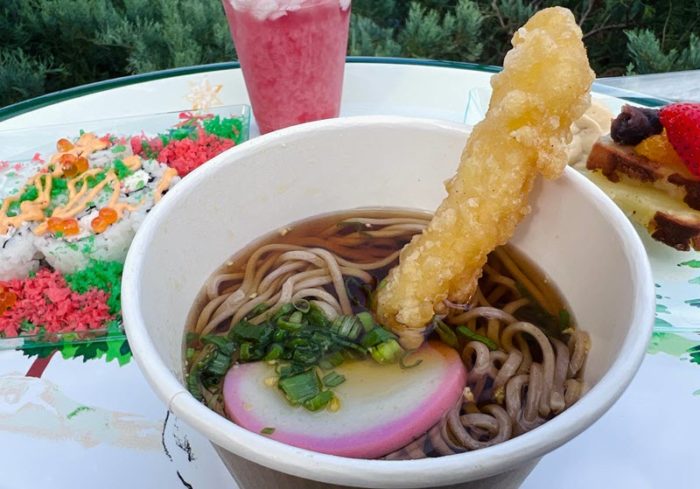 So this is maybe on the pricey end but prices went up for almost every returning item. This one, however, is still on our favorites list. The noodles are outstanding and the shrimp tempura is great, BUT THE DASHI! It was 86 degrees out and humid as could be and we were downing this broth like we hadn't already consumed 48 plates and 6,000 calories. It is splendid!
Seared Scallops from Yukon Holiday Kitchen, $6.75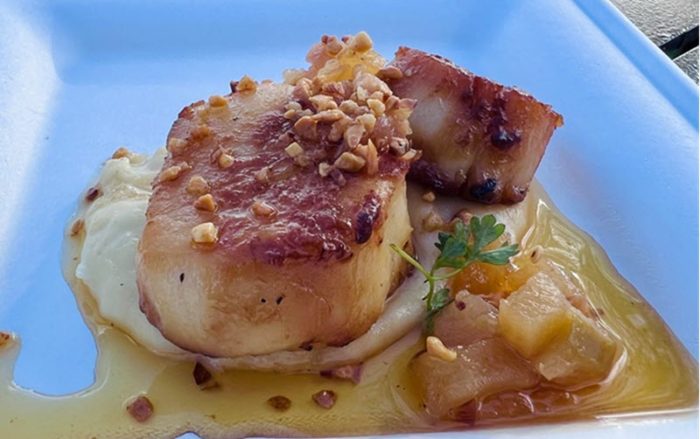 Yes. There are two scallops and that means they're almost $3.40 each, but hear me out. They're amazing. The Parsnip silk (which is what I am now calling anything mashed henceforth) is just beautiful and the apple chutney is sweet and makes you feel like you should be wrapped in a buffalo plaid pashmina just after a good run on the slopes. The scallops are cooked just right – or they were the two times we have tried this.
One word of caution – if you come during a slow period and you see the scallops under a heat lamp, you MUST ask kindly if you can wait for fresh ones. Trust us. This is easier than getting rubber scallops and being mad. The Cast Members are very kind and will be happy to make sure you like your food.
Top 3 Plant-Based and/or Gluten Friendly Dishes
Peanut Stew from Refreshment Outpost, $5.25🌱🇬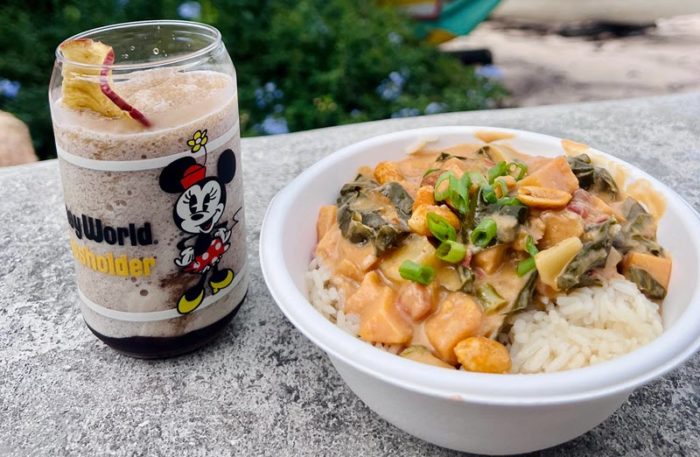 Plant-Based and Gluten-Friendly! This is our most favorite dish of the festival, I LOVED this! It's warm and spicy and more than enough for two or three people to share – especially if you're eating at other kitchens. The sweet potatoes ease the fire and the mustard greens are salty and go so well with the crunchy peanuts. Annual Passholders shouldn't skip the Cinnamon Frozen Coca-Cola for $5.25 – the two together are perfection.
Potato Latkes from L'Chaim! Holiday Kitchen, $4.25🌱🇬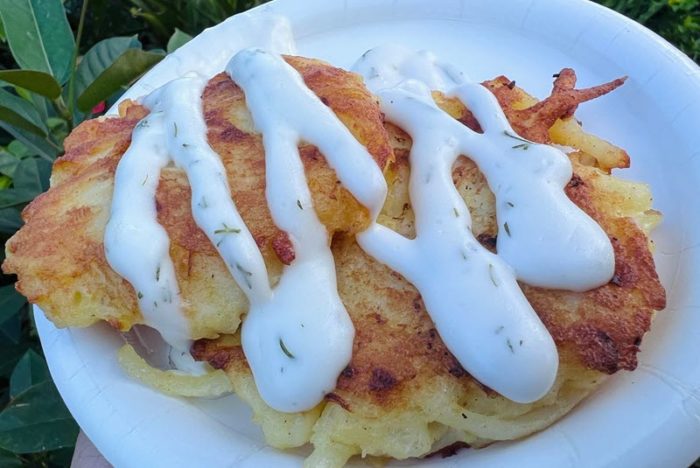 Honestly, who can find fault with this? Fried potatoes and dill sauce for under $5?!? Not me. Plus, it's plant-based and gluten-friendly so it's basically health food. At the very least it's the ultimate comfort food and it's super easy on the budget.
Giant Tostada de Barbacoa from Las Posadas Holiday Kitchen, $10.50 🇬
This is pricey but Gluten-Friendly and a plate full of spicy, meaty joy. This might be too spicy for little ones, but we didn't want to share anyway.
Top 3 Festival Dishes for Picky Eaters
Cheese Fondue from Bavaria Holiday Kitchen, $8.25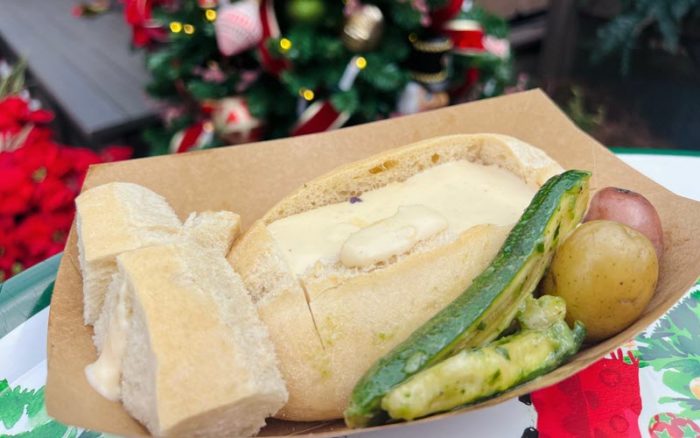 If eating a loaf of bread stuffed with the most beautiful, hot cheese is wrong, then … you know the rest. It's so warm that it's going to wobble a bit as you walk away. (Don't we all?)
This is the dish I always make sure to get when I bring family to the festival; adventurous and picky eaters alike will bond over this bowl of delightful cheese.  Call dibs on the bottom of the bread while you're walking up, 'cause you don't want to wait until everyone sees how gorgeous this dish is. Oh, and there are vegetables or whatever.
Chicken Skewer from Shanghai Holiday Kitchen, $6.75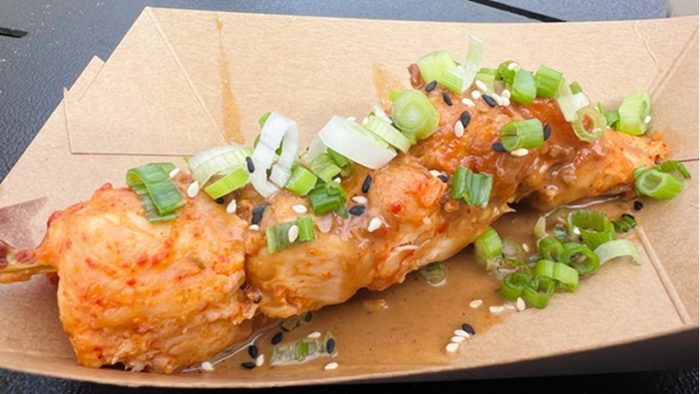 The peanut sauce has a very mellow barely-there heat, and lots of flavor. The green onions and sesame seeds add texture and crunch. But if you like you can ask for everything to be left off (or the sauce on the side so you can try without commitment) and you'll be left with an inoffensive chicken kebab.
Slow-roasted Turkey from American Holiday Table, $6.00
Yes, it's the turkey again. This wins its place on a second list by being so familiar, and adaptable to leave off anything you might not want.
Smart Skips
Salmone alla Siciliana, Tuscany, $8.50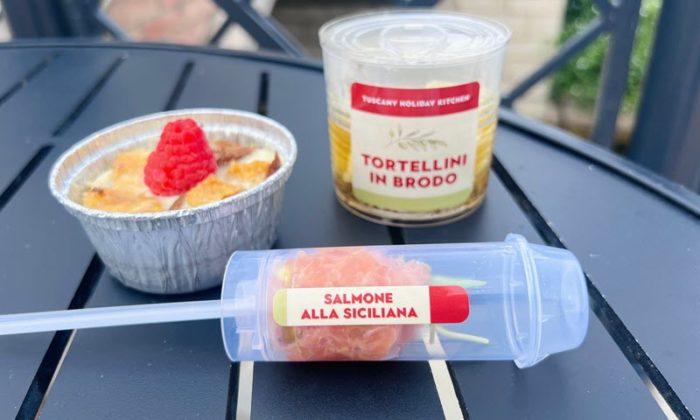 What in the name of seafood abominations is this? We have few statements and more questions. Was this aimed at torturing those determined to eat the whole Festival? Was someone drunk? Is this the result of a lost bet? What is the approval chain for this? Summary – we have forced some of our (former?) friends to try this with us and the response always involves them spitting it back into a napkin and then some cussing. The amount of "no" on this cannot be overstated.
Sufganiyot from L'Chaim! Holiday Kitchen, $3.75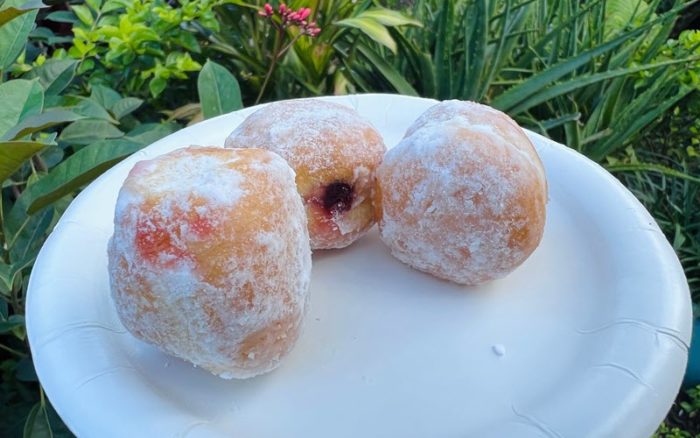 We loved these but we will only get them once because Len only pays once. At $1.25 each, we just can't recommend this. There are so many fabulous options for sweets at this festival and they're all better values – including the Black & White Cookie from this same booth.
Macaron en Sucette, Le Marché De Noël, $9.25
Where's the picture? Well, we're adding this to the Skip list because we have been to this kitchen 3 times since the festival started a week ago and they have been out each time. We don't want you to have hurt feelings like we did. Just skip it. Plus, it's so expensive that our wallet is probably thanking us and yours will too.
Top 5 Drinks of the Festival
You might be wondering why everything else gets a top 3 and the drinks get a top 5. It just seemed fair because they only get one shot at a call-out and there are lots of them. A big shout-out and thank you to @h.a.m.onthestreet for these picks, as well as their invaluable assistance in downing an entire Festival's worth of food in one day.
Frozen Hot Chocolate Martini from Le Marché De Noël, $13.95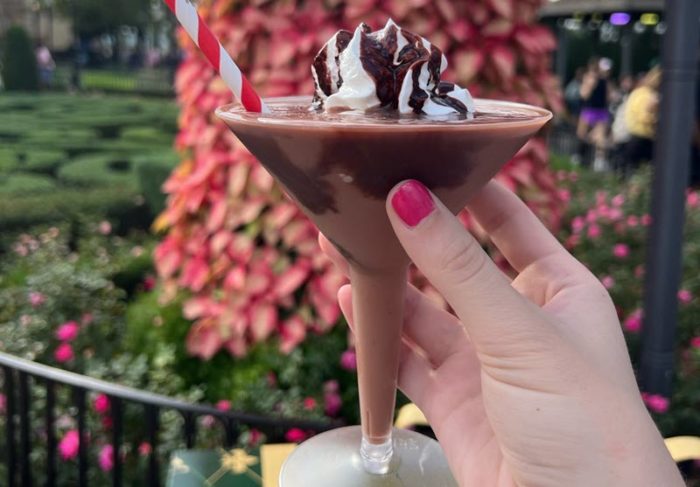 You know how you can tell how much you loved something by the number of pictures in your camera roll? There are 8 or so of this one. It's beautiful and amazing, approved as Festival Champion by all of H.A.M.
Fig Cocktail from Tangierine Café, $11.50
We all LOVED this one last year and this festival is no different. Sweet, beautiful, and the rosemary gives it a festive touch.
Melon Breeze from Mele Kalikimaka Holiday Kitchen, $14.00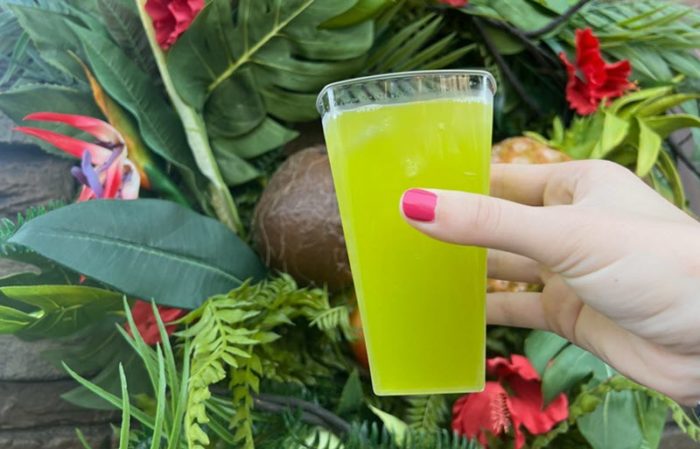 The price is high but the serving of tropical vibes is huge. This one is fruity & wonderful even though the melon isn't strong.
Japanese Christmas Punch from Shi Wasu, $8.00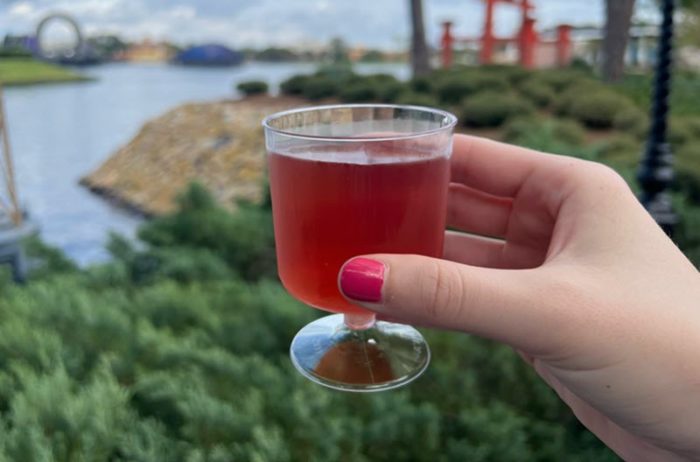 According to H.A.M this sip is the perfect Christmas cocktail for a warm Florida day.
Hot Cocoa with Baileys Irish Cream from Holiday Sweets & Treats, $11.50
H.A.M. said this "warmed their souls" & would be an even bigger favorite if it wasn't 86°. Drink this one on a chilly day in December!
Cookies: Yay or Nay
All the Cookie Stroll cookies are $3 this year except the Holiday Sugar Cookie from Connections Cafe, which is $3.49. Pro tip: the book has 6 spots for stamps, but you only need five to redeem for the treat. Pro tip #2: you just need 5 stamps, not 5 different cookies – if you want to go to town on a single cookie and get it 5 times for 5 stamps, that works!
Cookies Worth Your $$
Holiday Sugar Cookie from Connections Café: This was super popular with the kids in our group. The downside is you're going to have to wait in the usual Starbucks line if you want it.
Black and White Cookie from L'Chaim!: Who doesn't love a black and white cookie?!?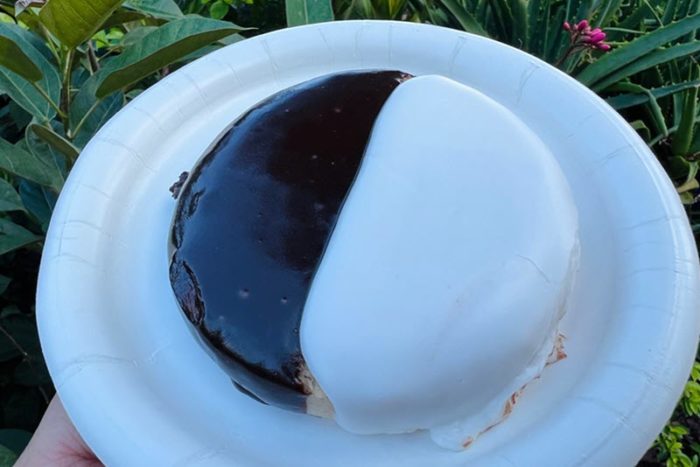 Snickers-Doodle Cookie from Yukon Holiday Kitchen: Gigundous and so sweet that you should probably share with several other people, but it's also really good.
Linzer Cookie from Bavaria Holiday Kitchen: This remains our most favorite cookie of this festival. We walk to Italy with powdered sugar all over us, but it's the best. The jammy center and the firm cookie are so good together. ❤️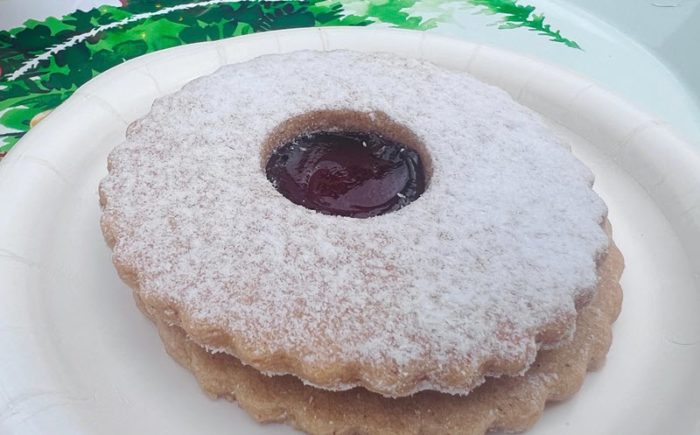 Gingerbread Cookie from Holiday Hearth Desserts: We may have been swayed by the view of Santa as we ate this, but it's adorable and tasty. Reminder – there are chairs and A/C along with Santa at the Odyssey. And sweet snacks!
Save Your Calories
Jingle Sugar Cookie: We say skip this unless you're already headed to Sunshine Seasons. It just feels so far away.
Alfajores, Nochebuena Cocina: This was so meh. Dry and not great. We promise, you can do better.
Chocolate Crinkle Cookie, American Holiday Table: If you are a chocoholic – and maybe especially if you're not – there are better examples of chocolate around the festival. You should go and find them because this was just OK.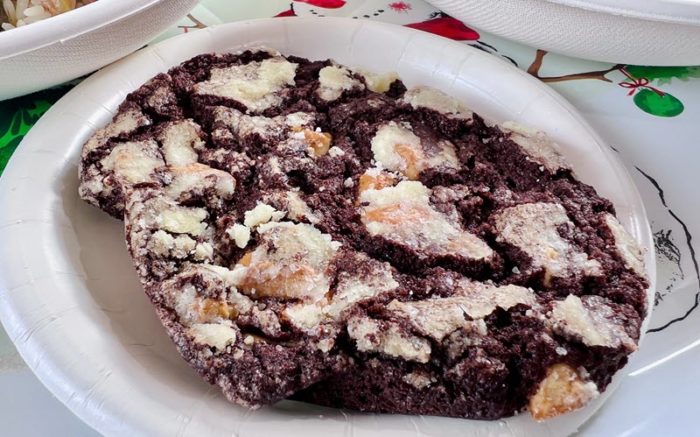 Did you go to this year's Festival of the Holidays? What made your Best Bets list? Let us know in the comments!