Comparing the Hourly Costs of Disney Experiences
When the Very Merriest After Hours prices were released for 2021, there was a lot of collective eye-widening at the cost. The last time Mickey's Very Merry Christmas Christmas Party was held in 2019, tickets topped out at $139 for a 5-hour party (plus a potential for 3 hours in the park prior to the party kicking off). This year, the maximum cost is $249 for a 4-hour party instead. In two short years, we went from paying less than $28/hour for the party to $62.25/hour for the after hours event.
So that made us wonder, what are the hourly costs for other Disney experiences? And how do they compare with other real-world purchases? Are there tiers of experiences that have similar hourly costs? And where does the new Christmas After Hours event fall on the cost spectrum? With the help of intrepid researchers Julia Mascardo and Erin Foster, I came up with a list of Disney experiences and calculated a range of hourly costs for them – more about those calculations below. Then we put them into groups based on their averages and assigned each one a group based on the old A-E ticketing system. So what experiences ended up being E-tickets?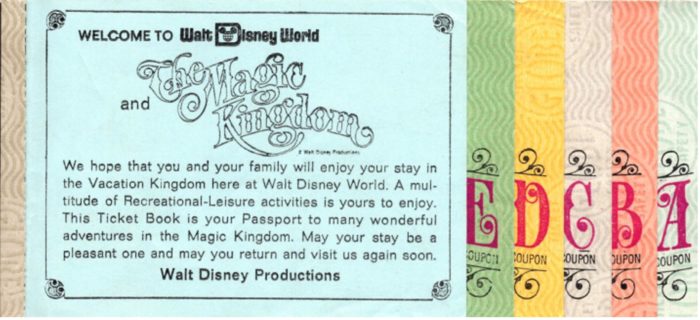 Explain the Math!
To come up with the hourly cost of different experiences, we just need two data points:
Cost – this is easy for some items, but ends up being a range for others (like resort stays, party tickets, dining, etc)
Duration – this one is even trickier. For example, I know the duration of an After Hours event. But what about a meal? Or a resort stay? How do I know how long you're actually at the resort? Some assumptions had to be made. When I had to make really tricky assumptions, I'll mention them in the results.
But beyond those two data points, we also have to make a lot of data standardization decisions. In general, I focused on adult prices. I also tried to capture just the price for one person. So the cost of a dining experience is just one meal, not a family's set of meals. And the cost of a shared experience (like a resort room or a VIP tour) is divided by the number of participants. Some items are priced per person, but others are flat fees that then get "less expensive" with the more participants you have. Most of these nuances are captured by providing ranges in the hourly cost.
E-Ticket Experiences ($100+ per hour)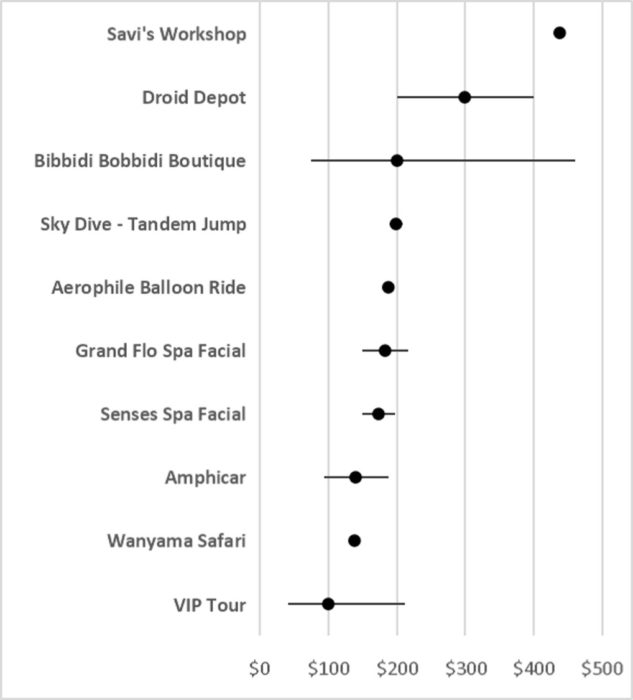 D-Ticket Experiences ($70-$99 per hour)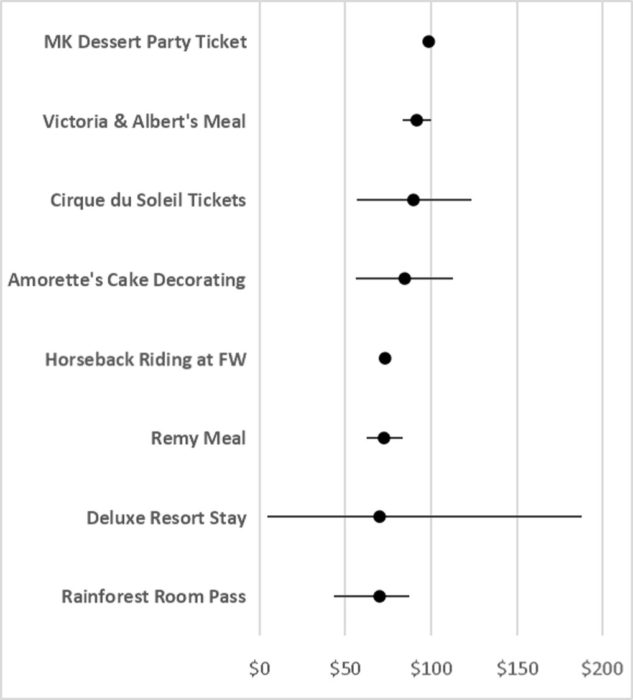 C-Ticket Experiences ($50-$69 per hour)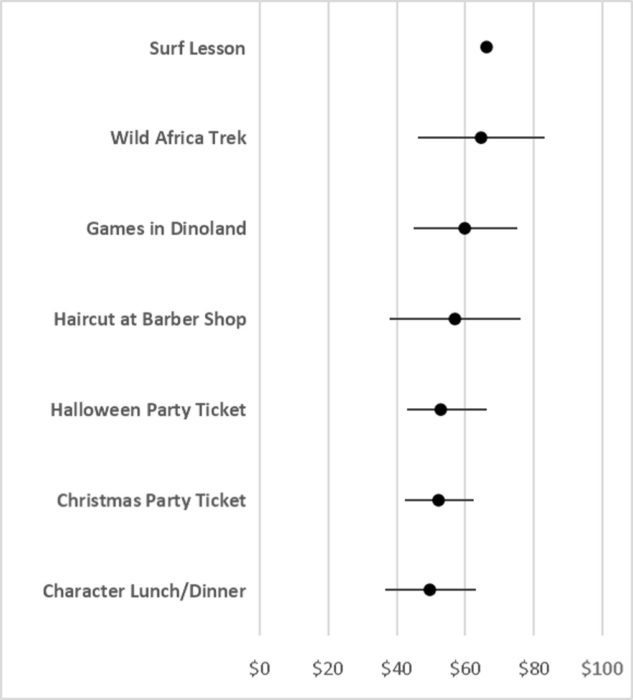 B-Ticket Experiences ($25-$49 per hour)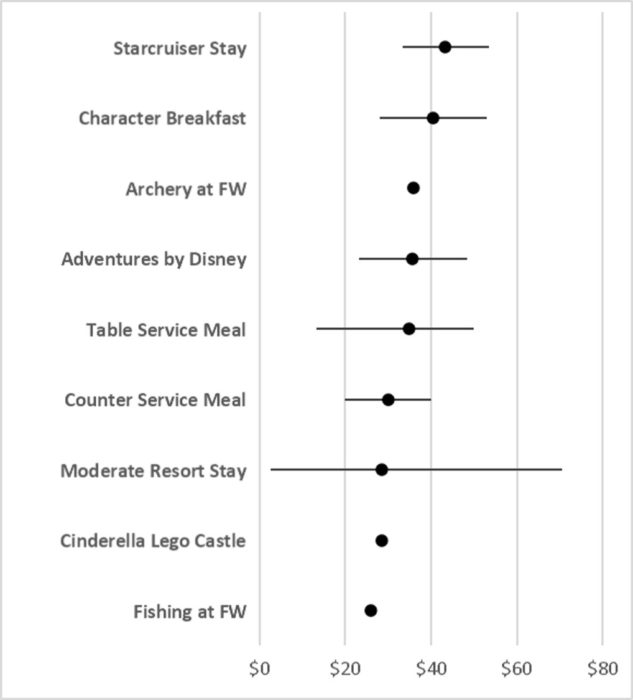 A-Ticket Experiences (< $25 per hour)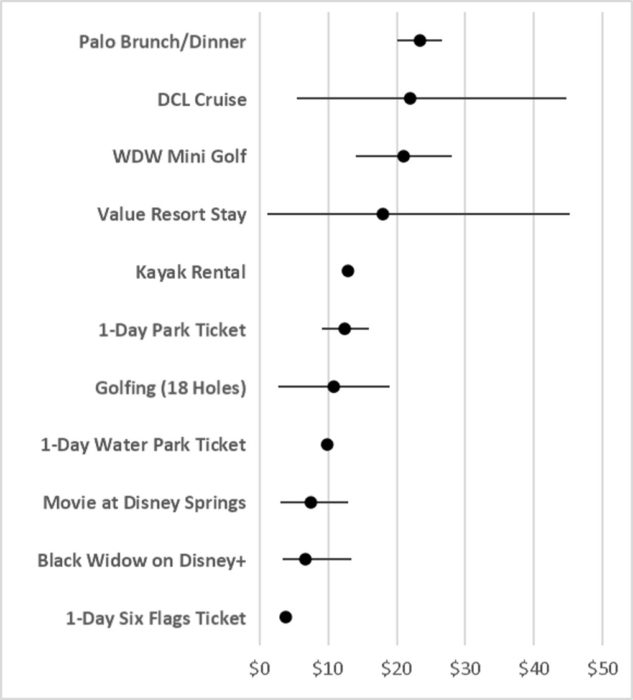 What Does This Mean For You?
There are many, many experiences to choose from both inside and outside of the parks, all at different costs. Park tickets, although expensive, end up being one of the cheaper options for how to fill your days if you fully utilize park hours.
The most expensive hourly experiences involve creating (very fancy) souvenirs to bring home with you, or beauty treatments and/or makeovers of some kind.
Other inexpensive activities to fill up your time include watching a movie in Disney Springs, playing a round of mini golf or renting a kayak.
Did any of the activities surprise you by ending up in an unexpected tier? Do you have a favorite Disney activity that isn't on the list? What's your biggest Disney splurge? Let us know in the comments!