DCA's Pile of Meat: Paradise Garden Grill Family Picnic Platter Review
Disney California Adventure's Paradise Garden Grill was once home to light and flavorful Mediterranean food, including some delicious skewers. That's all gone now, and in their place is piles of barbequed meats and hearty sides. The star of the show is the Family Picnic Platter, which is advertised as serving 2-4 people. In this review we'll review each included item, and see if it really does feed 4 people.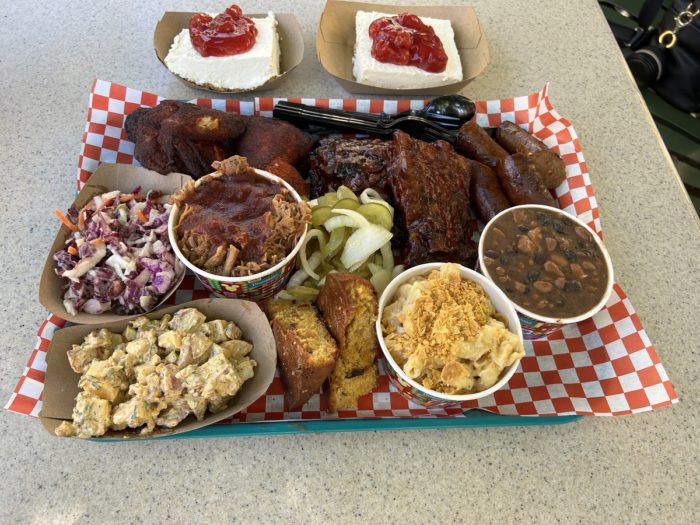 Paradise Garden Grill's Family Picnic Platter includes:
BBQ Half Chicken
Cup of Pulled Pork
Ribs
Andouille Sausage
Poblano Mac & Cheese
Chuck Wagon Beans
Potato Salad with Bacon
Creamy Coleslaw
Jalapeño-Cheddar Corn Bread
Pickles and Onions
Cherry Cheesecake
Cost: $64.99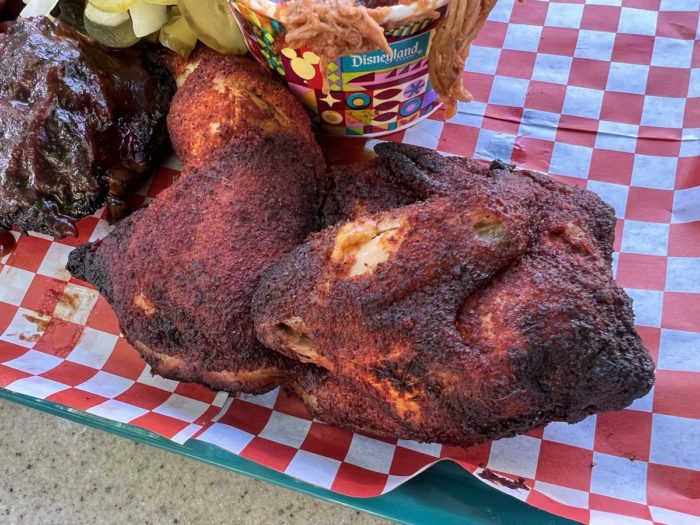 The BBQ half chicken uses a dry rub that is a little on the sweet side. The chicken itself was moist and flavorful. Overall we enjoyed the chicken. Our only criticism is the serving size is a bit small.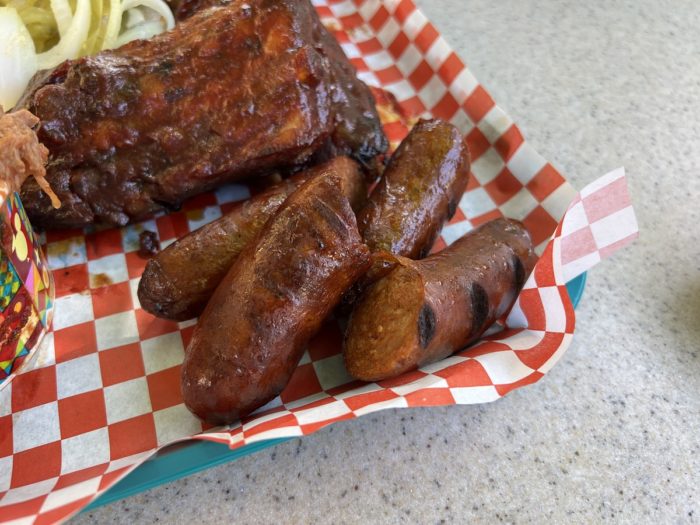 The andouille sausage is grilled and had a pleasant snap when biting in to them. They have a nice hint of spice, but aren't too spicy. The ribs were surprisingly good. We were worried that Disney quick service ribs may be either low quality, or dry/poorly cooked. We're happy to report that they were perfectly cooked, and fall-off-the-bone tender. My group considered these two items to be the highlight of the meal.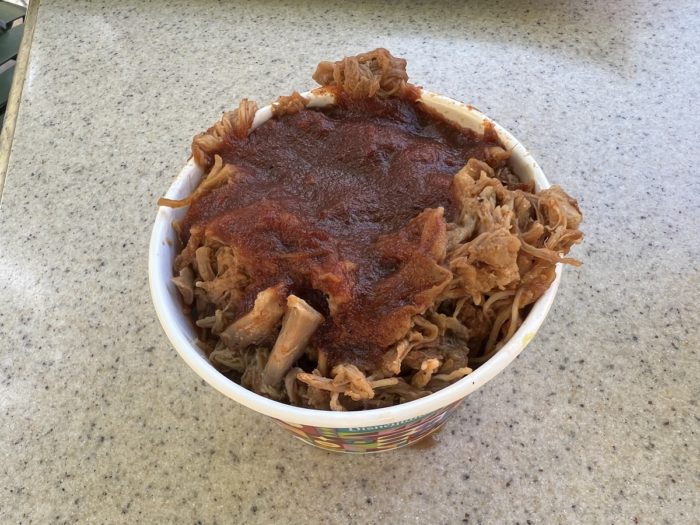 The pulled pork is good, but held back by the generous helping of sauce. The pork itself is juicy and flavorful, but the sauce is way too sweet and cheap tasting. I recommend asking for the sauce on the side.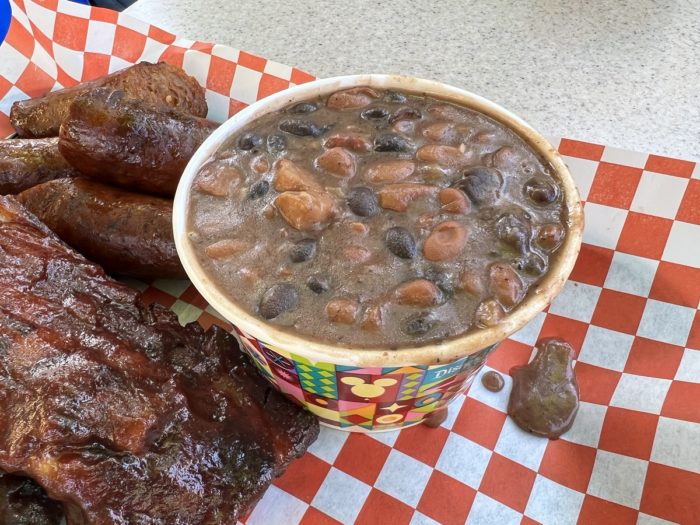 The "Chuckwagon Beans" include big chunks of pork, which is great.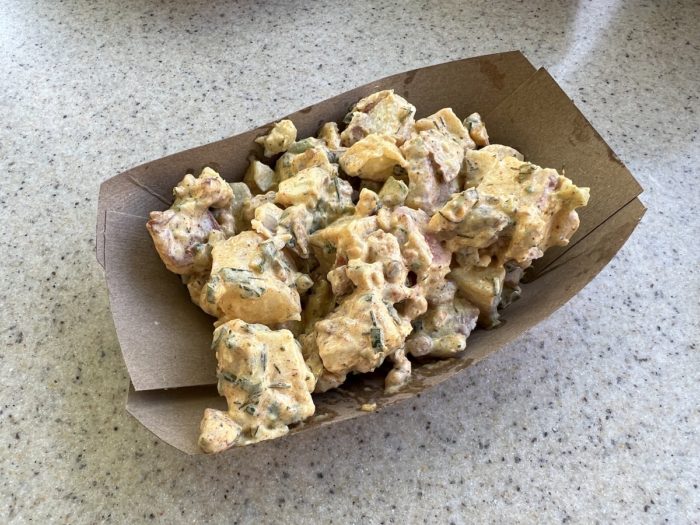 The potato salad wont disappoint fans of this kind of dish. It's creamy, has the taste of dill, and includes chunks of bacon and hard boiled egg.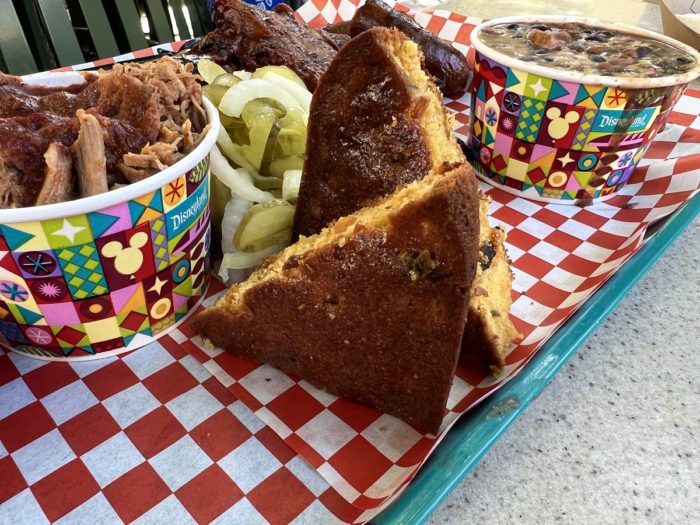 The jalapeño-cheddar corn bread was the meal's only disappointment. It's way too dry. It's also worth mentioning no butter or honey are included.
Another highlight was the poblano mac & cheese. It's so much better than any other quick service mac & cheese Disneyland Resort is offering. Last but not least is the cheesecake, which you get two giant slices of. It wasn't bad at all but it's very boring. There's not much flavor to the cheesecake itself, but the topping of canned cherries will overpower it anyway.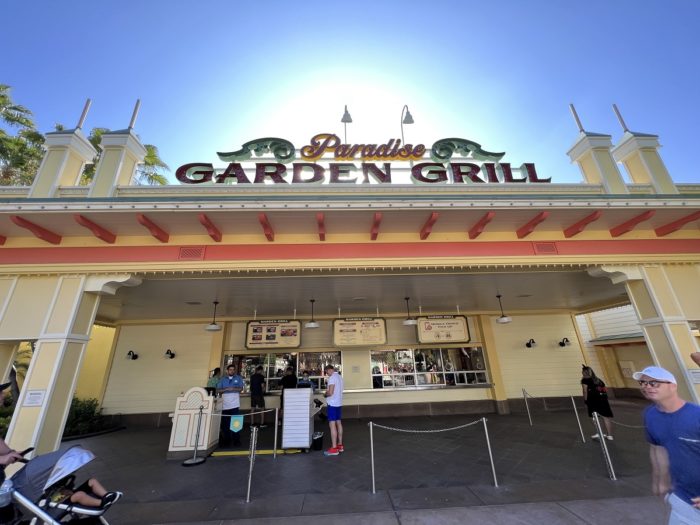 Does the Family Picnic Platter actually feed a party of 4? I'm doubtful. My group of three hungry adults easily devoured the entire tray of food. Some items, such as the chicken and sides, were too small and none of us got a big enough share. I can't imagine there being enough food for 4 adults. However, there's probably enough food for 2 adults and 2 kids. Overall the taste and quality of the Family Picnic Platter is fantastic. It's not the best barbeque you'll ever have, but it exceeds the quality of many Disneyland Resort quick service restaurants.
TouringPlans can help you plan the perfect day at Disneyland. Be sure to check out our Disneyland Crowd Calendar, which rates every day of the year on a scale of 1 to 10 so you can see how busy Disneyland and DCA will be during your visit. Also check out our Disneyland Touring Plans which show you how to beat the crowds and spend less time in line at your favorite rides. We can even book your vacation for you. Our agents are the best in the world and they're ready and waiting to help you plan your perfect Disneyland trip. Click here to get a quote!
Will you try the Family Picnic Platter at Paradise Garden Grill? Do you miss the skewers from the previous menu? Let me know in the comments.