Review: Paradise Garden Grill's New Barbeque Menu at DCA
Disney California Adventure's Paradise Garden Grill original menu of Mediterranean skewers and salads are out and piles of barbequed meats and hearty sides are in. In this post we'll take a look at the surprisingly good new menu.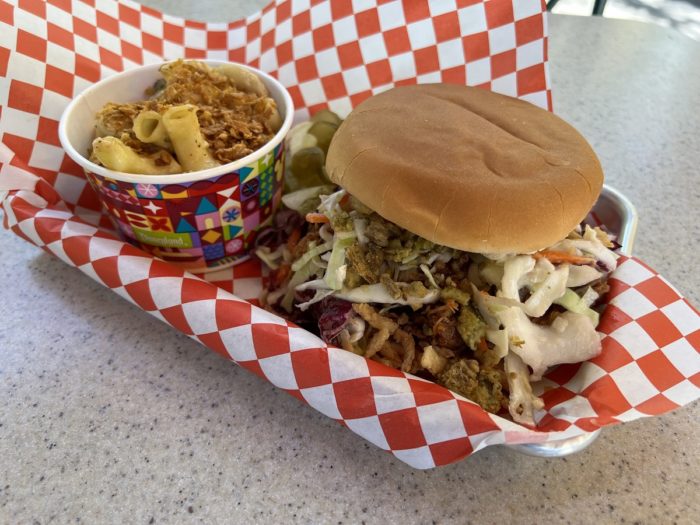 Here's the North Carolina-style BBQ Pulled Pork Sandwich, which includes with coleslaw, crispy jalapenos, pickles, onions and choice of side. The pork itself is juicy and flavorful, and the crispy jalapenos add a satisfying crunch. We also enjoyed the coleslaw, which light and refreshing, despite being called "creamy." This is a very filling meal for a decent price ($13.99).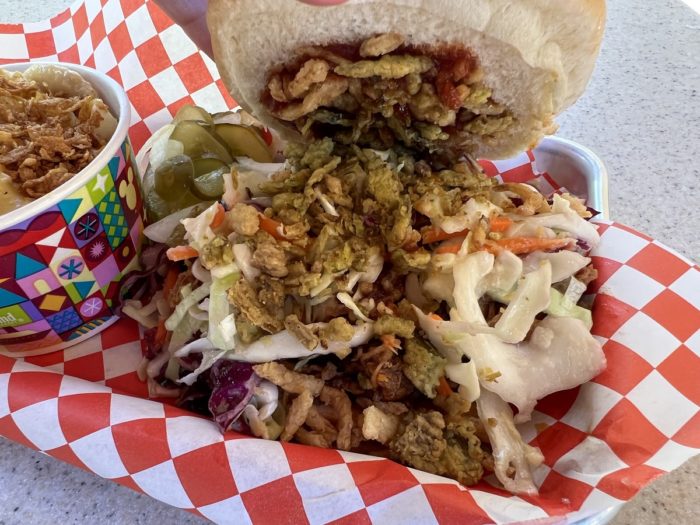 Here's a look at the inside of the sandwich. Much of this will end up spilling out when you take a bite so be sure to eat over your tray.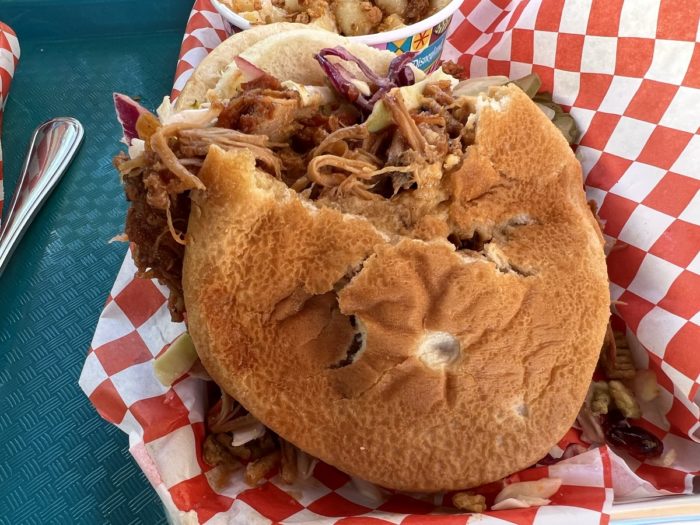 The bottom bun did not hold up well and I ended up eating most of the sandwich with a fork. Pictured above is what it looked like after a couple of bites.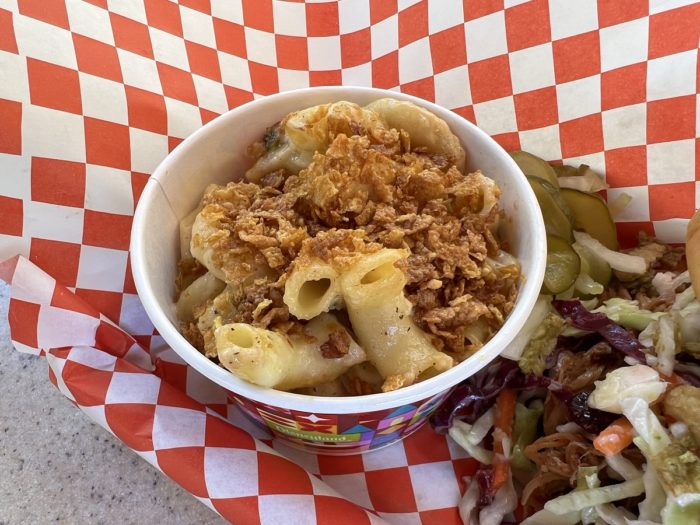 You can select any side for this meal. I went with the poblano mac & cheese, which I enjoyed. It's rich and creamy, and so much better than any other quick service mac & cheese Disneyland Resort is offering.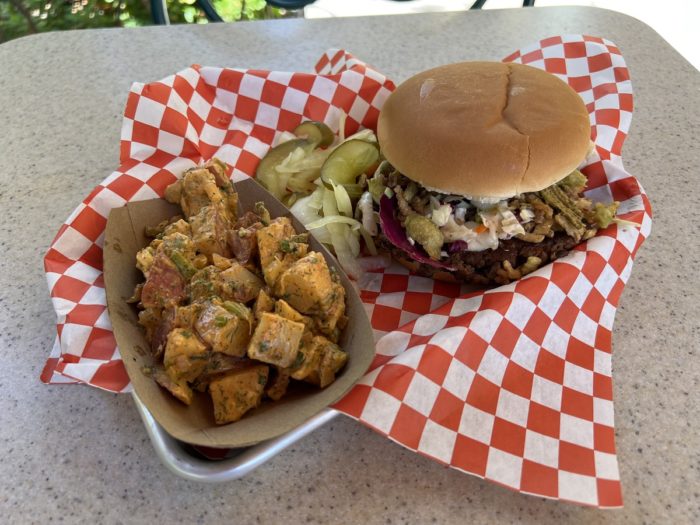 Next up is the Impossible BBQ Burger ($13.99), described on the menu as "BBQ-spiced Plant-based Patty, Vinegar Coleslaw, Crispy Onions and Jalapeños, with Pickles, Onions and side of Plant-based Potato Salad." Disney's Impossible burgers around Disneyland Resort are good but the BBQ spice they added to this mixture takes it too the next level. My only complaint is that the patty is a bit dry, but the taste and toppings more than make up for it.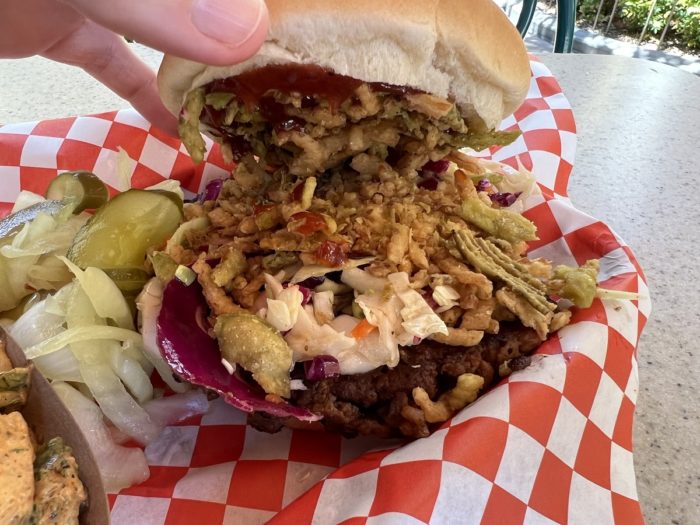 All of the condiments from the pulled pork sandwich are also included here. Good stuff!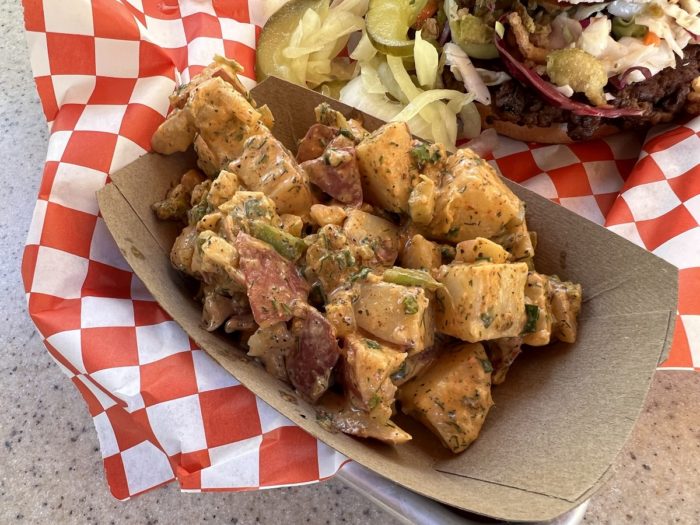 This time my side was the potato salad. If you're a fan of this kind of dish you wont be disappointed. It's creamy, has the taste of dill, and includes chunks of bacon and hard boiled egg.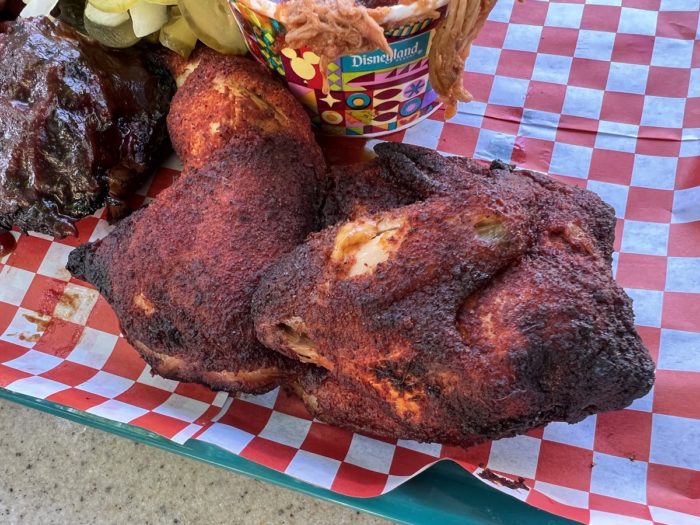 For $16.99 you can get the St. Louis-style BBQ-Rubbed Chicken. The entree comes with Beer-brined, Roasted Half Chicken with Pickles, Onions and choice of side. The BBQ half chicken uses a dry rub that is a little on the sweet side. The chicken itself was moist and flavorful. Overall we enjoyed the chicken. Our only criticism is the serving size is a bit small.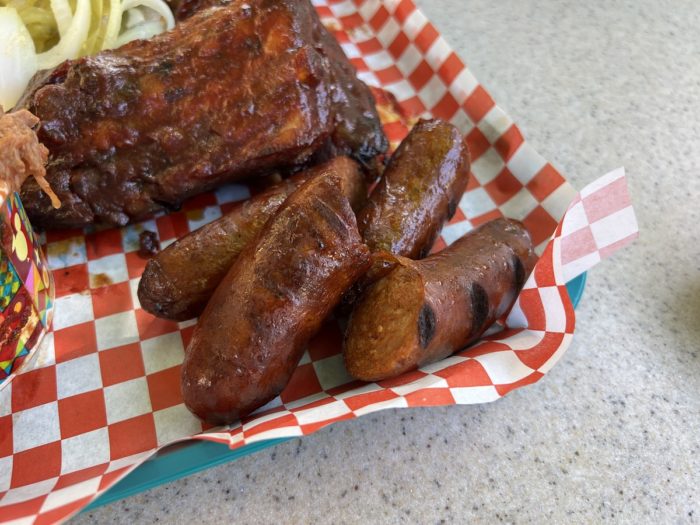 The andouille sausage is grilled and had a pleasant snap when biting in to them. They have a nice hint of spice, but aren't too spicy. The sausage can be purchased as a side dish for $6.99.
The Kansas City-style BBQ Spare Ribs were surprisingly good. We were worried that Disney quick service ribs may be either low quality, or dry/poorly cooked. We're happy to report that they were perfectly cooked, and fall-off-the-bone tender. The spare ribs entree is $17.99, and is served with house-made BBQ sauce, pickles, onions and choice of side.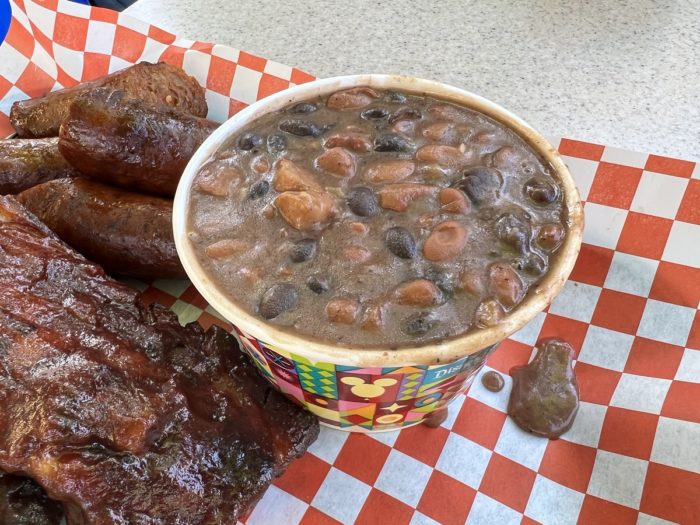 The "Chuckwagon Beans" are another side dish option at Paradise Garden Grill. The beans include big chunks of pork, which is great.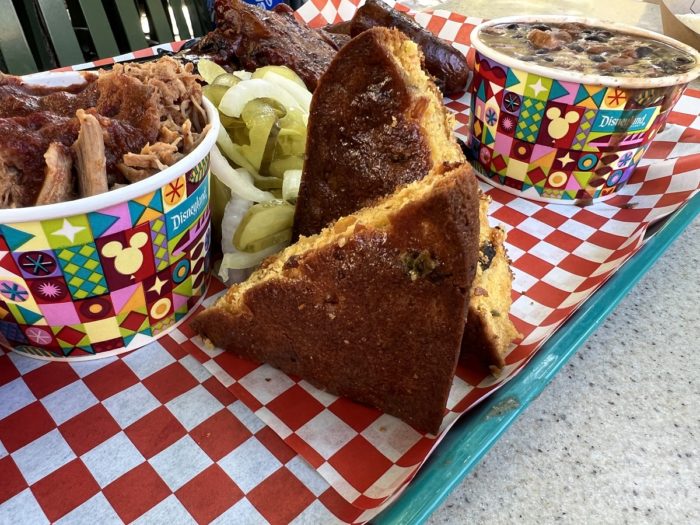 The jalapeño-cheddar corn bread is Paradise Garden Grill's only disappointment. It's way too dry. It's also worth mentioning no butter or honey are included.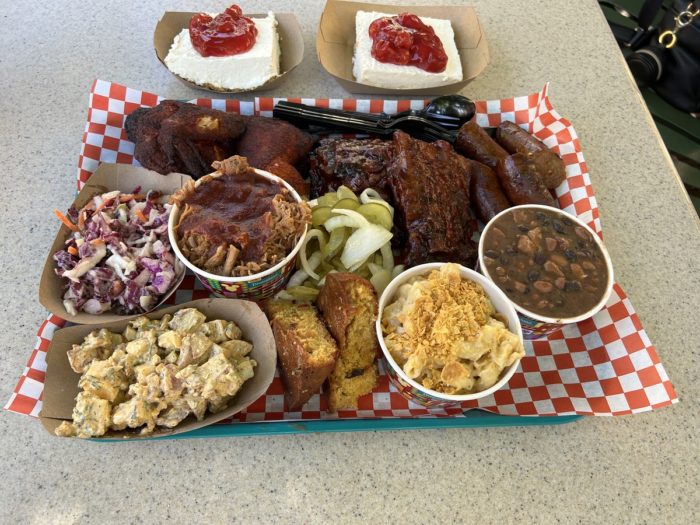 If you have more than two mouths to feed (or a mega sized appetite) the Family Picnic Platter is for you. $64.99 gets you:
BBQ Half Chicken
Cup of Pulled Pork
Ribs
Andouille Sausage
Poblano Mac & Cheese
Chuck Wagon Beans
Potato Salad with Bacon
Creamy Coleslaw
Jalapeño-Cheddar Corn Bread
Pickles and Onions
Cherry Cheesecake
Here's what we said in our review, which we posted last week:
"Does the Family Picnic Platter actually feed a party of 4? I'm doubtful. My group of three hungry adults easily devoured the entire tray of food. Some items, such as the chicken and sides, were too small and none of us got a big enough share. I can't imagine there being enough food for 4 adults. However, there's probably enough food for 2 adults and 2 kids."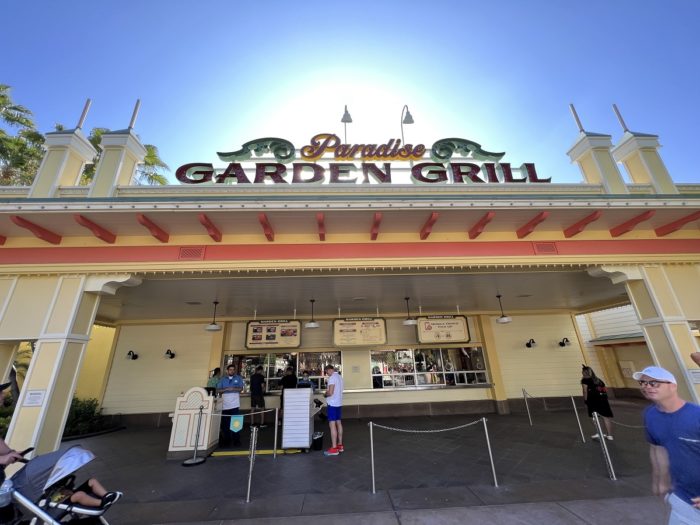 Overall the taste and quality of the barbecued items and sides at Paradise Garden Grill is fantastic. It's not the best barbeque you'll ever have, but it exceeds the quality of many Disneyland Resort quick service restaurants. We also love the outdoor seating area that surrounds the restaurant and the neighboring Boardwalk Pizza & Pasta. It's a great area to dine, or just sit and recharge. A live band will usually play multiple times a day at the seating area's bandstand.
TouringPlans can help you plan the perfect day at Disneyland. Be sure to check out our Disneyland Crowd Calendar, which rates every day of the year on a scale of 1 to 10 so you can see how busy Disneyland and DCA will be during your visit. Also check out our Disneyland Touring Plans which show you how to beat the crowds and spend less time in line at your favorite rides. We can even book your vacation for you. Our agents are the best in the world and they're ready and waiting to help you plan your perfect Disneyland trip. Click here to get a quote!
Are you looking forward to trying the new barbecued menu at Paradise Garden Grill? Let me know in the comments.