Details About the World Discovery Neighborhood at Epcot
With the upcoming World Discovery section of Epcot, Guests will go on journeys of science, technology, space, and adventure!
Here you will find the upcoming new Guardians of the Galaxy-themed coaster called Guardians of the Galaxy: Cosmic Rewind.
During your visit to the pavilion, you'll start in the "Galaxarium," which is going to be a planetarium-like exhibition that explores the similarities and mysteries of the formation of Earth's galaxy and Xandar. While visiting, you will learn more about the treasures Xandar has to share. That is until the Guardians of the Galaxy arrive and you are then taken to board a Nova ship. This attraction will be the first of its kind for the Walt Disney Company, as it will not only be a storytelling coaster that rotates 360 degrees to help focus your attention, but it will also include the first reverse launch. What!? See the concept art above to get an idea of what the attraction will entail.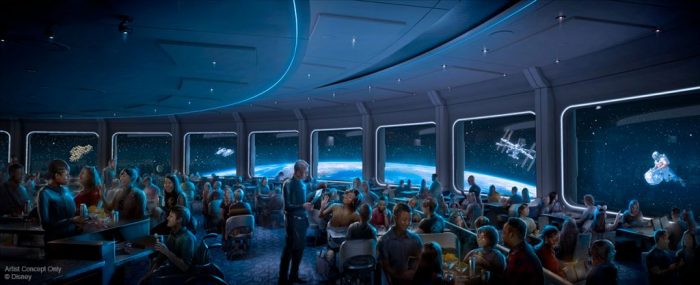 Moving over to the Mission: SPACE pavilion, Guests will soon be able to experience the space-themed restaurant that was announced at the last D23 Expo. The new restaurant will be called Space 220 and it will be a culinary experience featuring the celestial panorama of a space station, including daytime and nighttime views of Earth from 220 miles up. (Hence the name….)
For Guests looking to dine here, you'll board a special elevator that will take you to the space station that is home to this incredible dining experience. Viewports will give you a real-time perspective as you travel high above the planet throughout your meal. Space 220 will opening this winter and will be operated by the Patina Group.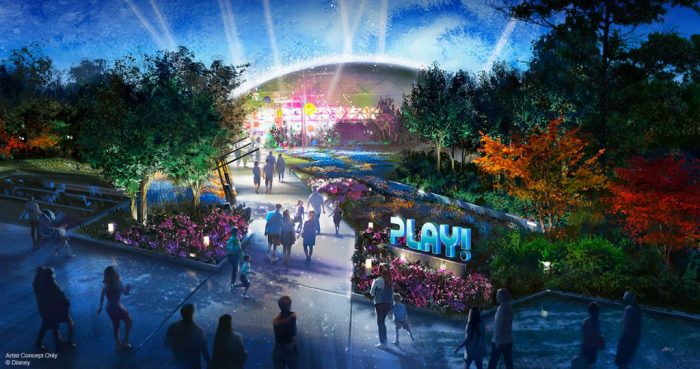 Finally, in the PLAY! Pavilion, you'll come across a digital metropolis, where you'll discover an interactive city bursting with games, activities, and experiences that connect you with friends, family, and beloved Disney characters. Now these characters will be both real and virtual!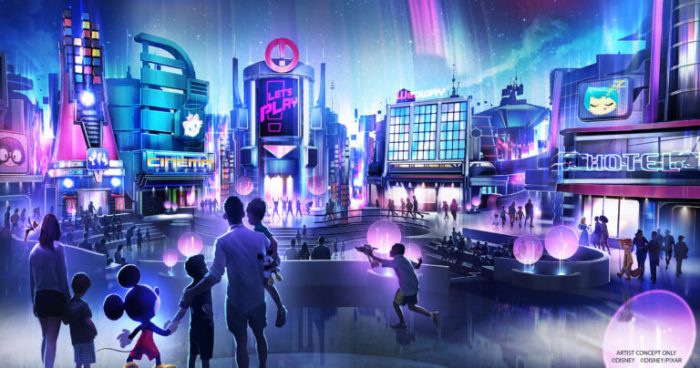 Some of the activities inside the PLAY! Pavilion will include the chance to help Edna Mode on her quest to rid the world of uninspired style, to make a splash competing in a water-balloon fight hosted by Huey, Dewey, Louie, and Webby, and so much more. The PLAY! Pavilion will be open by the 50th anniversary of Walt Disney World in 2021.
More details about the World Discovery neighborhood will be released as soon as we learn them.