Dining Aboard the Star Wars: Galactic Starcruiser
Star Wars: Galactic Starcruiser, Disney's new 2-night role-playing adventure, has officially opened; and our team was there for the first public cruise!
Even though the Starcruiser has been referred to as a Star Wars hotel, it's so much more. Here, guests live out a Star Wars adventure of their choosing while aboard a two-day simulated luxury cruise set in that galaxy far, far away.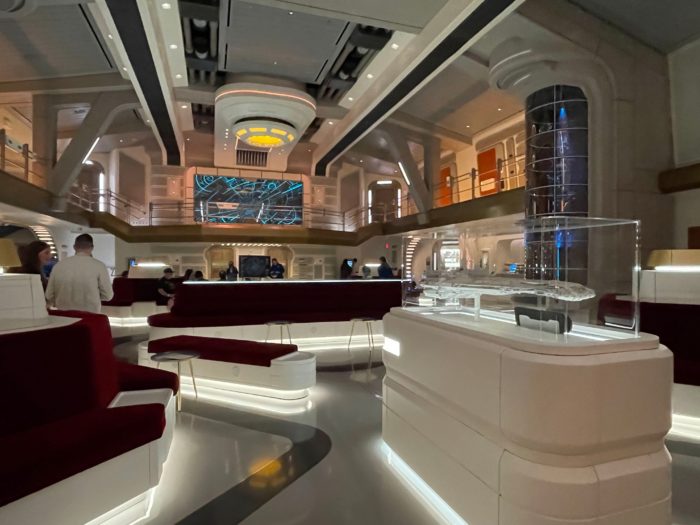 In the true Disney tradition, everything is about story and immersion, from the role-playing Cast Members in costume to your stateroom cabin with a window into space to the galactic-inspired dining onboard.
And, since this is a "cruise," after all, dining is a huge part of the experience and plays a part in the Starcruiser's immersion.
So what is dining like aboard the Halcyon? How does it compare to dining in the parks and aboard other cruise lines? Let's take a look.
Dining Aboard the Galactic Starcruiser
Just like an actual cruise, dining is included with the cost of your "voyage." The only exception is alcohol.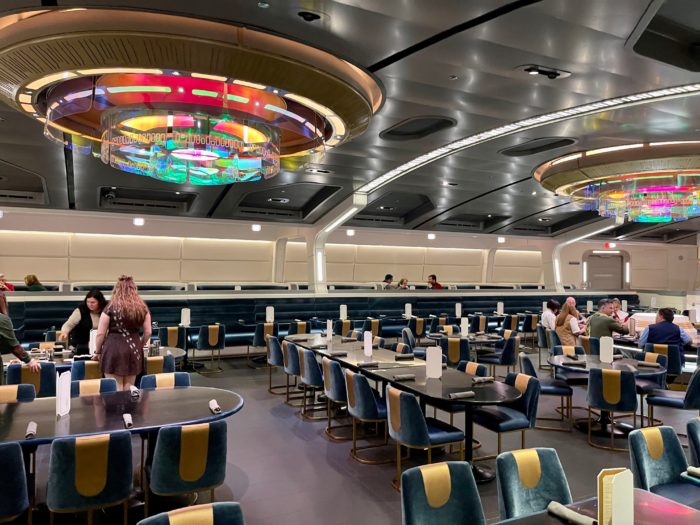 Breakfast, lunch, and dinner are all served in the Crown of Corellia Dining Room just off the atrium on Deck 4; but while breakfast and lunch are served buffet style, dinner is the real highlight and the dining room is transformed through lighting and entertainment.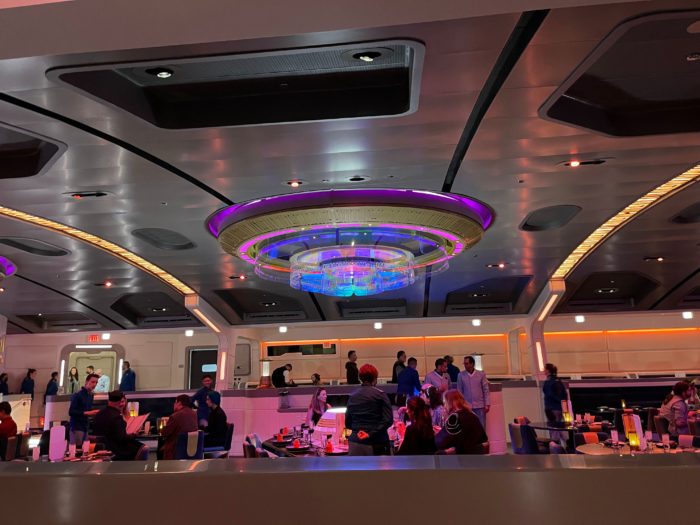 Like other cruises, the Halcyon offers 2 dinner seatings with the first at 5:30 p.m. and the other at 8:00 p.m. Guests can submit their preference upon booking, but it is based on availability. Also, it's possible that your group will be seated with other parties.
Now, even though rotational dining isn't a feature here as it is on Disney Cruise Line, both nights feature different experiences. For instance, the first night of the voyage is an Evening with Gaya!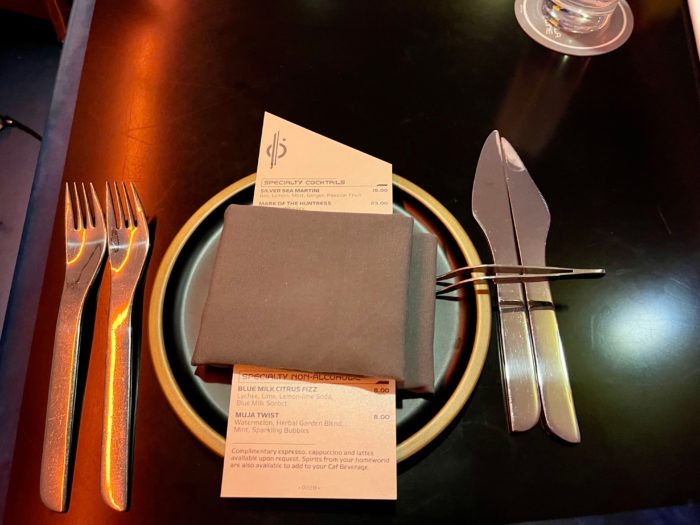 According to the Starcruiser storyline, Gaya is a huge star within the Star Wars Universe. She and her Rodian keyboardist Ouanni not only put on an engaging dinner show but are also active participants in this 2-day story.
Guests are encouraged to be on time and to go all out with their costumes. Think of it as a sort of intergalactic formal night, as most guests will be in their most sparkling, Star Wars-inspired attire.
Dinner with Gaya
First Course
This first dish has serious Satuli Canteen vibes from Animal Kingdom's Pandora – The World of Avatar. Instead of cheeseburger filling, this trio of brightly colored dumplings feature different flavors and come with four flavorful dipping sauces.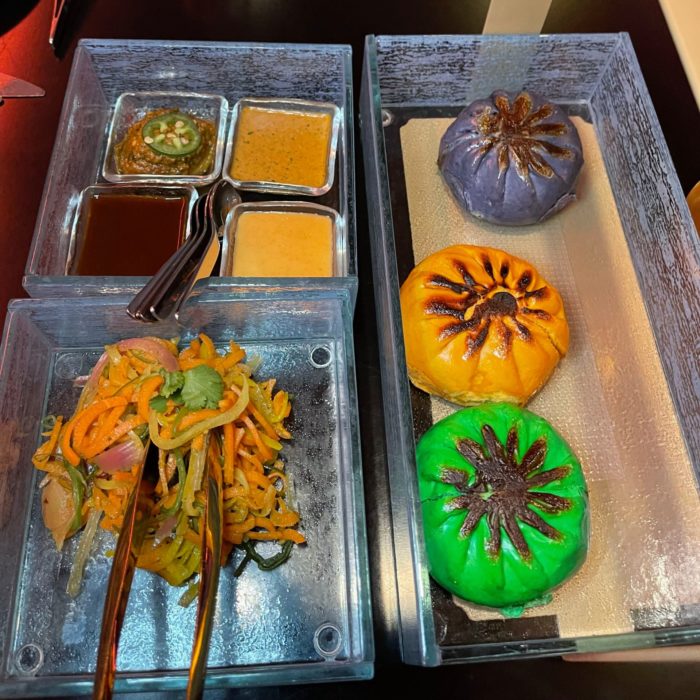 The Flora Noodle Salad had a lovely miso vinaigrette dressing but be warned that the Spicy Batuu Spice more than lived up to its name.
The purple dumpling is Bantha Beef or teriyaki beef while the orange dumpling is Tip Yip Chicken which is a sweet and sour chicken. The green dumpling is veggies with curry.
Second Course
The second course was a variety of beef, shrimp, chicken, herbed fluffy rice, and spiced vegetables.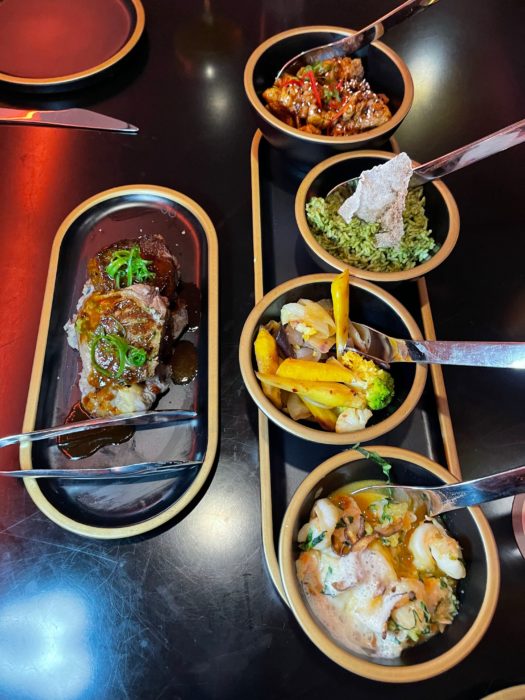 Our team loved the beef and chicken; and while the coconut-lime foam on the shrimp was fun and perky, the shrimp itself was just okay.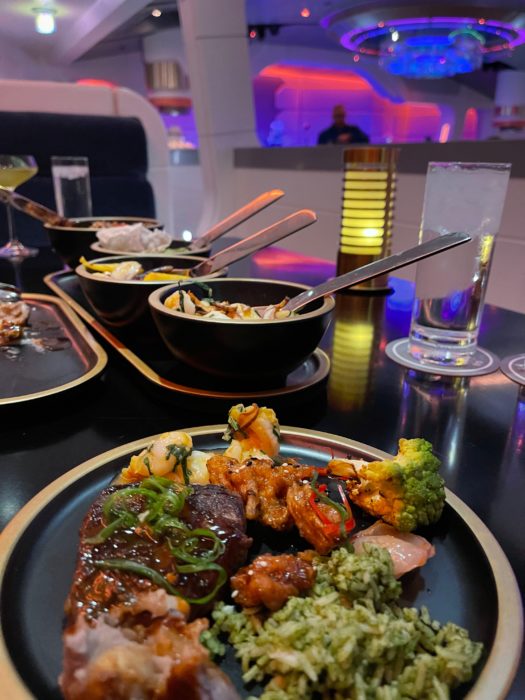 Third Course
The sweet conclusion to our team's first night dinner aboard was the Jogun Fruit and Caramel Whip. While it was visually stunning, it wasn't a standout as similar desserts can be found outside of the Starcruiser and around Walt Disney World.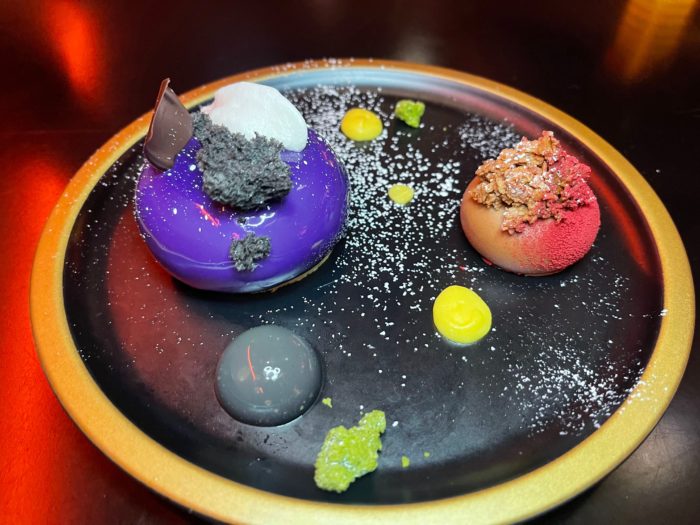 Taste Around the Galaxy
For the second night, dinner is a completely different experience in that each course is themed after different planets from within the Star Wars Universe. Even the lighting and music in the dining room changes with each new dish!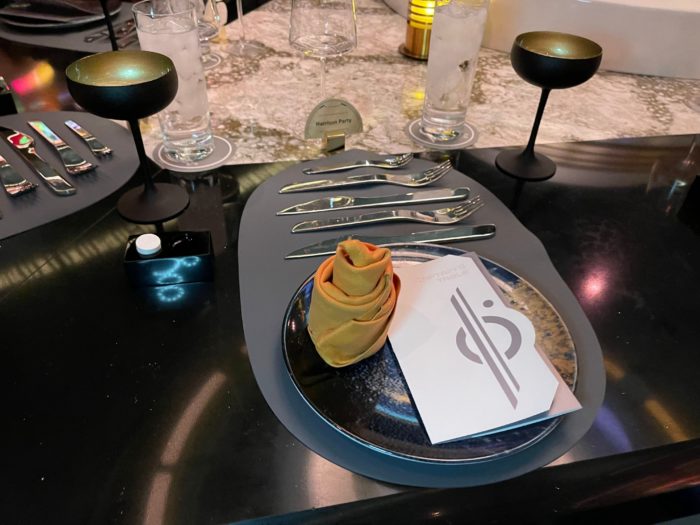 Our team also paid a small upcharge to dine at the Captain's Table which comes with a few extra appetizers and desserts.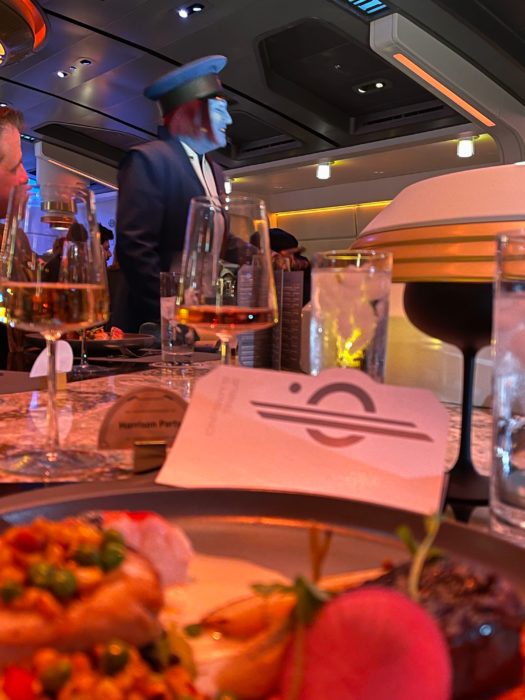 Be warned! The villianous First Order may make an appearance at the Captain's Table while aboard. Try not to let them spoil your appetite.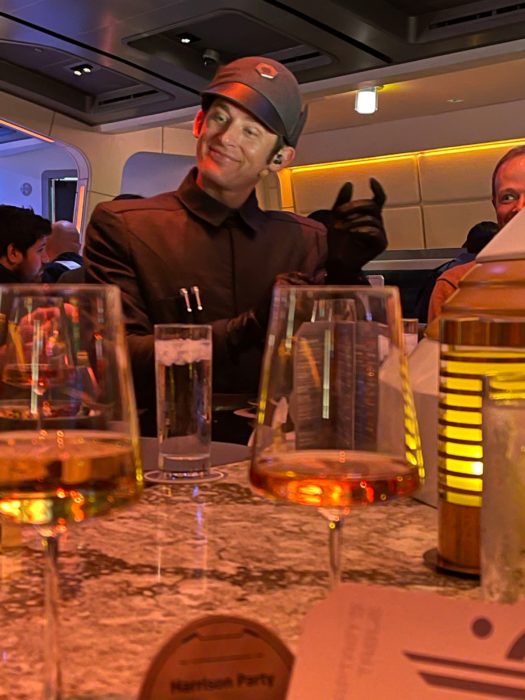 Mustafarian Breads and Spreads
This charcuterie was themed after Mustafar, Darth Vader's lava planet from Revenge of the Sith and Rogue One: A Star Wars Story.
In keeping with the fiery planet, expect pimento cheese, crispy breads, and tomato-based spreads.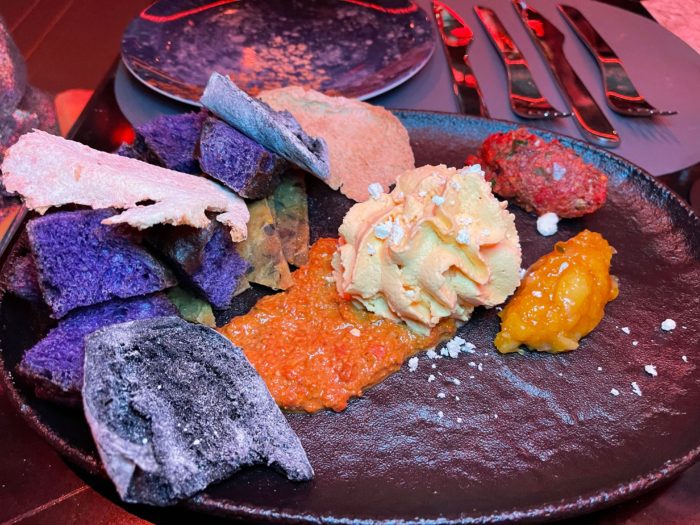 Iced Fulucian Shrimp Cocktail
Yes, this is the infamous blue shrimp from the Starcruiser's marketing. While it tastes just like your standard shrimp cocktail, rest assured that this presentation isn't the result of an exorbant amount of blue food coloring but rather butterfly pea powder.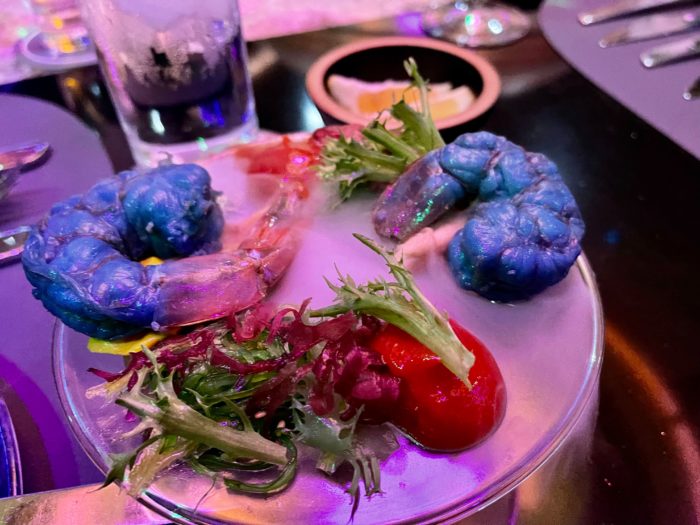 Seared Kashyyyk White Fish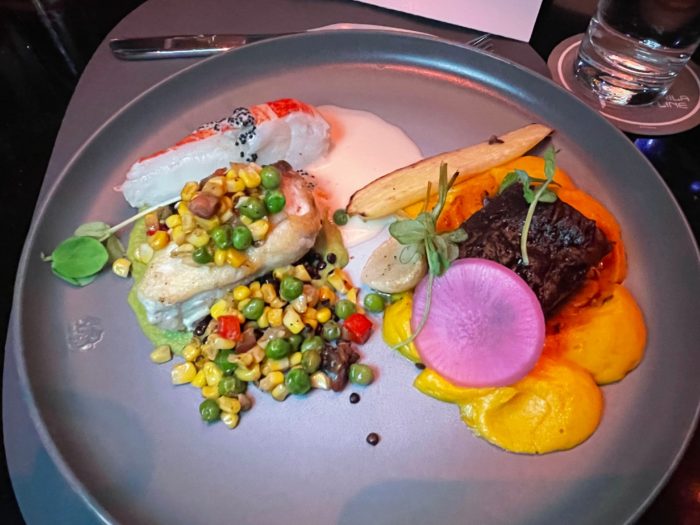 A dish fit for a Wookie! And no, that's not a bad thing. Kashyyyk is Chewbacca's home planet and clearly he's a fan of seafood.
Chandrilan Air Cake
This chocolate sponge cake is paired with tropical flavors and even forms the logo of the Halcyon!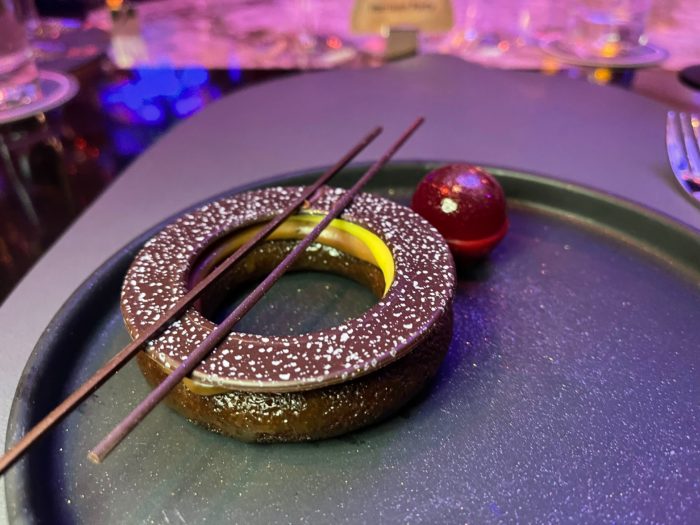 For fans of The Mandalorian, you too can snack like Baby Yoda with these blue macrons!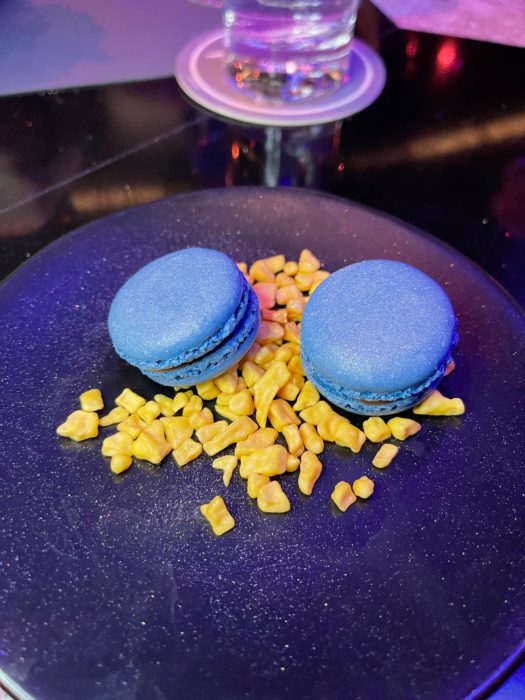 Of course, kids have their own themed menu which plenty of kid-friendly dishes, such as cheeseburger pods (similiar to that at Pandora's Satuli Canteen), cheese pizza, buttered noodles, green beans and carrots, and cookies with mini carafes of milk.
Breakfast & Lunch
Breakfast and lunch aboard the Halcyon are buffets but the items are just as creative and themed as what you'll find at dinner. Plus, both blue and green milk from Star Wars: Galaxy's Edge are on tap and all you-can-drink.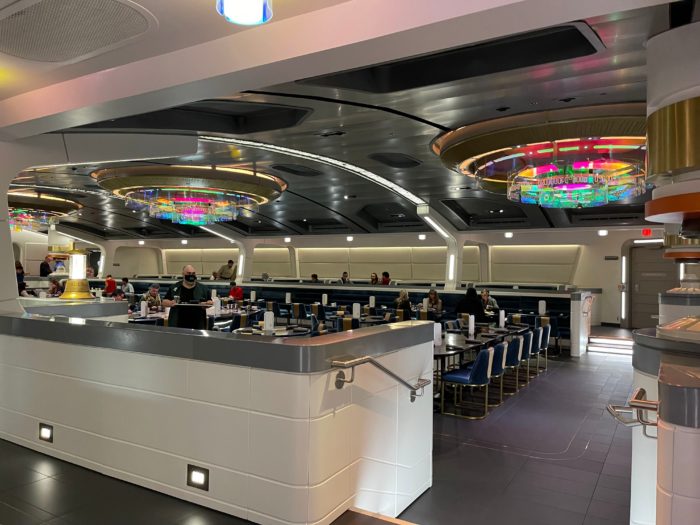 So what's the most important meal of the day like in space?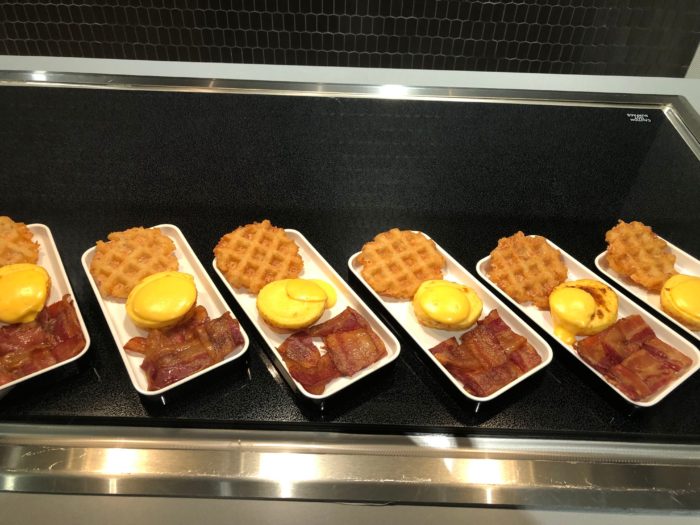 Like most of the food on board, the presentation looks alien but is mostly familiar flavors and ingredients. Guests will find an array of pastries, egg dishes, fruit, yogurt, and the like.
Interestingly enough, the Star Wars Universe has waffles; and even though they're not Mickey-shaped, they're made from the same batter.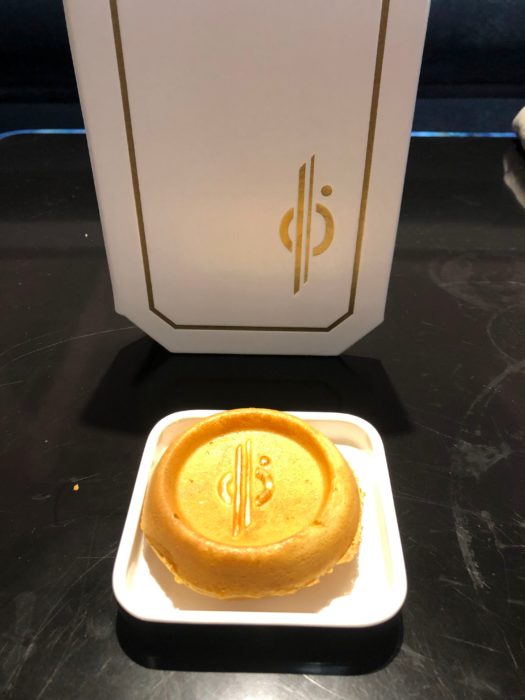 Now for lunch, the Halcyon offers a variety of items for lunch, such as sandwiches, salads, flatbreads, and, of course, desserts!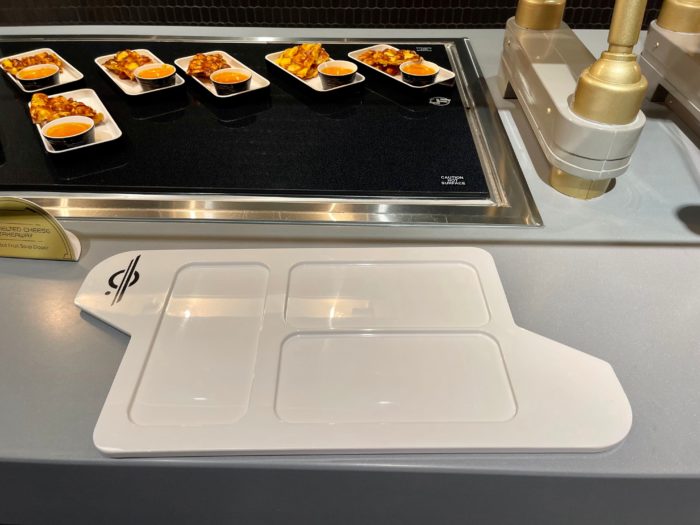 All items are portioned in bento-style containers that fit perfectly within the spaces on the tray. Basically, going up to the buffet is like a game of Tetris.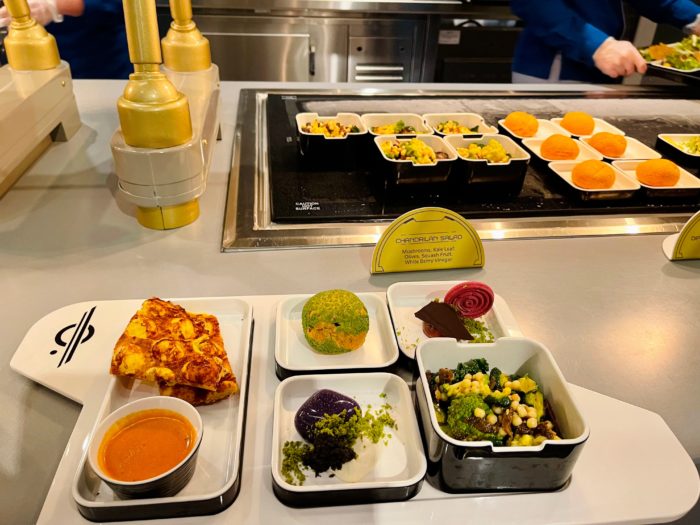 Pictured above and to the left is the Starcruiser's version of grilled cheese and tomato soup, but the grilled cheese is textured like a bubble waffle with pockets filled with gooey cheese!
Here are a few other items you might see on the lunch buffet while aboard: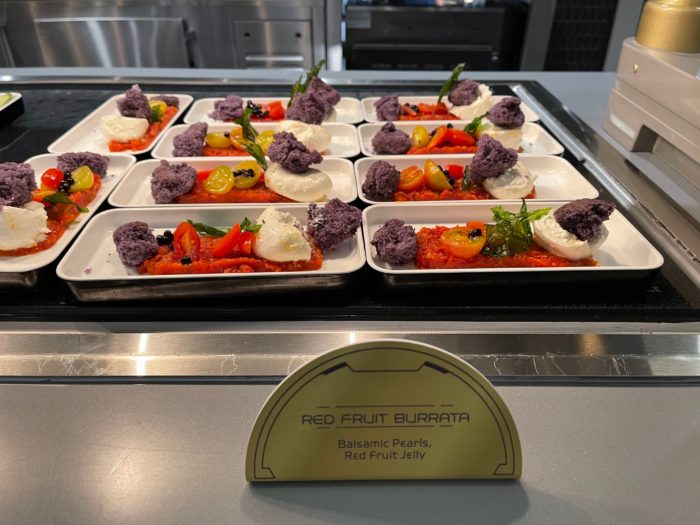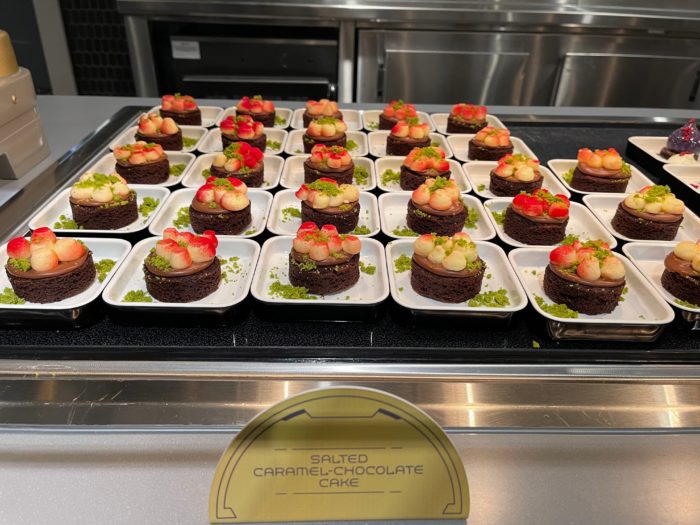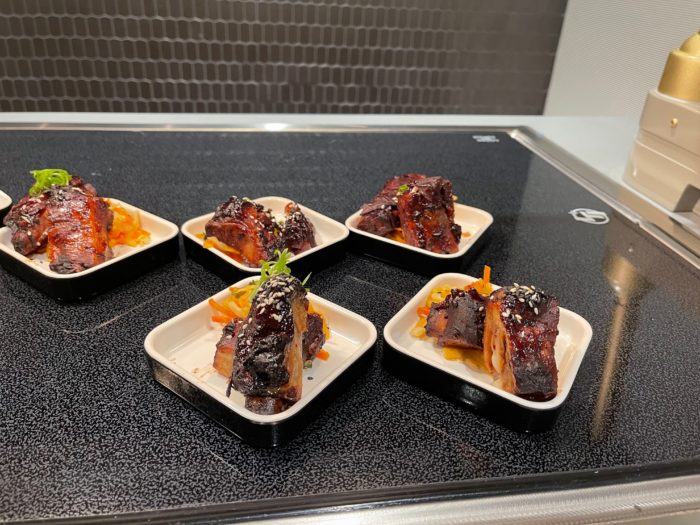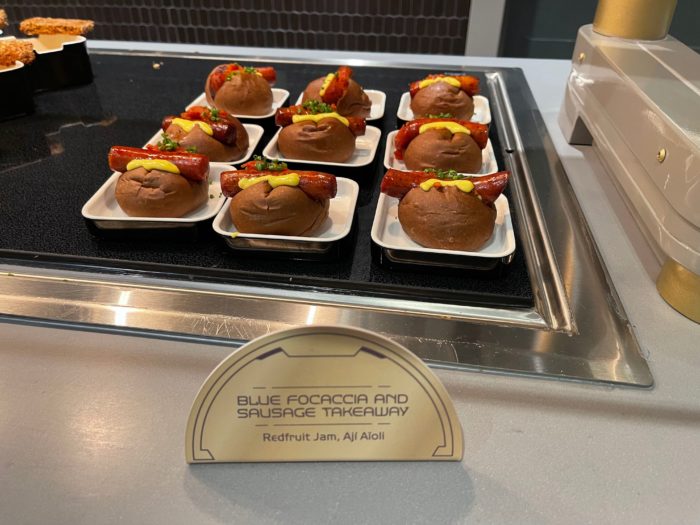 Other items you can expect are green leaf salads, a blue milk-flavored dessert, flatbreads, and even mac and cheese with chicken nuggets.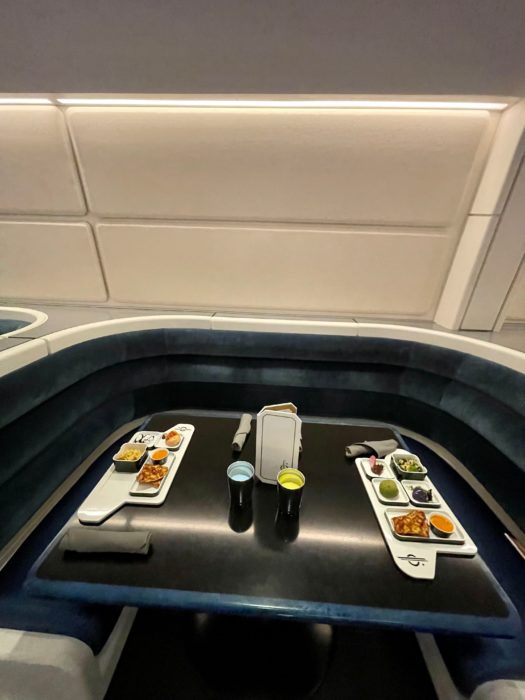 Snacks
Snacks are available in the atirum all throughout the day and even in the middle of the night! Items are basic snack mixes, nuts, rice crispy treats, and the like. There is, however, chocolate cake pops.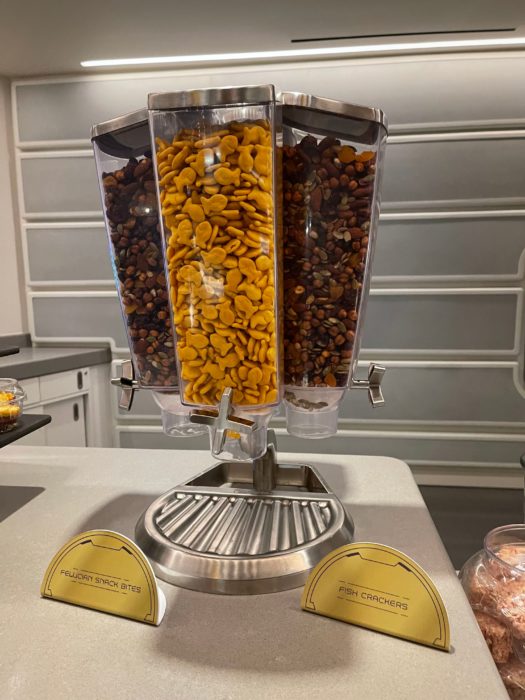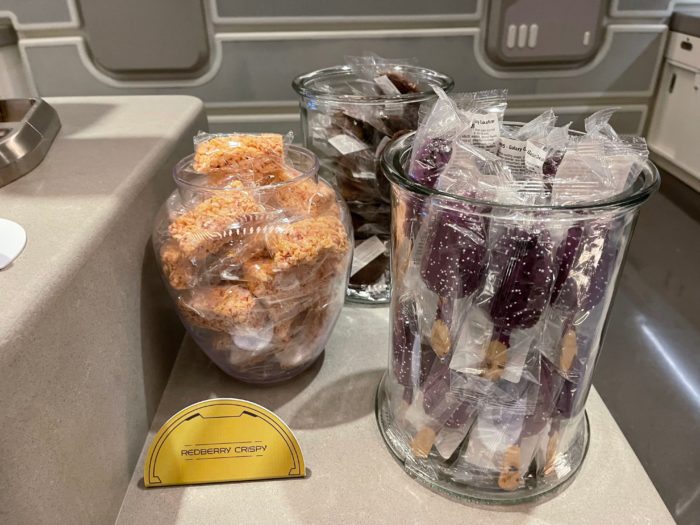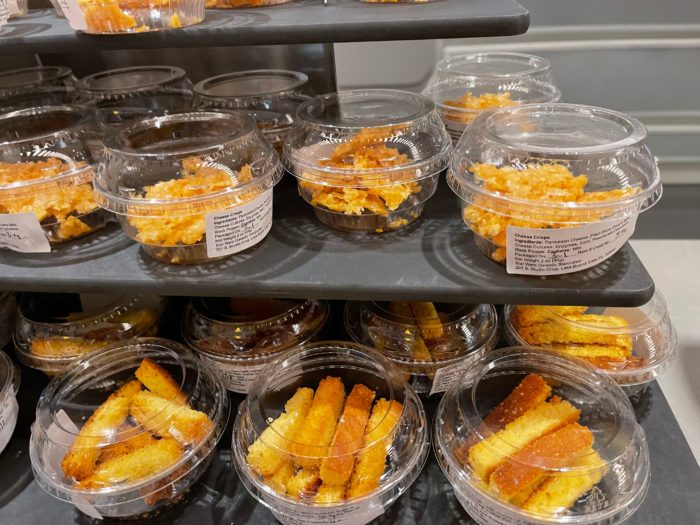 Sublight Lounge
The Sublight Lounge is pretty much an upscale version of Oga's Cantina and is just as small. This is where guests can learn the Star Wars card game Sabaac and participate in tournaments, as well as enjoy a themed cocktail and some light bites.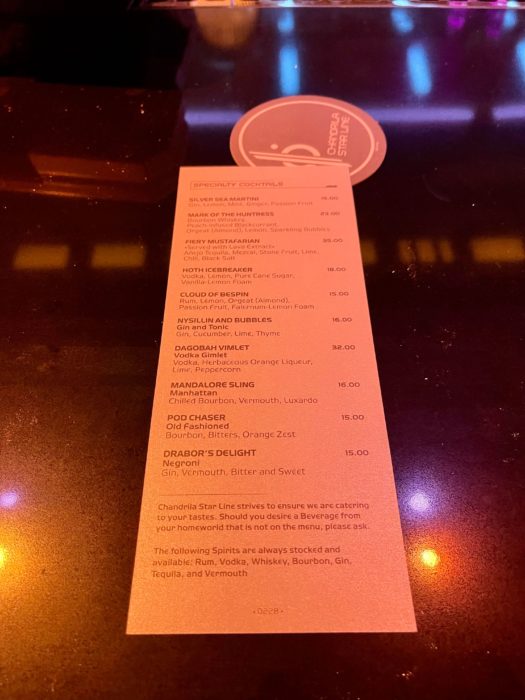 Just like Oga's – and everything else on board – all of the drinks are themed to the Star Wars Universe.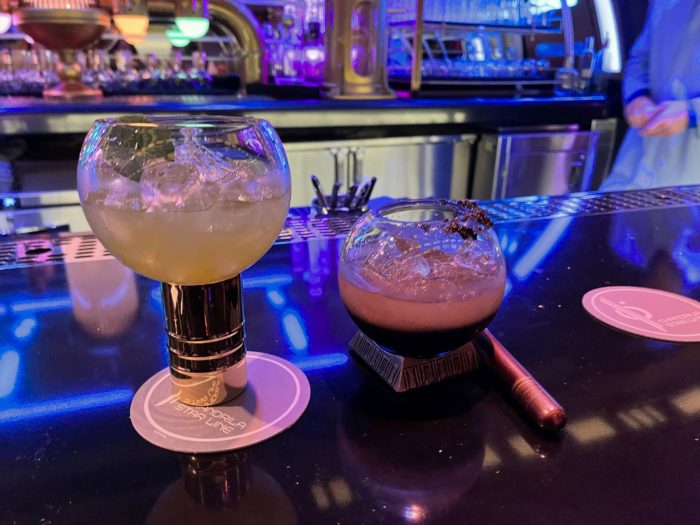 Some even come up with fancy souvenir cups; but again, keep in mind that alchololic beverages are separated on board.
As for snacking at Sublight Lounge, here's a look at some of the options including Mustafar Tuber Chips (aka potatoes chips) which are dusted with sriracha and charcoal vinegar, as well as Smoked Redfish Littletubes (aka creamy salmon-filled roll).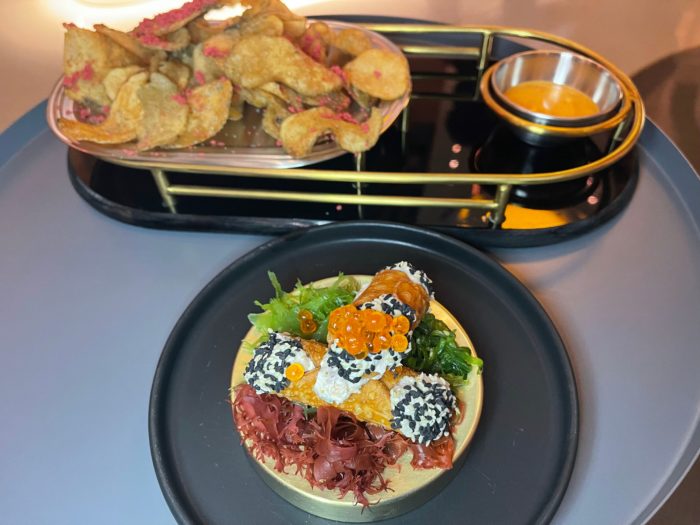 Regardless of when and where you're dining aboard the Halcyon, the crew goes above and beyond when it comes to dietary restrictions, allergies, intolerances, and etc. Plus, as this is a cruise, your crew member will bring you more of anything you like!
What do you think of dining aboard the Galactic Starcruiser? Which item would you be most interested to try? Let us know in the comments!