Which Disney World Ticket Add-Ons Are Best for You?
Regular Disney World tickets offer 3 different options to "extend the fun" — Park Hopper, Water Parks & Sports, or just adding more days of admission. Of course, each add-on comes with an extra cost. It can be confusing trying to decide which upgrades will work best for your vacation.
For a rundown on all the details of each ticket type, see Erin's comprehensive FAQ. In this article, I'll help you decide by exploring how the different choices might be right (or wrong) for you.
What are the choices?
Add On More Days
Many visitors might not think of adding more days on their tickets as an upgrade. But Disney World can be a stressful and overstimulating experience; there's a lot to squeeze in! Adding more days can improve your vacation by letting you slow down a bit.
Add On the Park Hopper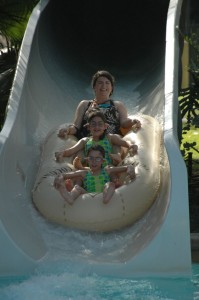 A Park Hopper upgrade lets you "hop" between parks after 2 p.m., visiting more than one park per day. This upgrade can reduce friction and enhance your trip by taking away conflict. You don't have to choose between lunch at Tusker House and the Enchantment fireworks; being able to switch parks lets you do both.
Add On the Water Parks
A Water Parks and Sports add-on gives you admission to water parks (surprise!). But you can use it for other experiences such as mini-golf or the ESPN Wide World of Sports complex. This upgrade is about adding variety to your trip.
Add On a Combination
There's only one official combo: the Park Hopper Plus gives you the benefits of both the Park Hopper and the Water Parks add-ons. But of course you can get only the Park Hopper, or only the Water Parks, and still get a longer ticket.
When Might You Want to Add Days?
Adding days is most likely to be a good call if you're planning a visit of four days or longer. Here's the reason: after 4 days, the price of the extra day begins to fall off a cliff.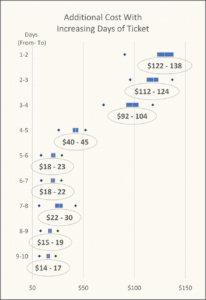 As with the base ticket, the cost of your extra days varies with the date of your visit. The chart on the right shows the ranges and you can really see how quickly they decrease after the 4th day. On most days of the year you can go from a 4-day ticket all the way to 10 days (should you want to) for less than 30% more.
Tickets specify the number of days of admission, and they don't need to be used consecutively. One approach to the go-go-go of a Disney World visit is to plan one rest/pool day for every three or four days in the parks, but extra days can let you spread out your park time more evenly with a mix of parks and rest on each day. Here are a few examples of how an extra day or two can really help out.
Do in-park dining or take in the fireworks on a day that you've otherwise devoted to resting.
Go back to Magic Kingdom for a half-day, instead of buying a Park Hopper ($85) and leaving another park early.
Avoid buying Genie+ ($16 per person) by giving yourself more rope-drop days in the parks where it matters most.
Give yourself a chance to skip all the long waits with Lightning Lane by using Genie+ on two different days in the same park.
Note that what you can't do with an extra day of admission is visit a second park on the same day — you need a Park Hopper for that.
When Might You Want to Add Park Hopper?
A Park Hopper might be the right choice for you if you have a very short trip, if you routinely take a break during the day, or if you like the nighttime shows. It can also be a good option if you want to be able to change your plans on the fly if you're just not having fun.
On a short trip, you won't have enough time to give a full day to each park and still see them all. If you care about getting some time in at each park, the Hopper is your only avenue.
If you usually take a midday break, a Hopper can help you to be efficient with your park time. Start your day in the parks where rope-drop matters most. Close it out in parks that are open late, or that match up with your plans for dining or evening entertainment.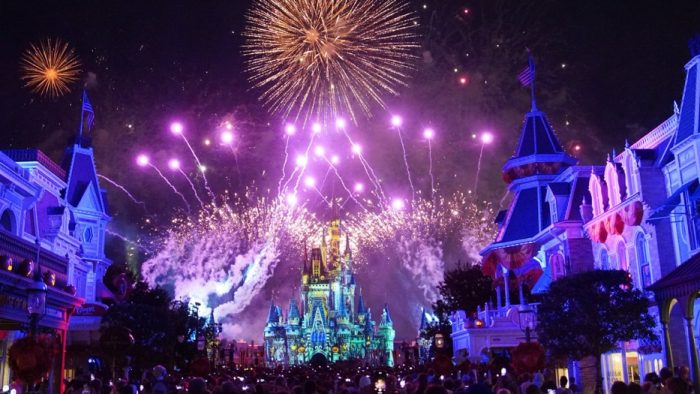 Some of my family love fireworks and use park hopping to see Harmonious or Enchantment every night, no matter where we've spent the day. This kind of park drop-in (also great for dining!) works especially well if you're staying somewhere with monorail or Skyliner access to the parks.
A final win for the park hopper is that if you're frustrated with crowds and lines in the park you're in (and it's after 2 p.m.), you can go somewhere else. Lines in all the parks tend to drop in the evening, and you can come back later, or on another day, for a more enjoyable experience. If you know that you'll have limited patience with an unexpectedly crowded park, the Hopper might be for you.
When Might You Want to Add Water Parks & Sports?
I don't have any data to back this up, but I have a sneaking suspicion that most people who use this add-on do it so they can visit water parks. At only $1 more than a water park ticket, it feels like a no-brainer. If you have no interest in either Blizzard Beach or Typhoon Lagoon, you'll have to do some math to see whether this has value for you.

The add-on is $70 no matter the length of your ticket, and the chart at right shows the other activities you can currently use the admissions for. You get the same number of "water park activities" admissions as days of park admission. A key feature is that these are independent of theme park admissions and, to some extent, of each other.
You can visit a theme park and a water park on the same day, or visit a theme park and play mini-golf on the same day. You can also visit a water park and play mini-golf on the same day. Water Parks & Sports admissions can be a great way to use designated rest days when you aren't going to the parks, or to spend half-days at the beginning or end of your trip when you don't want to use up one of your park admissions.
If your math is close (or even if it isn't), you should know that the WP&S add-on gives you an extra day to use all your admissions. Check and see if starting your ticket one day earlier is cheaper — savings there might help tip the scales.
When Might You Want a Park Hopper Plus?
The more you add on, the harder it is to do it all. For this reason, many people think you might only want a Hopper Plus if you're taking a long vacation. But that actually isn't true, because the combo pricing is very favorable.
If you know you want to park hop and visit water parks, the Hopper Plus seems like an obvious choice. But what if you want to do water parks, but aren't sure the $85 for a Hopper is worth it? This is where Hopper Plus comes in.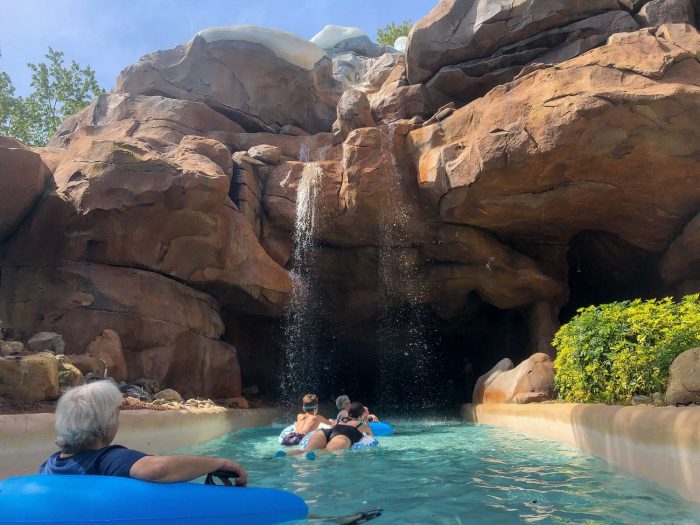 If you're already getting a Water Parks & Sports add-on, then adding hopping is only $20-35 more — $50 cheaper than the Hopper on its own. If you're only hopping once or twice, that can make the per-hop price much more attractive.
If you're already getting the Hopper, then it's only $20 more to add the water parks. And like the Water Parks & Sports option, the Hopper Plus gives you an extra day to use your admissions, so it could be even cheaper.  If you're arriving on Saturday with a 5-day ticket and not planning to go to the parks until Sunday or Monday, you might find that it's only $8-10 to drop into Typhoon Lagoon or play a round of mini-golf on your arrival day.
Can You Summarize Numbers For These Add-Ons?
Sure can. Here's a handy-dandy chart.

What To Take Away
Plussing up your ticket with more days, park hopping, or water park access can make your vacation better.
Adding theme park days is most valuable on trips of more than 4 days, and can help you slow down a bit by spreading out your park time. Park hopping adds flexibility and opens up options like switching parks to avoid lines, or dropping into parks to catch a meal or fireworks. The Water Parks & Sports add-on can provide ways to fill in your rest days while keeping them relaxing.
The total cost of these add-ons may be less than it seems at first glance. More days or park hopping can offer alternatives to paying for Genie+. Park Hopper Plus and Water Parks & Sports give you an extra day to use your admissions and might let you adjust your start date for a cheaper ticket. TouringPlans travel agents can help you explore these options, or you can do it yourself with our Lowest Price Ticket Calculator.
Of course, sometimes the right thing to do is nothing at all. If none of these sound like they match your plans, stick with the base ticket. You'll have more money in your pocket to add on in other ways, like seasonal party tickets, tours, or dining.
Are you on team pro-Hopping or team no-Hopping? How do you feel about water parks? Do you think ticket add-ons give you a better vacation? Let us know in the comments!