Disney Cruise Line Announces Silver Anniversary at Sea in 2023 – UPDATED
Disney Cruise Line launched the Disney Magic in July of 1998 … and so a little math tells us that 2023 will be DCL's 25th Anniversary. In celebration, Disney has announced a slew of new stuff, including new themed sailings on all five ships, new outfits for Mickey & Minnie, new merch, and new perks. Plus Castaway Club has a new membership tier. Let's dive in!
Disney's original news blast on this subject came on November 28, 2022. We'll continue to update this post as new news sails in. Click the dates below to jump to the latest updates based on new announcements.
Silver Anniversary at Sea Features
Guests sailing on a Silver Anniversary at Sea cruise will be treated to the following theme features
New Mickey & Minnie Silver Anniversary at Sea Outfits
Captain Minnie Mouse and Captain Mickey Mouse will don dazzling new ensembles to mark the occasion. Their coordinated looks will feature shimmering, multi-toned fabric and swirling designs reminiscent of ocean waves. The duo will make appearances in their festive attire aboard "Silver Anniversary at Sea" sailings across the Disney Cruise Line fleet.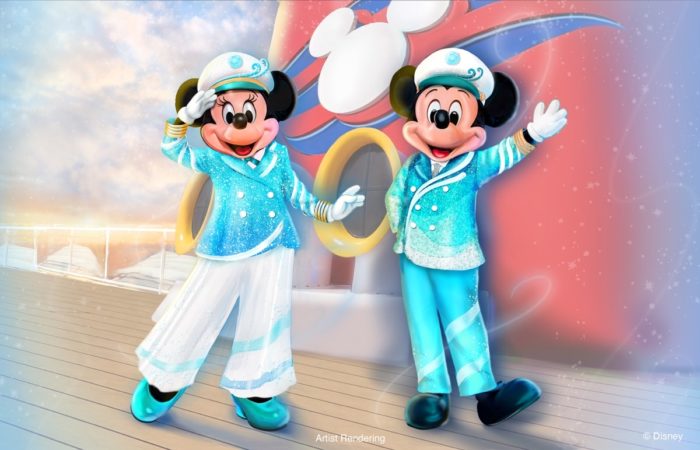 Silver Anniversary at Sea Signature Song
Disney Cruise Line will debut a signature song to serve as the soundtrack of the celebration, tunefully threading nostalgic memories of vacations past with the of anticipation of new family adventures to come. The uplifting new melody will manifest in a variety of ways during summer sailings.
New Silver Anniversary at Sea Entertainment
New family entertainment and activities will culminate in shimmering evening experiences created exclusively for the anniversary celebration.
New Silver Anniversary at Sea Menu Items
Throughout their voyage, guests will discover themed culinary creations, from fanciful desserts to inspired craft cocktails and beyond.
New Silver Anniversary at Sea Merchandise
Guests can commemorate Disney Cruise Line's "Silver Anniversary at Sea" with the Shimmering Seas Collection, a line of dedicated merchandise featuring a new signature color. Inspired by the magical glow of sunshine reflecting upon turquoise waters, the Shimmering Seas Collection will include an assortment of apparel, accessories, drinkware, keepsakes and more.
Disney has promised additional details about the entertainment, merchandise, and other Silver Anniversary at Sea offerings at a later date, and we'll update here as we get more information.
Silver Anniversary at Sea Sailings
All five Disney Cruise Line ships will host Silver Anniversary at Sea sailings during the summer of 2023. Destinations include the Bahamas, Caribbean, Europe, and Alaska. For a free quote, reach out to our agents at TouringPlans Travel. Silver Anniversary at Sea is not yet available as a themed cruise filter on Disney's site. (Navigating the Disney Cruise Line Website to Select a Sailing)
Disney Magic Silver Anniversary Sailings
Departing from Miami May 24 to Sept. 4, the Disney Magic will visit destinations in the Bahamas and Caribbean, including Disney's private island, Castaway Cay.
Disney Wonder Silver Anniversary Sailings
The Disney Wonder will depart on Alaskan voyages from Vancouver, Canada May 15 to Sept. 11 with stops in Juneau, Skagway, Ketchikan and more.
Disney Dream Silver Anniversary Sailings
From May 7 to Sept. 17, the Disney Dream will sail transatlantic and European itineraries, including the Mediterranean, Northern Europe and the Greek Isles.
Disney Fantasy Silver Anniversary Sailings
The Disney Fantasy will set sail from Port Canaveral, Florida May 6 to Sept. 2 to the Eastern and Western Caribbean, each with a day at Castaway Cay.
Disney Wish Silver Anniversary Sailings
Disney Cruise Line's newest ship, the Disney Wish, will depart on sailings to Nassau, Bahamas and Castaway Cay May 1 to Sept. 8 from Port Canaveral.
New Castaway Club Tier Announced
Disney's Castaway Club loyalty program recognizes returning Disney Cruise Line guests with exclusive rewards and perks. In addition to the current Silver, Gold, and Platinum tiers, Disney Cruise Line will be adding a Pearl tier for the 25th Anniversary and beyond. The Pearl tier will recognize cruisers with more than 25 Disney Cruise Line vacations, and will provide new at-home and onboard benefits. More details will be announced early in 2023.
January 18, 2023
New Fireworks Show
Especially for the 25th Anniversary, Disney is releasing a brand new fireworks show that will be run on select "Silver Anniversary at Sea" itineraries. If you're sailing a Bahamian, Caribbean, and Mediterranean cruise this summer, you'll likely have the chance to see this new show. Disney had previously announced a brand-new signature song for the Silver Anniversary at Sea, and it will support the new pyrotechnics along with other iconic Disney music.
New Captain's Reception
On one night of each Silver Anniversary at Sea cruise, the captain and cruise director will preside over an anniversary toast in the atrium. Additional guests of honor will be Captain Mickey Mouse and Captain Minnie Mouse, garbed in their new anniversary attire. And no Silver Anniversary at Sea event such as this would be complete without a rendition of the new theme song.
New Castaway Club Gift
Disney's Castaway Club previously announced a new Pearl tier being added at the 25th Anniversary. But all Castaway Club members cruising during the Silver Anniversary at Sea will receive a limited-edition framed art print in their stateroom to commemorate this once-in-a-lifetime celebration, as long as supplies last. The print features the work of Disney artist Joe Kaminski, whose art can be found elsewhere in the Disney hotels and Disney Cruise Line ships.
February 23, 2023
New Pearl Castaway Club Benefits Announced
Disney Cruise Line has announced the specific benefits associated with the new Pearl-level Castaway Club membership that will be given to guests who have previously sailed at least 25 DCL cruises.
Pearl benefits will include:
Free Unlimited Photo Package. Prices for DCL photo packages start at about $250 and go up based on the length of the sailing. Pearl members will get the photo package free of charge.
Earlier Booking Window for Cruises. Pearl members will be able to book new itineraries four days before the general public.
Earlier Booking Window for Cruise Activities. Pearl members will be able to book activities such as port adventures, adult dining, and spa services 123 days in advance.
Special Stateroom Gifts. New stateroom gifts will include special pearlescent drinks tumblers.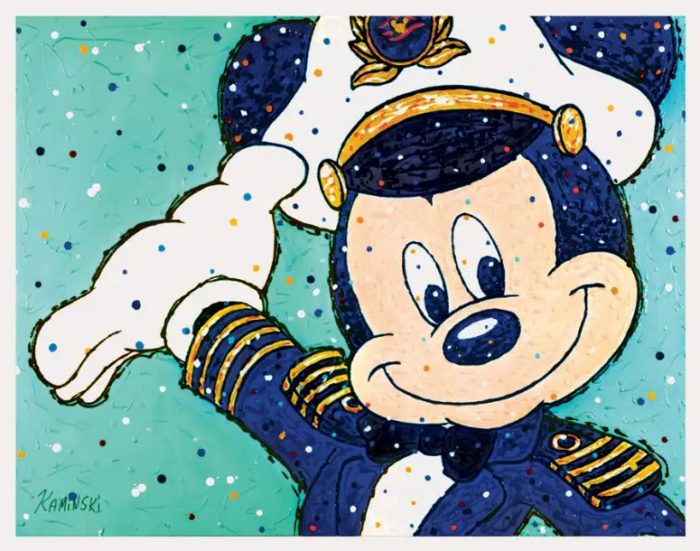 May 1, 2023
New Castaway Club Tiers Are Now in Effect
Guests who have been on more than 25 Disney Cruise Line sailings have now had their Castaway Club status upgraded to Pearl. Along with that change has come a previously unannounced perk – earlier online check-in dates for Castaway Club members.
As of May 2023 the following dates apply for online check-in:
Pearl Castaway Club members and Concierge Staterooms: 40 day prior to sailing
Platinum Castaway Club members: 38 days prior to sailing.
Gold Castaway Club members: 35 days prior to sailing.
Silver Castaway Club members: 33 days prior to sailing.
First Time Cruisers: 30 days prior to sailing.