Disney Data Dump July 12 2023
We finally get to talk about July 4th! Seems odd now that we're about halfway through the week, and we've already talked about it in the Wall Street Journal and Yahoo Finance … and the New York Post. We've even had time to spin up and prove wild theories like Taylor Swift being the problem behind low crowds. But it hasn't been in a Disney Data Dump, and we all know that's when things get official. So things are officially slow now, y'all. The summer peak has passed, and the data is going to prove it.
Observed Crowd Levels July 4 – 10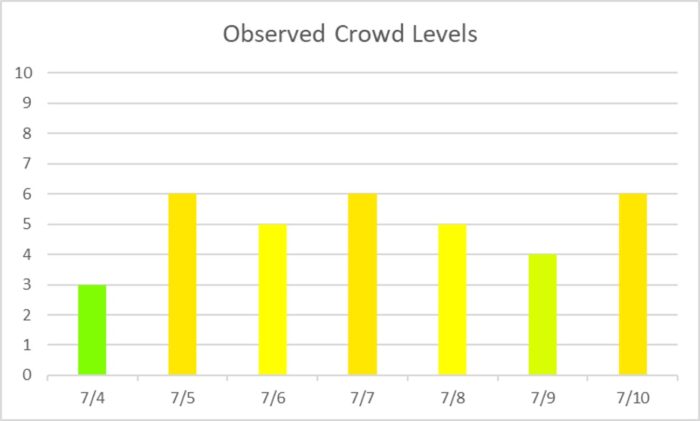 This is what peak summer travel looks like, apparently. This is actually quite a bit lower than what we saw in late June. So I think we can comfortably say that late June was actually our (very mild) summer peak crowds at Walt Disney World, and we should hover through this more moderate summer phase until we get to late August and early September. I'm personally very intrigued to see what September crowds look like if July 4th was a crowd level 3!
Our roller coaster pattern went away a little bit this week, but that may be a leftover effect of the holiday weekend/week. Let's see if it makes a comeback next week.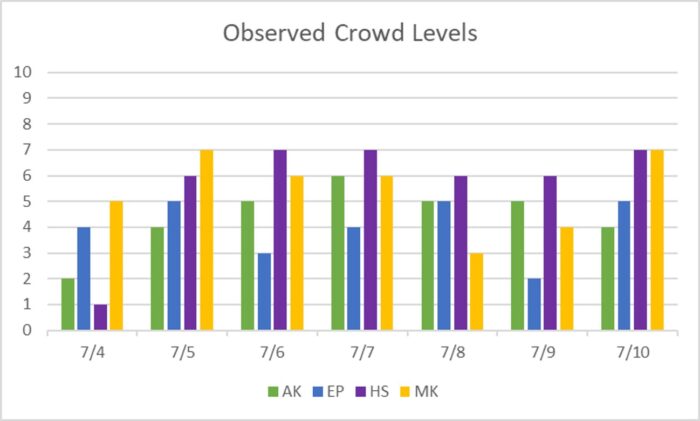 I've heard from several folks that visited Hollywood Studios on the 4th – I can't emphasize enough how weird that crowd level 1 is. We haven't seen a crowd level 1 at the Studios since November 2021, when the parks were still struggling to get over pandemic travel depression. And it wasn't even like a mild level 1. It was pure ghost town. We had recorded wait times during the middle of the afternoon (aka, peak crowd times) of 20 minutes at Runaway Railway and 8 minutes at Tower of Terror. If you were a local, I hope you looked at the posted wait times and hopped over to have a great day!
Performance of Crowd Level Predictions
Each week, I'm giving you a very transparent look into how our crowd level predictions performed. Each day at each park is one data point, so this week we have 28 different crowd level predictions to evaluate each week. Any time a prediction is within one or two crowd levels, things won't really "feel" much different than what we predicted. Being off by 3 or more crowd levels is where we'd like to be more accurate because you might feel that difference in wait times throughout the day.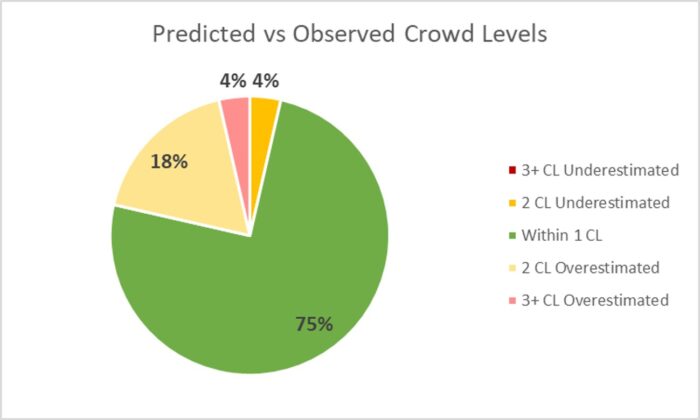 In the past week, Touring Plans predictions were either spot-on or within 1 crowd level 75% of the time. This is SO much better than any of the past several months. 96% of the time Touring Plans predictions were within 2 crowd levels, and that means we earn an A for our predictions this past week! That crowd calendar update made a real difference! The biggest miss of the week happened at Hollywood Studios on July 4th (which should come as a shock to absolutely no one, given the charts above). Touring Plans predicted a crowd level 6 for that day, and it ended up being a crowd level 1.
Attraction Downtime July 4 – 10
If we average all of the capacity lost due to unexpected downtime over the past week, it comes out to a really disappointing 6.1% of attractions unexpectedly being down. Much, much higher than our historical average. The park with the biggest issues was Animal Kingdom, with 9.9% of its capacity lost due to unexpected downtime. Almost 10% of capacity lost throughout the entire week – that's terrible, and I think it's the worst week at a park we've seen since I've started tracking this data.
The worst day for attraction downtime in the past week was on July 9th. On that day, 9% of all capacity at WDW was lost due to unexpected downtime. Another really terrible number! The worst park-day of the week was at Animal Kingdom on July 8th. On that park day, wait for it … 16% of the capacity at the park was lost due to unexpected downtime. Animal Kingdom was open for 11 hours on the 8th, so 16% downtime is the equivalent of the whole park being down for over 105 minutes. Out of 11 hours, this is like the whole park shutting down for an hour and 45 minutes. Malarkey.
Attraction Downtime Worst Offenders
The worst offender of the past week was Expedition Everest, which was unexpectedly down for approximately 34% of the past week. More than a third of the week! The worst day for Everest was on July 8th, when it was unexpectedly down for 83% of the day. But there were quite a few days where it was down 35 or 40% or more of the day. That obviously had a very large impact on the capacity at Animal Kingdom as a whole, since it is light on attractions anyway.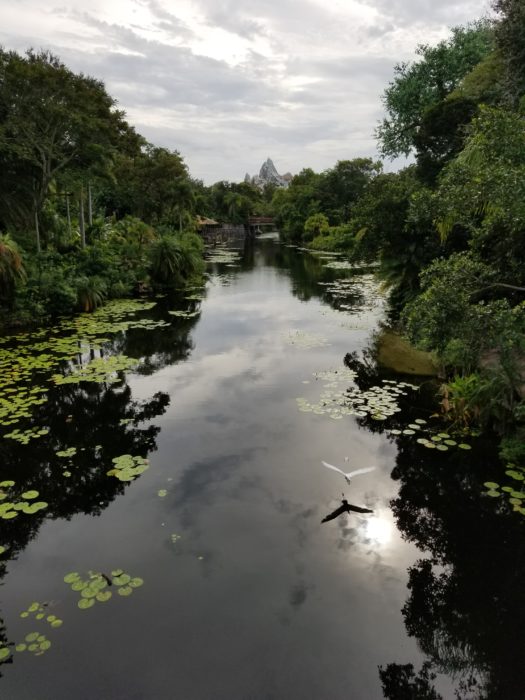 Rope Drop Downtime
Here are this week's problematic offenders:
This is a long list of rope-drop downtime issues. Really the only ray of light in this news is that Hollywood Studios didn't have an awful week. Instead, everywhere else did instead. Folks doing "second rope drop" without early entry at Magic Kingdom would have struggled to find open options, and two out of the big three at EPCOT had issues too.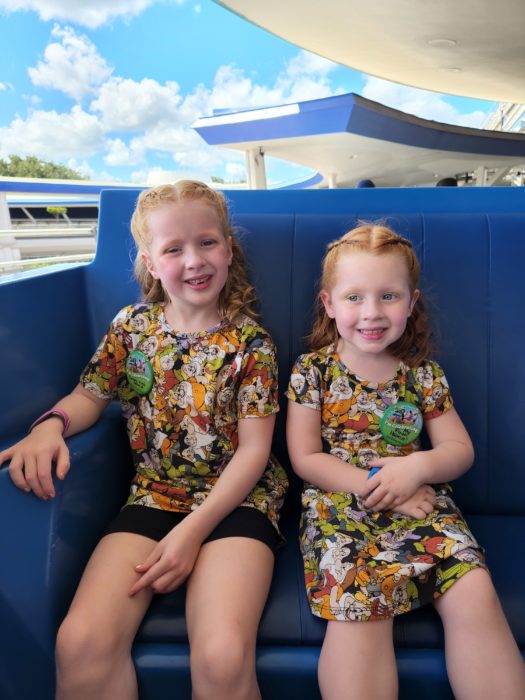 Wait Times July 4 – 10
Attractions with the Highest Average Posted Wait at each park
Wait times stayed low this week, with only slight increases at Flight of Passage, Seven Dwarfs Mine Train, and Frozen Ever After – and a big decrease at Slinky Dog Dash!
Parks with the Highest and Lowest Average Wait
These parks likely won't change week-to-week unless something ridiculous happens, but these data points will give us a high-level view of how wait times are trending from week to week.
Highest: Hollywood Studios, average park-wide posted wait of 37 minutes (39 minutes last week)
Lowest: EPCOT, average park-wide posted wait of 22 minutes (23 minutes last week)
More good news! (For us, not for Disney) It's rare to see Hollywood Studios with an average of anything less than 45 minutes, so for it to keep dropping before 40 minutes in the middle of the summer is great news for any Star Wars or Toy Story or Tower of Terror fans.
Most Inflated Posted Wait Times
We all know that Disney inflates their posted wait times on purpose. They have many reasons for doing this. Some are totally understandable, and some are potentially more problematic. We can figure out how much posted wait times are being inflated by comparing submitted actual wait times from the Lines App and the posted wait time when the person timing their wait entered the line.
Over the past week, actual wait times in the Lines App averaged 65% of what was posted. This is a little bit higher than our historical average, which means that wait times aren't quite as inflated as usual. If the posted wait time was 60 minutes, you could've expected to wait just 39 minutes instead.
But the worst offender for the past week is Na'vi River Journey. At this one attraction, submitted actual wait times were 43% of posted wait times in the past week. That means that if Na'vi River Journey had a 60 minute posted wait, you probably would've waited just under 26 minutes instead. Less than half of what was posted. Remember to always check the Lines app for predicted actual waits instead of believing what is posted.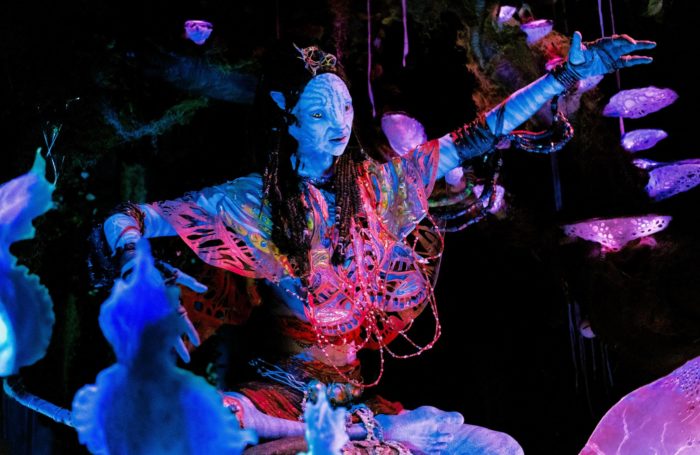 Actual Wait Time Rock Star
The Actual Wait Time Rock Star for the past week was psymonds, who submitted an almost unbelievable 78 actual wait times through the Lines App over the last 7 days! This includes 24 Lightning Lane waits, 46 Standby waits, 6 single rider waits, and 2 virtual queue waits. Thank you for all of that timing, psymonds! You totally annihilate what I considered to be the nearly unbeatable record of 50 wait times recorded in a week! To be fair, this was an absolutely stellar week on the whole. AllisonFamily would have also beat the previous record, with 66 recorded wait times of their own.
In the upcoming week, timed waits from character meet and greets would be incredibly helpful!
Looking Ahead: July 11 – 17
Now that the summer peak has really really passed, it's time to book those last-minute summer vacations to take advantage of the low crowds and good deals! If you can stand the heat. And the thunderstorms. And all of the downtime. We'll take another look at downtime next week, but as I'm writing this on July 11th, 27 (TWENTY SEVEN) attractions were all down at the same time at Walt Disney World. It's a mess out there. But at least it's an uncrowded mess.
There is absolutely nothing special on the calendar in the upcoming week, so things should head back to our status quo. Peak "crowds" on Mondays, decreasing throughout the week and bottoming out on the weekend. But I would bet we'll be staying in this low-to-moderate range until early September.