Disney World's 10 Best Table Service Restaurants (According to You)
If you're planning a trip to Walt Disney World in 2018, you're probably also looking for restaurant recommendations. After all, dining is an integral part of any Disney World vacation, and it's fairly expensive, too. You want to make sure you're not wasting your money or time. We're here to help, using data to show you the best restaurants to try on your next trip.
In 2017 we received more than 145,000 surveys from you, our readers, about restaurants in Walt Disney World. To put that in perspective, we got more Walt Disney World restaurant surveys last year than Yelp and TripAdvisor have received for WDW in their entire lifetimes, combined.
What makes us different from Yelp and others is that we display those surveys alongside comprehensive reviews written by culinary experts. With those critical analyses, you get a consistent evaluation of the entire range of Disney dining options, from people who've tried every restaurant, kiosk, and food stand in the World. (I'll add comments here and there, too.)
Using those surveys, here's the list:
Walt Disney World's 10 Best Table Service Restaurants
1. Victoria & Albert's, Grand Floridian Resort
(99% "thumbs-up" on 72 surveys, ***** out of 5 stars from our dining critics)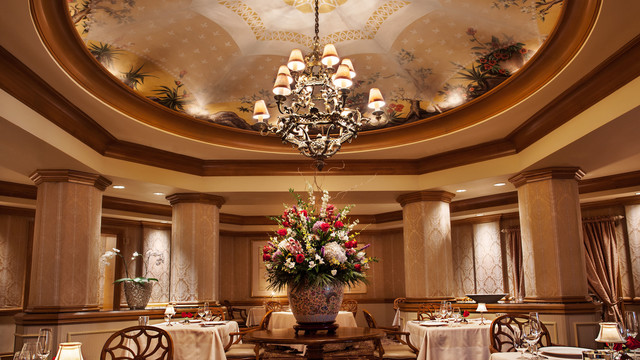 This is Disney's best restaurant by a wide margin. The difference between Victoria & Albert's and a restaurant that's merely "very good" is that a "very good" restaurant is probably known for a few signature dishes it does well. At Victoria & Albert's, every single menu item is exceptional. Each course — and there are 7 to 10 of them on the tasting menus — is prepared by accomplished chefs, using the best ingredients available regardless of cost, presented in innovative ways, by servers whose knowledge is frankly astounding.  Also astounding is the price, which starts at $185 per person for the 7-course tasting menu, and goes to $235 per person for the 10-course menu. Add in a wine pairing ($65 to $150 per person), caviar, and gratuity, and dinner for two people will top $1,000.
If the Michelin Guide covered Florida restaurants, the only question about Victoria & Albert's would be whether it got two stars or three. Dinner only, strict dress code, no children under 10.
2. Jiko – The Cooking Place, Animal Kingdom Lodge Jambo House
(96% thumbs-up on 343 surveys, ****1/2 stars)
Jiko was Disney World's #1-rated restaurant in the 2015 and 2016 surveys, and is the first of three Animal Kingdom Lodge restaurants to make this year's top 10. Jiko got a new head chef and new pastry chef in late 2016, followed by an updated menu in early 2017. A handful of long-running appetizers and entrees were replaced with choices like Asian-style Manti dumplings and Moroccan Lamb Tagine. The new menu is still a relatively gentle introduction to the spices and flavors of Africa and Asia, with meats including bison, elk, and boar, while providing standard alternatives for those who just want a steak or chicken. Dinner only.
3. Hoop-Dee-Doo Musical Revue, Fort Wilderness Resort
(95% thumbs-up on 444 surveys, *** stars)
A few of the restaurants on this list seem to earn their high marks from the entertainment more than the food.  You'll know that Hoop-Dee-Doo is one of them when you see the dinner's spare ribs and fried chicken being brought out in actual metal buckets for your family to share. The food is decent enough, considering that the kitchen is preparing hundreds of identical meals simultaneously. There's plenty of it, too. The real star here is the Western-themed musical and comedy show that plays out while you eat. Here's a tip: Meals for those with dietary restrictions are often prepared right before the show starts, and are often tastier than the standards. Dinner only.
4. The Garden Grill, Epcot
(95% thumbs-up on 1,102 surveys, ** stars)
Another place that's rated highly based on the entertainment rather than the food. Garden Grill serves breakfast, lunch, and dinner in Epcot's Land pavilion. All meals are served family-style and are all-you-care-to-eat. The menu sticks to traditional American offerings for every meal — bacon and eggs for breakfast; meats, veggies, and potatoes for dinner — so that everyone can find something they like. Disney characters roam around the restaurant during your meal, and will pose for photos and sign autographs. Characters include Chip and Dale, Pluto, and Mickey Mouse.
Besides the characters, one of the special things about the restaurant is that it sits on a giant, rotating platform. In the span of an hour (about as long as it takes to eat your meal), your slow-moving table will make a complete circle, where you'll be able to see scenes from inside the Living with the Land boat ride. Serves breakfast, lunch, and dinner.
5. Boma – Flavors of Africa, Animal Kingdom Lodge Jambo House
(95% thumbs-up on 936 surveys, **** stars)
The second of three Animal Kingdom Lodge restaurants to make this list, the Boma buffet has been a reader favorite since it opened more than fifteen years ago. The buffet is enormous — stretching down almost the entire length of the restaurant and continuing along one side. If the food at Jiko is a tempered introduction to African, Asian, and Indian cuisine, the food at Boma is even more so. For every pot of mulligatawny (a curry-flavored stew with meats and vegetables) there's a tray of chicken nuggets and fries. My favorite here is the carving station with roasted meat and sauces. Plenty of readers rave about the dessert options too. Breakfast and dinner.
6. Sanaa, Animal Kingdom Lodge Kidani Village
(95% thumbs-up on 665 surveys, **** stars)
The third Animal Kingdom Lodge restaurant on this list, Sanaa is the rare Disney World restaurant that specializes in Indian food, here served alongside African-themed dishes. Indian items include garam masala duck and several vegetarian options: lentil dhal, chickpea wat, and paneer tika. Also on the menu are several versions of biryani, a traditional African dish of fragrant mixed rice, optionally with chicken or shrimp. The thing not to miss, though, is the Indian bread service appetizer, served with nine different dipping sauces. You might balk at paying $15 for bread, but this is the thing your family will order first the next time you visit.
7. Beaches & Cream Soda Shop, Beach Club Resort
(94% thumbs-up on 631 surveys, **1/2 stars)
Beaches & Cream serves old-fashioned hamburgers and fries, plus traditional American diner food, milkshakes, and sundaes. It's not a fancy menu, but the burgers are cooked fresh and at $16 each are considerably better (and a few dollars cheaper) than many other table service places in Walt Disney World. Reservations are exceptionally difficult to get at Beaches & Cream because of its small size — it might hold a few dozen people, tops. If you can get your family in, try the Kitchen Sink sundae: scoop after scoop of ice cream served with every topping on the menu — it serves four people. Lunch and dinner.
8. Yak & Yeti Restaurant, Animal Kingdom
(93% thumbs-up on 954 surveys, ** stars)
How Disney came up with this name is still a mystery. For one thing, 'yak' is slang for vomit. And the to-go place next door is named … Yak and Yeti Local Food Cafes. Maybe there was a deal on unused letterhead somewhere. In any case, Yak and Yeti serves standard American Asian food: pot stickers, sweet and sour chicken, lo mein, Korean BBQ ribs, and so on. It's remarkably popular with children and teens, and that seems to be driving these ratings more than the food quality. (If you were looking for better food, you'd try Tiffins or Flame Tree Barbecue first.) Lunch and dinner.
9. Artist Point, Wilderness Lodge
(93% thumbs-up on 220 surveys, ***1/2 stars)
Artist Point features food from the Pacific Northwest. Its house specialty for years has been salmon roasted on a cedar plank, which won't steer you wrong. I ate here last week and really enjoyed the Braised Short Rib Bolognese, with thick egg noodles and mushrooms. If you've got a large group, the charcuterie board is stocked with boar, venison, and pork. Pair that with the cheese board of five samples, and you're off to a good start. My entree was the buffalo strip loin, two perfect pieces of meat with just salt and pepper on top. The most popular side dish is a truffle macaroni and cheese. Dinner.
10. California Grill, Contemporary Resort
(93% thumbs-up on 660 surveys, ***** stars)
A substantial part of California Grill's appeal is that it sits at the top of Disney's Contemporary Resort, with a picture-perfect view of the Magic Kingdom's nightly fireworks show. (The synchronized soundtrack is piped in to the restaurant, too.) The show is popular with children and adults. The menu spans three continents in an attempt to satisfy everyone, but focuses on American and Asian. Highlights include hand-rolled sushi, and an interesting lobster-and-pork take on Tonkotsu ramen. The Caramel-Almond Bar dessert is for people who don't want their kids to see them eating a candy bar at the table. Dinner, Sunday brunch.
Just missing the cut: Trail's End Restaurant at Fort Wilderness, Rose & Crown Dining Room at Epcot's United Kingdom pavilion, and Grand Floridian Café at the Grand Floridian.
Disney Dining Plan and Advance Dining Reservations
All of the restaurants listed accept Disney's Dining Plan for meals except Victoria & Albert's. Advance Dining Reservations (ADRs) are usually required for all Disney World table service restaurants.
Our surveys use a straightforward "thumbs-up/thumbs-down" rating system. The average rating for all Walt Disney World restaurants is 89.5, with a standard deviation of less than 0.02.
Here's how to use the reader surveys and our critical reviews together, for any restaurant you're considering:
If a table service restaurant has earned 90% or better in our reader surveys and at least four stars from our critics, make plans to visit — there's a strong chance you'll enjoy your meal. In the Magic Kingdom, for example, Be Our Guest fits this profile.
Avoid any restaurant that has earned 80% or less in our reader surveys and either three stars or less (sit-down) or C or lower (counter-service) from our critics. It's probably not worth your time or money. Fresh Mediterranean Market at the Walt Disney World Dolphin is an example.
For restaurants where our reader surveys disagree with our critical analysis, read the review for an explanation. An example is STK at Disney Springs. This upscale steakhouse has good food and friendly service, earning 3 ½ stars from our critics. However, STK insists on having a DJ spin pop music in its dining room, at a volume more appropriate for Coachella than Disney World. Families seem to hate this, as evidenced by STK's 75% survey rating. But if you're looking for a little Black Eyed Peas with your steak and fries, the music may appeal to you. Just know what you're getting in to.
Did your favorite restaurant make the top 10? Are there any restaurants that you feel the readers missed? Let us know in the comments.