Does Lunch at Pym Test Kitchen in Avengers Campus Impress?
It's been a busy day at Avengers Campus at Disney California Adventure. One of the most hyped parts of the park has been the unusual foods at Pym Test Kitchen. Here's what we tried today and our thoughts on it overall.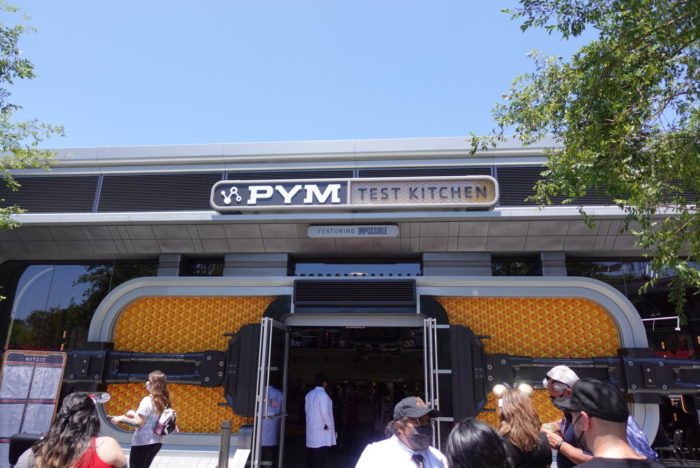 Pym-ini Sandwich ($14.49)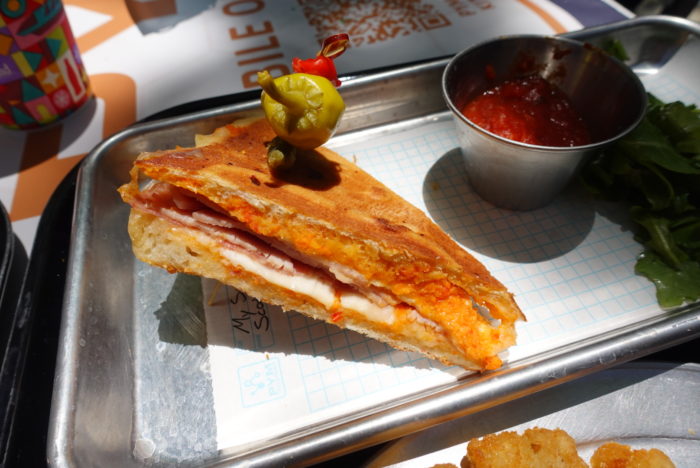 Salami, Rosemary Ham, Provolone and Sun-dried Tomato Spread on Toasted Focaccia, served with Marinara Dipping Sauce and Arugula Salad
This one also comes in a "family size" option for $100 that serves 6-8.
Although the "family size" option gave this one a lot of buzz in the media, we're sad to say that it just isn't good. According to in-park reviewer Guy Selga, it tastes like gas station food and the bread is rock hard. There's also an odd sweet taste to it. This one is a hard pass.
Not So Little Chicken Sandwich ($15.49)
Fried Chicken Breast, Teriyaki and Red Chili Sauces, and Pickled Cabbage Slaw on Brioche, served with Crispy Potato Bites
This is certainly one of the more fun items on the menu to look at — a chicken sandwich where the bun was shrunk and the chicken grew. Sadly, the chicken was dry and while the idea was good, it isn't very practical. The slaw on the chicken sandwich was tasty, and may be the best part of the sandwich. Hopefully the chicken being dry was just opening day challenges and it will get better over time.
Impossible Spoonful ($13.99)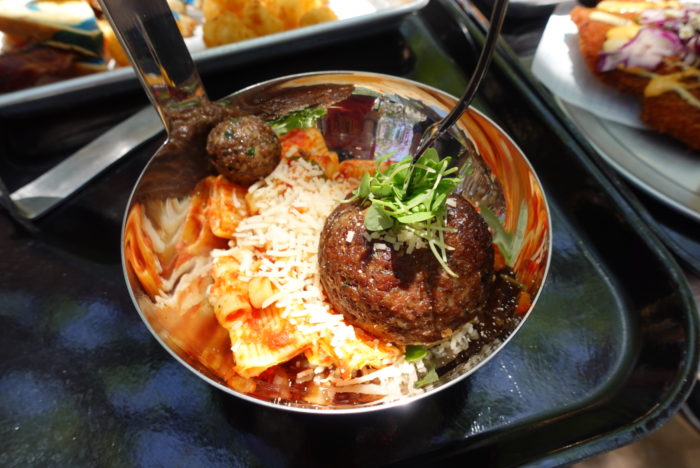 Rigatoni and Ditalini Pastas, Plant-based Meatballs, Tomato Sauce, Dairy-free Parmesan and Micro Basil
If you're looking for a plant-based option, we still recommend going to get the falafel shawarma. This dish qualifies as "fine". The pasta is decent, but not as good as the pasta entrees at Boardwalk Pizza and Pasta.
PB3 Superb Sandwich ($12.99)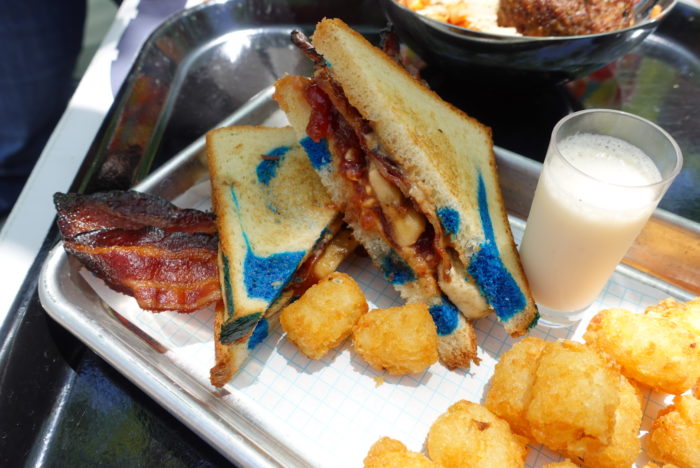 Warm PB&J with Banana and Candied Bacon on Pym Particle Bread, served with Micro Banana Smoothie and Crispy Potato Bites
You'll want to buy this one for the experience, because there's a lot going on here. So many flavors, and yet it works together. That said, this is really, really intense and heavy, and sweet enough that you wouldn't want it for a meal. The highlight of the meal, though — that banana smoothie. Just tell everyone it's not that great and keep it for yourself.
Special thanks to Guy for his coverage from Avengers Campus today!