SATURDAY SIX: @bioreconstruct Flies Above "Undiscovered Disney" and More (Flamingo Crossings, Golden Oak, Star Wars: Starcruiser)
This week's SATURDAY SIX joins @bioreconstruct in the blogger-in-the-sky helicopter for his latest Walt Disney World aerial photos! It's been a while since we took a "big picture" look at the theme park world, so we're back with the inimitable @bioreconstruct flying high above Walt Disney World with a look we generally don't see that many pictures of, starting with…
# 6 – WDW Tree Farm and Nursery
Thanks to the "blessing of size," most guests have never noticed (or seen) this huge part of Disney despite it being relatively close to Animal Kingdom and Cast Connection (a discounted store for Cast Members which we have covered in our monthly Disney Outlet Store articles).  However, there is 35 acres of land that was previously used exclusively as a tree farm to replace trees on property, but now is mostly used to grow shrubbery for animals to eat at Disney's Animal Kingdom. This nursery is also used to grow specialty plants that aren't generally found at local growers, along with storage for the topiaries seen each year at EPCOT's Flower & Garden Festival.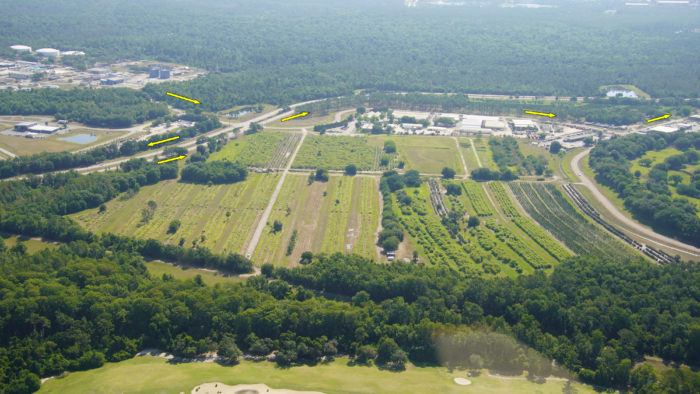 # 5 – Best Friends Pet Hotel
As a person who has lived with family pets almost my entire life (cats when I was growing up, dogs for the last 15 years), figuring out what to do with them when we went on trips to Orlando used to drive me crazy. There are several hotels at Universal which are pet friendly, so we've had no problem taking our four legged friends there. Thankfully Disney made several of their onsite hotels pet friendly several years ago, which we've enjoyed. However, since all of these hotels weren't built with pets in mind, the experience isn't as great as it could be. Most recently I discovered that I had been apparently living under a rock my whole life, as we found out a whole bunch of Disney guests take their dogs with them to the Fort Wilderness Campgrounds (which was fantastic!).
ALL THAT SAID, a couple years ago we decided to try boarding our dogs at Best Friends Pet Hotel. Located on property at WDW, Best Friends sits directly across from Port Orleans resort. You can board your pet for the day while you enjoy the parks, or you can choose from a variety of overnight rooms. Best Friends is now our preferred way to vacation with our dog, because even when staying with us in an onsite hotel, he has to spend a good amount of time in the room by himself. At Best Friends, your pets can have play time with other animals, but also be walked, groomed, and even have a bed time story read to them!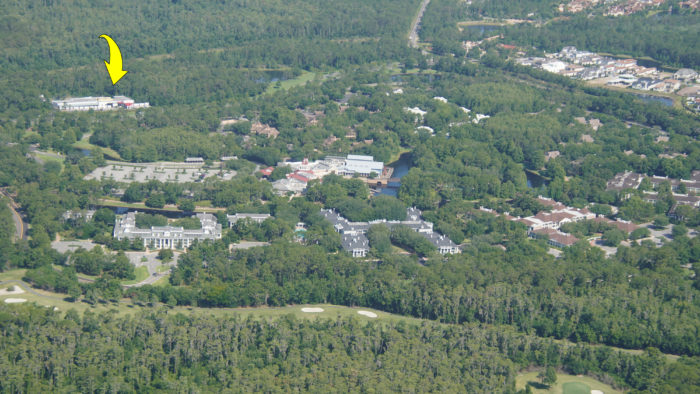 Let's take a quick close up look at Best Friends Pet Hotel. They accept, dogs, cats, and "pocket pets."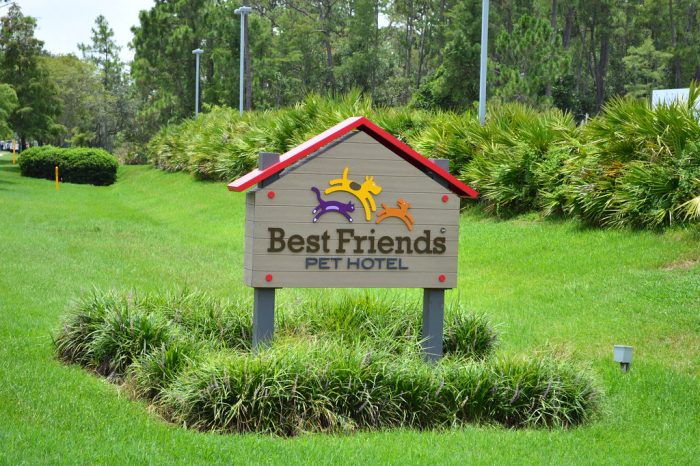 Because we have one of the five most spoiled dogs on the face of the planet, we now book our dog Bacini into a private villa at Best Friends. Dogs staying in the villas section have their own separated area.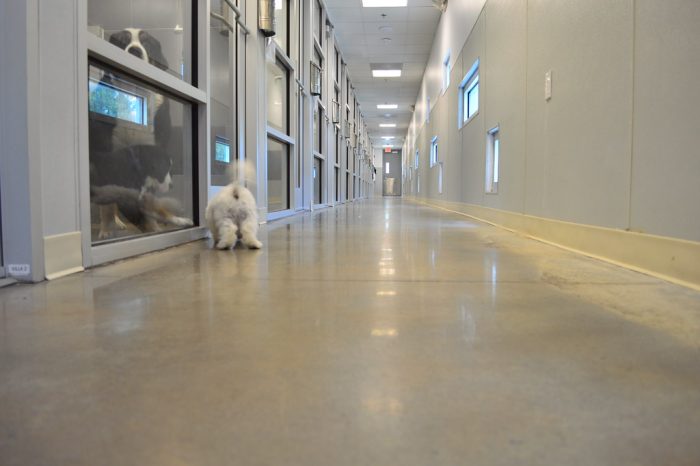 Inside each villa are several areas for your pet to lay down, along with a small outside area.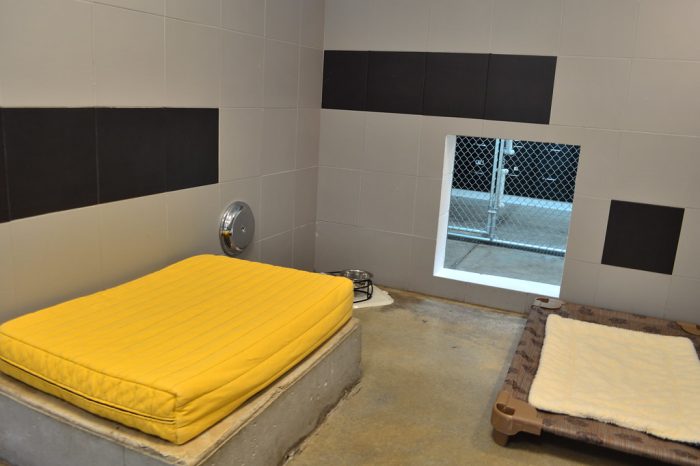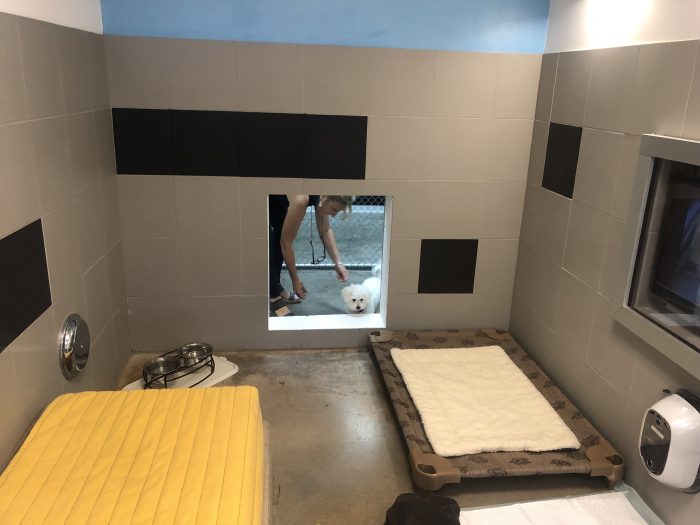 Each of the villas has a TV. Generally it is playing Disney animated films, but one trip there it was playing the live action Garfield film. Below the TV is a unit containing a camera and a small screen.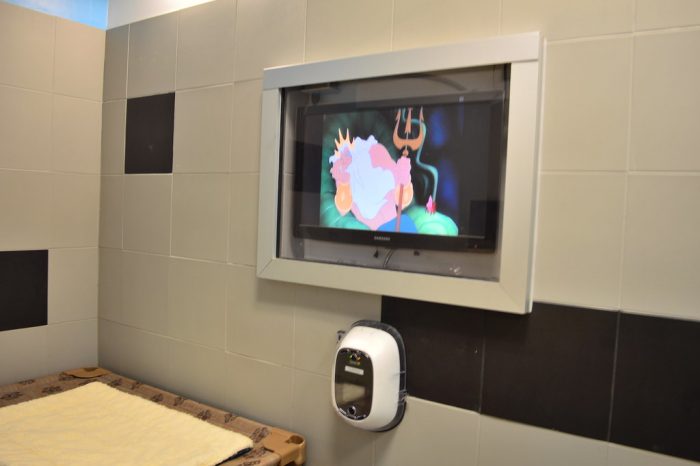 When you check into a villa, you are given directions on how to download a Pet Chatz app, and the password to connect to a live feed of your pets villa. Being able to check up on our pup is hands down the biggest reason why we go for the villa upgrade.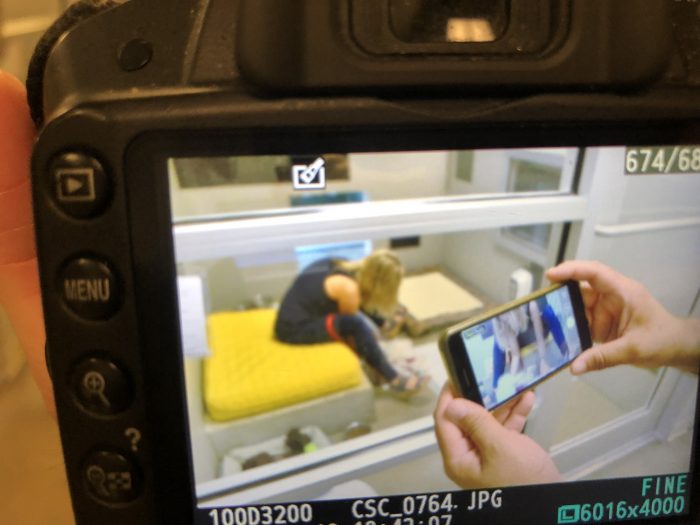 In the Pet Chatz app you have the opportunity to just watch the room via a live video feed, or turn on "Chat Mode" where you can interact with your dog. In the video below, we were in line to enter Universal's Volcano Bay and were saying good morning to our puppy Bacini.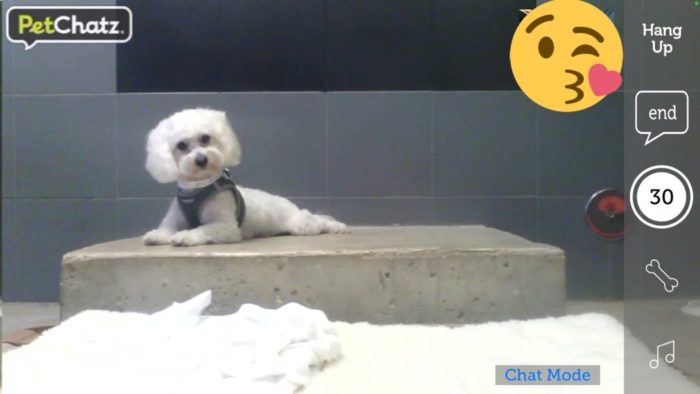 Before we go to bed each night, we do a quick check on the dog. Here he was sleeping so we just did the video feed so we didn't wake him up. (I did mention he was spoiled, right?)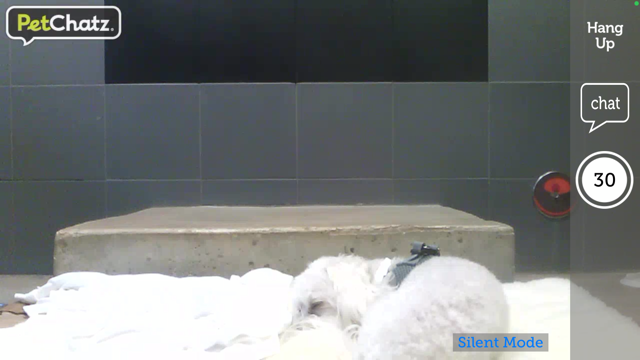 If you'd like more information on Best Friends or taking your pet to an onsite hotel, be sure to check out The SATURDAY SIX Looks at Taking Your Pet on a Disney or Universal Vacation.
# 4 – Golden Oak
While we are near Port Orleans, let's check out another part of WDW near this resort. Golden Oak is an upscale residential community located on property. For those who don't know about Golden Oak, the gated community is located directly across from Port Orleans and is next to Fort Wilderness Campground.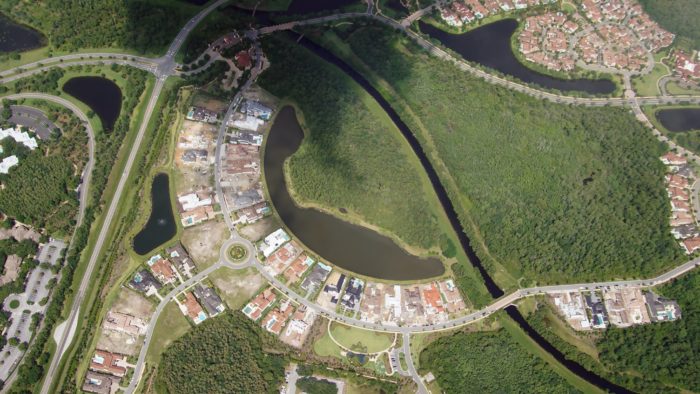 The Four Seasons Orlando resort is located in the same gated area of Golden Oak. The aerial below shows Golden Oak relative to Fort Wilderness (entrance at left arrow) and Bay Lake. Newest homes at center arrow. Four Seasons at the right arrow.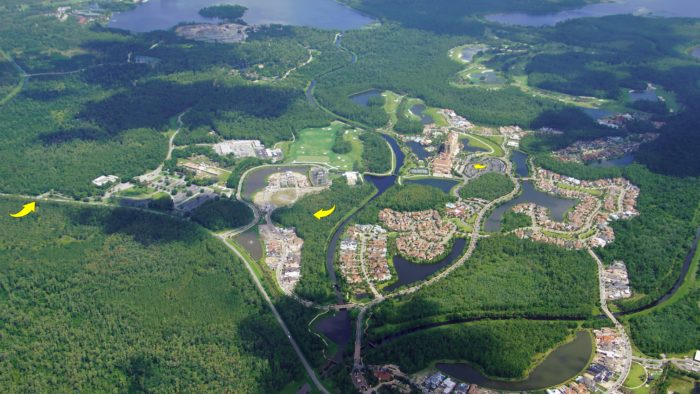 Four Seasons Orlando is a true premier hotel experience at Walt Disney World.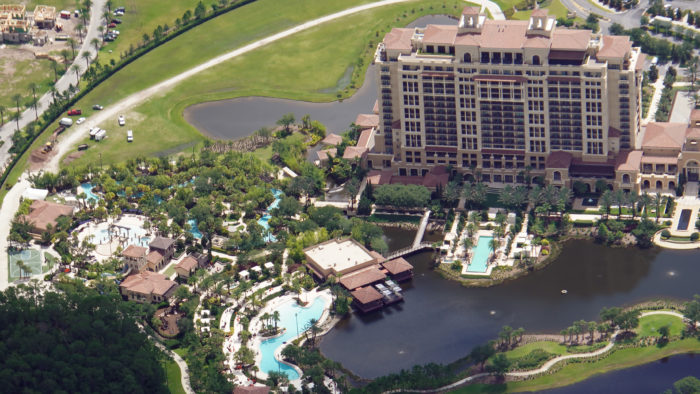 Let's get an up close view of the Four Seasons Orlando.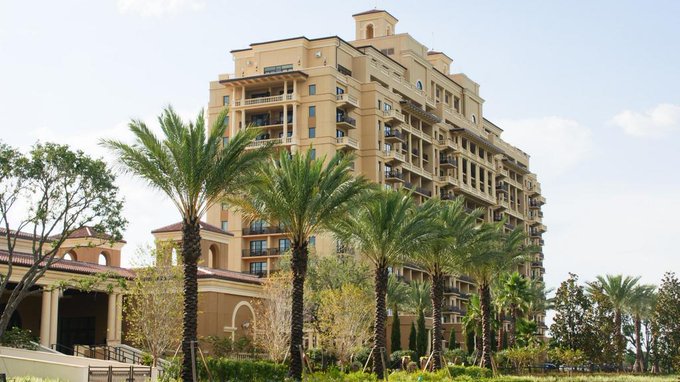 This is an E-Ticket splash area for kids.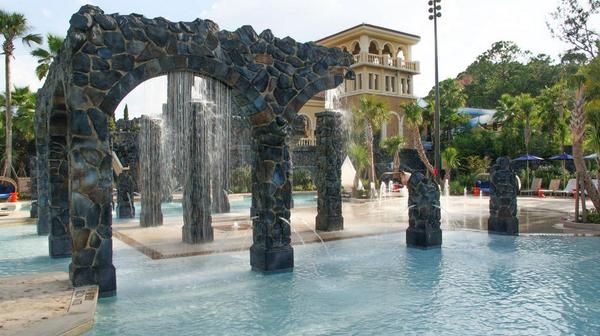 A lazy river that can hold its own against any you'll find in a water park.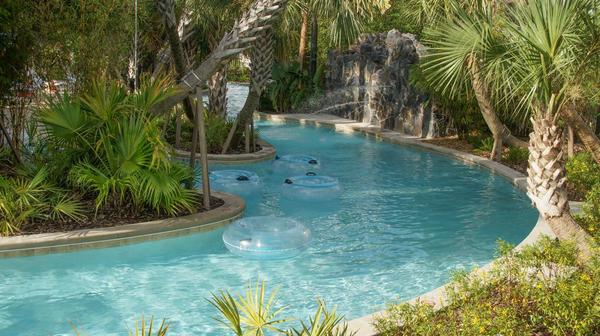 # 3 – Star Wars: Galactic Starcruiser
One of the most anticipated experiences coming in 2022 will be the debut of the Star Wars: Galactic Starcruiser hotel. Recently Disney unveiled some jaw dropping video of a "real" lightsaber in action, but offered very little details how (or even if) hotel guests will interact with one.
The entire concept of the Starcruiser hotel is that you are part of a "story." Guests will arrive at the front of the hotel and be "transported" into space and onto the Starcruiser. Your car will be parked in a nearby parking lot which will be hidden from your experience. In the photo below the parking lot area at the forefront of the photo is Cast Member parking for Disney Hollywood Studios. While nothing has been announced, a likely bet is that Starcruiser guests will park somewhere in this area and take a shuttle over to the hotel to begin their experience.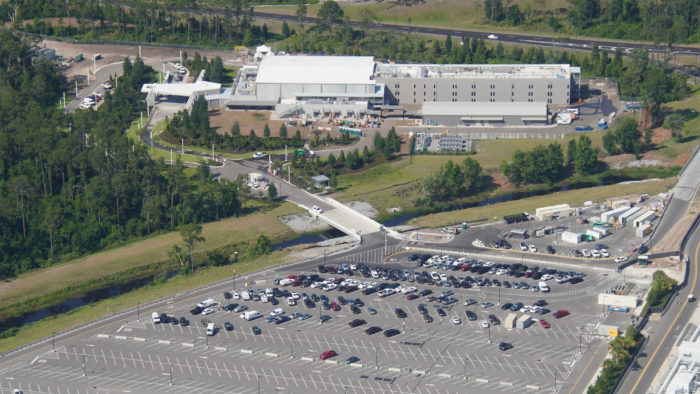 Speaking of shuttles, the Starcruiser hotel experience will be completely immersive, so when guests want to leave the Starcruiser for the planet Batuu in DHS, they will board a starship transport (AKA a Mears Bus with screens) and be "flown" over to a docking station in Star Wars: Galaxy's Edge. Below is the construction of the "docking" area where transport ships will pick up guests at the hotel.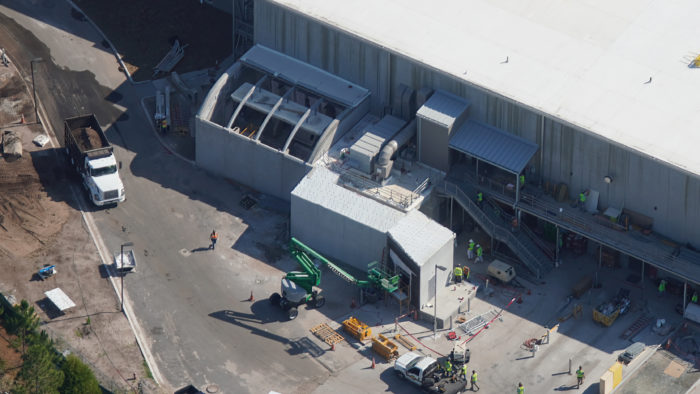 This photo below shows the context of where the Starcruiser sits in relation to the nearby Star Wars: Galaxy's Edge. The arrows are pointing to where the two transport stations will be.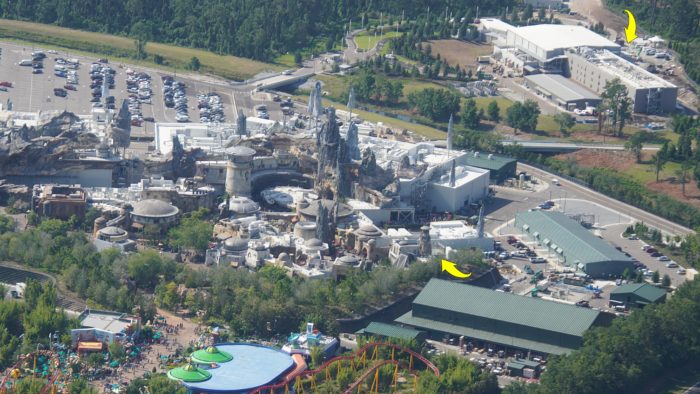 Docking Bay construction is also underway in Star Wars: Galaxy's Edge.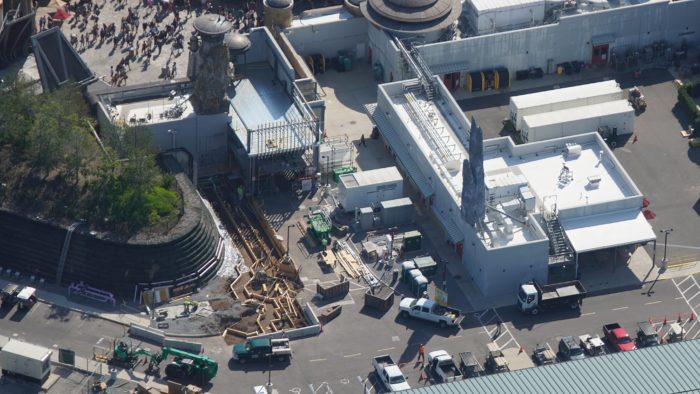 # 2 – Flamingo Crossings
One project which has been talked about for a long time and is finally getting close to being accessible to guests is the Flamingo Crossings area. This will be a new dining and shopping district, offer value priced non-Disney hotels, and is the new home for the Disney College Program apartment complex. Flamingo Crossings is off Western Way, which sits in-between Disney's All-Star Resorts and Coronado Springs.
The Flamingo Crossings Town Center will be the hub of retail stores and restaurants. Some of the dining options will include Wendy's, Domino's pizza, PDQ, and Five Guys. Target will be the main anchor store, but the area will also have a Five Below, Walgreens, and UPS store (which will be very convenient for the eBay pirates).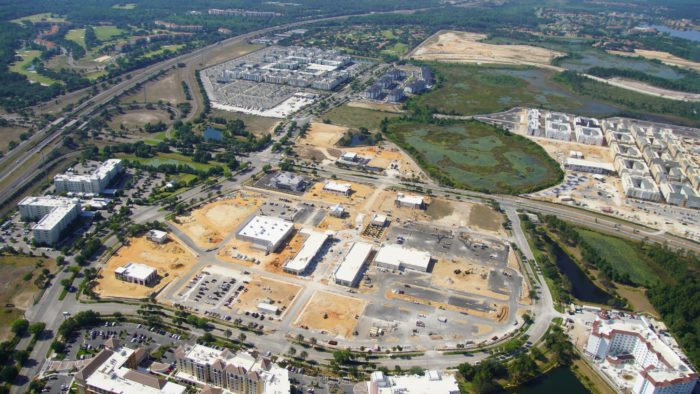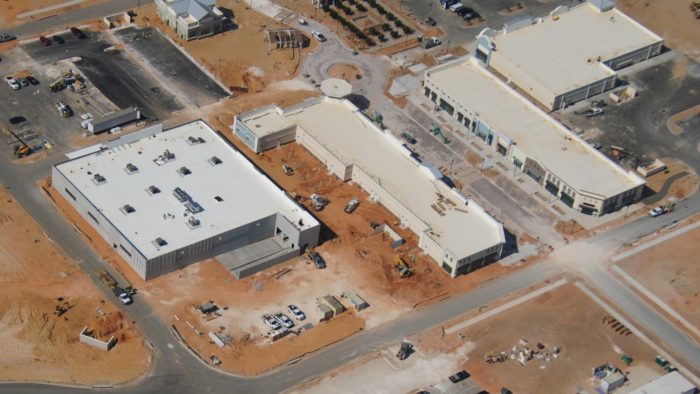 This area is the Flamingo Crossings Village, an apartment complex which will be filled by many Cast Members that are a part of the Disney College Program.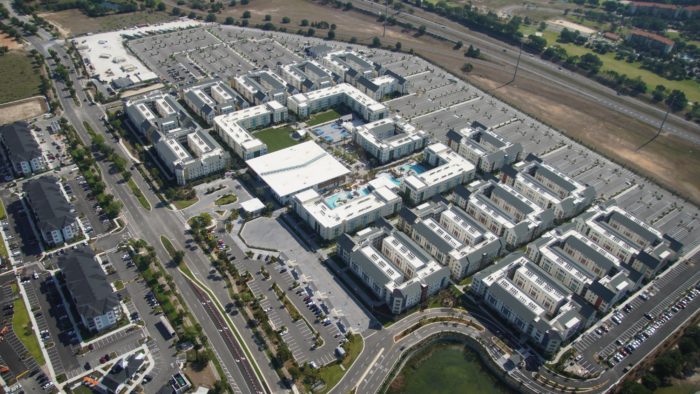 Plenty of rooms will be available once completed.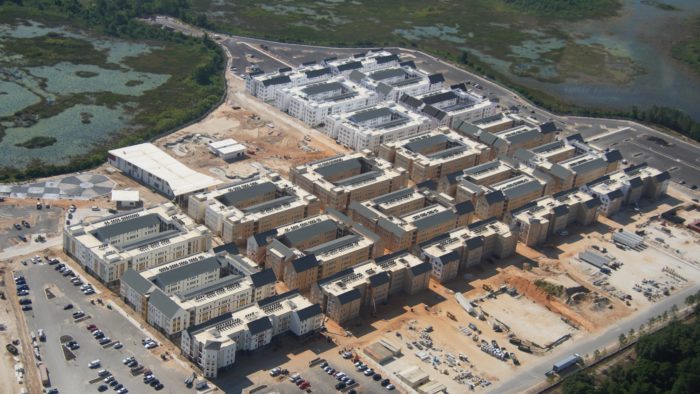 # 1 – Kilimanjaro Safaris Layout
One of the highest rated attractions in all of Walt Disney World is Kilimanjaro Safaris. It is an attraction that no other theme park can compete with. We've all seen many photos taken from inside the safari vehicles, but imagine my surprise when @bioreconstruct dropped an aerial overview of the entire attraction. Just amazing. Can you trace the route?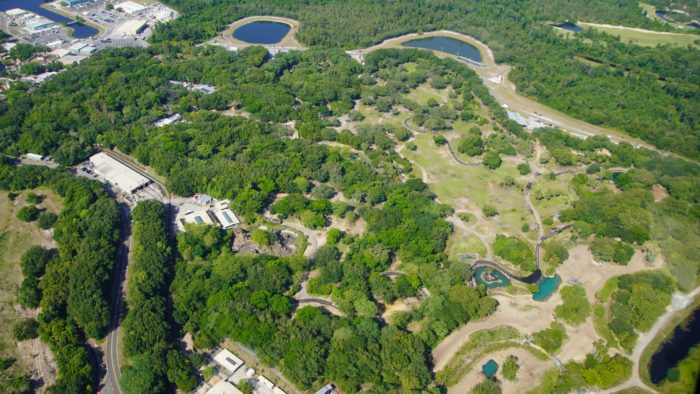 While we are in Animal Kingdom, let's take a look at this aerial which includes the Tree of Life in the center and Pandora: The World of Avatar in the top center.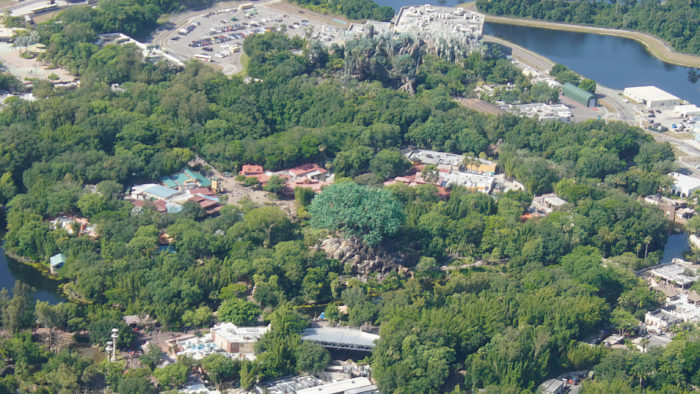 This aerial shows us another unique view with Expedition Everest in the bottom left. See how many other attractions you can identify.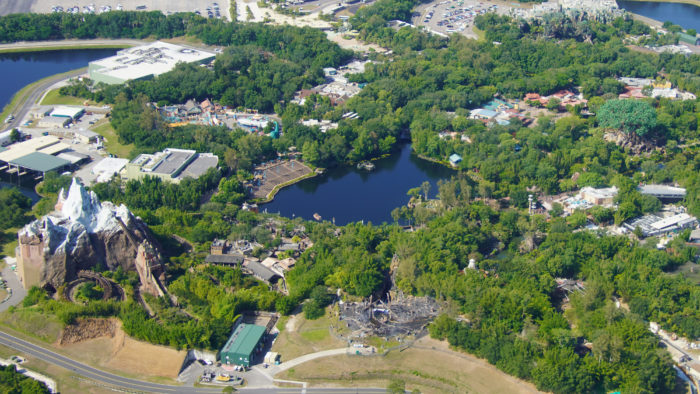 Honorable Mention – Walt's Plane
Over 50 years ago, when Walt Disney himself was looking for land to build a new theme park on, a small plane was flown over the Florida swamp land that would eventually become the WDW we know and love today. For many years this plane could be seen as one of the vehicles seen on the Studio Backlot Tour at Disney's Hollywood Studios. After the Backlot Tour was closed to make room for Star Wars: Galaxy's Edge, the plane found a new home in a location backstage.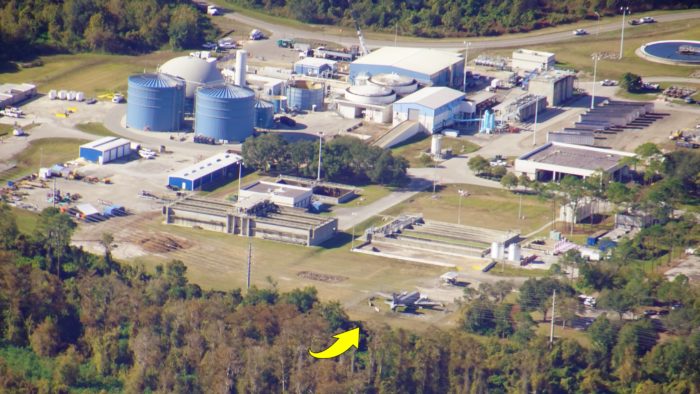 Recently, @bioreconstruct was able to get a really good photo of this plane. It has now been wrapped in plastic. Walt reminded people to never lose sight of one thing, "that it was all started by a mouse." That's definitely true for California, but down here in the Sunshine State you could make a case that it was all started by a plane…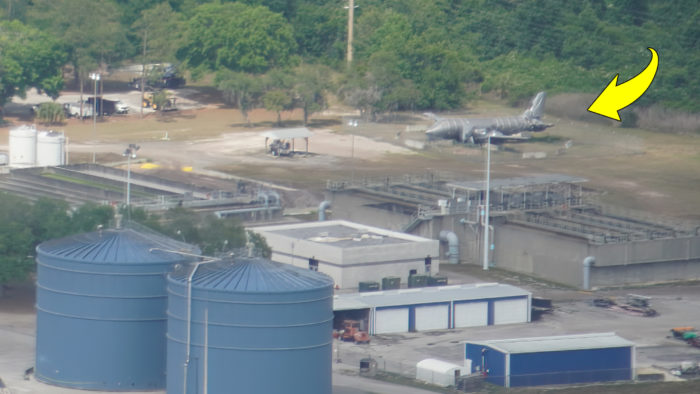 Let's take a look at this wide aerial photo of EPCOT which includes several things we covered in this article. Left arrow is pointing to Expedition Everest at Animal Kingdom. Top center arrow, Flamingo Crossings. Green arrow, Mickey solar panels. Blue arrow, Walt's plane.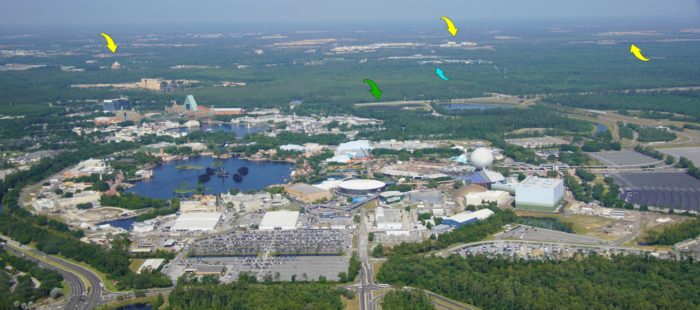 Before we go…
Let's close with one of my favorite things when @bioreconstruct does aerial photos, wide shots featuring several icons and overheads of Disney hotels! First up this amazing photo which has the Guardians of the Galaxy show building monstrosity in the foreground, but look how many amazing things are behind it: Spaceship Earth, the Swan & Dolphin, Grand Destino Tower, and Expedition Everest!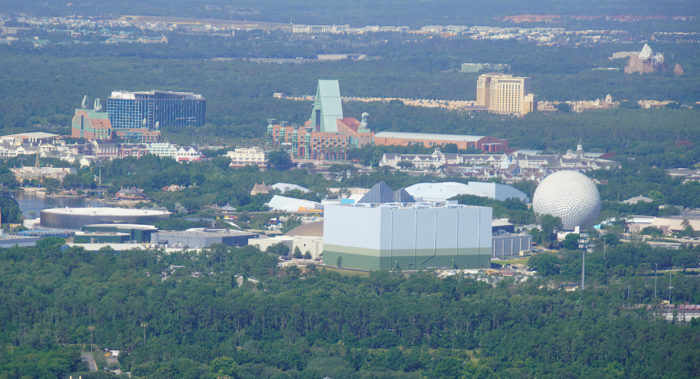 Here's a wonderful aerial featuring the EPCOT resort area.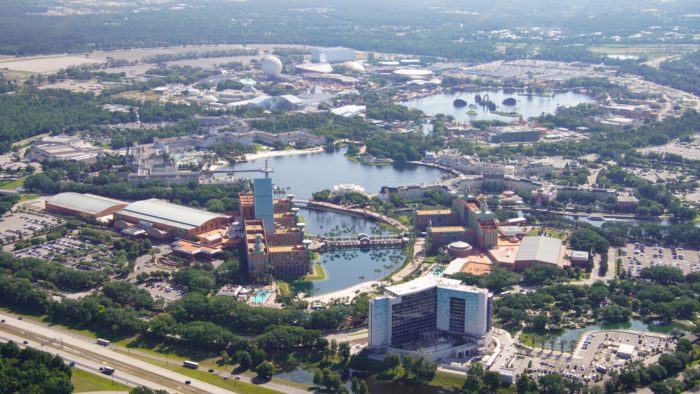 The Swan & Dolphin along with the new Cove boutique hotel on the left.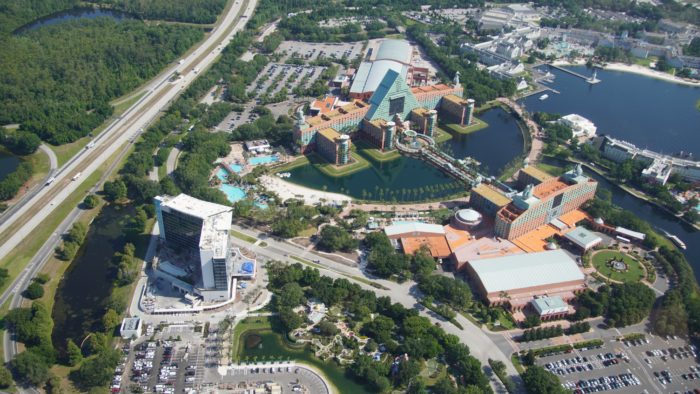 Disney's Coronado Springs Resort.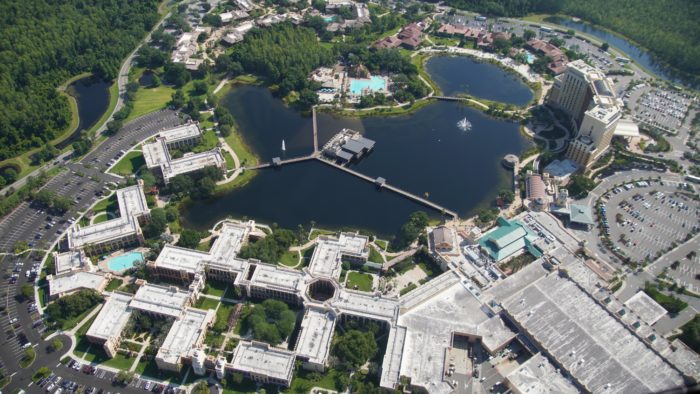 The sprawling Disney's Saratoga Springs DVC Resort.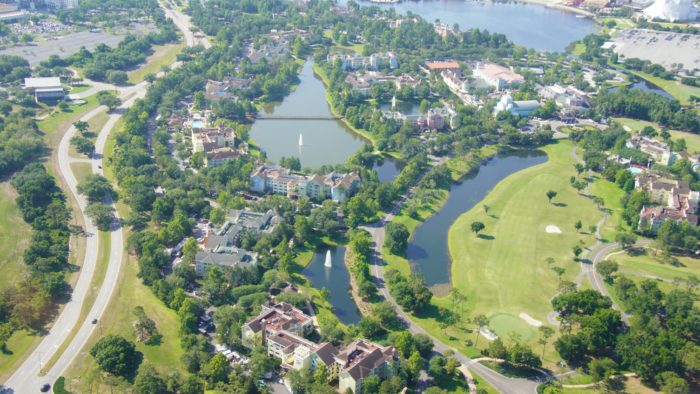 Disney Springs.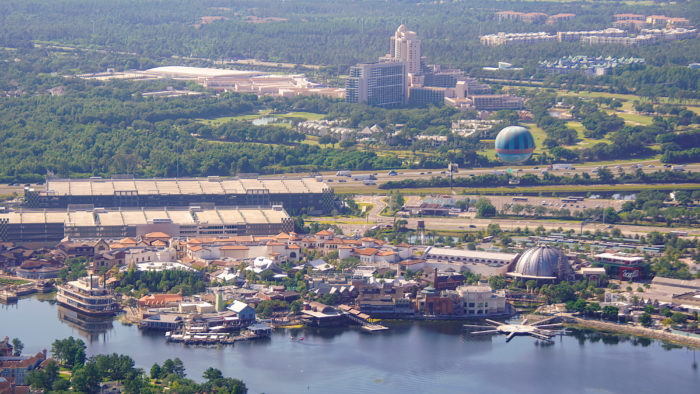 So there you have it: "Undiscovered Disney" Aerial Photos by @bioreconstruct! See you next weekend for the latest installment of the SATURDAY SIX, where we'll look at something fun from the world of Disney and Universal. If you enjoyed yourself, be sure to check out The Magic, The Memories, and Merch! articles covering the latest from the Disney Outlet Stores. You can also follow Your Humble Author on Twitter (@derekburgan).
If you enjoyed this article, you will surely like the following: 
The SATURDAY SIX Presents: @bioreconstruct's Favorite Aerial Photos
SATURDAY SIX SPECIAL INVESTIGATION: An in-depth look at theme park photography
The SATURDAY SIX takes a 3,000 foot view of the Disneyland Resort
6 Reasons you need to check out Universal's VOLCANO BAY
Special Thanks to The Elite Brandon Glover, the bio-est of all reconstructs @bioreconstruct, Captain Cruiseline Scott Sanders of the world famous Disney Cruise Line Blog, my personal protege Hunter "Elvey" Underwood, artist @SonderQuest, the SAT SIX Fun Squad of Parkscope Joe and "the Dadalorian" Nick, hot shot Michael Carelli, charter member of the Universal Four @Nitro230, and Hermione Granger's tutor Megan Stump for their invaluable assistance with this article. The SAT SIX is inspired each week by goofballs Aengus Mackenzie and LitemAndHyde and you Potterheads will  enjoy Meg's other blog work over at the Central Florida Slug Club.