First Day for Breakfast at Avengers Campus at Disney California Adventure
With the opening of Avengers Campus at Disney California Adventure, crowds are flocking to the park. That means it is a good time to look at breakfast options in this popular new land. Two options are available in the morning for food: Pym Test Kitchen and Shawarma Palace. We sent TouringPlans' own Guy Selga to try things out.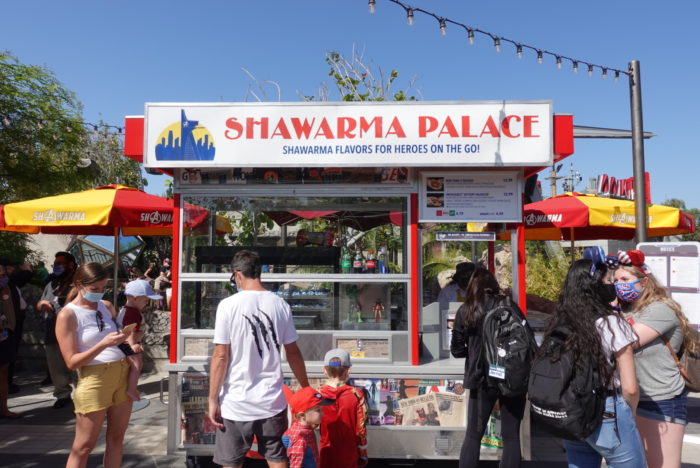 Pym Test Kitchen is the main quick-service dining option and offers standard breakfast fare with experimental-sounding names, like the Impossible Quantum Garden Breakfast (a plant-based omelet with Impossible sausage, potato bites, and focaccia toast), Calculated Breakfast = E x 2 (B+P)/T (eggs two ways with smoked bacon, potato bites, and focaccia toast), and Spoonful of Cereal (bran flakes and raisins with yogurt-covered pretzels, milk, and a banana). Kids options are also available.
Here's what we tried:
Ever-expanding Cinna-Pym Toast ($12.49)
Baked Pym Particle Bread and Egg Custard with Cinnamon-Sugar Topping, a Fried Egg, Smoked Bacon and Maple Syrup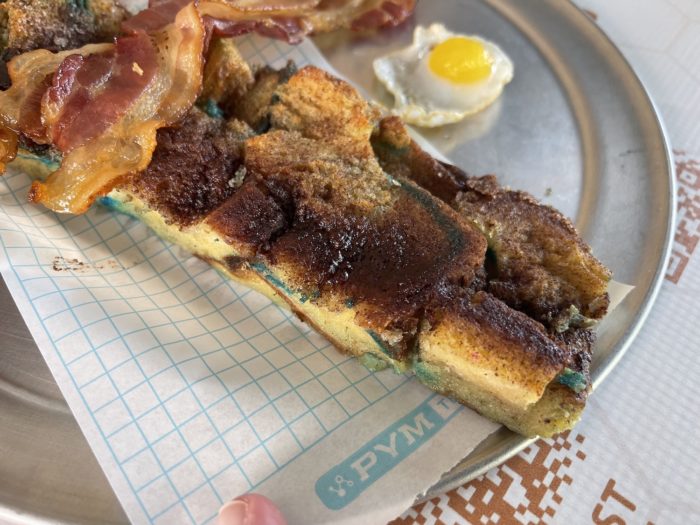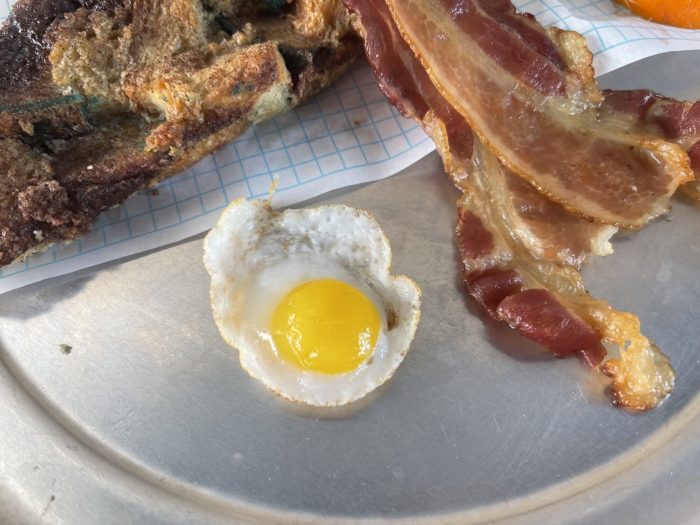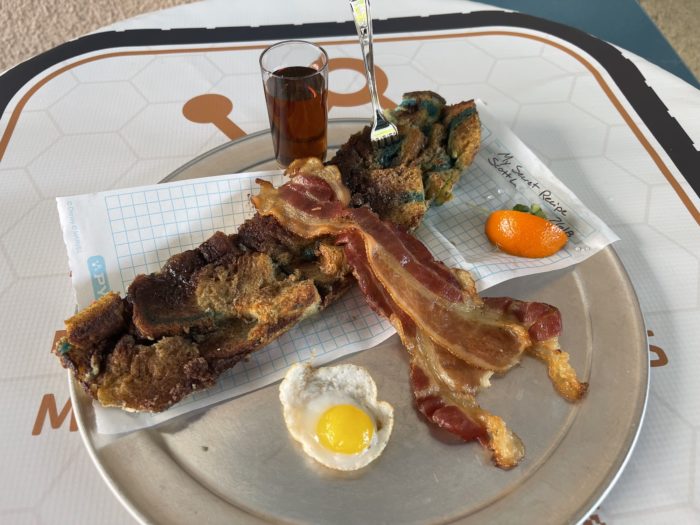 Although the appearance of this dish may be a bit odd (seriously, why do Marvel-related bread products have the look of mold?), Guy assures me that it was actually really tasty. He said that the French toast was fantastic and probably currently the best breakfast item in the park. Bread pudding style and a generous portion. This certainly looks like a dish that could be easily split, as long as no one wants to fight over the egg on the plate that really feels like an after-thought.
Impossible Quantum Garden Breakfast ($12.49)
Plant-based Folded Omelet with Impossible Breakfast Sausage, crispy Potato Bites and Focaccia Toast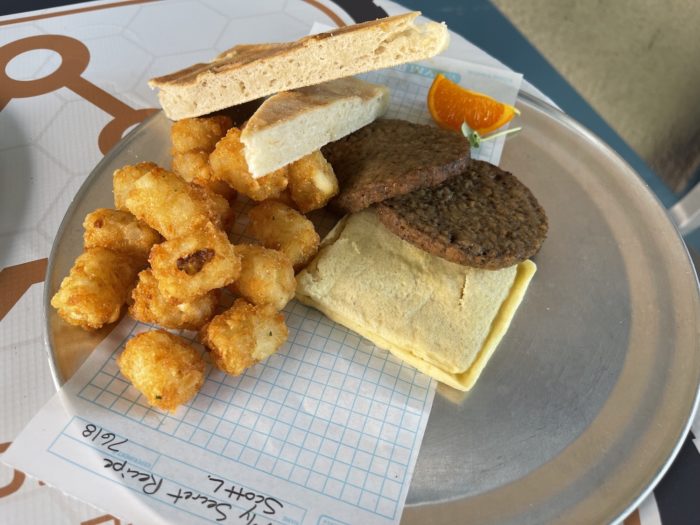 Although this dish is visually interesting, it isn't something we'd recommend. According to Guy, the dish was completely bland and uninteresting. It was dry and needs some sort of sauce.
For a better plant-based option, Shawarma Palace offers an Impossible Breakfast Sha-warm-up (also $12.49), which is plant-based breakfast sausage and a plant-based egg omelet wrap with dairy-free cheese, and crispy potato bites. This is served with a side of spiced maple syrup. We gave it a try as well.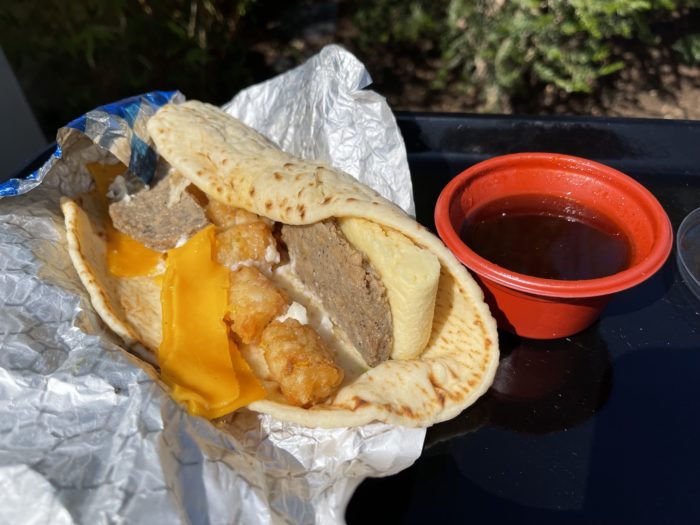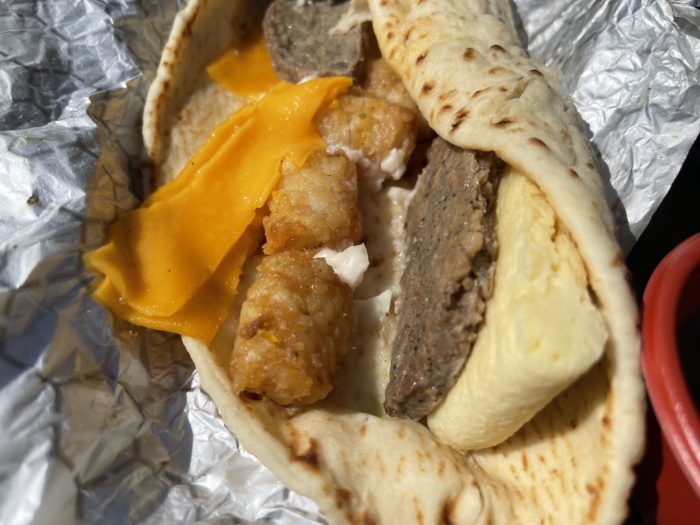 Where the plant-based option at Pym failed, this plant-based breakfast option succeeds thanks to the spiced maple syrup served on the side. If you're looking for a plant-based option, this is the one to get for breakfast. Guy said that had you not told him it was plant-based, he never would have guessed. It's a good option for first thing in the morning.
Stay tuned to TouringPlans on Twitter and here on the blog for more photos throughout the day as we explore this exciting new land!