Get to Know Disney World Park Hours: Everything is Not What it Seems
Walt Disney World has theme parks. Those theme parks have operating hours. Makes sense. Easy-peasy, right?
Well, maybe not. The theme park operating hours Disney posts are not really the full scope of hours when the parks are open.
Here's the scoop.
Where are park hours posted?
Official park hours are posted in a zillion places. They're on the Walt Disney World website; click on the "Parks & Tickets" tab to reveal the hours. We post them on the TouringPlans Crowd Calendar page. They even run continuously on the television sets in the resort hotels.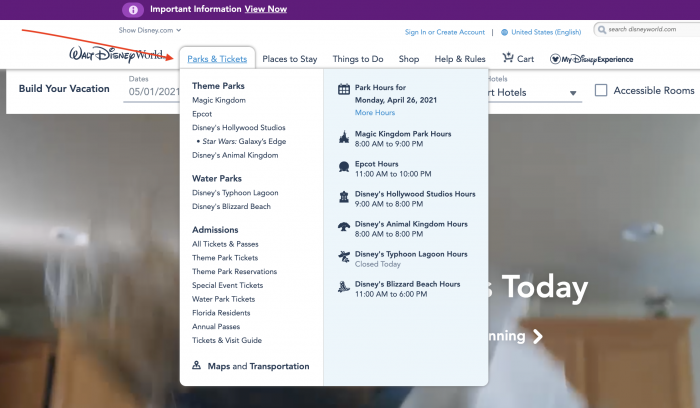 Do park hours ever change?
Yep. It doesn't happen all the time, but it's not uncommon.
In general, when hours change, they are made longer. This typically happens when park attendance will be higher than originally projected. This could happen several weeks or months in advance. If you have an upcoming trip, you should plan to keep an eye on park hour changes as your travel dates approach.
In rare circumstances Disney will shorten hours a bit; typically this happens at the last minute due to something like impending threatening weather.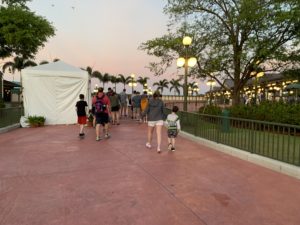 Why are park hours so important?
Knowing the theme park hours is a key component of planning any Disney trip. Some situations where this could be important are:
You have only one day to spend at a particular theme park and want as long as possible to complete attractions.
You want to make dining reservations within a particular theme park and you want to be sure the park is open at your preferred time.
You want a day to sleep late without negatively impacting your park touring.
You want to know if it makes sense to take a long-ish break during the day, perhaps to nap or swim back at the hotel.
You want to park hop.
You want to decide how many days of park entry tickets you should buy. For example, if you're arriving in Orlando at 2:00 p.m., you might want to buy an extra day of park admission if Magic Kingdom is open until midnight, but you might not if it closes at 7:00 p.m.
Are Extra Magic Hours included in park hours?
Extra Magic Hours (EMH) was a perk for WDW hotel guests that existed prior to the pandemic. In a nutshell, EMH allowed guests staying on site at Disney hotels (plus a handful of others) to enter one theme park an hour or so early each day and to stay two hours late at one theme park each day. Extra Magic Hours are not currently available, nor are they expected to return.
EMH was a big perk of staying in a Disney hotel. So that's just gone now?
Disney has announced a replacement program called Early Theme Park Entry. When Disney announced this program in January 2021, they stated that the Early Theme Park Entry perk will would give guests 30-minute early entry to any of WDW's four theme parks, every day.
Their spin was that the new early theme park entry benefit would better spread guests out across all four theme parks, while providing added flexibility. According to Disney, Early Theme Park Entry still gives guests staying on site the perk of extra early park time on each day of their vacation, but now they get the bonus of being able to choose which park they visit, instead of being stuck to Disney's one-early-park-per-day Extra Magic Hours schedule.
When did Early Theme Park Entry go into effect?
It hasn't gone into effect yet. Disney has not announced an official starting date for the implementation of Early Theme Park Entry (ETPE).
I'm confused. My neighbor went to Disney World recently and said she got into the park early. What happened?
You're right, the current early park entry situation is confusing.
In the wake of the pandemic, Disney is trying hard to avoid situations where lots of people are crowding together at once – as would typically happen in the hour or so prior to park opening (whatever version of park opening is in place). So, Disney has been advertising their opening time (8:00 a.m. at Magic Kingdom, for example), but actually opening the park prior to the stated opening, but not officially telling any guests that this is happening.
This means that, in practice, when the park is supposed to open at 8:00 a.m. you might find that you are allowed into the park as much as an hour prior to that, depending on how much traffic they're seeing at the gate.
Isn't that like what they said Early Theme Park Entry would be?
Not exactly. There are two key differences.
Number one, currently there is no differentiation between on-site and off-site guests; when they open the park early, everyone is let in. This means that currently, until the official roll-out of ETPE, there is no advantage in this regard to staying in on-site accommodations. (There are still a few other perks, but this one is not a factor at this time.)
And number two, there is some variability in how early the parks will open. It could be half an hour early, an hour early, or something else entirely. The uncertain nature of this makes planning more difficult than usual.
Given this situation, if I want to be at the park for rope drop, what time should I arrive at the park?
Currently, I think it makes sense to try to be at the park entrance security station about 45 minutes prior to the stated park opening. The trickiest part about this is trying to guess the best mode of transportation to make this possible.
If you're in a situation where you could walk to a theme park (for example, staying at Disney's Boardwalk hotel and visiting EPCOT), then you can just stand nearby and hang out until they decide to start letting folks in.
If you're driving, you can't arrive too early, because there will be police to clear cars from blocking roadways. Ideally, you'd arrive at the parking gate 15-20 minutes before the park opens, but without a clear directive on when that actually is, you run the risk of either arriving too early and having to circle around the highway a few times, or arriving too late and getting bogged down in security lines.
If you're taking Disney's transportation (Skyliner, bus, monorail, etc.) to get to the park, you're at Disney's mercy about what time they decide to start running, which could be up to an hour and a half prior to the stated opening time, but might be much less than that.
Once I get into a theme park, can I start going on rides right away?
Probably.
Pre-pandemic they might have started letting guests through the entrance tapstiles early, but not started running the attraction right away, perhaps, for example, holding guests on Main Street in the Magic Kingdom for half an hour or so.
The goal now is to disperse crowds. You might find that some attractions are operating at first, but not everything will be up and running until the published opening time.
Additionally, there are a handful of attractions that normally have shorter hours than the rest of the park. For example, Country Bear Jamboree might not start running until 10:00 a.m. even though the rest of the park opens at 8:00.
I get that the posted hours are not the real hours, but why does it matter. Can't I just show up at 8:00 for an 8:00 opening?
You could, but then you'd be setting yourself up for longer waits throughout the day. If you show up at 8:00 and guests were admitted into the park at 7:30, there has already been half an hour for lines to build at the most popular attractions. You can see an example of this where we head-to-head tested the same list of attractions at different arrival times.
What happens at park closing time? How do they get all the visitors out of the park at closing time?
Much like the amorphous nature of park opening, the stated park closing time is fluid.
When Disney says that Magic Kingdom closes at 9:00 p.m. (for example), that simply that 9:00 p.m. is the time when no more guests will be allowed to enter the park and that the lines for attractions will be capped.
If you're in line for Space Mountain at 8:59 p.m. and the park closes at 9:00, you will still be allowed to ride even if the wait time is an hour or more. On a related note, you should be aware that the Standby Time posted at an attraction is almost always grossly exaggerated at the end of the day. In this example, at 8:30 p.m. you might find the wait time posted at Space Mountain is something like 75 minutes when the actual wait time is half an hour.
Pre-pandemic, guests were often confused when the state park closing time was something like 9:00 p.m. AND the evening fireworks were scheduled for 9:00 p.m. Again, this means that guest entry would stop at 9:00 but that any guests in the park at that hour could stay until after the fireworks presentation.
You might even find that some in-park restaurants will take dining reservations at times that are after the park is officially closed.
Additionally, many of the major stores, particularly those near the park exit, will stay open an hour or so after the stated closing time.
So when do the parks really close?
You can expect that you'll find a moderate number of guests still inside the park up to an hour after the stated closing time. After that, cast members typically start to herd guests toward the exit in a polite, but insistent fashion.
Disney transportation from the parks back to the resorts will continue to run until the vast majority of guests have been dispersed.
How can I stay in the parks past closing time?
Pre-pandemic Disney had a number of "hard ticket" after-hours events such as Mickey's Not So Scary Halloween Party or Mickey's Very Merry Christmas Party. With these events, the stated park closing time would be early, typically 7:00 p.m. but guests with a special event ticket could stay in the park until 11:00 p.m. or 12:00 a.m. Event ticket holders would be issued wristbands. Beginning at the published closing time, guests without wristband would not be allowed into attraction queues or permitted entry into certain areas of the park.
The first post-pandemic variation on the after-hours party has been announced for fall 2021, the Boo Bash. We're assuming that similar procedures will be in place for this new event.
Have any other questions about park hours? Let us know in the comments.