Cape May Cafe Review – New But Not Improved
Cape May Cafe is a New England-style restaurant at Disney's Beach Club Resort that just reopened on May 18 after having been closed since March of 2020.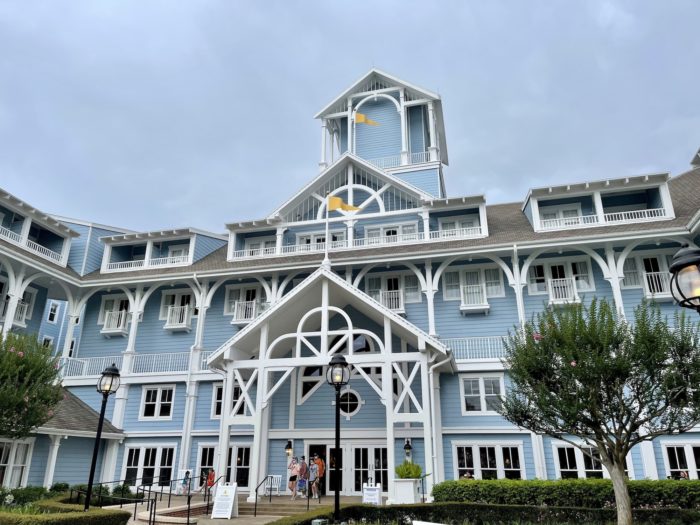 Before its closure, Cape May Cafe was known for its beach-themed character breakfasts and seafood dinner buffets. But like many Disney World restaurants these days, Cape May is now offering a modified experience.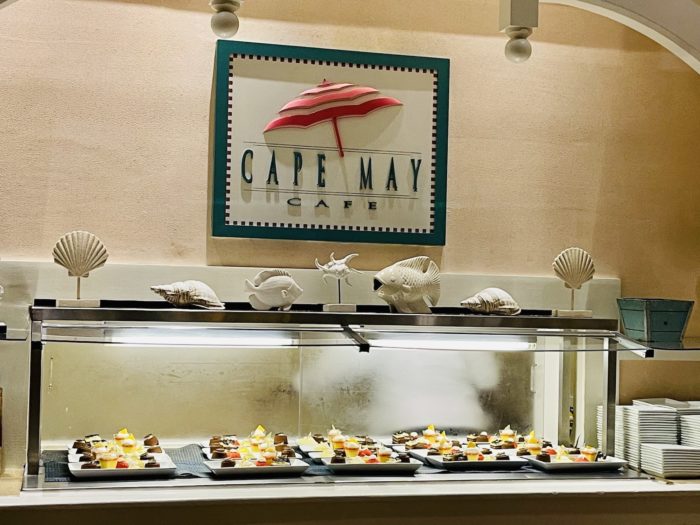 Currently serving family-style breakfasts from 7:30 a.m. to 11:30 a.m., and new family-style dinners as opposed to a buffet from 5:00 p.m. to 9:00 p.m., our in-park reporters Chrissy and Ivonne dropped by to check out Cape May's new dinner experience.
What You Need to Know
For guests with reservations for Cape May, the Beach Club Resort is only a quick, easy walk from EPCOT's International Gateway entrance and the park's Skyliner station and Friendship boat dock.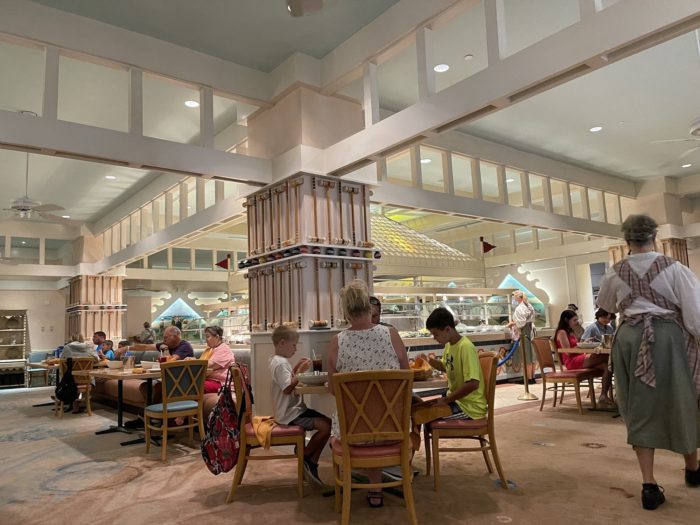 The entrance for Cape May is located inside the lobby near the side of the resort that's home to Martha's Vineyard and Beaches and Cream, and the restaurant itself reflects the resort's New England, coastal vibe with colorful beach umbrellas, sandcastles, and a turn-of-the-century, vintage flair.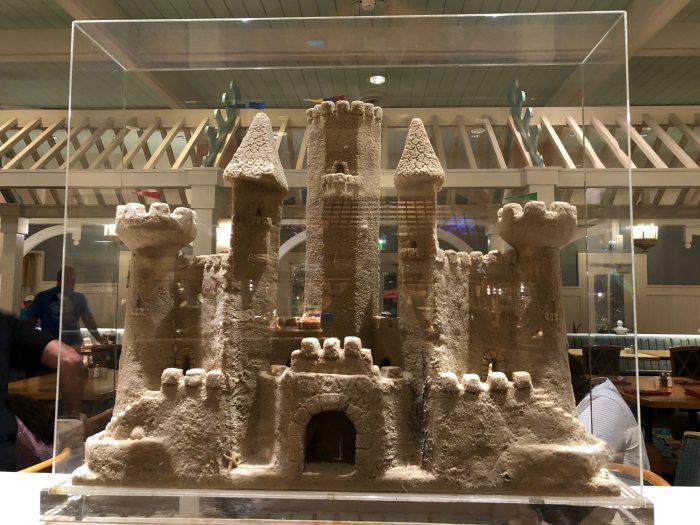 All seating is indoors only, and those central buffet stations are now serving as prep stations with servers bringing items to your table.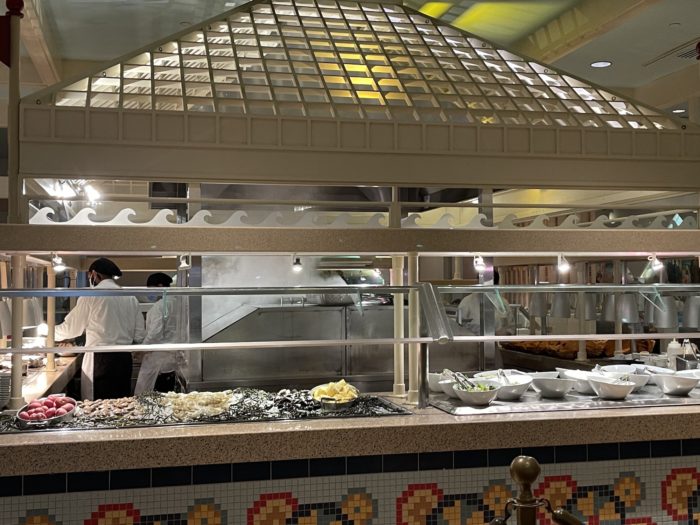 Dinner is currently $42.00 per adult and $25.00 per child plus tax and gratuity. But there's great news for Annual Passholders! The AP discount applies here. Also, if you have Tables in Wonderland, it is being accepted up to 3 months past its expiration.
If you're looking to check out Cape May Cafe during your vacation, we strongly suggest booking a reservation at least 60 days out. But if you're already within that window, consider using the TouringPlans Reservation Finder.
The Menu
The new menu again is served all-you-can-eat family-style, but there a few "enhancements" available at an additional cost, like steamed crab legs for
$29.00
and a whole Maine Lobster for
$35.00
.
The Drinks
Cape May offers a wide selection of alcoholic beverages as well as mocktails! Chrissy and Ivonne actually tried three of the four mocktails and were impressed with Cape May's number of options.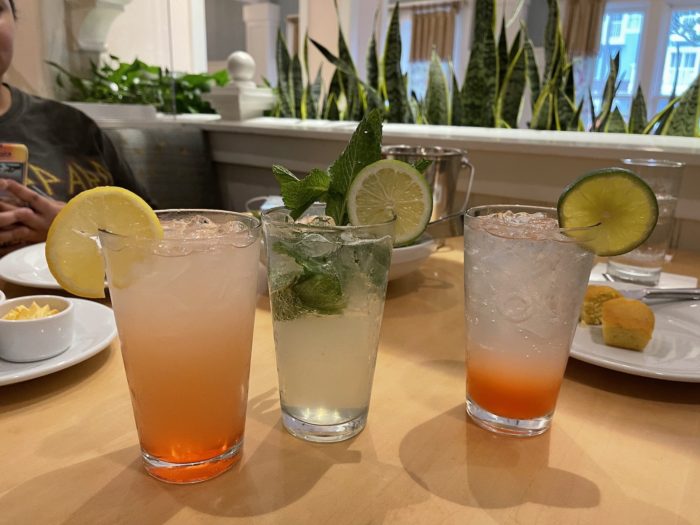 Watermelon Lemonade – $5.49
This lemonade was also refreshing and was presented with a slice of lemon.
Sparkling No-Jito – $4.99
Described as Lime Juice, Pure Cane Sugar, and Mint topped with Soda Water, Ivonne says this cocktail offered the best presentation with a huge bouquet of mint leaves and a slice of lime.
The Grapefruit Spritzer – $5.49
Chrissy said this one was sweet with a lovely grapefruit bite and was presented with a lime garnish.
The Starters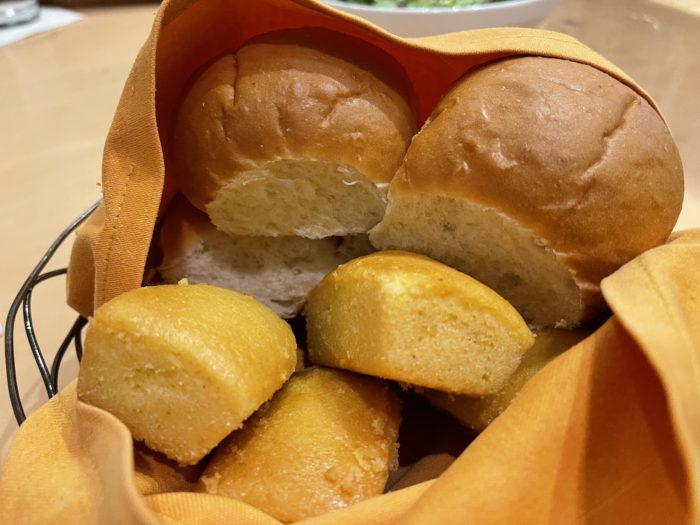 For many of us, the bread service is always one of the best parts of a meal, and that was certainly the case at Cape May! The Parker House rolls and cornbread were warm, soft, and went well with three butter spreads.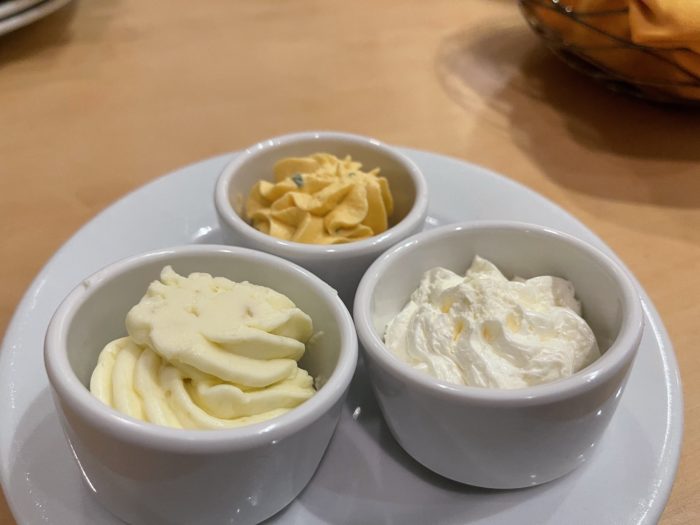 And yes, that's three spreads – garlic, cheese, and whipped!
Chrissy and Ivonne also sampled the allergy-friendly rolls and found them to be the same ones served at the Magic Kingdom's Liberty Tree Tavern. Those rolls have a delightfully chewy middle.
The menu lists the Seasonal Harvest Salad as Arugula, Kale, and Romaine with Orange segments, Red Onions, Cherry Tomatoes, Sun-dried Cherries, and a Citrus-Vanilla Vinaigrette.
Chrissy says the individual elements were nice, but the salad itself was too lightly dressed. Definitely needed more dressing.
The Entrees
Lobster Mac & Cheese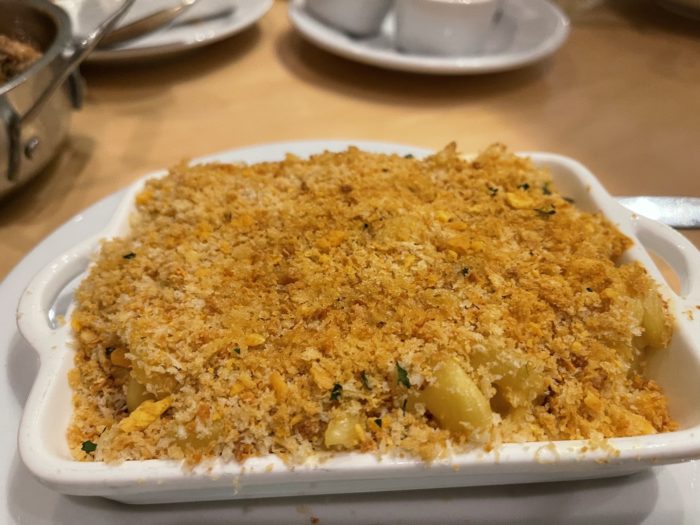 This entree was sadly just your typical Disney mac and cheese with a few lobster bits. Nothing special or nearly as memorable as its name implies.
Seafood Boil
On Cape May's menu, the all-you-can-eat Seafood Boil consists of Cape May Clams, Red Bliss Potatoes, Corn on the Cobb, PEI Mussels, peel-and-eat shrimp, and the sustainable catch of the day. But sadly, it left a lot to be desired.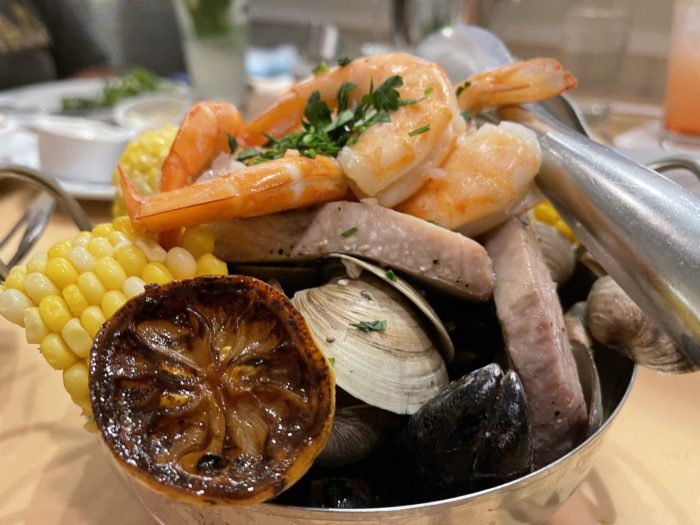 Chrissy said the narrow bowl was piled high with properly cooked but room temperature to cold seafood despite just coming out from under the buffet warmers; and in her words, the fish (Mahi-mahi) was hideous, scary, and looked like gray, fish carcass plopped on top of some clams and mussels. A sprinkling of parsley was the only seasoning.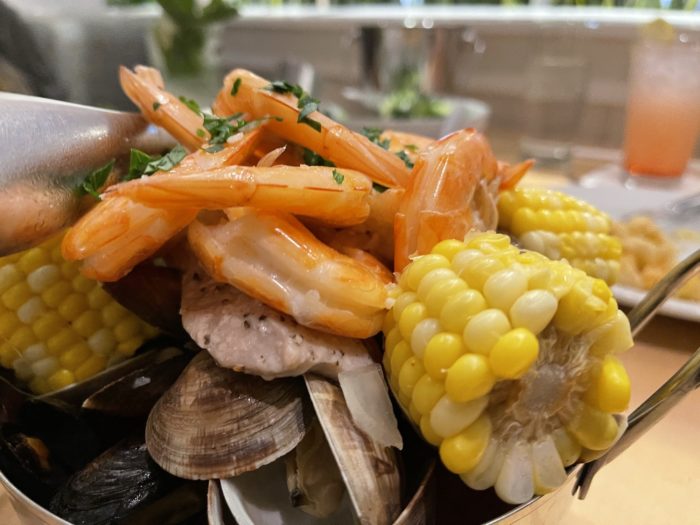 Now the shrimp was fine and properly cooked, but even a liberal squeeze of the beautifully charred lemon didn't give it any sparkle. It was just like the shrimp you get in the big tray from Costco–fine, but nothing special. Same with the mussels and clams. They weren't overcooked, but they also weren't seasoned.
The Turf Platter
This platter comes with slow-roasted strip loin with Chimichurri, house-made steak sauce, oven-roasted Lemon-Pepper Chicken, mashed potatoes, and Farmer's Market vegetables.
Granted, the platter wasn't cold, but absolutely nothing could be described as hot or even all that warm. The "oven-roasted" chicken had wrinkly, wet skin that Chrissy said looked like her kid's fingers when she's in the pool too long. It was hard to get past that image but when she did, she was rewarded with overcooked and under-seasoned chicken.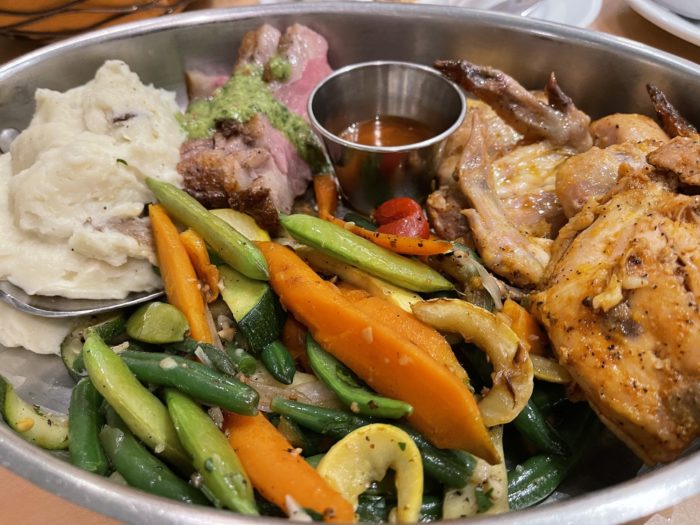 Thankfully, the veggies and the mashed potatoes were both wonderful, but they took up 50% of the "turf" platter which was irritating. The portions of strip loin were tiny and just meh.
Note: Cape May also offers Portobello Steak or Tofu Platter upon request. 
The Desserts
Cape May's menu has very little to say about this menu item, only listing it as assorted house-made desserts from the bakery with plant-based Tiramisu available upon request.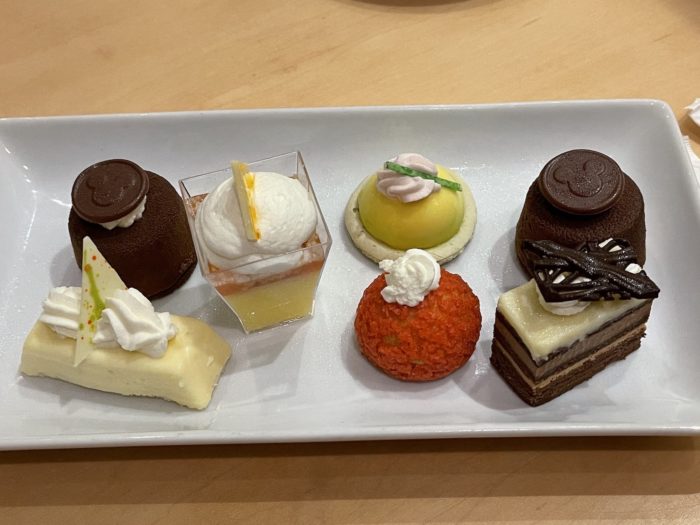 As it turns out, there's very little to say because the desserts themselves were, well, little. Perhaps Chrissy said it best when she shared that tiny desserts should only be tiny if they're spectacular and rich enough to justify their diminutive size. These weren't.
Instead, they were just small because they want to give the appearance of abundance while spending pennies. Yes, they will bring you more of whatever you want, but should you have to ask for more than 2 tablespoons of mousse? And how are thimble-sized portions enough for a party to share? It would have been better if each person at the table was brought a presentation like this, instead of just one to share for the table.
Final Thoughts
So a few subpar elements of our team's dining experience could have explanations. For instance, Cape May Cafe just opened a week prior and with a new post-pandemic service process. Plus, Chrissy and Ivonne's server was extremely kind and helpful but clearly stretched too thin as they didn't have enough staff. Their cold food was likely ready for several minutes before their server could get to it. Also, the lack of seasoning could be explained by supply line shortages.
But with that being said, stingy servings of tiny, mediocre desserts at Cape May's price point is what really frustrated Chrissy. After all, both Liberty Tree Tavern and Garden Grill have been successful in offering a large, yummy dessert that the whole party can share. So it can be done.
Overall, Chrissy says nope when it comes to Cape May. It may be worth trying again in a few months when they have adequate staff and made a few revisions. But right now, there are too many other options on property with better pricing and better food.
Have you dined at the newly opened Cape May Cafe? Is this Beach Club restaurant on your to-do list? Let us know in the comments!