Getting to Know Universal Orlando's Tribute Stores
Universal's theme parks come with their unique vocabulary, but you might be puzzled when you hear talk of Tribute Stores. These tributes to pop culture change with seasons in Universal Studios Florida and in this article we will discuss what is in the tribute stores, how much time to allow to shop, and our touring tips.
What is a Tribute Store?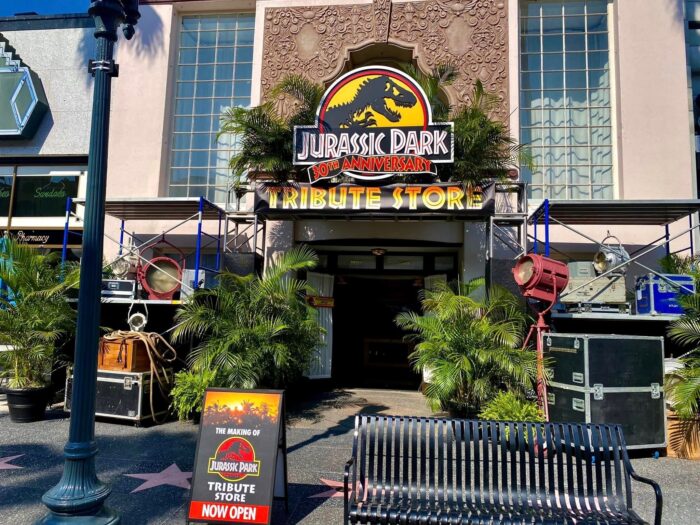 The Universal Orlando Tribute Stores are highly themed shops that change with the seasons: Christmas (winter), Mardi Gras (spring), Halloween (fall), and summer. The stores were originally conceived as a one-stop-shop for all your Halloween Horror Nights shopping, with each room in the store a Tribute to one of the IPs in the event. Mardi Gras and Christmas Tribute Stores appeared in 2020 and the first summer Tribute Store debuted in 2021 themed to Jurassic World.
Every season of every year brings a new Tribute Store concept – the 2022 Christmas Tribute Store was themed to a Miracle on 34th Street reminiscent department store while the 2023 Christmas Tribute Store is themed to a holiday Post Office.
For a complete history of the Tribute Stores read Marc Kleinhenz's fantastic overview from 2021.
What is in a Tribute Store?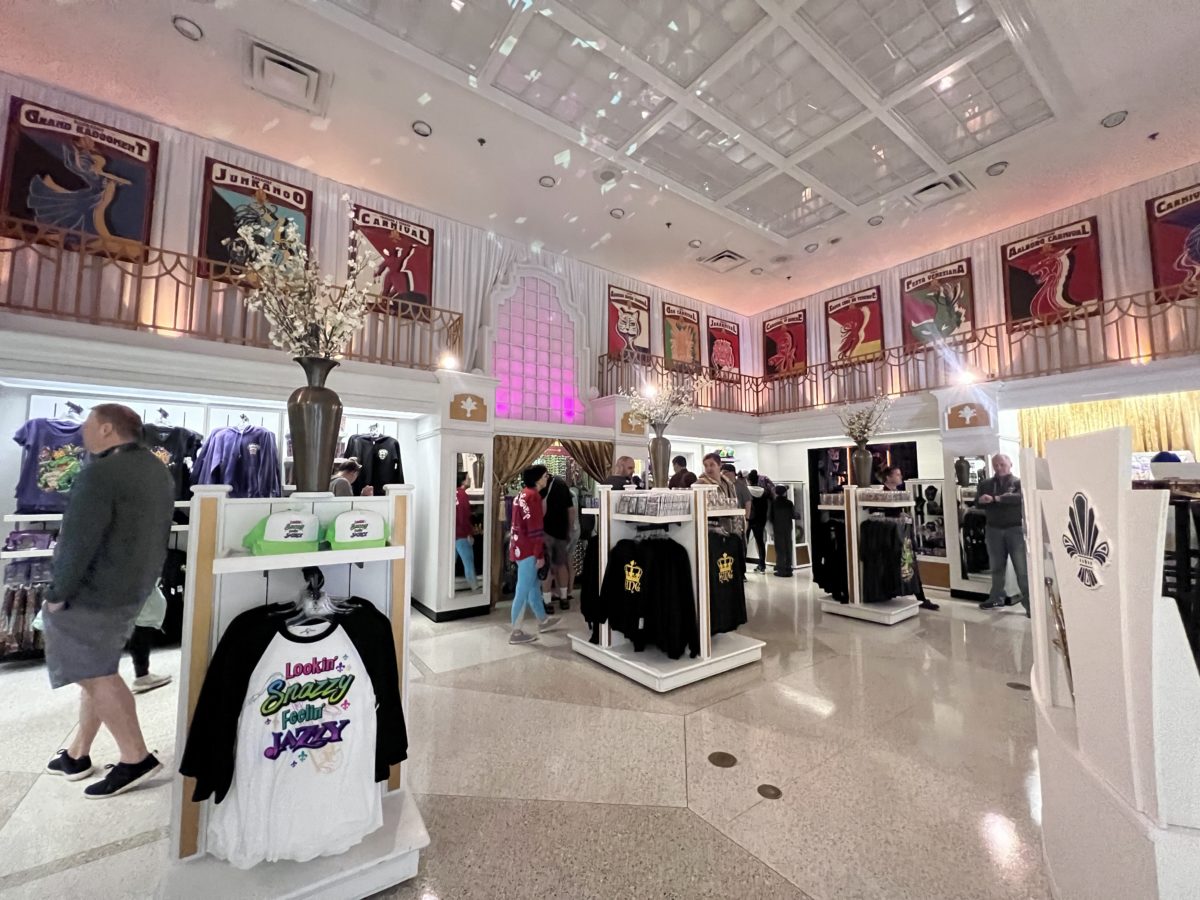 I mean, a store is a store, right? Wrong! Universal's Tribute Stores are fully themed experiences closer to elaborate walkthrough attractions than retail stores. Stores are designed by a special Universal team that combines the wizardry of the Harry Potter stories with the special effects and props of a Halloween Horror Nights house. Movies, comics, and even whole seasons are represented in full detail with projection effects to photo opportunities.
The best Tribute Stores tell a story like 2022's Holiday Tribute Store themed to a downtown department store with multiple themed floors or 2023's Jurassic Park summer store that chronicled the development of the iconic movie. Linger and appreciate the details in these stores, there are a lot of cool things to find like mold-a-rama machines and vintage items.
Oh, and there is stuff to buy too. Tribute Stores sell unique items focused around the season or event happening at the time. During the spring season the Tribute Store is home to everything Mardi Gras and during the Holidays it's the home to the largest selection of holiday merchandise in the resort. In addition to familiar theme park souvenirs and merchandise, the Tribute Stores carry exclusive and special items like exclusive art prints, comic books, and vinyl records.
Shopping works up an appetite so swing by the Tribute Store's snack section for fresh pastries, treats, desserts, and snacks. Universal experiments with unique food options at the Tribute Store, such as the gummy hearts that "beat" on the display (using pneumatics), roasted nuts, hot chocolate bombs, and mini pastries.
Where are the Tribute Stores located?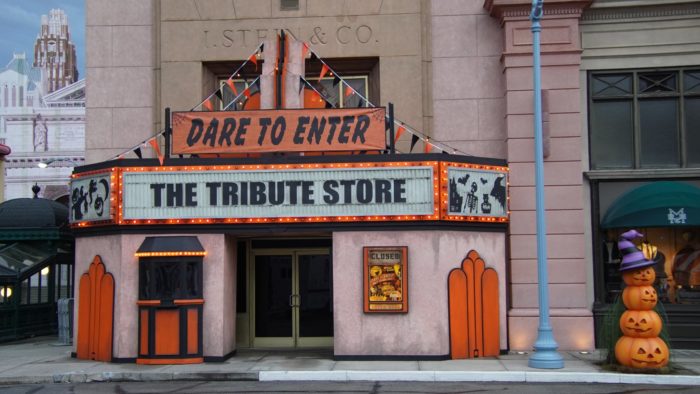 There are three Tribute Store locations – two at Universal Studios and another in the Orlando International Airport.
The first, and largest, Tribute Store location is in the New York section of Universal Studios Florida between Race Through Jimmy Fallon and Revenge of the Mummy. Used for the Halloween tribute stores, this location features four rooms and a hallway normally used by Revenge of the Mummy's queue.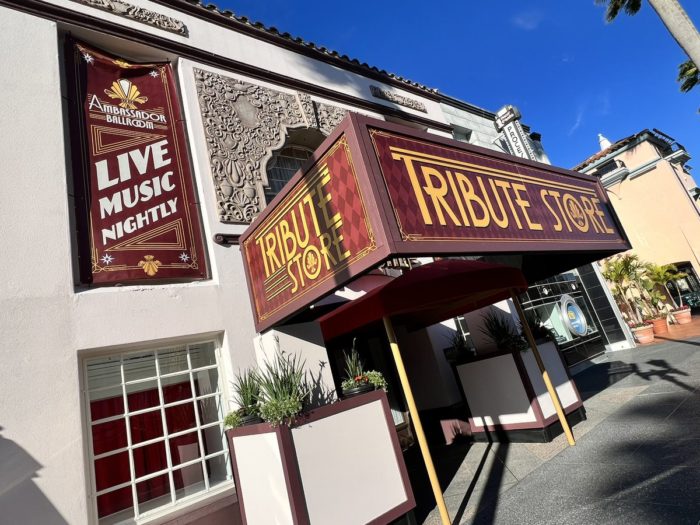 During the spring, summer, and winter seasons the Tribute Store moves to the Hollywood section of Universal Studios Florida, next to Schwab's Pharmacy. The Hollywood outpost is three rooms long, one shorter than New York, but still manages to include photo opportunities, snacks, and merchandise.
Welcome to sunny Earl-lando! 🎄 We're excited to announce the arrival of @UniversalORL's Holiday Shop! Stop by and pick up some merchandise to get in the holiday spirit – we're just nuts about this one! 🌰
📷 Level 3, Terminal B, Pre-Security (Gates 70-129)
⌚️ 7am-9pm pic.twitter.com/w4SijXQ3lM

— Orlando International Airport (@MCO) November 11, 2023
Orlando International Airport has its very own Tribute Store located in Terminal B. It is smaller than the theme park stores but still has a selection of the unique seasonal items from the theme parks.
Should I Visit the Tribute Store?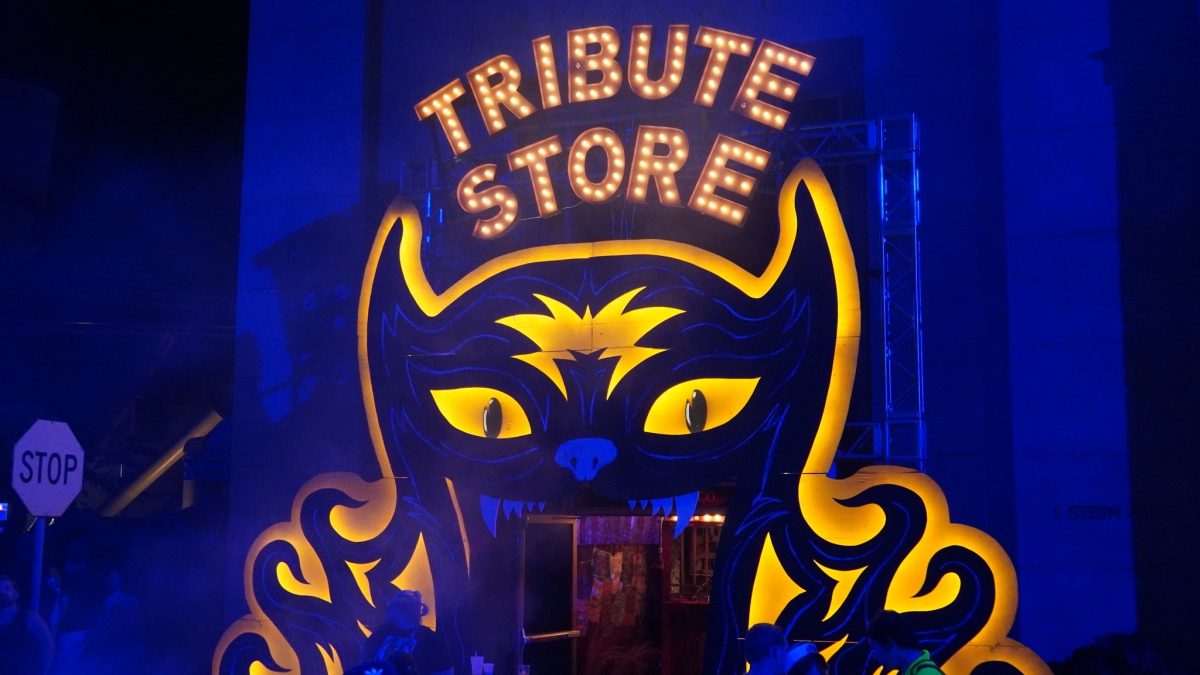 Yes, we think the Tribute Stores are a fun diversion during your day as time allows. Avoid the crowds and visit within the first two hours the park opens or last hour the park is open – also avoid the Tribute Store during Hallween Horror Nights and visit during the day. We advise setting aside 10-20 minutes for a full shopping tour of the Tribute Store.
Can I Buy Tribute Store Items Online?
Yes, many of the Tribute Store items are also available on the Universal Orlando online store. Some items provided by 3rd parties, like candles and hot sauces, are only available at the Tribute Store.
Touring Tips
Tribute Stores operate during normal theme park hours and Halloween Horror Nights.
Stores are the least crowded in the mornings and early evening.
Package delivery to the front of the park and Universal hotels is avaiable.
Can't make it to the Tribute Store? Smaller selections of seasonal merchandise are avaiable in the Universal Sudios Store and Universal Legacy Store in CityWalk.
We know you want a reference to Tenacious D's song Tribute, but we couldn't remember it so here's just a tribute.

What was your favorite Tribute Store? Leave your thoughts in the comments below!