Hotwire Deals: Sundays in the Park with Pop
Welcome back to another edition of Schroedinger's HotRates!
Thanks to a tip from reader Stephanie on our previous post, we've found that there are finally some Hotwire deals out there for some very (very) very specific days in August.
If you recall in our previous post, No Deal or No Deal, several weeks ago all of the Disney resorts dropped from Hotwire's search results. Among other things. In that post we went into some tips to squeeze some Coronado deals that were still out there.
Coronado continued to come and go in the weeks that followed – but I personally was able to find and book my own 5 night deal for $159 per night. *insert self-congratulatory woohoo! here.*
Well, now we have a new Disney resort to spot: in August you can find some deals for Pop Century for $78 to $85 per night. Those are pretty awesome rates – they can save up to $70 or more per night over even Disney's current 25% discount.
But there's a catch with these Pop deals: they are out there… until they aren't.
If Schroedinger was a Disney fan, even he'd be scratching his head.
So, you may need to keep checking obsessively (like some people typing this blog post do). Sometimes deals disappear for a few hours, then return. Sometimes they only appear on the app, sometimes they'll appear on my iPad app but not my Android phone app. Sometimes you need to use the old Draw technique, as we outlined again in that last post.
Oh Yeah, Some Disappointing News
I'll return to the very (very) very thing I mentioned earlier: when I first checked for these Pop deals you could only find them in the first 4 weeks of August on each successive Sunday. That's it – Sunday.
However, you could string together 3 days of $78 deals from August 29th to September 1st.
This morning a re-check of the deals turned up one for the entire week starting Sunday, August 15th and ending on the 22nd. Then, a re-re-check this afternoon and they were all gone again.
*shakes fist at Schroedinger*
One last tip before our deal examples: If you find your Hotwire app is not seeing any of these deals, try clearing the app cache, or on iOS, deleting and reinstalling the app. I had to do that to get both of my apps to see any of them.
If you are lucky enough for the Hotwire gods to look down upon you with favor, here is how Pop Century will look in a hidden deal.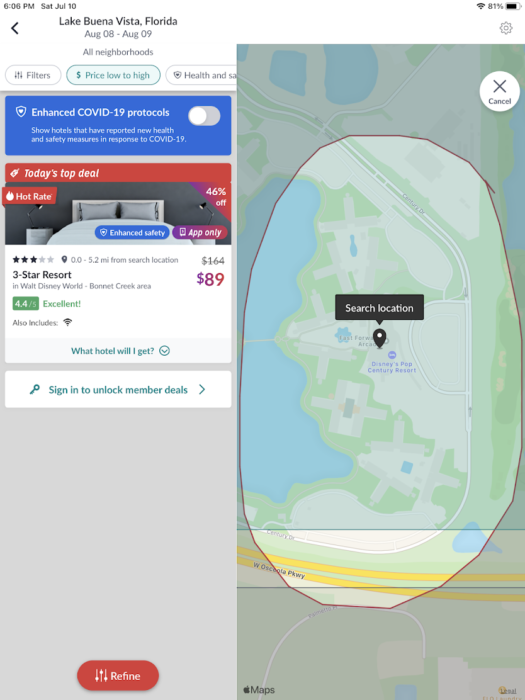 There are only three 3-star, 4.4-guest resorts in Bonnet Creek – the other two resorts are Art of Animation and Homewood Suites. In the example above you can see I used the Draw function in the app to place a circle around Pop and verify this was indeed a deal for that resort.
Another method to identify resorts is to compare the sub-amenities and review counts listed on the deal. In this case, Pop is the only one of the three resorts to have a review count over 1,000. Also, if you check the Hotwire page for the resort, the sub-amenities match the ones shown below.


Just be aware that the Hotwire ratings system is hosted by Expedia and sometimes the values shown on the deals are not entirely in sync with the values shown on the resort page. (In fact, until recently the resort page for Pop had a 4.5 for Room cleanliness while the deals had the 4.6 shown.)
The World Famous Calendar of Deals
Kudos to you for reading this far – you can use the calendar below for a visual on the terrific Pop deals we found. You may see more, you may see less at any given time – but if you keep at it and use the tactics we've blogged about you'll have a very good chance of grabbing one for yourself.
Hopefully Hotwire's randomness will go away soon and we'll be able to find more deals in the near future.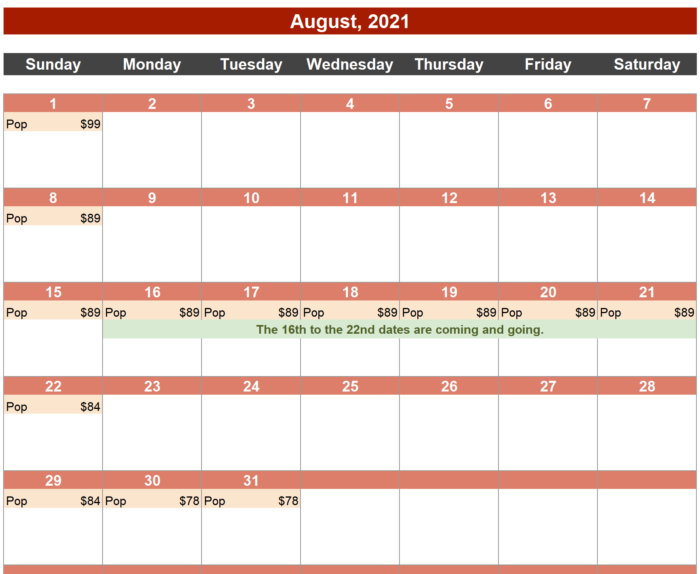 If you've booked any of these or other deals – let us know in the comments!