Just How Big Are Disney's Caramel Apples?
Do you like to have a few indulgences when you're on vacation? Disney Parks can make you feel like a kid in a candy store, literally; not just with all the wonderful attractions, but the delightful treats as well. A classic Disney theme park indulgence are the massive caramel apples available at many candy shops on Walt Disney World property.
These delightful caramel apples are always beautifully decorated. If you're visiting during Halloween season or the winter holidays these apples are a must. There's always a variety of seasonal designs. Most of these apples are tart green and covered in a thick layer of caramel. Then there's a layer of chocolate, decorations, and adornments to crown it all.
These massive confections can be difficult to eat. We decided it would be fun to weigh these big treats. In the spirit of the season our team purchased two Halloween themed apples, Jack Skellington and a Minnie Mouse Witch apple. The Jack Skellington one was adorned with black and white chocolate to resemble Jack's face. It weighed in at 10.3 ounces, or 0.64 lbs. The Minnie Mouse Witch apple was a more elaborate with a chocolate coating, chocolate covered marshmallows for ears, candy coated chocolate pieces to resemble Minnie's signature polka dots, and a candy witch hat. This one weighed in at 12.7 ounces, or 0.79 lbs – so close to a full pound!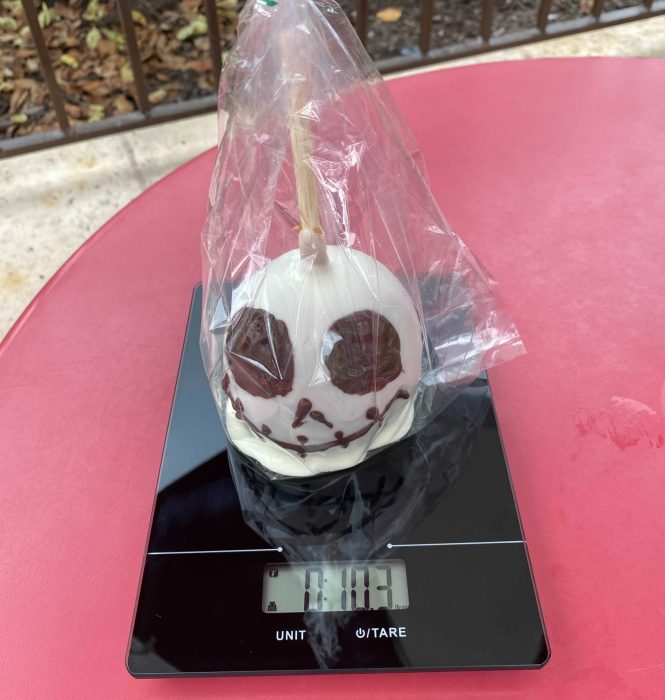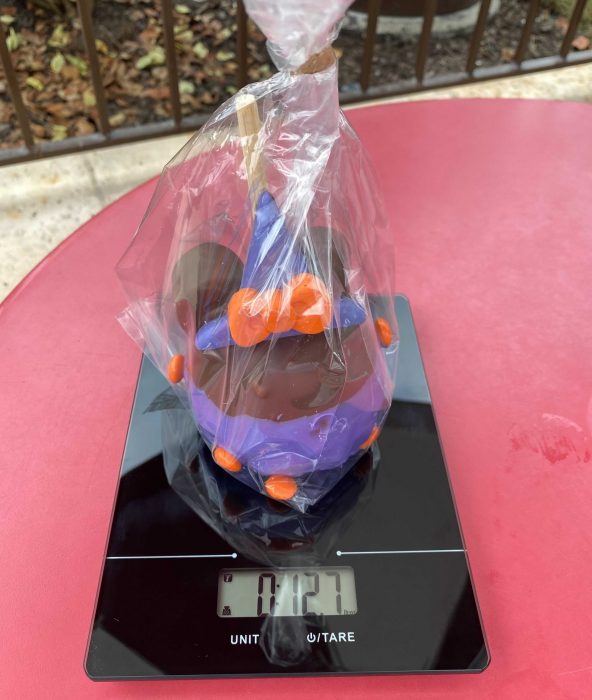 Each caramel apple is $10.99, which seems like a lot. It can easily satisfy the sweet tooth of a group of 2-3 people, however. I checked a few online shops that ship specialty caramel apples and prices of comparable sized apples range from $9 – $16.99. Annual passholders currently receive 30% off, other discounts are available too.
Before COVID-19 you could ask Cast Members to slice up the apple to make it easier to eat and to share. Our field team will report back soon as to if this is currently still an option.
We're all about effectively researching Walt Disney World. Become a TouringPlans Subscriber to have access to all our tools and resources.
Have you ever indulged in one of the caramel apples at Disney? Do you have a favorite sweet treat?