L'Artisan des Glaces has Dairy-Free Sorbet and an Iced Cappuccino Made With Ice Cream
If you want to get the best ice cream in all of Walt Disney World, head to EPCOT. At the France Pavilion you'll find L'Artisan des Glaces. Hand crafted, traditional French style ice cream (glaces) is just the tip of the iceberg. You can indulge in an ice cream brioche sandwich or sip on a martini made of rum and ice cream. On a recent visit with my son I was reminded that there's also dairy-free sorbet and an iced cappuccino made with a scoop of ice cream. The two of us could not resist either.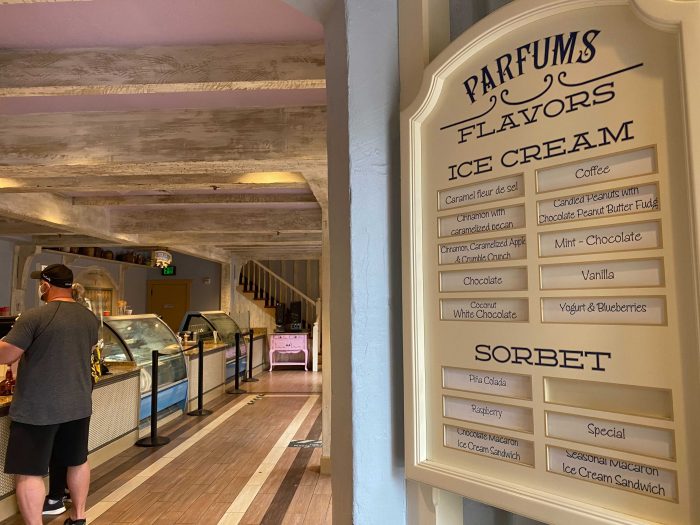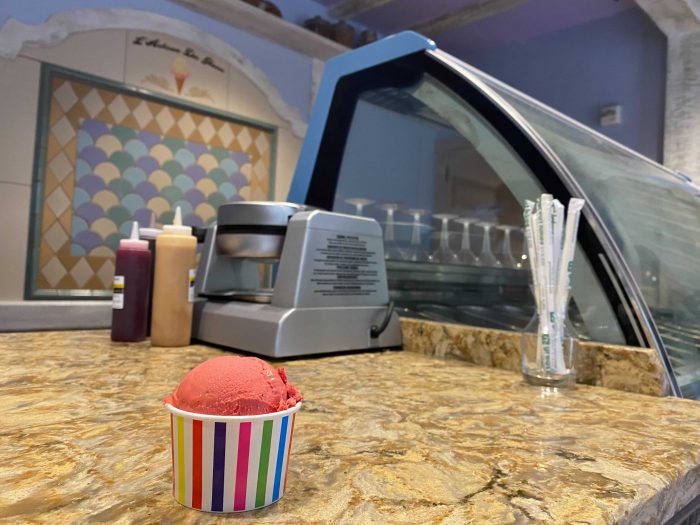 I love that this artisanal ice cream shop is tucked into a corner of the pavilion. It feels humble and inviting. The interior is soft with muted pastel tones and ice cream scoop shaped tiles on the back wall. Sometimes seasonal flavors are offered.
Ice cream flavors
Caramel fleur de sel
Coffee
Cinnamon with caramelized pecan
Cinnamon, caramelized apple, and crumble crunch
Candied peanuts with chocolate peanut butter fudge
Mint-chocolate
Vanilla
Chocolate
Coconut white chocolate
Yogurt and blueberries
Sorbet flavors 
Piña colada (contains dairy)
Raspberry (dairy free)
Mango (dairy free)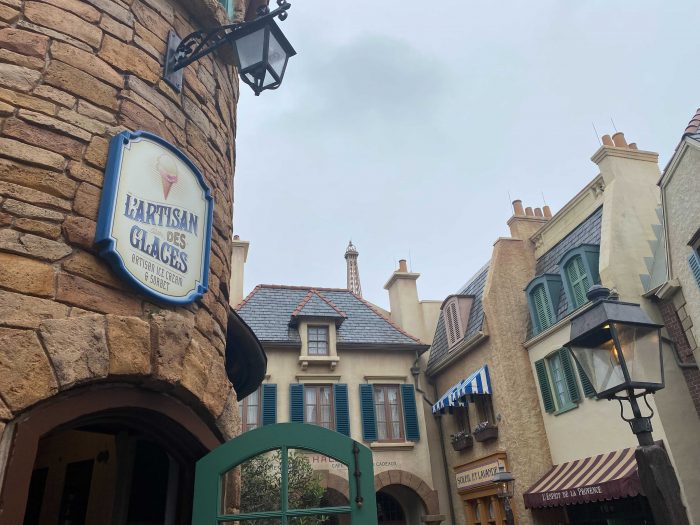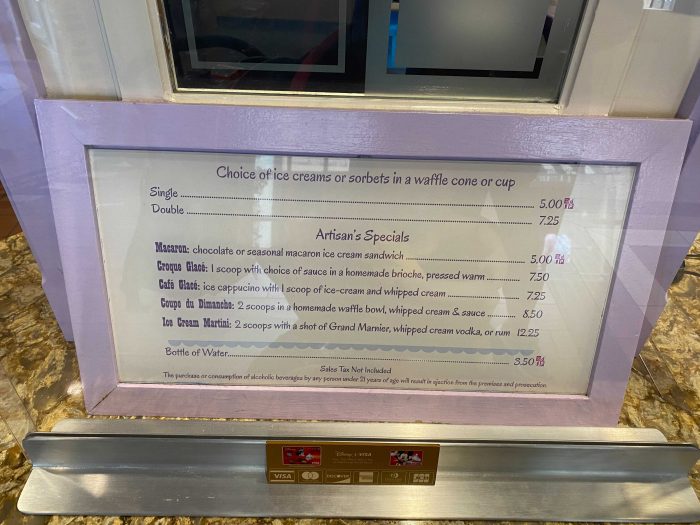 You can order any flavor, or combination of flavors, in a cup or a cone at L'Artisan des Glaces. Based on over 500,000 surveys, L'Artisan des Glaces has 97% thumbs up rating and is ranked number 2 out of 107 sweets and snacks options at Walt Disney World. My son is at that stage when he either eats nothing at all that I put in front of him, or he inhales it like a super charged vacuum cleaner. In the case of the scoop of Raspberry Sorbet I put in front of him, he inhaled it. It is easy to see why the spot has earned such a high rating.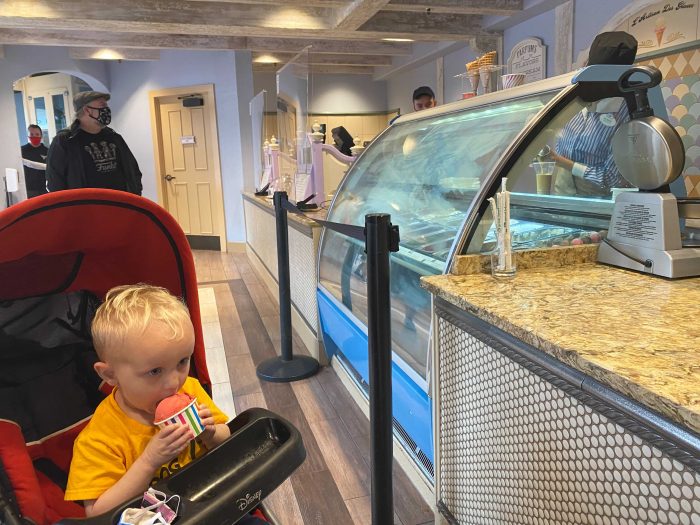 I went with the Café Glace, an iced cappuccino with one scoop of ice cream, topped with whipped cream. Any ice cream can used in the iced cappuccino. I thought the Caramel fleur de sel would pair nicely, and I was right. This scoop had a rich, dark flavor without being overly sweet. The caramel sauce on top of the whipped cream was sweeter than the ice cream. I gladly sipped every drop, and towards the end I mixed it all up into a shake-like consistency. I was shameless in my devouring of this. For $7.25 it is a great value for being such an indulgent, handcrafted treat.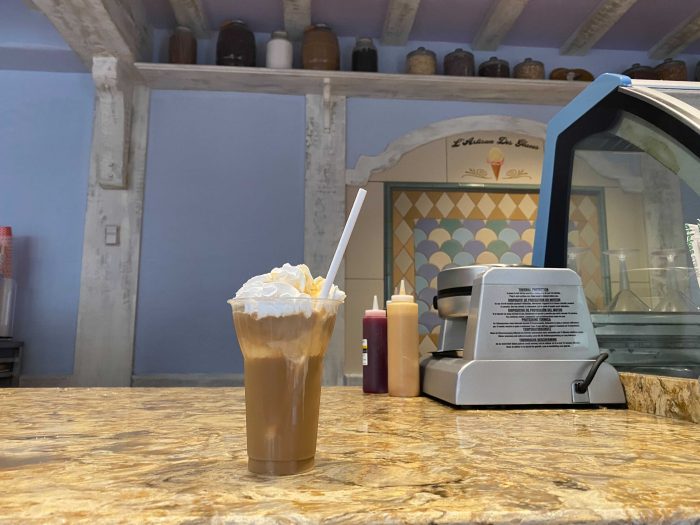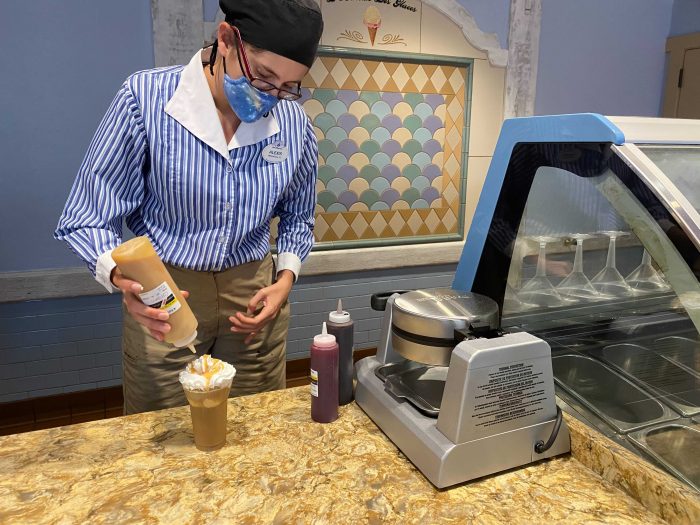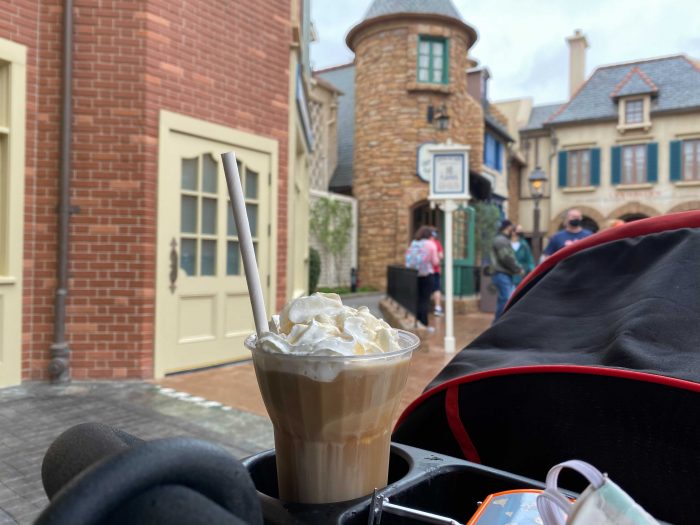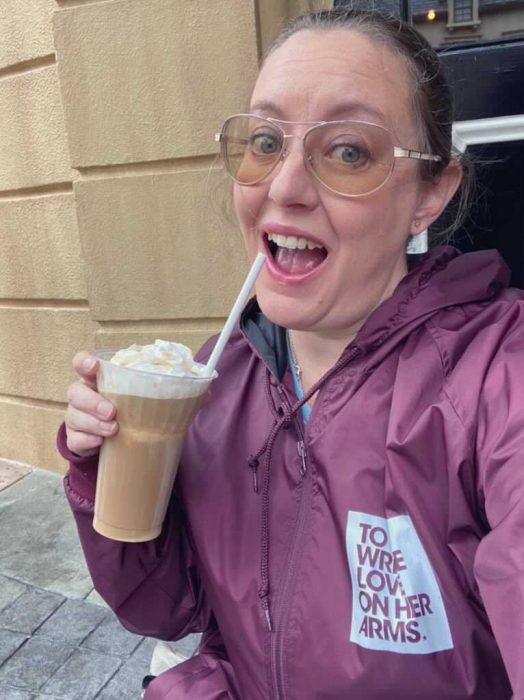 We visited on a dreary afternoon. All of the tables and chairs that are normally in this area had been removed. We made the most of it by sitting on the ground under the Monsieur Paul awning. We had a lovely view of the surrounding area and I enjoyed our snack break together.
Have you been to L'Artisan des Glaces Artisan? What's the best treat you've had?