The Magic, The Memories, and Merch! DECEMBER 2019 Disney Outlet Store Photo Report
Welcome to the latest edition of The Magic, The Memories, and Merch!, the longest running monthly look at the Disney Outlet Stores in Orlando.  We have "Bargain" Ben Wszalek covering Vineland and myself – Discount Derek – at I-Drive (addresses are at the end of every report) and we are here to give you the Outlet Report you really want totally deserve. This month we even have some extra special assistance in Orlando courtesy of Budget Minded Blog Mickey. Of course Christela "Clearance" McC is also here with a look at some Outlet items from out in California.
Enough jibber jabber! Ready to see what we we found? Alright, let's go!
The overall theme of this month's Outlet Report is the following: A Bunch Of Stuff We All Knew Was Going To The Outlets Once We Saw It, including our first item, UGears junk. For those who have never heard of UGears, well, consider yourself lucky. Disney took the bane of my existence – Metal Earth products – and decided to make them appeal to hipsters with a "steampunk" look and then massively raise the price. Here's the thing, we've seen a lot of Metal Earth stuff make their way to the Outlets, so what do you think would happen to stuff that cost over three times as much?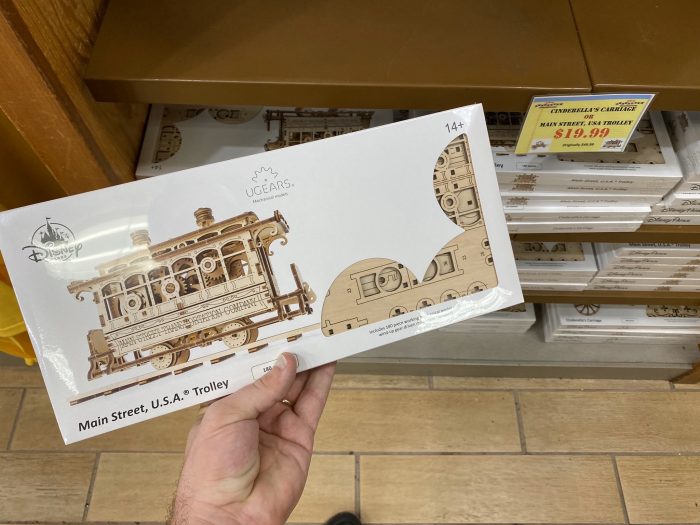 Bingo.
Both the Main Street USA Trolley above and Cinderella's Carriage below were originally $49.99, now $19.99. Trust me when I when I say they weren't flying off the shelves at $20 either.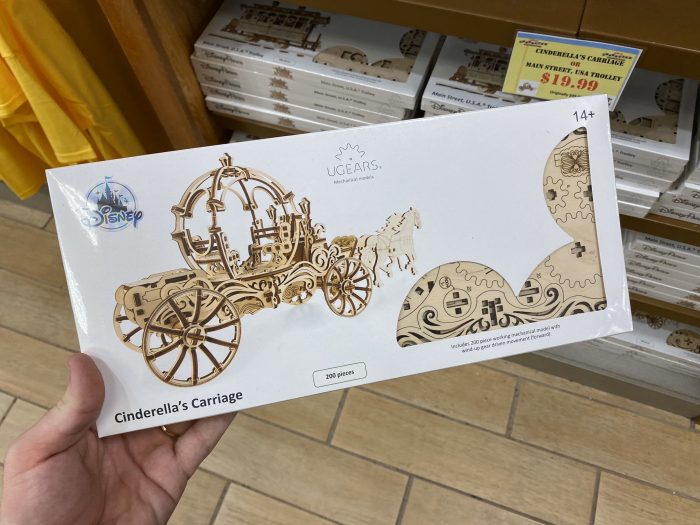 I am seriously amazed at how many of these Haunted Mansion plush sets they made. Just about every character in the attraction you can think of was produced. This is like "Star Wars" or "DC Super Powers" action figure level of deep dive fan service. Of course there are only so many Haunted Mansion super fans out there, and of those weirdoes totally normal people, how many want a cute plush? Also,  I'm no Haunted Mansion expert like Clint Gamache of ThrillGeek, but I'm pretty sure the Haunted Mansion caretaker was never a "groom" like this sign says. Originally $59.99, now $30.99.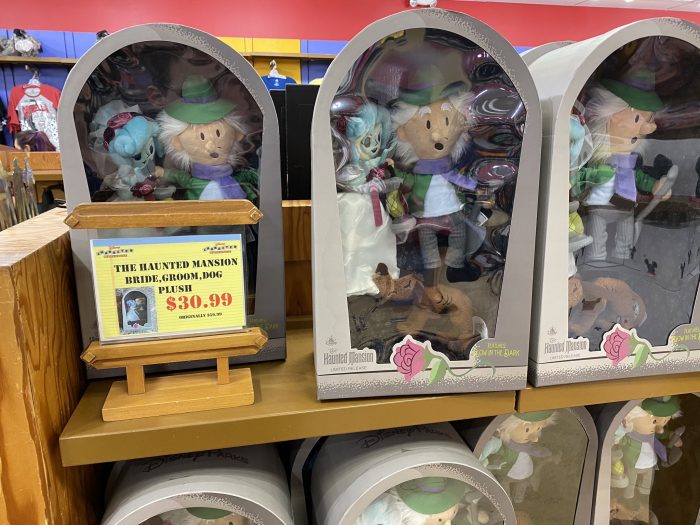 There was a great moment in the NBC's The Office, when Oscar used a spreadsheet on it to explain to Michael Scott why he was having money problems.
Okay, the green bar is what you spend every month on stuff you need…..like a car and a house. The red bar is what you spend on nonessentials like magazines or entertainment. Things like that. This scary black bar is what you spend on things that no one ever ever needs. Like multiple magic sets, professional bass fishing equipment….
This Haunted Mansion door knocker would go onto that Black Bar list. Originally $24.99, now $9.99.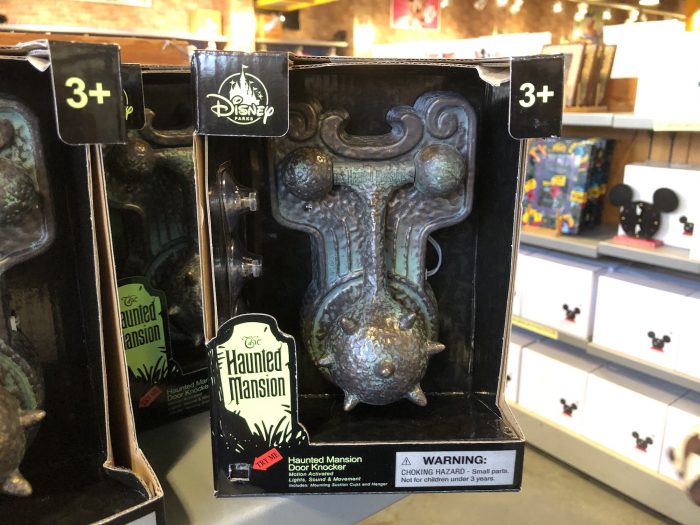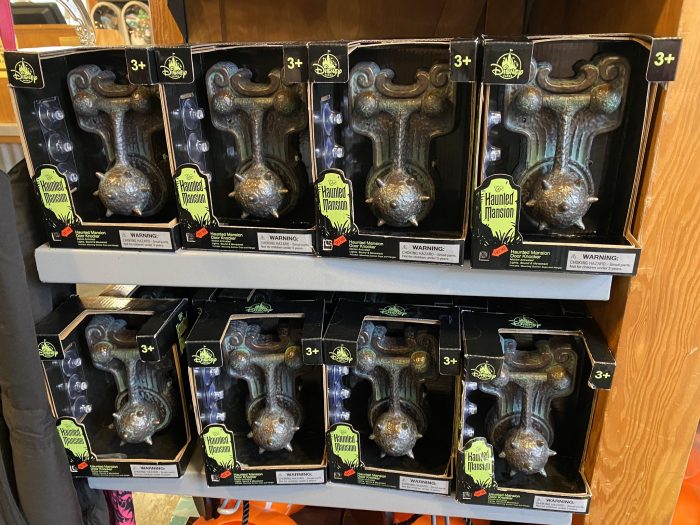 Have to admit I would never thought I would see a Disney handbag themed to a Trader Sam's drink, but here we are with the Zombie. I wonder if we can get author @DrunkAtDisney to persuade loungefly into making a Lapu Lapu handbag?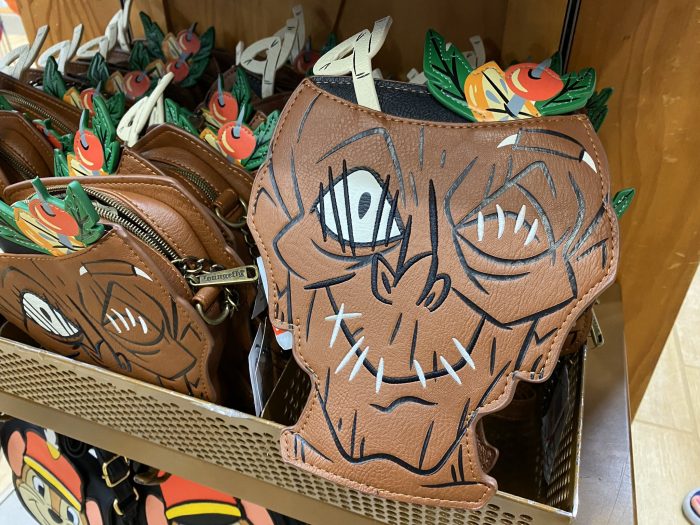 Reusable bags from Epcot's Food and Wine Festival.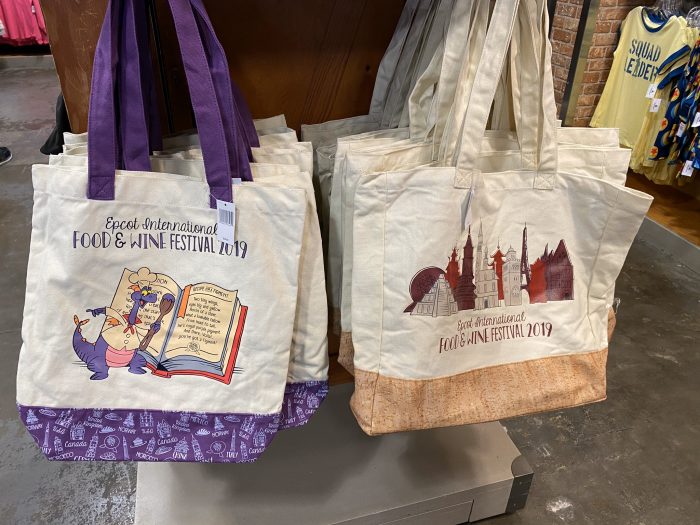 Despite Disney giving away free candy bags at this year's Mickey's Not So Scary Halloween Party, they also offered the opportunity to purchase these. Originally $24.99, now $6.99.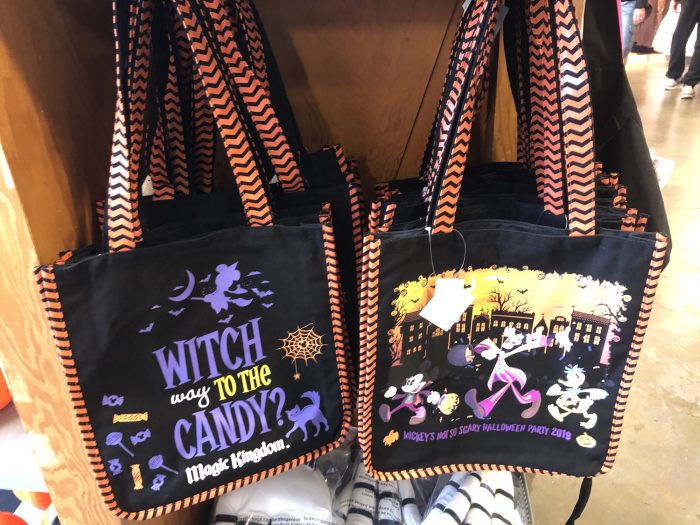 Fancy tea pot featuring Mary Poppins from the new movie. Originally $145, now "just" $72.99.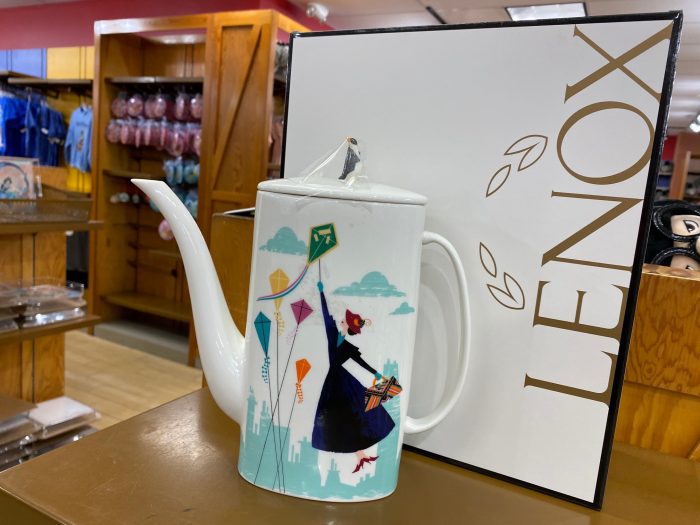 Been seeing a lot of these "knit" plush show up at the Outlets. This month we had Baloo. Originally$27.99, now $12.99.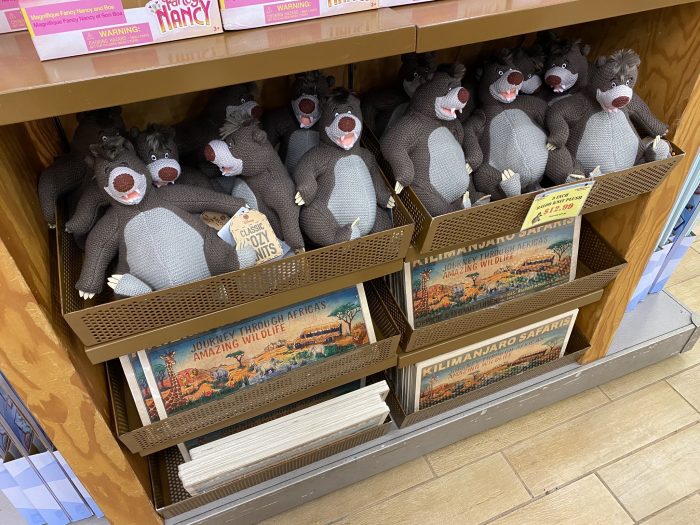 And one of the 101 Dalmatians. Actually, I don't know the parents count as part of the 101 Dalmatians. I also wouldn't have been able to name "Perdita" given a lifetime of chances, so I guess it's time to rewatch that movie. Originally $27.99, now $9.99.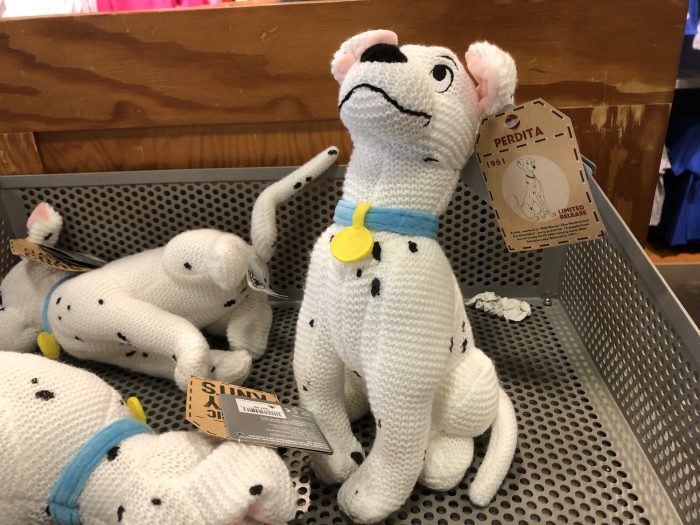 VERY surprised to see Porg plush at the Outlets the same month a new Star Wars movie was at the theaters AND Rise of the Resistance opened in Florida. If ever there was a time Star Wars Fever would be at "high," this would be it. Originally $16.99, now $10.99.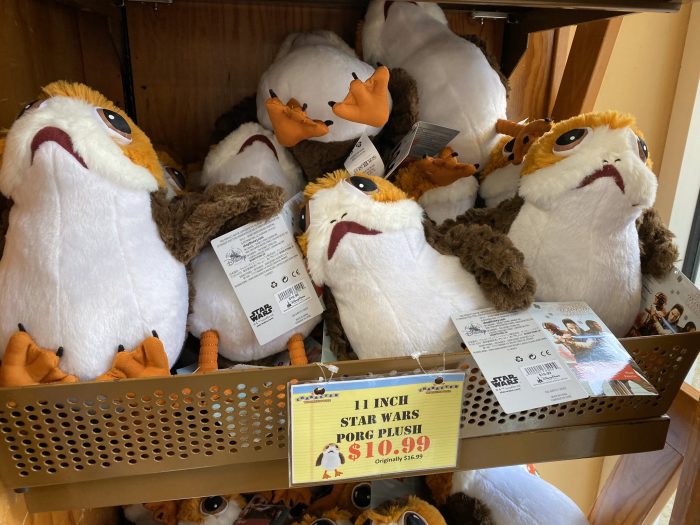 I'm not sure if we can officially call the Wishables series of plush a bust like Ufufys, but it seems like a lot of them are going to the Outlets pretty fast. The originally $9.99 price tag can't help, especially on the Blind Bag ones. I was at Pop Century a couple weeks before Christmas, and saw a mother and daughter feverishly working the Christmas-themed Wishables bags with their fingers like kids popping bubble wrap. I assume they were looking for the "Mickey" and wouldn't get the Snowman or Gingerbread Man. Anyway, here's Flounder from The Little Mermaid.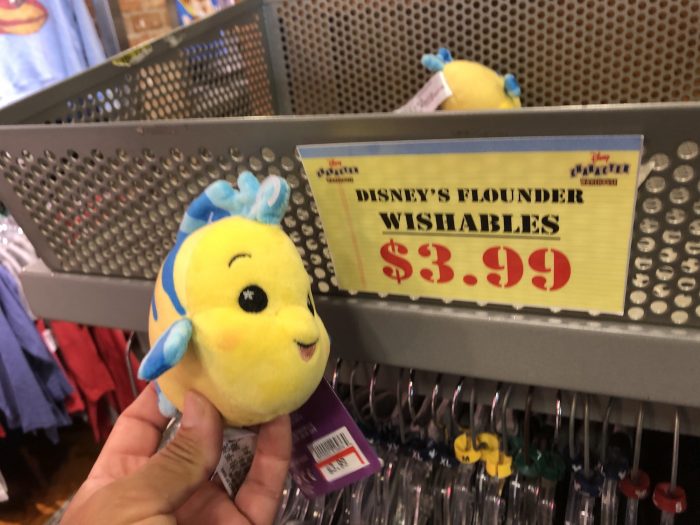 This small Donald Duck was just a small Donald Duck. It wasn't a magnet. The hands didn't clasp like a "hugging" plush. It wasn't a keychain. It was just a small Donald Duck with a big head. Reduced to $5.99.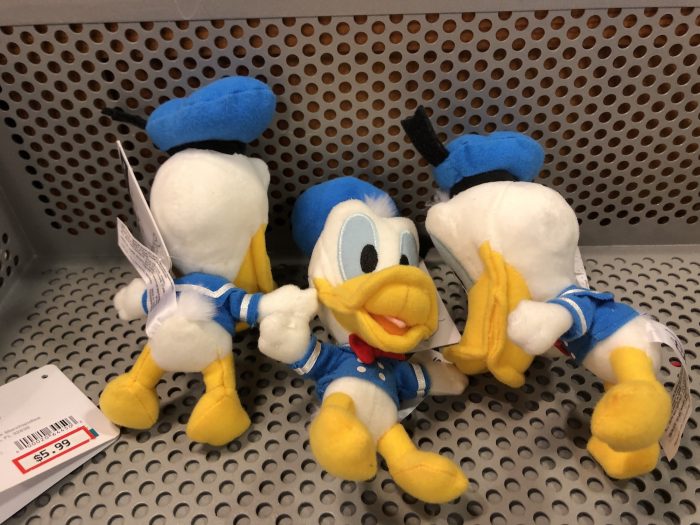 I like it when the Outlet Stores just say "whatever." These Vampirina dolls were just labeled DOLL on the sign. Reduced to $19.99.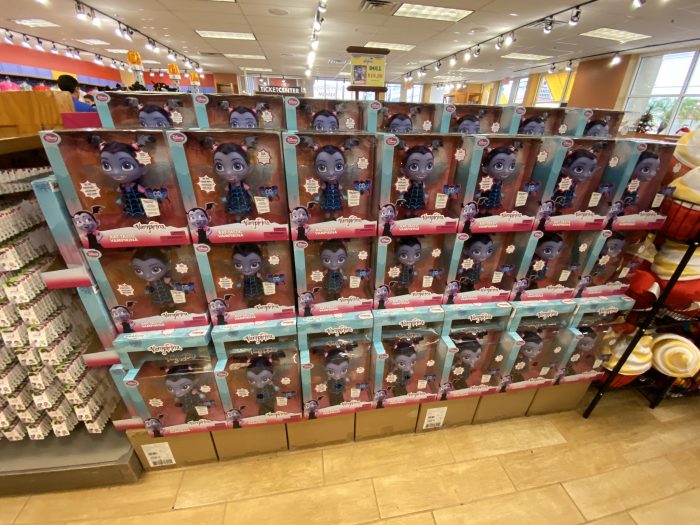 Fancy Nancy was treated with a little more dignity.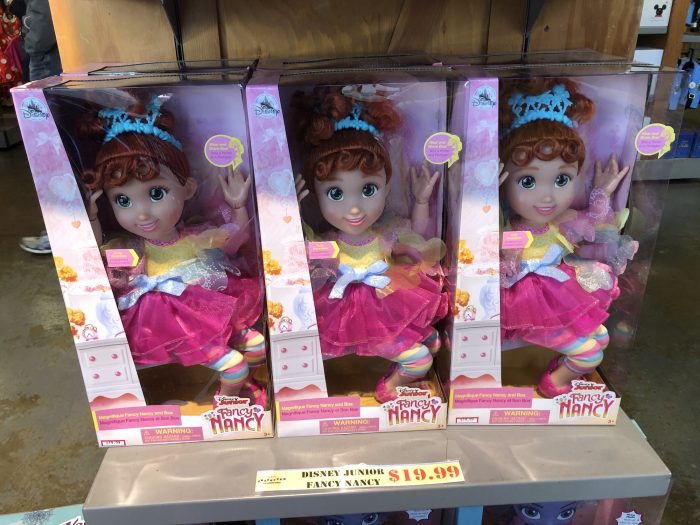 I'm not even sure what this Buzz Lightyear playset even is, but if it's at the Outlets next trip I'm buying one.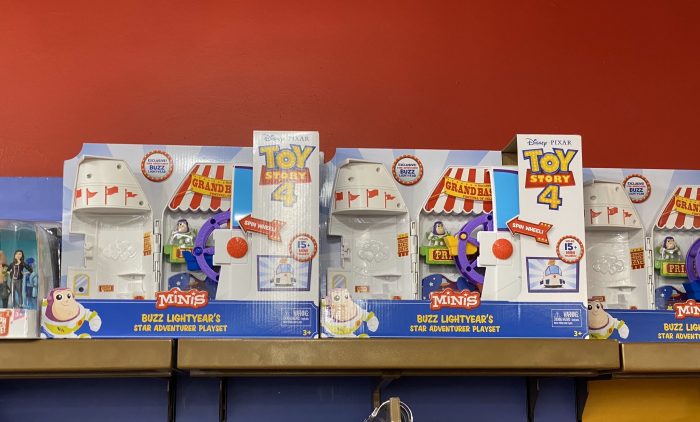 Not buying this other item from Toy Story 4, Bo Peep's staff. Originally $24.99, now $9.99.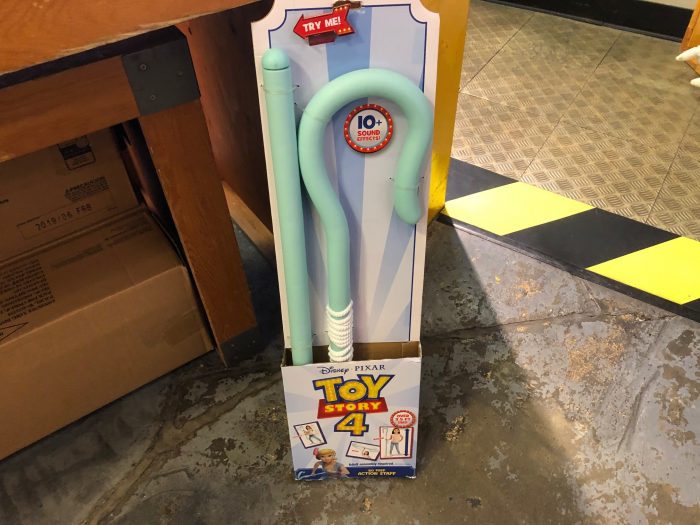 Don't get much PEZ at the Outlets, but a couple different ones showed up this month. First was The Incredibles.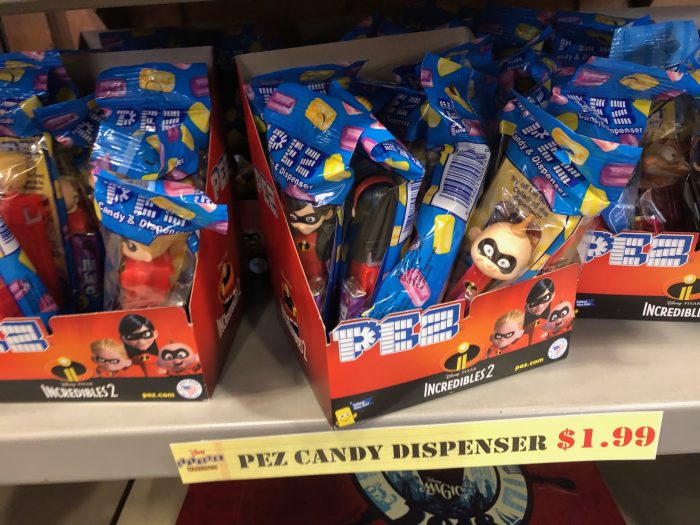 And we also got The Lion King.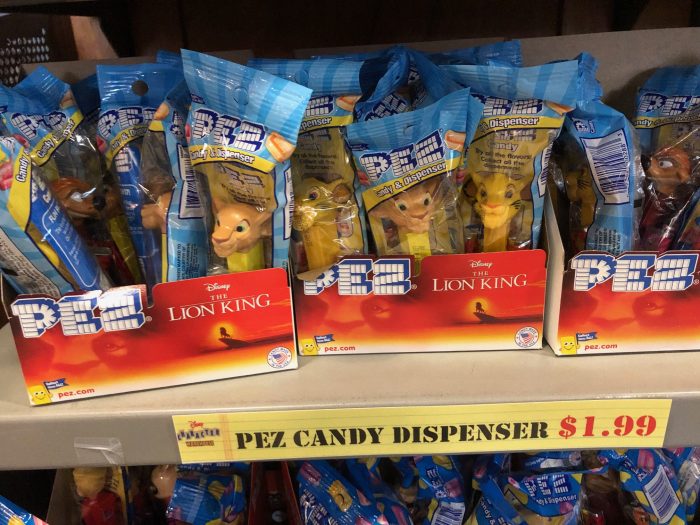 I have a limited amount of Funko Pop! in my collection, but I can certainly see how people can become addicted to buying them. If you wan't them to stop cold turkey, maybe show them this Mickey Mouse Pop! from the Plane Crazy cartoon. Originally $14.99, now $7.99.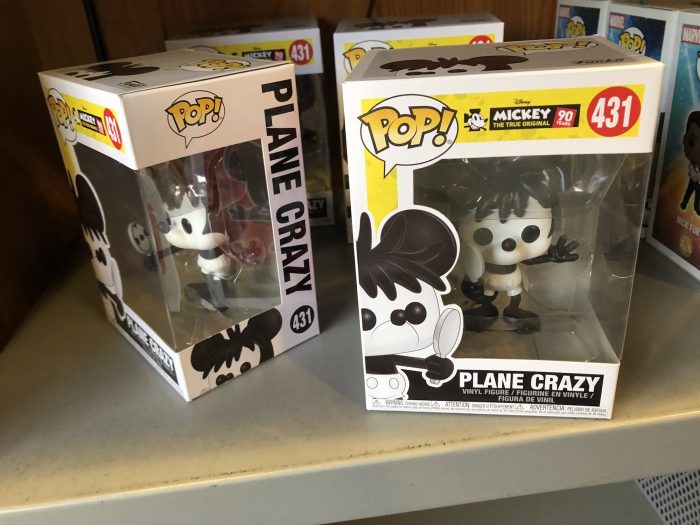 Captain Marvel and Maria Pops. These were also reduced to $7.99.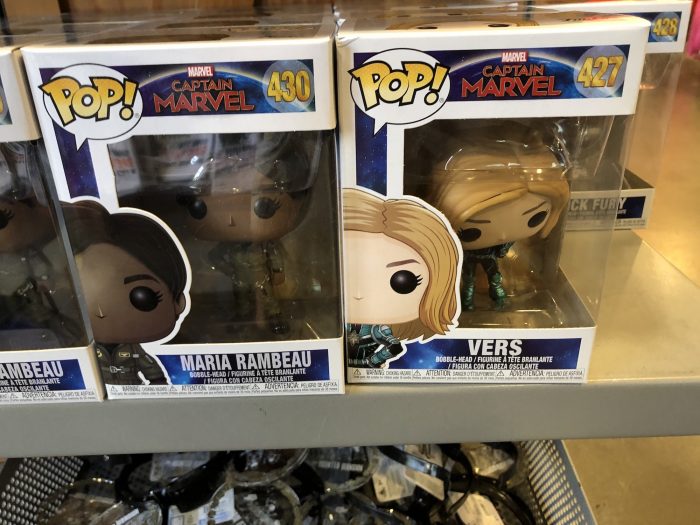 Lin Manuel's Jack from the Mary Poppins Returns, also reduced to $7.99.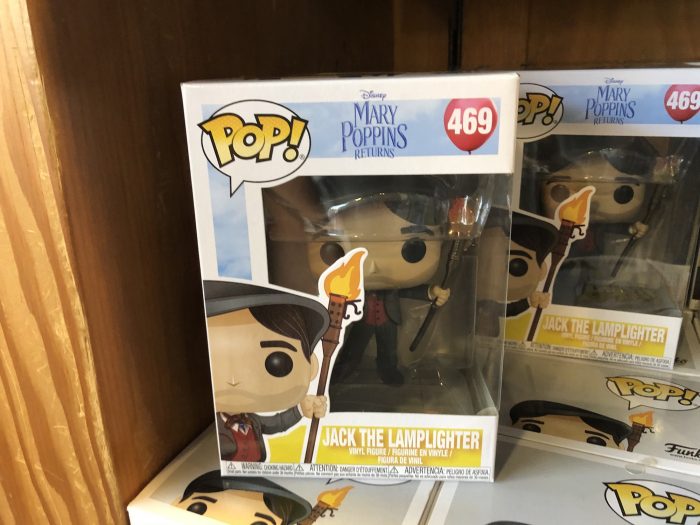 Jafar from the live action Aladdin remake was reduced to $6.99.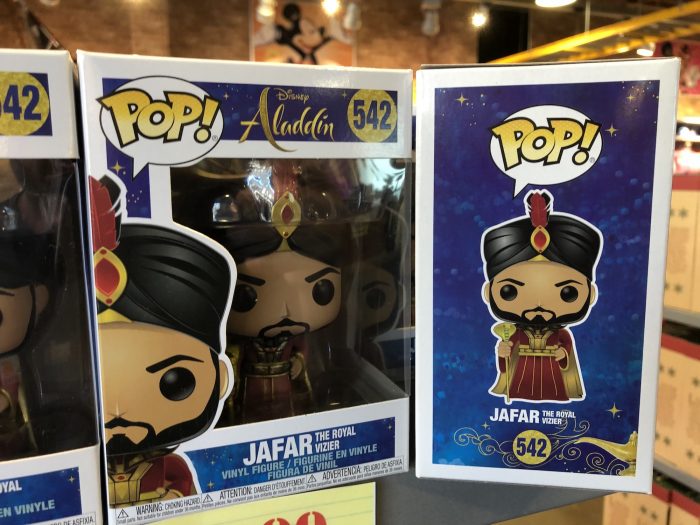 Headbands from the Haunted Mansion's 50th anniversary from out in Disneyland showed up.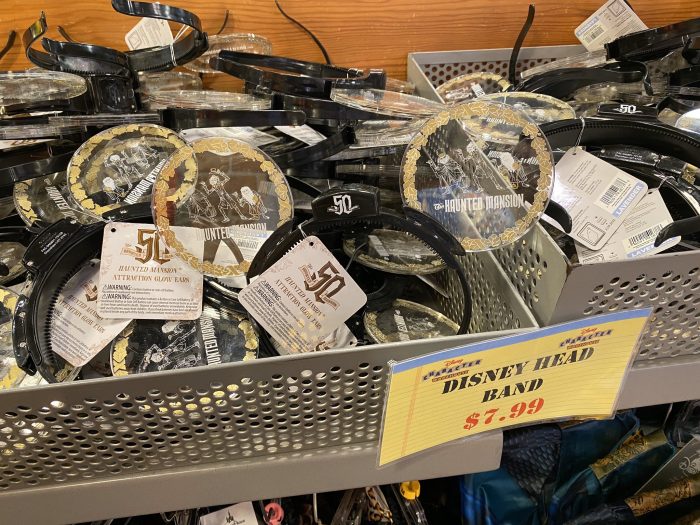 Food and Wine festival headband featuring a small cupcake on top. Originally $29.99 (can you IMAGINE,) reduced to $6.99. Notice the Outlet signs. Sometimes there are referred to as "head bands" and sometimes "headbands." No rhyme or reason.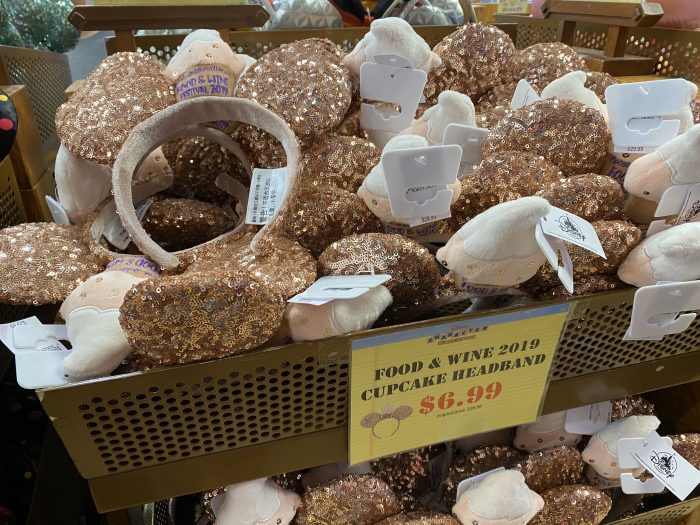 We've seen a lot of hats show up at the Outlets in the last few months, and even more arrived in December.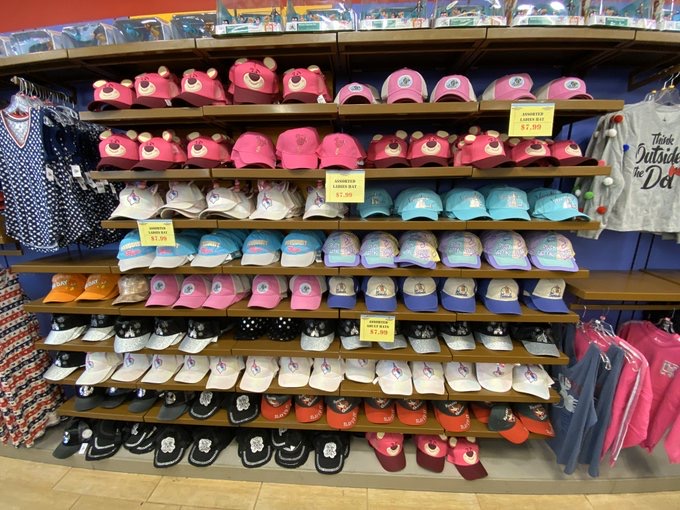 This hat and glove set was for kids. Originally $21.99, now $7.99.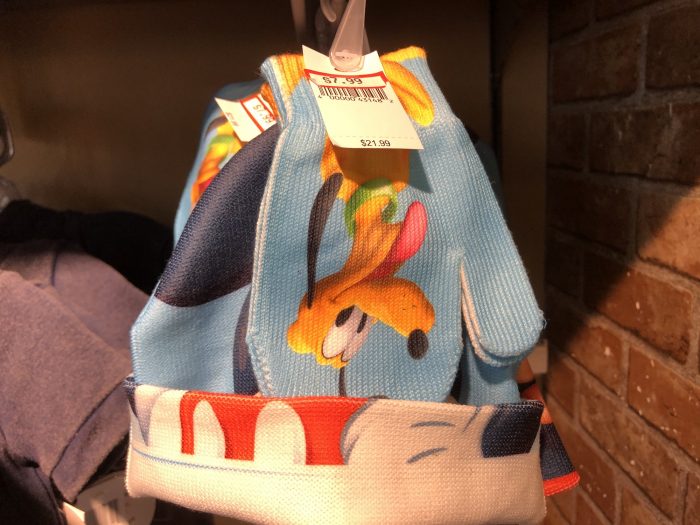 This is a pretty cool looking Minnie Mouse iPhone case. Reduced to $7.99.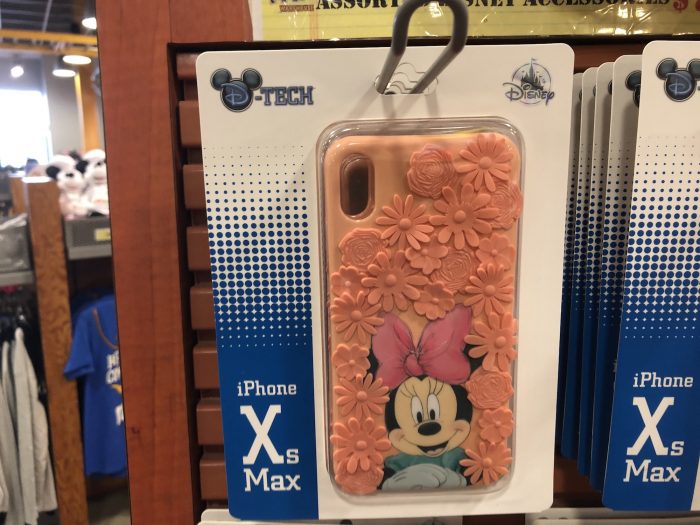 This Dumbo-themed iPhone case may be one of the all time RIDICULOUS items ever made by Disney, and imagine the ground that is covering.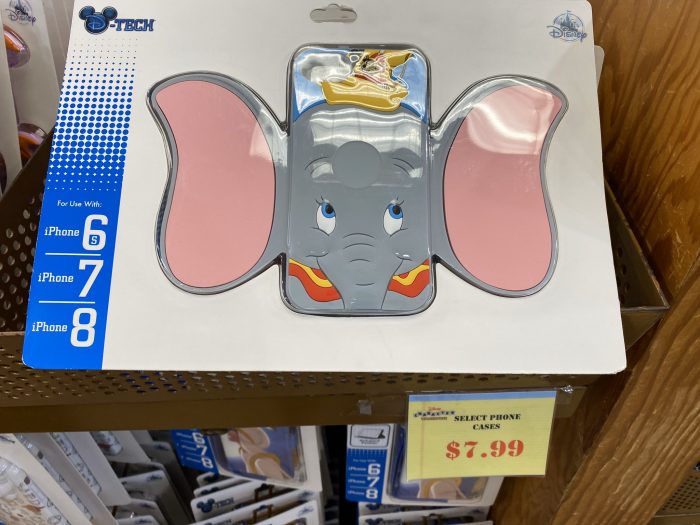 Over on the SATURDAY SIX we recently celebrated the Disney Signage Hall of Shame, and how great would the iPhone case be below if it honored the legacy of the famous EPOCT road sign? Originally $24.99, now $7.99.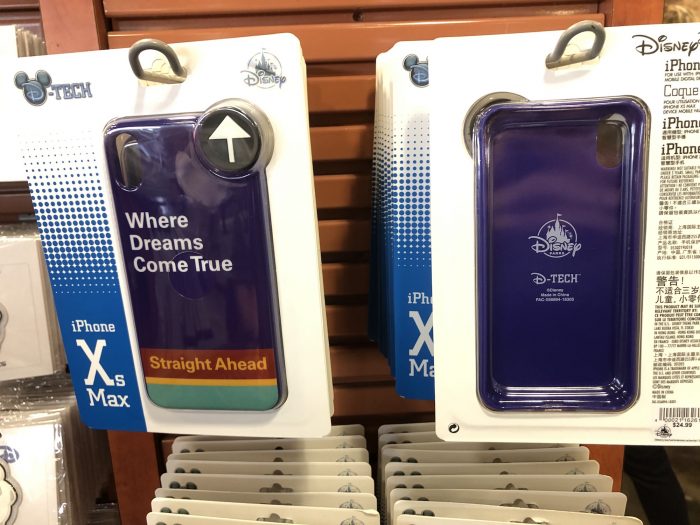 Figment and Dole Whip Float cases, reduced to $7.99.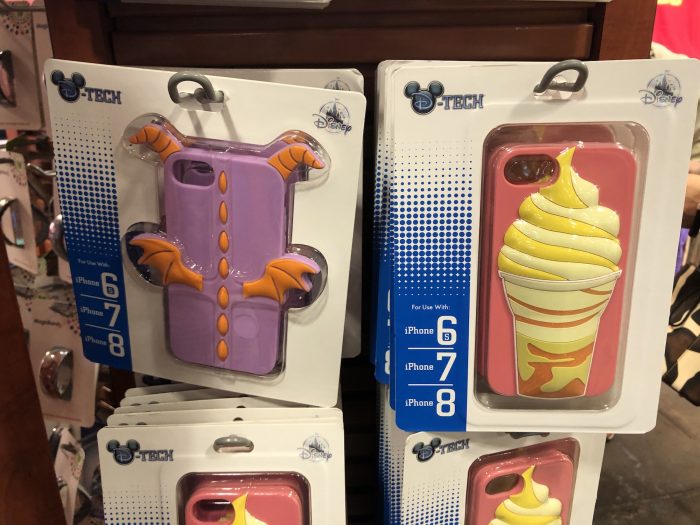 Over the past few months we've shown these baby clothes sets featuring its a small world and Dumbo. Well, apparently the Outlets were asked what was in them so much…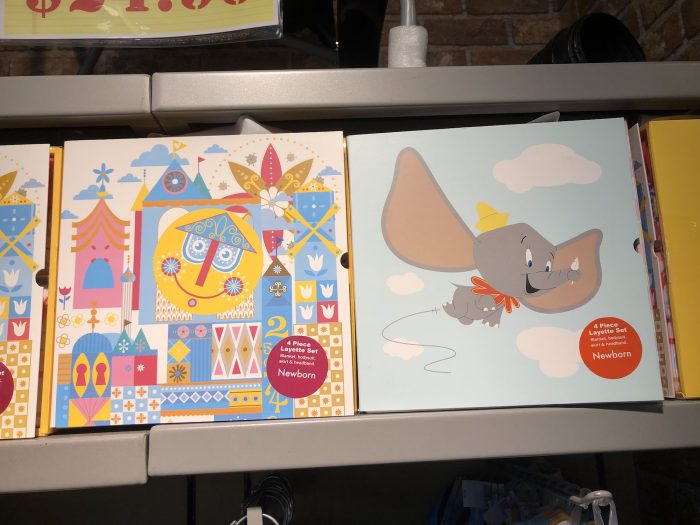 That they now display the contents outside of the box.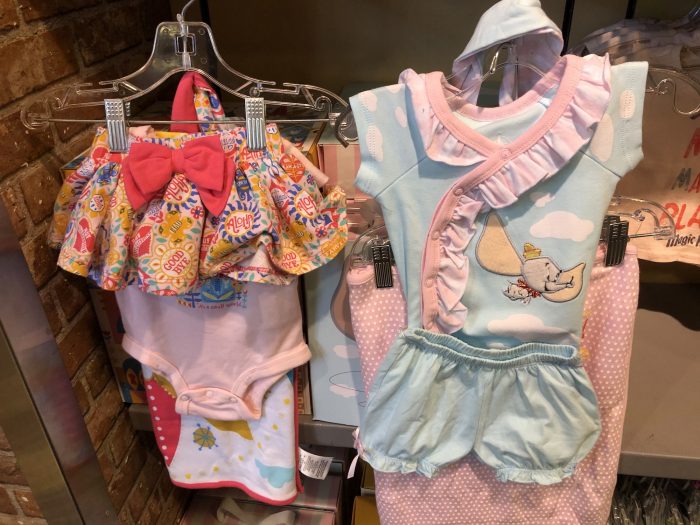 Okay, let's take a brief break from Florida and out to California, and see what @ChristelaMcC has found in the Outlets closer to Disneyland.
First we have straight up nightmare fuel. These are hair scrunchies featuring Dory and Nemo. Unfortunately it looks like the characters stepped into one of the teleportation machines from The Fly and came out as something you'd want to burn with fire. Reduced to $4.99.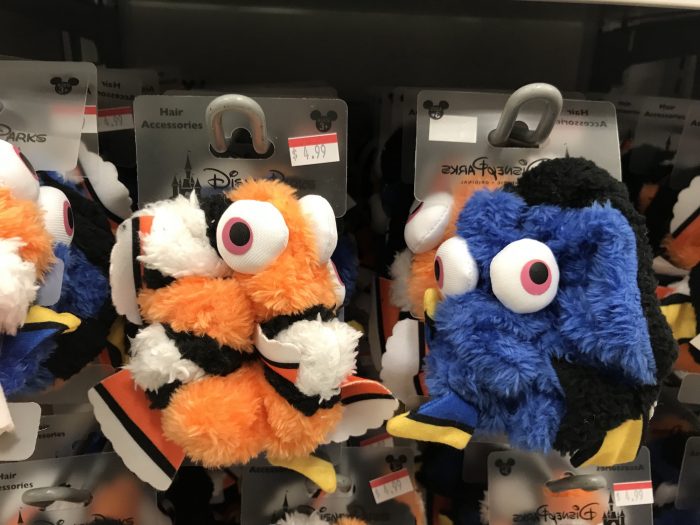 Blind bag Wishables featuring characters from Winnie the Pooh. Originally $9.99, now $2.99.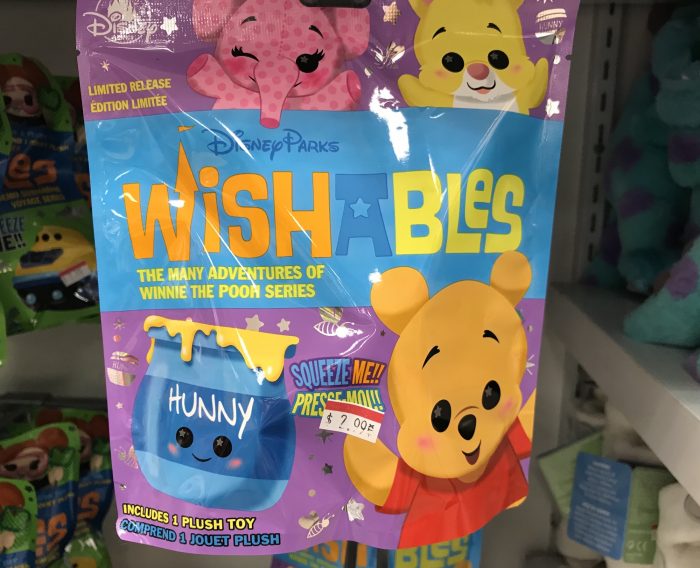 Frozen Wishables, same price.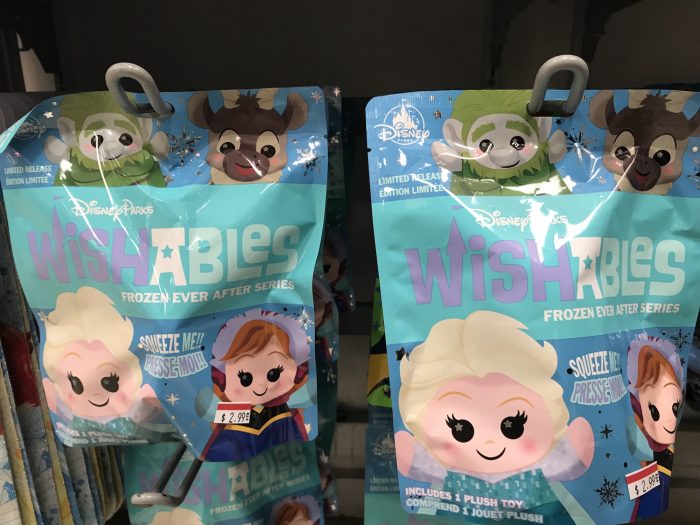 Enchanted Tiki Room hat. Originally $27.99, now $5.99.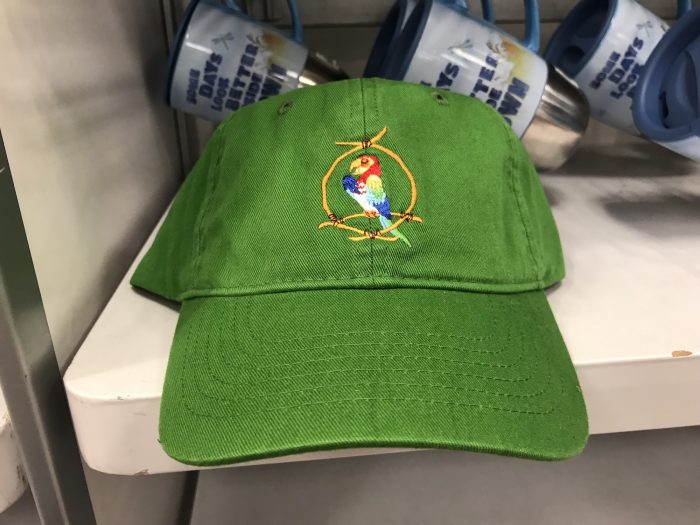 Elaborate Mickey Ears featuring the Dia De Los Muertos Celebration at Disneyland. Originally $27.99, now $12.99.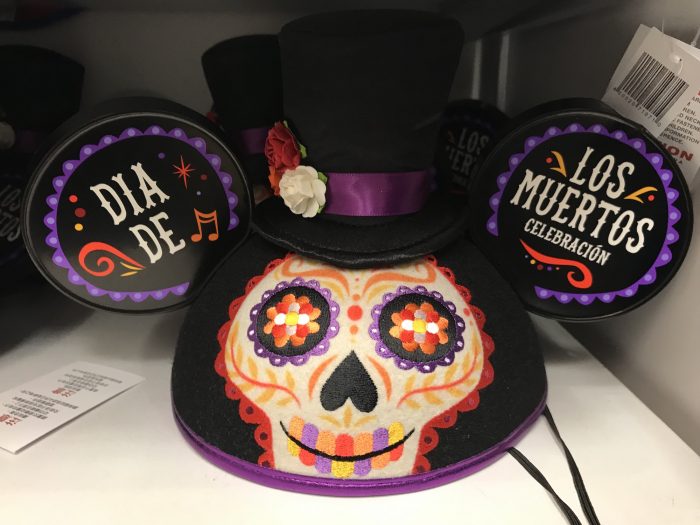 Minnie ears headband for the Dia De Los Muertos Celebration. Reduced to $6.99.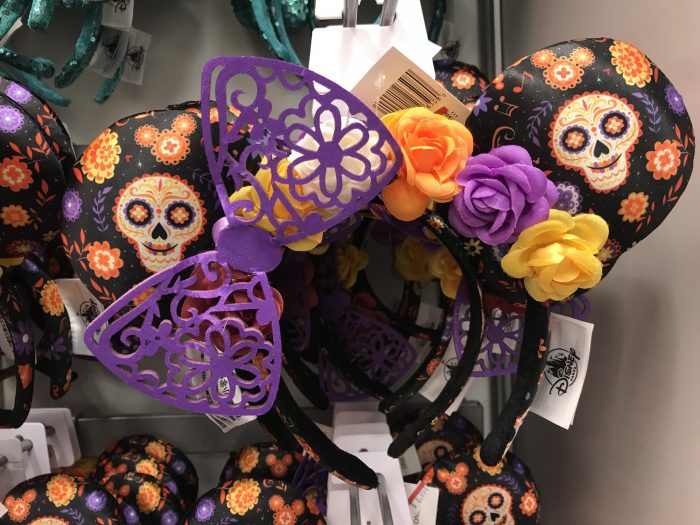 Disney California Adventure debuted the hard ticket Oogie Boogie Bash this year. This "First Fright" pin was originally $15.99, now $4.99.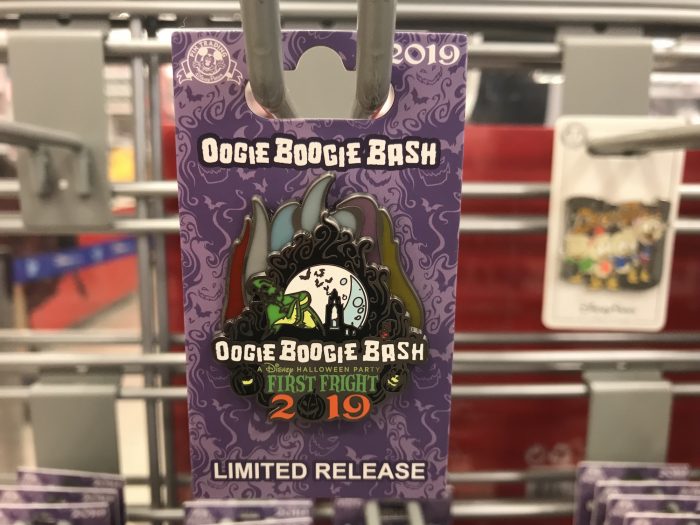 Great DuckTales pin. Reduced to $2.99.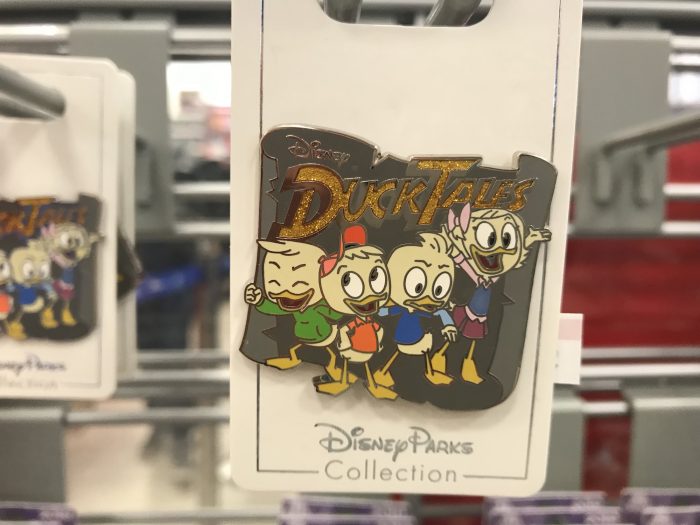 Wow, they have the Disney "Patched" patches out in California as well apparently. What are people even stitching these onto anyway. Did jean jackets make a comeback and I missed it? This one featuring Stitch and Ohana was originally $9.99, now $2.99.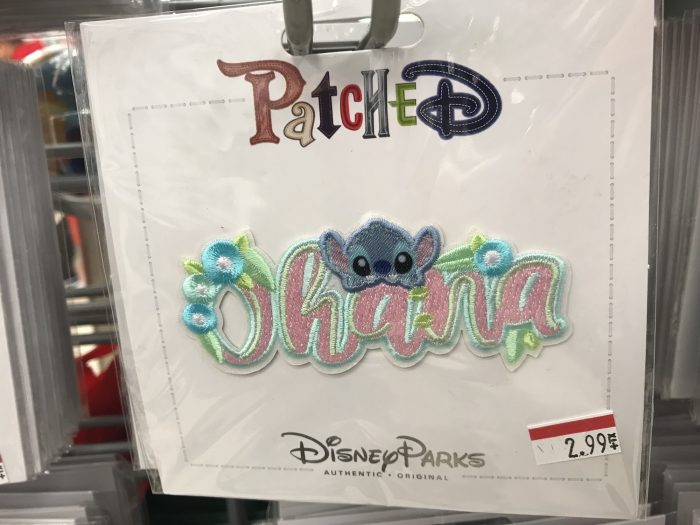 Baymax, same price.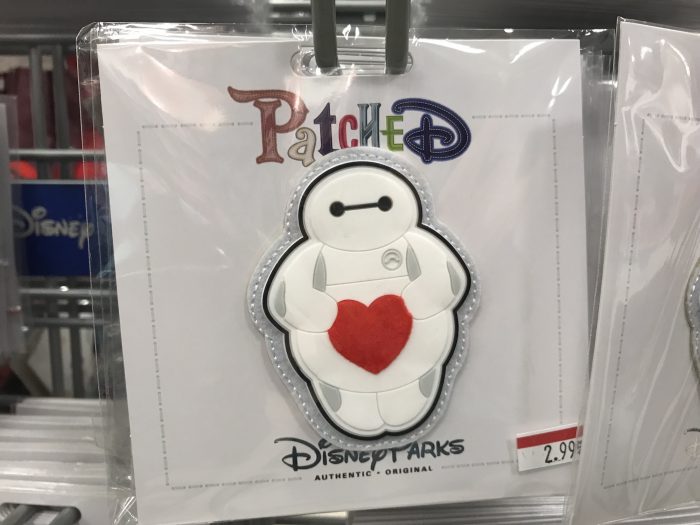 The picture does not do justice how bright this neon green shirt is. Originally $24.99, now $9.99.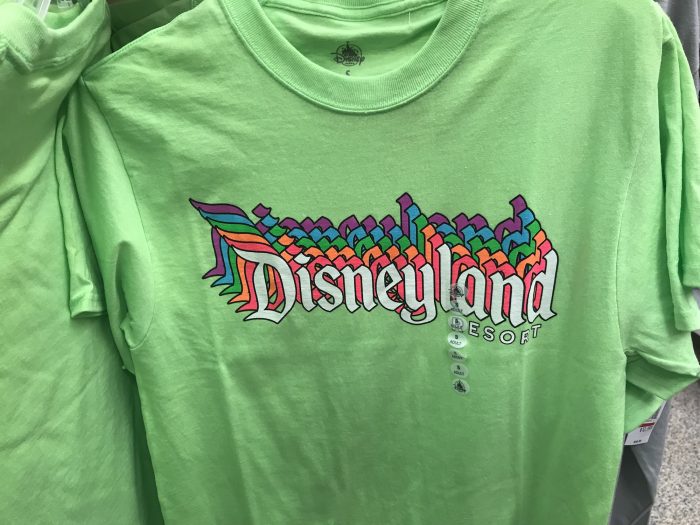 Disneyland Spirit Jersey featuring the Tiki Birds. Reduced to $24.99.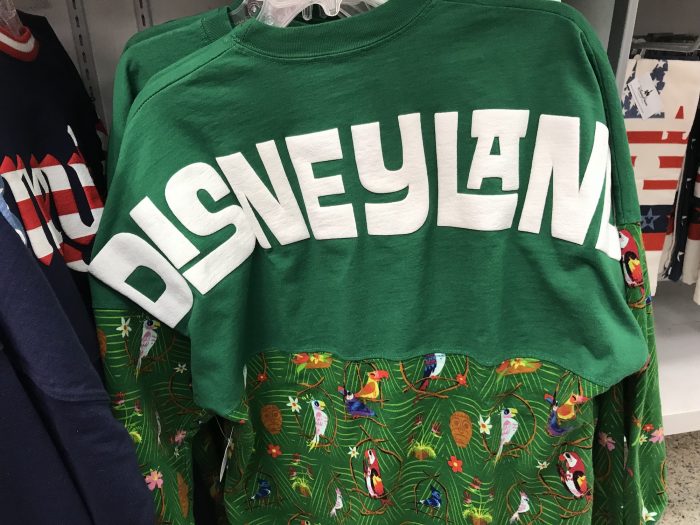 As a pin, the Grape Soda cap from Pixar's Up is E-Ticket. One of the best pieces of merchandise Disney has. As a t-shirt it makes no sense. This raglan shirt was originally $34.99, now $12.99.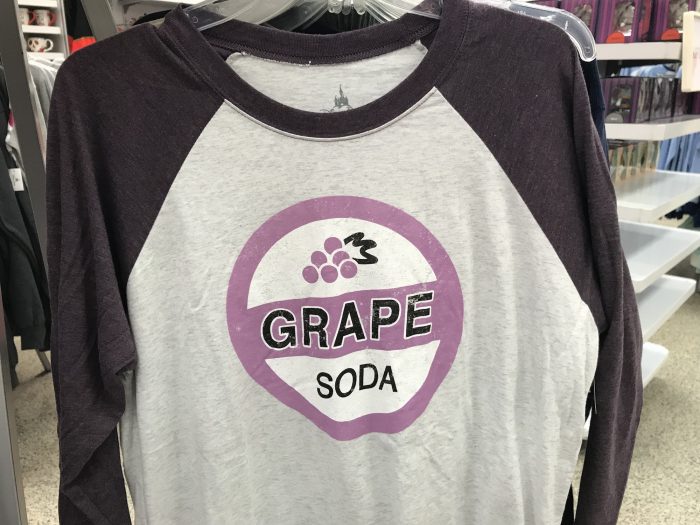 Is it me or do the following two pieces of clothing remind you of the TV show Cheers? This sweater was originally $39.99, now $14.99.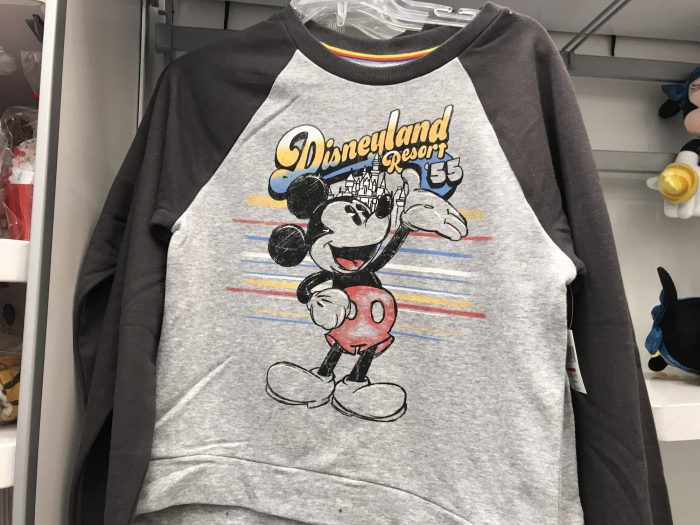 While this hoodie was originally $49.99, now $16.99. I appreciate that it also has Sleeping Beauty castle "to scale."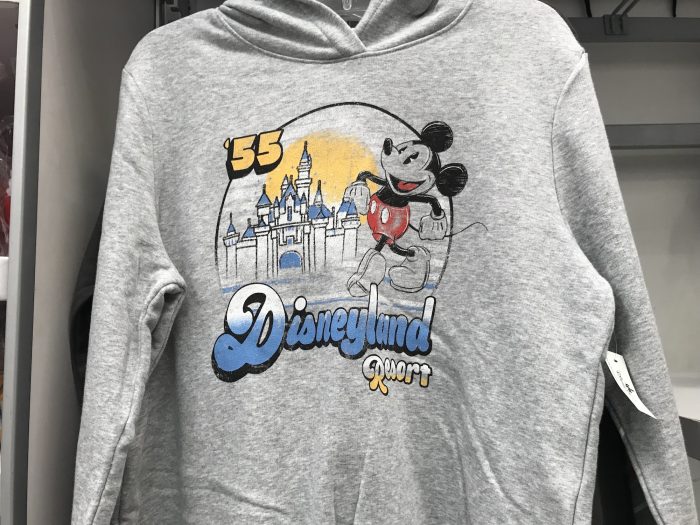 This must be some sort of famous artist, because it is one of the only shirts you'll ever see at Disney with an artist's signature and then has "for Disney" after it. Like a shirt with the castle and a "Mickey Mouse head as seen after doing a 72 hour bender" would be for Home Depot or something. Originally $23.99, now $14.99. I just noticed know the green tints going around the edges of the shirt. If you know why this is, post a comment below.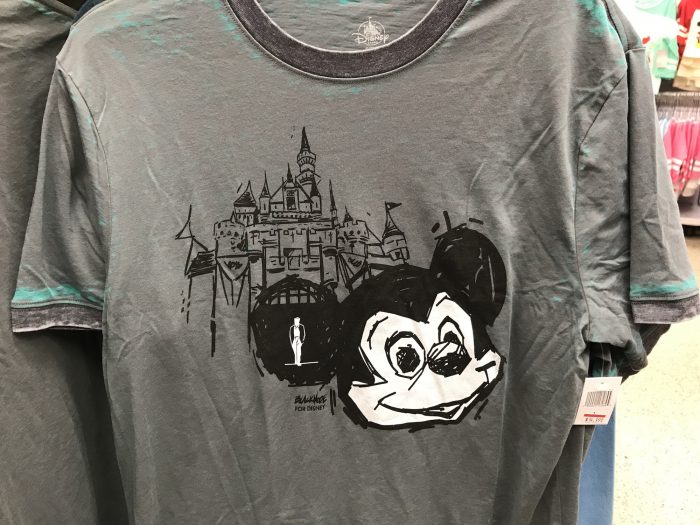 California was smart, they have these food boxes like we've had in Florida (at our Outlets down here we've posted about the pizza and donut boxes recently.) So they have the boxes on the shelf…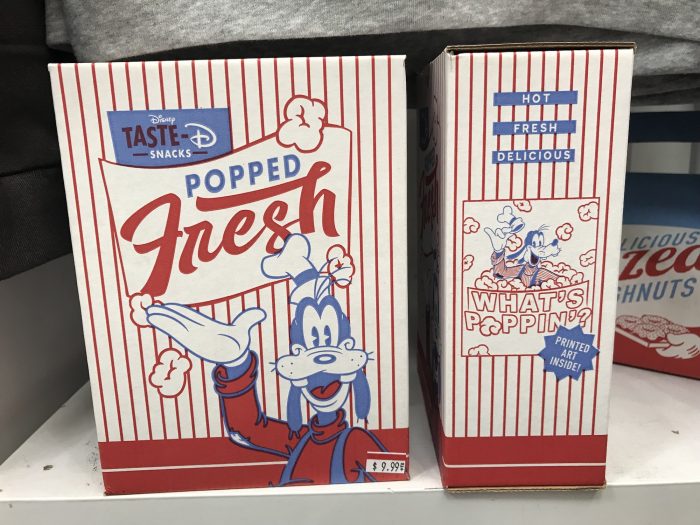 But they also have an example of what's in the box. This t-shirt featuring Goofy was originally $29.99, now $9.99.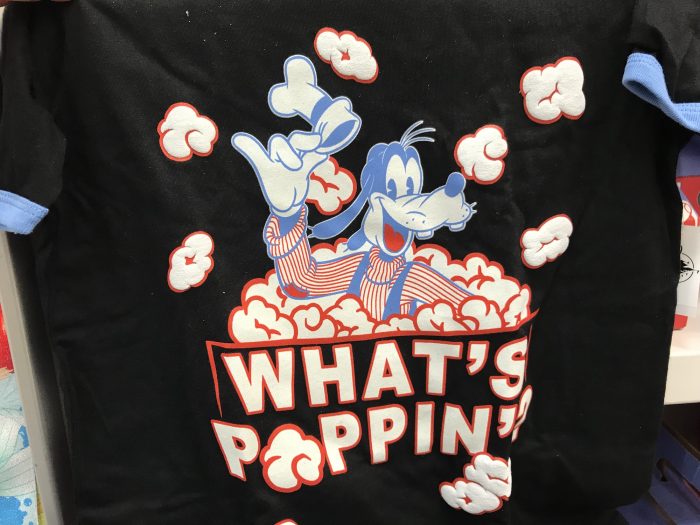 Thanks Christela!! Let's head back to Florida and check out  our What's Poppin'? shirt. In Florida they probably had so many people ask what was in the dumb boxes that they just opened all the shirts and put them on a rack. Same price as Cali, $9.99.
Who would have thought we'd see more stuff from Star Wars: Galaxy's Edge at the Outlets this fast? This maroon Black Spire Outpost shirt was originally $34.99, now $9.99. It's nice that like Pandora: The World of Avatar, Galaxy's Edge has its logo on the inside of the shirts and not just "Disney Parks" or something.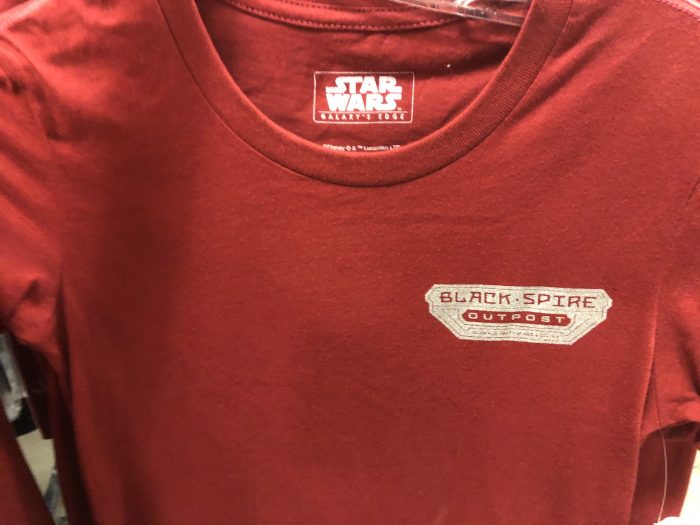 This is one for the all time books. We've seen Disney Spirit Jerseys at the Outlets before, probably almost a hundred different ones by this point. However, this is a first. a PET SPIRIT JERSEY.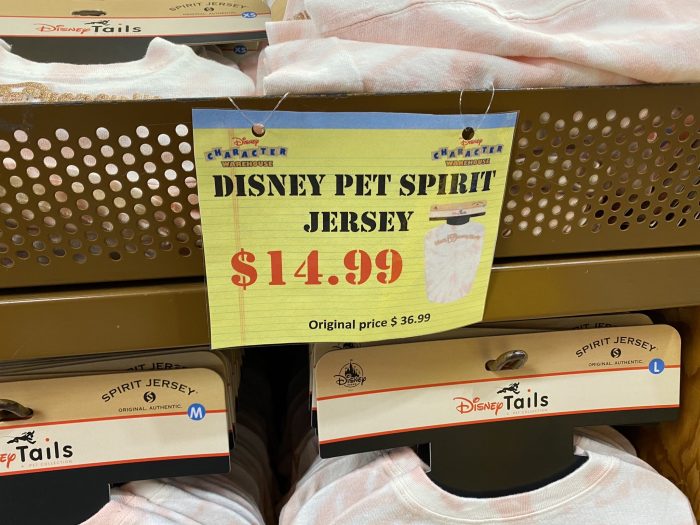 Sometimes I can't believe my own eyes.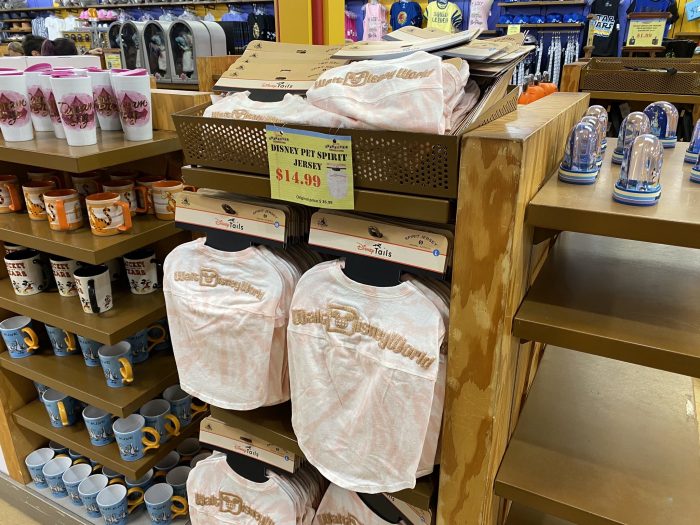 And wouldn't you know it, Twitter follower @Justinegar posted a picture of her dog in one! Know what, if they still have these next time at the Outlets, I'll pick one up for Bacini, the official dog of DisTwitter (I'll just have to be creative in how I bill it to Len Testa.)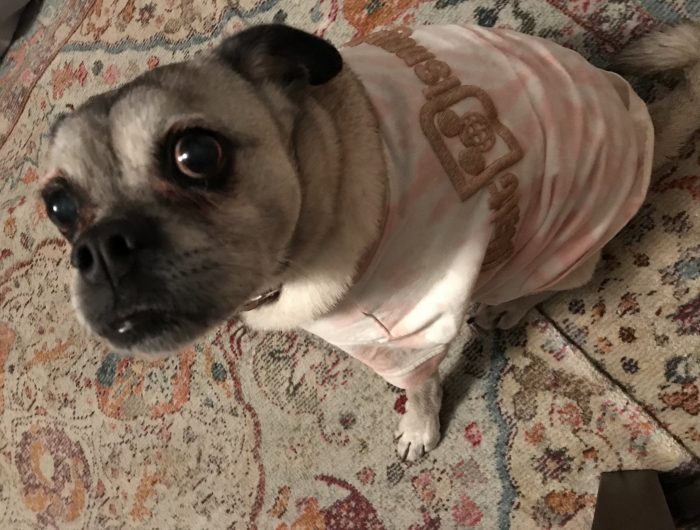 Seems like a fancy Rapunzel dress if it comes in its own garment bag. And the REDUCED price was $149.99. WHAAAAAAAAAAAAAAAAT?!!!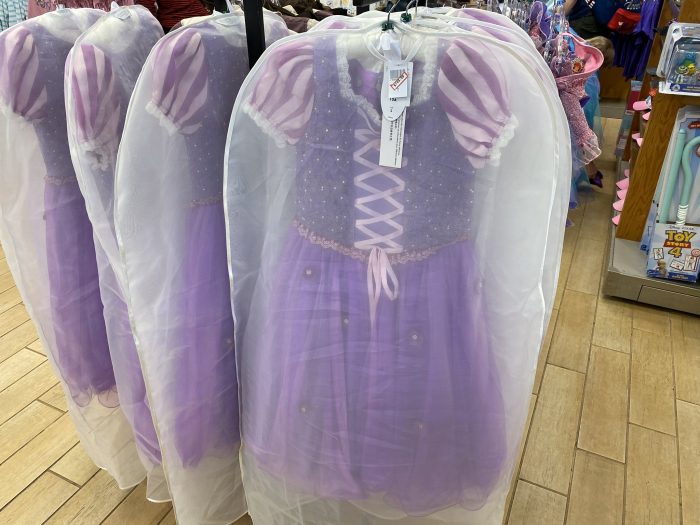 Oooh, the "Signature Collection." I wonder if this was for little girls was Disney's "28 and Main" brand was for Kid Rock fans.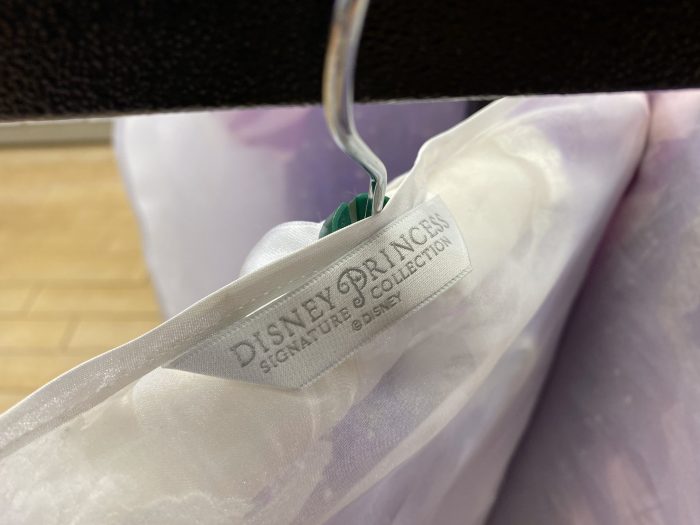 I like to think the idea behind this concept was Disney holding a "What's the absolute WORST shirt we can make" contest. Originally $34.99, now $4.99.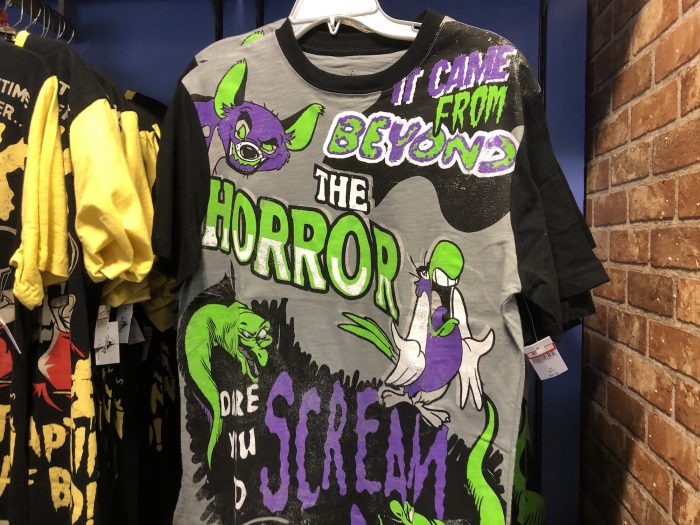 Turns out, there were a lot of winners in the contest.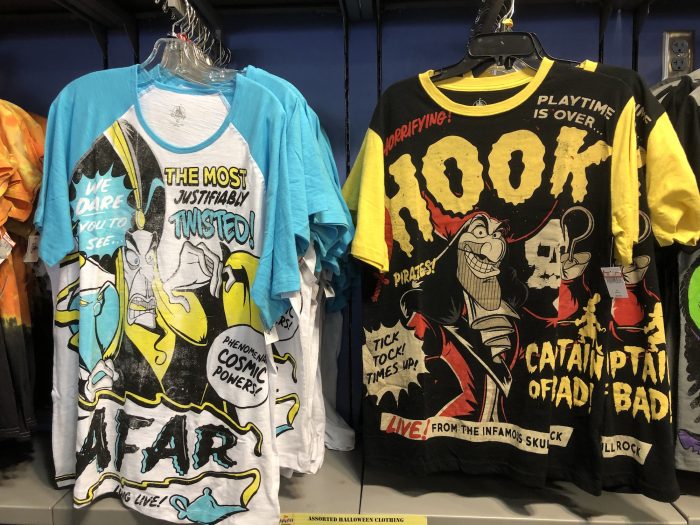 "No, I want worse! How about you take this comic book-like art, but put it on women's tees?"
"You got it boss."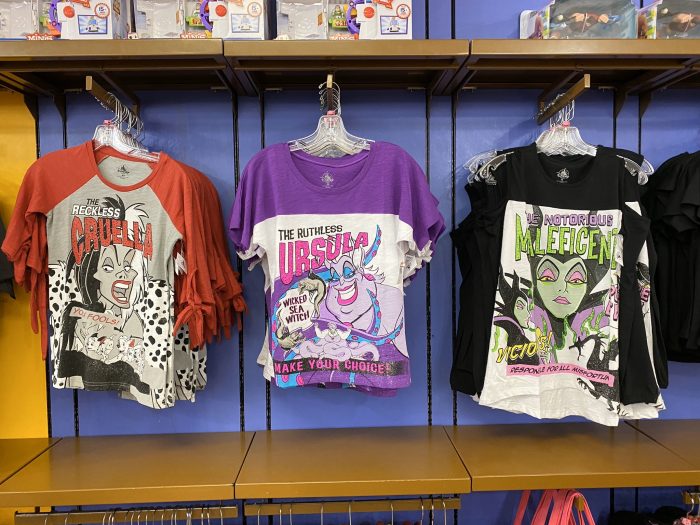 Happy Halloween shirt with some pretty neat designs if you look at the "shadows" below the characters. Definitely what you would see designed by Universal for Halloween Horror Nights. Originally $34.99, now $4.99.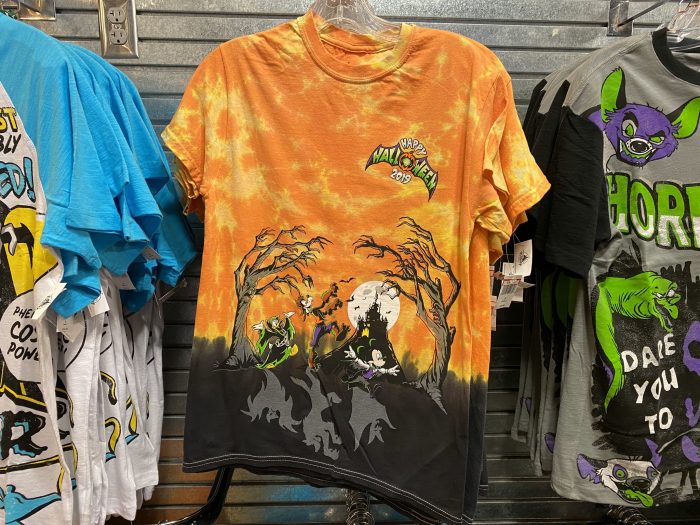 Who is the audience for this Mickey's Not So Scary Halloween vest? Originally $36.99, now $10.99.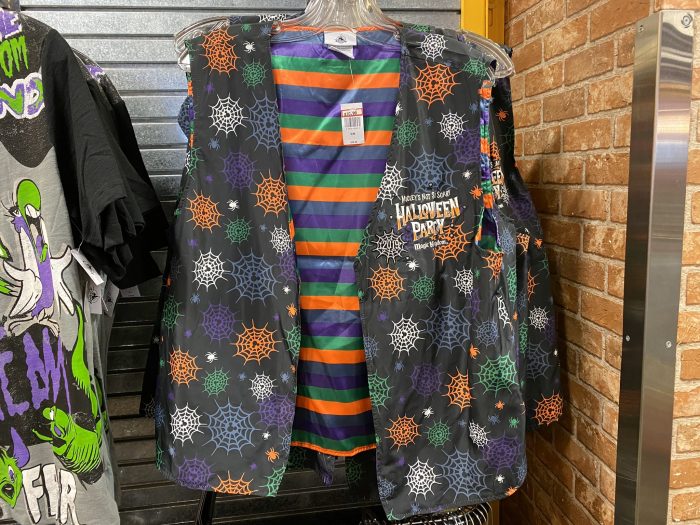 Glow in the dark MNSSHP shirt. Originally $28.17, now $7.99.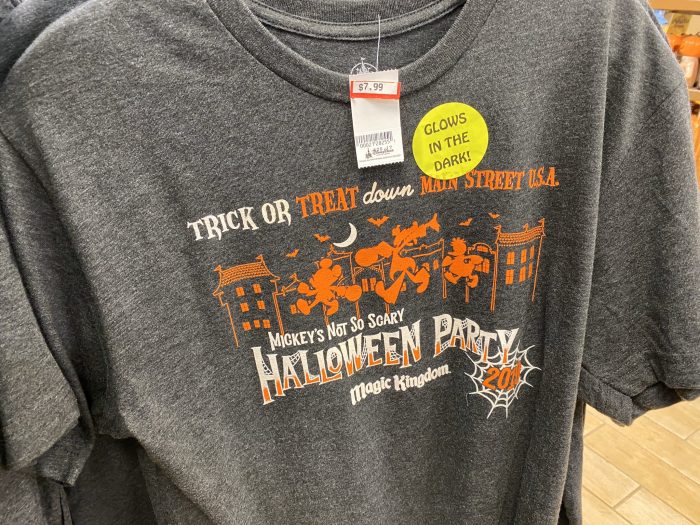 Hocus Pocus spirit jerseys, originally $64.99, now $18.99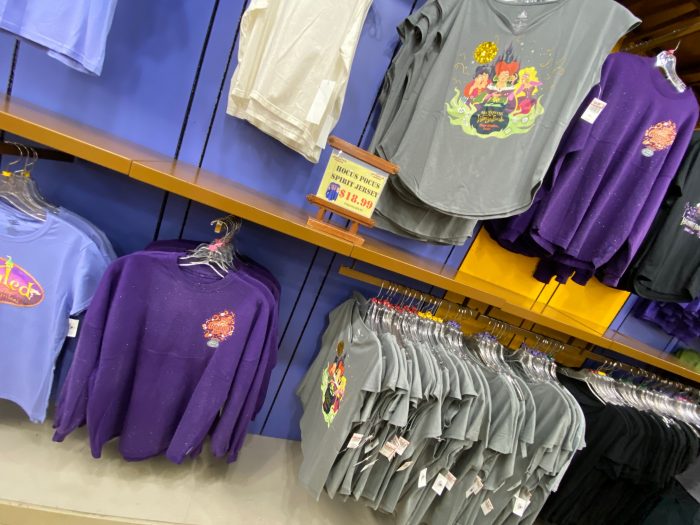 Hocus Pocus shirt. Originally $34.99, now $9.99.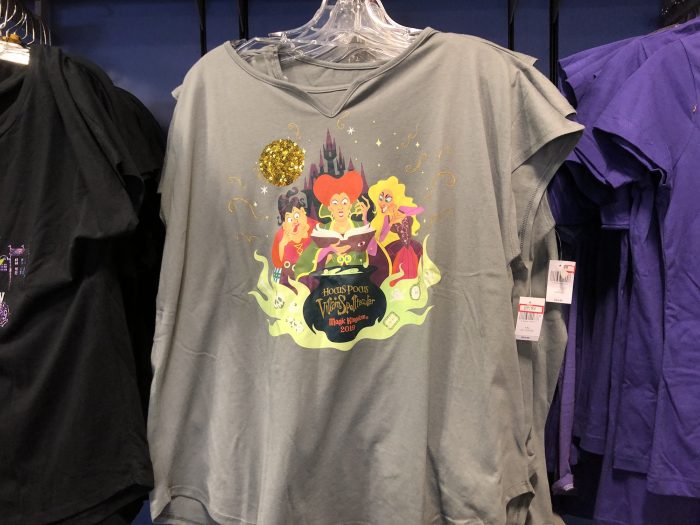 Halloween On The High Seas shirt from the Disney Cruise Line. Originally $32.99, now $4.99.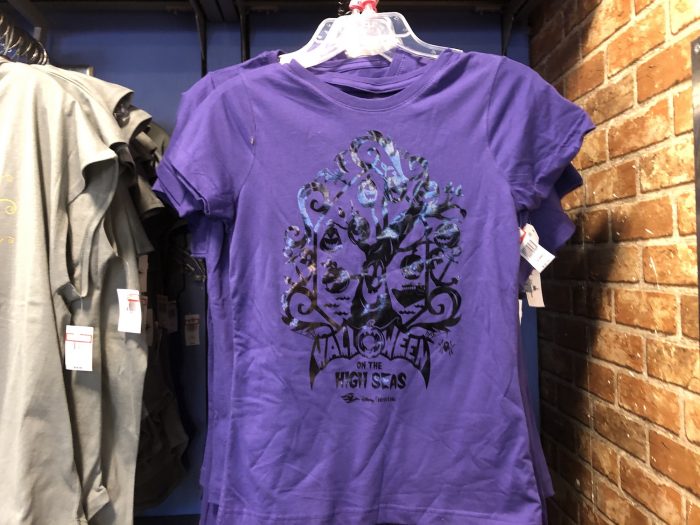 Super cute hoodie for a newborn. Originally $24.99, now $9.99.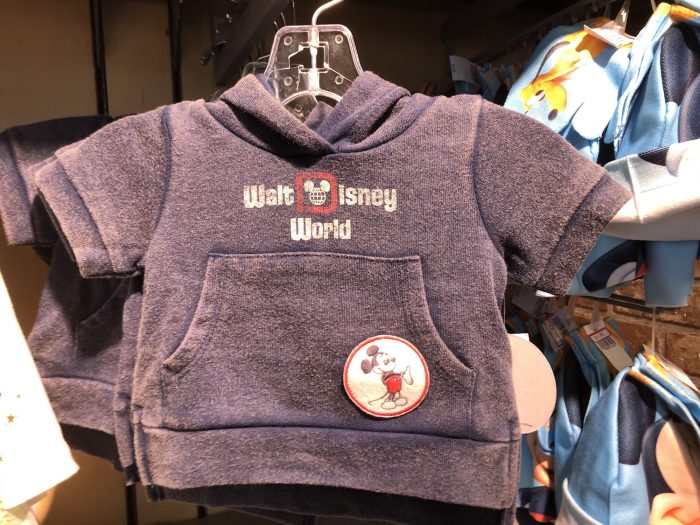 Another cute one for the younger kiddos ,this Tiana dress. Originally $29.99, now $9.99.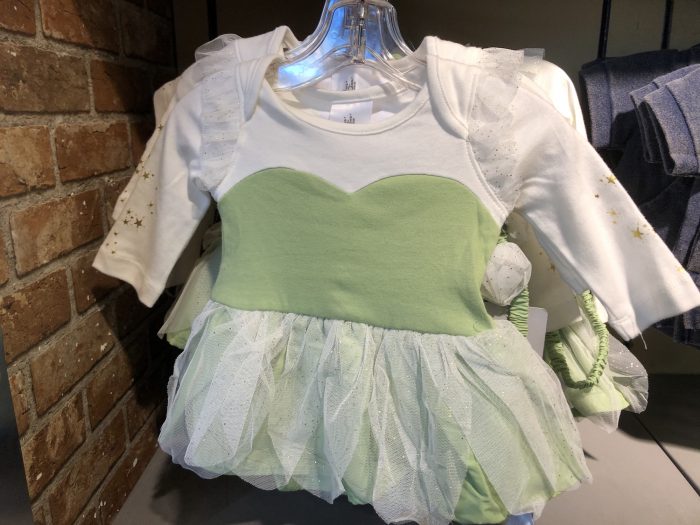 For an adult, this shirt is pretty good. For the kids this shirt is designed for? No, there life is already pretty good just being at Disney. Originally $24.99, now $9.99.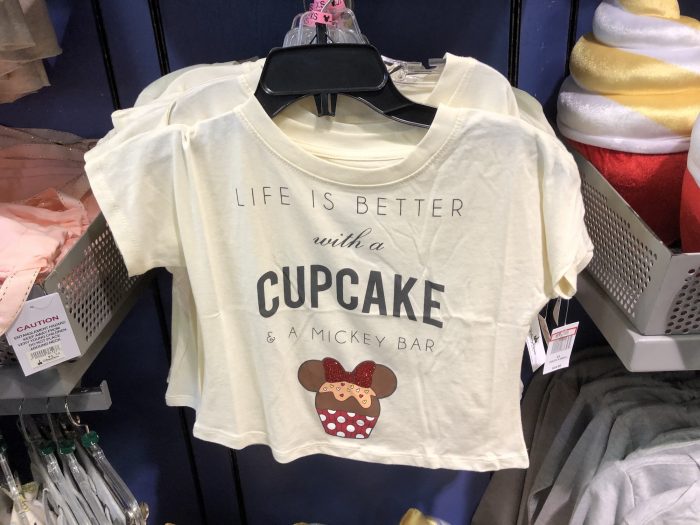 Speaking of Halloween Horror Nights, I love the "WE ALL SCREAM" at the top of this shirt. Originally $39.99, now $9.99.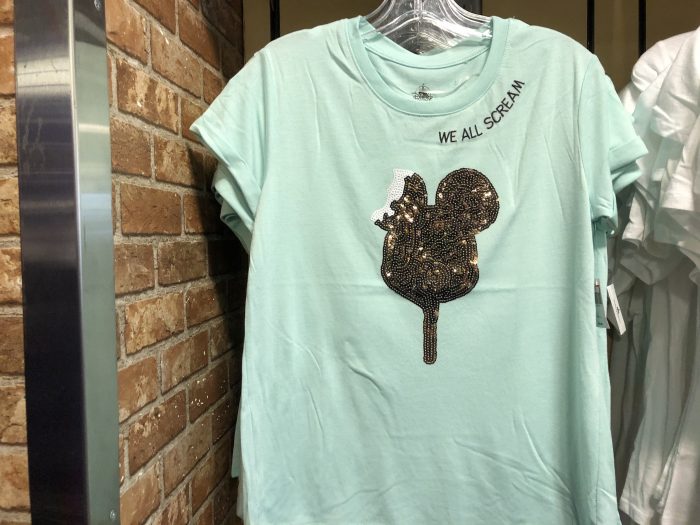 A couple Mickey tank tops for you to let the "guns" out. Both were originally $24.99. One on left reduced to $6.99, while one on right was reduced to $9.99.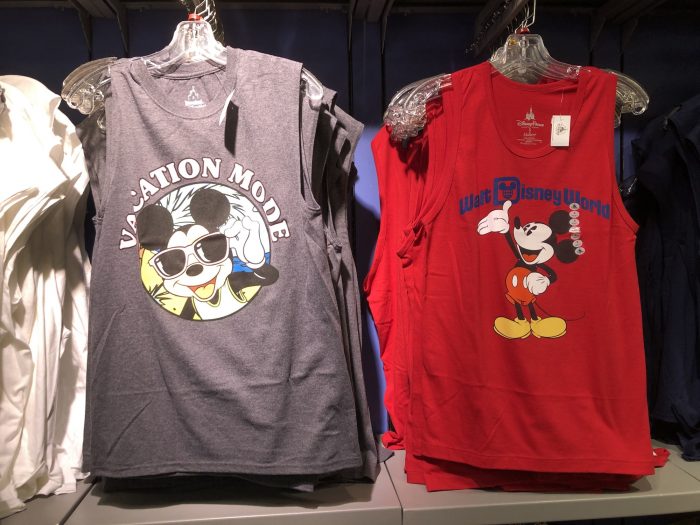 This may sound impossible to believe, but I remember being at Downtown Disney when Star Wars Episode 1: The Phantom Menace came out. It was crazy. People dressed up in characters. Tons of lightsabers, etc. When the movie started, there was a loud applause just for the Lucasfilm logo. This has NEVER happened at a movie I've seen before or since. People were that excited for the prequels. Then we saw Phantom Menace, and that probably explains why it hasn't happened since. This shirt was originally $34.99, now $12.99.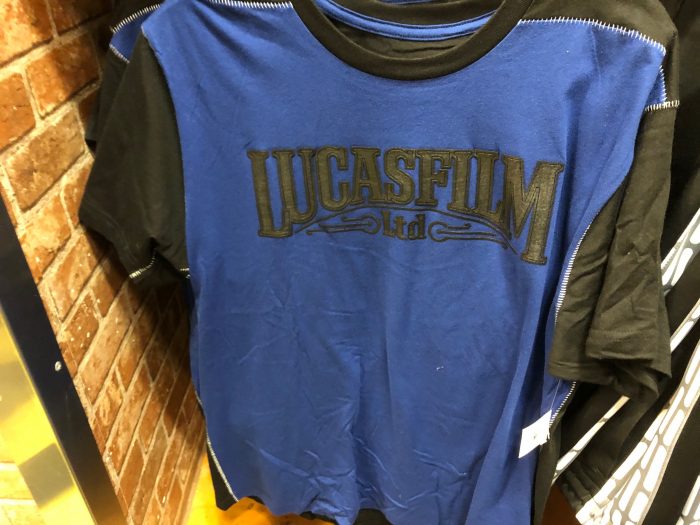 Nice retro Space Mountain shirt. Originally $24.99, now $9.99.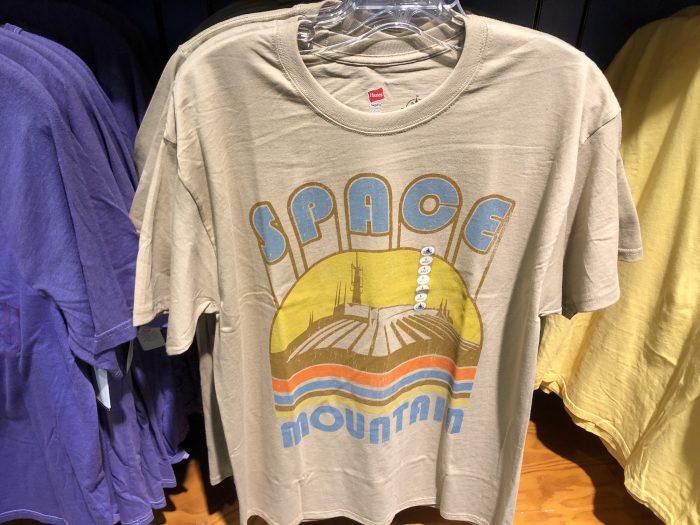 Haunted Mansion 50th Anniversary t-shirt. Originally $34.99, now $12.99. We get these here because it's well documented that Disneylander's like Guy Selga and Tom Bricker don't spend a dime on new merchandise.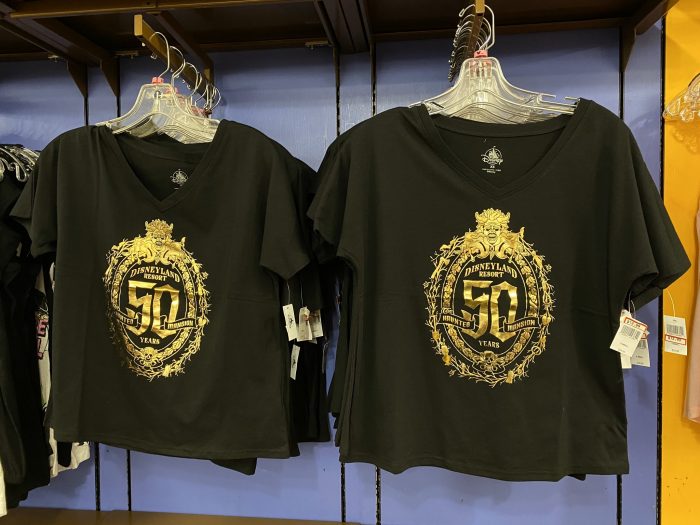 If I could post GIFS in the Outlet Report, here's where you'd see Ryan Reynolds doing a facepalm. Originally $24.99, now $9.99.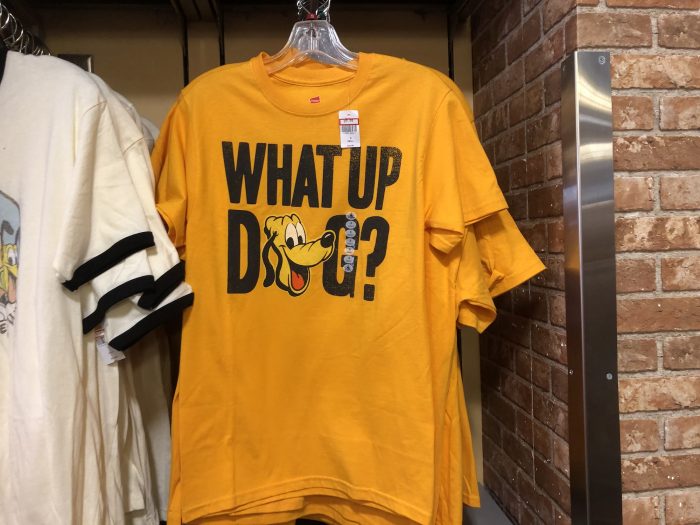 Shirt featuring Green Army Men from Toy Story. Originally $34.99, now $12.99. That original price is INSANE for this shirt.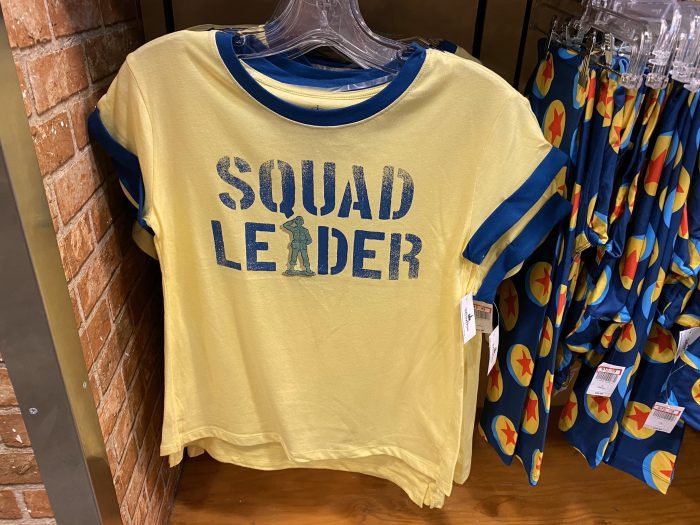 Rare item from Toy Story Land. This shirt featuring Slinky Dog was originally $24.99, now $9.99. I should have turned the shirt over to see if Slinky Dog's Tail Was Missing.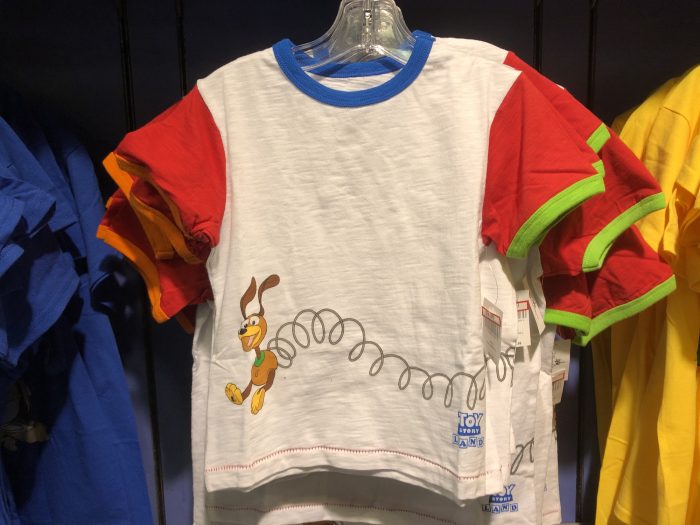 TWO awful puns on one shirt. Originally $19.99, now $9.99.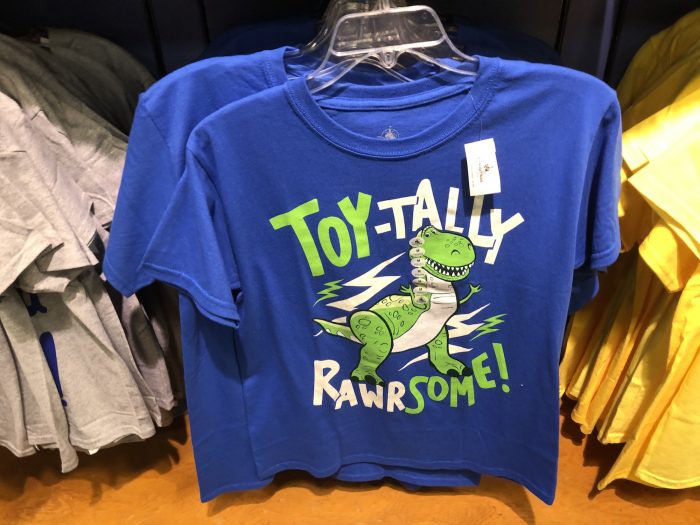 DHS 30th Anniversary t-shirt. Originally $29.99, now $9.99. Why would this shirt – made for collectors or people celebrating a big anniversary, be $5 less than some ridiculous Green Army Men shirt?!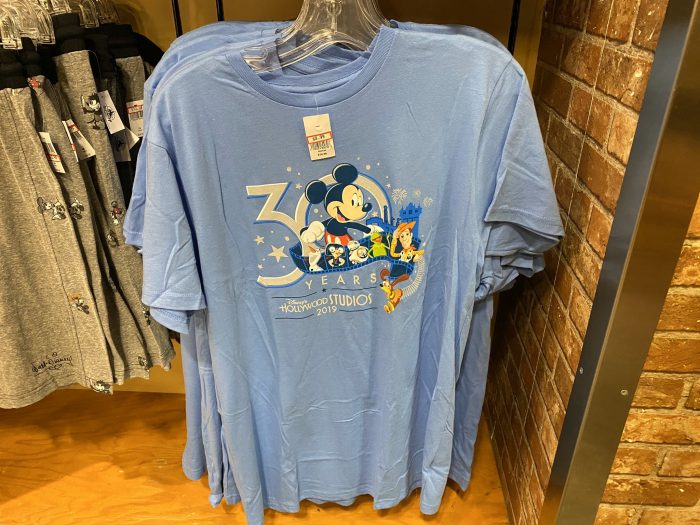 Not the first time we've seen these DHS clapboards at the Outlets. I imagine these are here because of the park's recent logo change though. Originally $12.99, now $5.99.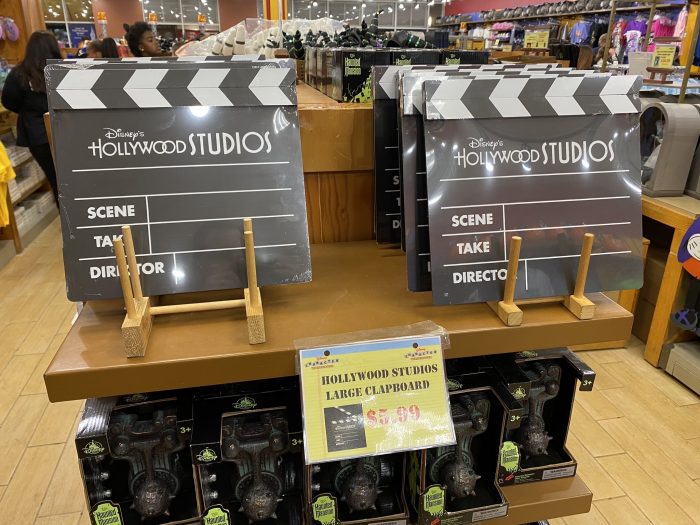 I need one of these pins that says "I Can't Even with these pins." Originally $9.99, now $1.99.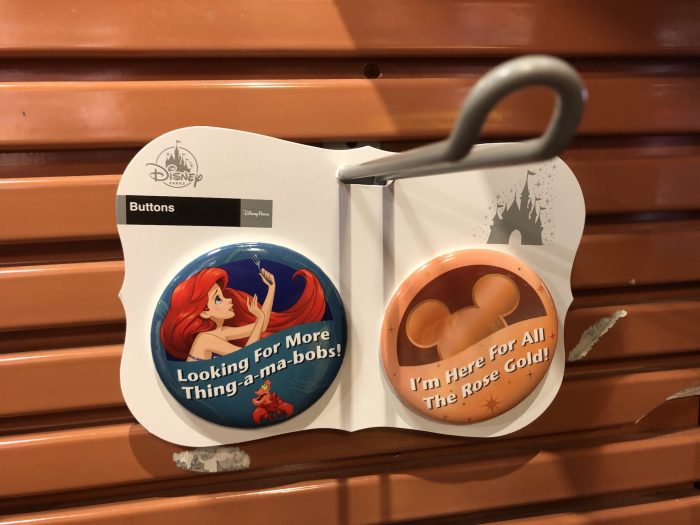 Not that great of a pin selection in Florida this month. Both of these were reduced to $6.99. The Green Alien looks more like an ad for Target than something for the Disney Play app no one plays.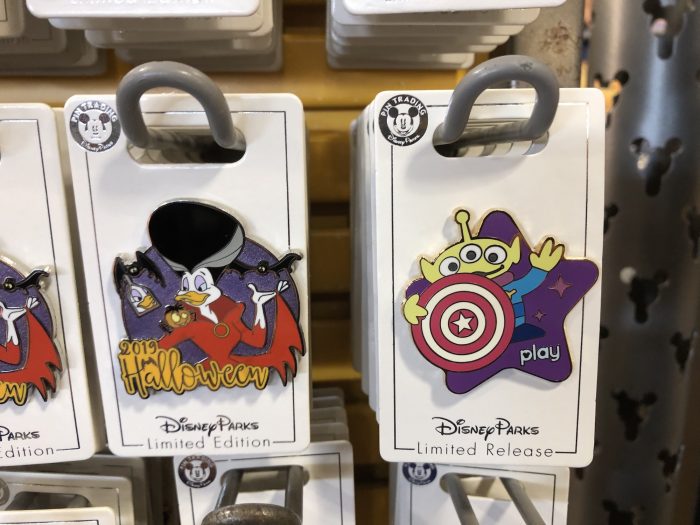 Tons of more patches showed in in Florida, including these sets for Fantasyland and Emperor's New Groove. Originally $19.99, now $7.99. Trying to think of how small a slice on the Venn Diagram of Emperor New Groove fans and Patch buyers.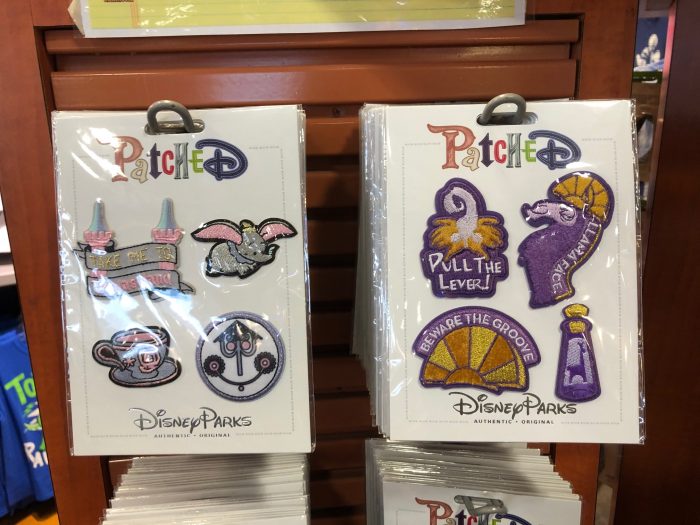 Halloween patches, also reduced to $7.99.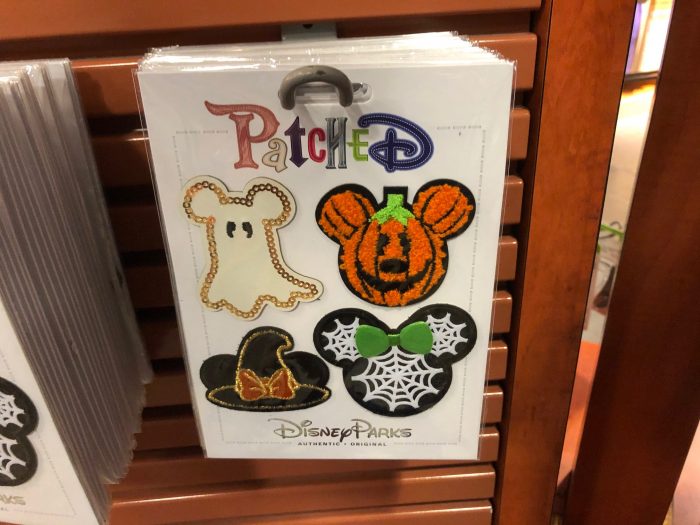 The single patches, like this one for Lion King, were originally $9.99, now $3.99.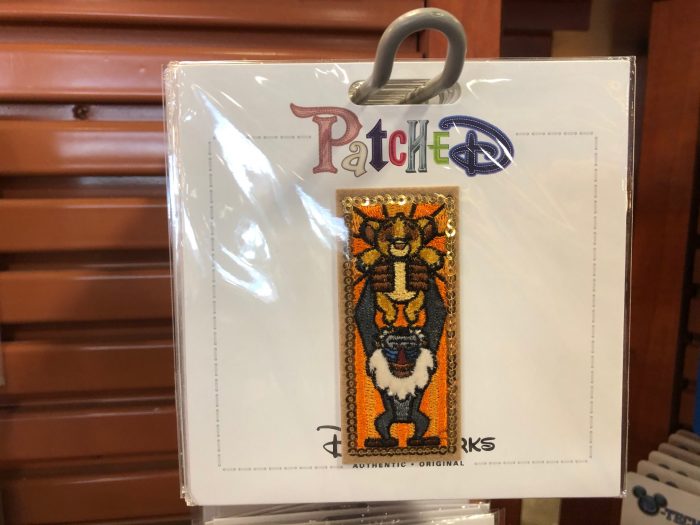 "My third wish Genie, is for these patches to go away forever."
"Oh wait, I forgot what I was supposed to wish for Genie. Sorry, gotta take a mulligan on that one." – Aladdin, in my animated reboot of the live action Aladdin reboot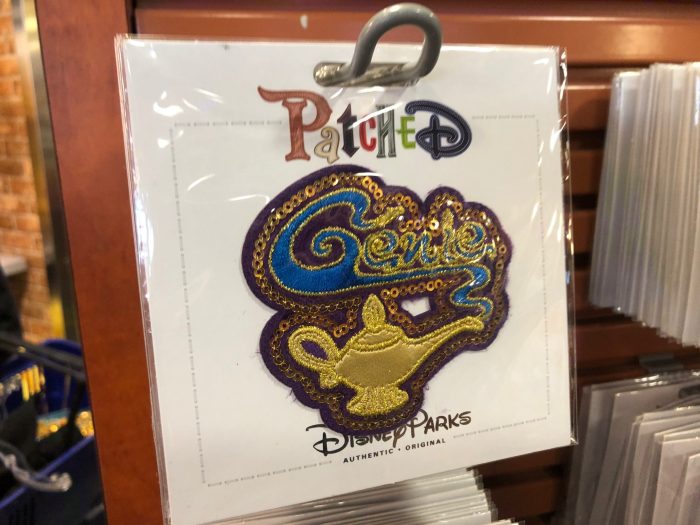 This Stitch pen was originally $12.99. Maybe you use to hand write your review of the movie Cats.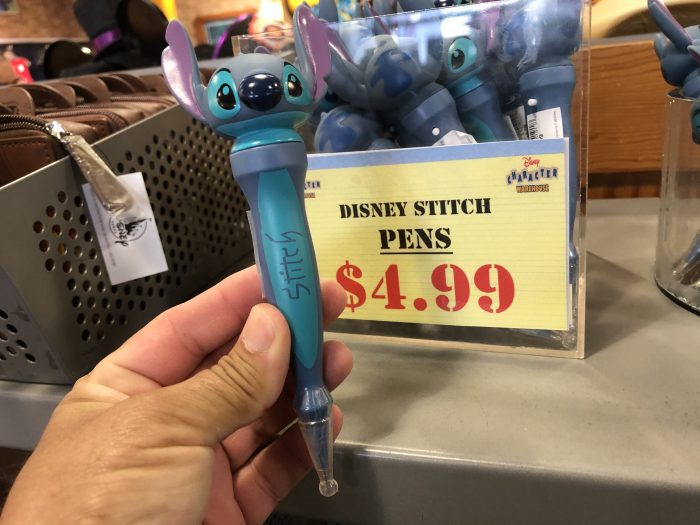 it's a small world passport case. That's a pretty neat idea. Originally $19.99, now $9.99.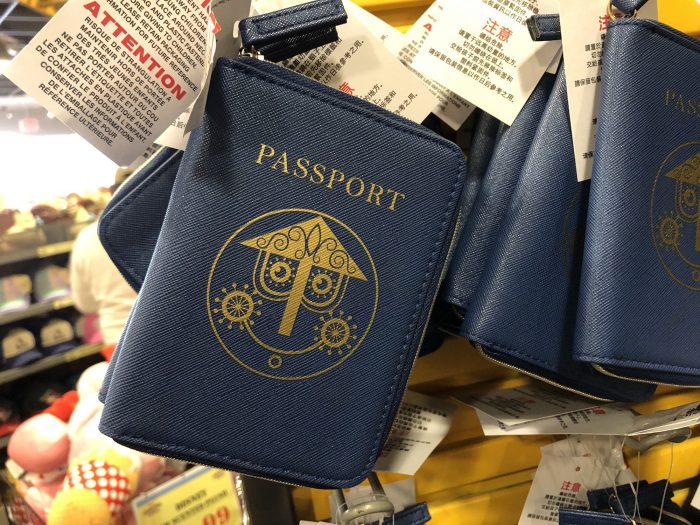 I don't have the strength. Originally $24.99, now $9.99.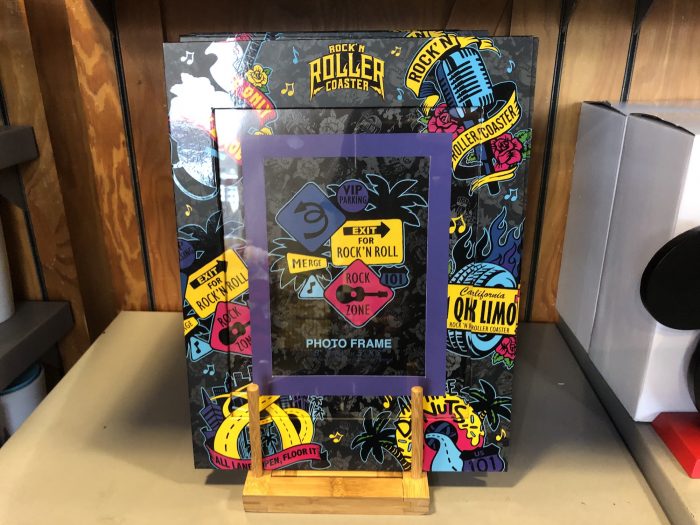 This is cool. You never see a piece of Kilimanjaro Safaris merch outside of the odd t-shirt. This was originally $21.99, now $9.99.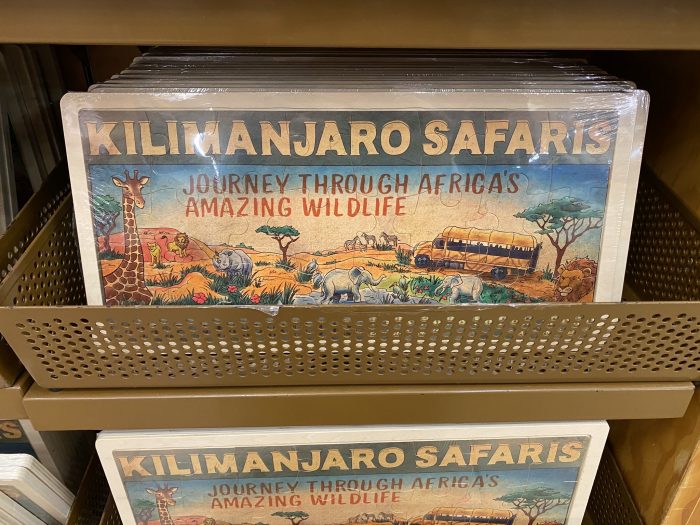 The rare Disney snowglobe making an appearance. Originally $14.99, now $4.99 .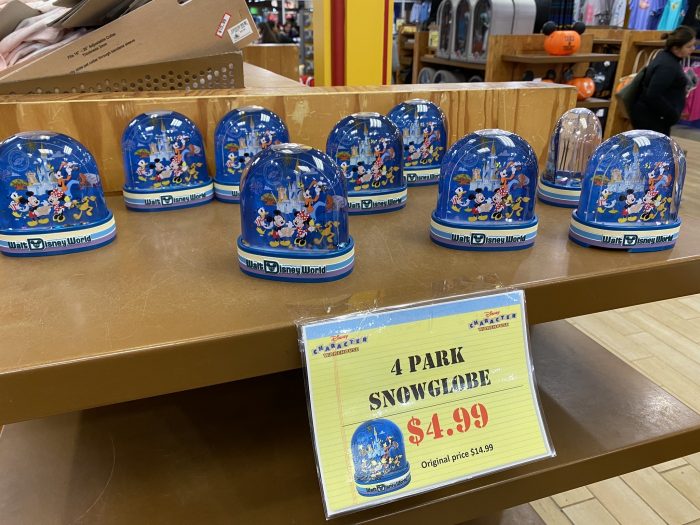 And we'll close with a couple magnets that either came from Animal Kingdom, or Panchito's gift shop at Coronado Springs Resort. Both were originally $8.99, now $2.99.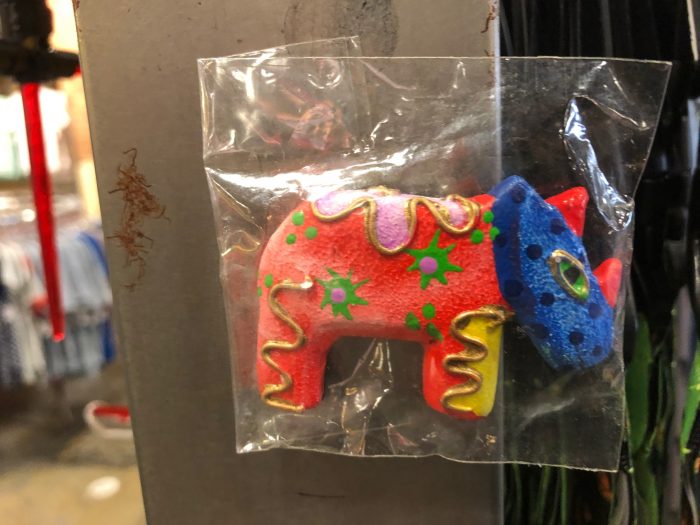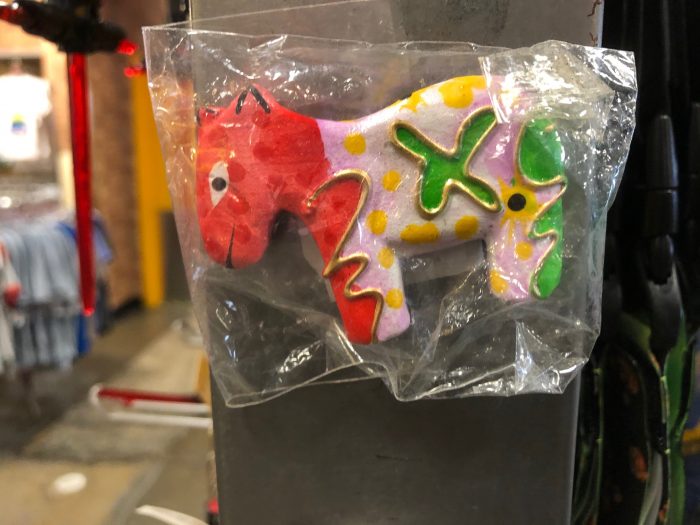 SEE YOU NEXT MONTH!
There are actually two Disney outlet stores in Orlando. Both are in Orlando Premium Outlet shopping complexes, and they are called Disney's Character Warehouse, presumably because The Land Of Misfit Toys was already trademarked. There is one Character Warehouse located on International Drive close to Universal Studios (4951 International Dr, Orlando, FL 32819), and the other is on Vineland Avenue, right across I-4 near the exits to Disney World (8200 Vineland Ave, Orlando, FL 32821). They do not ship. There are items at the Outlets that you can buy both in Disney stores along with the Shop Disney Parks app, but you will be paying full retail for the items. For our CALIFORNIA OUTLET trips, @ChristelaMcC goes to the Las Americas outlet in San Diego. It is located right off the last U.S. exit.
I often get asked "which store is better?" That depends. Vineland is close to Walt Disney World, while the I-Drive location is a hop, skip, and jump away from the Universal Orlando Resort. The Vineland Disney Outlet Store is much, MUCH bigger than the I-Drive location. However, the Vineland outlets in general are much, MUCH busier than I-Drive. Each have their pros and cons, and ultimately they carry much of the same items. For a Disney Outlet Store FAQ, check out this SATURDAY SIX Presents: Everything You Wanted To Know About The Disney Outlet Stores (But Were Afraid To Ask)
Previous editions of Magic, Memories, and Merch: July 2013, August 2013, September 2013, October 2013, November 2013, December 2013, January 2014, February 2014, March 2014, April 2014, May 2014, June 2014, July 2014, August 2014, September 2014, October 2014, November 2014, December 2015, January 2015, February 2015, March 2015, April 2015, May 2015. June 2015, July 2015, August 2015, September 2015, October 2015, November 2015. December 2015, January 2016, February 2016, March 2016, April 2016, May 2016, June 2016, July 2016, August 2016, September 2016, October 2016, November 2016, December 2016, January 2017, February 2017, March 2017, April 2017, May 2017, June 2017, July 2017: The FOUR YEAR ANNIVERSARY special, August 2017, September 2017, October 2017 (tribute to the O.O.G.), November 2017, December 2017, January 2018, February 2018, March 2018, April 2018, May 2018, June 2018, July 2018 (FIVE YEAR ANNIVERSARY special with the introduction of the OUTLET HALL OF FAME), August 2018, September 2018, October 2018, November 2018, and December 2018, January 2019, February 2019, March 2019, April 2019, May 2019, June 2019, and July 2019 (SIX YEAR ANNIVERSARY), August 2019 (major changes come to Outlets), September 2019 (camera hat,) October 2019, and November 2019.
We also did an edition of Magic, Memories, and Junk for a non-Disney owned Outlet Store, and for you merch addicts like myself, you may also enjoy a look at the official Disney merchandise available on the Disney Cruise Line, Castaway Cay, and at the Orlando International Airport. Want to see our favorite WDW resort-specific merchandise? Well, CLICK HERE!
If you liked what you read here, you may enjoy THE SATURDAY SIX articles every week on the TouringPlans.com blog and you can follow your humble author on Twitter (@derekbugan).