The Magic, The Memories, and Merch! – Disney Outlet Store Update for MARCH 2021
DISCLAIMER: There were a lot of upset people in the comment section, so I want to address a few things right here to hopefully clear some things up.
We'll start with a comment referencing "this picture was taken the second week of March therefore proving that this entire article has an untrue timestamp." Years ago, I changed the release date of the Disney Outlet Store Photo Report to the last day of every month. Like with the SATURDAY SIX, I wanted these articles to be more appointment viewing, like we get with TV shows or movies. This is not live-blogging. At no point did I mean to imply that I was going on the last day of the month and reporting what I saw that day. In general, content for these articles is from separate trips to each of the Disney Outlet Stores in Orlando on two different days earlier in the month. Accordingly, this article has photos from both the Character Warehouse on I-Drive and the one on Vineland Avenue, and the photos were taken on two different days earlier in March 2021.
Okay, now the most important topic. I definitely want to apologize if it seems like I was targeting or harassing any individual. Longtime readers of this series know I go out of my way to explain the situation at the Disney Outlet Stores. I respect and understand the work that personal shoppers do at both Disney and Universal. There are people who can't get to Orlando, and because many items from the two resorts are not sold officially online, there is a market demand for personal shoppers. I get it, and trust me, I know it's work. They are in the same lines that I'm in at the stores, and we're all trying to get stuff done in the worst environment imaginable.
Whether you're buying a few items for yourself or many items for others, the current situation at the Outlets is frustrating. Here at the Outlet Report I attempt to provide a release for that aggravation through humor. At times it can miss the mark, and the last thing I would want is for any genuinely good person to take offense at something I've written. I have removed the offending picture and the discussion around it.
—
Welcome to the latest edition of The Magic, The Memories, and Merch!, the longest running monthly look at the Disney Outlet Stores in Orlando. As you have read in this fine blog series over the past few months, going to the actual outlet stores has become something of an ordeal for many people. While the various theme parks and hotels at Disney seem to be getting better and better at providing a good experience during These Unprecedented Times, the outlets are somehow getting worse. Case in point, Disney's MagicMobile Pass went live this week, making a contact-less entry into the theme parks easier than ever. Over at the outlets? Wait times of two hours or more just to get into the store are becoming the norm rather than the exception…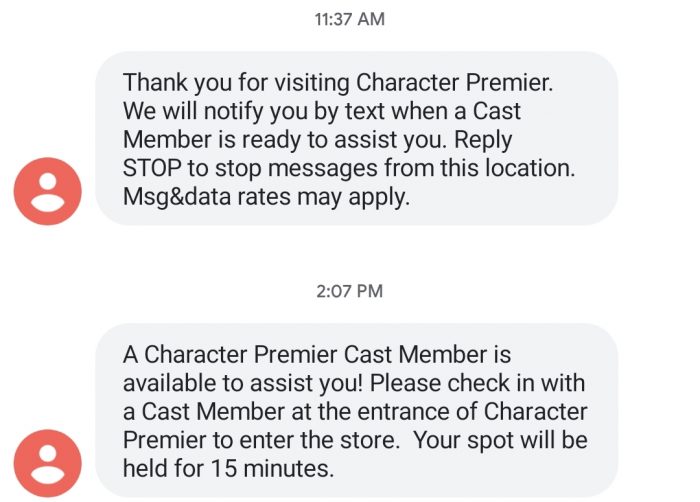 Okay, the long wait is over. Let's head into the stores to see what we find this month. It was surprising to see the Ink & Paint collection having another month as the "spotlight" item (so to speak) at the front of the store. Generally speaking, because the display is so large and it's the first thing guests see when walking into the store, items here will go relatively fast. But the Ink & Paint stuff has now been in this area for months.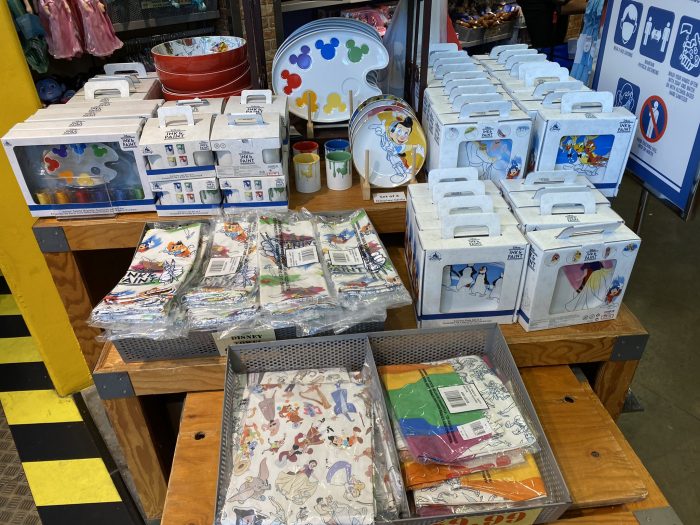 You can still get a set of these ridiculous paint cans to store your stuff in. You can use one for pens and pencils, one for AA batteries, one for paperclips. and one for loose change to help save up for the inevitable divorce attorney.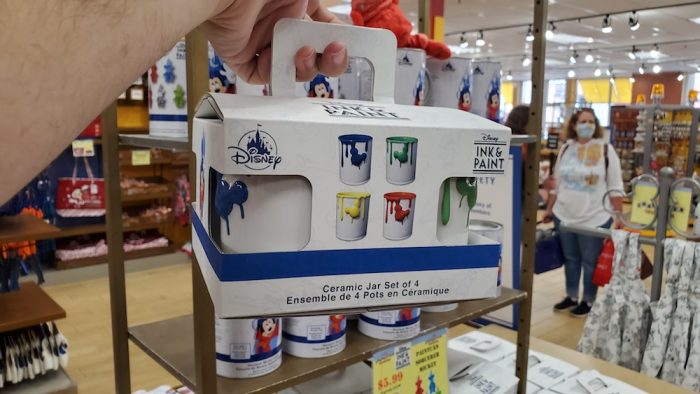 Not a bad looking dog food bowl featuring Lady & the Tramp. Reduced to $8.99.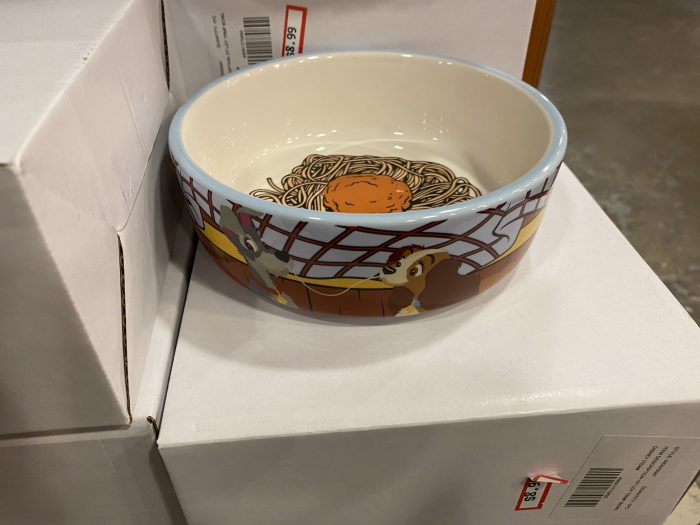 Not a bad looking pin featuring Chip & Dale for EPCOT's Festival of the Holidays 2020. Reduced to $3.99.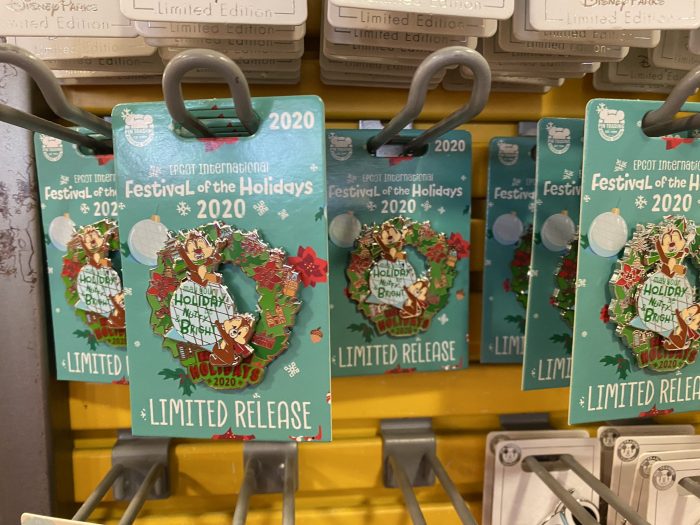 This next pin was an elaborately boxed pin for the Pixar film Coco.
The pin inside featured the character Dante. Originally $15.99, now $6.99. Pretty great presentation for an item that I can't see appealed to many people.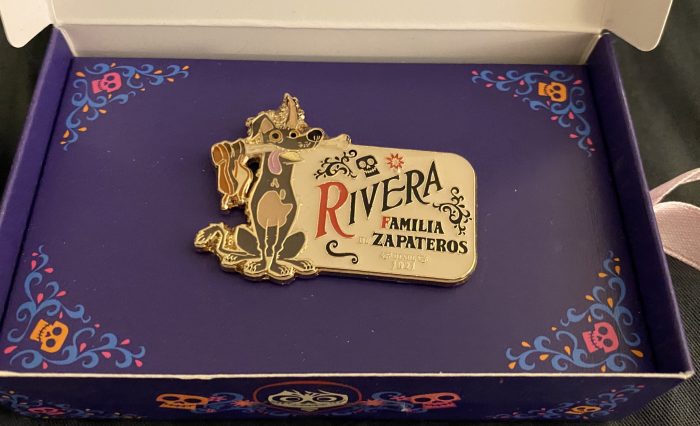 Love this Animal Kingdom shirt for kids. Disney could have easily just had the Fab Five in a jeep with the logo, but animals and Tree of Life in the background are fantastic. The cherry on top of the sundae is the "stitching" on the sides of the shirt. Originally $29.99, now $12.99.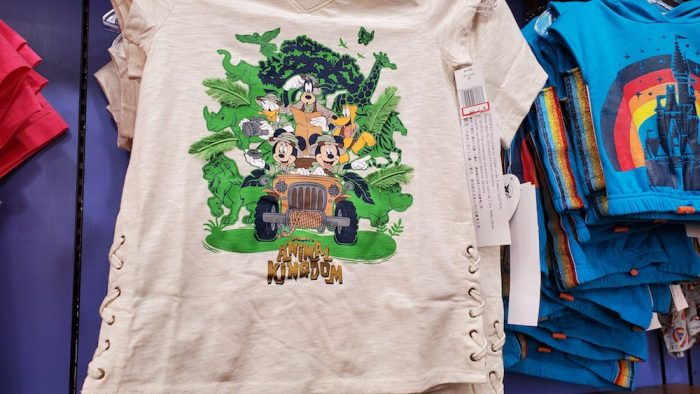 I like the concept of these animal shirts below. A couple years ago at EPCOT I got my girlfriend the Birds of a Feather shirt on the right hand side of this picture. More recently they've put out shirts featuring various Disney cats and dogs. I don't think the execution comes out nearly as well as the birds shirt. Originally $36.99, now $12.99.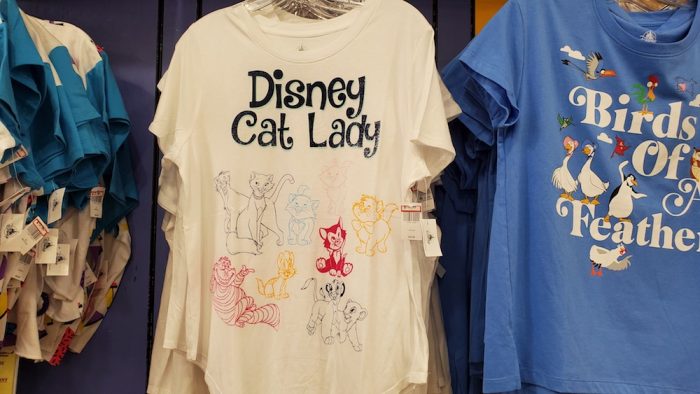 This Forky plush is almost a foot tall. Just insane. Originally $19.99, now $5.99.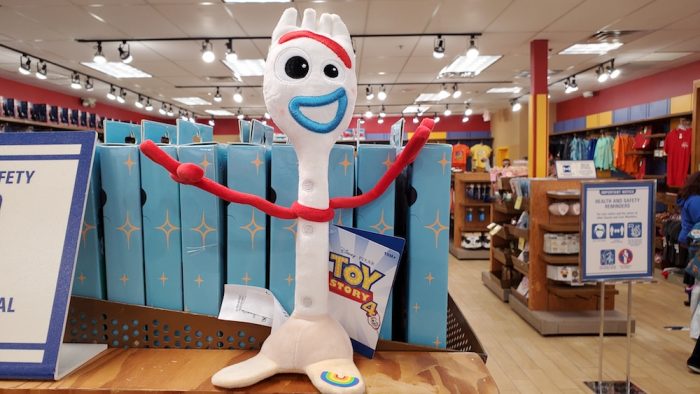 One of the Wishables based on Disney foods arrived in the form of a Mickey Waffle. Originally $9.99, now $3.99. I'm not sure how popular Wishables are compared to other Disney collectibles that were similar. On social media I still see people talking more about Tsum Tsums, which you can't even buy in America anymore, than Wishables. I also think the release strategy of Wishables is a bit odd as most lines have open editions – like the Mickey Waffle below – which will be hanging on a rack, while others in the collection will be blind bagged, and you have no idea what you are getting. As many readers know, I have about half a million Tsum Tsums, but have bought only a handful of Wishables (at least half at the Outlets). I went on ShopDisney today and loaded a bunch of nuiMOs in my cart, so I'll be starting that collection as soon as there is some sort of site-wide sale (which is approximately every other day).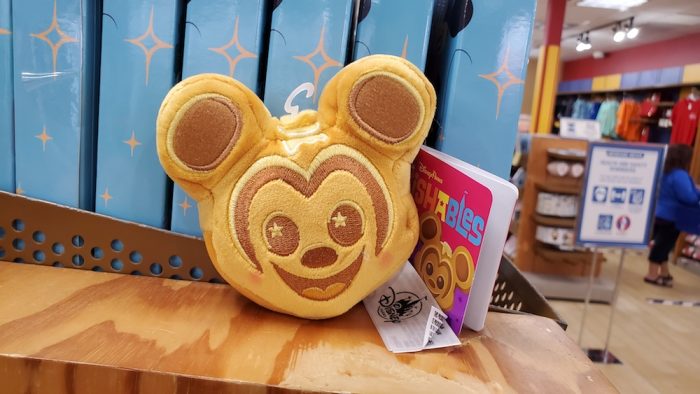 On the other end of the price spectrum is this Cinderella carriage watch. Originally $395, now "just" $197.99. Whatever floats your boat.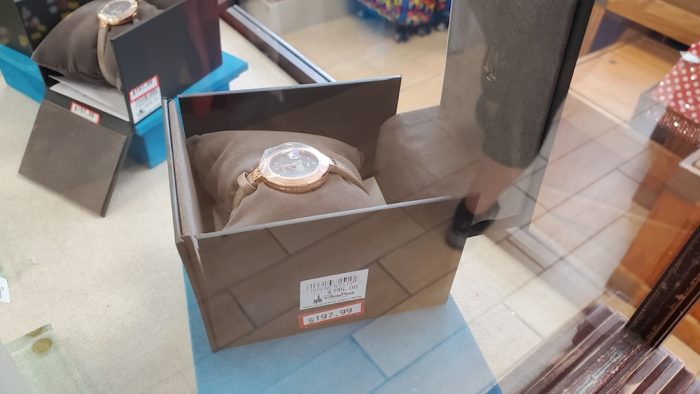 Interesting cutting board for EPCOT's International Food & Wine Festival. I love the brief appearance by Spaceship Earth, but the shape of the cutting board is just too impractical to actually use in our kitchen. Originally $29.99, now $6.99.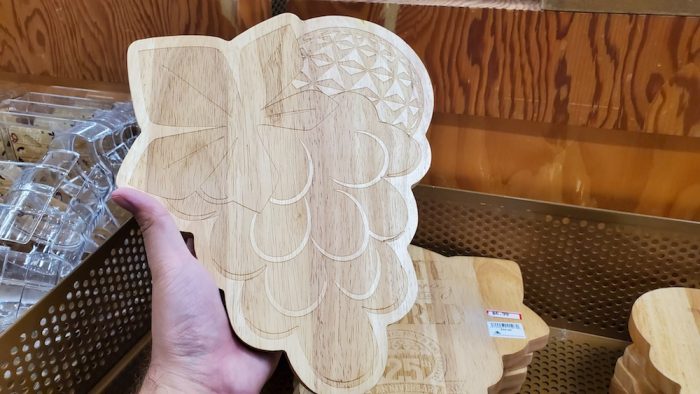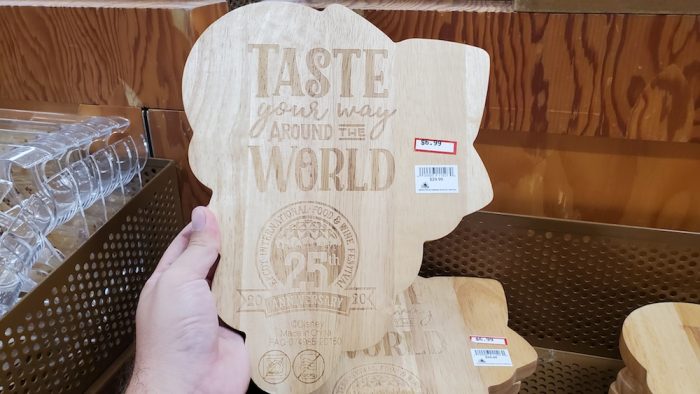 Over the years I have bought many of these EPCOT food/drink trays for the kiddos to use at home. Originally $7.99, now $1.99. In my experience they often go down to 99 cents, so maybe next month we'll pick up a couple more.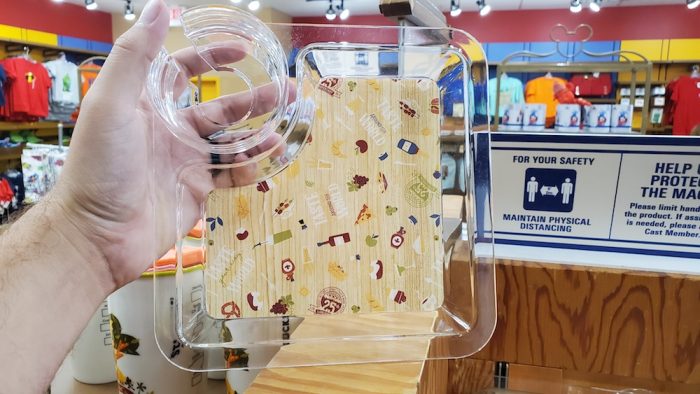 These Minnie Mouse water bottles have dropped even lower in price. Originally $27.99, now $5.99.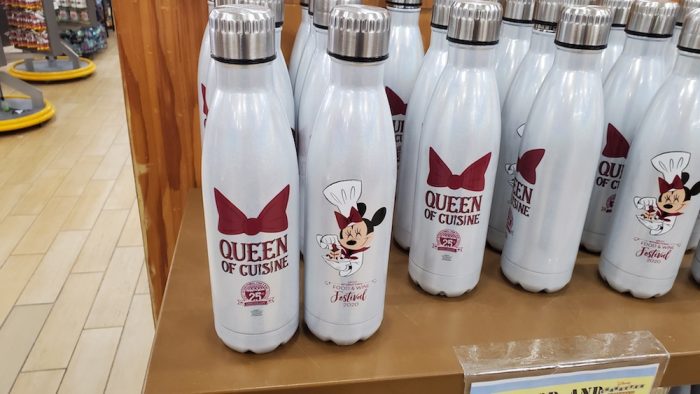 Disney has been offering this type of ceramic Starbucks cups for a long time and I never understood why they needed the "type of coffee" list on the side. It's not like the regular coffee cups at Starbucks looked like this. THAT I would understand. Originally $29.99, now $7.99.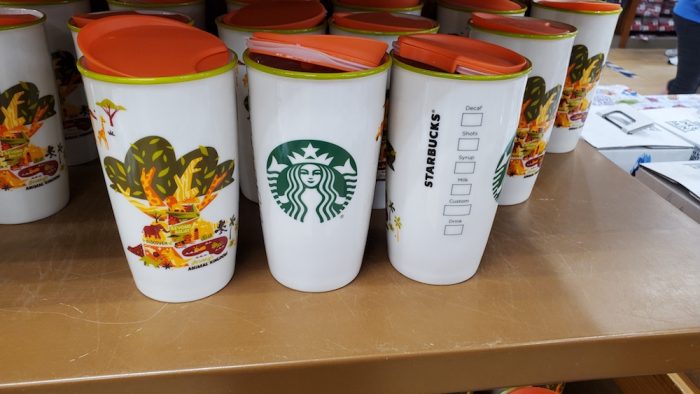 We'll be seeing items for the Grand Opening of Star Wars: Galaxy's Edge at the outlets for the next 20 years I think. This BB-8 cup was originally $24.99, now $7.99.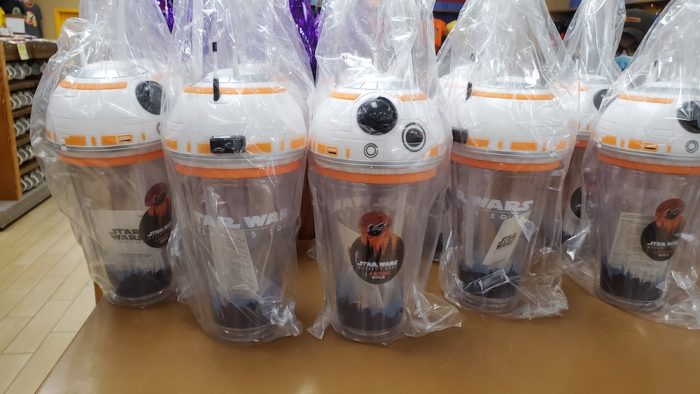 …and it lights up!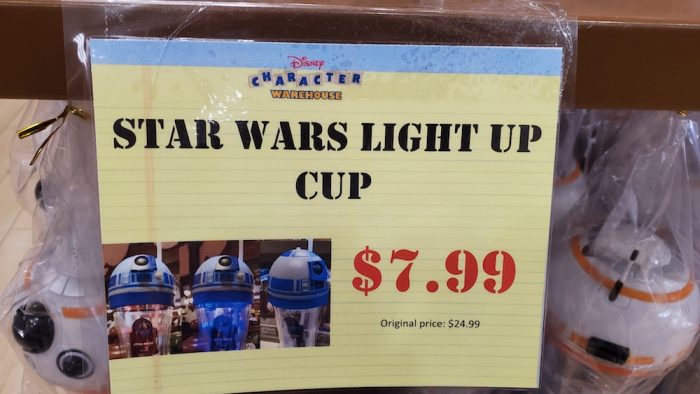 R2D2 dog harness. Originally $39.99, now $12.99.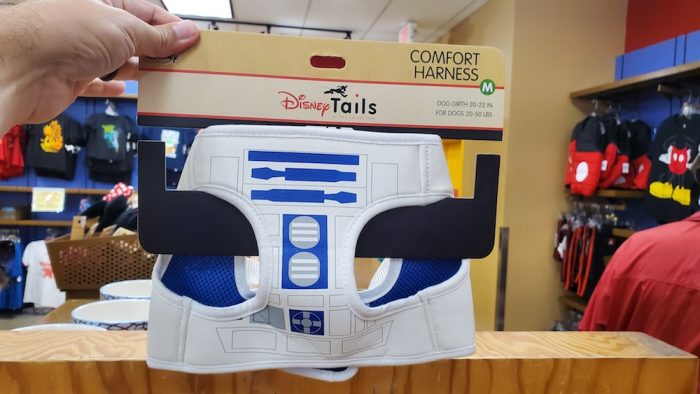 More and more of the plush from Star Wars: Galaxy's Edge that is supposed to appear "homemade" finds its way to the discount racks. This Jabba the Hutt plush was originally $22.99, now $5.99.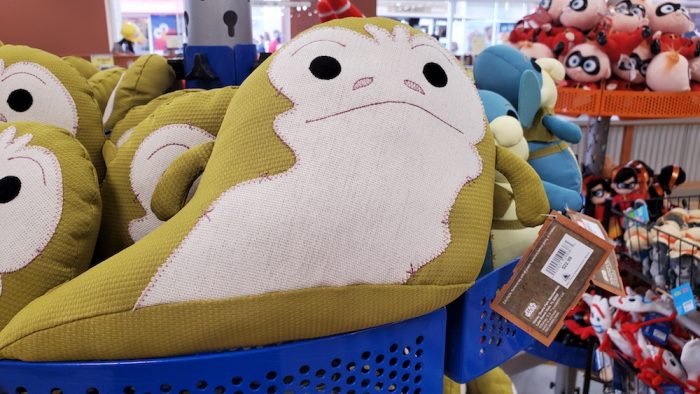 R2D2 wristlet bag. Originally $40, now $22.99.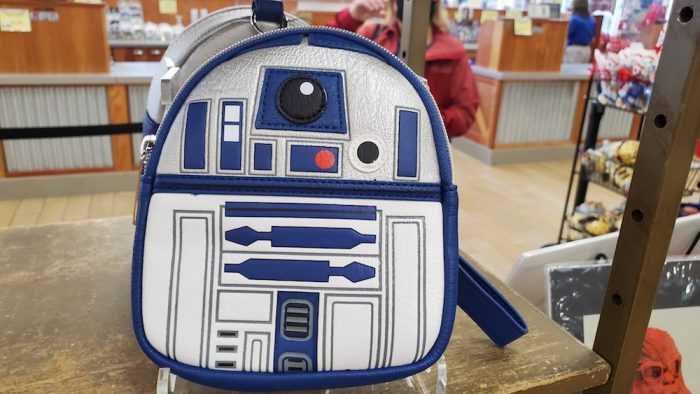 Same price for this bag featuring Wicket the Ewok.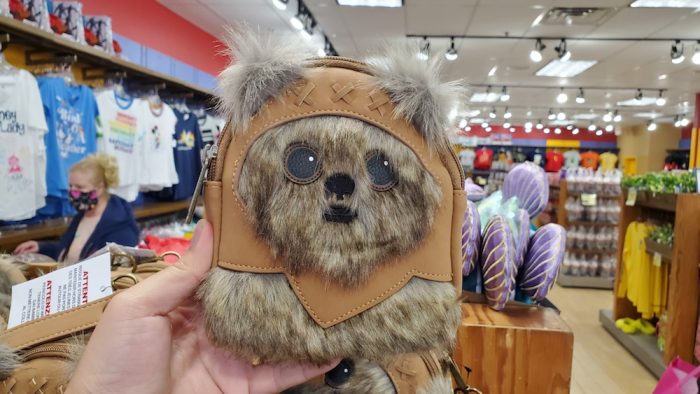 This may be the first "Credit Card Holder" at the outlets, featuring Madame Leota from The Haunted Mansion. Originally $14.99, now $6.99.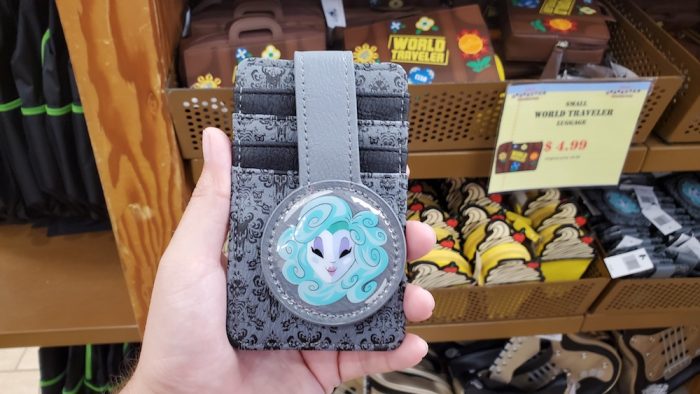 This bag featuring the end of it's a small world has dropped lower in price. Originally $19.99, now $4.99.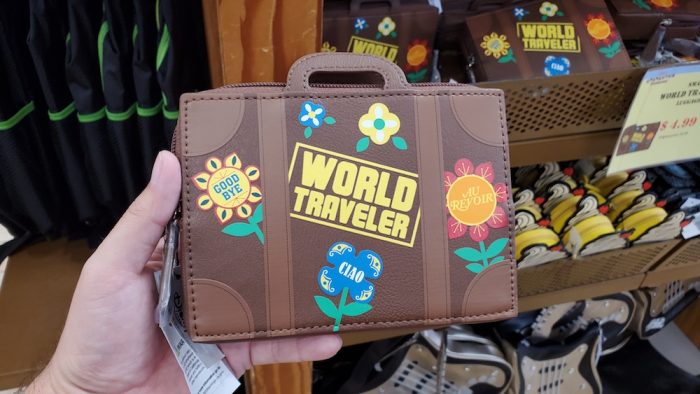 Minnie Mouse wristlet. Originally $40, now $20.99.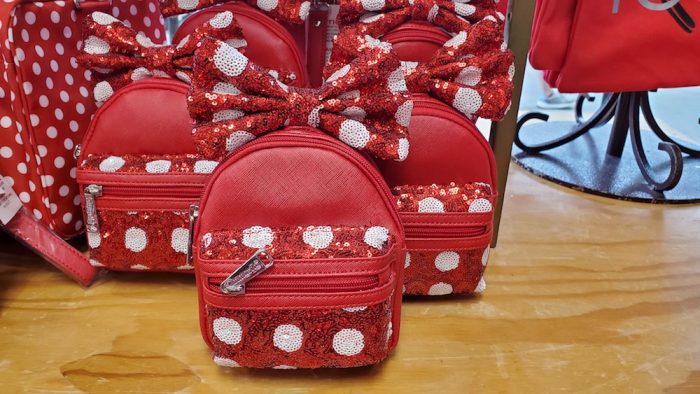 Dooney & Bourke bag featuring colorful Mickeys. Originally $298, now $149.99.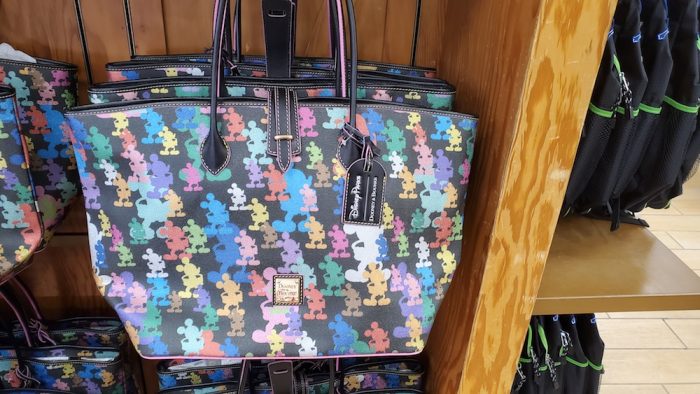 One per "gest" per day.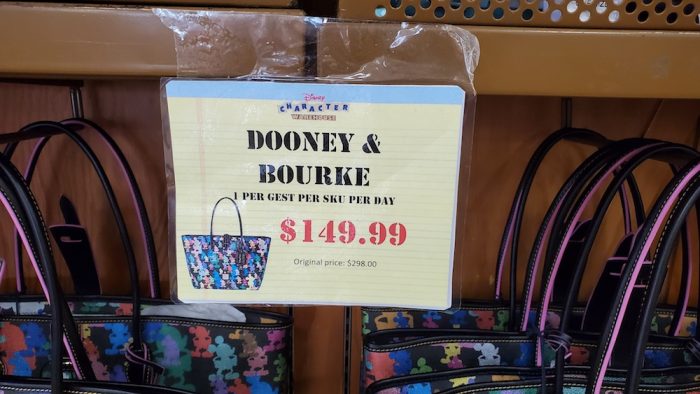 Let's head on our to California and see what Christela McC has found at an Outlet closer to Disneyland.
First up, a sharp looking Disneyland ball cap. Orginally $27.99, now $6.99.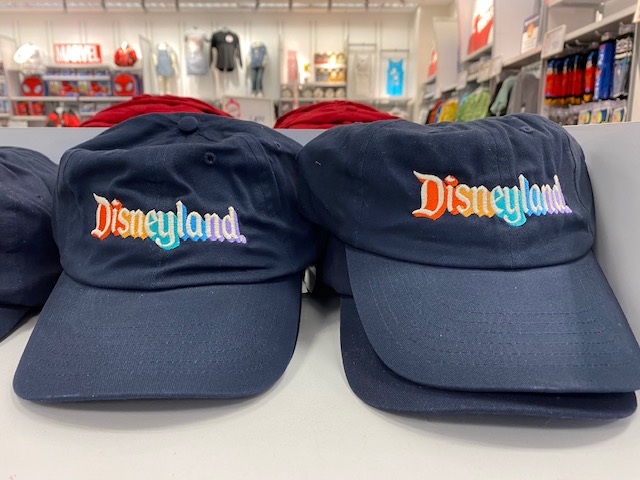 However, this Disneyland cap, with a BONKERS neon green plastic brim was originally $27.99 but reduced to $12.98. This hat looks like something Huey, Dewey, and Louie would wear in a comic book, not a human being in the real world.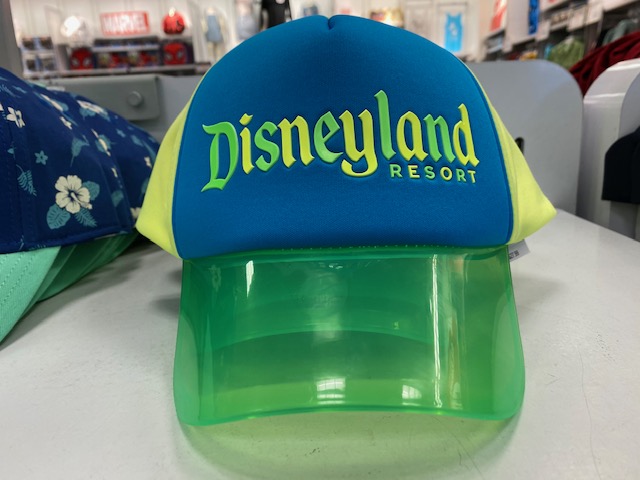 Minnie Mouse "Americana" headbands. Reduced to $16.98, which is a little crazy because they've been reduced to $3.99 at the outlets here in Florida. With stuff like this and the fact that we have working theme parks while The West Coast doesn't, has Disney finally answered my prayers and will now #BeFairToFlorida? Those Californians already have multiple churro flavors and DOUBLE SIDED PRESSED PENNIES, so they should be happy enough with that.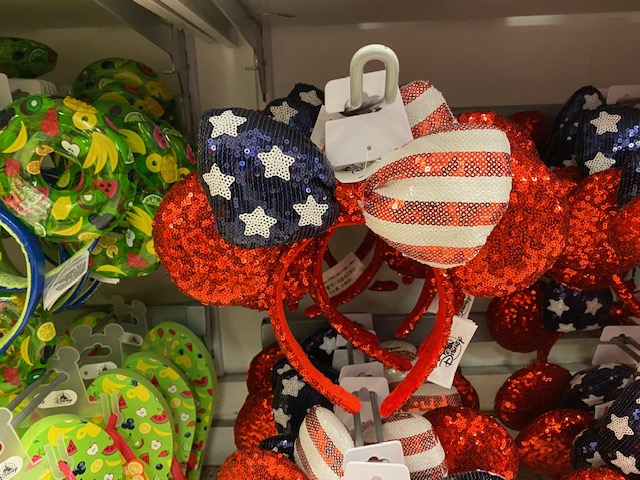 Pool Float ear headband? WHO WEARS THIS?!!!! Reduced also to $16.98.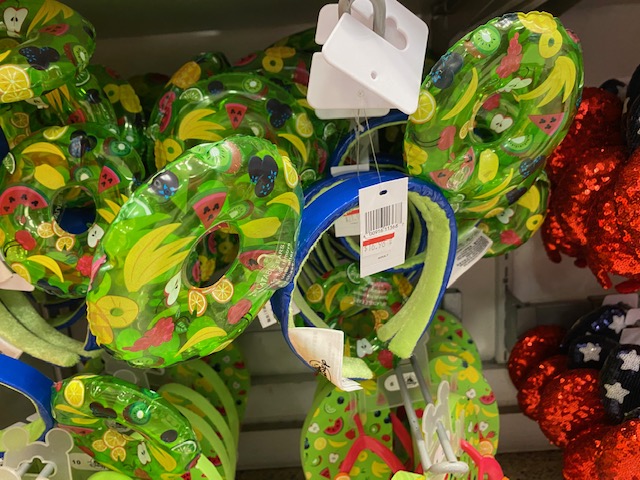 I am Groot hat, originally $27.99, now $6.99.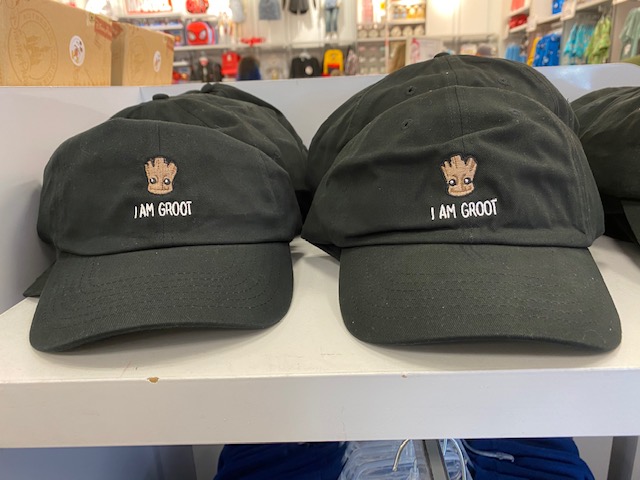 Speaking of Groot, he was one of the characters that are part of the Guardians of the Galaxy – Mission: BREAKOUT! Wishables collection. These were not discounted and were being sold at original retail price of $9.99 each. I love that it has an actual Disneyland attraction though as part of the branding as they easily could have just gone with just a "Guardians of the Galaxy" set.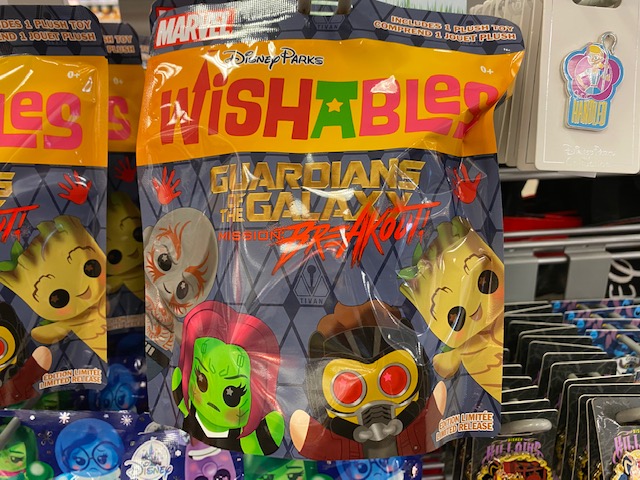 That said, since it is themed to Mission: BREAKOUT! it would have been cool to have some of the characters you'll see in the attraction, like the cosmonaut dog.
Retro style sweater. Originally $39.99, now $14.99.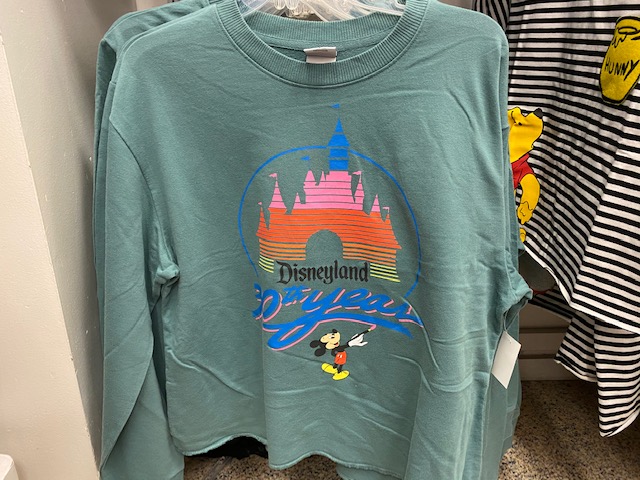 This is like a Spirit Jersey for someone who films everything in portrait, like a goof. Originally $49.99, now $17.99. PRO TIP: Everything is better in landscape, even spirit jerseys.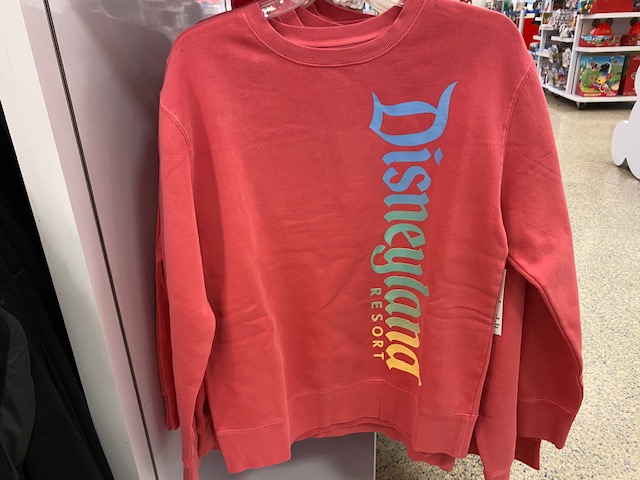 One of the oddest iPhone cases Disney has every released. I wonder if they made one for those Samsung Galaxy Note phones that exploded, then we'd "have some corn for poppin…" Originally $44.99, now $21.99.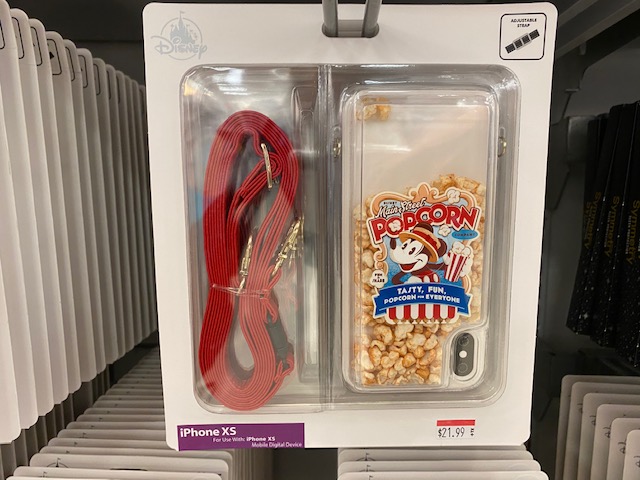 Thanks Christela!
Okay, we're going to close this month by starting a new feature. Each month we're going to look at a gift shop at Disney or Universal and shine a spotlight on it. To commemorate the recent reopening of the water parks in Orlando, we're going to start off with our favorite park of all…VOLCANO BAY.
GIFT SHOP SPOTLIGHT: VOLCANO BAY!
Thanks to the brilliant photos from Captain Cruiseline Scott Sanders and the Mighty Maven of Merchandise Hedgehog's Corner, we're going to check out the shopping options for Volcano Bay guests. The main area for shopping is directly to your left when you enter the park, and is Waturi Marketplace.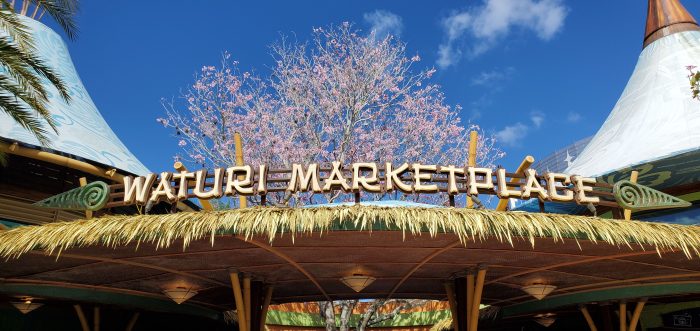 In Waturi Marketplace there are two main shops. On the left hand side of Waturi Marketplace is Bikini Tiki.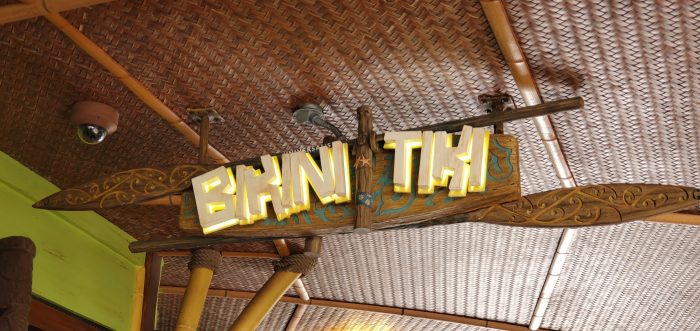 There are very few Volcano Bay-branded items in Bikini Tiki, but a lot of great items related to the beach and relaxation in general.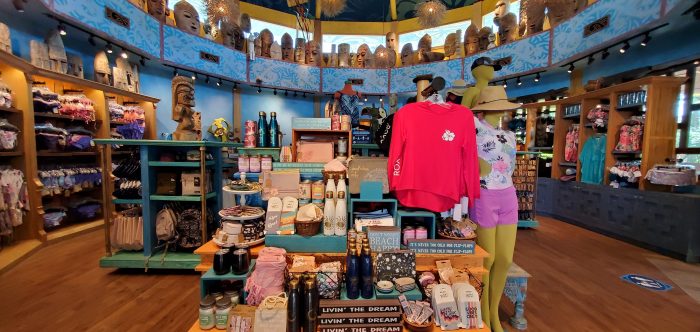 Need a bathing suit? They'll have you covered.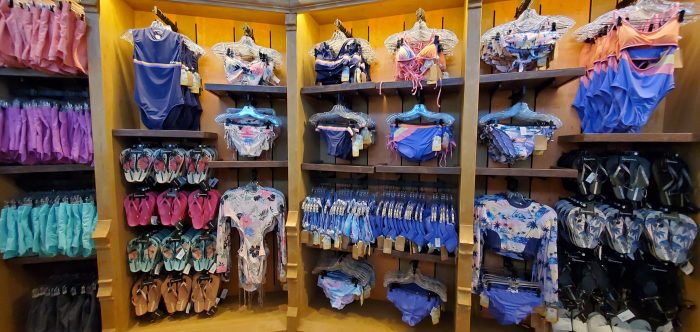 I love the design when looking up in Bikini Tiki.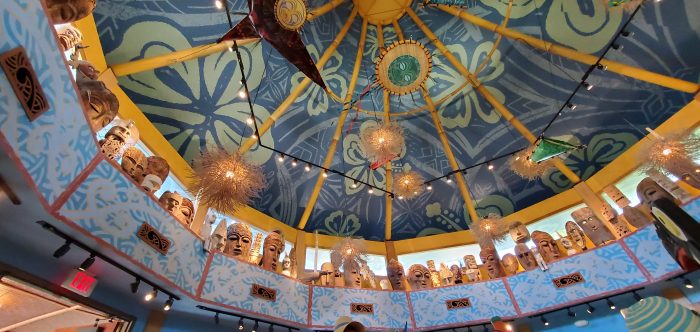 Now, when in Waturi Marketplace, the other main store is Tuku Tuku Traders. Here is where you'll find all the Volcano Bay-branded merchandise you could want.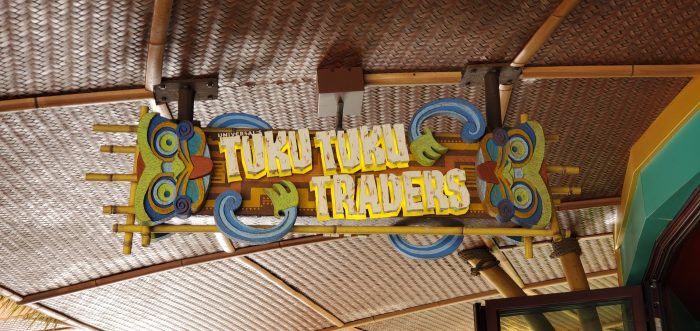 Before we look at the Volcano Bay-branded items, you should know that there is one more gift shop at Volcano Bay. While Waturi Marketplace is on the left-hand side of the park when you enter, if you take a right upon entering you'll run into Krakatoa Katy's. This store is also loaded with Volcano Bay-branded items.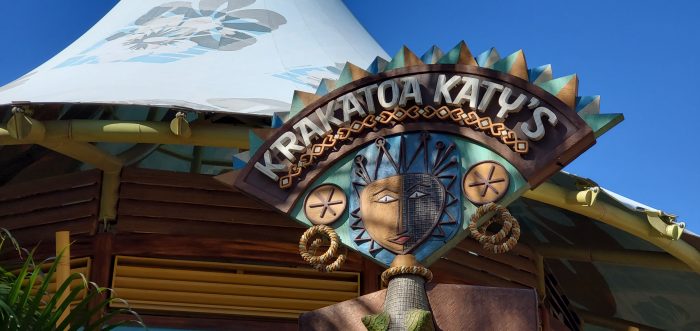 Like the ubiquitous Mickey Ears at Disney, by far and away the most popular item at Volcano Bay is the white swim shirt with the Volcano Bay logo. I love this park logo, my favorite of any park in Florida.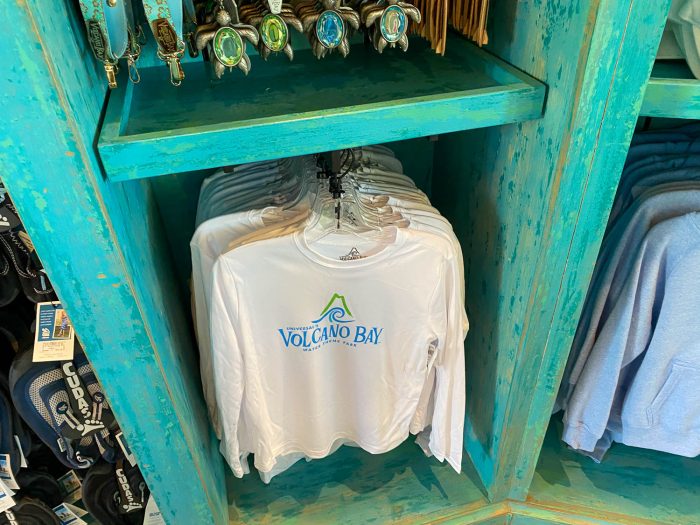 The style is also available in a dark blue swim shirt. It's important to note that for the various slides at Volcano Bay, guests who want to wear a shirt have to be wearing a swim shirt of some kind. It doesn't have to be a Volcano Bay swim shirt, but regular cloth or polyester shirts are not allowed on the slides. Before you enter the queue for any slide there is a place for you to remove and store any article of clothing which isn't allowed on the slide.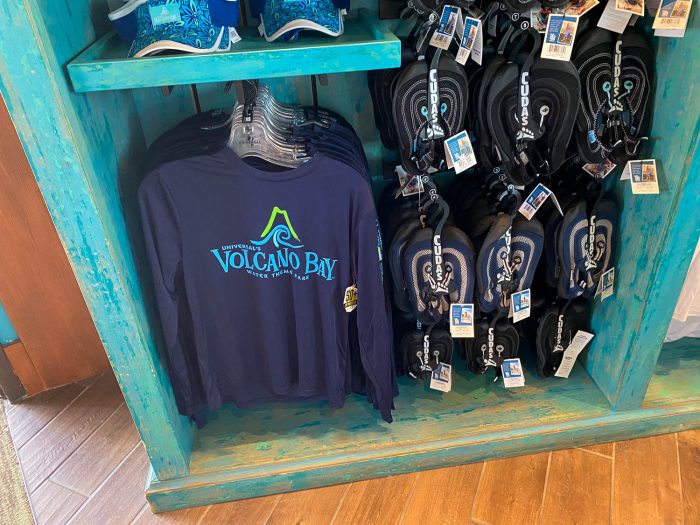 The pink Volcano Bay swim shirt was a big hit for one of our kiddos.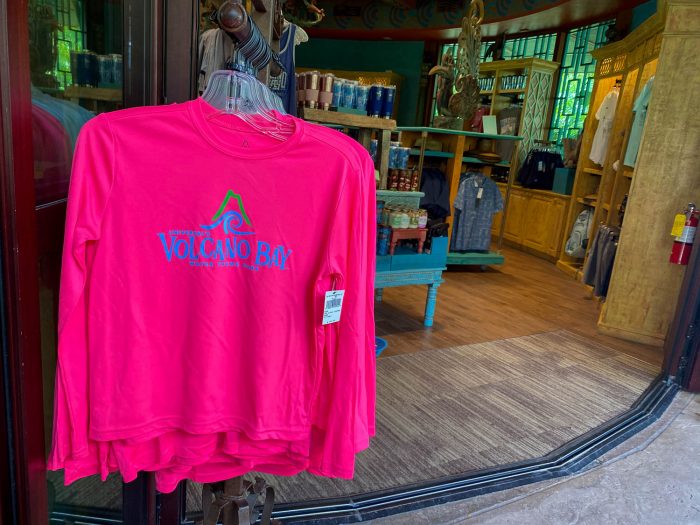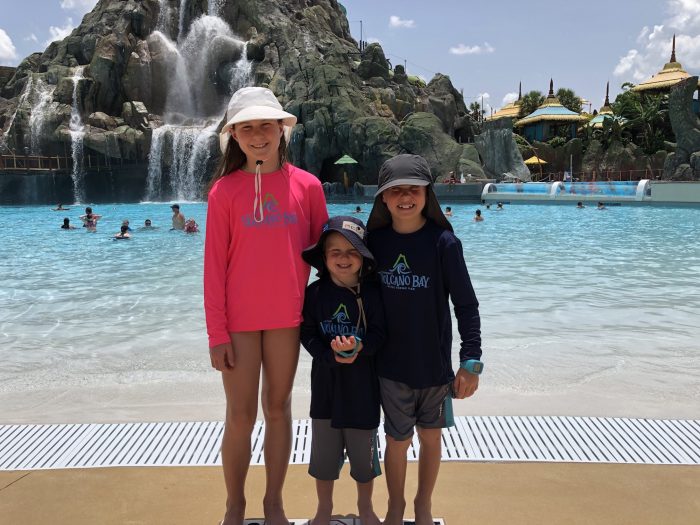 I'm not a huge fan of long sleeve shirts in general, so for myself I picked up one of these short sleeve Volcano Bay swim shirts.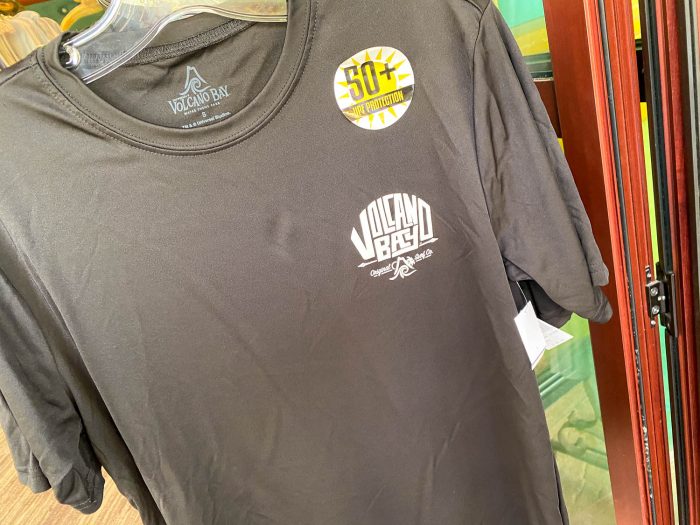 It is also available on a white swim shirt.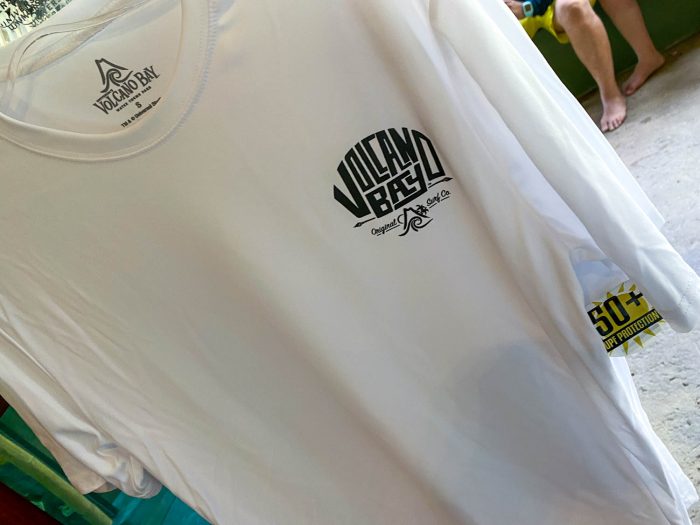 Tons of regular t-shirts and tank tops are available.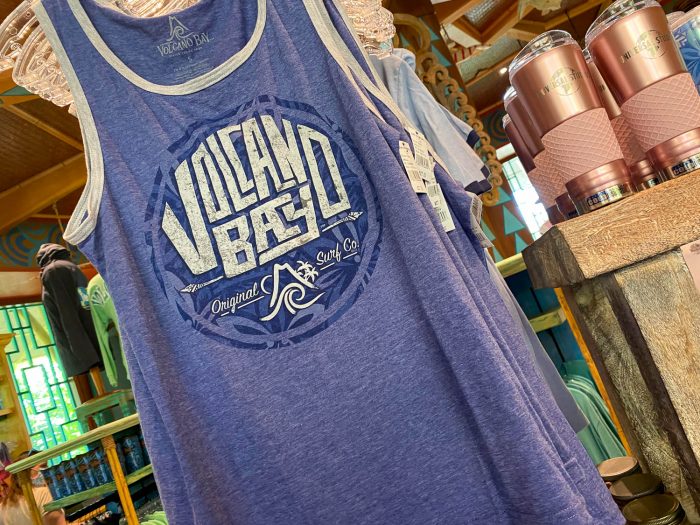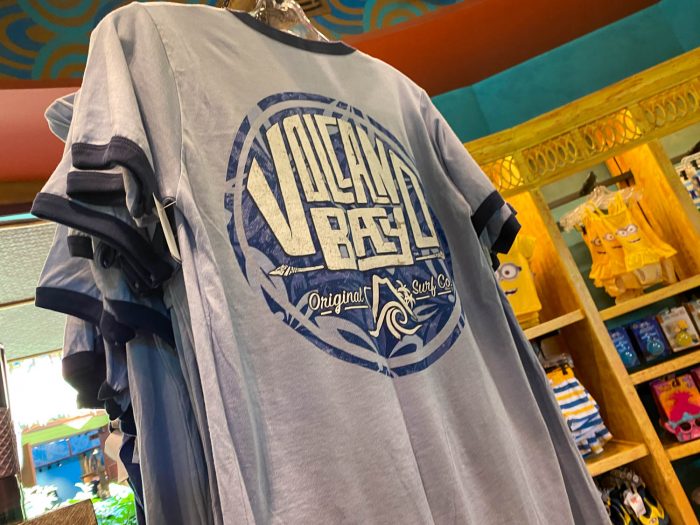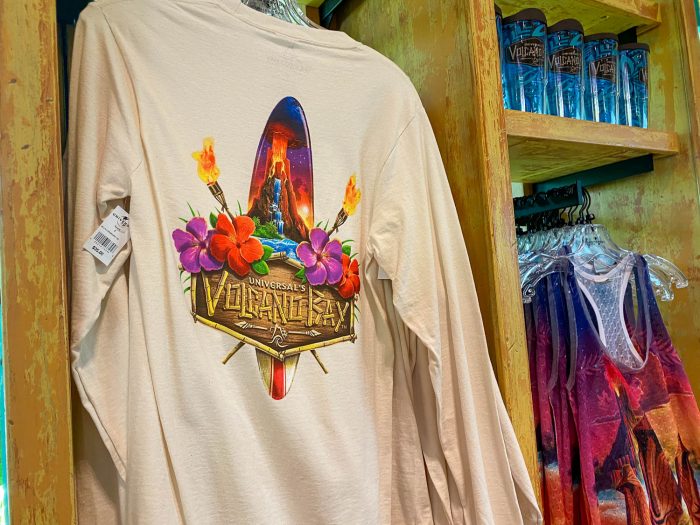 I like the t-shirt above because the same design can be seen on some of the park's souvenir cups.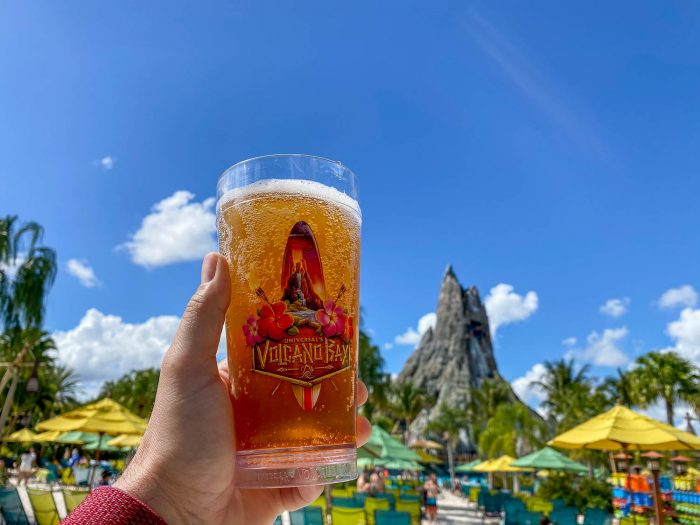 I have never been, and probably never will be a "tie dye" type of guy. I will concede I'm in the minority on that though, and as tie dye-like shirts go, this is one of the better ones that I've seen.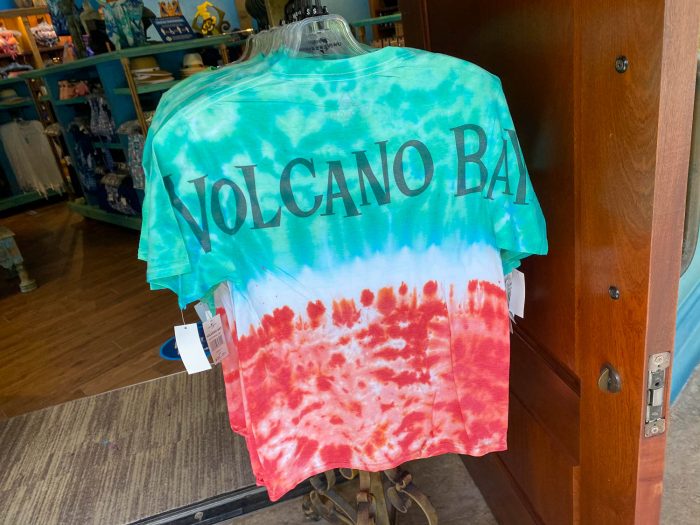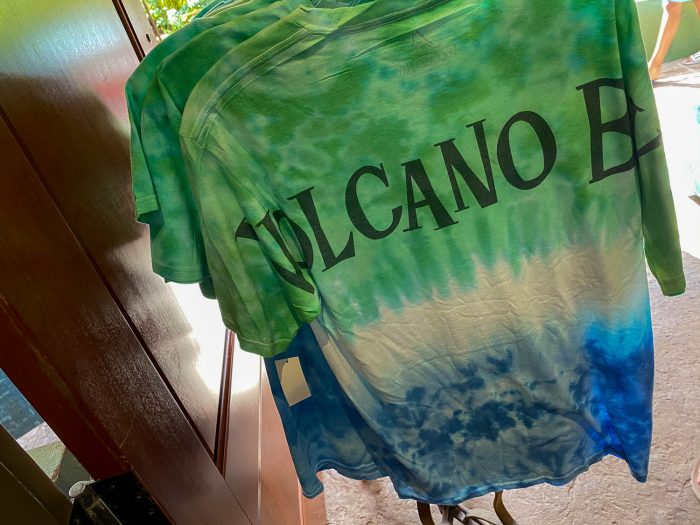 Need a matching pair of shorts?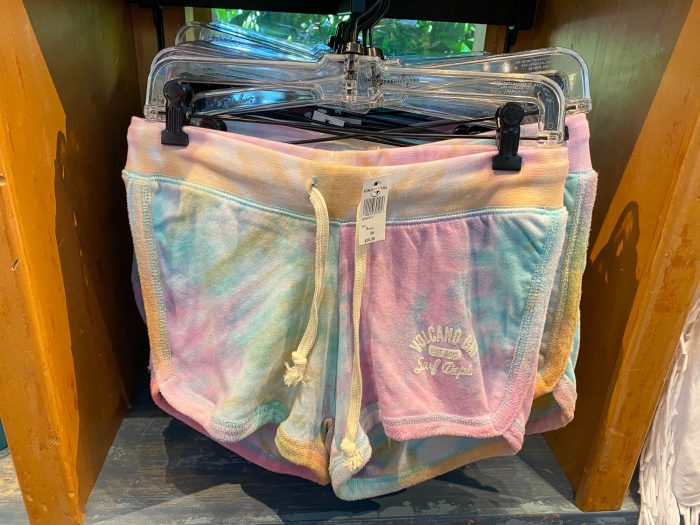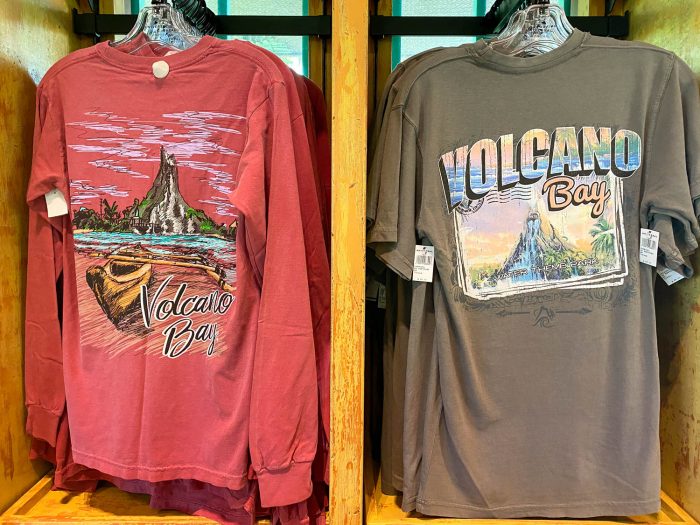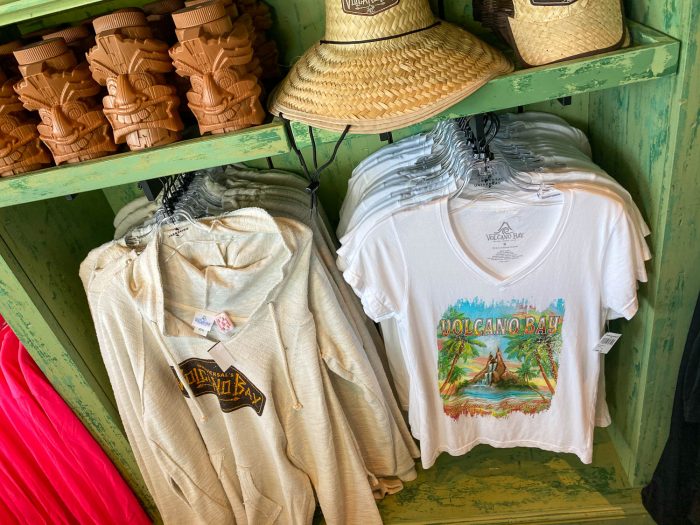 The Volcano Bay t-shirt on the right above reminds me of this Volcano Bay photo featured in the SATURDAY SIX.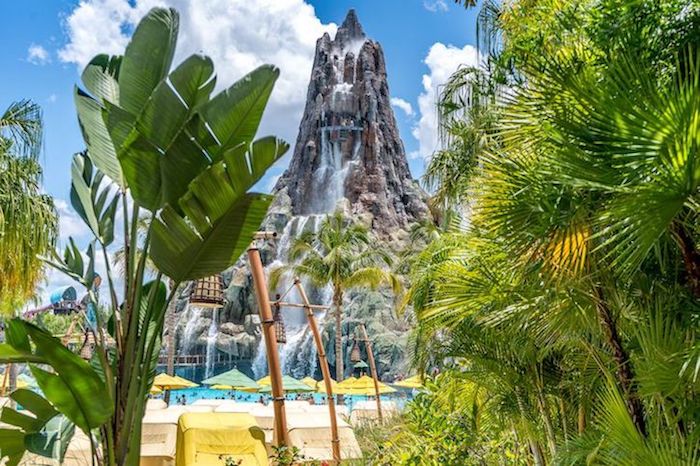 This is pretty cool looking tank top!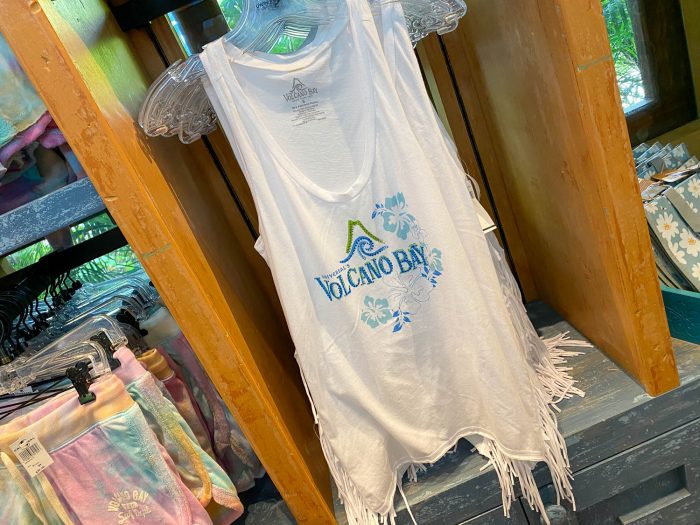 Let's check out some hoodies, sweatshirts, and spirit jerseys….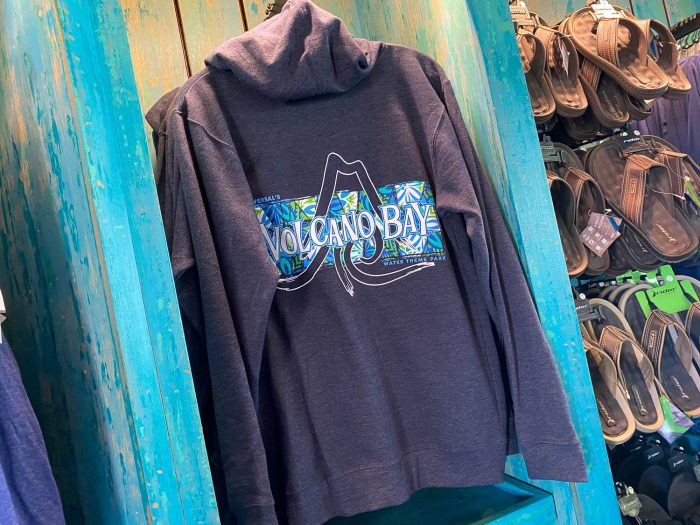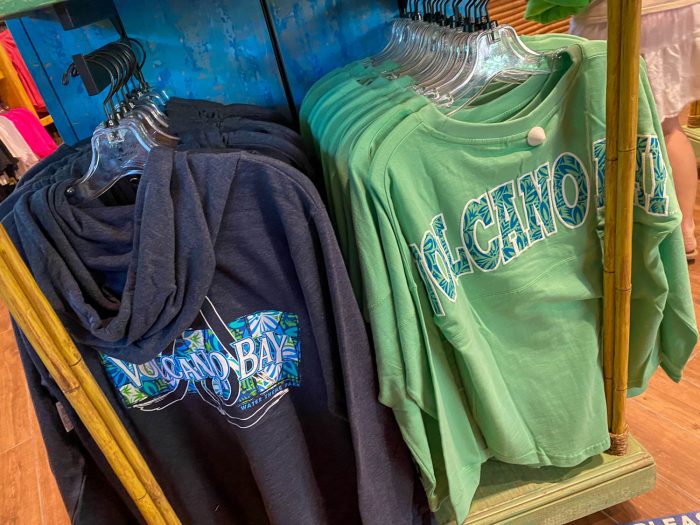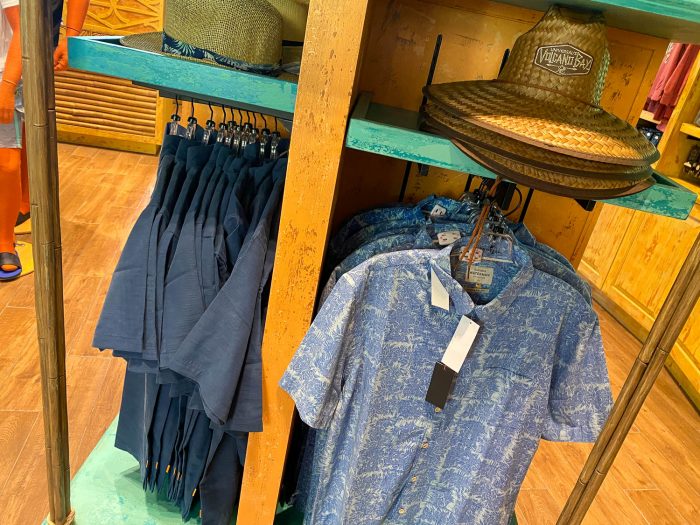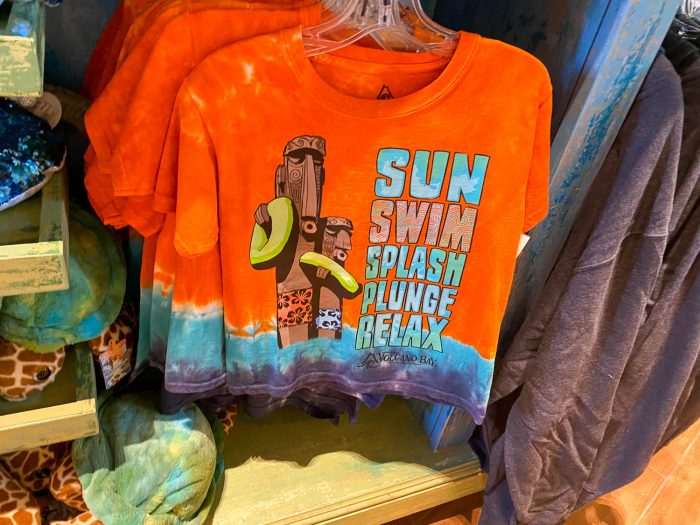 The wicker-style hats at Volcano Bay are LIT.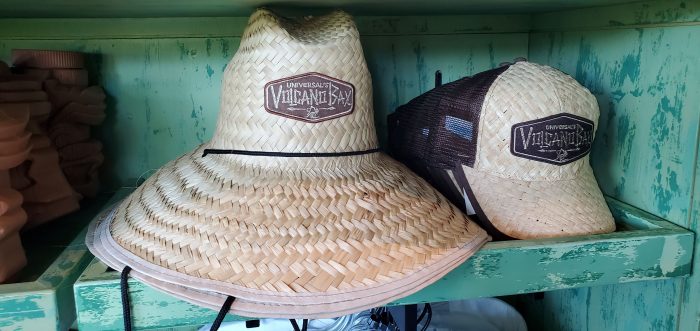 Volcano Bay tumblers.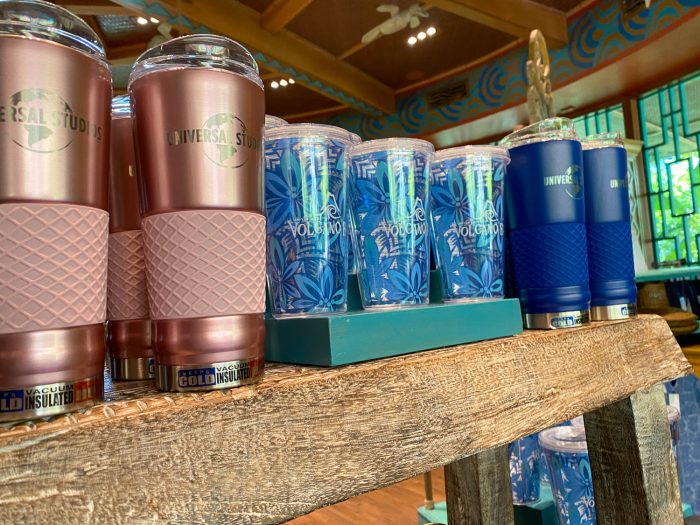 Volcano Bay keychains.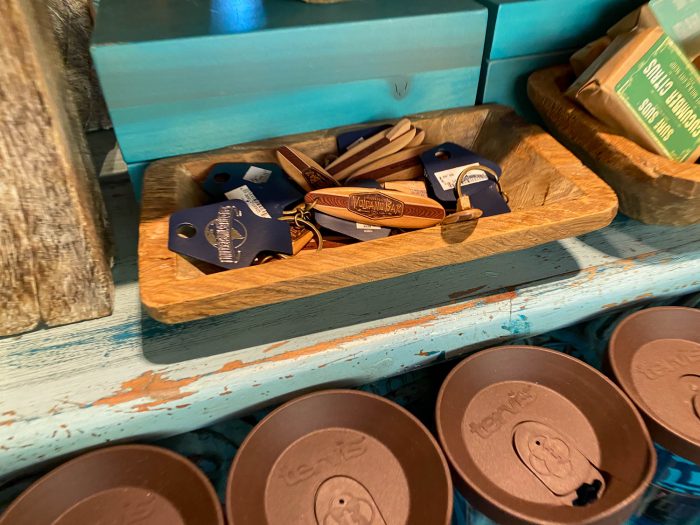 Volcano Bay wood magnets.
One magnet that we bought was this one below featuring several Volcano Bay attractions.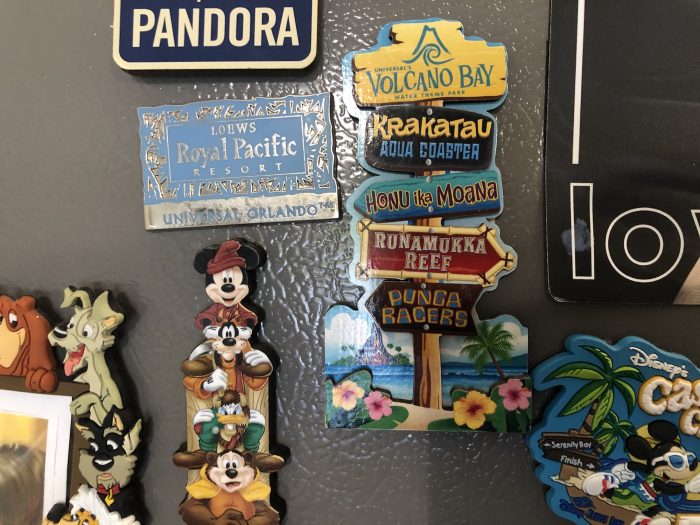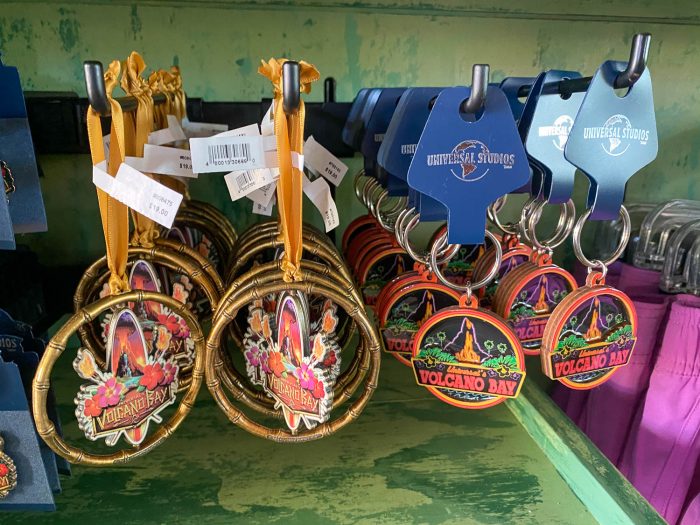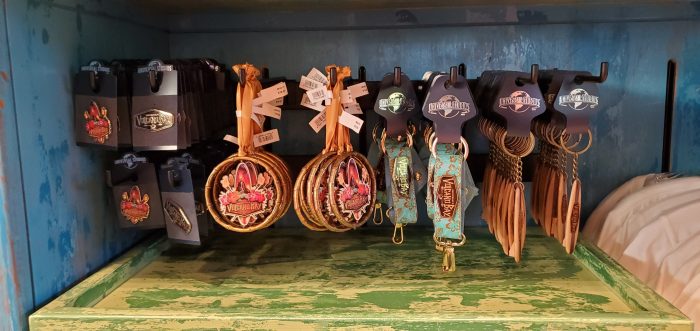 Volcano Bay smartphone cases.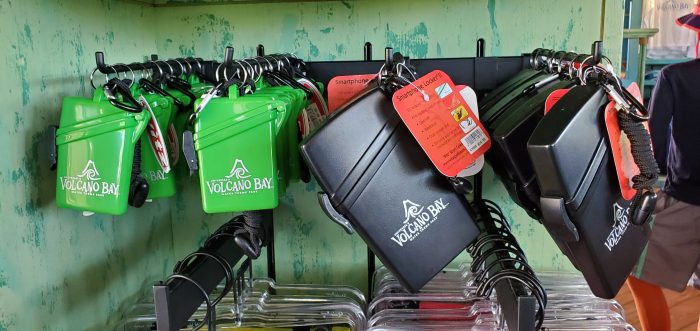 Volcano Bay bag.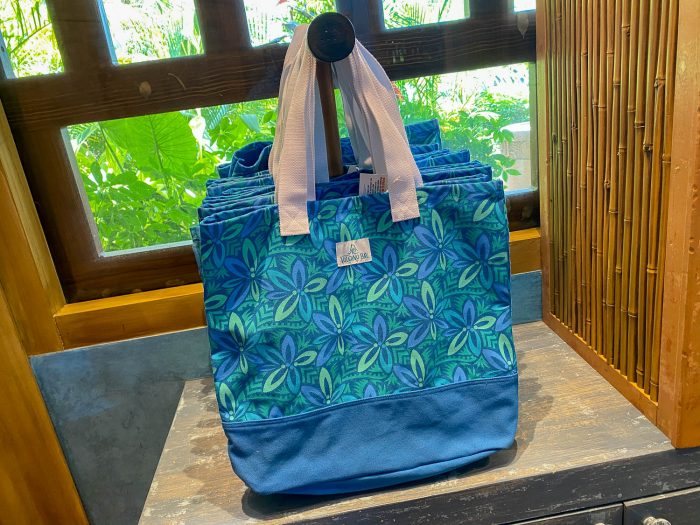 Love the design on this Volcano Bay drawstring backpack.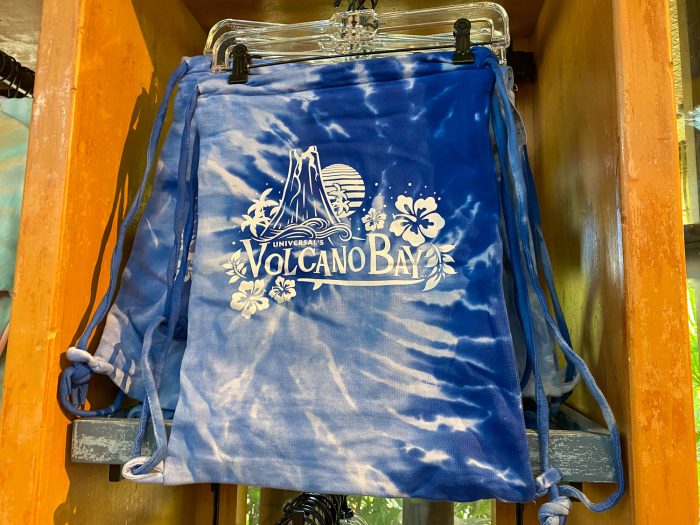 This Volcano Bay bag seems to be something you put stuff in so that when you throw it into a beach bag the items don't get wet or covered with sand.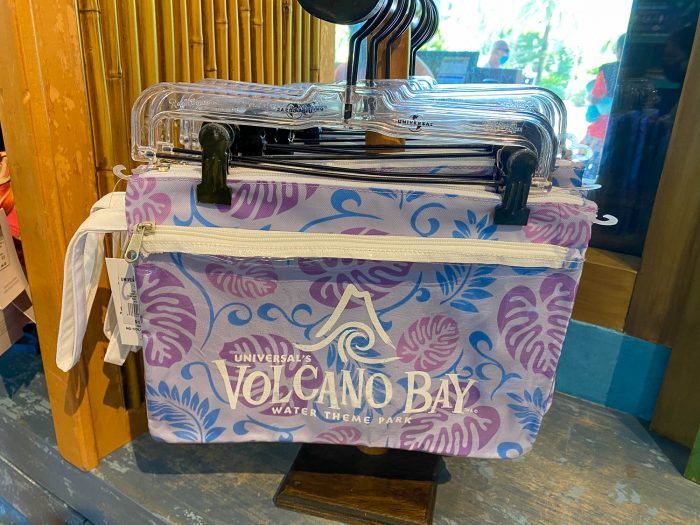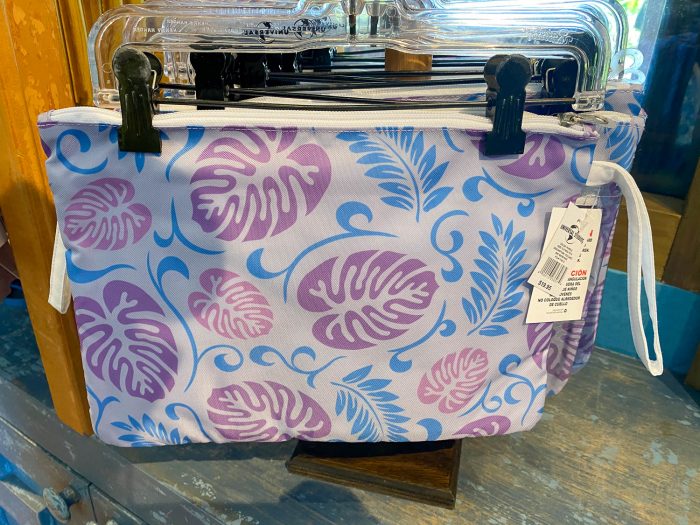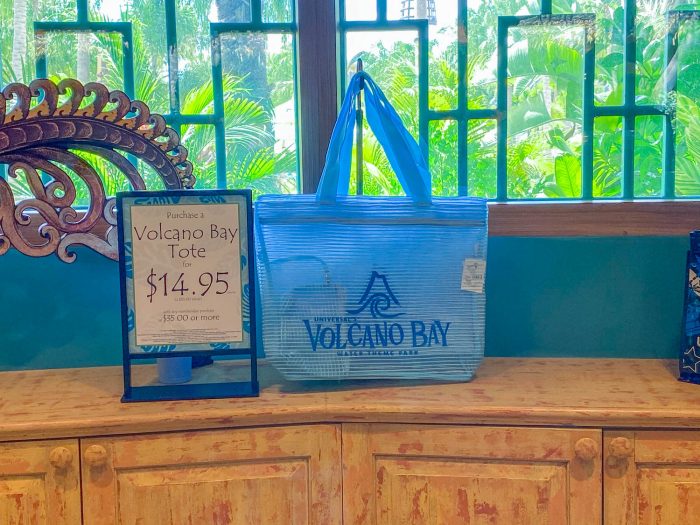 Just so much great stuff that you'll be hard pressed NOT to find a great souvenir to take home!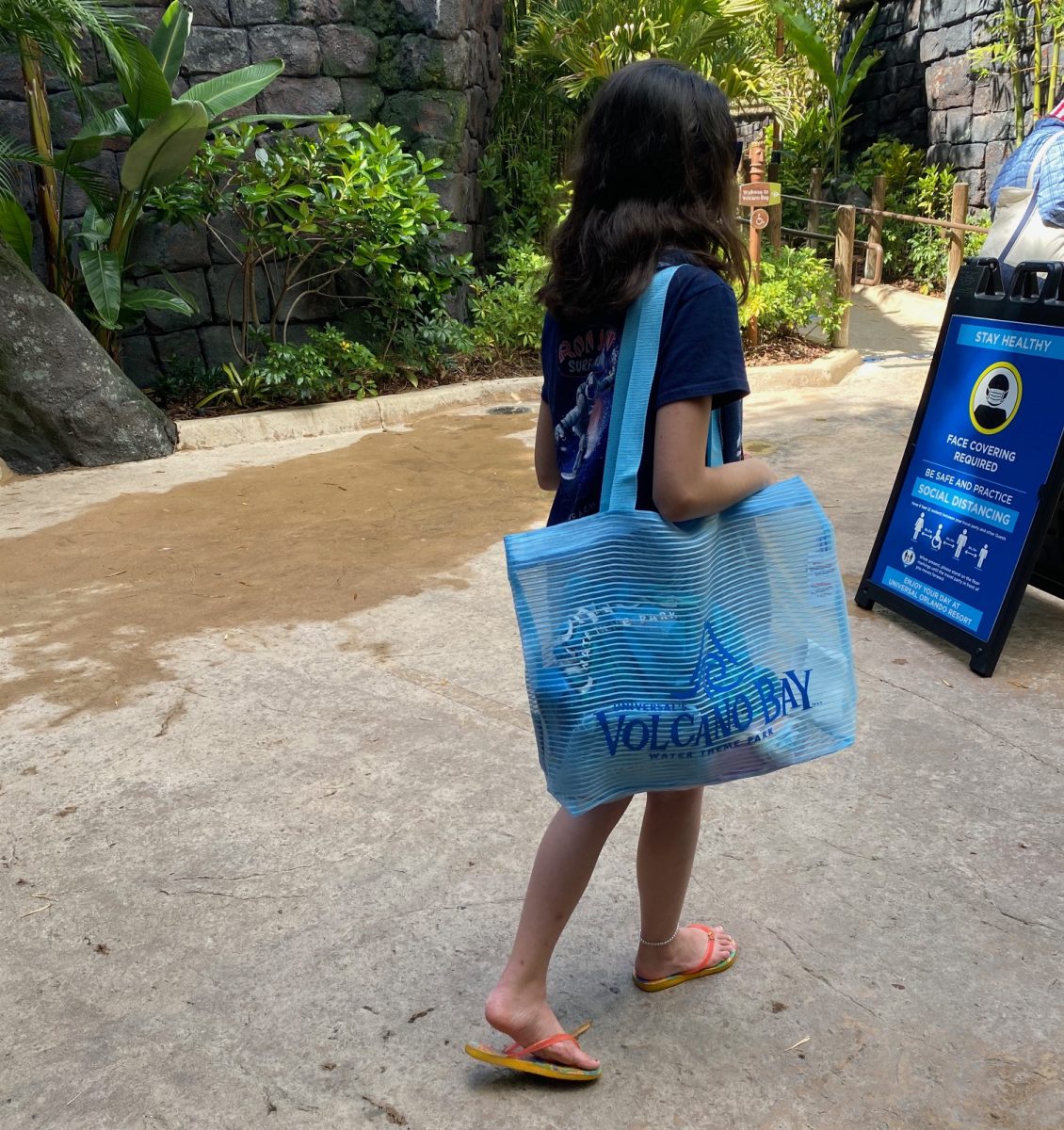 Even the regular merchandise bags are themed!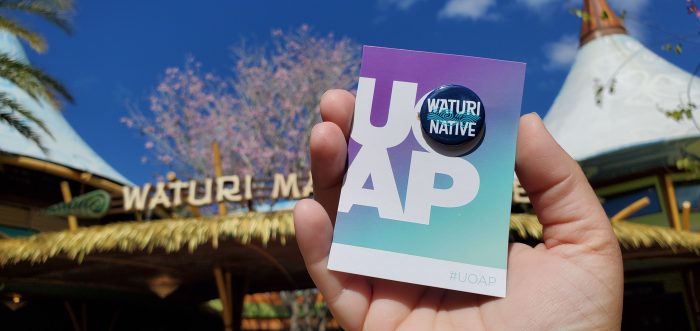 SEE YOU NEXT MONTH!
BEFORE YOU ASK: There are actually two Disney outlet stores in Orlando. Both are in Orlando Premium Outlets shopping complexes, and they are called Disney's Character Warehouse, presumably because The Land Of Misfit Toys was already trademarked. There is one Character Warehouse located on International Drive close to Universal Studios (4951 International Dr, Orlando, FL 32819), and the other is on Vineland Avenue, right across I-4 near the exits to Disney World (8200 Vineland Ave, Orlando, FL 32821). They do not ship. There are items at the Outlets that you can buy both in Disney stores along with the Shop Disney Parks app, but you will be paying full retail for the items. For our CALIFORNIA OUTLET trips, @ChristelaMcC goes to the Las Americas outlet in San Diego. It is located right off the last U.S. exit.
I often get asked "which store is better?" That depends. Vineland is close to Walt Disney World, while the I-Drive location is a hop, skip, and jump away from the Universal Orlando Resort. The Vineland Disney Outlet Store is much, MUCH bigger than the I-Drive location. However, the Vineland outlets in general are much, MUCH busier than I-Drive. Each have their pros and cons, and ultimately they carry much of the same items. For a Disney Outlet Store FAQ, check out this SATURDAY SIX Presents: Everything You Wanted To Know About The Disney Outlet Stores (But Were Afraid To Ask)
2013: July | Aug | Sept | Oct | Nov | Dec
2014: Jan | Feb | March | April | May | June | July | Aug | Sept | Oct | Nov | Dec
2015: Jan | Feb | March | April | May | June | July | Aug | Sept | Oct | Nov | Dec
2016: Jan | Feb | March | April | May | June | July | Aug | Sept | Oct | Nov | Dec
2017: Jan | Feb | March | April | May | June | July | Aug | Sept | Oct | Nov | Dec
2018: Jan | Feb | March | April | May | June | July | Aug | Sept | Oct | Nov | Dec
2019: Jan | Feb | March | April | May | June | July | Aug | Sept | Oct | Nov | Dec
2020: Jan | Feb | March | April | May | June | July | Aug | Sept |Oct | Nov | Dec
Very Special Editions & Milestones: Tribute to O.O.G.; Four Year Anniversary Special; First Pandora Items; Five Year Anniversary Special & Outlet Hall of Fame; Major Changes Come to the Outlets; Camera Hat; the Outlets Reopen after Coronavirus shut down
We also did an edition of Magic, Memories, and Junk for a non-Disney owned Outlet Store, and for you merch addicts like myself, you may also enjoy a look at the official Disney merchandise available on the Disney Cruise Line, Castaway Cay, and at the Orlando International Airport. Want to see our favorite WDW resort-specific merchandise? Well, CLICK HERE!
If you liked what you read here, you may enjoy THE SATURDAY SIX articles every week on the TouringPlans.com blog and you can follow your humble author on Twitter (@derekbugan).