REVIEW – Characters Return to Chef Mickey's and It is Magical
A few months ago Chef Mickey's reopened, but with one very important ingredient missing: there were no characters. Our team visited during that time. The food satisfied, and the lack of characters was welcomed for those looking for a hearty breakfast without the kinetic craziness of typical character dining. Now that the characters are back we have to say, Chef Mickey's may be our current favorite for Disney character dining.
Chef Mickey's Atmosphere
The atmosphere at Chef Mickey's can be one of its greatest features for some guests, and the worst part for others. It is located on the concourse level of Disney's Contemporary Resort, in a multistory atrium. The iconic monorail whooshes by every few minutes and thanks to its atrium setting the voices of all the guests and the music bounce all around. This is not the place to be if you are not a morning person. If, however, you are looking for a high-energy experience that is undeniably Disney, this is your place. You can't help but feel excited. There is no denying that you're at Walt Disney World when you're at Chef Mickey's.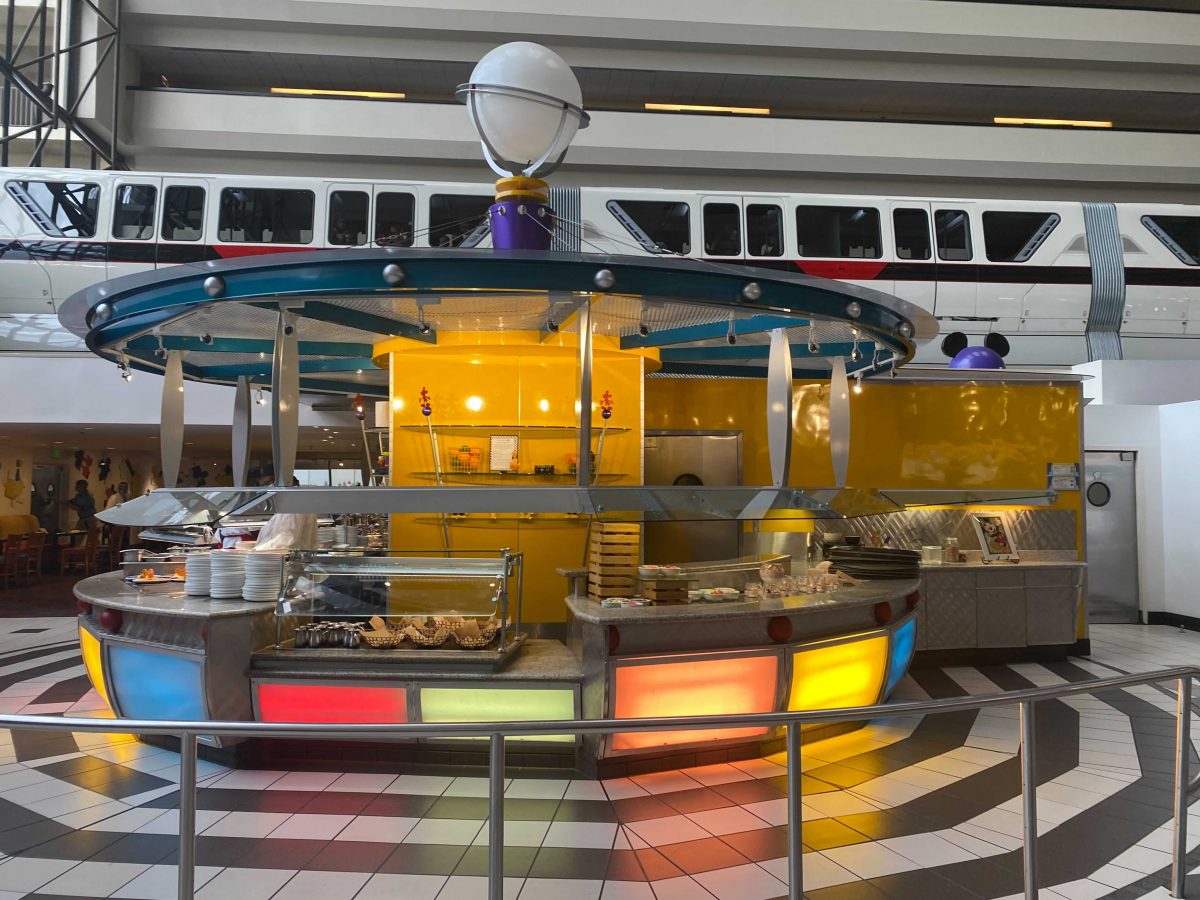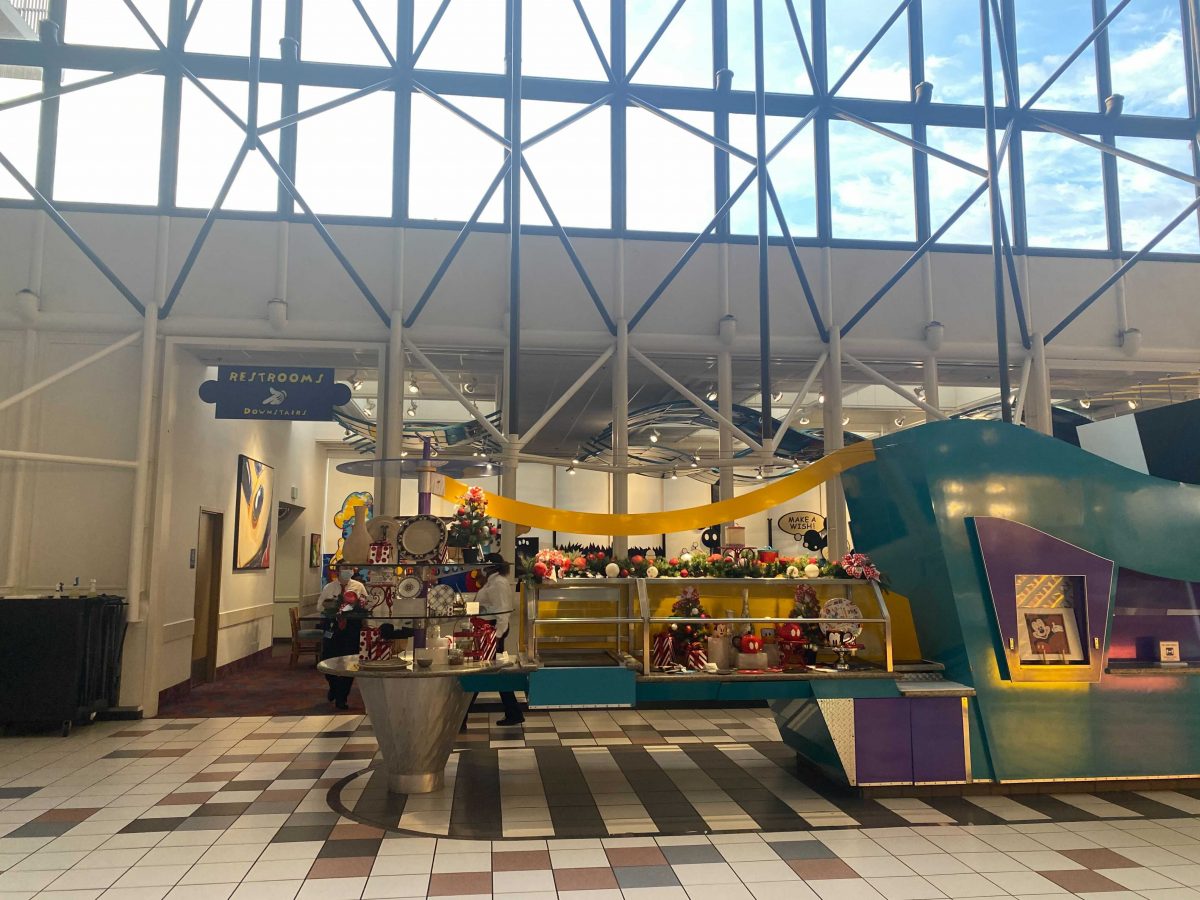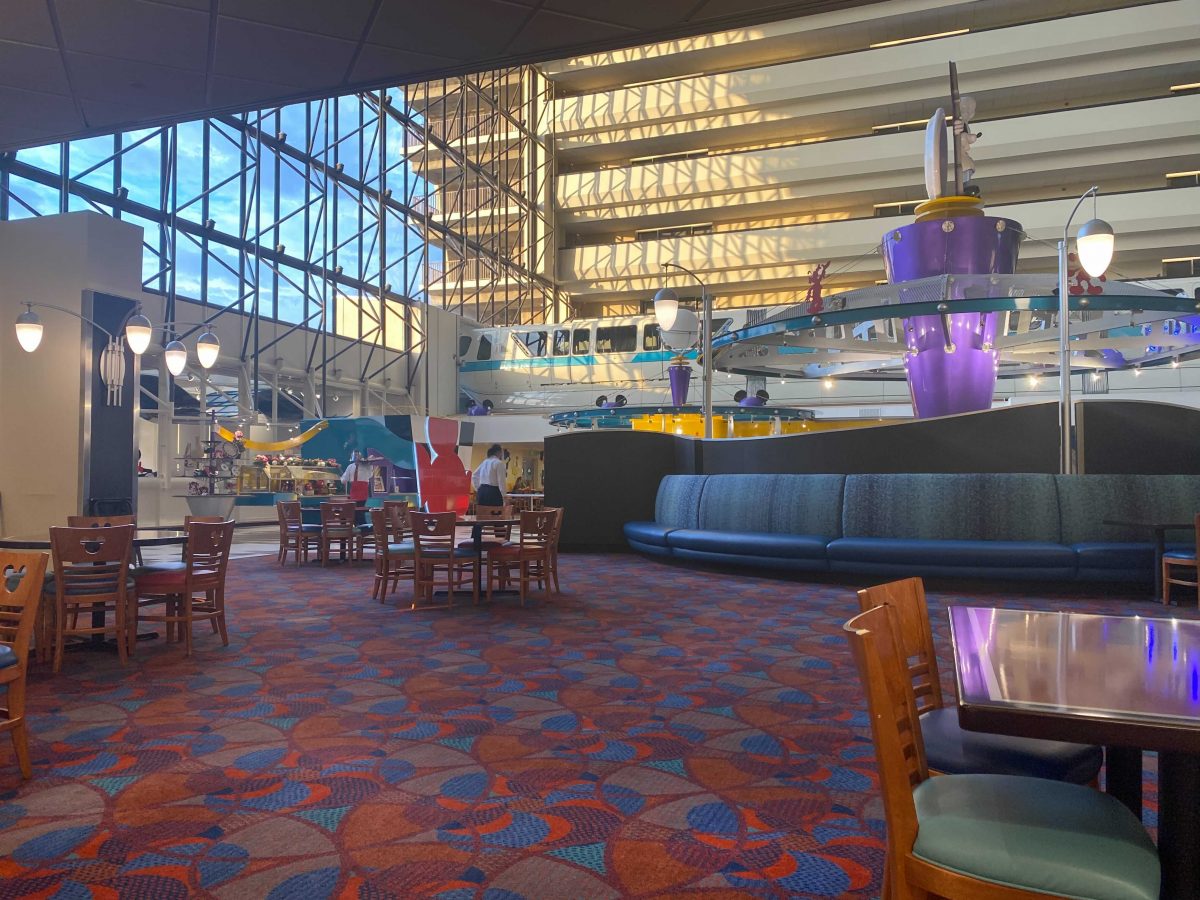 There is no more buffet. Everything is served on platters, family style, and your server will gladly bring you second helpings, or thirds or more, of any of the food, which is included in one flat price. The characters, which are Mickey and his pals, come out and greet guests by section rather than coming to each individual table. All character dining is currently done this way, with social distance, but Chef Mickey's has been the most energetic that our team has experienced since the parks reopened. As each character came to the section that our team was dining in, they danced a little and were very cheerful.
Chef Mickey's Food and Beverage
If you love breakfast food, you're going to be in heaven at Chef Mickey's for breakfast. Here you won't find anything too fancy, just elevated versions of American breakfast classics. The meal starts off with a select of breakfast breads with honey butter, as well as fresh fruit and yogurt. Then the feasting continues with a bountiful breakfast platter of bacon, chicken sausage, beef brisket, scrambled eggs, and Mickey waffles. This platter is bursting with classic breakfast items.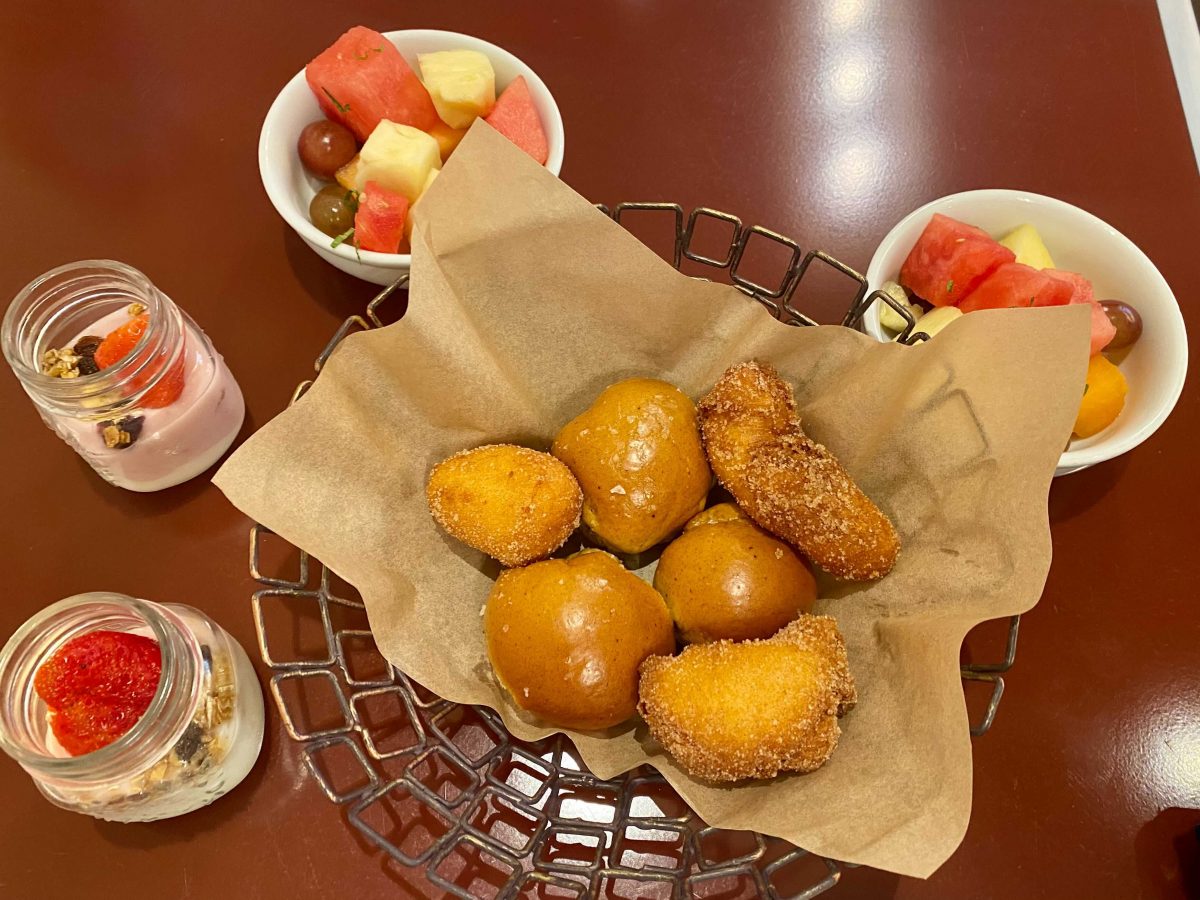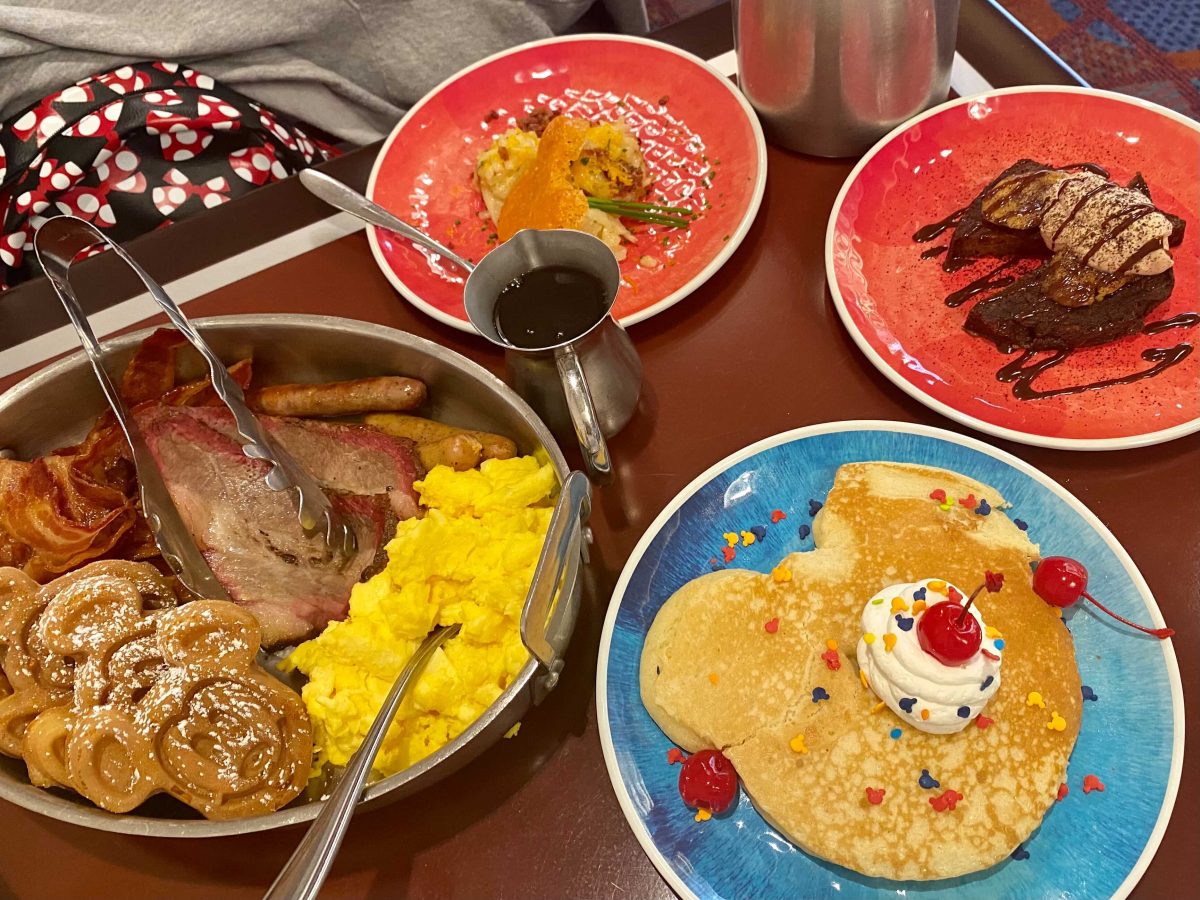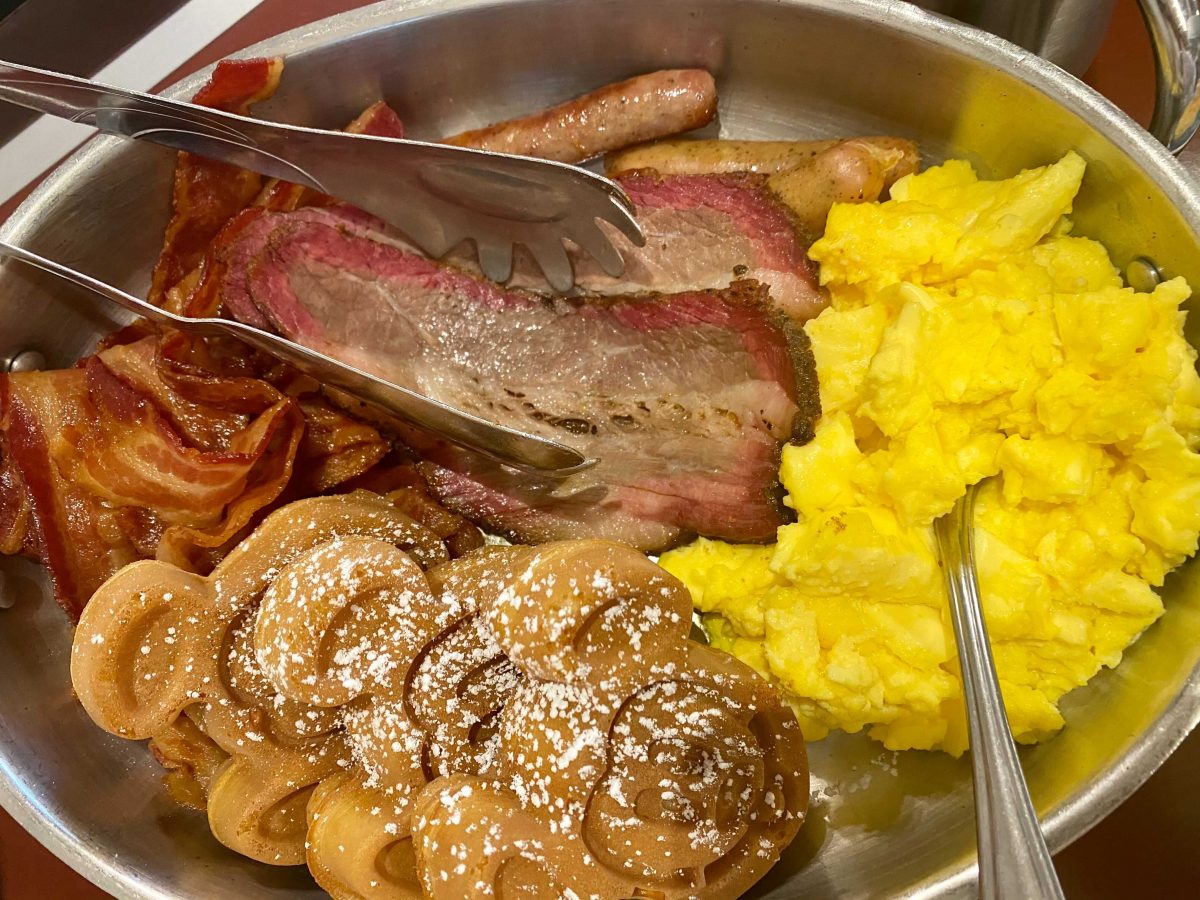 A few specialty dishes are served which include "Loaded" Potato-Cheese Casserole;  a "Celebration" Mickey Pancake; and Banana Bread French Toast with Espresso-Mascarpone Cream, Toasted Bananas, and Chocolate Crumbles. Of the three our research team enjoyed the Potato-Cheese Casserole the most. But all three dishes really elevate the whole meal. It is a lot of food, so if you're going to do this for breakfast, consider having a very light lunch.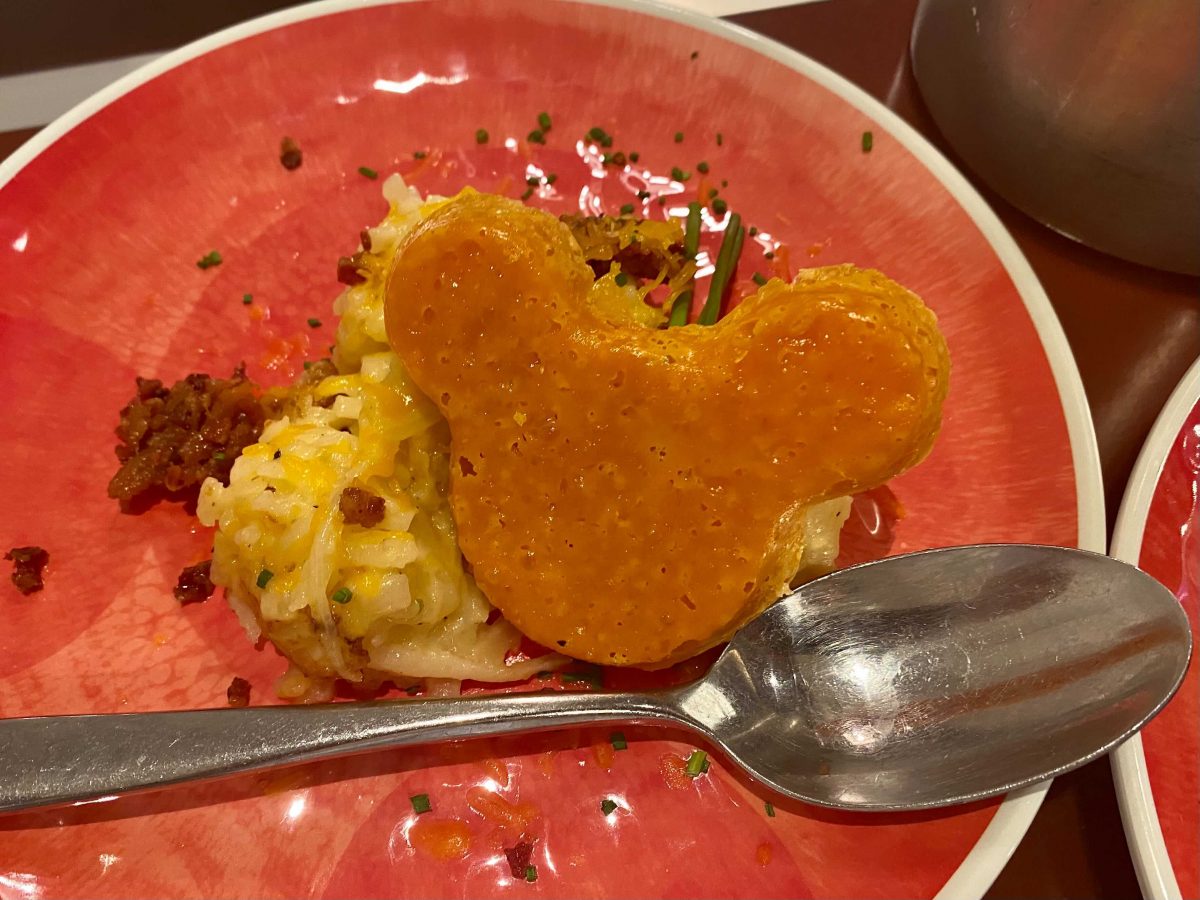 Our team felt the meal was worth the $42 per adult and $27 per child, plus tax and gratuity. Considering the quality of the food, the fact that you can have as much as you like, and the distinct atmosphere, it is worth it. Our team, and many of our readers, are reporting that they enjoy the family-style service much more than the buffet. Having the food brought to your table makes it more of an enjoyable meal, and you don't have to run the risk of missing the characters while waiting in line at the buffet.
Chef Mickey's Character Appearances
Thankfully the food at Chef Mickey's is good and the entire experience doesn't hinge on the characters alone. But the great news is the character interaction here is high energy and tons of fun. Each character dons a special chef's outfit that matches their personality. You won't need that second cup of coffee once you see Donald shake his tailfeather and Goofy's flap his ears as he skips around. Although the chance to have one-on-one interaction and photos at your table is temporarily gone, it is still a fun experience. Just practice the art of composing a selfie beforehand.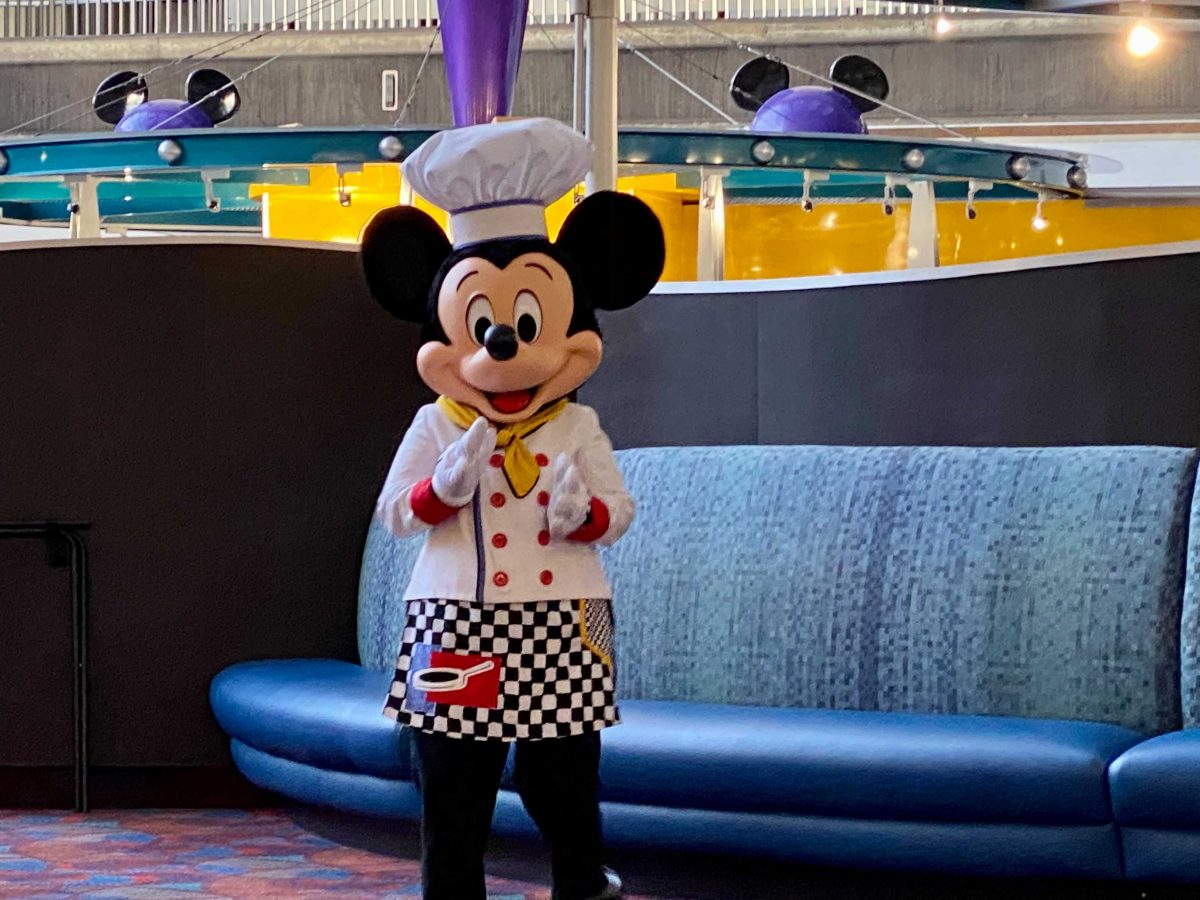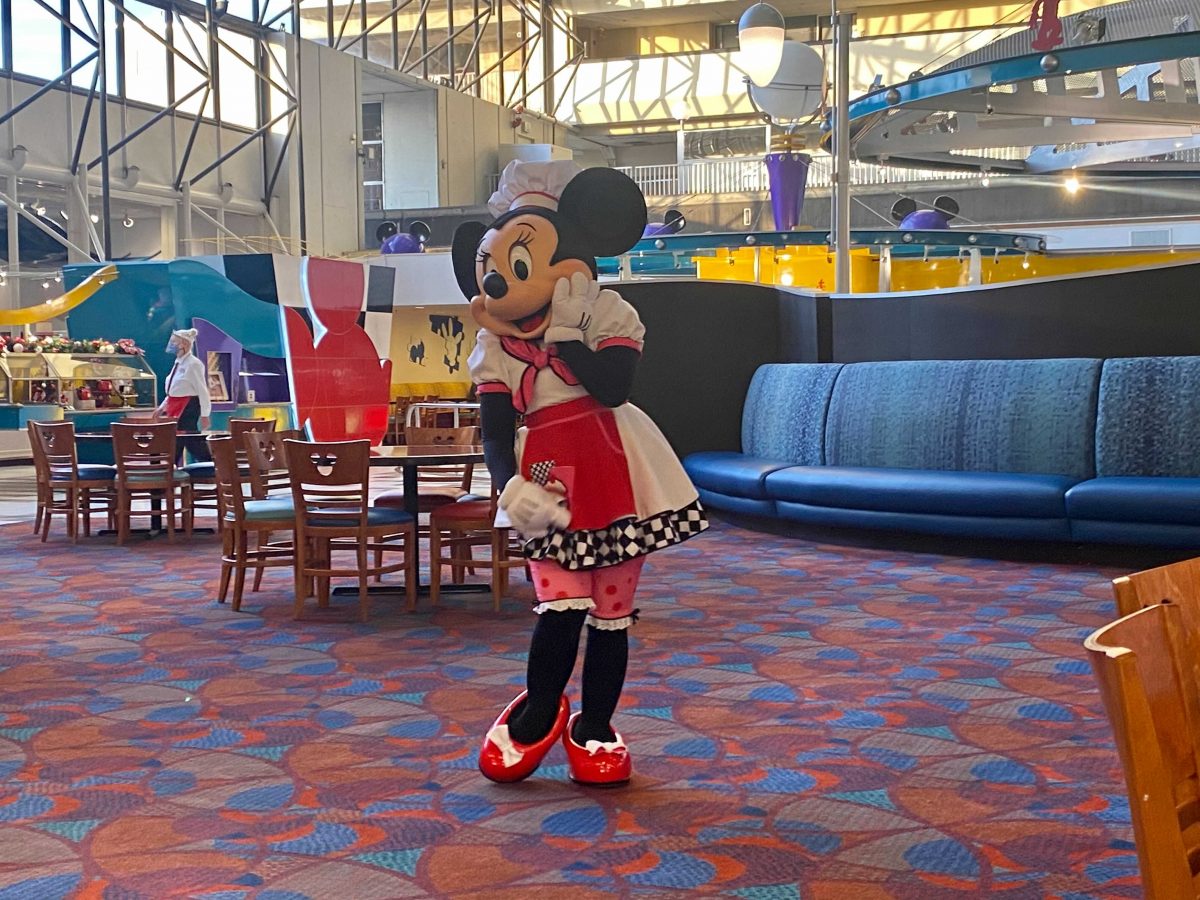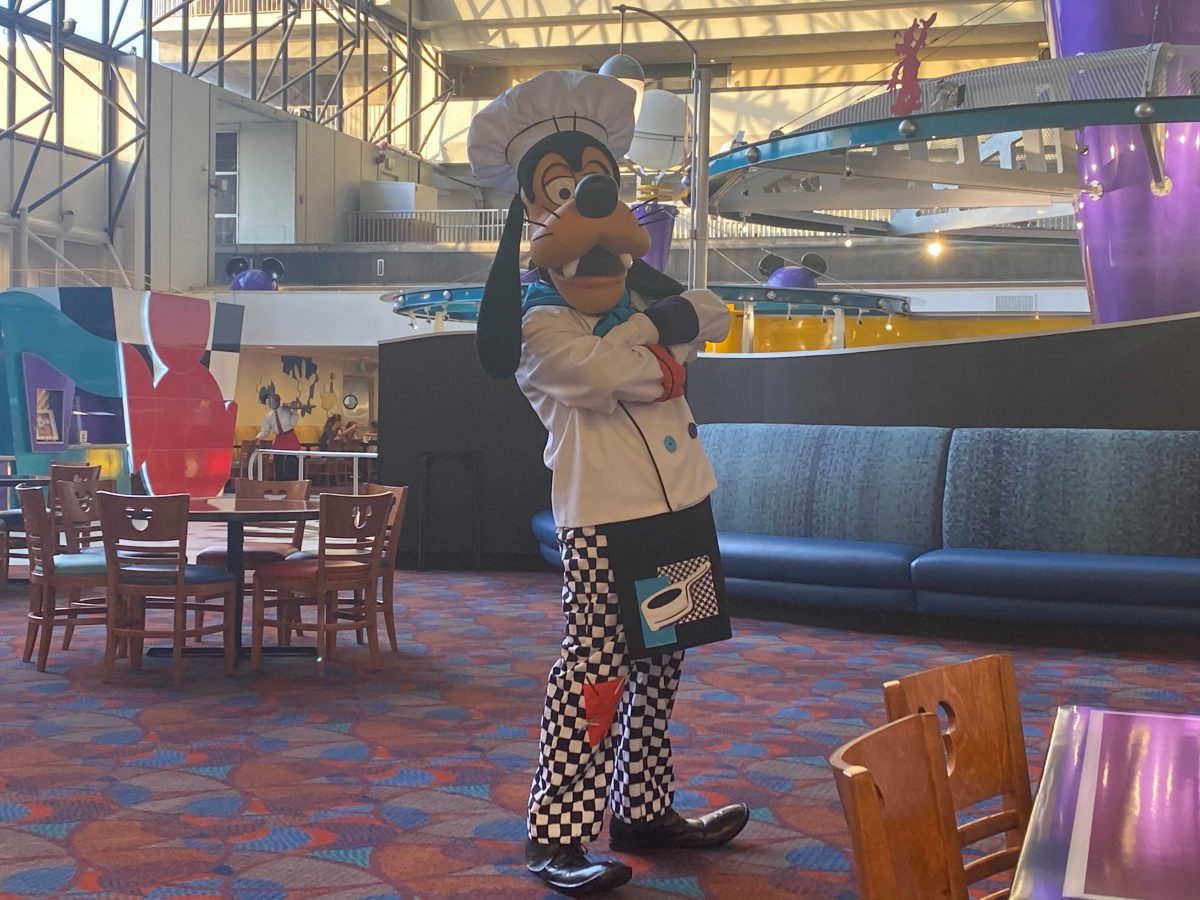 Each guest receives a souvenir postcard. This Chef Mickey's postcard has each of the characters autographs on it, and features great artwork on the front with the characters in the monorail as it pulls through the Contemporary.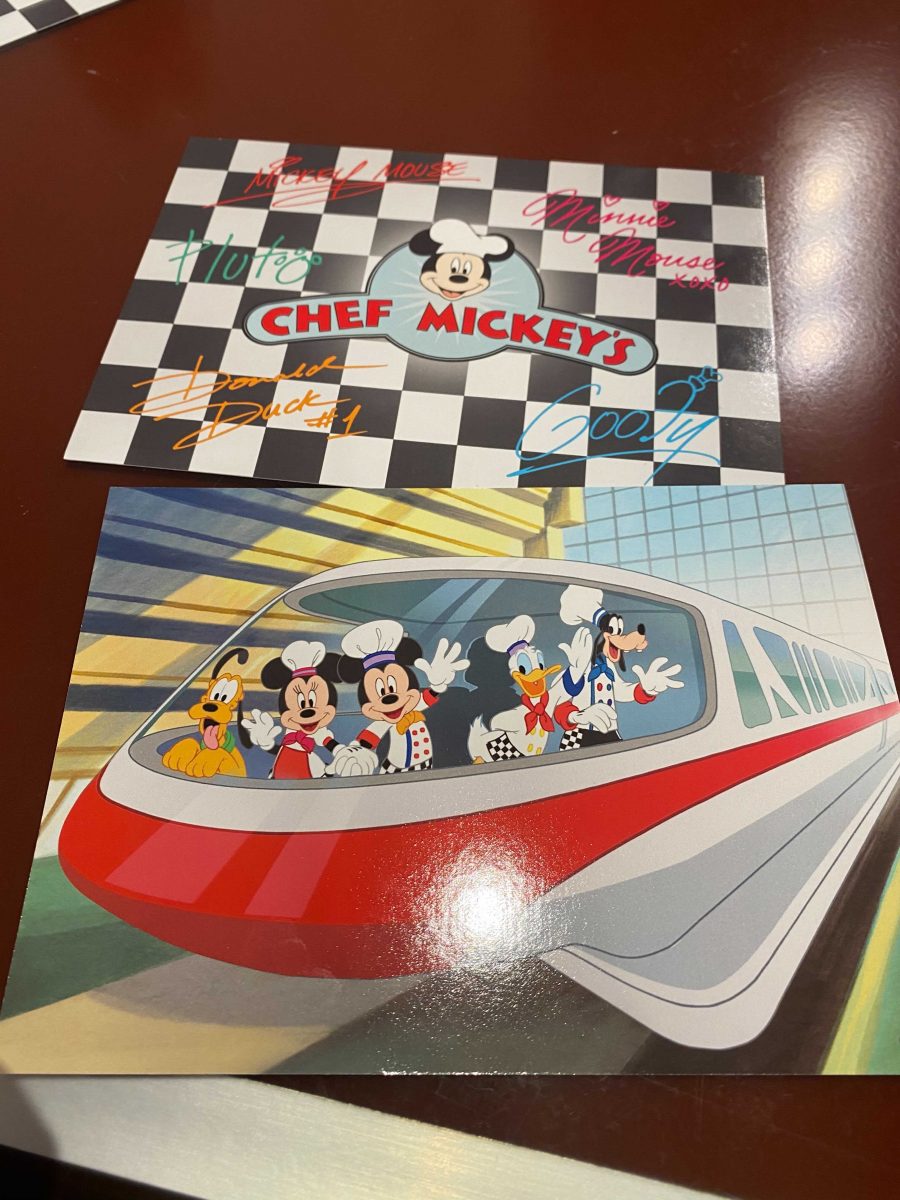 We have listings and ranks for every Walt Disney World restaurant. Our readers give Chef Mickey's an 85% thumbs up rating. It is ranked number 50 out of 106 table service restaurants. Reservations for character dining can be difficult to secure. Our Reservation Finder tool is free to use – give it a try!
Have you dined at Chef's Mickeys before? What do you think of the new setup?