Review: Disneyland Resort's Best Halloween Food 2022
Halloween Time is in full swing at Disneyland Resort. The Oogie Boogie Bash Halloween party is raging at DCA a few nights a week (check our review and planning guide here), while pumpkins and other festive decor adorn Disneyland. Besides the aesthetics, it's also a great time for fans of fall flavors. What's worth trying? What should you avoid? Read below to find out.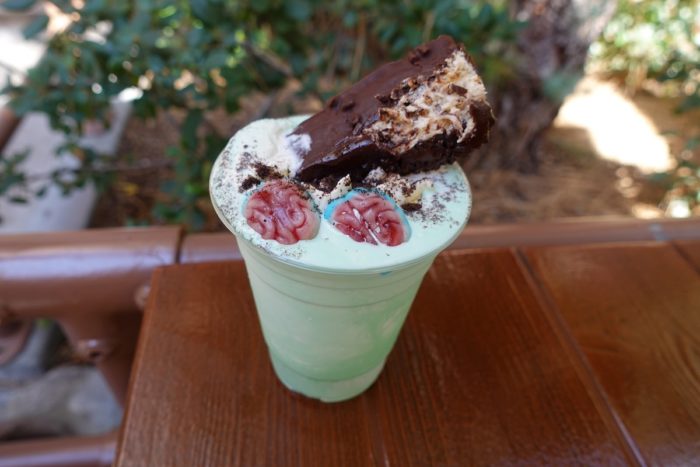 Mint Shake – Smokejumpers Grill – Disney California Adventure – $8.99
Look at this simple milkshake perfectly themed for the Halloween season. The shake is topped with whipped cream, chocolate cookie crumbles, gummy body parts, and a chocolate-covered snack cake. I'M ALL IN with any Halloween food that has "gummy body parts." I'm a big fan of mint ice cream so I was a huge fan of this shake. The included "chocolate-covered snack" is a Gansitos snack cake, which is a favorite among Mexican snack food fans. I enjoyed mashing the snack cake up in to the shake. Also included are gummy brains. They don't add much to the overall taste of the shake but them along with the slimy green look make this a perfect seasonal treat.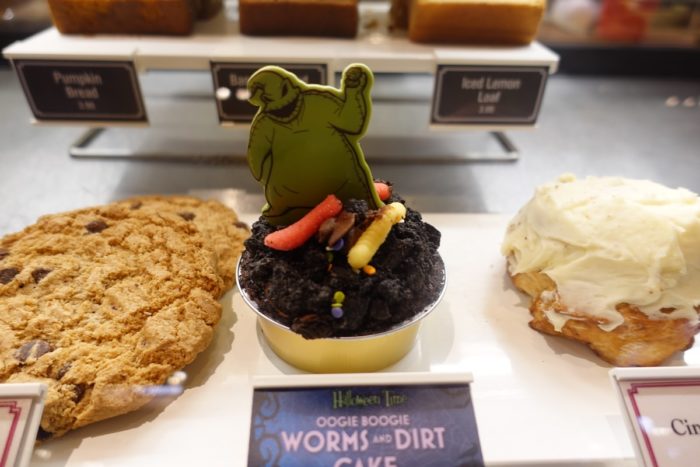 Oogie Boogie Worms and Dirt Cake – Fiddler, Fifer & Practical Café – Disney California Adventure – $6.99
Another excellently themed item. The Worms and Dirt Cake is a chocolate cake filled with raspberry jam topped with mocha mousse, chocolate cookie, candy worms, and a white chocolate Oogie Boogie. This one is perfect for chocolate fans. I enjoyed the smooth mousse mixed with the satisfying crunch from the chocolate cookie crumble.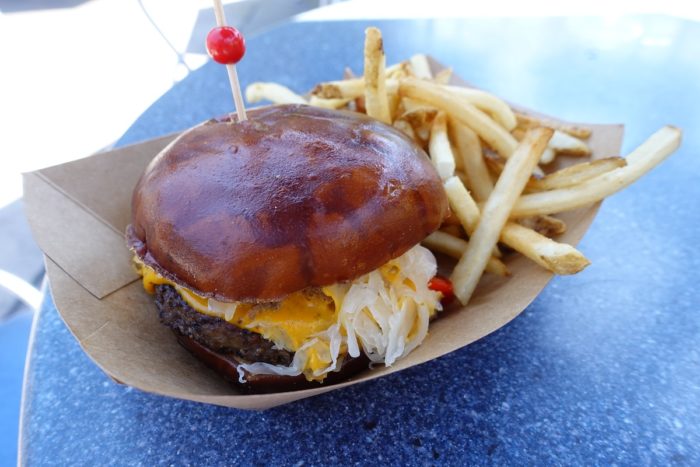 Oktoberfest-inspired Burger – Galactic Grill – Disneyland – $15.49
A little behind the scenes information, most of the food I consume to review for this website is usually done with Tom and Sarah from Disney Tourist Blog. We hit the parks frequently together and it's much easier financially to split the cost of expensive Disneyland food with other people. I bring this up because all three of us were SHOCKED at how good the Oktoberfest-inspired Burger was. This is a burger from Galactic Grill. Food is not supposed to taste good at Galactic Grill. Anyone who has eaten there in the last few decades can attest to this. The burger is made up of an angus beef patty, and is topped with bratwurst, grilled peppers and onions, sauerkraut, and house-made mustard cheese and served on a pretzel bun. The burger is fantastic. Sure, the meat patty is similar to the rest of Disneyland's quick service burgers, but the mustard sauce and pretzel bun take it to the next level. The rest of the toppings, especially the grilled peppers are also superb. This is a must try.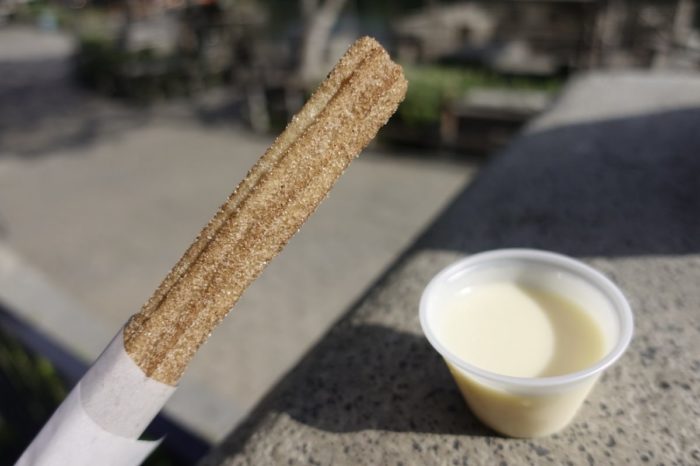 Assorted Churros – Around Disneyland and Disney California Adventure
For Halloween 2022 there are 8 different kinds of churros available in both parks, including a Pistachio-Cherry Churro rolled in pistachio and sour cherry sugars and served with a side of ghost pepper grape sauce, Fruity Sugar Churro tossed in fruity cereal sugar, topped with a purple and green glaze, a Peanut Candy Churro rolled in peanut powder, sugar, and crushed peanuts drizzled with peanut butter sauce, and many more. Pictured here is the pumpkin spice churro, which wasn't as intensely pumpkin-flavored as I wanted, but was still good. My favorite of the bunch is the Spicy Chocolate Churro (Cinnamon-dusted chocolate churro with a spicy cocoa dipping sauce) in Frontierland.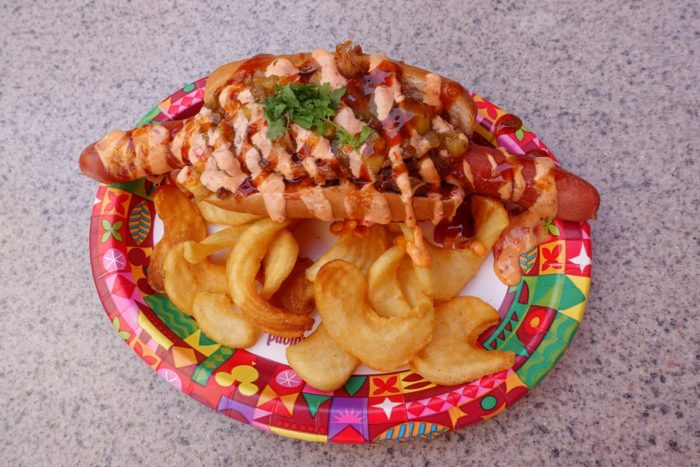 Footlong Spicy Pulled Pork Dog – Award Wieners – Disney California Adventure – $15.49
Something shifted in the cosmos a few years ago and all of a sudden DCA's Award Wieners became one of the best counter service restaurants in either park. Before that the dogs they served were on the same level as the worst neighborhood cookout you've ever been to. How in the world was Award Wieners deserving of such a upgrade? I speculate that it was some unknown executive's favorite restaurant and they demanded revamps be made to increase the quality. Anyway, wow this is a top tier hot dog. It's topped with sweet & spicy pulled pork with a fiery tropical chutney served on a toasted bun. They are not lying when they say fiery, this thing has some heat! The hot dog itself has a very satisfying snap to it and the bun is lightly buttered and toasted. Also included are Award Wieners' signature Film Strip Fries, which are king of like curly steak fries. They're great as usual.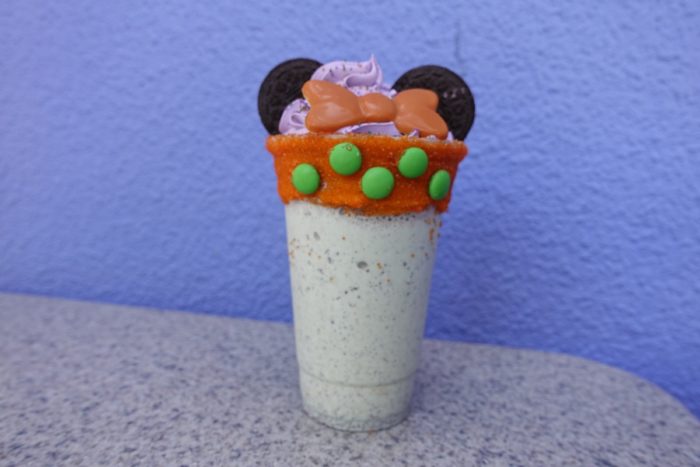 Minnie Witch Shake – Schmoozies – Disney California Adventure – $9.49
This may look like a normal cookies & cream shake with some junk sitting on top, but…. okay that's exactly what it is. Aesthetics and high cost aside ($9.49?!?), this is a damn good shake. You can tell this isn't some pre-mixed concoction like they have at Flo's V8 Cafe (who's shakes taste suspiciously like McDonald's), the Minnie Witch Shake uses real ice cream and tastes great.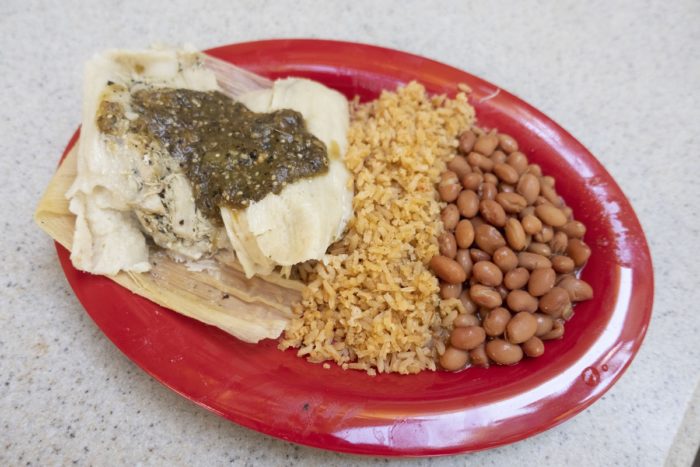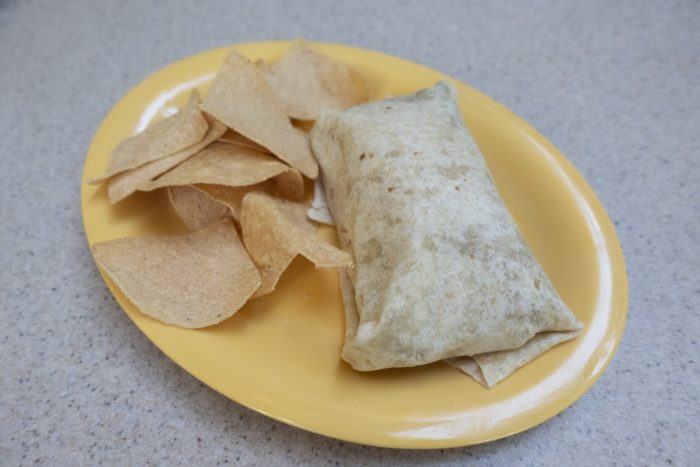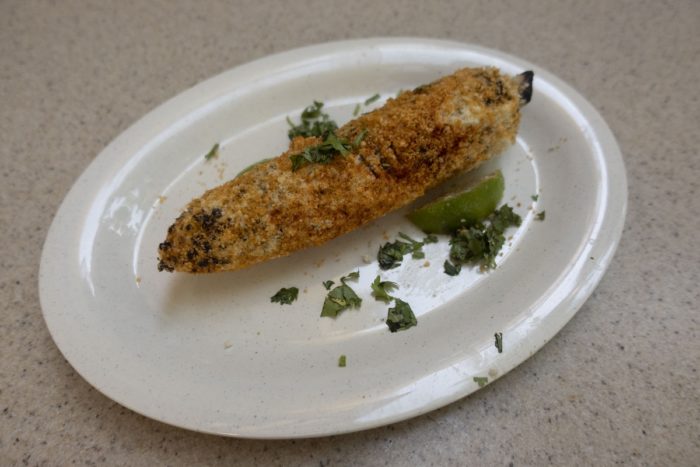 Most of the menu – Paradise Garden Grill – Disney California Adventure – $6.49 to $13.49
Paradise Garden Grill continues with its usual seasonal menu full of Mexican food to compliment the surrounding Plaza de la Familia. None of these items will be the best Mexican food you've ever had, but the menu is solid, filling, and use good quality ingredients. Pictured above are the Traditional Tamale Plate, Carnitas Burrito, and Elote. They're all very tasty.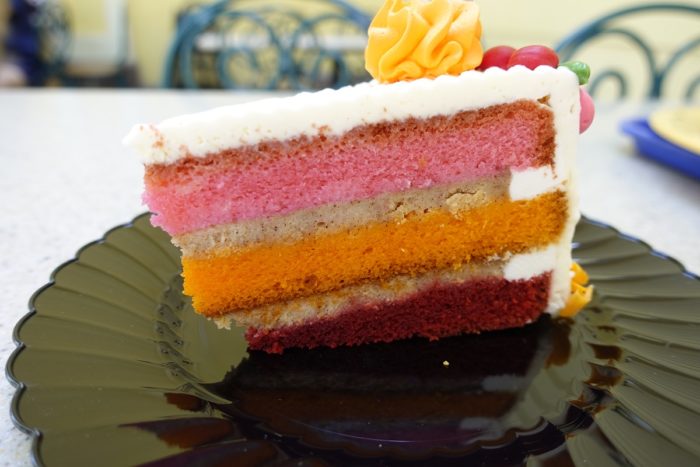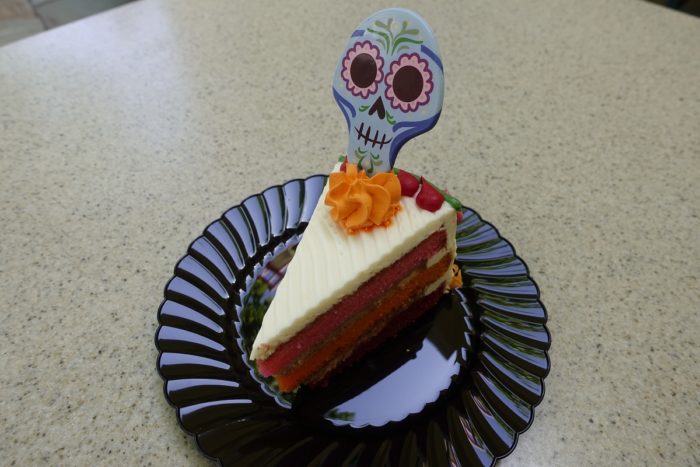 Coco Cake – Paradise Garden Grill – Disney California Adventure – $6.99
The Coco Cake has layers of vanilla cake filled with cinnamon churro mousse and sweet cream cheese frosting. First of all just look at how beautiful that cake is. Second, the taste is fantastic. This should be high on your list of Halloween foods if you're a fan of cake and/or churros.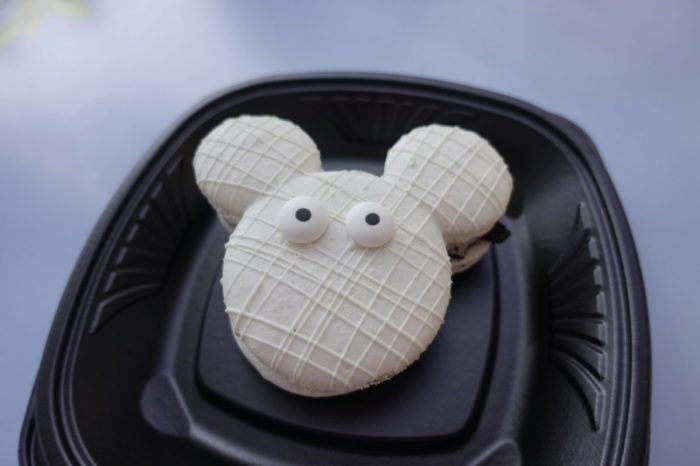 Mickey Mummy Macaron – Jolly Holiday Bakery – Disneyland – $6.99
The outside is nice and flaky as you would expect, while the middle layer is made up of cookies & cream frosting. This item is extremely sweet. My favorite part about this macaron are those piercing and emotionless eyeballs.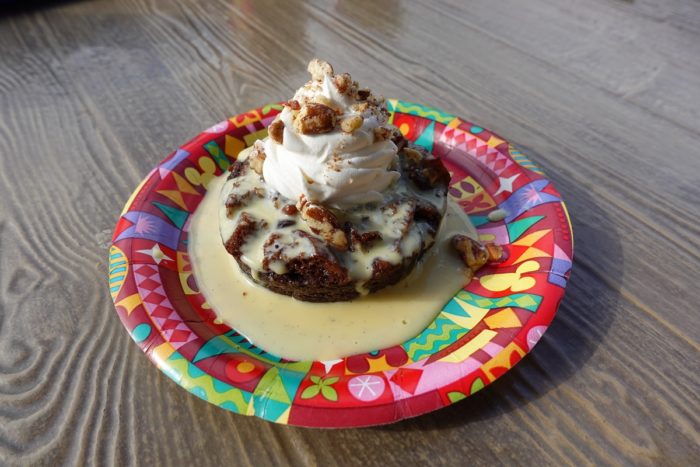 Chocolate-Espresso Bread Pudding – Pacific Wharf Cafe – Disney California Adventure – $6.49 
Pacific Wharf's bread pudding is incredibly reliable. Month after month, year after year they churn out a delicious new variation. It's made fresh on site and tastes great. This year is no exception. I'm not a coffee person at all, so I was worried I wouldn't like the flavor of this one, but thankfully the chocolate almost completely drowned out the espresso flavor.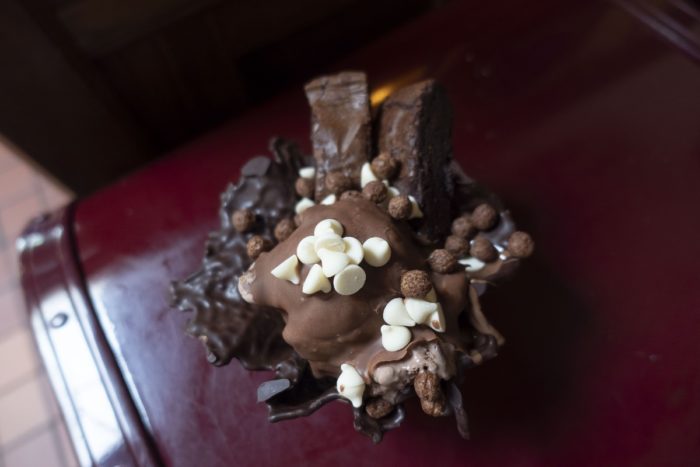 Chocolate Brownie Sundae – Clarabelle's Hand-Scooped Ice Cream – Disney California Adventure – $9.99
First of all, it may sound insane to call a $7.49 ice cream sundae a bargain but this thing is hefty and can easily feed two people. The high price tag gets you a fudge brownie, rocky road ice cream, hot fudge, and a hard chocolate shell served in a chocolate-dipped waffle cup and topped with white chocolate chips. The brownies and chocolate shell really make this sundae standout. Chocolate lovers should consider this a must try.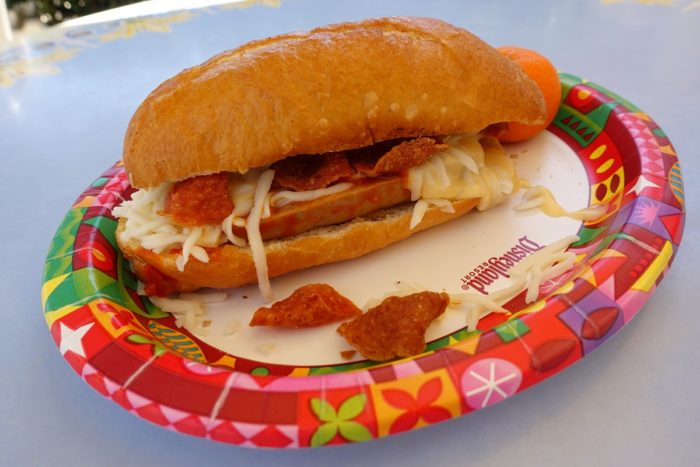 Italian Sausage Dog – Refreshment Corner – Disneyland – $12.79
Where do I even begin on this thing? High price tag, rock hard bun, flavorless crispy pepperonis, cheese that isn't even melted properly, and a low quality hot dog all rolled in to one. There's nothing to like about this item so I recommend to avoid it completely. Also get a load of the one sad Cuties orange it comes with.
Don't miss out on Disneyland's Halloween season. Be sure to check out our Disneyland Crowd Calendar, which rates every day of the year on a scale of 1 to 10 so you can see how busy Disneyland and DCA will be during your visit. Also check out our Disneyland Touring Plans which show you how to beat the crowds and spend less time in line at your favorite rides. We can even book your vacation for you. Our agents are the best in the world and they're ready and waiting to help you plan your perfect Disneyland trip. Click here to get a quote!
What are your favorite Disneyland Resort Halloween food items? Do you agree or disagree with anything I've said here? Let me know in the comments.