Review: Disneyland's Lion King Inspired Menu at Troubadour Tavern
Troubadour Tavern is a small snack counter tucked away in a far off corner Disneyland, located next door to the Fantasyland Theatre (that's theater with an "re" because it's fancy). I assume you've either forgotten about this dining location, or never knew about it in the first place. I don't blame you, it's been closed for over 2 years, and before that it was hardly ever open. I'm here to tell you Troubadour Tavern is back, and in today's post we're going to review it's new Lion King inspired menu.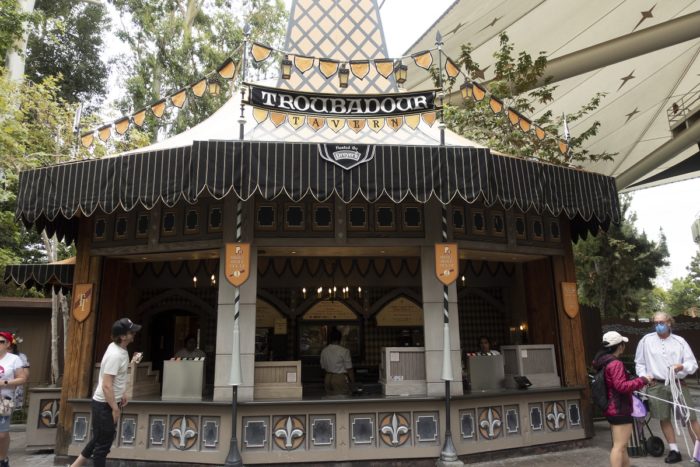 Tale of the Lion King is a new musical production taking place in the Fantasyland Theatre, which is located near 'it's a small world' and the Mickey's Toontown train station. Just outside of the theater… I mean theatre, is Troubadour Tavern. If you'd like to dine here be sure to keep it's hours of operation in mind. Troubadour Tavern closed when Tale of the Lion King is not being performed (Tuesdays and Wednesdays), and it's hours are 11:30 AM to 6:30 PM.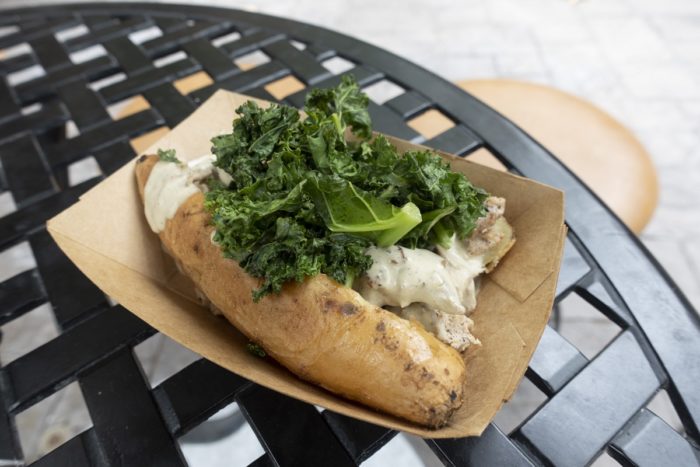 Starting off the the main attraction, the Chicken-Coconut Curry Sweet Potato. $9.49 gets you a baked sweet potato topped with Malawian chicken-coconut curry.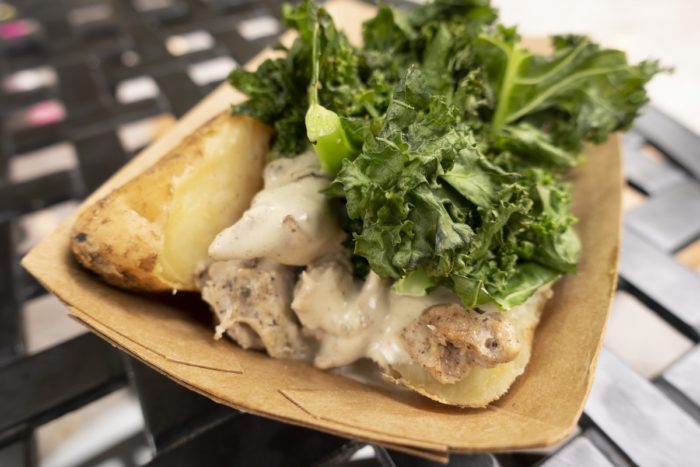 As soon as I got a whiff of the aroma from the curry it made my mouth start watering.  This has no right being as good as it is. The curry is thick and hearty, the chicken is tender, and the sweet potato is perfectly baked. I will definitely be ordering this again in the future.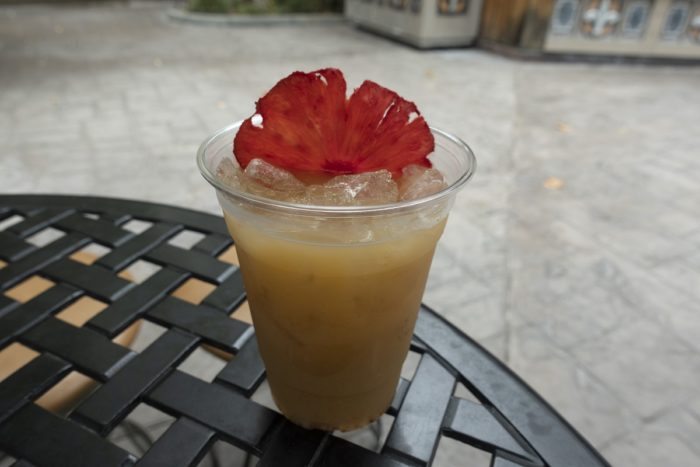 Here's the Pride Rock Punch for $5.49 with Gold Peak tea, pineapple, mango, tamarind and orange juice over ice. It's a delicious mix of flavors but unfortunately it's extremely sweet. Here's a hack for sweet Disney drinks, such as the beverages in Star Wars Galaxy's Edge. Order the drink of your choice but also ask (nicely) for a cup of water, and another extra empty cup. Then pour half of the Disney drink in to the empty cup, then half of the water from the water cup and mix together. Then do the same with the remaining Disney drink and water. Boom, now you have a drink that won't give you a sugar rush by the time you're done. Another drink on the menu is the Cardamom Cold Brew, but I'm not a coffee drinker so I was unwilling unable to try it.
The Hakuna Matata Sweets are a trio of cookies for $8.99. You may be saying; "For $9 these cookies better be good!" I'm here to tell you they are delicious.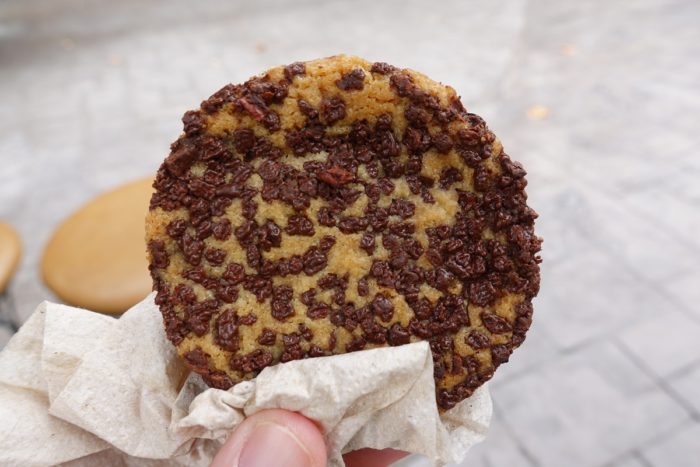 The first cookie is this chocolate chip cookie with is gloriously soft with a intense is milk chocolate taste.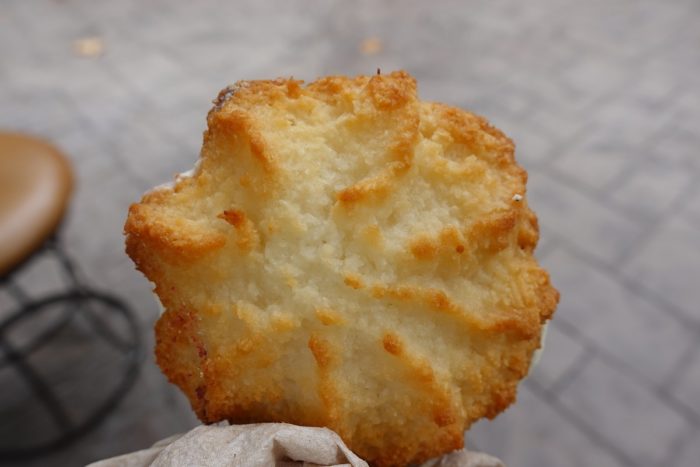 Next up is the coconut macaroon. I enjoyed it's rich buttery coconut flavor and chewy texture.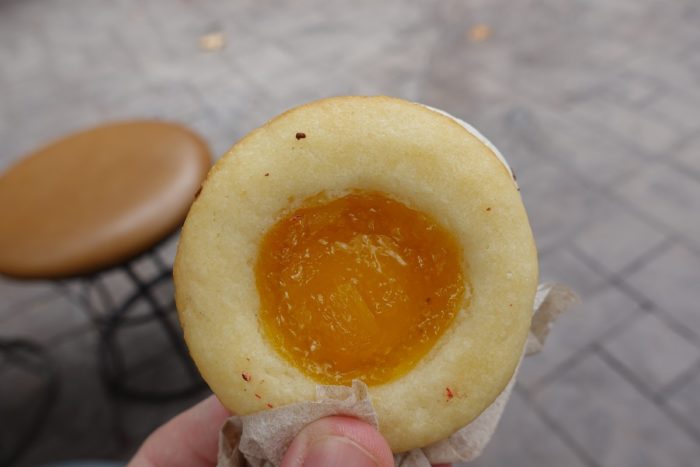 Finally we have my favorite, the Pineapple Orange Thumbprint. I'm a big fan of fruit on cookies and this did not disappoint.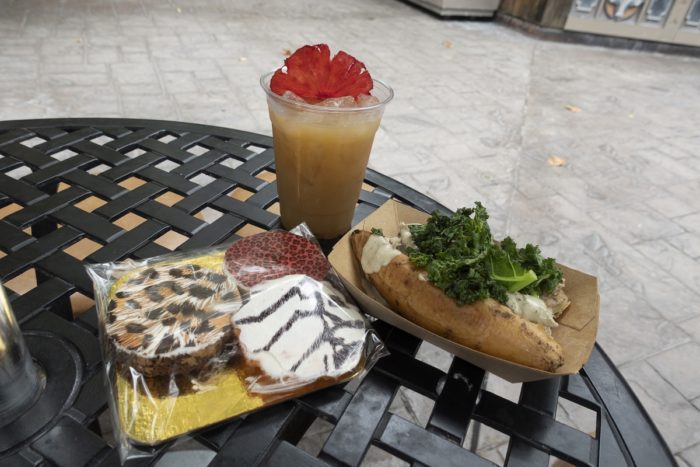 Also on the menu is salted plantain chips for $3.99 (which we didn't try but we love from Trader Joe's), and berbere-spiced popcorn which is wonderfully spiced and a great change of pace from the park's regular buttered popcorn. Overall this is a solid menu for a small quick service menu off the beaten path. In terms of flavors there's not much else in Disneyland Resort like the Chicken-Coconut Curry Sweet Potato, so be sure to check it out.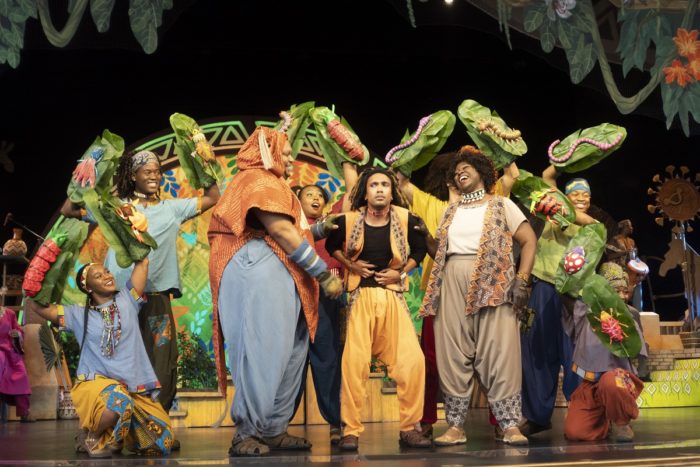 Also be sure to see Tale of the Lion King. In our review we said, "It's energetic, colorful, and a lot of fun. It's got most of the songs you love along with some great chorography. It's well worth making time out of your day to see."
Don't miss Tale of the Lion King, as well as returning favorites Fantasmic! and Main Street Electrical Parade. TouringPlans can help you plan the perfect day at Disneyland. Be sure to check out our Disneyland Crowd Calendar, which rates every day of the year on a scale of 1 to 10 so you can see how busy Disneyland and DCA will be during your visit. Also check out our Disneyland Touring Plans which show you how to beat the crowds and spend less time in line at your favorite rides. We can even book your vacation for you. Our agents are the best in the world and they're ready and waiting to help you plan your perfect Disneyland trip. Click here to get a quote!
Will you stop by Troubadour Tavern to try out it's new menu? Have you seen Tale of the Lion King yet? Let me know in the comments.