REVIEW: Has Pinocchio's Village Haus Gotten Any Better?
During a recent exploration of Magic Kingdom our field team decided to wish upon a star and hope that food at Pinocchio's Village Haus had improved. For fear of making our nose grow longer, we won't sugar coat it – it has not gotten any better. The team visited for lunch at this quick-service location that has been a part of Fantasyland since opening day. This location does offer mobile ordering, which is a great convenience. 
There is interior dining that has small dining rooms each with a mural depicting different characters from the Pinocchio film. The interior is full of classic Magic Kingdom charm. There's even a few spots with views that overlook the "it's a small world" attraction. Outdoor seating is available too, with unique views of Fantasyland.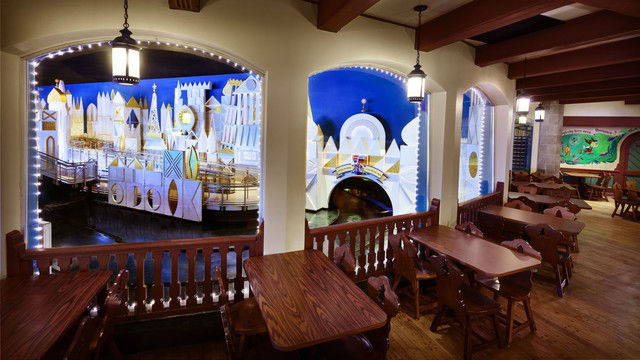 Pinocchio's Village Haus is popular with families thanks to its prominent location and recognizable characters. However, it is one of the lowest-rated dining locations at Walt Disney World according to over 500,000+ surveys on our site from the past few years. It ranks #71 out of 107 dining options at Walt Disney World, with a grade of C, and a 82% thumbs up.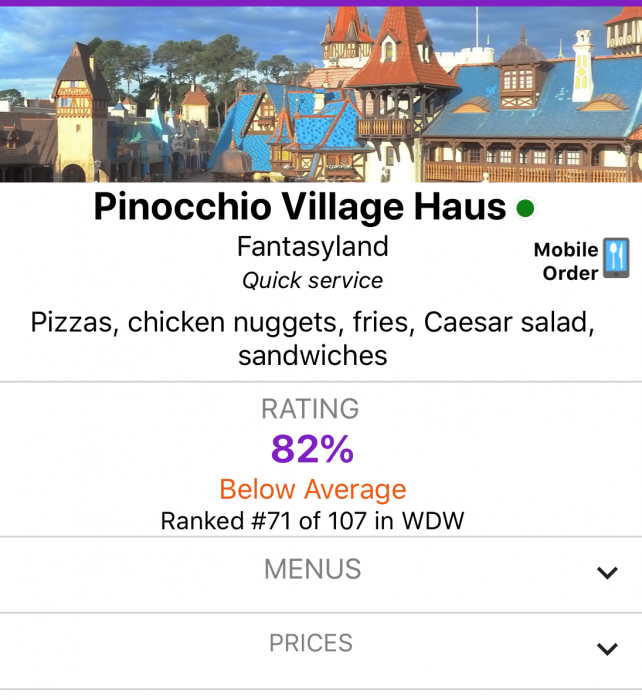 You can see the menu for Pinocchio's Village Haus here. Our team ordered the following:
Gourmet Cheese Flatbread with Tomato Sauce, Cheddar, Mozzarella, Provolone, Parmesan $11.99
Antipasto Salad – Diced Ham, Salami, Tomatoes, Cucumber, Red Onion, Provolone, and Romaine Lettuce, with Zinfandel Vinaigrette $9.99
Kids' Chicken Breast Nuggets Meal with Dannon Danimals Smoothie, GoGo SqueeZ Applesauce, and Dasani Water $7.49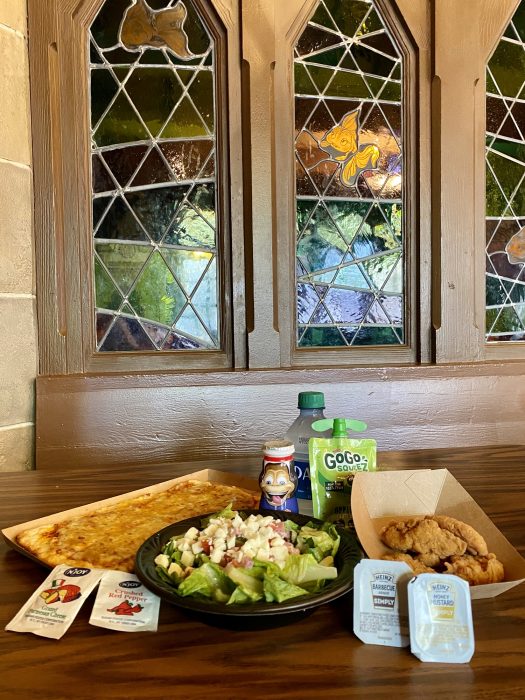 The cheese flatbread does not deserve the "gourmet" designation. It is edible, but there are far better meals available throughout Magic Kingdom for the same price. The Antipasto Salad had been sitting a while and was not fresh or very flavorful. And what can we say about kids' chicken nuggets? Kids tend to like them and the yogurt smoothie and applesauce are safe accompaniments.
Our recommendation would be to walk a few steps over to Liberty Square and dine at Columbia Harbor House, which has much higher ratings and better food. However, Columbia Harbor House is currently closed, so Pecos Bill Tall Tale Cafe would be a good choice.
Impress friends and family with your knowledge about Disney dining. Become a TouringPlans subscriber and you'll have a wealth of knowledge at your fingertips.
Want to vote where we eat next? Keep an eye on our Twitter feed for upcoming polls.