The SATURDAY SIX Spends a Day at Disney's Hollywood Studios
This week's SATURDAY SIX takes a look at Disney's Hollywood Studios! We've been making our way around the Orlando theme parks to see what has changed since they reopened after an unprecedented closure. So far we've been to the Universal theme parks and Volcano Bay, along with Disney's Animal Kingdom. Today we are going to look at the park which is the most difficult of all to get into this Summer, Disney's Hollywood Studios….
# 6 – Arrival and First Impression
When going to any Disney park now, one thing you're going to notice is that the "good old days" of an early morning rope drop are gone. For our visit this week, Disney's Hollywood studios opened at 10AM, and they were actively turning cars away from the parking plaza at 8:30AM. The Cast Members were telling everyone to come back at 9:15AM and they could start letting people in. The good news is that with the new parking procedure, everything is open from the point at which you park your car to actually stepping into DHS. The bad news is that the first release of Rise of the Resistance Virtual Queue times is promptly at 10AM, so you may give yourself several mini-heart attacks when making sure your entire party is inside the park for that.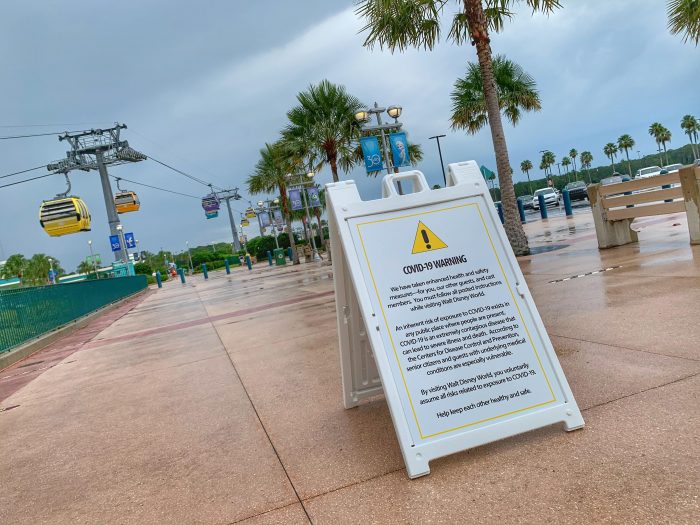 All guests get their temperature taken upon arrival. After that is bag check, which has gotten a million times better with the debut of newly installed artificial intelligence scanners.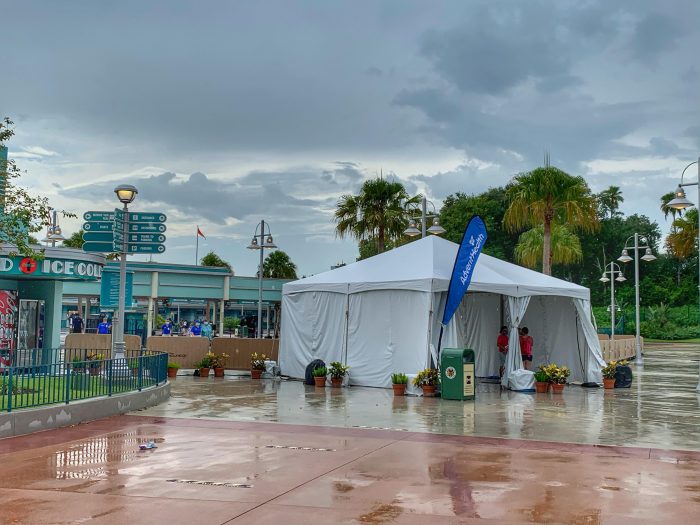 Face coverings are required to enter the park, and if you don't have one Disney has a mask vending machine available.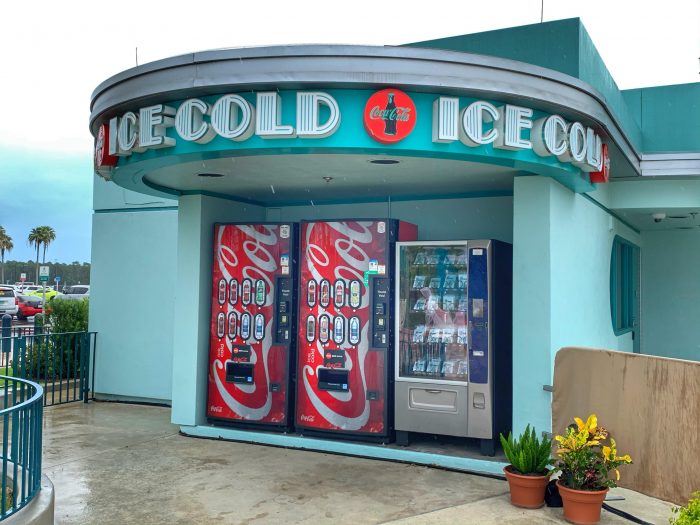 Right now the current procedure for Rise of the Resistance Virtual Queue is that boarding groups are released at 10AM and at 2PM. For the most part, these groups are taken within seconds, so you have to be prepared. Even then, there's a good chance you might not get a boarding group, which is why the Guest Relations area almost always has one of the largest lines in the entire park.
What's also interesting is that after guests get (or more importantly, don't get) a Virtual Queue spot at 2PM, much of the park completely clears out. This is where it becomes crazy that Disney doesn't allow park hopping. At the very least allow people to hop on over to EPCOT to spend some money dining. Instead, Disney is cutting overall park hours, which will most surely turn Disney Springs into a madhouse at night. To me it seems like a very shortsighted decision that may make stockholders happy at the expense of Cast Members and the overall guest experience.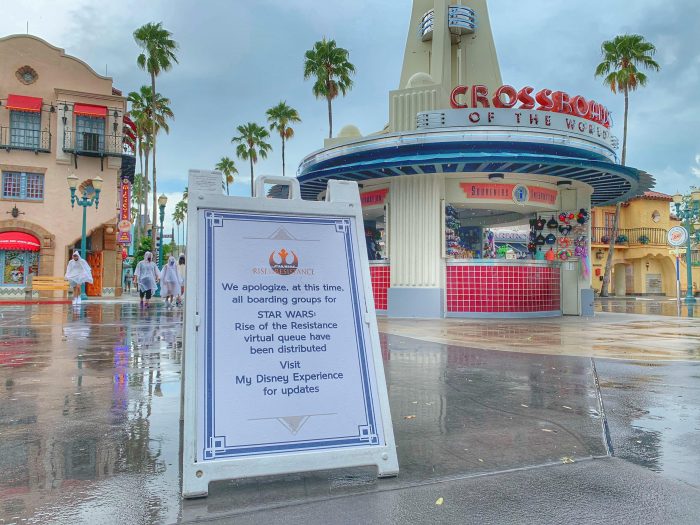 There are health and safety reminders throughout the park.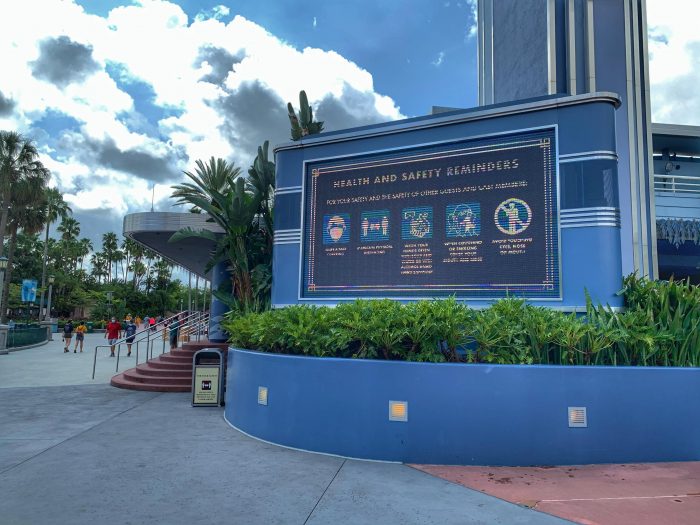 You'll also find hand sanitizer stations in many places that you go.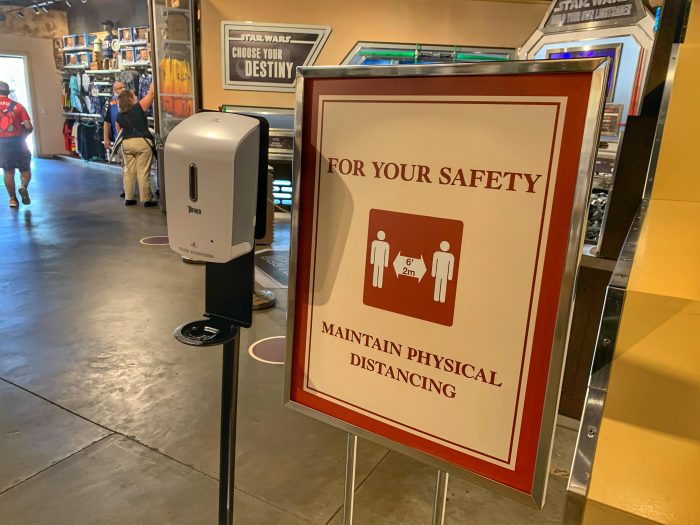 Building your own lightsaber is much more of a formal procedure now.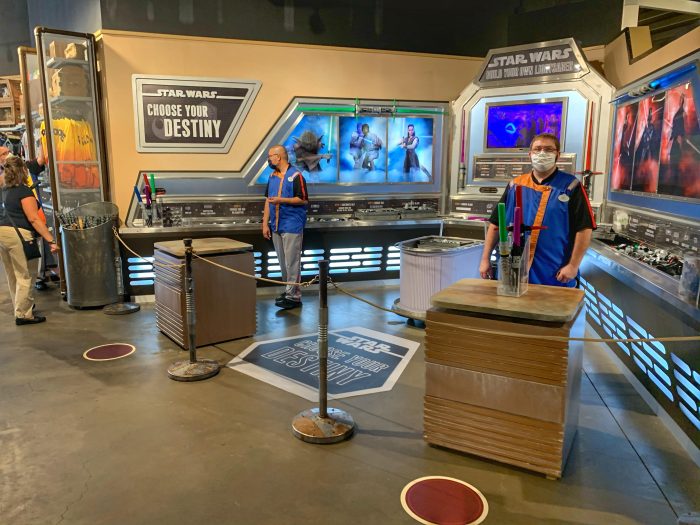 Trashcans have had their lids propped open so that you don't have to press on them when disposing your garbage.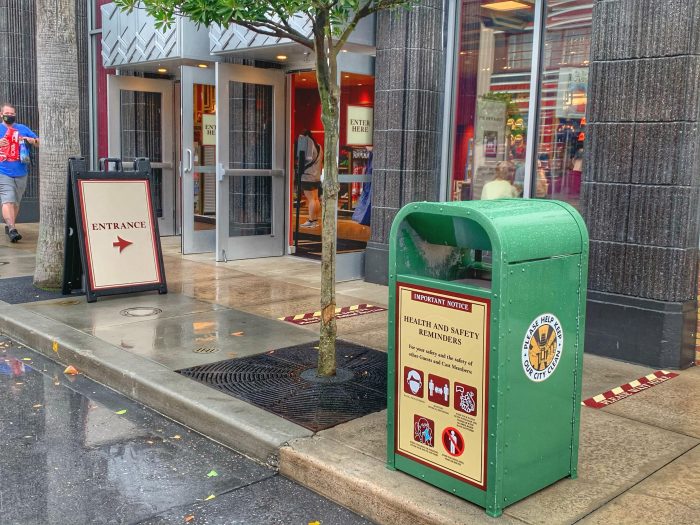 2020 branded merchandise has recently been put on BOGO status, which is a pretty rare discount at Walt Disney World.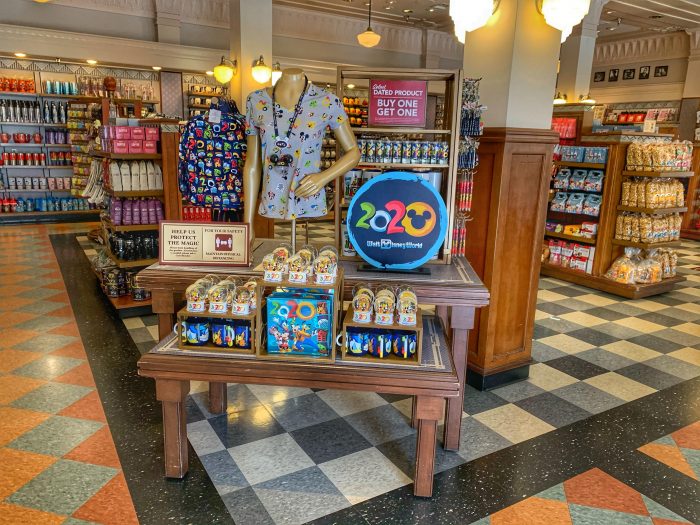 The park's newest attraction, Mickey & Minnie's Runaway Railway, consistently gets the longest wait throughout the day.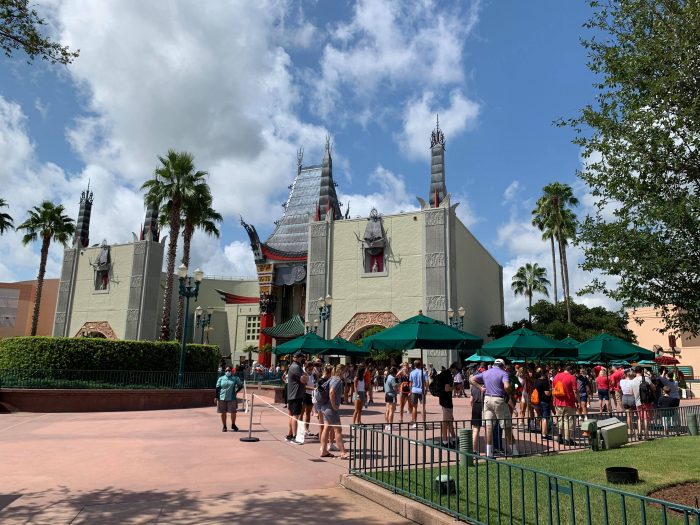 However, large sections of the parks now can have almost no one around, especially when you're in an area with not much going on. With meet and greets discontinued and Launch Bay being used as a rest area, the Animation Courtyard can be a ghost town. For those who have been following the @TouringPlans account on Twitter, our own Len Testa has been out and about in the parks and giving tips based on his experiences. One recommendation that Len has is coming to this area in the morning as you prepare for the morning release of Rise of the Resistance Virtual Queue spots.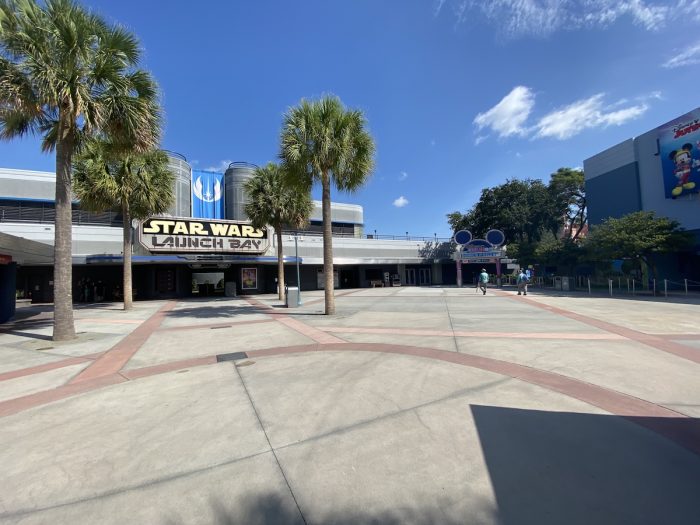 While Disney officially closed down some attractions last week, including Stitch's Great Escape at Magic Kingdom and Primeval Whirl at Animal Kingdom, it has been rumored that Voyage of the Little Mermaid at DHS won't be coming back either. Granted the show has been around forever, but I always thought it was an underrated gem with some neat effects. I loved the way they simulated that the audience was under water.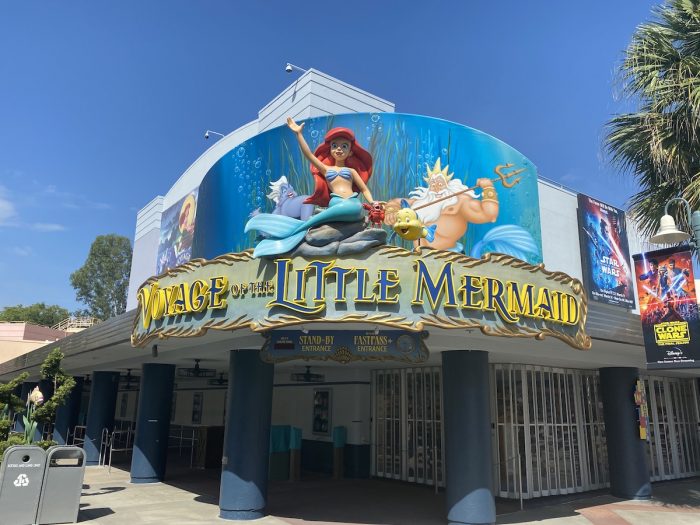 You'll be seeing some shockingly low wait times if you head to the parks.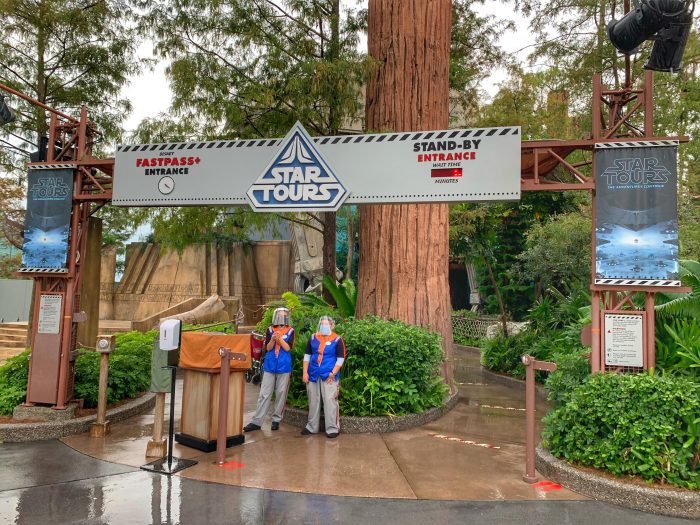 This past week Disney had their earnings report, and I wish someone would have asked what the plexi-glass/plastic budget was for this year because it is everywhere.
When it comes to seating, the rows are staggered, with every other row having guests.  Within the seated rows there are plastic dividers as well.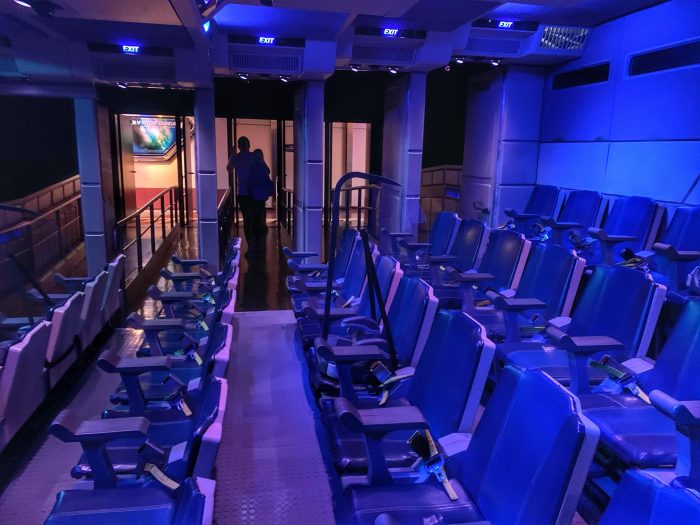 Lower crowds also means you get more alone time for photos, such as in the exit area for the Mickey Mouse short film Vacation Fun.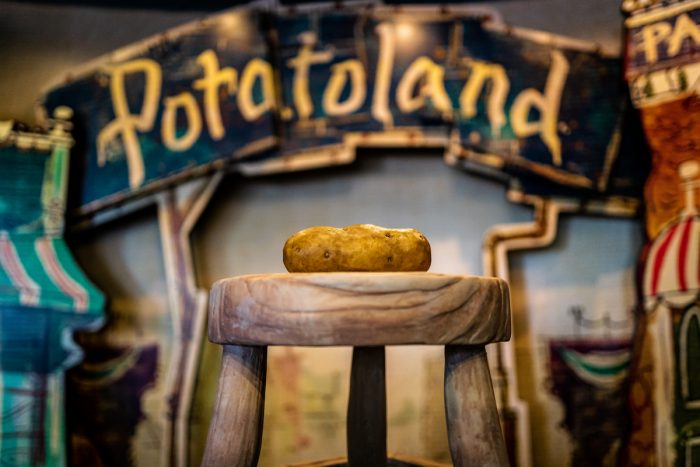 If you were ever looking to sharpen your photography skills with not having many people in the background, now's your chance.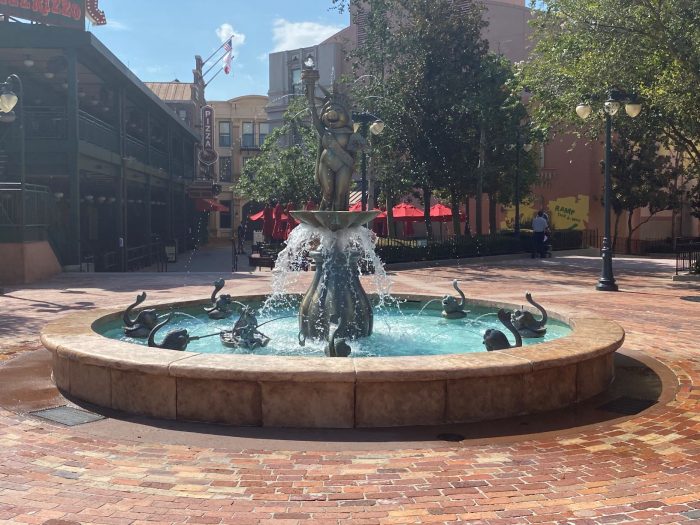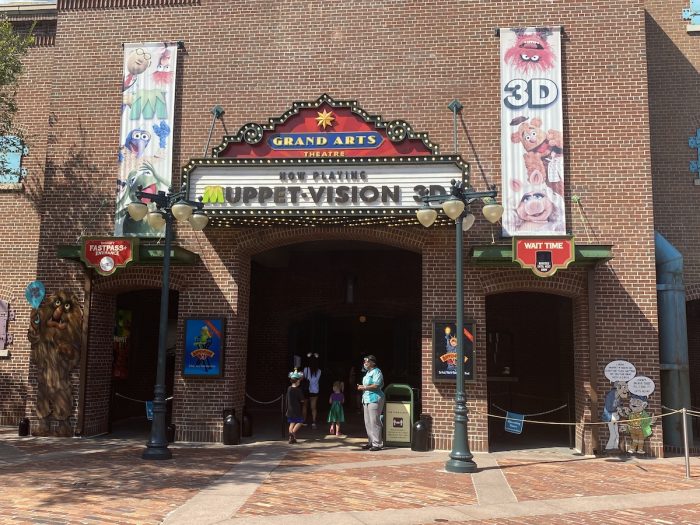 It has been a long-running joke in the theme park universe to "move forward and fill all the available space," but as soon as Scooter mentioned this in the Muppet-Vision pre-show, a Cast Member quickly reminded guests NOT to do that. Instead we were directed to stand in specific spots.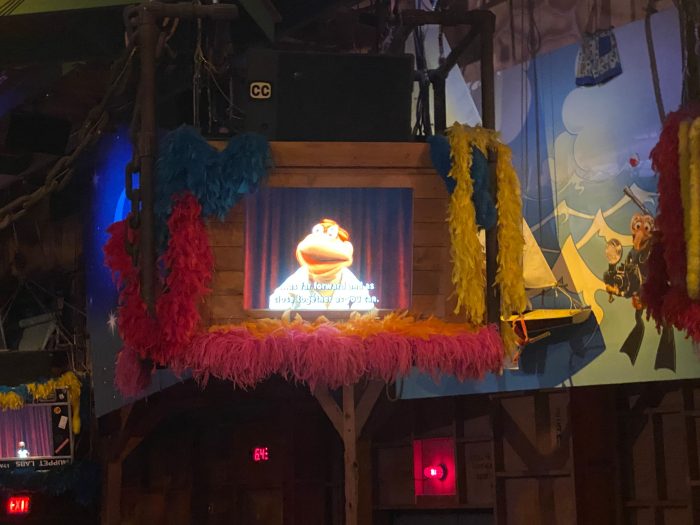 There are several Relaxation Stations at DHS. This is the only place you can take off your face masks outside of eating or drinking in a specific spot.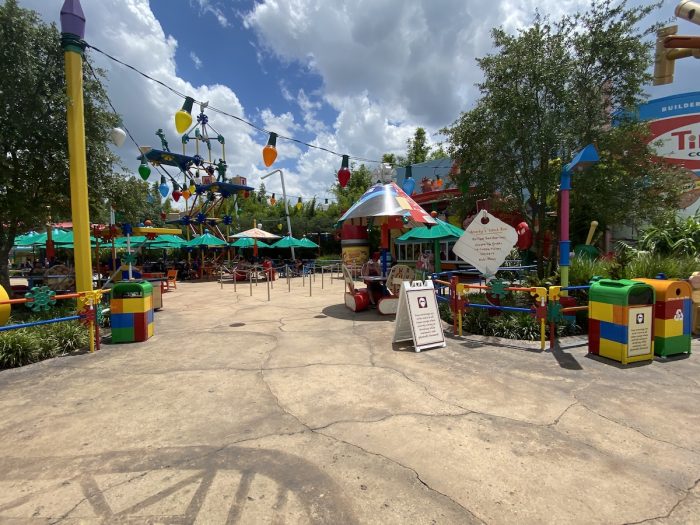 One thing Disney has gone ALL IN on is mobile ordering. They are trying to make sure every single guest uses mobile ordering, to the point where Cast Members will teach you how to download the app if you don't have it on your phone. Here's the thing though, if you mobile order, you have to wait outside until the app says your order is ready to pick up. From our experience, each of the quick service locations does have a place inside where you can place your order and pay with cash, but – also from our experience – the Cast Members will do everything they can to dissuade you from doing that.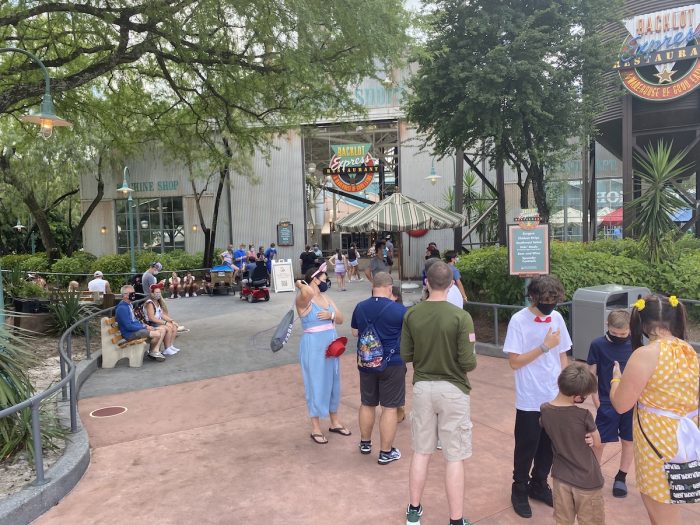 Like Festival of the Lion King and Finding Nemo: The Musical at Animal Kingdom, the Indiana Jones Epic Stunt Spectacular has not had shows since the reopening of the park.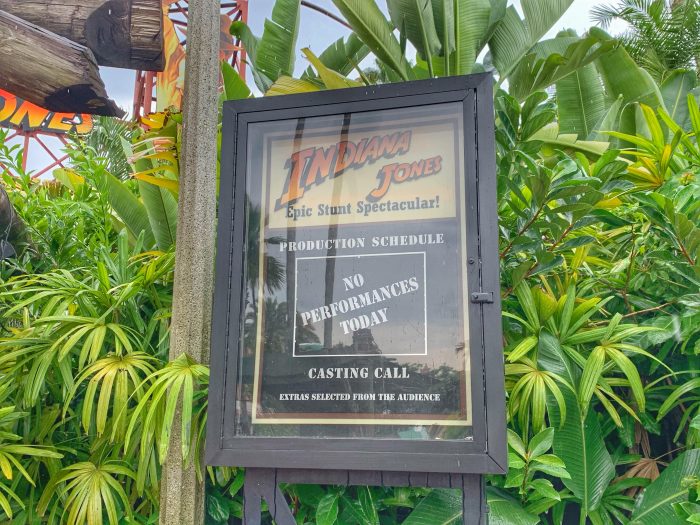 # 5 – Character Cavalcades
We mentioned that meet and greets have been at least temporarily stopped, but the parks have found a fun way around this. At Animal Kingdom we saw that characters were on floating barges. At DHS, there are small motorcar parades in which characters pass by guests. There are three different "cavalcades" to experience. One features Mickey, Minnie, Pluto, Chip and Dale. Another features characters from Disney Junior shows. The third has Toy Story characters.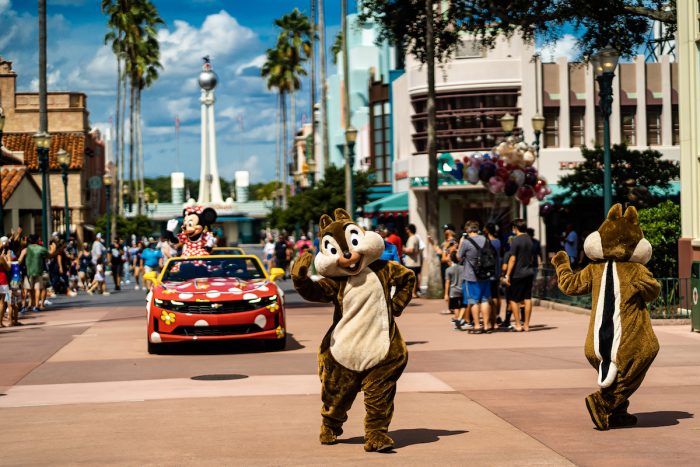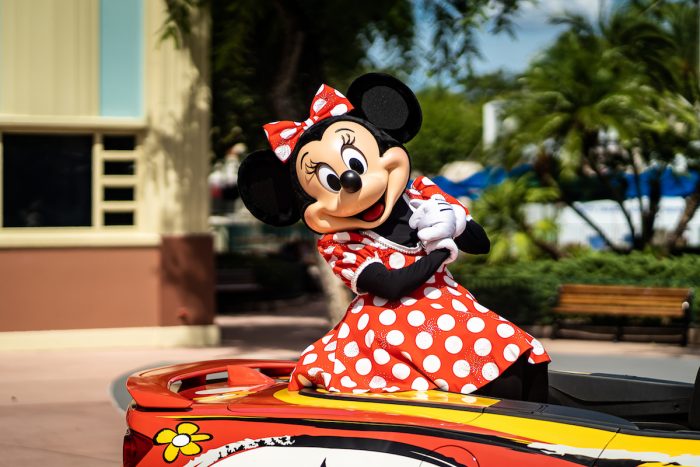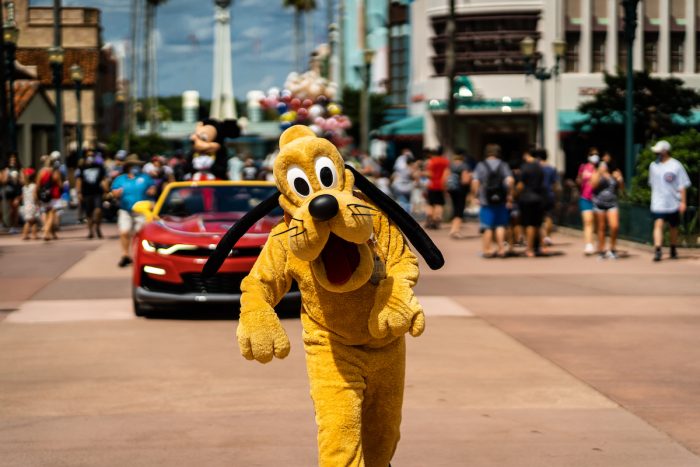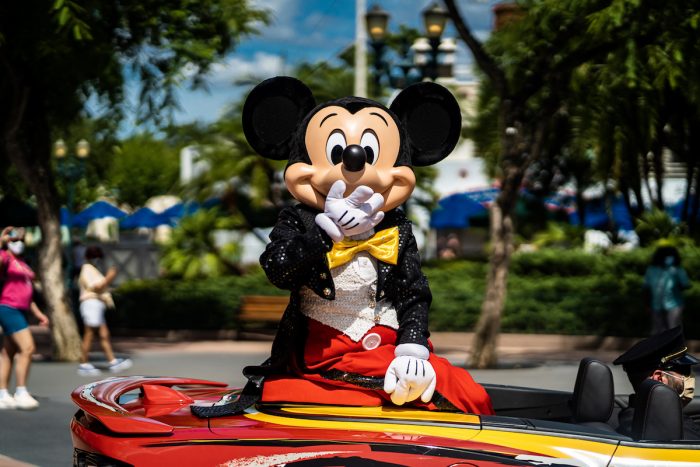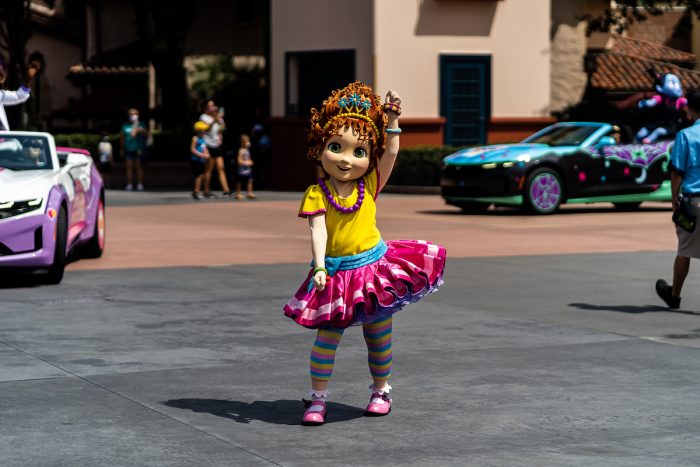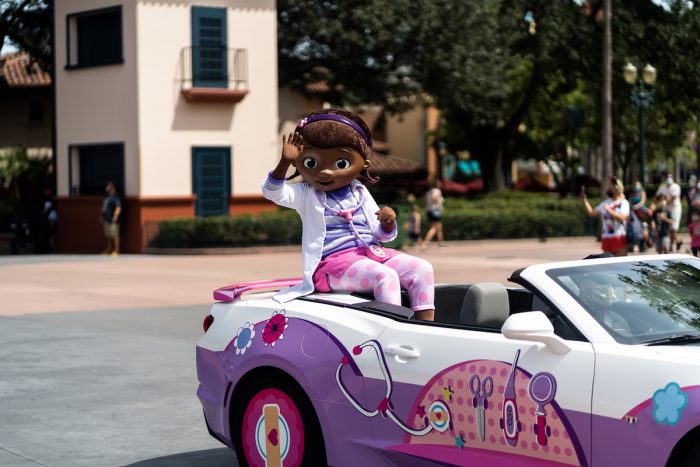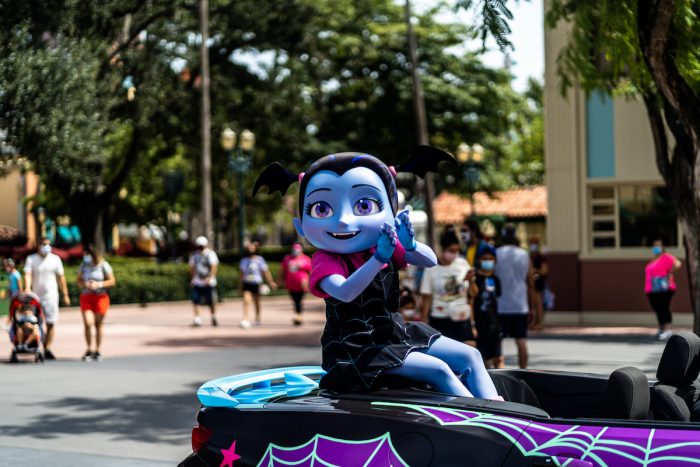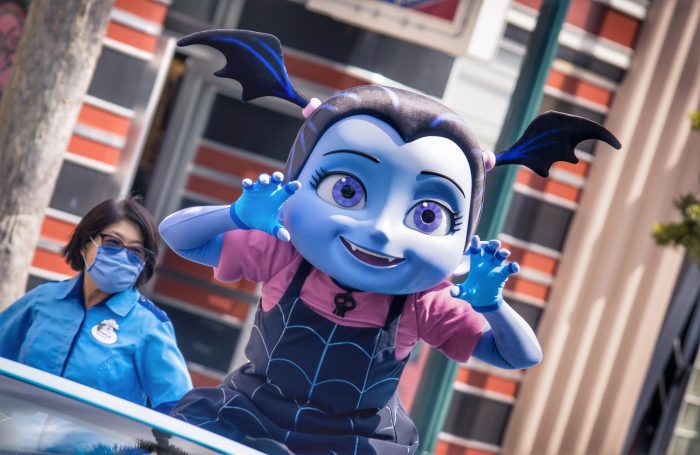 # 4 – Disney Junior Play & Dance!
Now, the reason shows like the Indiana Jones Epic Stunt Spectacular aren't taking place right now is because of a disagreement between Disney and an equity actors union. An equity actor is generally a Cast Member who has a speaking or performance role in front of guests. Recently, DHS has restarted two shows in the park with some changes in them to get around this stalemate with the equity actors. The first is Disney Junior Play & Dance! and here we have some Disney Junior characters and a DJ playing music from Disney Junior shows. The characters include Mickey Mouse (in his Roadster Racers outfit), Doc McStuffins, Vampirina, and Timon (from The Lion Guard).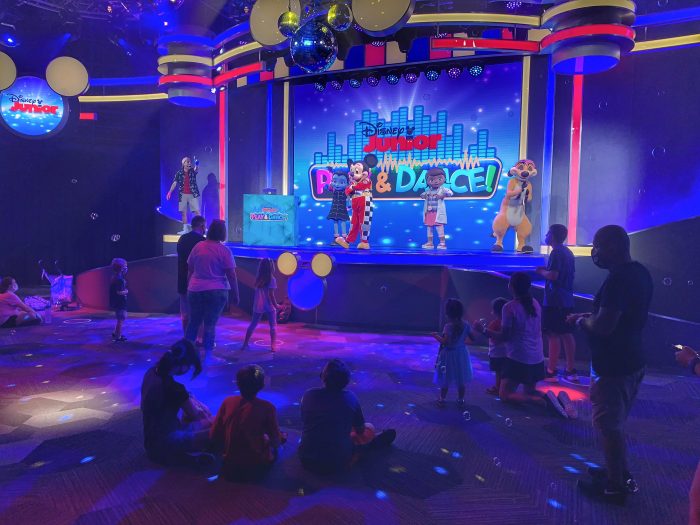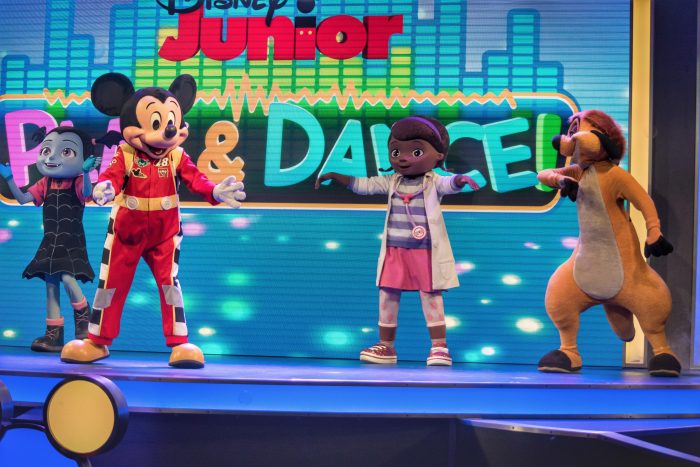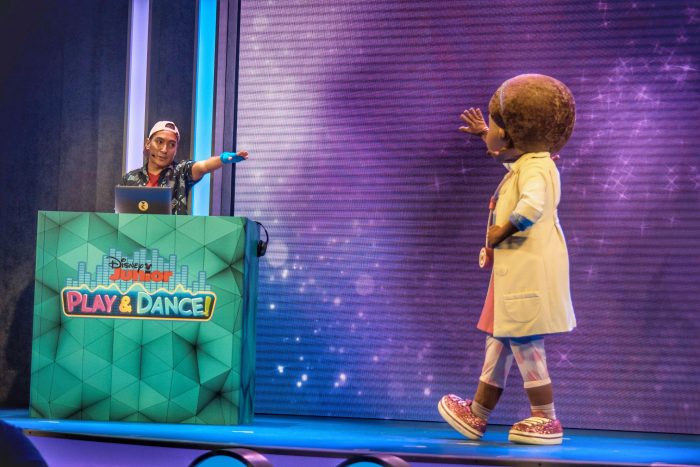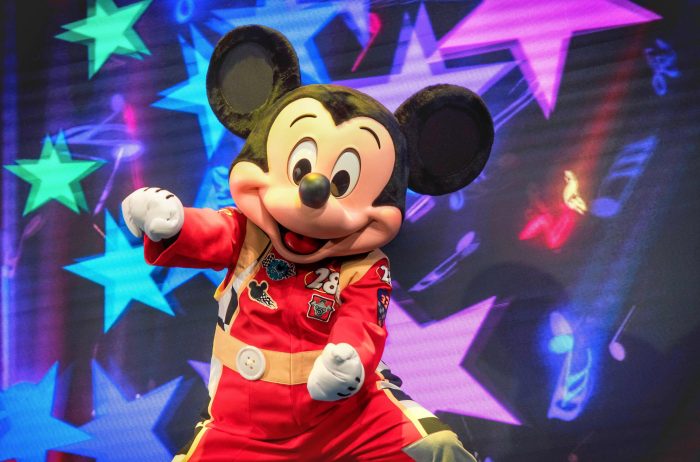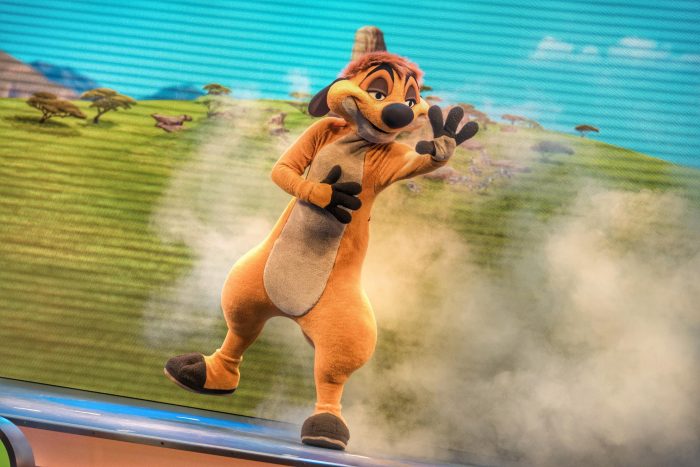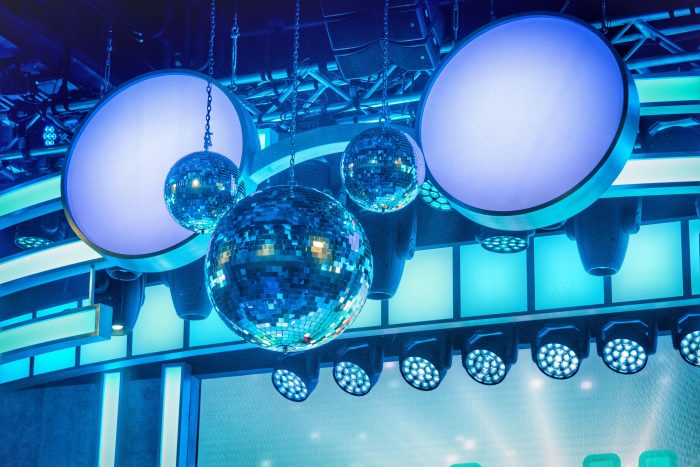 The other tweaked show? Well, we will get to that right after we check out one of our favorite ride experiences in all of Walt Disney World.
# 3 – Tower of Terror: Still Great
For us, no trip to DHS is complete with a ride on Tower of Terror. Everything about this attraction is E-Ticket, including the iconic facade.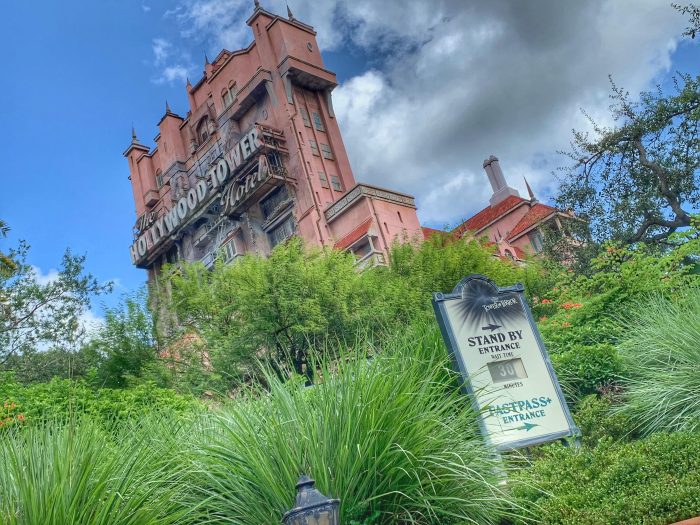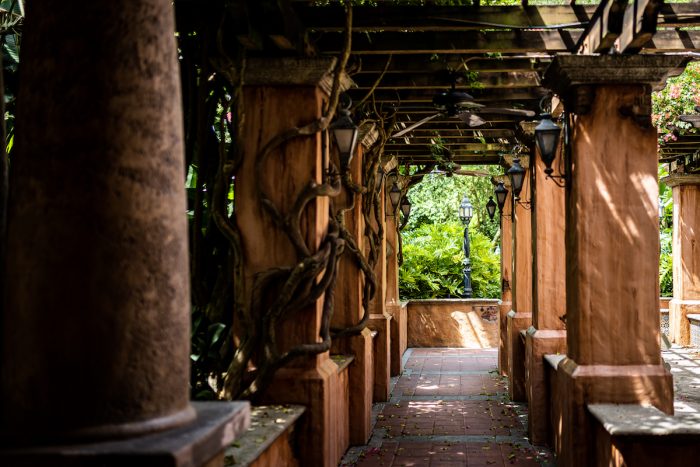 This photo from the Tower of Terror lobby may be a sneak peak of our upcoming service at the US Post Office if our government gets its way.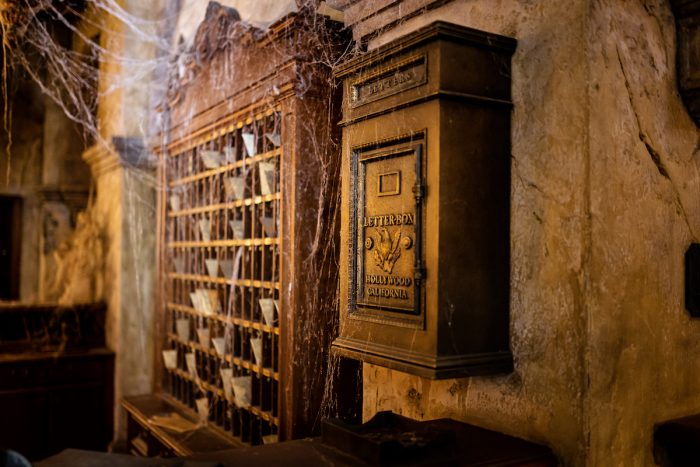 The creepy atmosphere throughout the Tower of Terror queue is perfect.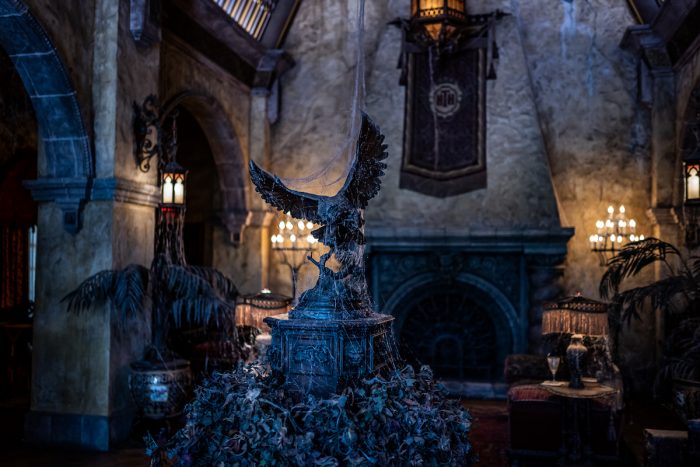 The boiler room area takes it up a notch.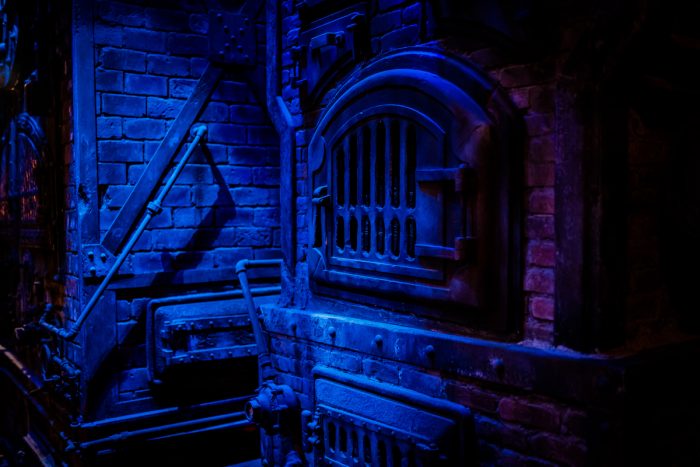 In normal conditions, this is the point in an attraction when you have to make an educated guess on which way will be the fastest. If you're like me, you always choose the wrong one. In our "new normal," most of the choice is made for you because the attractions are only using one side.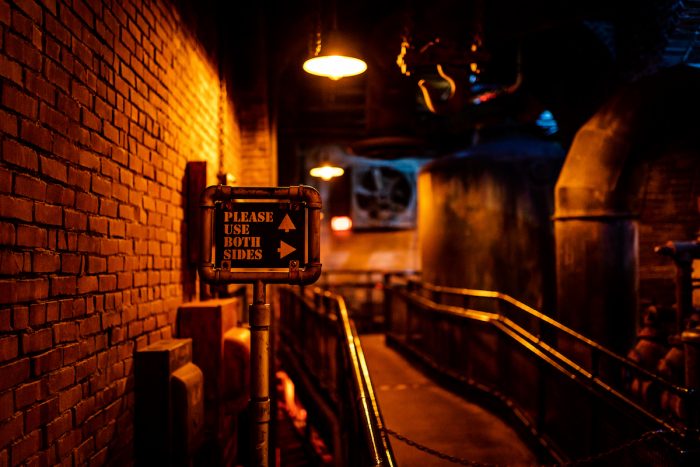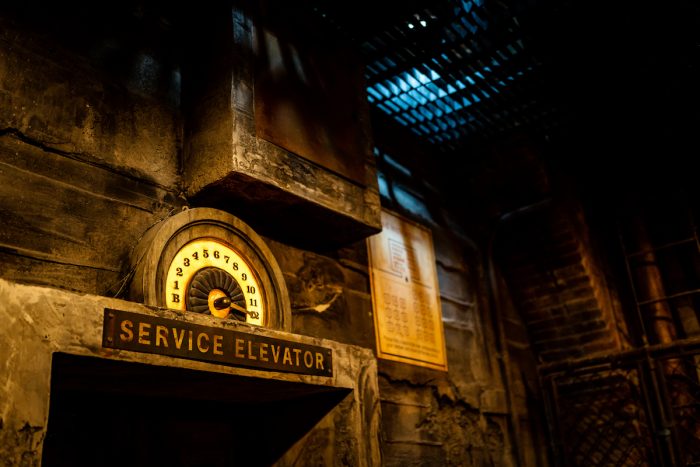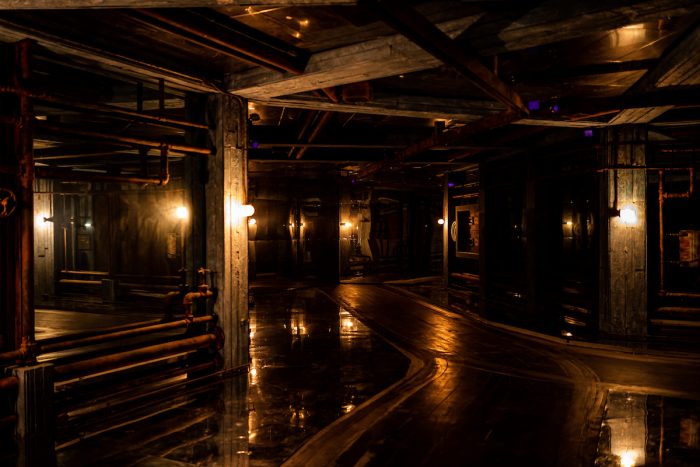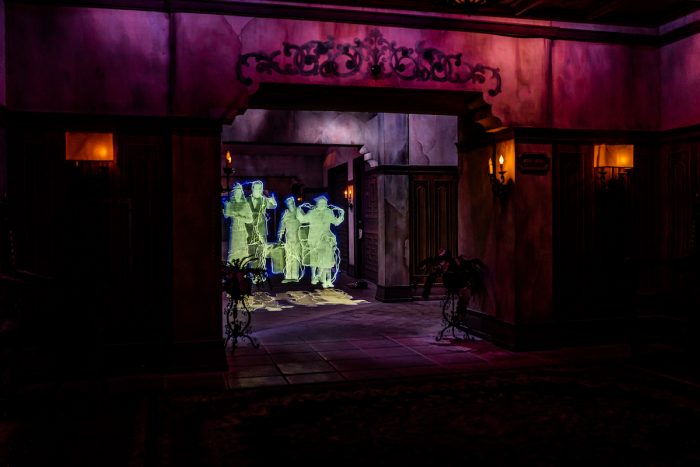 Near the Tower of Terror is the Theater of the Stars, which held performances of Beauty & the Beast – Live on Stage. Currently this theater is home to The Disney Society Orchestra and Friends. Again, this is because of the dispute between Disney and an actors' equity union. The new show features a six-piece band playing music from various Disney movies and TV shows. At the end of the show, we do get to see some a brief appearance by some the characters we are used to from the Beauty & the Beast show, including; Belle, Beast, Lumiere, Cogsworth, Chip, and Mrs. Potts.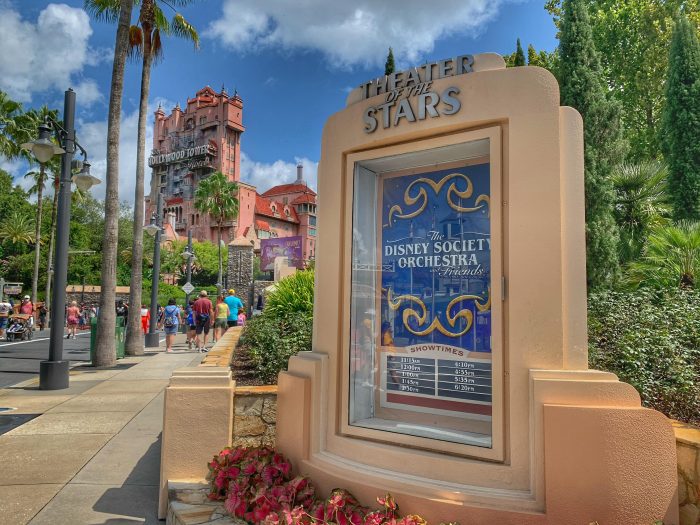 # 2 – Toy Story Land
Time for a quick stop into Toy Story Land to see what's going on.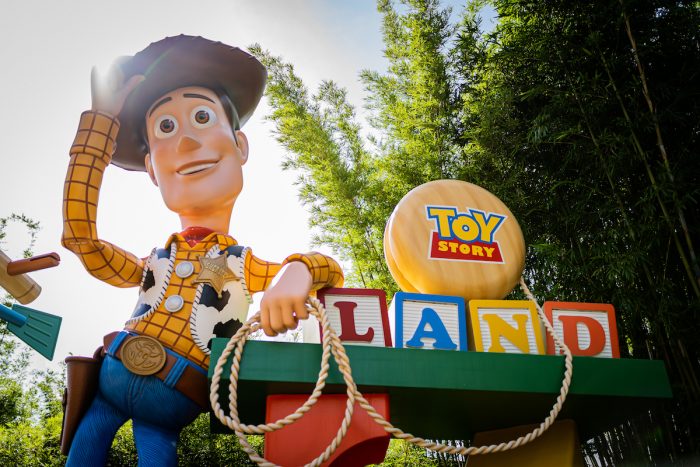 Signage and social distance markings are pretty much throughout DHS.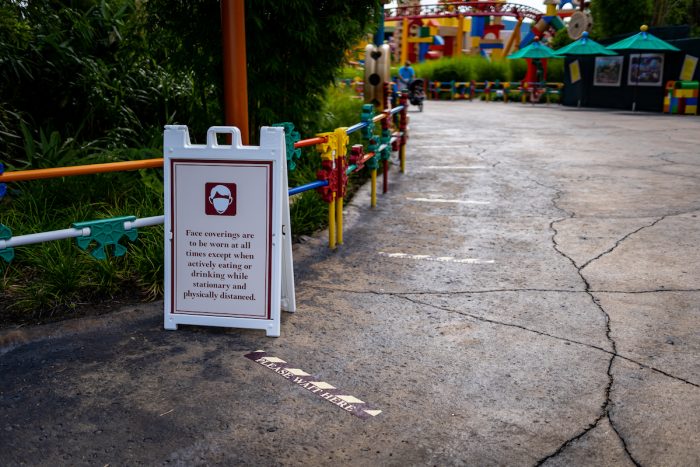 Plenty of dividers have been installed as well.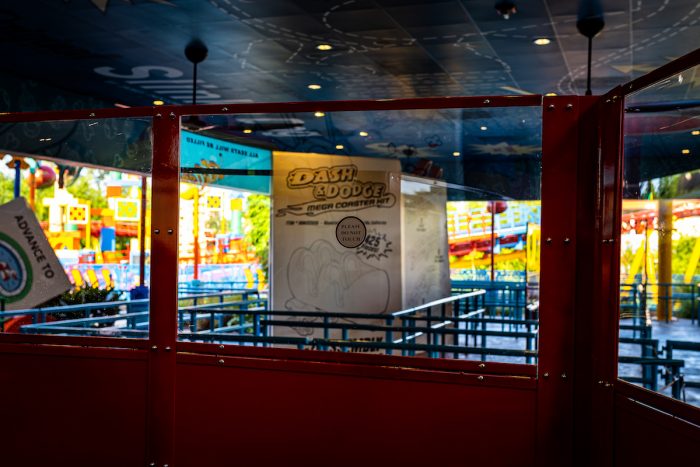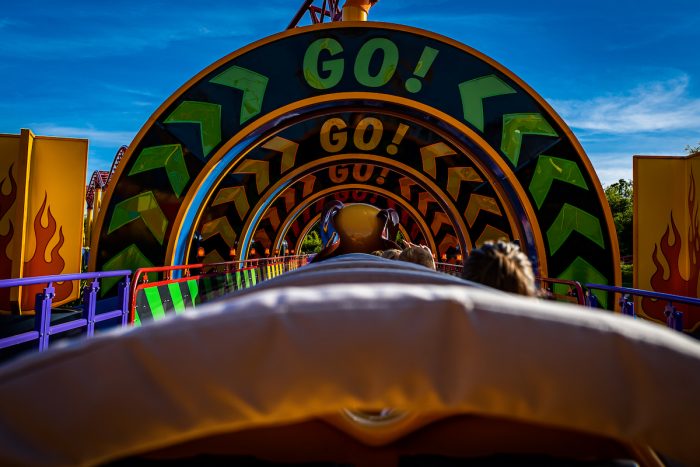 Last year we wrote an article on our favorite Easter Eggs in Toy Story Land, one of which includes the detail on this UPC symbol you'll see while on Slinky Dog Dash.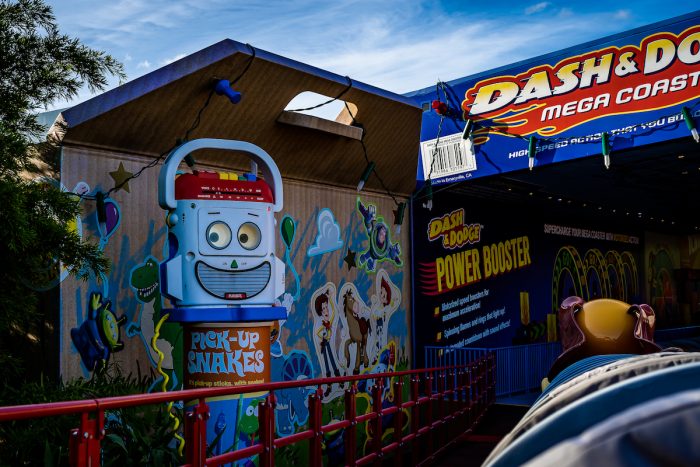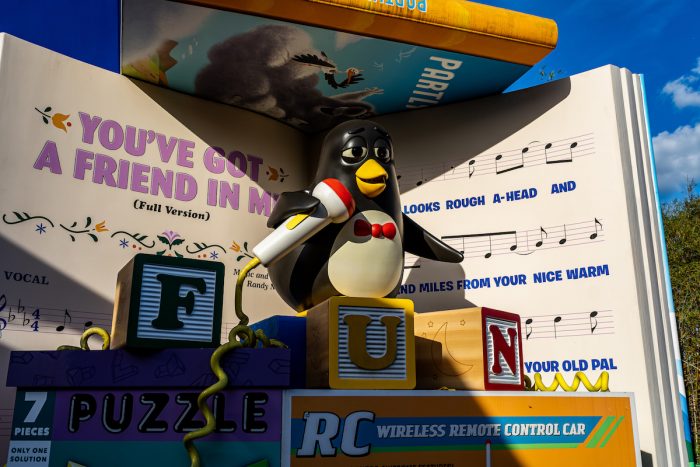 Gotta love waits like this for Toy Story Mania!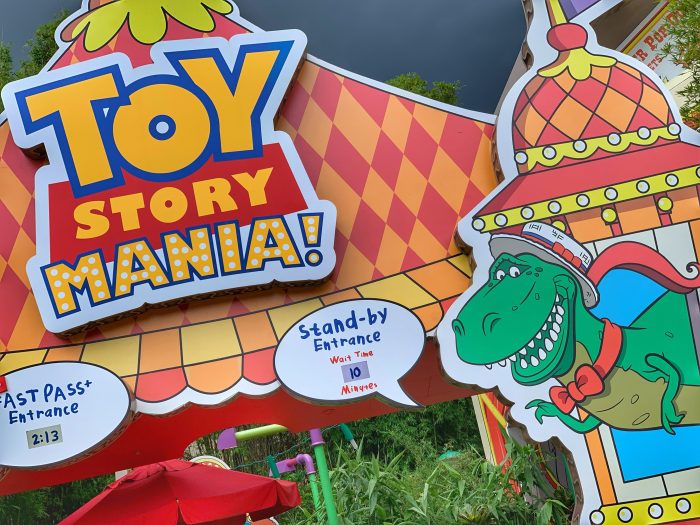 This is about the wait that Alien Swirling Saucers is worth.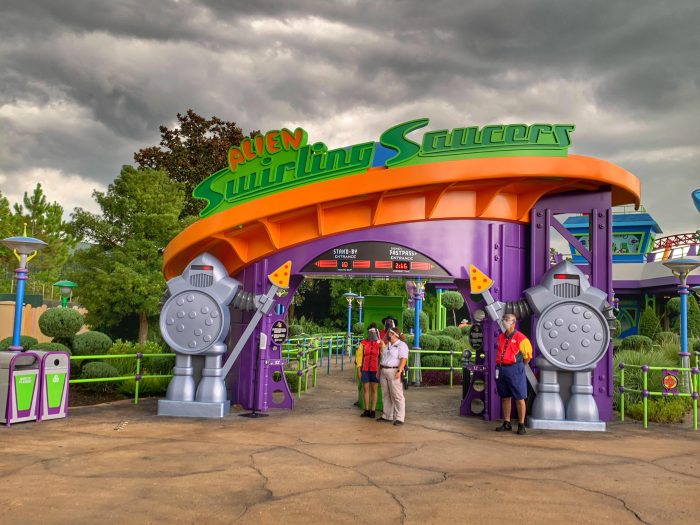 Update on where the the Woody's Roundup BBQ restaurant will be. As you can see, construction wasn't fast tracked on this. The Woody's Lunchbox quick service has been shut down, and instead is being used as a rest area.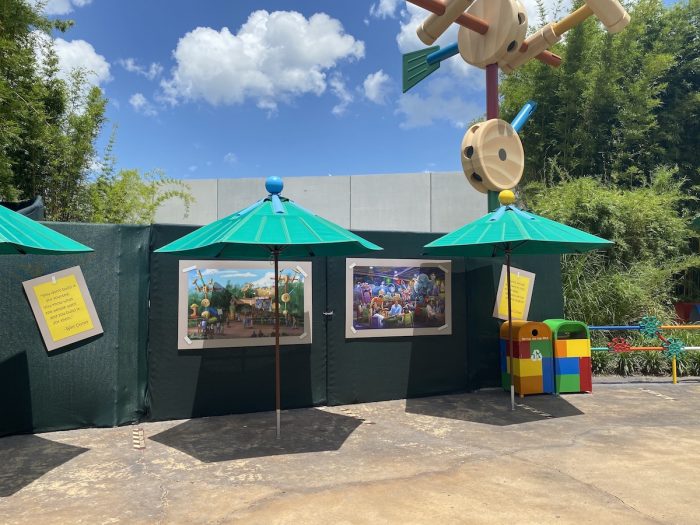 # 1 – Star Wars: Galaxy's Edge
We started off our journey by talking about how DHS is the hardest of all the parks to get into right now. That's partly because Disney is throttling capacity for Annual Passholders, but also because the park has three of WDW's newest attractions (Runaway Railway, Vacation Time short film, and Rise of the Resistance). Turns out, theme park guests like "new stuff." Who knew?
Galaxy's Edge is still fantastic to photograph.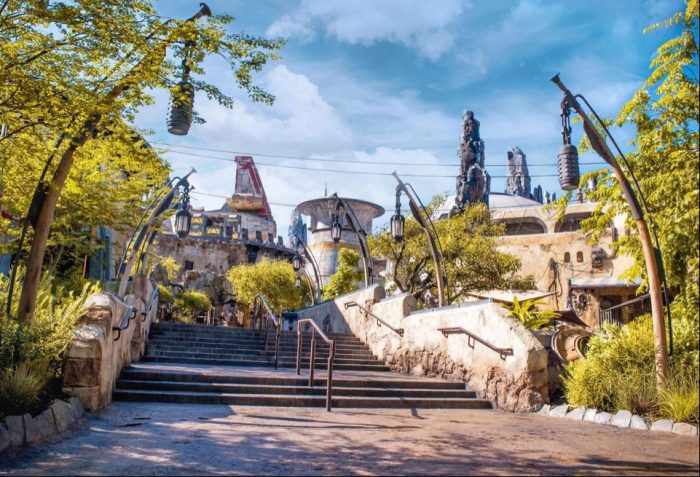 It's generally not this empty, as people are always milling about, but nowhere near the crowds we saw before the park's shut down. This may be the closest we at WDW get to experience the low crowds Disneyland saw after opening Galaxy's Edge last year.
Galaxy's Edge has a dedicated Relaxation Station.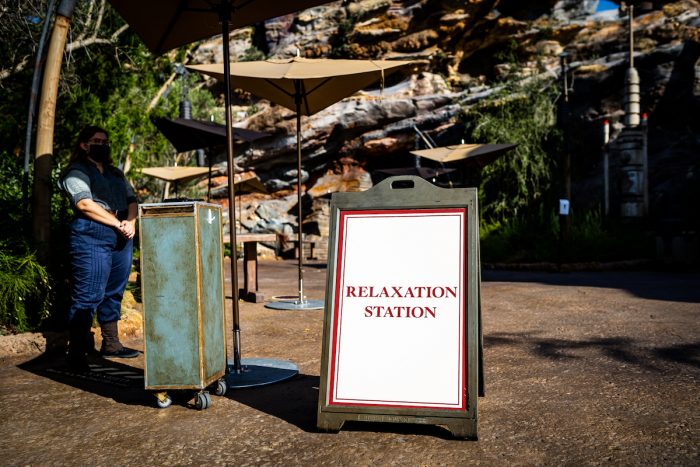 Safety signs in Batuu are in English, not the made-up Star Wars Aurebesh language.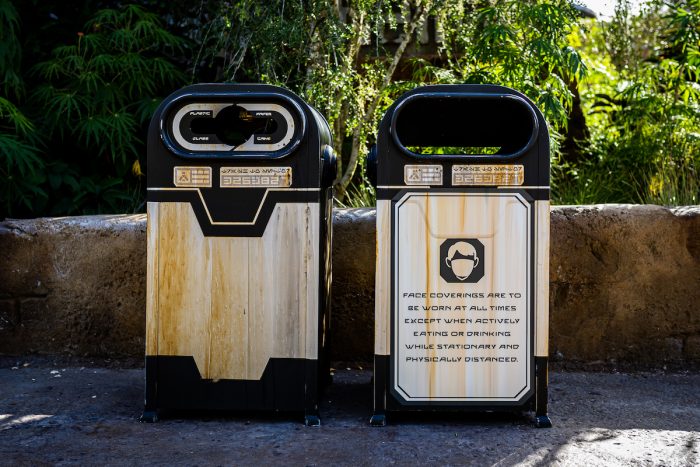 Stormtroopers are out watching your every move.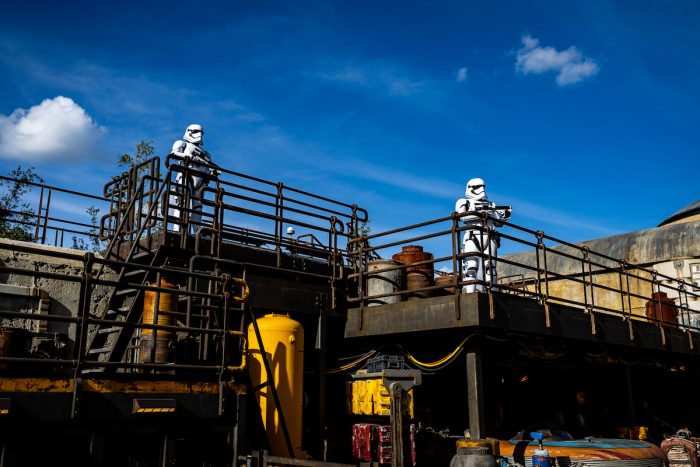 You'll also see the "good guys" like Rey.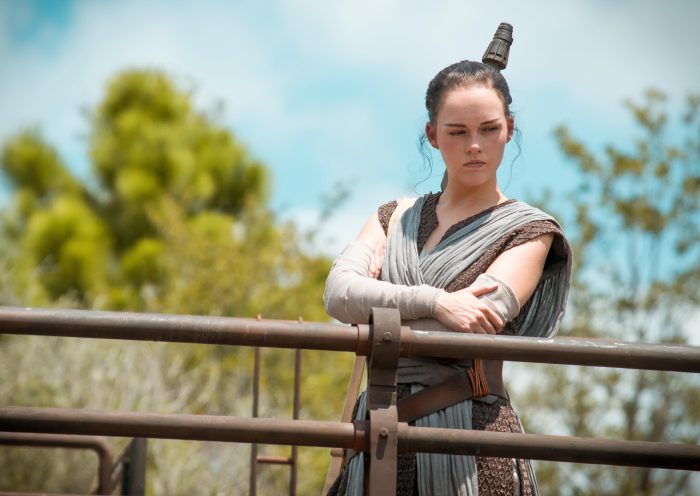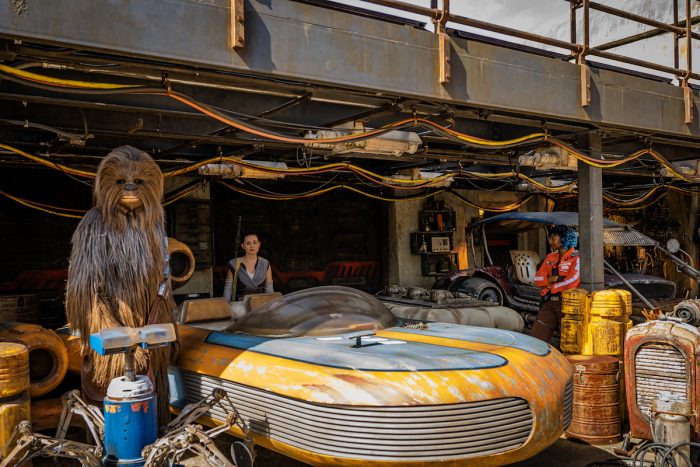 The Millennium Falcon looks as gorgeous as ever.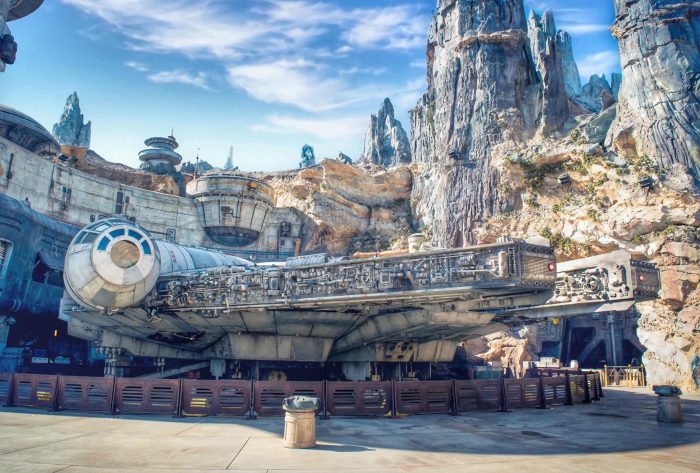 As for the attraction Smugglers Run, each "Falcon" is now controlled solely by one group, which can mean just one person if you're talking about your average theme park blogger. Previously, your chances of getting "Engineer" were pretty high, but now every group of one or two is "Pilots" with the rest of the ship on auto control.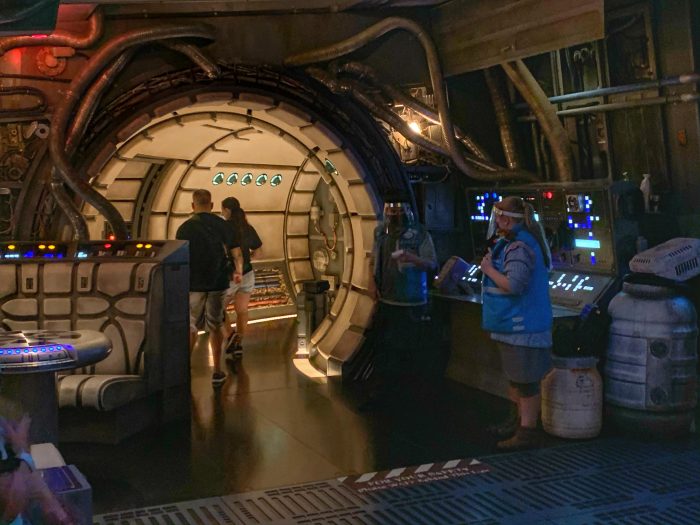 If Smugglers Run happens to go down during the day, this is the blockade of Cast Members you will see outside the attraction making sure you don't enter.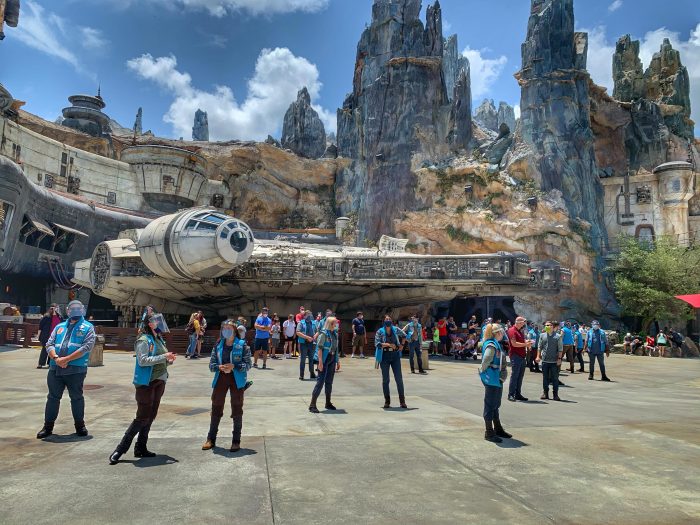 Not long ago we had a special PLASTIC IN THE PARKS feature at Disney Springs, and here we were able to get a shot in Batuu.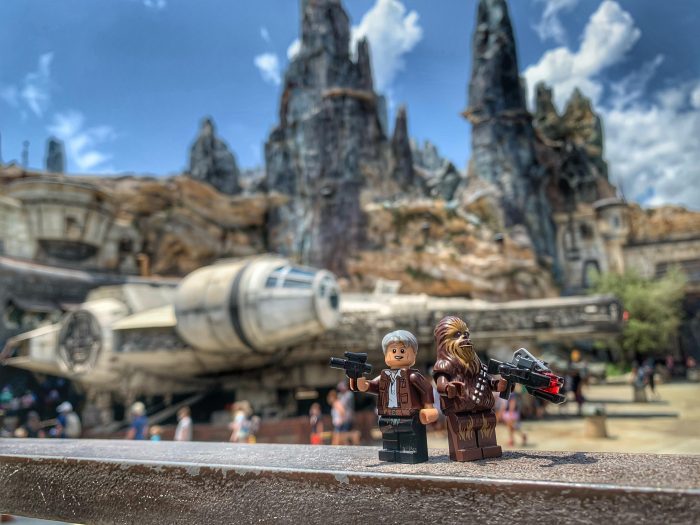 Time for RISE OF THE RESISTANCE. There are social distance markings out into the land itself.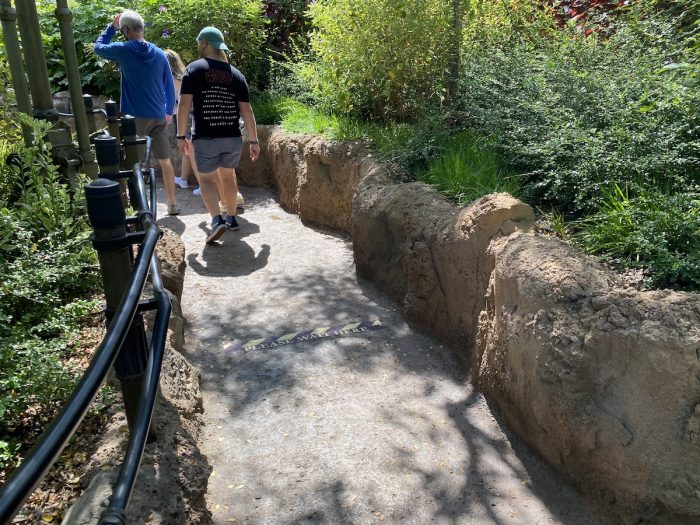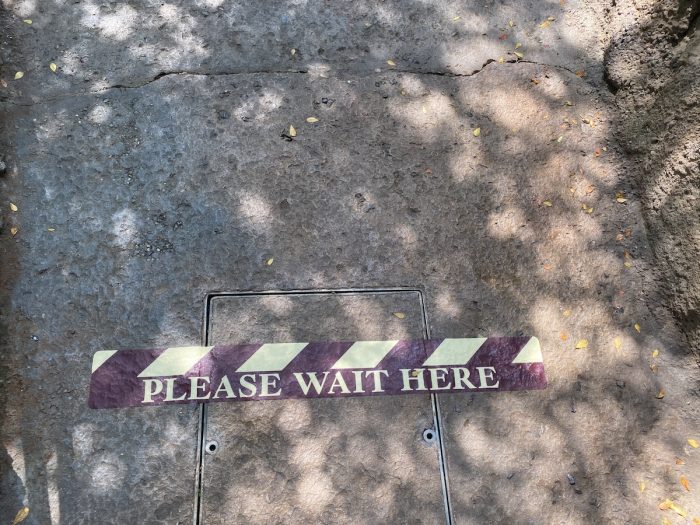 While inside you'll also see the barriers up.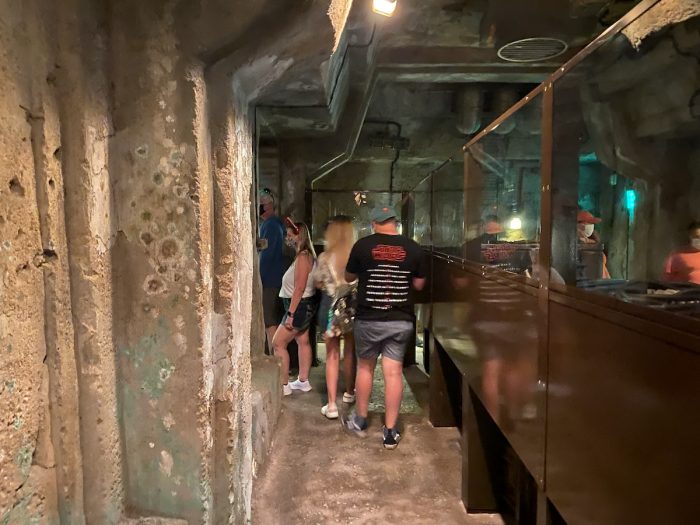 This cool screen was a natural social distance barrier.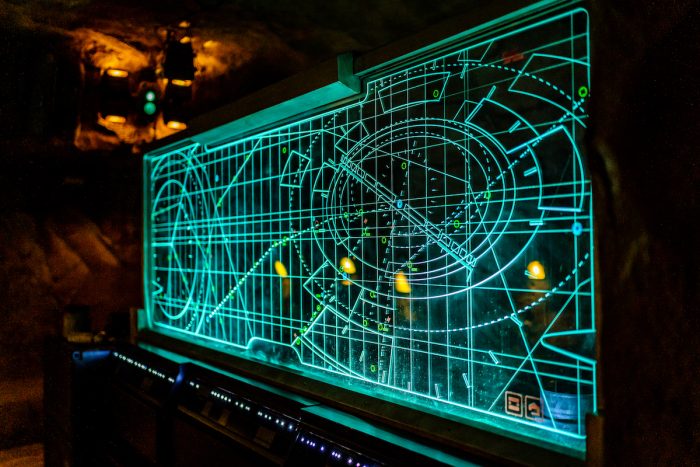 One of the biggest questions in all of Star Wars: Galaxy's Edge is why this is the only time we see Rey in an attraction.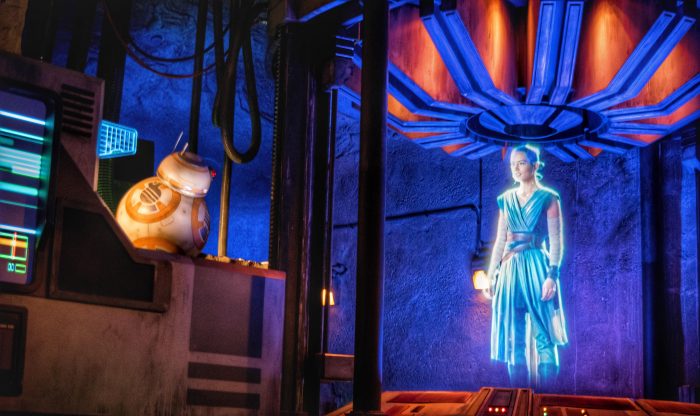 Hand sanitizer now possibly part of Star Wars "canon."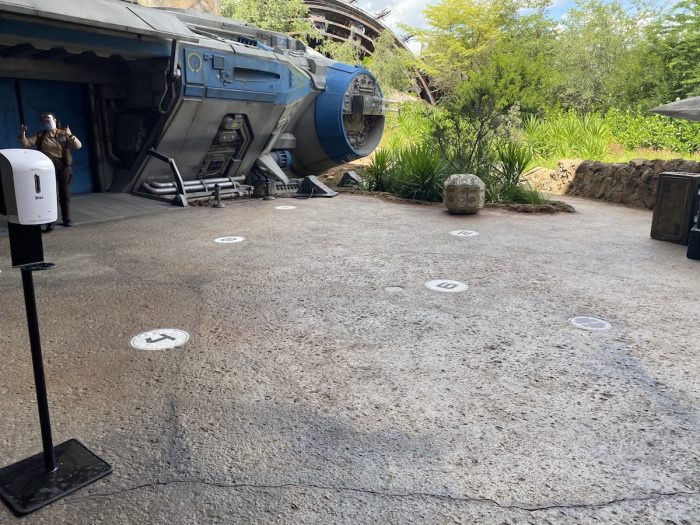 One of the best money shots in any theme park. A true "wow" moment.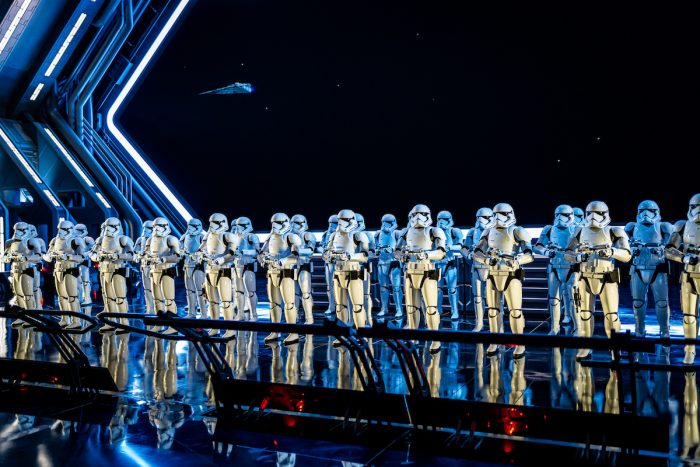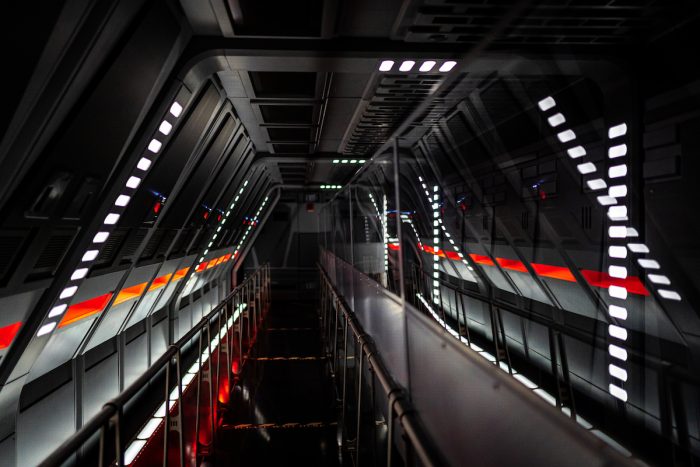 The ride has its fair share of issues, but when it's working Rise of the Resistance is pound for pound THE best attraction in Florida.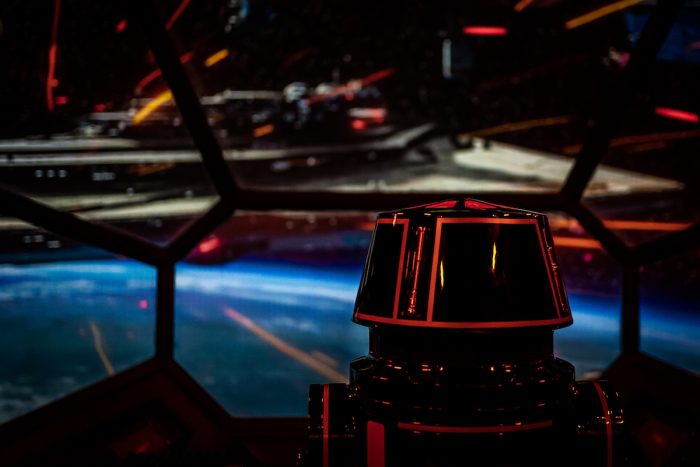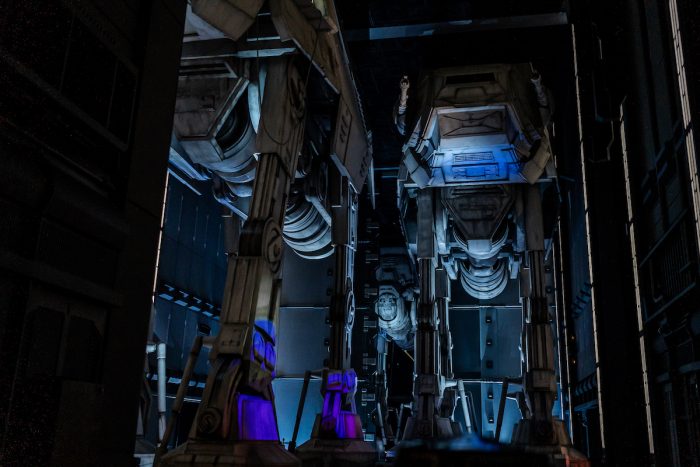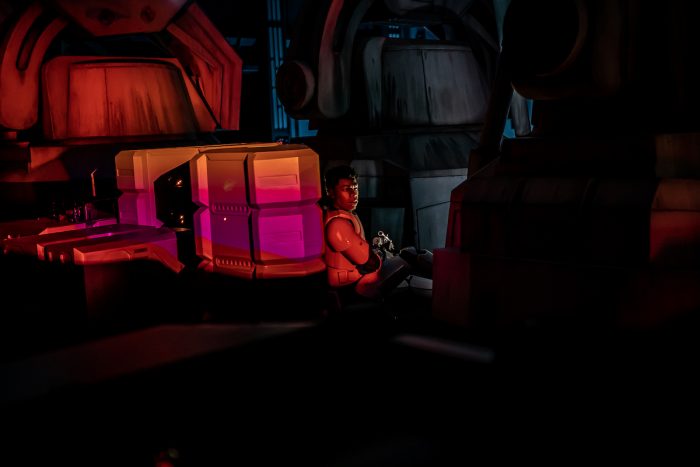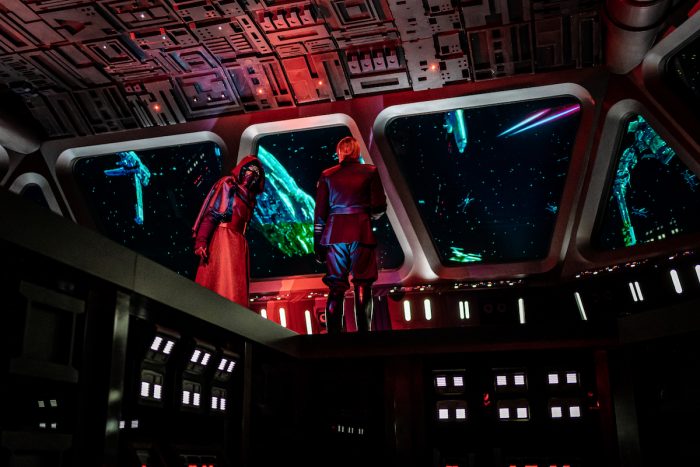 Oga's Cantina, known for just cramming guests in before the shut down, now has tons of open space for those who go in. The thing about Oga's – and the theme parks in general – is that we all wanted lower crowds and a more "VIP-like" experience, but not at this cost. The "heart" is gone. It's still Oga's, and now you don't have to stand behind someone and hope they will leave so that you can order something, but the overall experience is just lacking.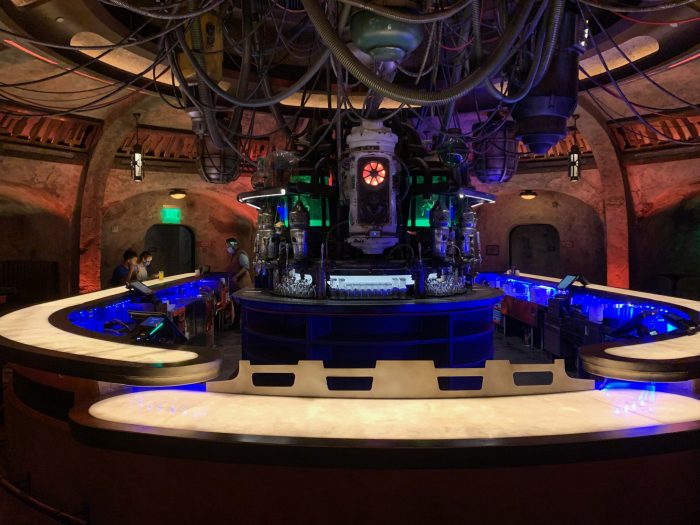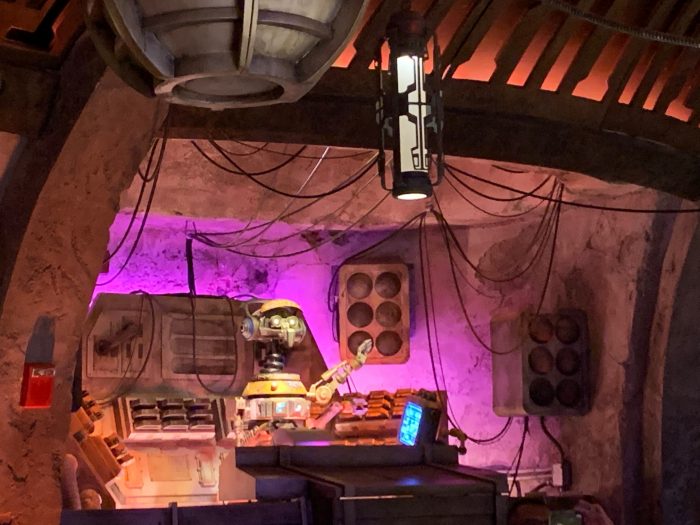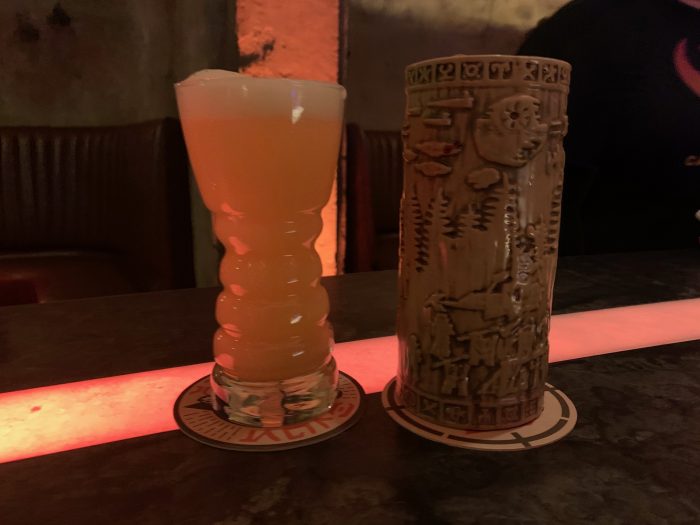 The Blue Milk stand has gone completely mobile order.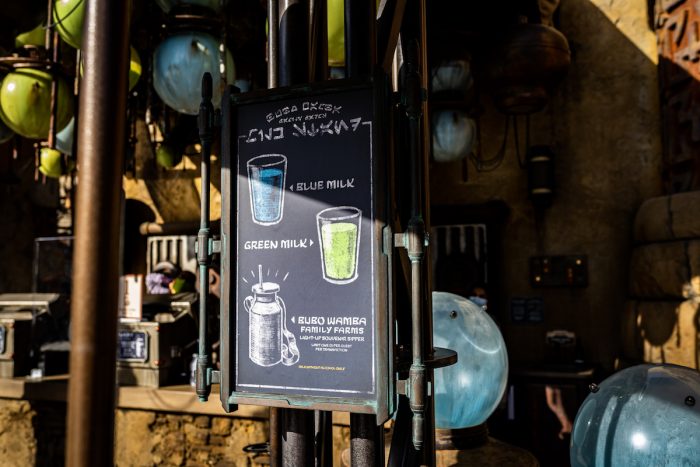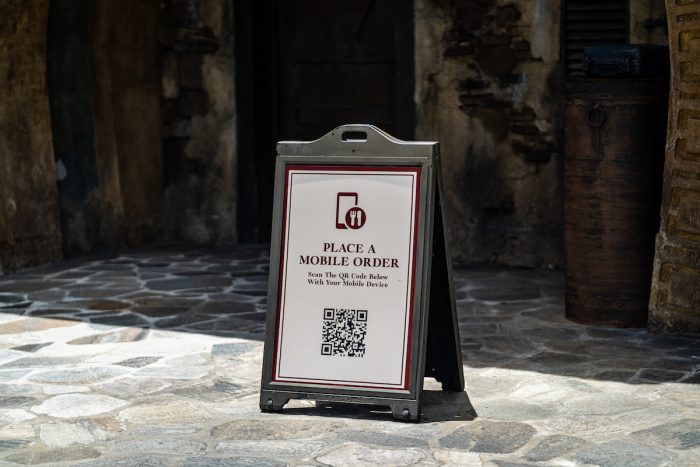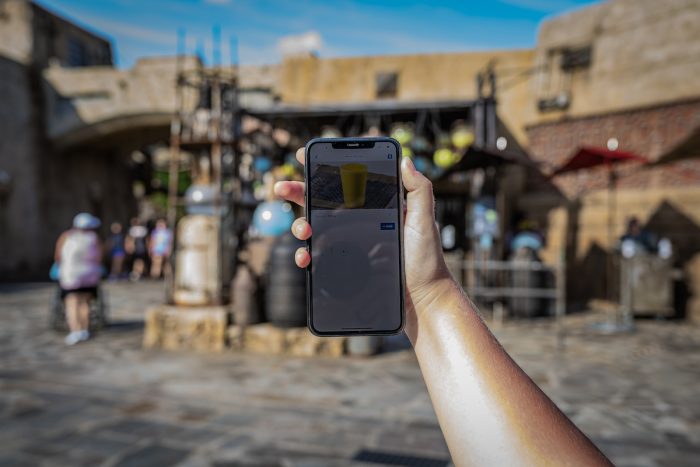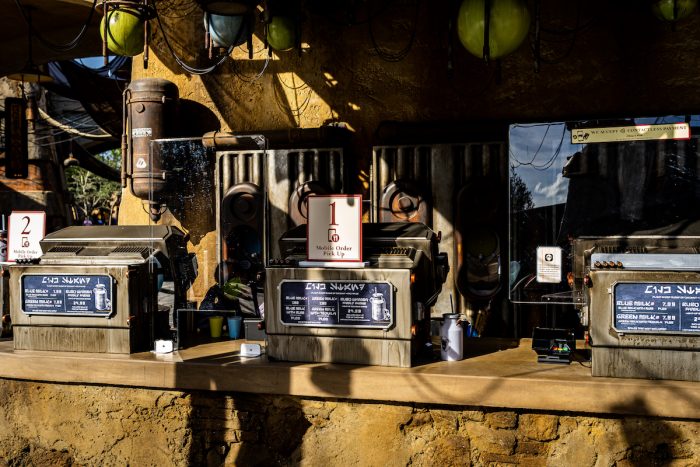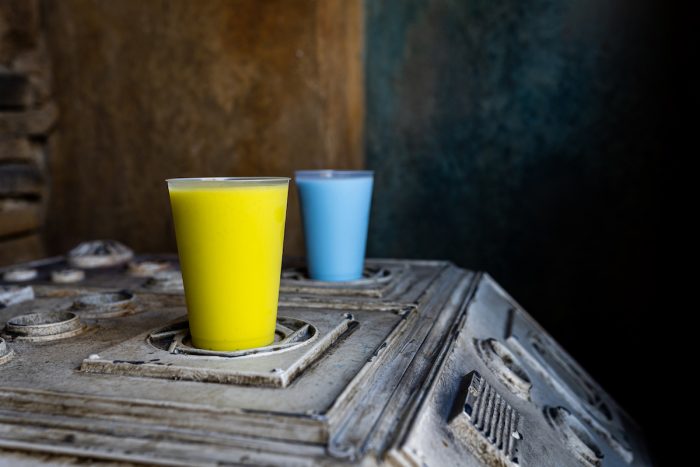 How about another bonus Plastic the Parks shot?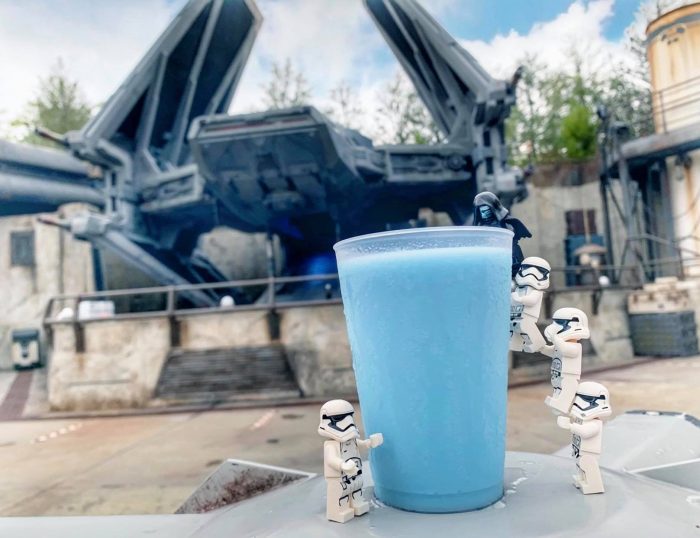 So there you have it: The SATURDAY SIX Spends a Day at DHS! See you next weekend for the latest installment of the SATURDAY SIX, where we'll look at something fun from the world of Disney and Universal. If you enjoyed yourself, be sure to check out The Magic, The Memories, and Merch! articles covering the latest from the Disney Outlet Stores. You can also follow Your Humble Author on Twitter (@derekburgan).
If you enjoyed this article, you will surely like the following: 
DAVID & DEREK: The Do's and Don'ts of COVID-19 Safety Protocols at the Theme Parks
6 Pieces of Disney Merchandise That Don't Exist (but Totally Should)
SATURDAY SIX Presents: The Disney Signage Hall of Shame
Special Thanks to The Elite Brandon Glover, the bio-est of all reconstructs @bioreconstruct, Captain Cruiseline Scott Sanders of the world famous Disney Cruise Line Blog, my personal protege Hunter "Elvey" Underwood, the SAT SIX Fun Squad of Parkscope Joe and "the Dadalorian" Nick, hot shot Michael Carelli, charter member of the Universal Four @Nitro230, and Hermione Granger's tutor Megan Stump for their invaluable assistance with this article. The SAT SIX is inspired each week by goofballs Aengus Mackenzie and LitemAndHyde and you Potterheads will  enjoy Meg's other blog work over at the Central Florida Slug Club.