The SATURDAY SIX Presents: PLASTIC IN THE PARKS visit Universal's Jurassic Park
This week's SATURDAY SIX Presents – Plastic in the Parks visit Universal's JURASSIC PARK! Several years ago we introduced Plastic in the Parks, a series in which photographer Michael Carelli takes LEGO to the theme park world to create fun pictures. Later we visited the Wizarding World of Harry Potter, and – most recently – Disney Springs. Recently, Universal Orlando made the shocking announcement that Team Members and Annual Passholders could schedule ride experiences on the upcoming VelociCoaster, which will have its grand opening for all guests on June 10th. As you read this very article, minds are being blown on what is already being called "the best coaster out there. PERIOD" and "…is gonna change the game."
To celebrate this momentous occasion, we decided it was time to grab our LEGO friends and head on over to Universal's Islands of Adventure and visit JURASSIC PARK…
# 6 – Raptor Encounter
Blue is the key. You have Blue… You'll get these raptors to do anything." —Owen Grady, Jurassic World: Fallen Kingdom (2018)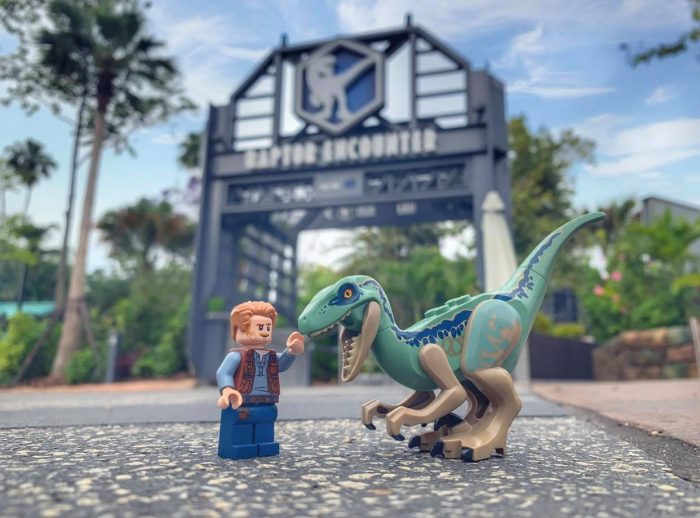 Some readers may remember the time that Walt Disney World tested a walking velociraptor experience at Animal Kingdom. It was something that was impossible for many of us to forget (no matter how hard we tried). So when Universal announced they were opening a Raptor Encounter, to say we were skeptical is an understatement. We should have had more faith in Universal Creative though, especially after they nailed the Transformers meet and greet over in USF. It turned out that the Raptor Encounter is perfect. With raptor puppets designed by Michael Curry (the same genius behind the puppets in Finding Nemo: The Musical and Epcot's legendary Tapestry of Nations parade) and a themed set that hides the human actor, this is a meet and greet that will bring you right back to the days of When Dinosaurs Ruled The Earth. The raptor sound effects and the Team Member "Gamekeeper" are the cherries on top of this awesome theme park sundae.
One thing that I personally love about the Raptor Encounter is that it is one of the few theme park attractions where not only is your experience fun, but it's awesome just watching others interact with the raptor while waiting your turn in the queue. Now that Talking Mickey has taken a vow of silence over in Disney's Magic Kingdom, it has become the best pound for pound meet and greet experience in the theme park corridor.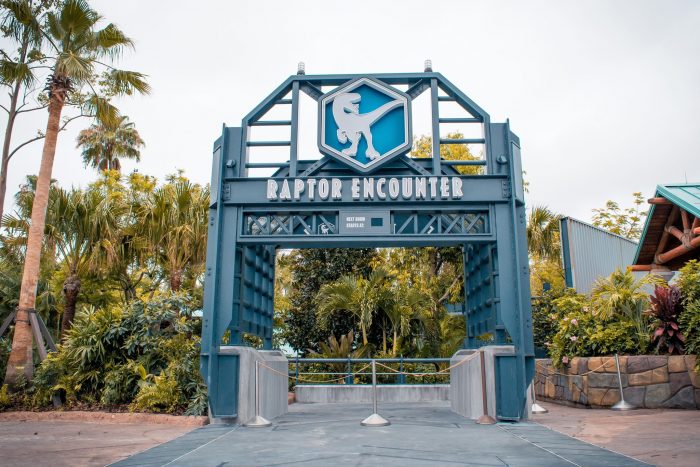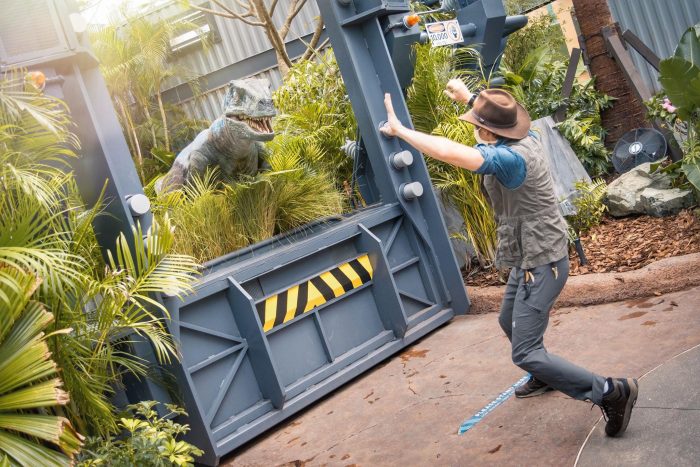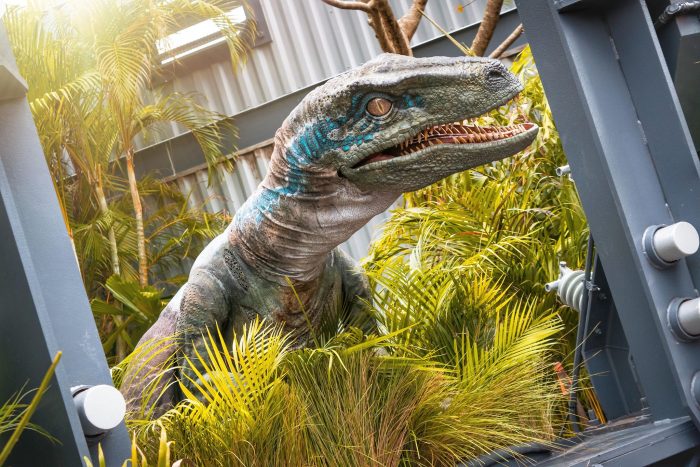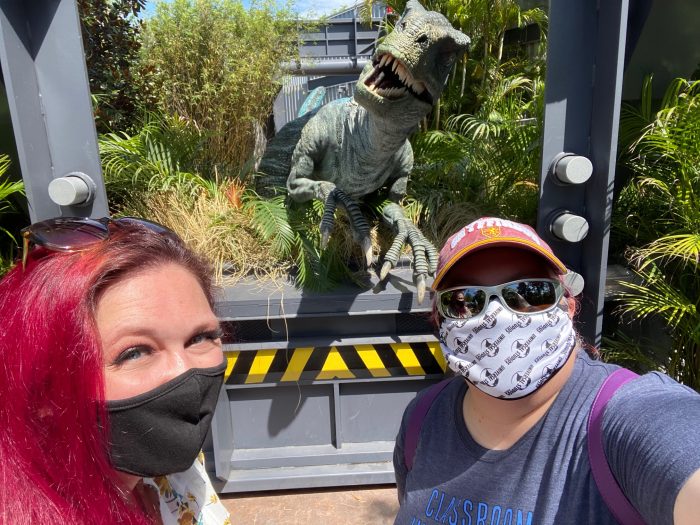 # 5 – Skill Games
One of the earliest carnivores, we now know Dilophosaurus is actually poisonous, spitting its venom at its prey, causing blindness and eventually paralysis, allowing the carnivore to eat at its leisure. This makes Dilophosaurus a beautiful, but deadly addition to Jurassic Park." – Jurassic Park (1993)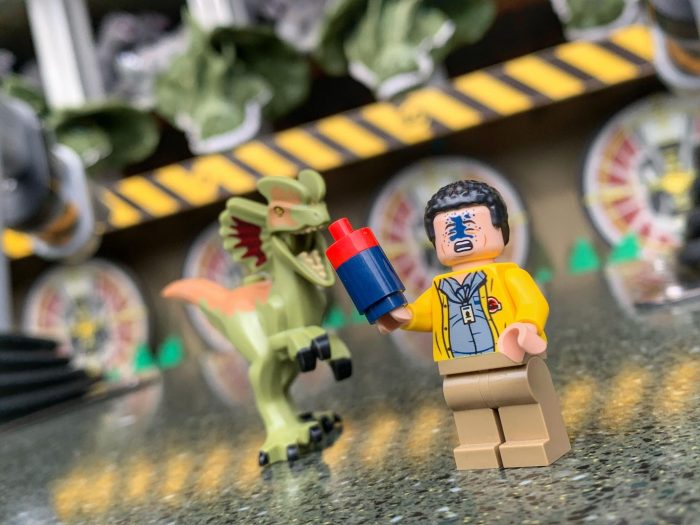 Skill games at the theme parks can be a controversial subject. Some guests detest them, can consider them more for local carnivals and less themed locations like Six Flags. Me? I love them. However, I say that with a caveat. First, the games themselves need to be themed to the areas that they are located in. Both Pixar Pier in Disney California Adventure and Springfield USA in Universal Studios Florida have brilliantly themed skill games that are perfect for the lands they are in. Secondly, you need good prizes.
Jurassic Park has several skill games all themed to the area, and solid dinosaur-themed prizes. For Plastic In The Parks, our photo was taken in front of a skill game themed to a Dilophosaurus. It's an interesting take on this particular dinosaur, because instead of the Dilophosaurus spitting on you, you're "spitting" on it (via a water gun).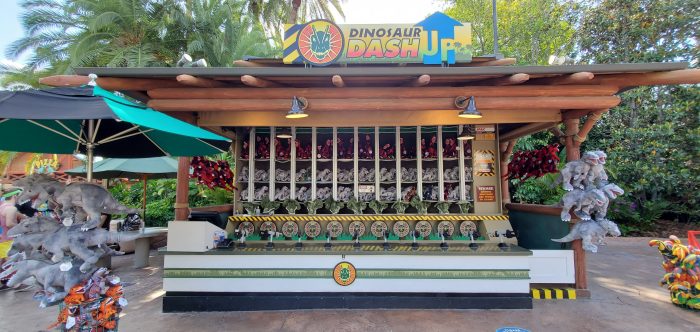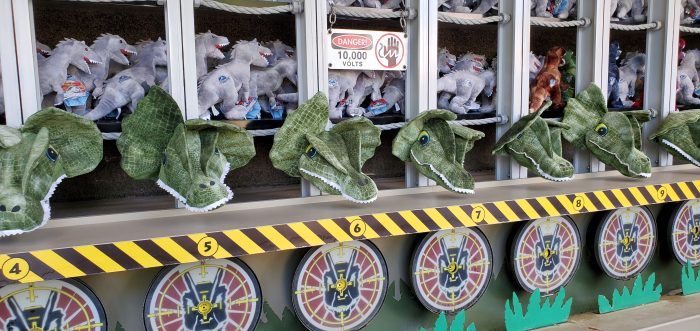 Guests shoot water at a Dilophosaurus target to make their Dilophosaurus plush head move up. First one to the top wins.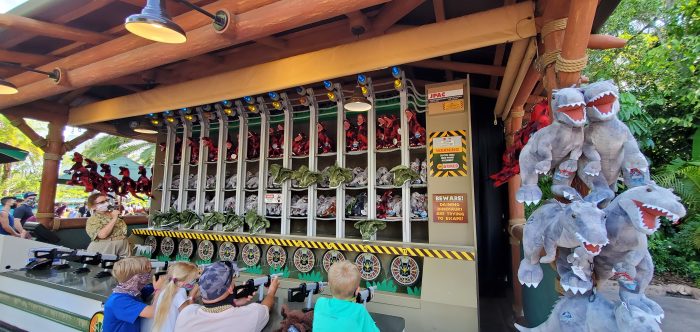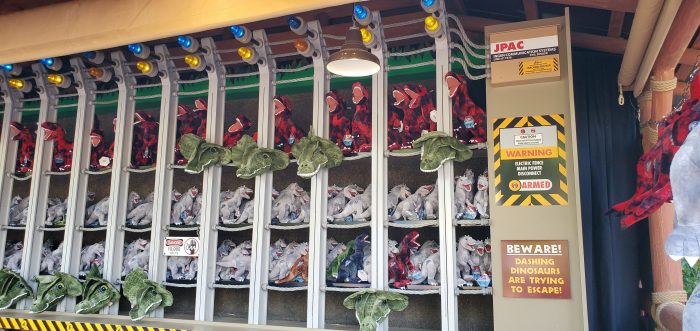 # 4 – Tyrannosaurus Rex Photo-Op
"Don't move! He can't see us if we don't move." – Dr. Alan Grant, Jurassic Park (1993)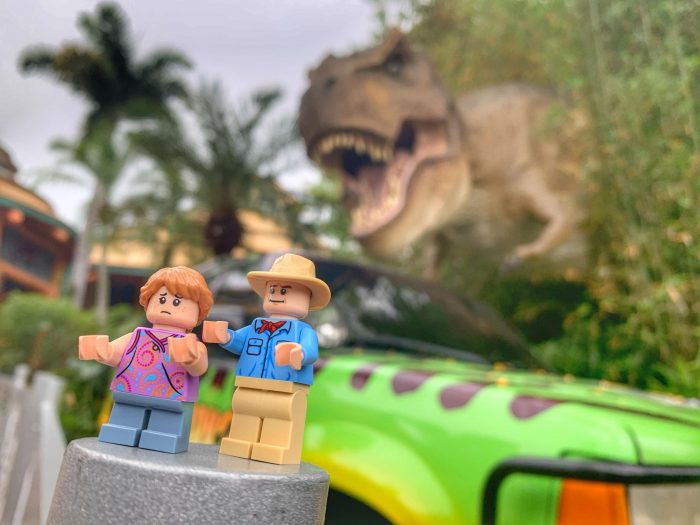 Jurassic Park at Islands of Adventure is filled with fantastic photo-ops, but none may be more impressive than the giant T-Rex! Located in-between the  Thunder Falls Terrace quick service restaurant and Jurassic Park River Adventure, this humongous dinosaur (along with a Jurassic Park Tour Vehicle that seemed to have come straight off the movie set) is the perfect backdrop for any photo.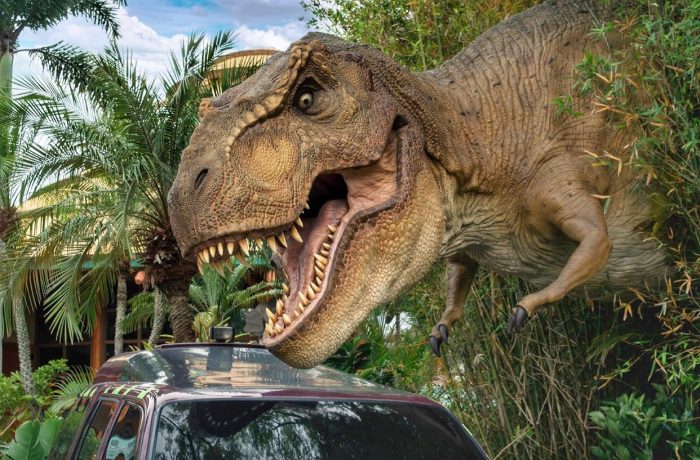 "…your scientists were so preoccupied with whether or not they could, they didn't stop to think if they should." – Dr. Ian Malcolm, Jurassic Park (1993)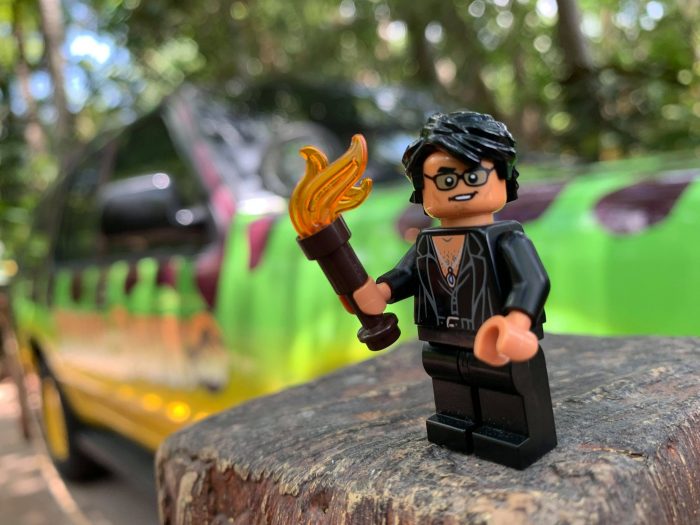 # 3 – Jurassic Park River Adventure
"These creatures require our absence to survive, not our help. And if we could only step aside and trust in nature, life will find a way." -John Hammond, The Lost World: Jurassic Park (1997)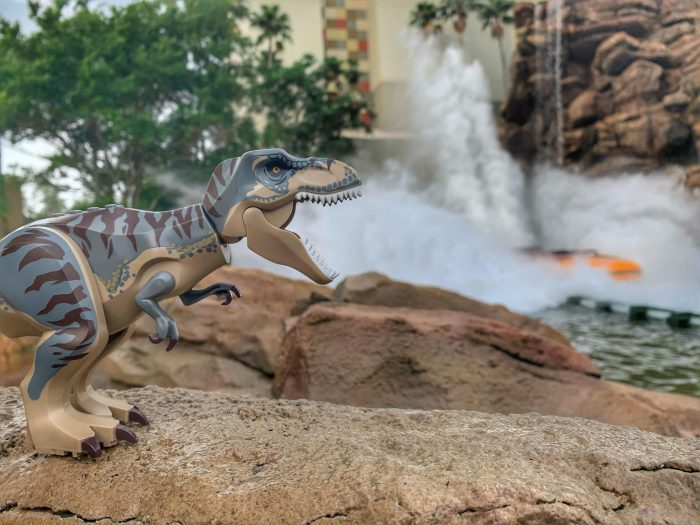 Jurassic Park River Adventure hits a lot of great beats for me and it all starts with the attraction being a boat ride. From the Jungle Cruise and Pirates of the Caribbean at the Magic Kingdom to Living with the Land and Gran Fiesta Tour starring the Three Caballeros in Epcot, if it's a boat ride, it's probably one of my favorite attractions in the park. Our journey on JP River Adventure begins by passing through the iconic Jurassic Park gates and proceeds to give a Jungle Cruise-like leisurely ride while enjoying some larger-than-life dinosaurs. As theme park rides will do, "something goes terribly wrong" and we find ourselves smack dab in the middle of a raptor attack and surprise, you're NOT the alpha. In fact you just may be dinner. It is during the second half of the ride when the tension gets amped up, highlighted by the incredible T-Rex animatronic and a huge drop to cap off the ride. When all the effects are working, Jurassic Park River Adventure is one of the greatest water rides in any theme park.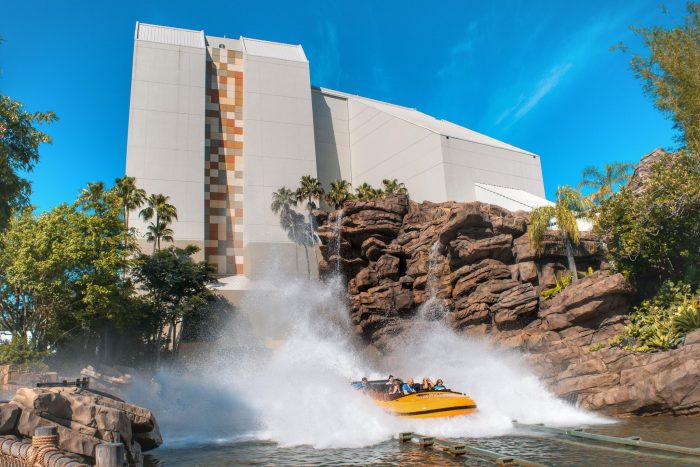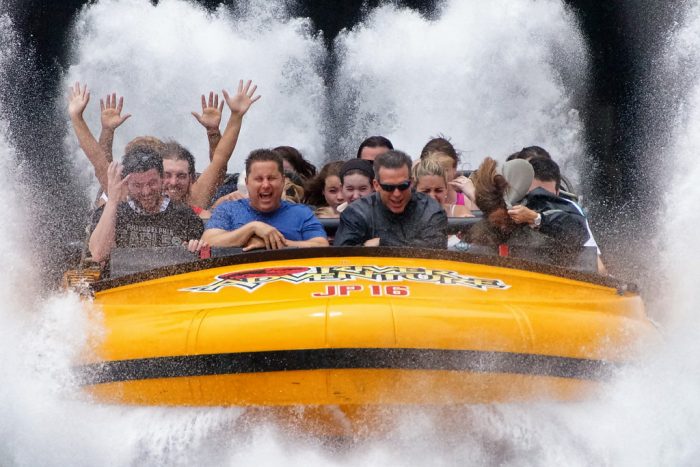 "You said you've got a T-Rex?" – Dr. Ellie Sattler
[nodding]  "Uh-huh." – John Hammond
[grabbing Hammond's shoulder]  "Say again?" – Dr. Alan Grant
[smiling]  "We have a T-Rex." – John Hammond, Jurassic Park (1993)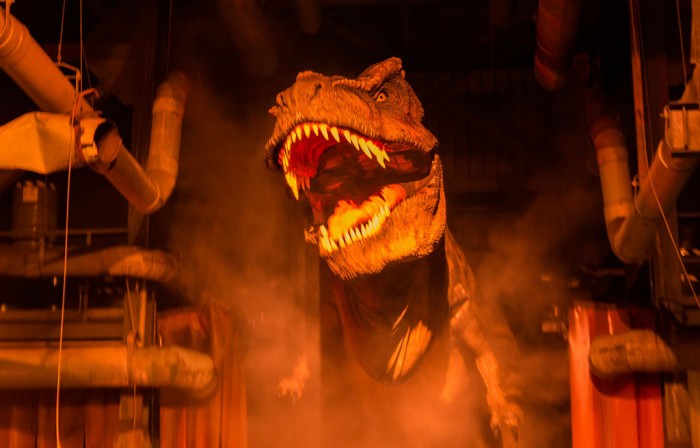 # 2 – VelociCoaster
"So, when you say you want to sponsor an attraction, what do you have in mind?" Claire Dearing, Jurassic World (2015)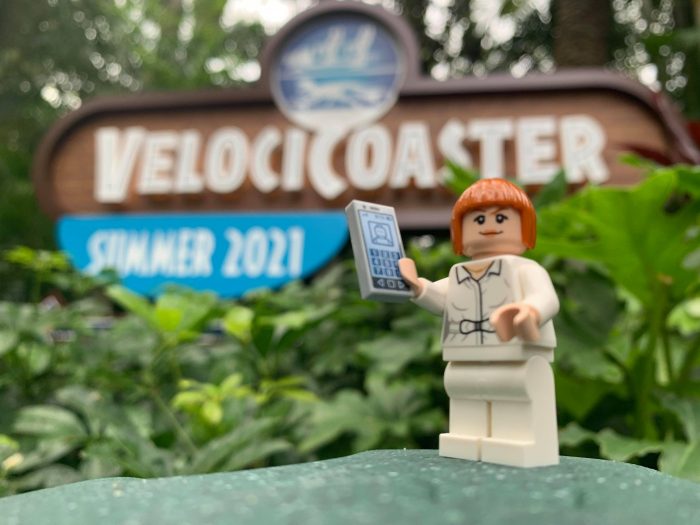 "Blue, stand down. Stand down. Hey, hey! What did I just say? Delta, I see you. Back up. Okay, good. Good. Charlie? Stay right there." – Owen Grady, Jurassic World (2015)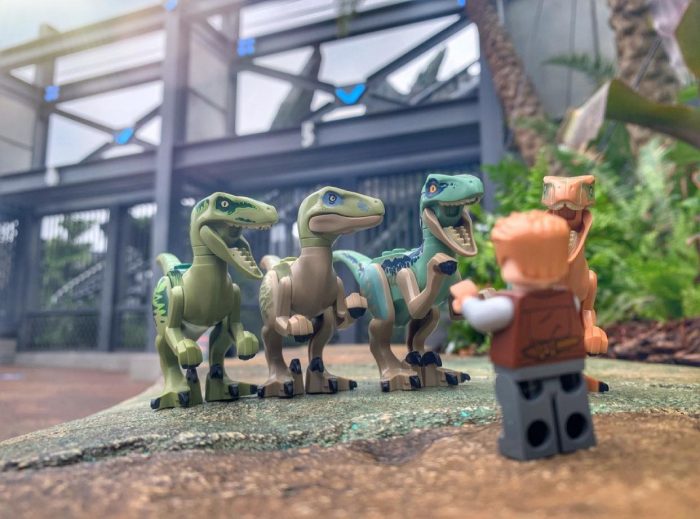 We recently did an article spotlighting various artists in the theme park community who have been inspired by the VelociCoaster to create some amazing art. In June, when the attraction opens, we'll be back with SATURDAY SIX looking at this amazing E-Ticket attraction, including some wonderful Easter Eggs and what looks to be a game changing way to handle the ride's locker situation. It appears that Universal has "spared no expense."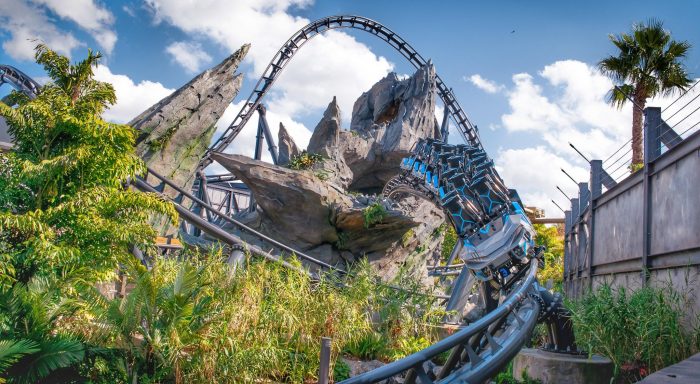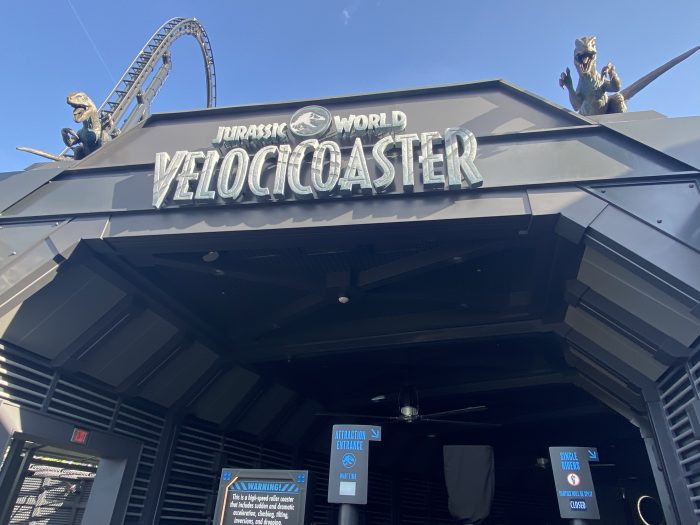 # 1 – "Welcome to Jurassic Park"
"So we set out to make biological attractions. Living attractions. Attractions so astonishing they would capture the imagination of the entire world." – John Hammond, Jurassic Park novel (1990)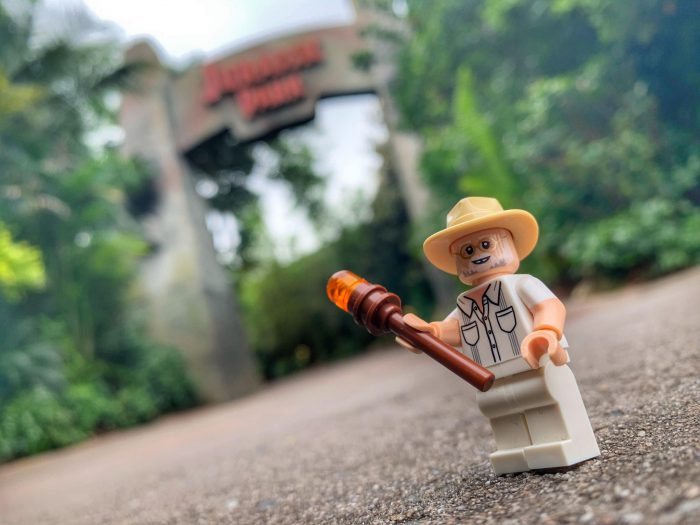 While the Amazing Adventures of Spider-Man has been a critic's darling since the day it opened in 1999, and the Wizarding World of Harry Potter completely changed Orlando tourism when it debuted in 2010, Jurassic Park has always been my favorite "island" in the park. Why? For as much as a phenomenon that the recent Jurassic World films have been, those of us a certain age can remember when the original Jurassic Park movie was released and the seismic effect it had on not just the film world, but pop culture in general.
The tagline for the original Superman film in 1977 was "you will believe a man can fly," and the original Jurassic Park's might as well have been You will believe that dinosaurs have been brought back to life. The ground breaking CGI and physical effects work were years ahead of their time, to the point where the movie has aged better almost 30 years after its release than pretty much any special effects laden film made in the last 10 years, let alone 20. The score by John Williams is iconic and well known as those in Star Wars and Jaws. And lastly, it's about dinosaurs, and everything is better with dinosaurs (at least that's what Tom Bricker keeps trying to tell us). The opening of VelociCoaster gives the land two spectacular E-Ticket rides to join a superb play area with Camp Jurassic, the best theme park meet and greet with Raptor Encounter, and an underrated gem of a restaurant in Thunder Falls Terrace.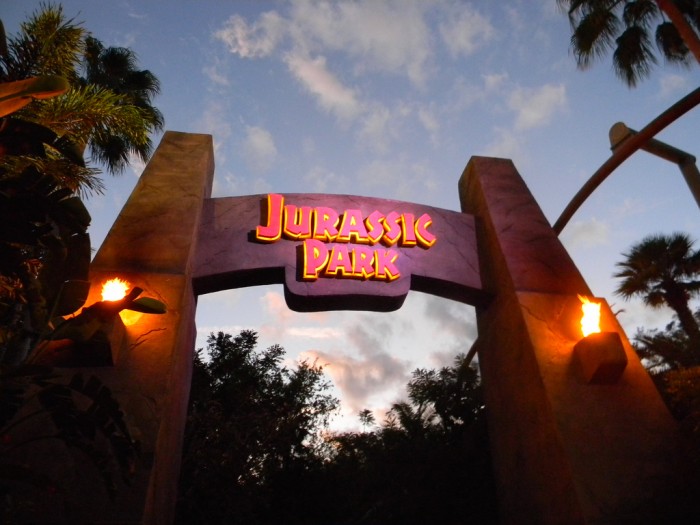 Honorable Mention – Jurassic Park Visitor's Center
"You are acting like we are engaged in some kind of mad science but we are doing what we have done from the beginning. Nothing in Jurassic World is natural! We have always filled gaps in the genomes with the DNA of other animals, and if their genetic code was pure many of them would look quite different, but you didn't ask for reality; you asked for more teeth!" – Dr. Henry Wu, Jurassic World (2015)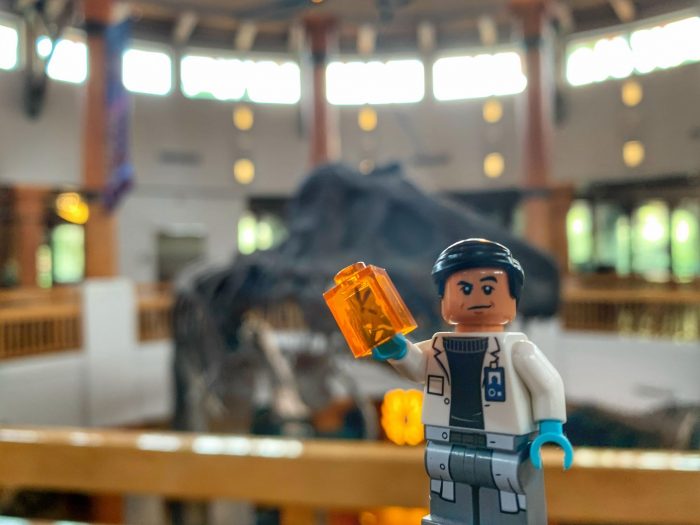 So there you have it: The SATURDAY SIX Presents: PLASTIC AT THE PARKS goes to Universal's JURASSIC PARK! See you next weekend for the latest installment of the SATURDAY SIX, where we'll look at something fun from the world of Disney and Universal. If you enjoyed yourself, be sure to check out The Magic, The Memories, and Merch! articles covering the latest from the Disney Outlet Stores. You can also follow Your Humble Author on Twitter (@derekburgan).
If you enjoyed this article, you will surely like the following: 
The SATURDAY SIX Presents: PLASTIC IN THE PARKS at the Wizarding World of Harry Potter
The SATURDAY SIX Presents: PLASTIC IN THE PARKS at Disney Springs
The SATURDAY SIX Presents: The Debut of PLASTIC IN THE PARKS
DAVID & DEREK: The Do's and Don'ts of COVID-19 Safety Protocols at the Theme Parks
6 Pieces of Disney Merchandise That Don't Exist (but Totally Should)
SATURDAY SIX Presents: The Disney Signage Hall of Shame
Special Thanks to The Elite Brandon Glover, the bio-est of all reconstructs @bioreconstruct, Captain Cruiseline Scott Sanders of the world famous Disney Cruise Line Blog, my personal protege Hunter "Elvey" Underwood, artist @SonderQuest, the SAT SIX Fun Squad of Parkscope Joe and "the Dadalorian" Nick, hot shot Michael Carelli, charter member of the Universal Four @Nitro230, and Hermione Granger's tutor Megan Stump for their invaluable assistance with this article. The SAT SIX is inspired each week by goofballs Aengus Mackenzie and LitemAndHyde and you Potterheads will  enjoy Meg's other blog work over at the Central Florida Slug Club.
"What's your background? Wildlife photography?" – Dr. Ian Malcolm, The Lost World: Jurassic Park (1997)