The SATURDAY SIX Looks at Our Favorite Pieces of Merchandise at UNIVERSAL ORLANDO
This week's SATURDAY SIX takes a look at our favorite merchandise at the Universal Orlando Resort! They say the road to you know where is paved with good intentions. For weeks now I've been wanting to do an article on the incredible Tribute Store that Universal has created for their Mardi Gras celebration. However, every time I sit down to write the article, something comes up. It's like that episode of Seinfeld when Kramer begins his "vow of silence". True to form, this week I was ready to work on the Tribute Store article but it just had to be the exact same week Hank Lonely visited the Galactic Starcruiser.
For those not on social media, Hank Lonely is the alter ego of TouringPlans' own Len Testa. You hear about the backstory of Hank Lonely on a special edition of the Disney Dish Podcast with Jim Hill. Those following TouringPlans or Len Testa on social media got to see Hank's antics on the Starcruiser play out in real time, and I dare say that Hank sold more people on the idea of the Starcruiser being a fun and worthwhile experience than Disney's own marketing department.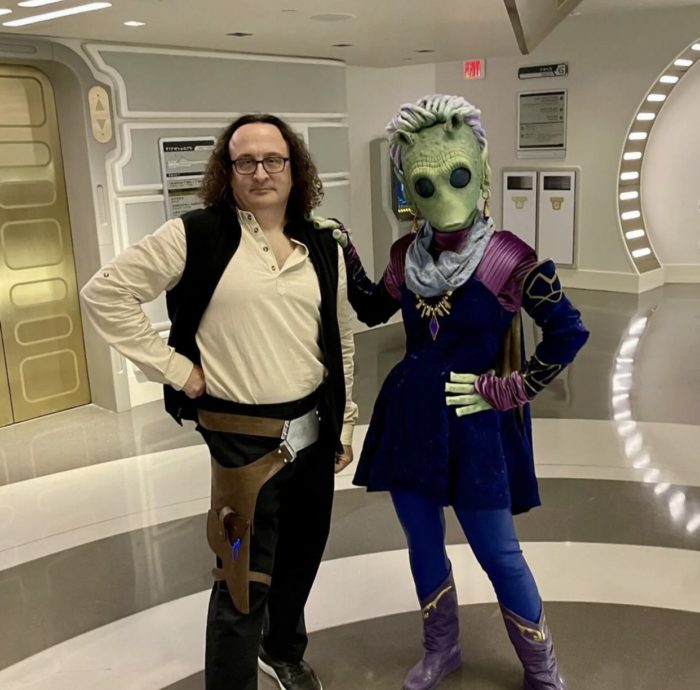 Artist Brian Cooper (the very same artist who draws the headline picture for our annual Theme Park Turkey of the Year awards) took the time to recreate Hank and Ouannii's iconic photo.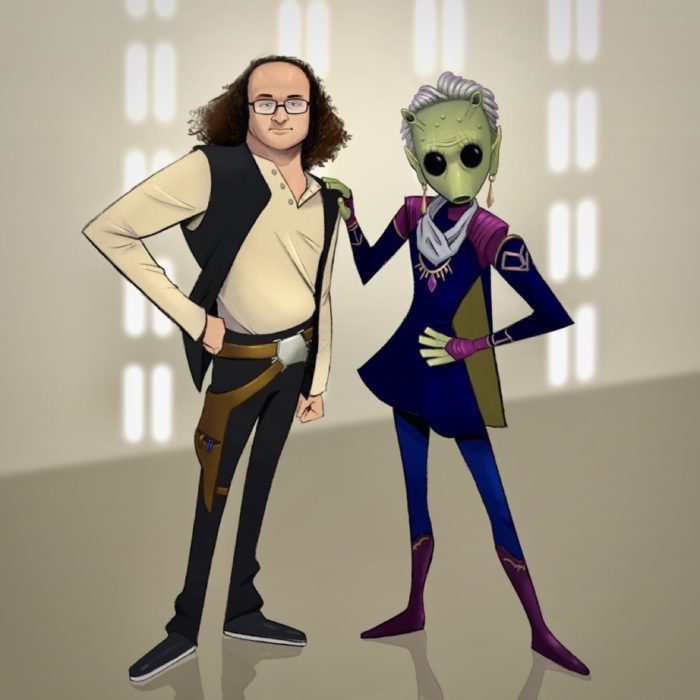 Yesterday, I received a package from Hank Lonely and this ne'er-do-well loveable scamp was able to smuggle off a couple items from the Galactic Starcruiser. Longtime readers of this Fine Blog Series have probably picked up that I'm a bigger Star Wars fan than I am a theme park fan. Star Wars defined my childhood. Similar to L'il Ralphie Parker and his Red Ryder BB gun from A Christmas Story, the legendary Han Solo blaster was the greatest gift I ever received or would ever receive. One item in this package was this Chandrila Star Line Wine Goblet.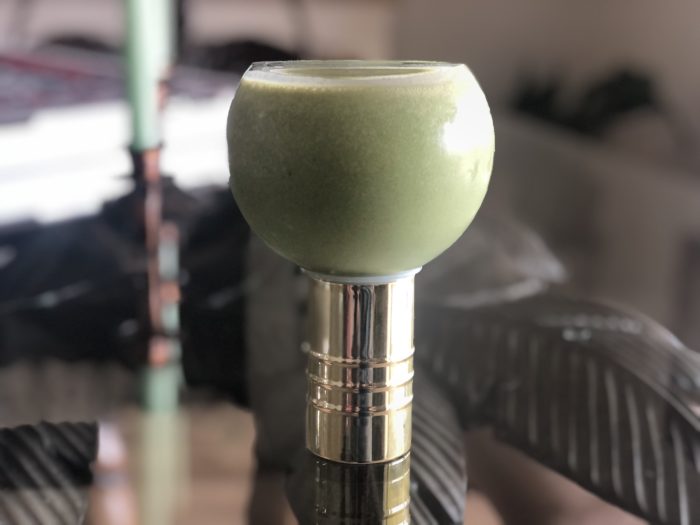 Both Bacini and I thought this goblet looked fantastic. One of the things I found most interesting about the Galactic Starcruiser is the extremely high level of quality merchandise. I know the best comparison to the pricing of the Starcruiser is a cabin on the Disney Cruise Line, and closest comparison to highest-percentage-of-good-items-to-junk in the gift shop is also DCL. That was one of my biggest surprises when taking my first Disney Cruise, the overall level of quality merchandise they have across the board. Compare the items at DCL or the Starcruiser to when Pandora: The World of Avatar opened or even Star Wars: Galaxy's Edge. Yeah, the shoulder banshees were a big hit but most everything else went to the Disney Outlet Stores in short order.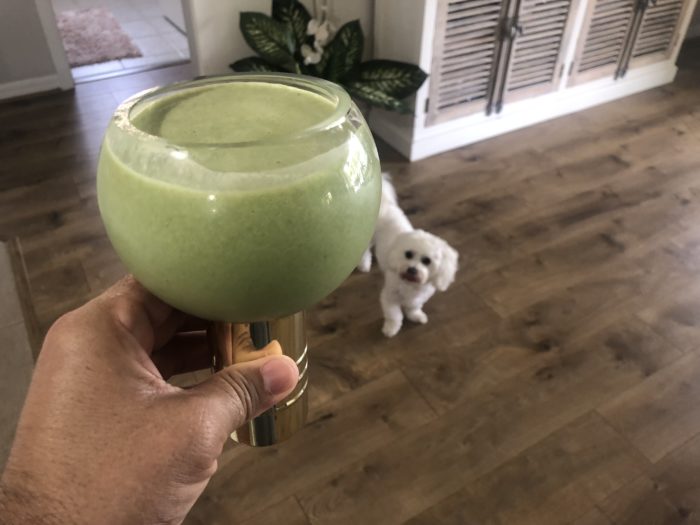 The Goblet got even cooler when Hank Lonely informed me that the Rebel Alliance used this Goblet to pass secret messages to each other. The base of the Goblet pulls off revealing a small compartment  you can put a note in.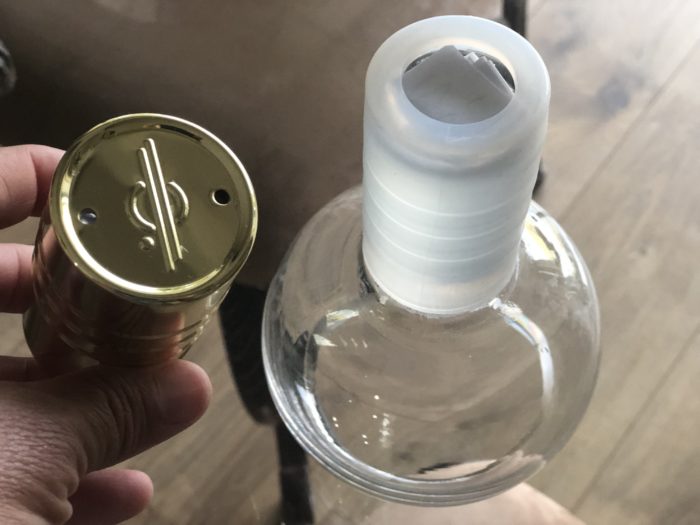 Some people get "Help me Obi-Wan Kenobi, you're my only hope," and others get, well, you know…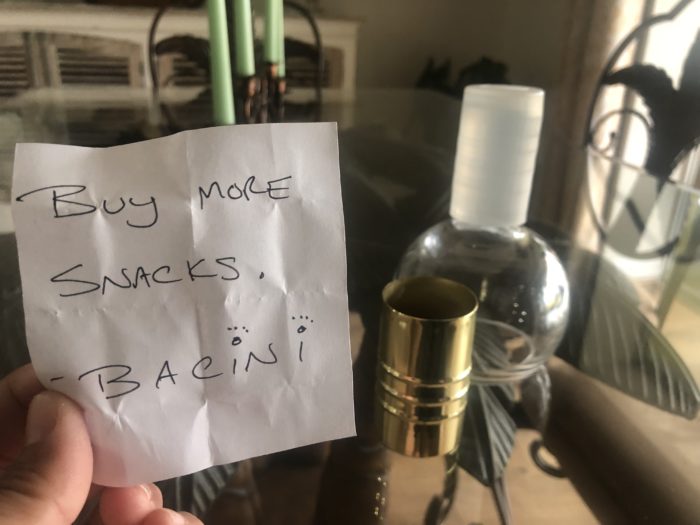 Thanks to Hank Lonely, I became so excited about theme park merchandise that I once again had to put the Mardi Gras Tribute Store article on the back burner and do something related to gift shops. It's hard to be passionate about the current state of Disney merchandise, but over at the Universal Orlando  Resort some pretty cool stuff is available including…
# 6 – E.T. Adventure Plush
While Disney's Magic Kingdom may be filled with nostalgia and the opportunity to enjoy plenty of Opening Day rides like Haunted Mansion, Jungle Cruise, and it's a small world, that's not how it is over at Universal Studios Florida. Despite opening almost two decades after the Magic Kingdom, USF has very few Opening Day attractions still running today. One of those rare older attractions is the beloved E.T. Adventure. In the gift shop for E.T. Adventure you'll find this amazing plush which features E.T. in bicycle basket.  It's adorable and fits the #story of the ride perfectly.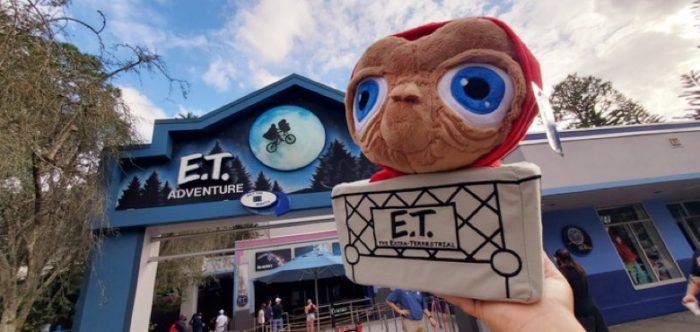 Even better? The plush has loops on the back so that you can attach it to your own bike back at home!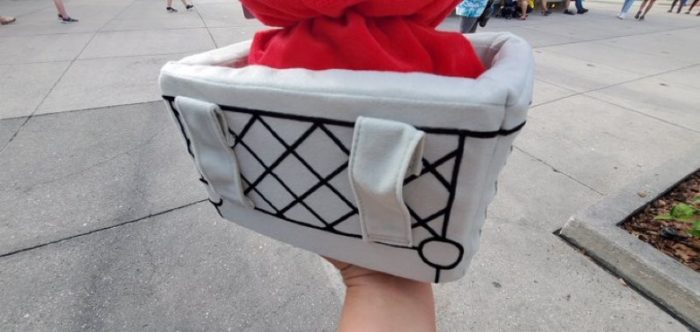 # 5 – Seuss Landing Adoption
This merchandise line in Seuss Landing has been around for a while but I don't think enough guests know about it. The concept of pet adoption via plush is a great one for a gift shop, and one I imagine is doing gangbusters for The Secret Life of Pets attraction out in Universal Studios Hollywood. Seuss Landing has a natural pet adoption tie-in because of the What Pet Should I Get? book written by Dr. Seuss himself.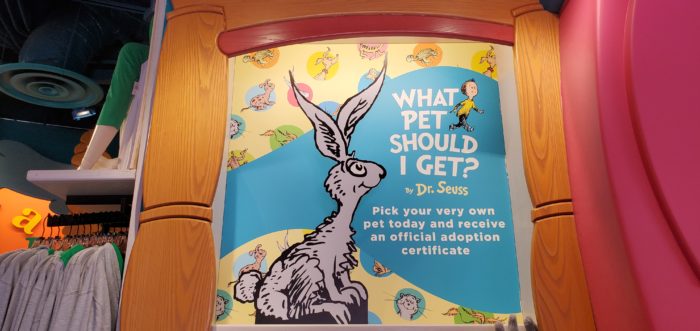 Having a plush pet adoption in the wonderfully weird world of Seuss Landing is genius. Generally there are several different types of animals to adopt, but currently (supply chain issues) only the rabbit is available.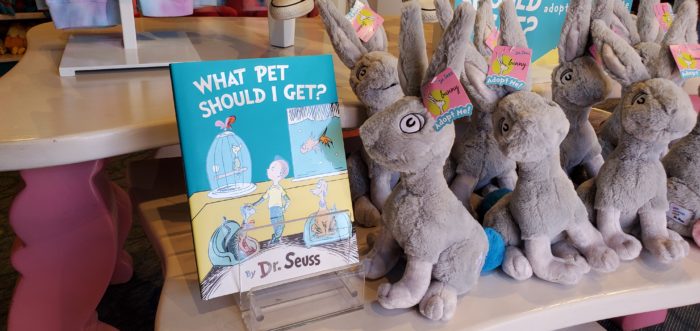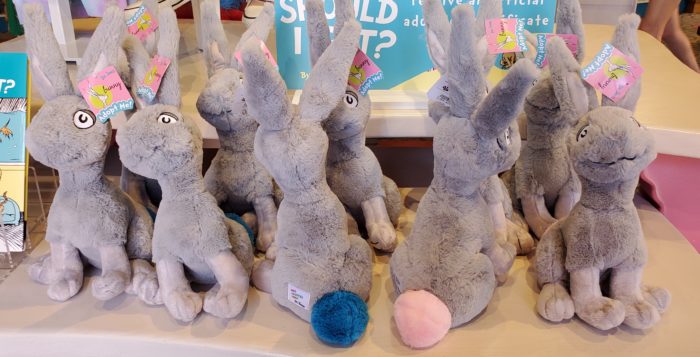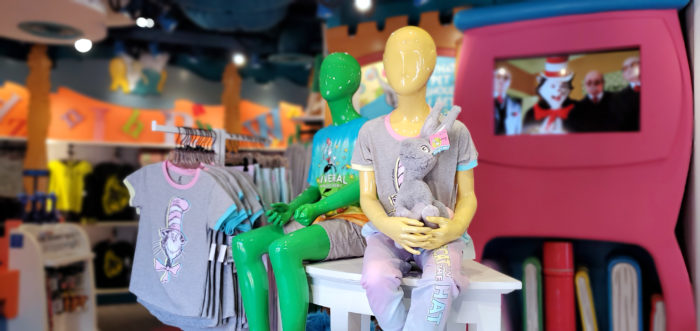 If adopting dinosaurs is more up your alley, head on over to Jurassic Park and get one of the new Mosasaurus plush after you ride the VelociCoaster.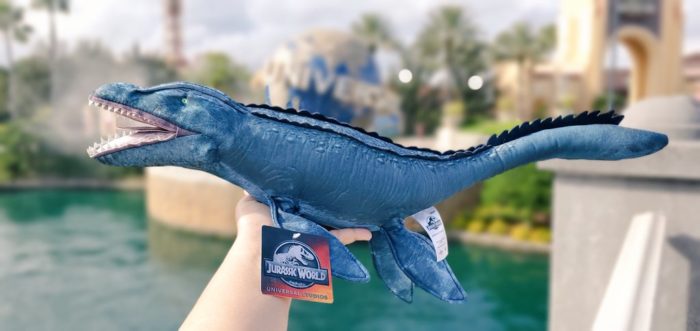 # 4 – Bort items in Springfield USA
No one has mercilessly attacked the world of theme parks with sharper wit than The Simpsons television show. One classic moment when they turned the screws on the parks we all love happened way back in 1994 with the episode "Itchy & Scratchy Land." One of the more memorable gags from the show was Bart Simpson running into one of the most ubiquitous pieces of merchandise at any theme park, the gift with YOUR name of it. In this instance, Bart was looking at personalized mini-license plates and found the names Bert, and Bort. What happens after is even better but the capper comes later in the episode when it is revealed the park has sold out of Bort license plates. Universal's own Springfield USA pays tribute to that classic moment with a Bort keychain found in the Kwik E Mart gift shop.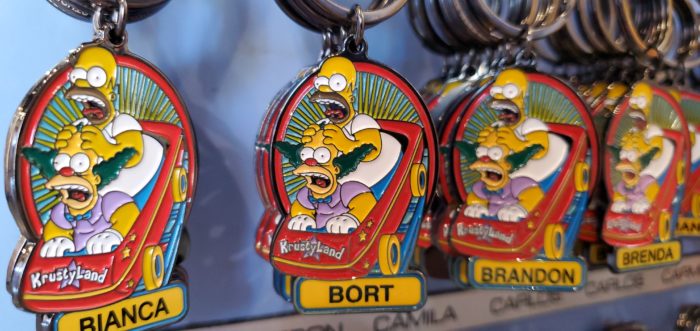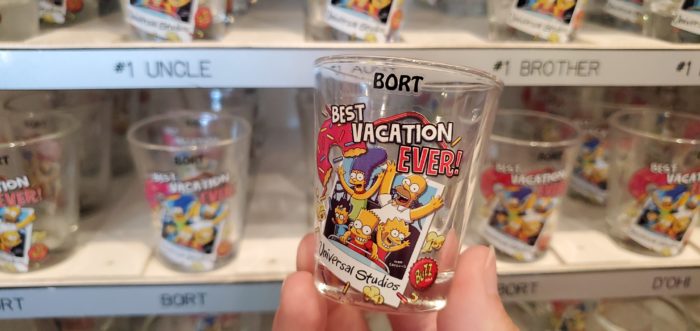 The Kwik-E-Mart is loaded with great Simpsons merchandise along with some of the best signage you'll see in any theme park gift shop around the world.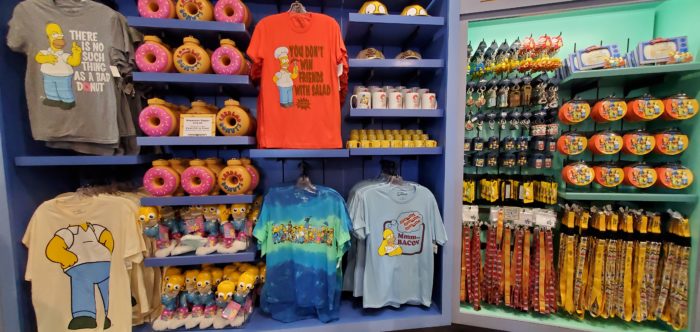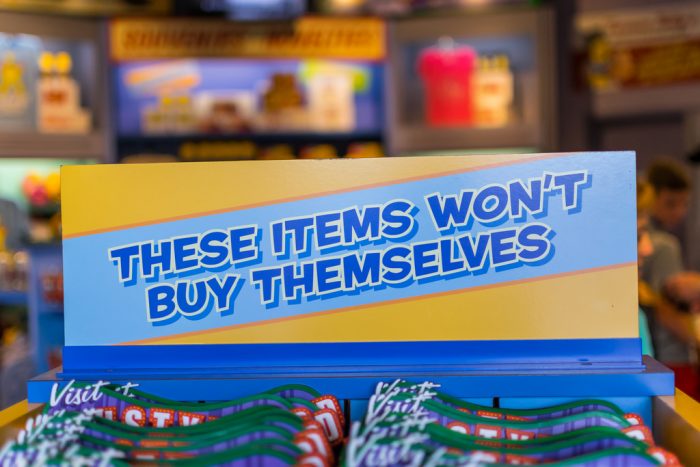 # 3 – Bates Motel Robe and Towel
In our article last week featuring @bioreconstruct's aerial photos, we saw an poster for Murder, She Wrote that was uncovered on the Shrek 4D show building as that attractions transforms into a Minon-based attraction. This was a reference to an older attraction at Universal Studios Florida called Murder, She Wrote Mystery Theater. Another long-gone attraction of that era is Alfred Hitchcok : The Art of Making Movies. One of the films Hitchcock directed was Psycho, and at one time in USF  you could actually see a reproduction of the iconic Psycho house and Bates Motel inside the theme park. While there is almost no reference to Alfred Hitchock currently in USF, you can find some next level merchandise featuring the Bates Motel.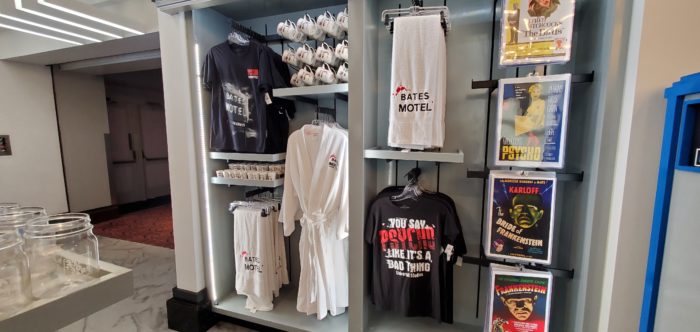 One of my all time favorite pieces of merchandise from Disney was a Hollywood Tower of Terror branded bathroom towel. I love the idea of having hotel themed attractions offering items you would find in a hotel.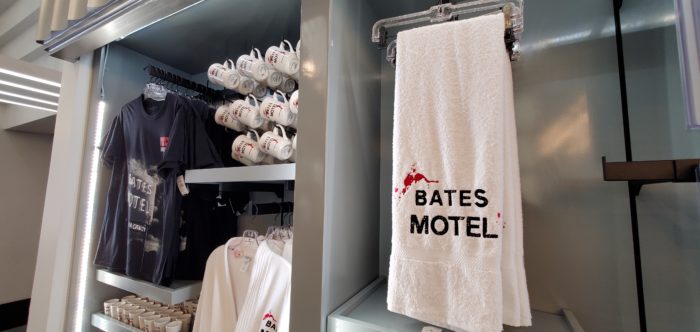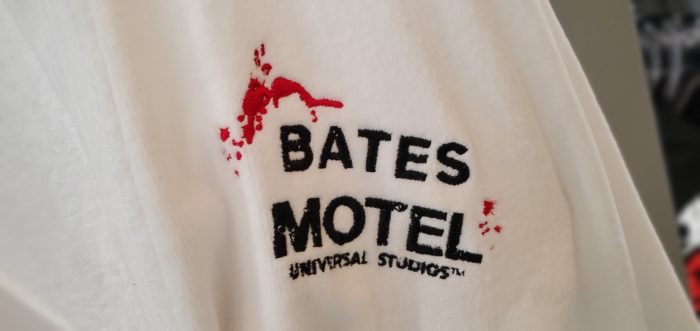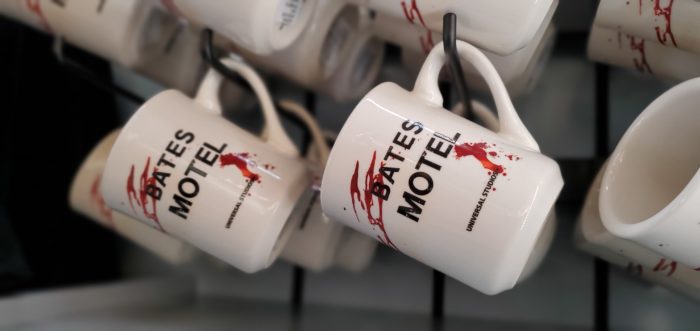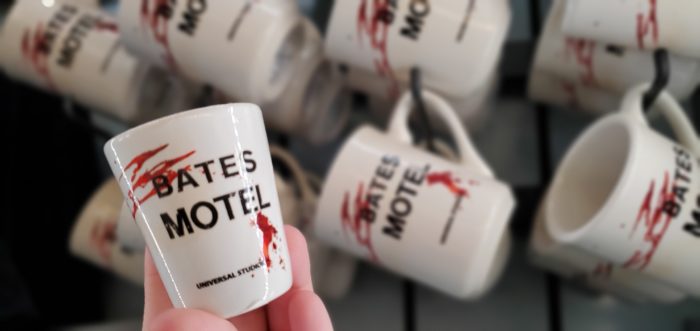 # 2 – Hello Kitty Mashups
Located in the former home of Lucy – A Tribute, the Hello Kitty Shop actually has a whole bunch of stuff that can appeal not only to young kids, but also to us theme park fanboys. For the kids there are several Hello Kitty photo ops along with an actual meet and greet with the feline star herself. For the fanboys, the store has incredible mash-ups that have Hello Kitty mixed with the worlds of Jaws, Back to the Future, Jurassic Park and more! These mash-ups are presented as large size movie posters in the front of the store, but are also available as t-shirts, iPhone cases, and prints.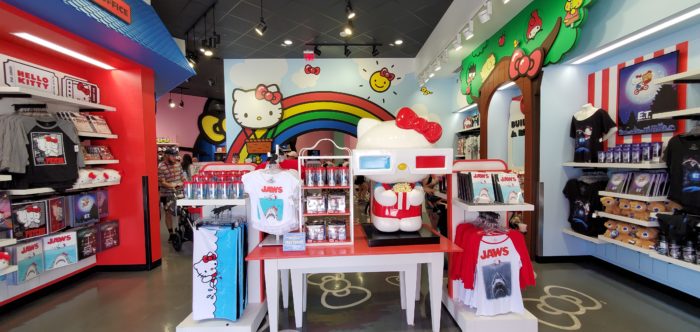 How can you not love the world of Hello Kitty mixed with something like Jaws?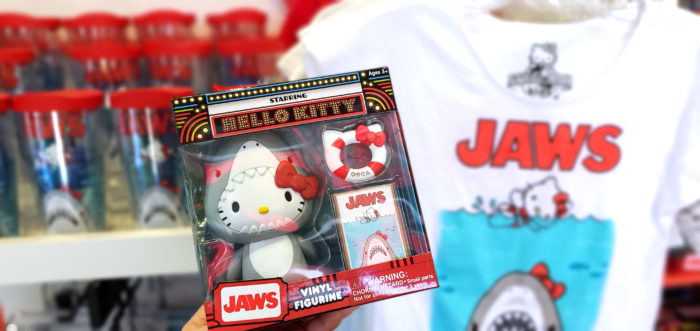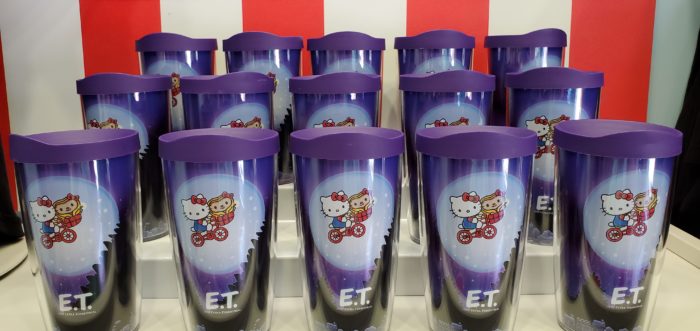 Hello Kitty and friends mashed up with Fast & Furious. This is what we call next level bonkers.
Mashups with Back to the Future and E.T. are one thing, but Hello Kitty and Alfred Hitchcock's Psycho? Pinch me, I'm dreaming!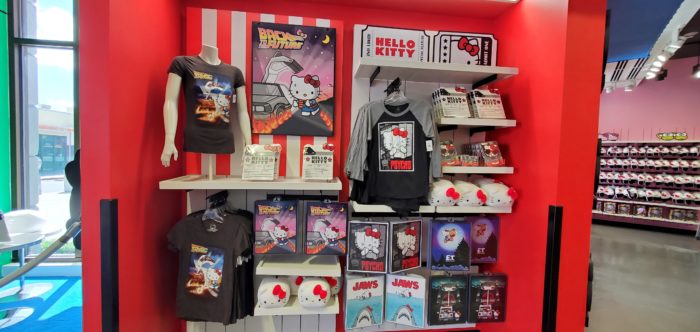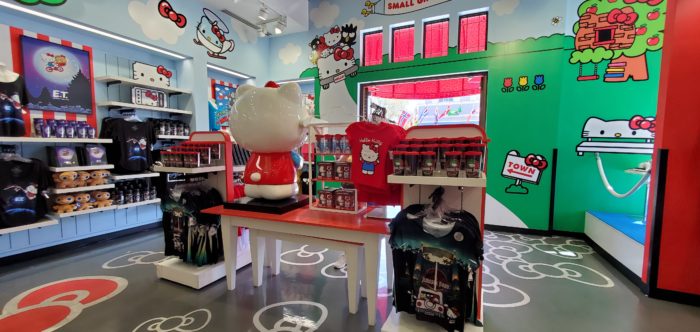 The Hello Kitty store also features a wide variety of products which have nothing to do with Hello Kitty, but are cool nonetheless, including this awesome Funko Jurassic Park bag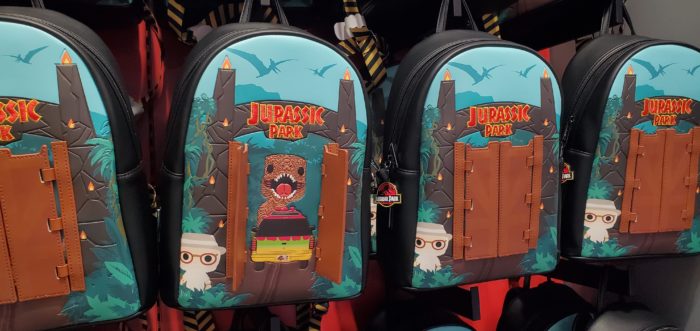 I also appreciate the special Hello Kitty Universal Studios branding for park specific items, like these slippers.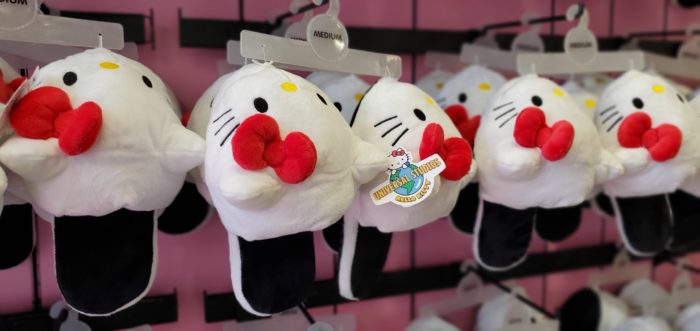 # 1 – Harry Potter merch
Several years ago we did a SATURDAY SIX based on Wizarding World merchandise straight out of the Harry Potter films. That trend has continued on including a newer glass design that is similar to the ones the trio drank out of in Half Blood Prince.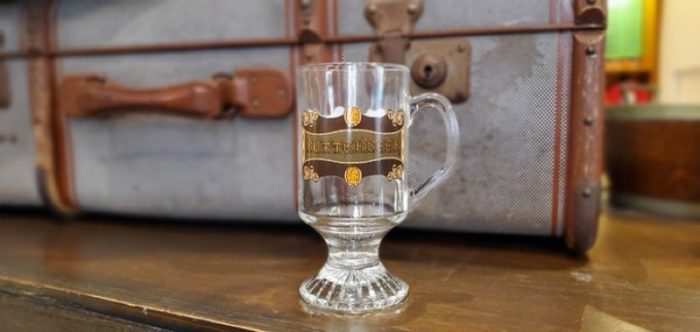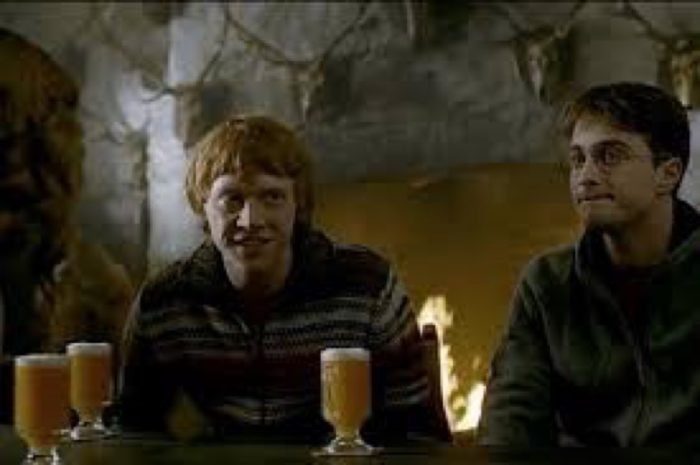 There is also merchandise for items that are only mentioned in the Harry Potter books, such as the Exploding Snap! game.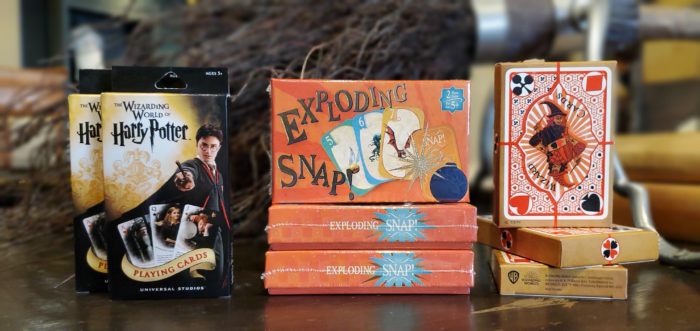 The Honeydukes branded candy items never fail to pop, including the newest Goblet-like addition.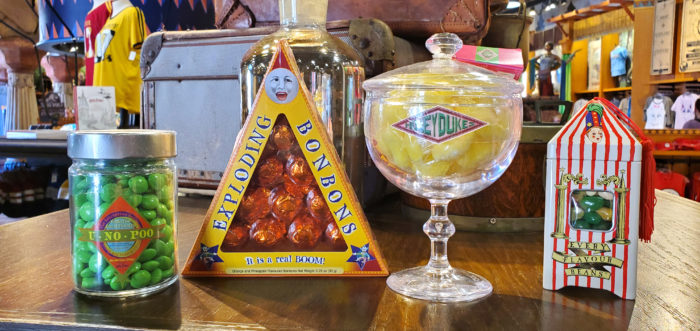 The series of plush themed the animals of the four Hogwarts houses are fantastic.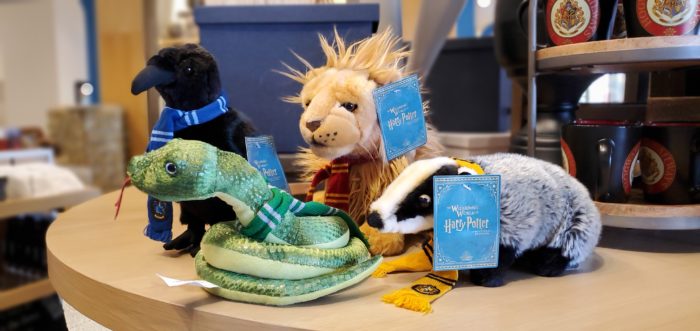 You have to love that the animals are wearing the house scarves. A great detail that is going above and beyond.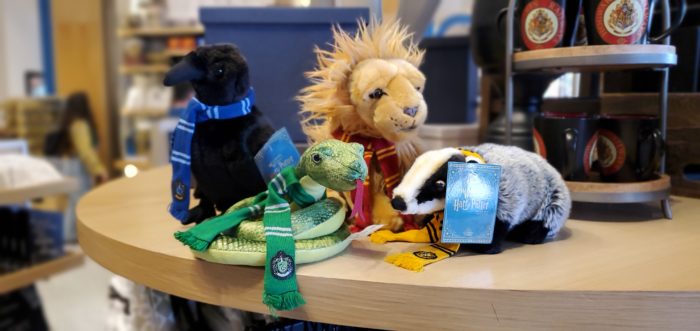 There are also "cutesy" versions of the house animal plush as well.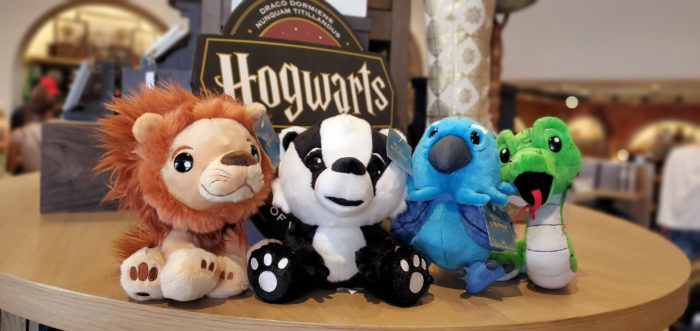 There has a been a huge push on Hogwarts house-specific merchandise.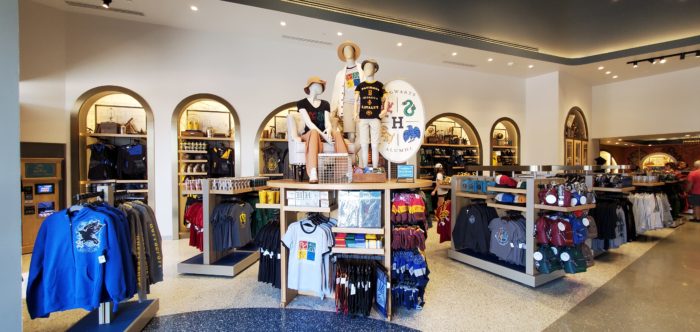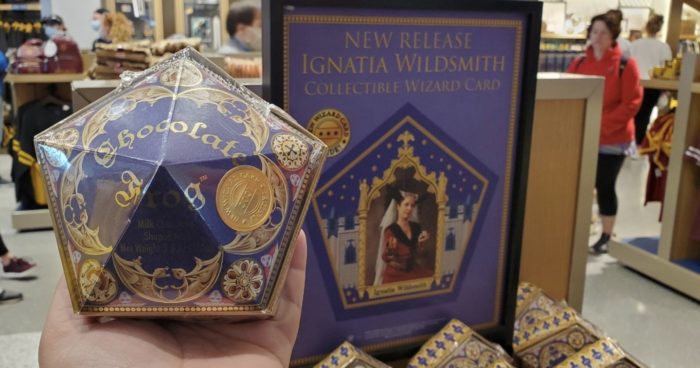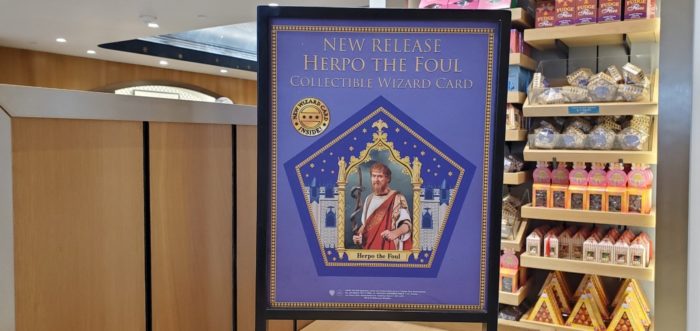 HONORABLE MENTION – Candles
I've never considered myself a "candle guy" but we are about one Volcano Bay-themed candle away from me becoming a full on candle collector. The recent addition of candles evoking the spirit of some of my favorite onsite Universal hotels is straight up E-Ticket. Even better, while Disney has been partnering with gussied up pyramid schemes like Scentsy, Universal has instead been working with a small business – the Magic Candle Company – to create these scents to sell at the hotels and inside the parks.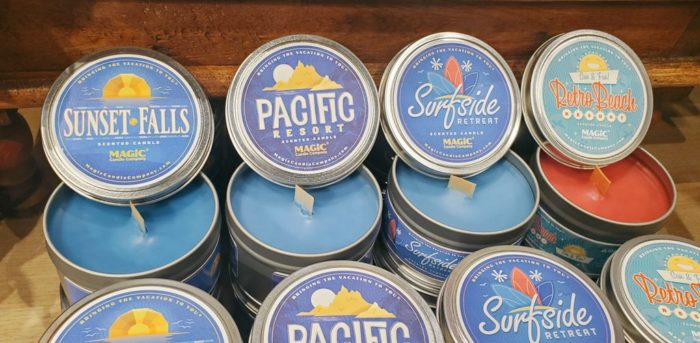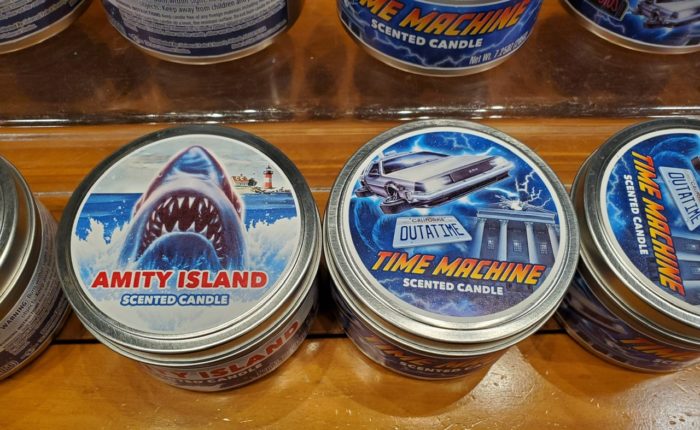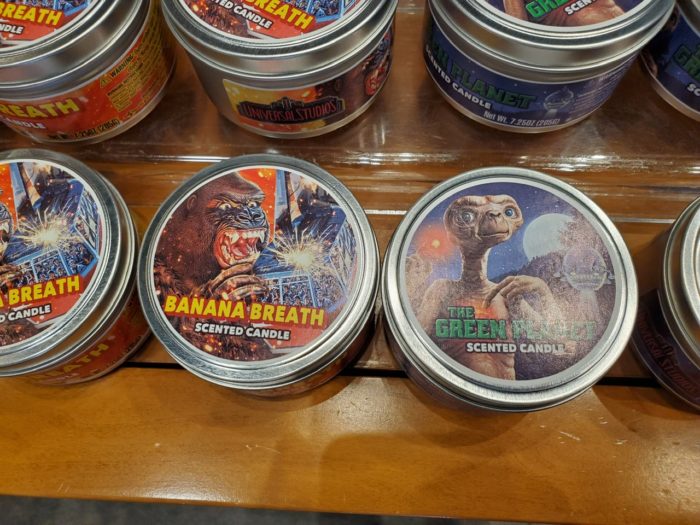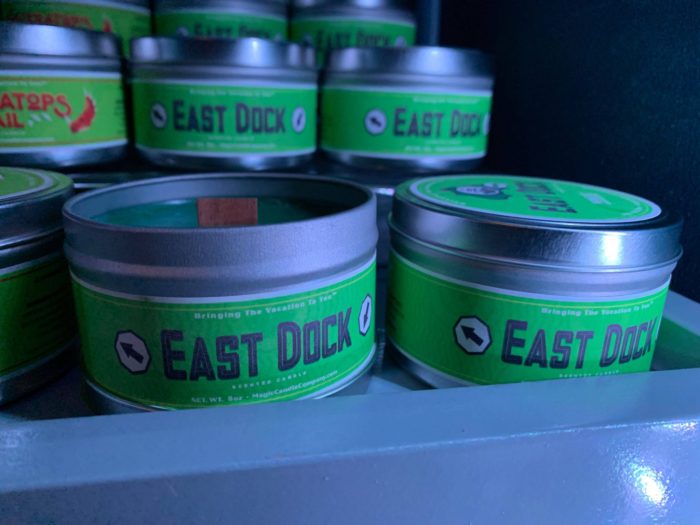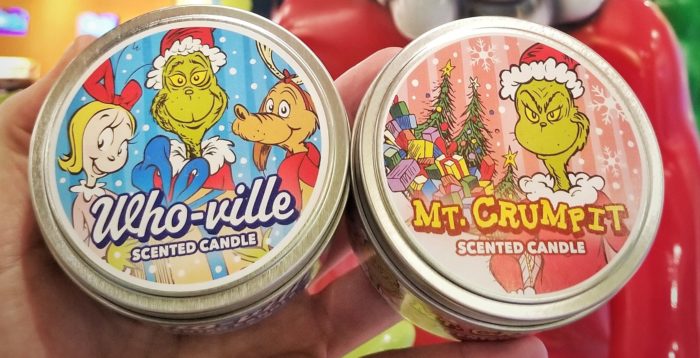 So there you have it: Our Favorite Merchandise from Universal Orlando! See you next weekend for the latest installment of the SATURDAY SIX, where we'll look at something fun from the world of Disney and Universal. If you enjoyed yourself, be sure to check out the THEME PARK ENJOYMENT INDEX, giving a monthly recap of all the theme park news you need to know (and a lot more you don't need to know, but we're gonna tell you anyway). You can also follow Your Humble Author on Twitter (@derekburgan).
If you enjoyed this article, you will surely like the following: 
DAVID & DEREK: The Do's and Don'ts of COVID-19 Safety Protocols at the Theme Parks
6 Pieces of Disney Merchandise That Don't Exist (but Totally Should)
SATURDAY SIX Presents: The Disney Signage Hall of Shame
Special Thanks to The Elite Brandon Glover, Digital Maestro Scott Walker, the bio-est of all reconstructs @bioreconstruct, Captain Cruiseline Scott Sanders of the world famous Disney Cruise Line Blog, my personal protege Hunter "Elvey" Underwood, artist @SonderQuest, the mighty maven of merchandise Hedgehog's Corner, the SAT SIX Fun Squad of Parkscope Joe and "the Dadalorian" Nick, hot shot Michael Carelli, charter member of the Universal Four @Nitro230, and Hermione Granger's tutor Megan Stump for their invaluable assistance with this article. Absolutely no help was added by SeaWorld Influencer @SuperWeenieHtJr. The SAT SIX is inspired each week by goofballs Aengus Mackenzie and LitemAndHyde and you Potterheads will  enjoy Meg's other blog work over at the Central Florida Slug Club.