SATURDAY SIX Presents: The Theme Park Artwork of Brian Cooper
This week the SATURDAY SIX Proudly Presents: The Theme Park Artwork of Brian Cooper! For the month of February, the SAT SIX is spending each weekend spotlighting an artist in the community whose work we respect and admire. We kicked off the event with SonderQuest, followed up in week two with Sam Carter, and today we are going to check out someone who readers of this fine blog series may have seen once or twice before: Brian Cooper.
BRIAN COOPER: Back in the 1990s, when I was around 4 or 5 years old,  I was given a "Learn to Draw Mickey and Minnie" book from my parents. I enjoyed drawing back in those days, but that book made me fall in love with it! I followed the step-by-step instructions and showed my drawings to anyone and everyone. Once I received my first compliment, I knew exactly what I wanted to do when I grew up… make cartoons. Since then I've been drawing nearly every day with that goal in mind. Of course, in-between there was a brief stint in Jr High/High School where I dreamed of being a rock star playing bass for an emo band, but that's a story for another time.
The attractions at the Disney and Universal theme parks have been a huge well of inspiration for me. I have what some would call an unhealthy obsession with theme parks. Lucky for me, I use drawing to let that obsession spew out. If I wasn't drawing, who knows what I'd be doing with my life… maybe I'd be one of those crazy Disney bloggers?? GASP!
# 6 – Six Fan Art Challenge
Last year, when we all naively thought that quarantine would only last a couple weeks, we did an article on what people in the theme park community were doing to occupy their time with the theme parks being closed. A wide variety of artists used their skills in some fun ways; including amazingly detailed chalk art, side-splitting memes, and elaborate Armchair Imagineering Challenges. On social media platforms such as Instgram and Twitter, one format that became popular was known as #SixFanArts. This was a drawing challenge of sorts in which artists would ask their followers to list characters they would like to see drawn, and then all of us got to see the wonderful results.
BRIAN: The #SixFanArts challenge is a super fun way to interact with people on social media. You ask people to send suggestions for things they want to see you draw. I find that it is always fun to reimagine a character in my style, and it's a great challenge to draw stuff that you'd never thought of before. Here are some steps on how I create one of these by using the Voo-Doo Donut as an example (Editor's Note: I bet that you, Dear Reader, will never guess which of Brian's social media followers suggested this character.)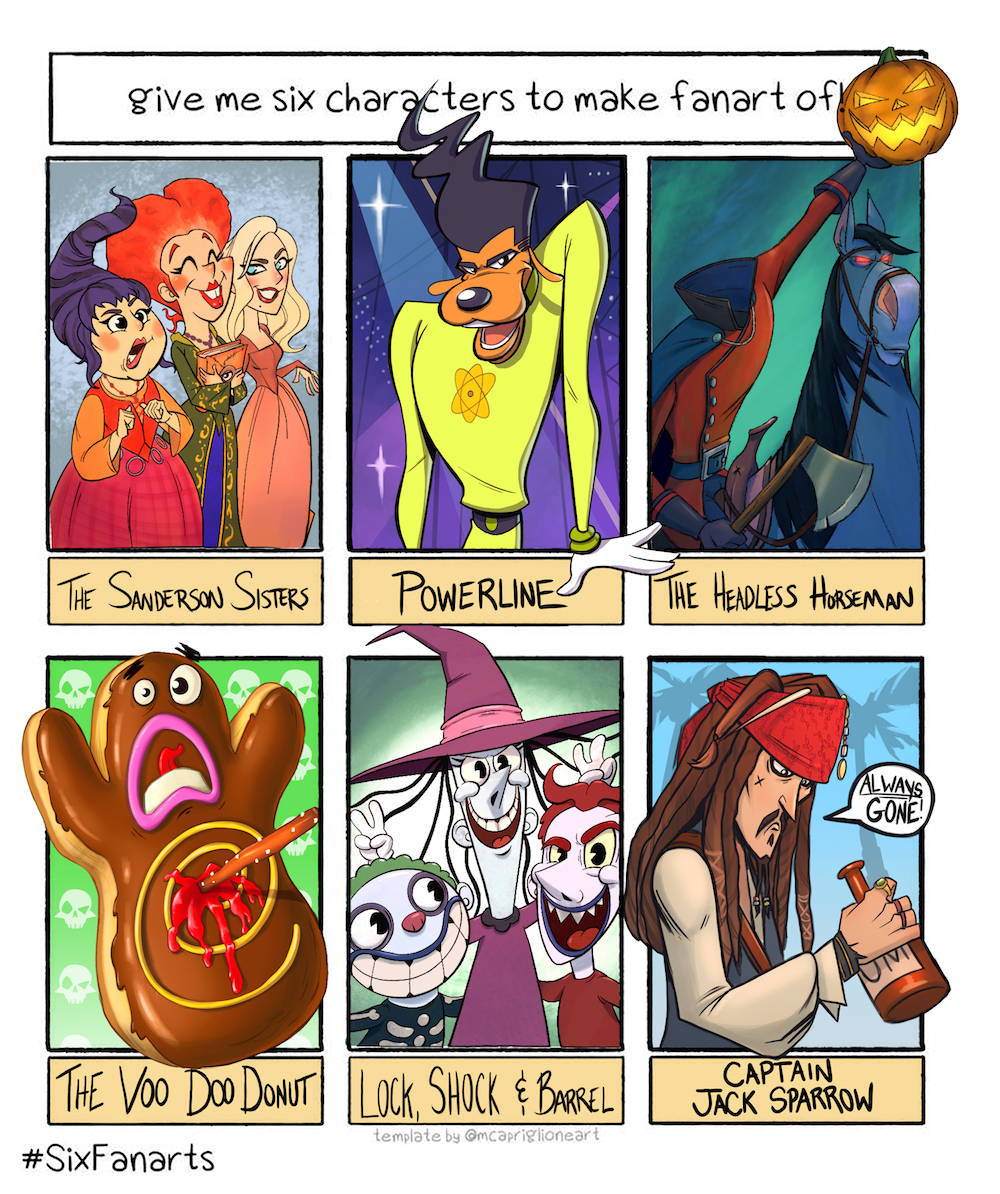 Step one: Research. It's best to get to know the subject well, by either pulling up reference photos or experiencing it in person. I can say that I had to do some extensive "research" on the Voooo doughnut. As any theme park foodie knows, I had to taste them over and over to really get to know it inside and out.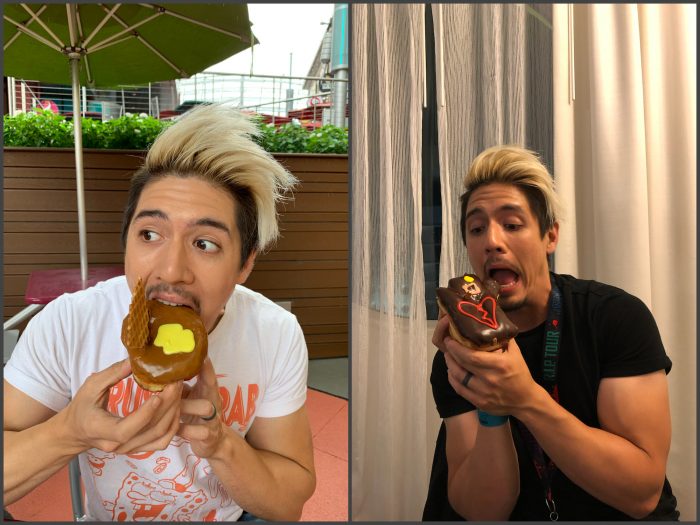 Step Two: Rough Sketch. One of my favorite parts of drawing is roughly sketching out different iterations of the subject and experimenting with shapes and poses to get the feeling right. I generally draw on an iPad Pro using Procreate or on a Wacom Cintiq using Photoshop.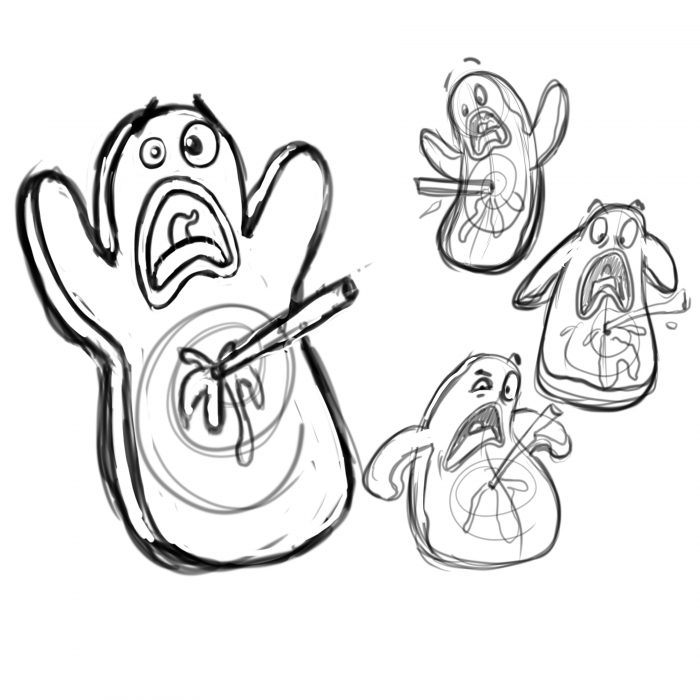 Step Three: Tighten/Ink Line Work. I tie down the drawing when I find the pose and shape that I like. I either clean up the rough sketch by erasing out the messy lines or do an inking layer on top of it. For this particular one, I just cleaned up my messy lines because it had more energy in the rough drawing.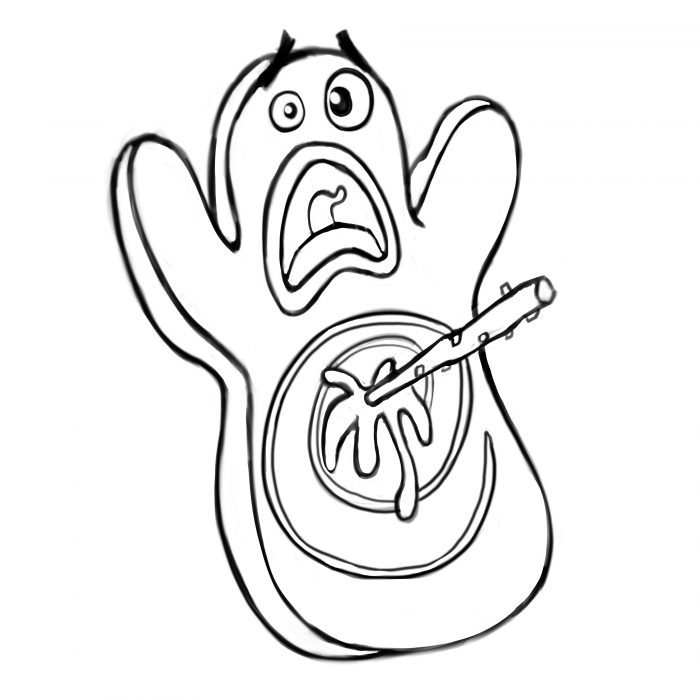 Step Four: Finishing. I add color and shading. I wanted to keep the vibe of Voodoo Doughnut, which feels like a bright happy place to be, but with a slight edge of dark whimsy added in. So, I added a pop with bright colors to lighten the mood since the donut was being stabbed in the chest with a pretzel stick.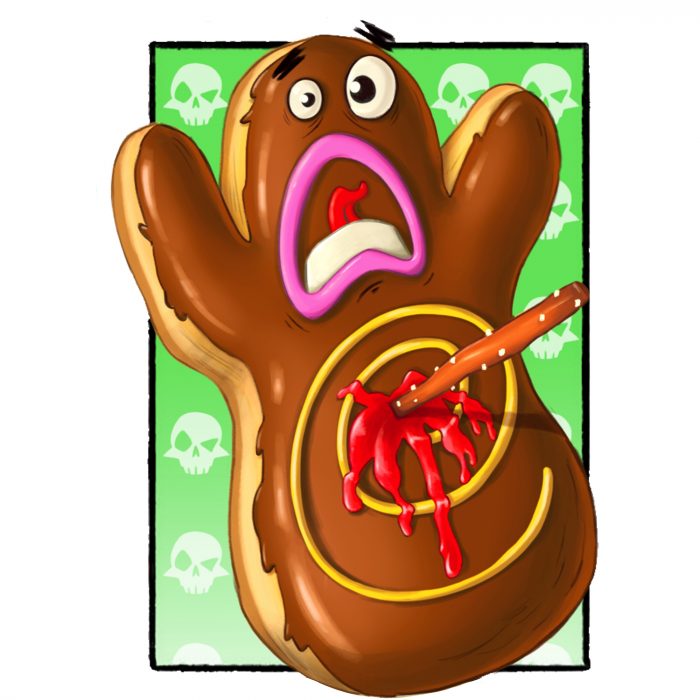 # 5 – Disney Characters
BRIAN: I was lucky enough to grow up in the 90's when some of the best cartoons were being made. Disney animated movies and TV shows were a staple for me and shaped my artistic style early on, and the Disney Afternoon was a daily staple for me. Darkwing Duck was among my favorites as it blended a bit of Batman and Ducktales in such a fantastic way.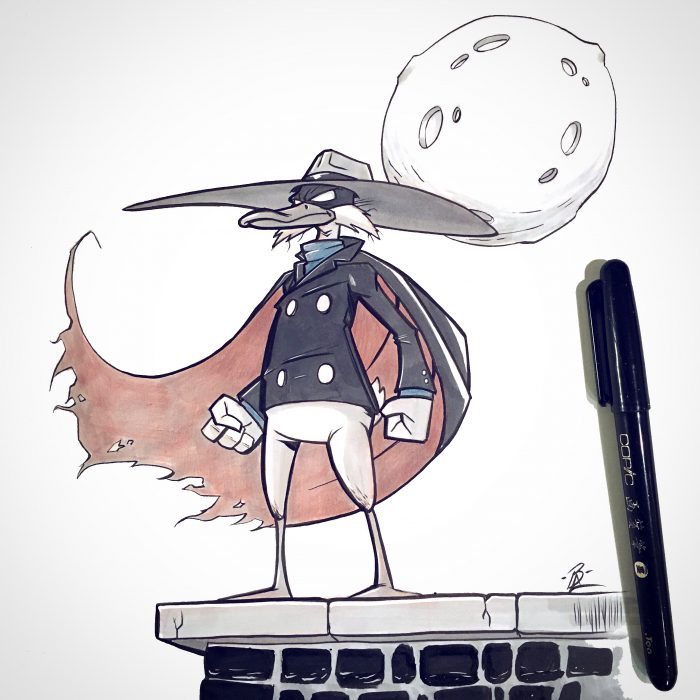 BRIAN: Some of my favorite Disney characters to draw are the villains. They are so charismatic and seem to wear their emotions on their sleeve, which can lead to fun exaggerated drawings.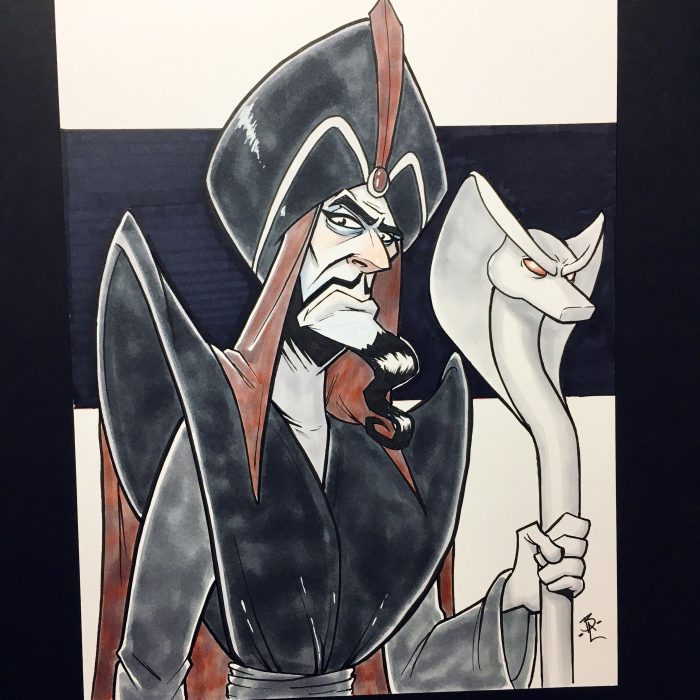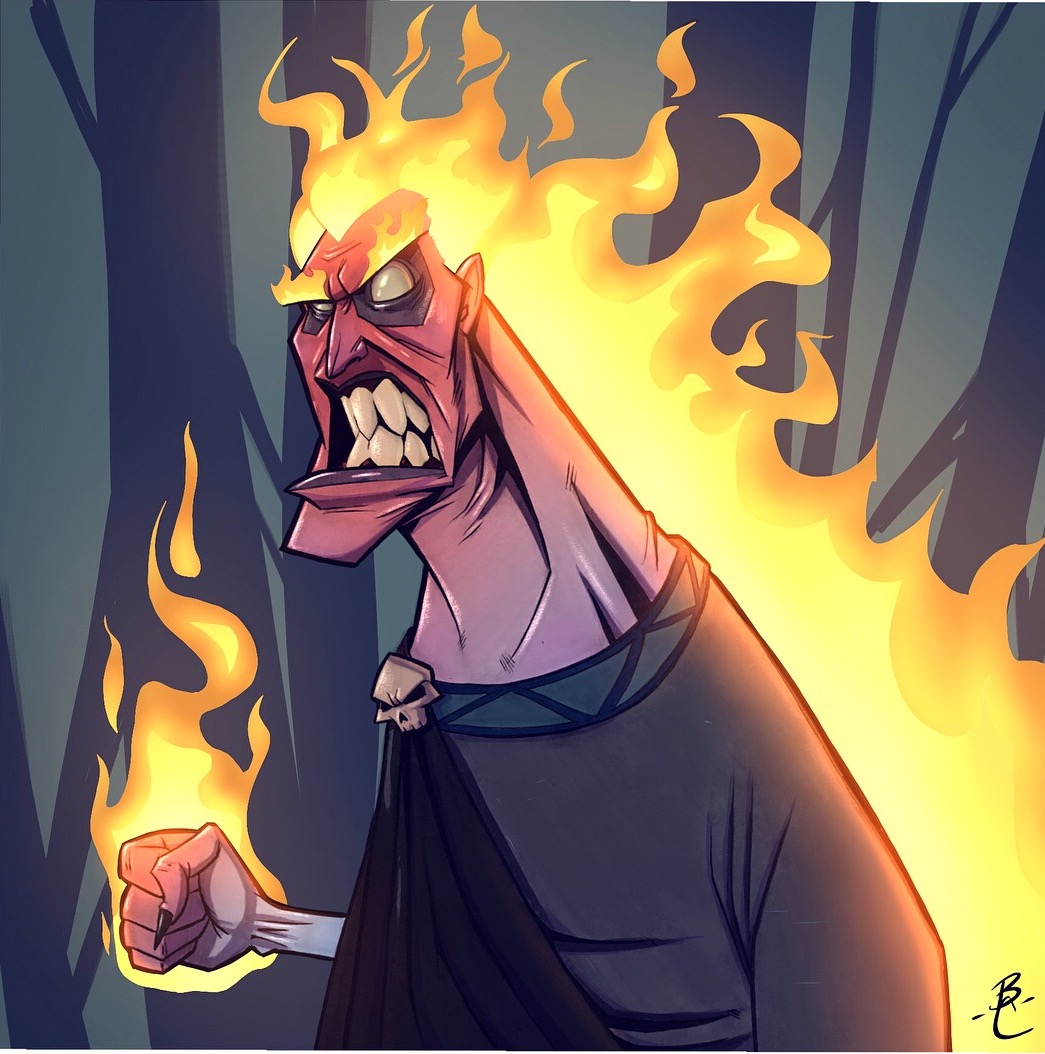 BRIAN: Nightmare Before Christmas is a movie that is especially dear to my heart. It's every emo/goth teenager's fantasy fulfilled, and I first saw it at the height of my teenage years. The film, soundtrack, and its characters, have influenced my art ever since.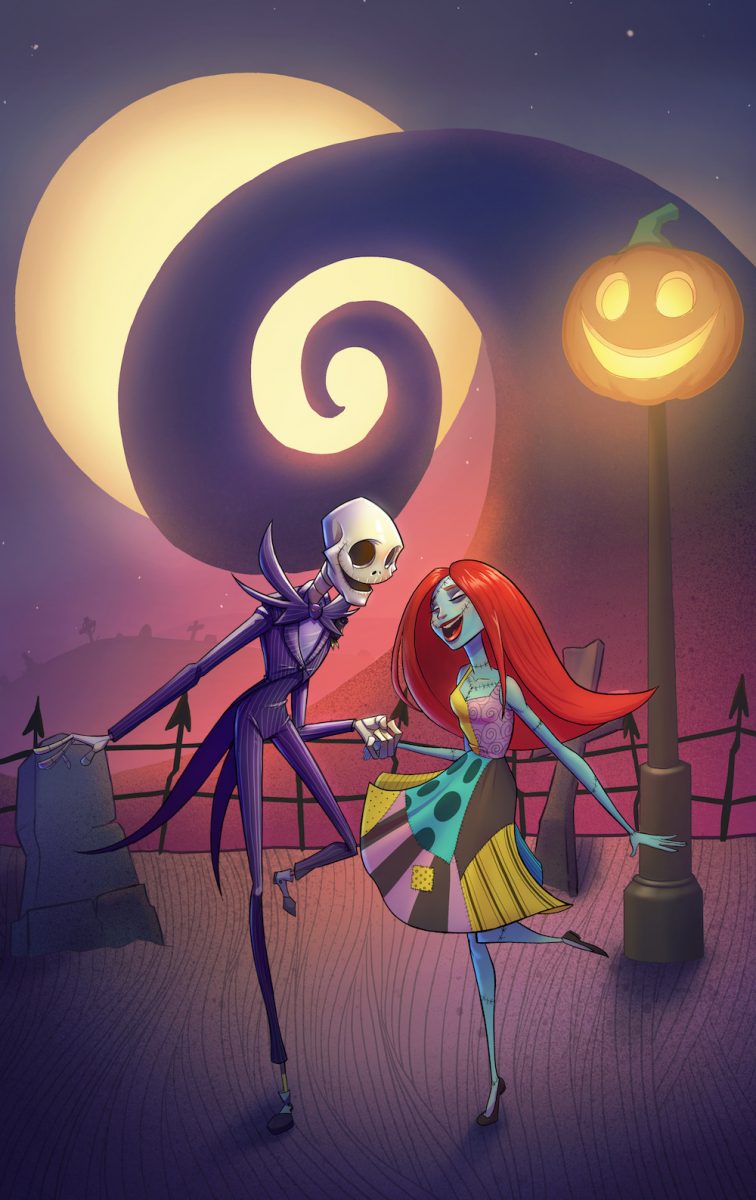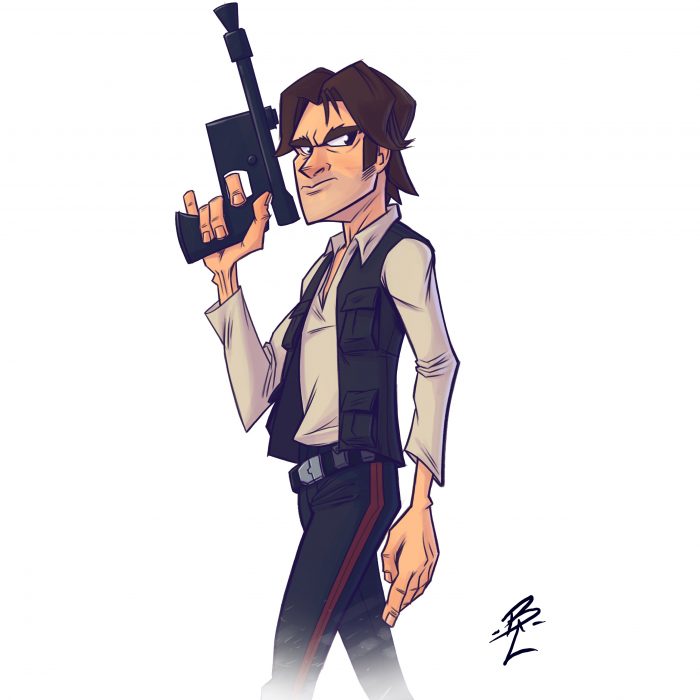 BRIAN: It would be a dream to see the Pirates of the Caribbean franchise as an animated tv series. Since it doesn't exist, I drew up what I think it could look like.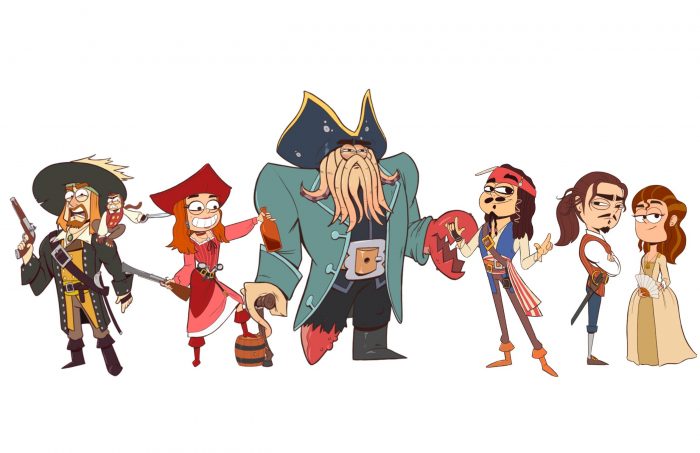 BRIAN: The amazing work of Disney Imagineer Marc Davis, specifically for the Pirates of the Caribbean ride, leaves me in awe every time I see it. The Pirates of the Caribbean movies are some of my favorites of all time, so I wanted to create a mixture of the two with this poster.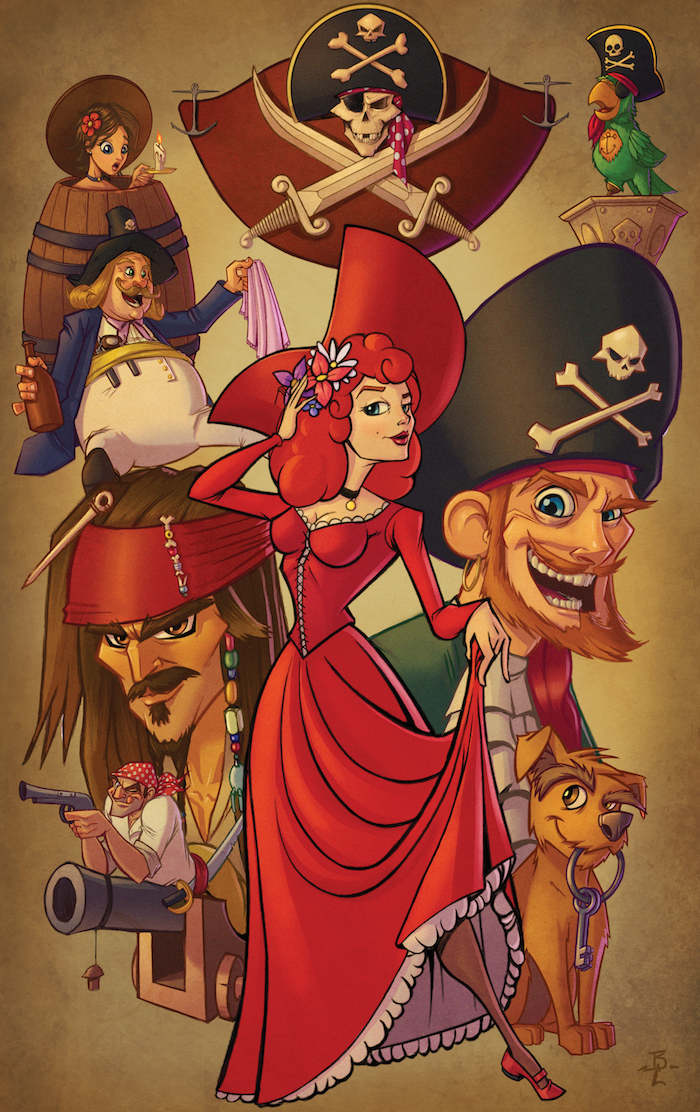 # 4 – Haunted Mansion
BRIAN: The Haunted Mansion is extremely meaningful to myself and my family. My wedding, which was held at Disney's Grand Californian, had a spooky Haunted Mansion theme. In fact, I saw my wife Joanne in her wedding dress for the first time standing on the steps of Disneyland's Haunted Mansion.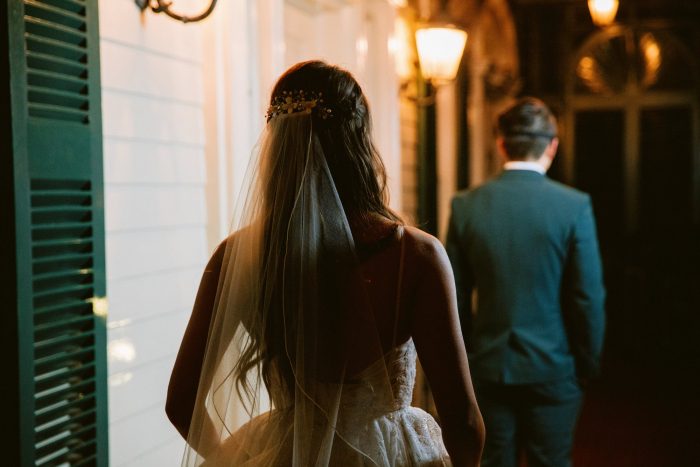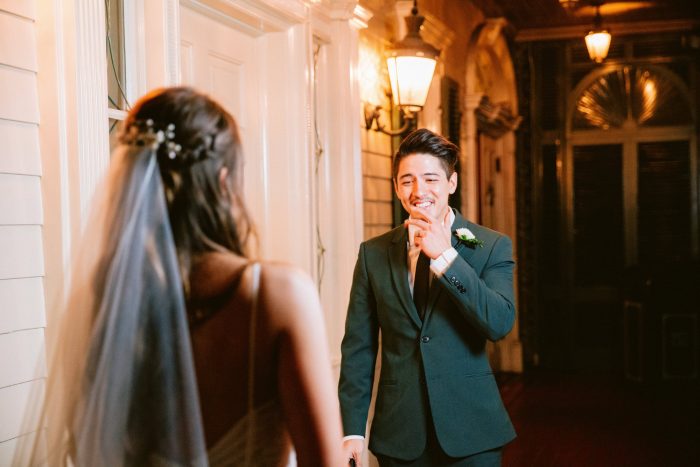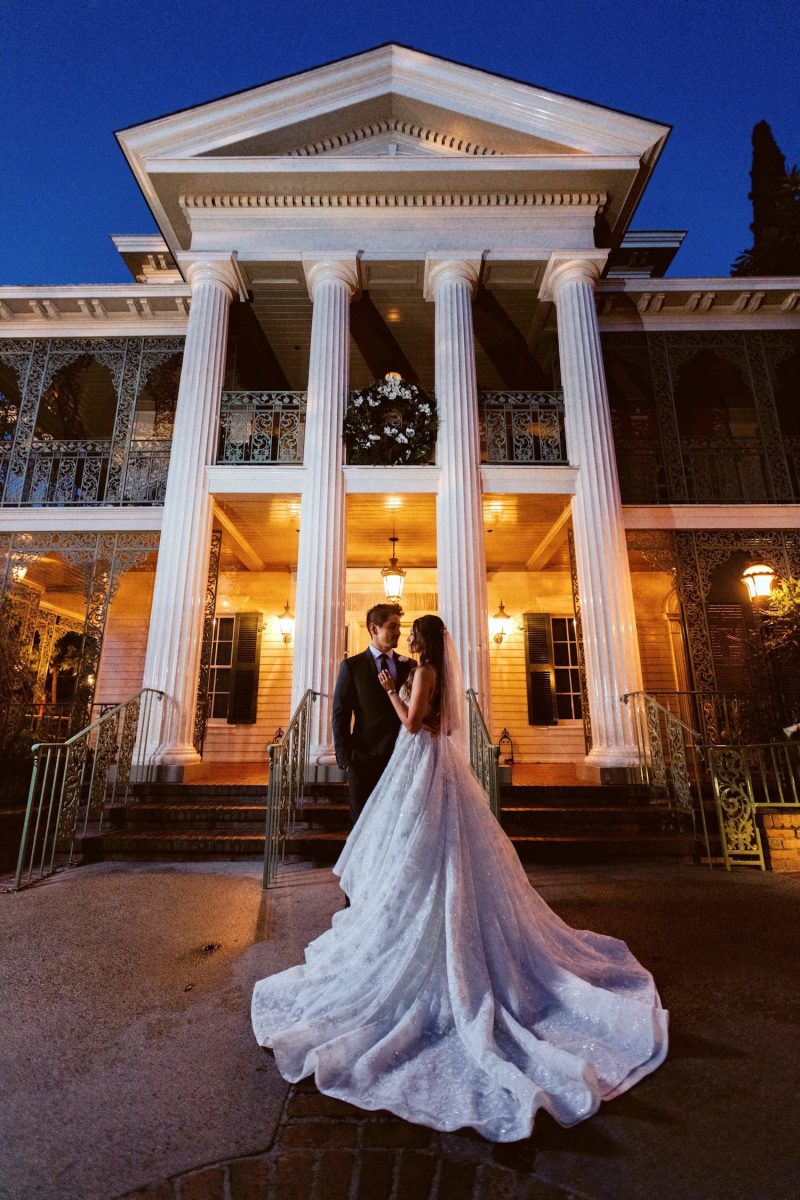 BRIAN: The Haunted Mansion is, in my opinion, one of the most perfect attractions ever created. So naturally, every month or so I have to draw something from it otherwise I go a bit crazy.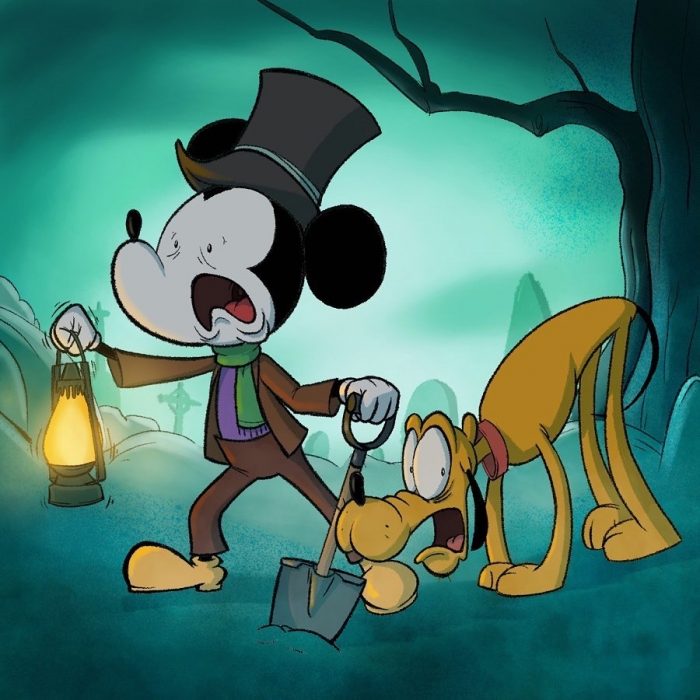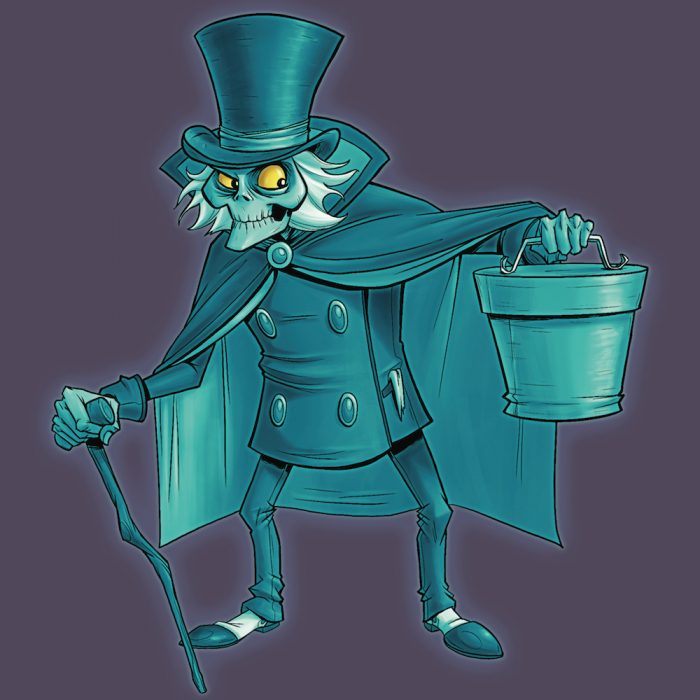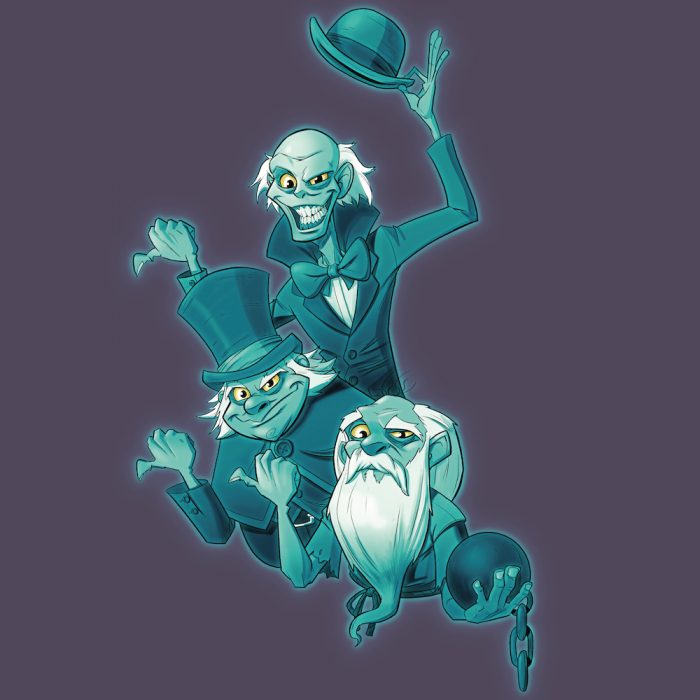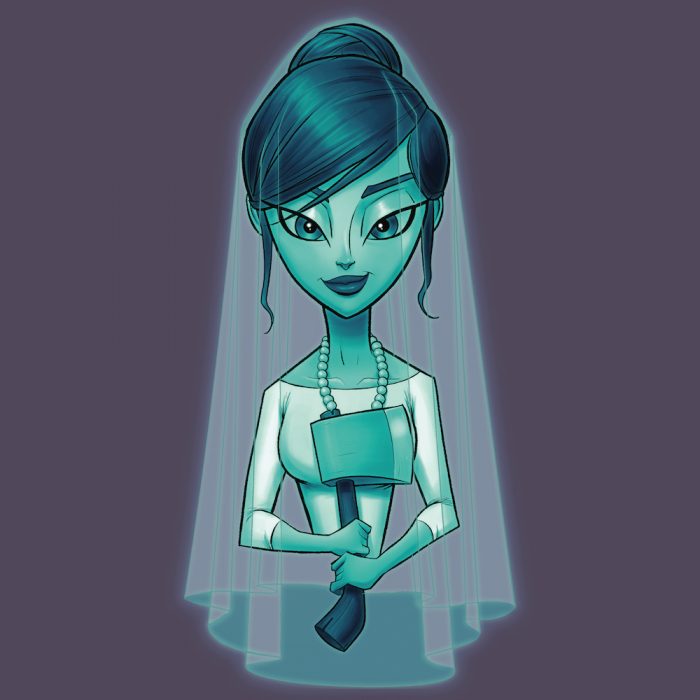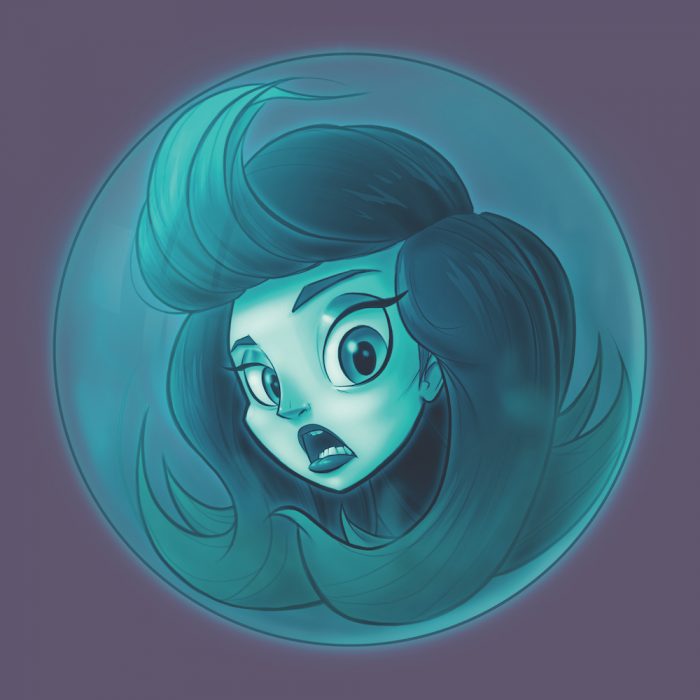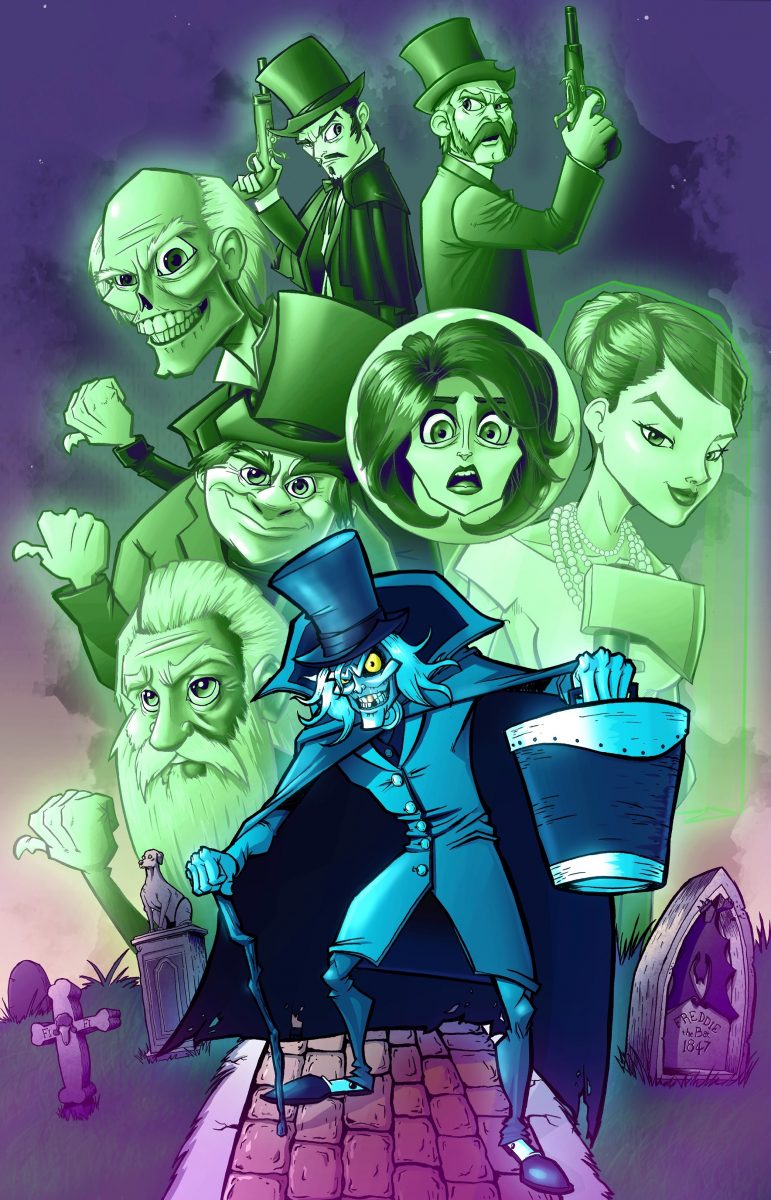 # 3 – Halloween Horror Nights
BRIAN: Halloween is my favorite holiday and it's my favorite time of year to draw. I've mentioned my love for the  Haunted Mansion and Nightmare Before Christmas, but believe it or not I used to HATE horror movies and anything scary! I thought I would go my entire life without entering a haunted house. Universal's Halloween Horror Nights changed that for me. The level of detail and theming that go into these events is incredible, and gave me a newfound appreciation for the work that goes into creating them.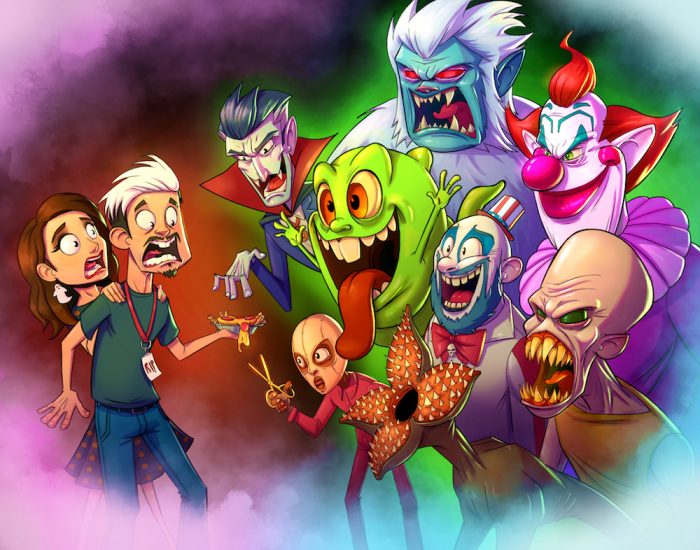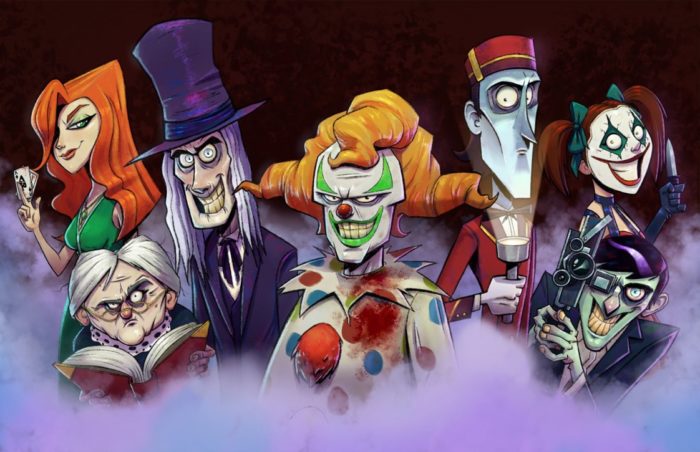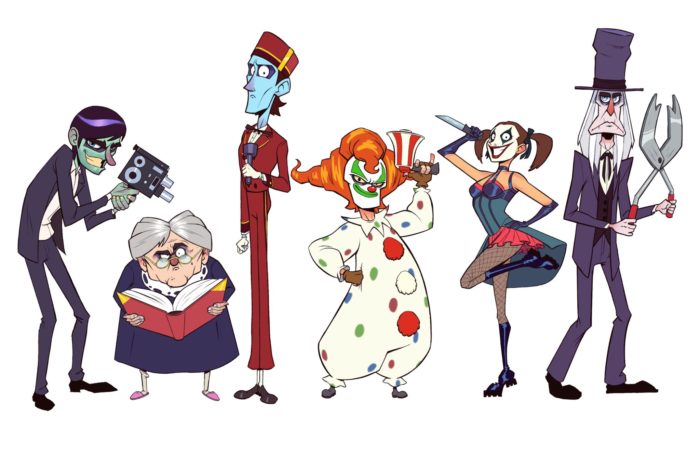 Brian: Like many, I hope to see more of the Universal Classic Monsters involved inside the theme parks in the coming years.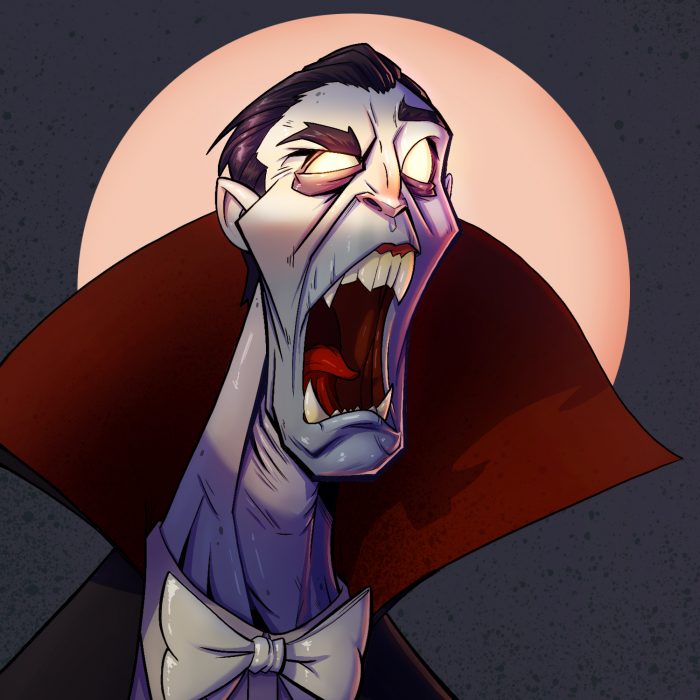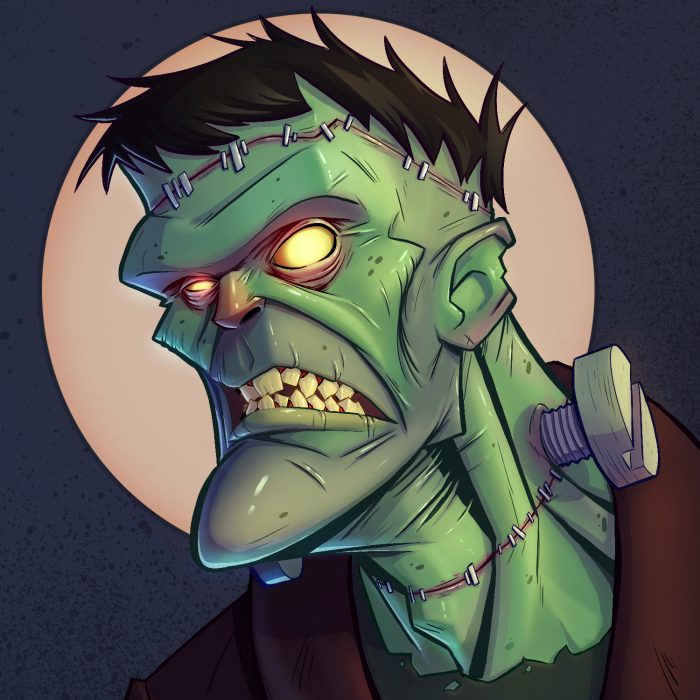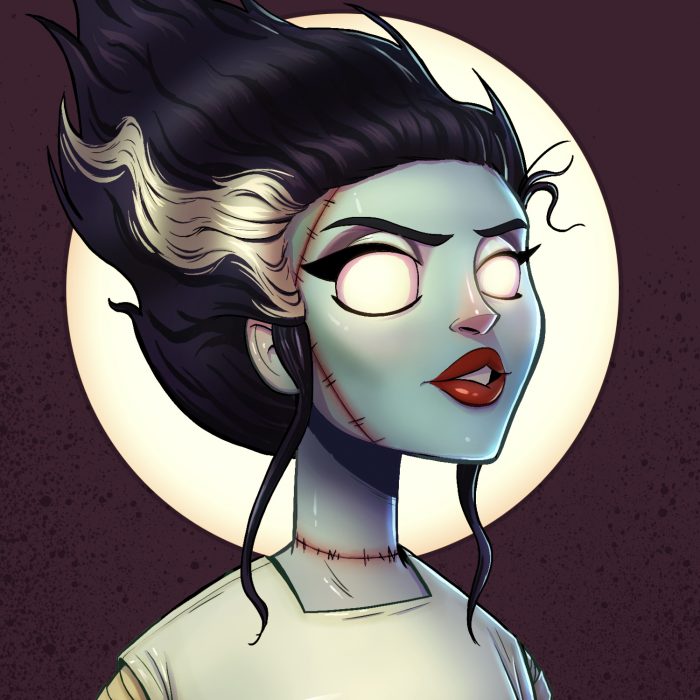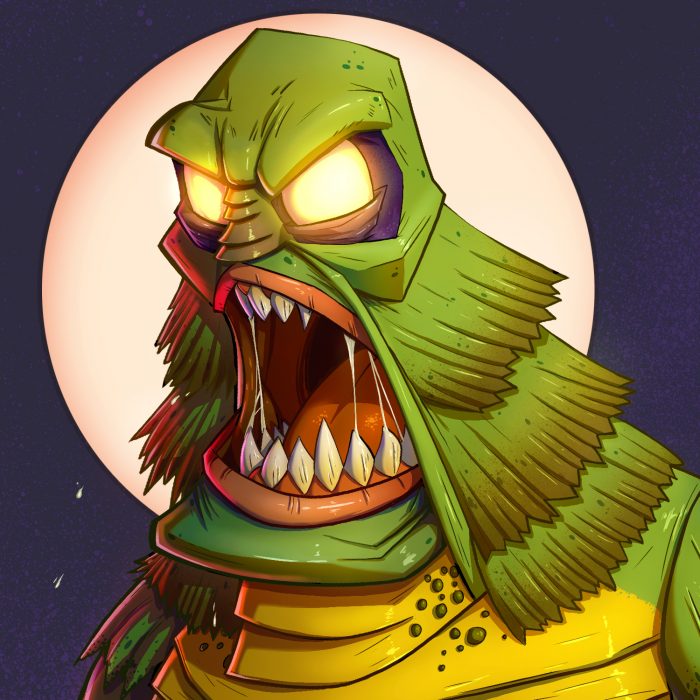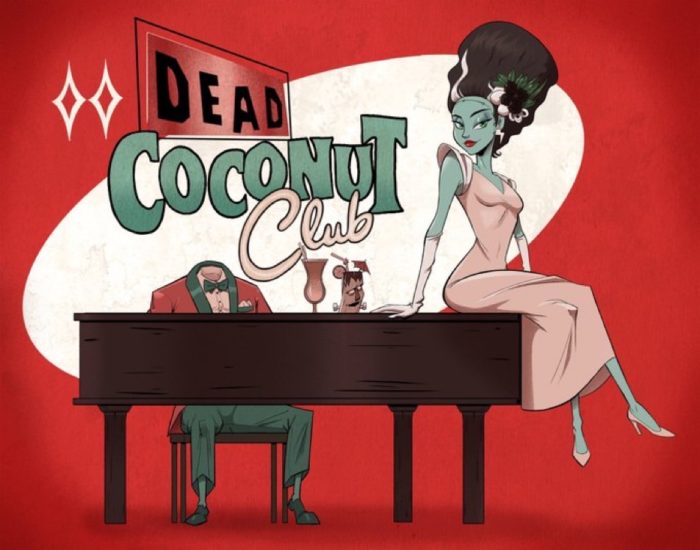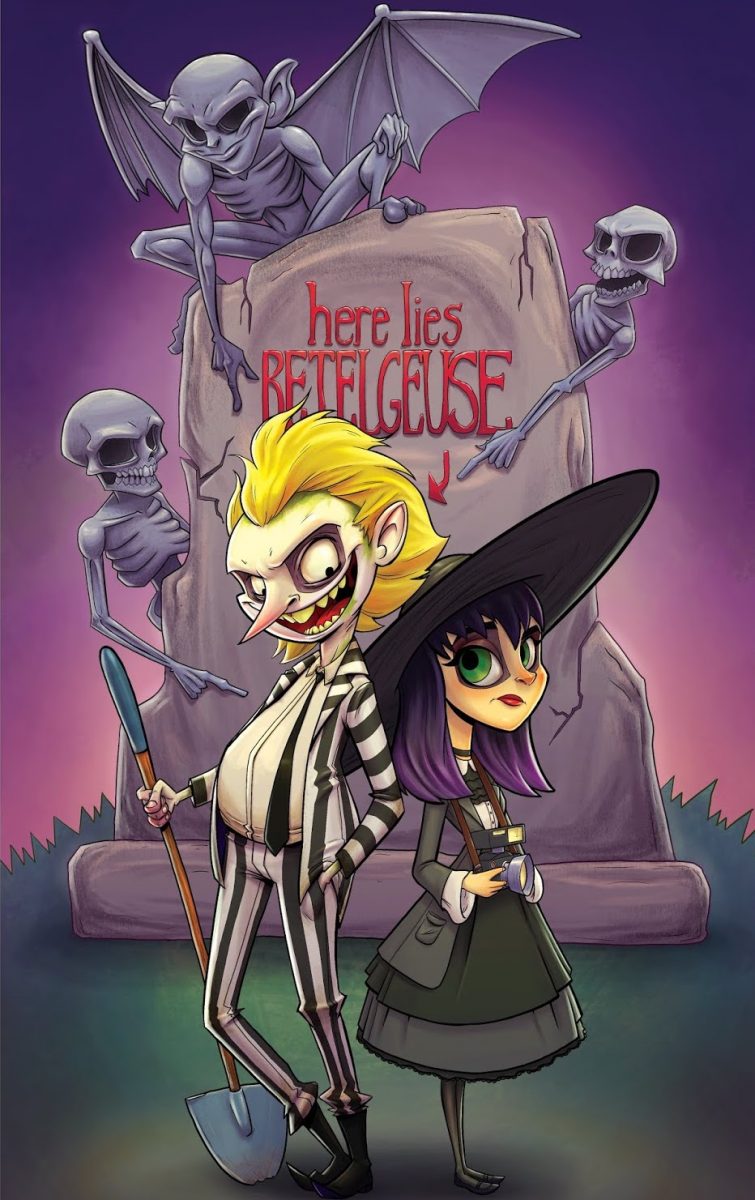 # 2 – Marvel Superheroes
BRIAN: Marvel superheroes and villains are a blast to draw! They have such exaggerated proportions and expressions. You can really push the characters to extremes.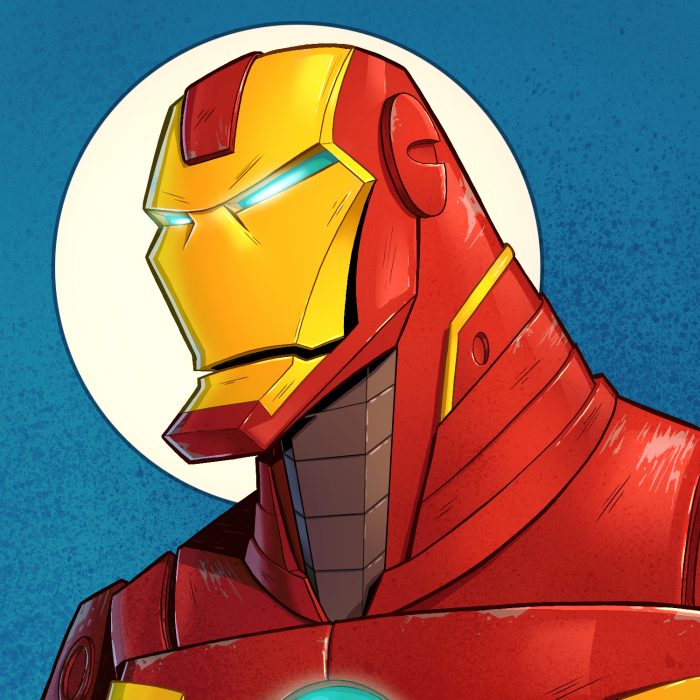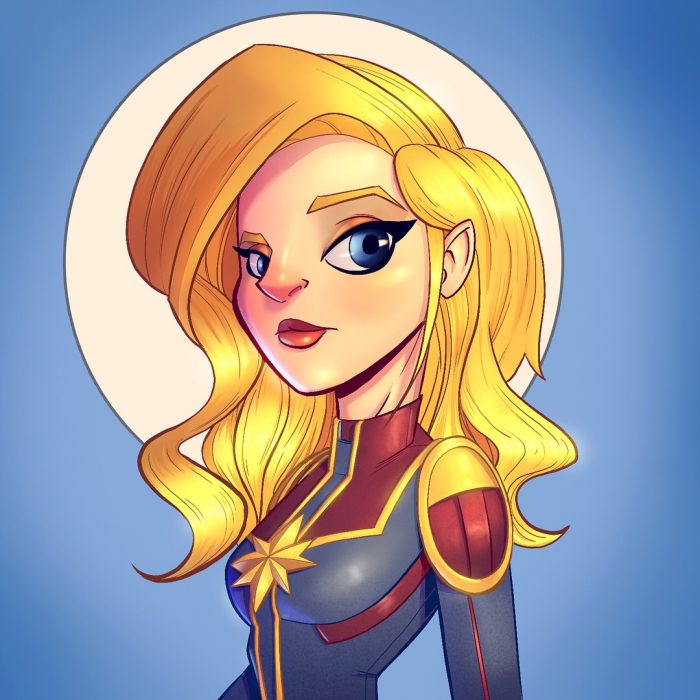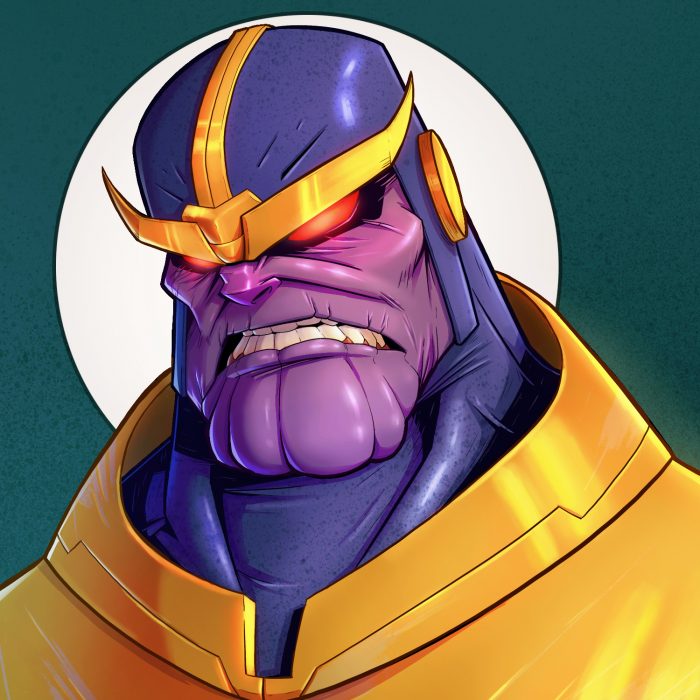 BRIAN: Spider-Man has always been my favorite Marvel superhero. He has one of my favorite super suits, and some of the most iconic villains. I love drawing ol' web head any chance I get!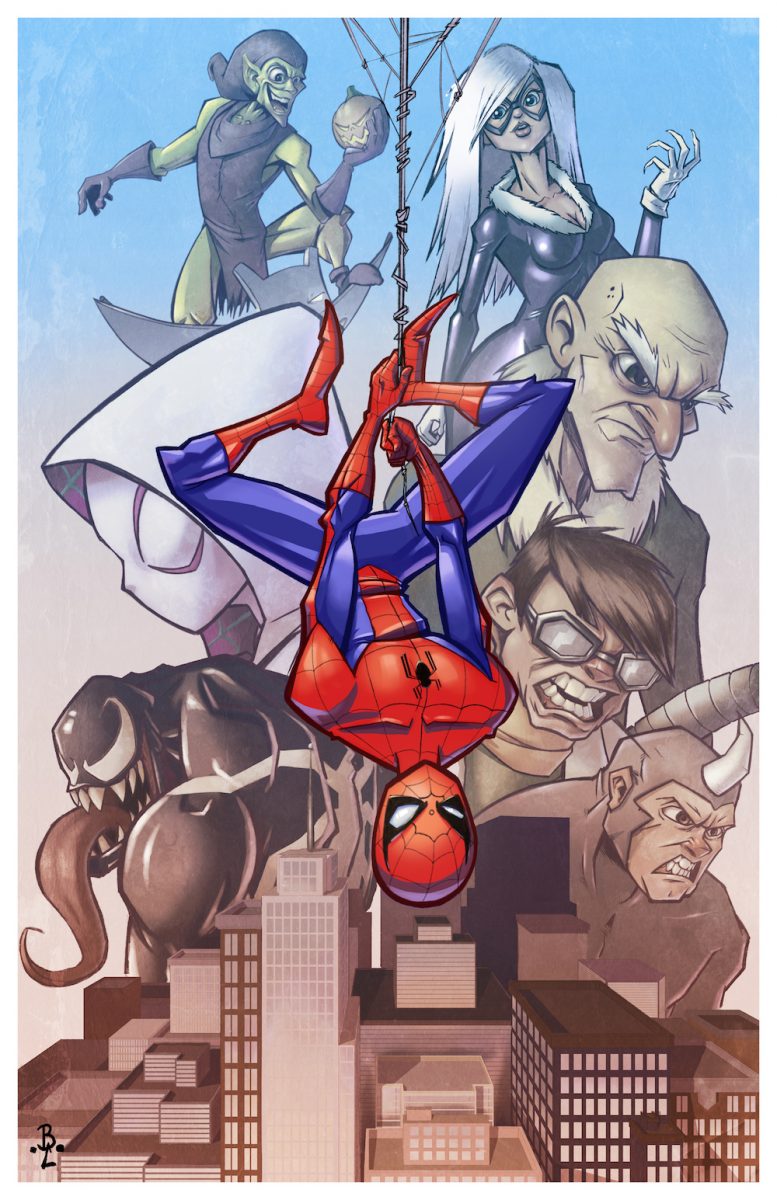 BRIAN: While nowhere near as popular as other Marvel heroes, two characters that I wanted to explore different variations of were Howard the Duck and Hit Monkey. This is one of my favorite art exercises to do because you get to play around with certain aspects of the character and give them slightly different personalities with each variation.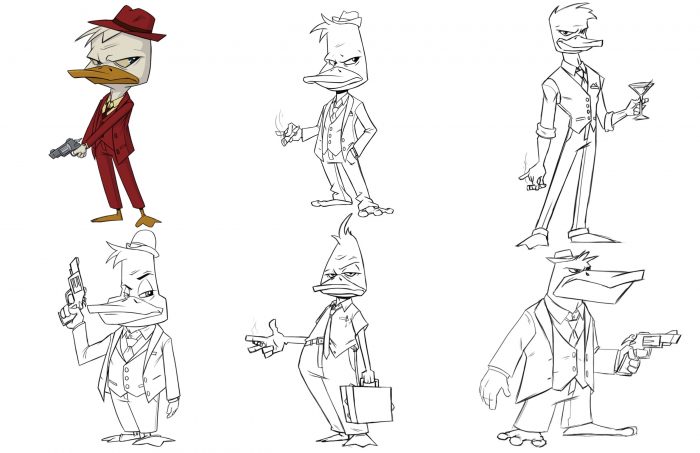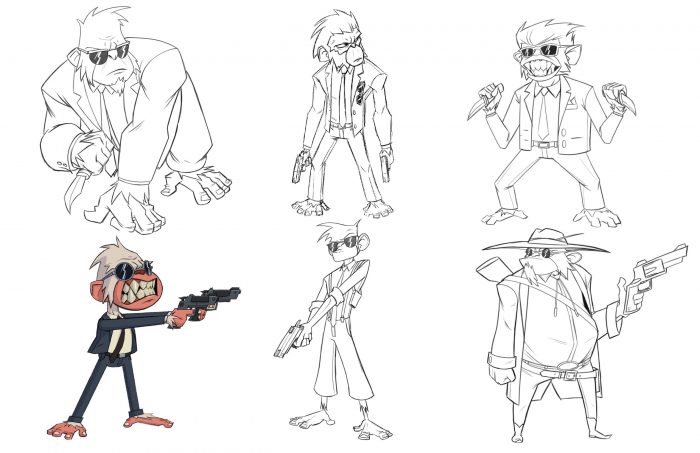 # 1 – Turkeys of the Year
BRIAN: I love to listen to theme park podcasts to get tips and information before I head to Florida. One of my favorites was the E-Ticket Report (RIP). Derek's commentary and opinions were always spot on! So you can imagine how excited I was when he asked me to do some drawings for the SATURDAY SIX. Since then, we've been able to do many collaborations and I always have a ton of fun turning Derek's crazy ideas into reality.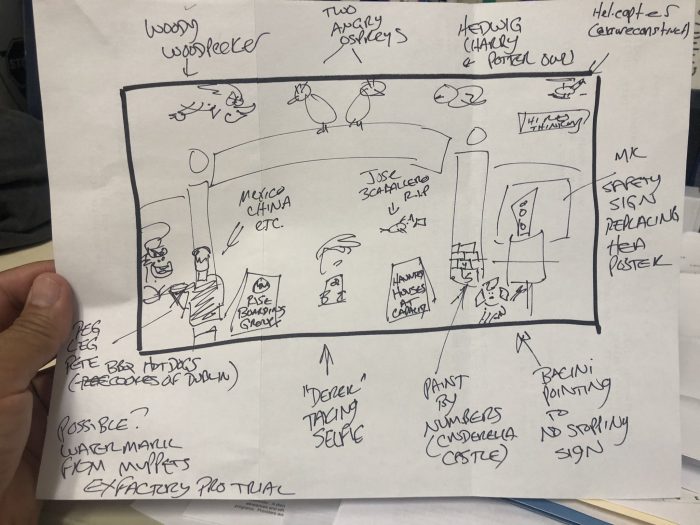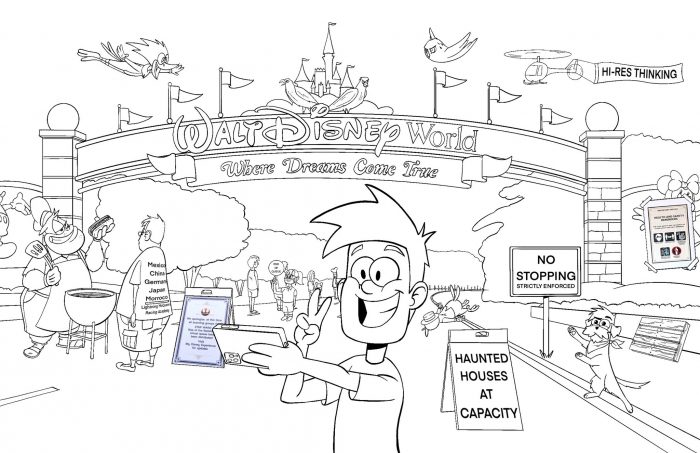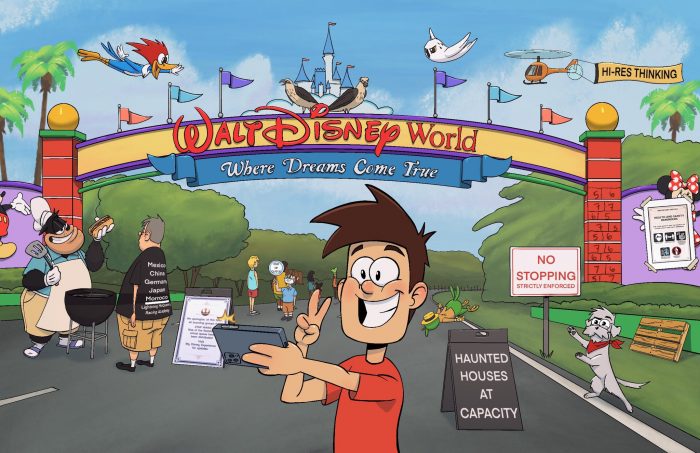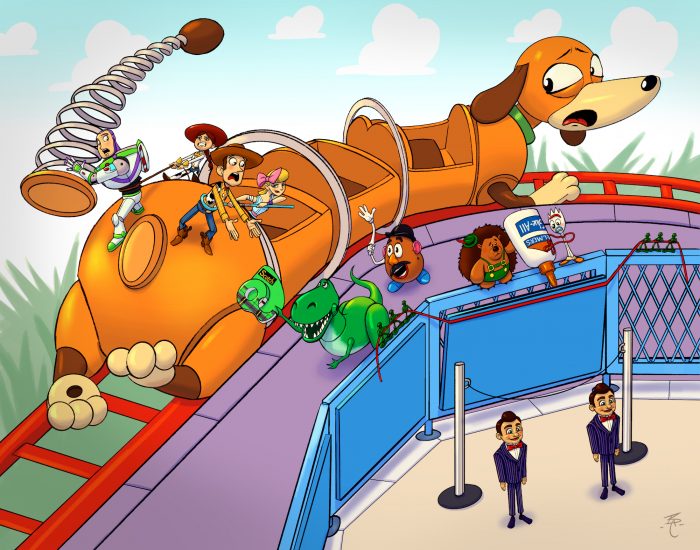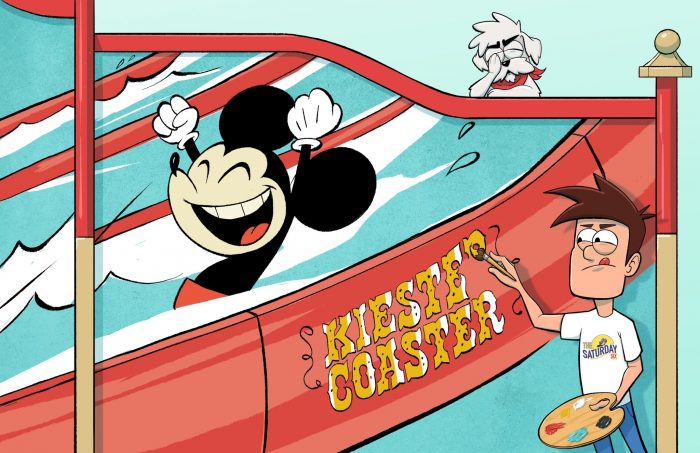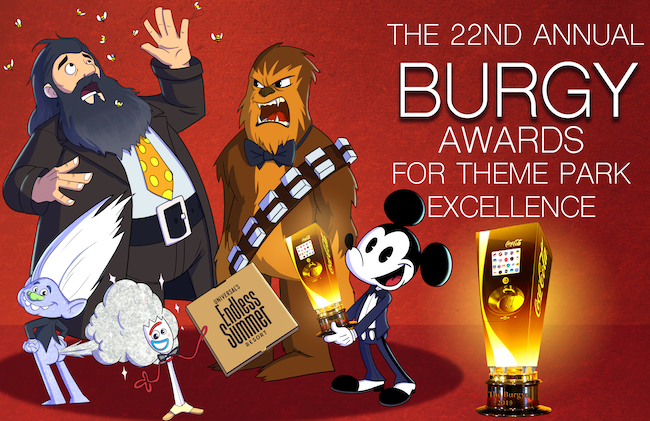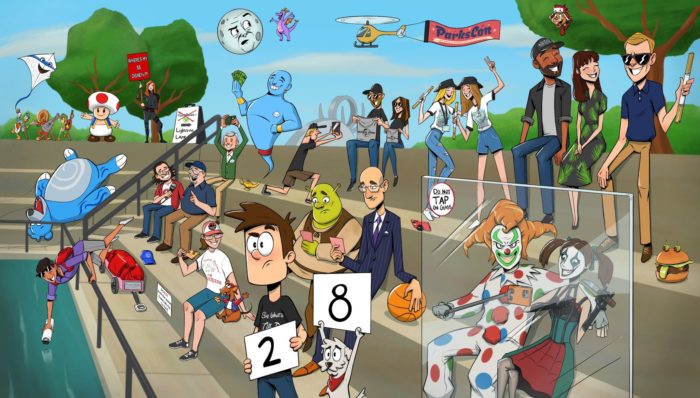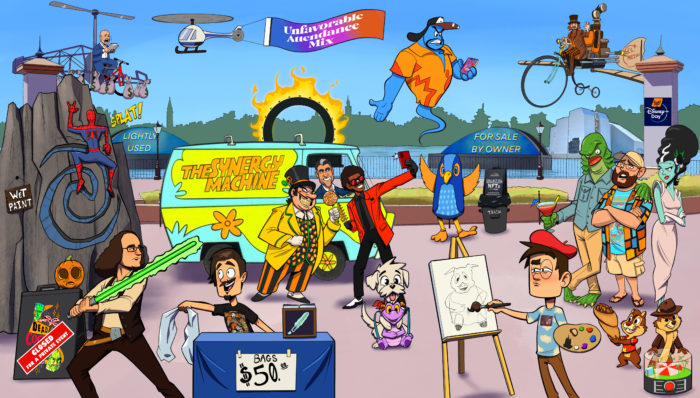 Derek here. One of the things I loved growing up was "Goofus and Gallant" cartoons in the Highlights magazine. The concept of using one guy doing things "the right way" and one guy doing things "the wrong way" was ripe with potential to use in the theme park world. Back in 2018, I made my first attempt at the formula after Disney announced four of its hotels would become dog-friendly. I did all the artwork, and I hated it. For many artists, we are our own worst critics, but in a community full of talented people who could draw, I knew my artwork wasn't good enough for the SAT SIX readers. You deserve better. Did I give you better? NAY NAY. I followed it up with another "David and Derek" looking at Guest Etiquette at the Disney Parks. I then did one more by myself looking at Star Wars: Galaxy's Edge. I was so frustrated trying to draw the Millennium Falcon that I ended up getting another artist to draw that "hunk of junk" and I swore I'd never do another article like that again even though I loved writing "David and Derek."
After I had worked with Brian Cooper on a couple single drawings, I asked if he would consider working on a "David and Derek" article. I knew this was a big ask. Until this point, every time I had approached any artist to work on a SATURDAY SIX article it was always for a single drawing. A "David and Derek" article would take 12 drawings. That's a big ask for anyone. Imagine my surprise when Brian AGREED! It was like how The Grinch felt when his heart grew three sizes. Even better, Brian would add to things in a way I would never be able to if I continued to draw the series myself. For instance, right before the parks shut down for coronavirus, I won the award for Worst Timing Ever with a David and Derek looking at The Do's and Don'ts of Vacation Planning. In one of the segments, we cover Time Share Presentations. For the salesman in each drawing, Brian channeled the lovable loser Gil Gunderson, from The Simpsons. As a person who hasn't written several articles over the year featuring The Simpsons and Theme Parks, this made my day.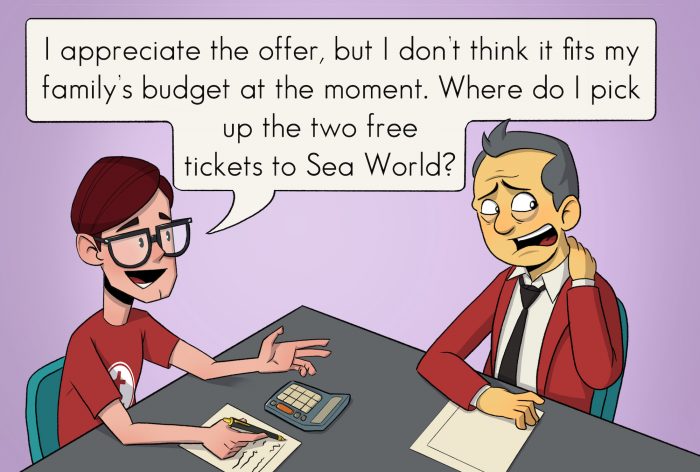 Brian and I also thought that it would be a fun idea to start incorporating Bacini – the official dog of DisTwitter – into this series as a sort of "moral compass" for the character of Derek. Keep in mind this moral compass can be easily distracted by treats!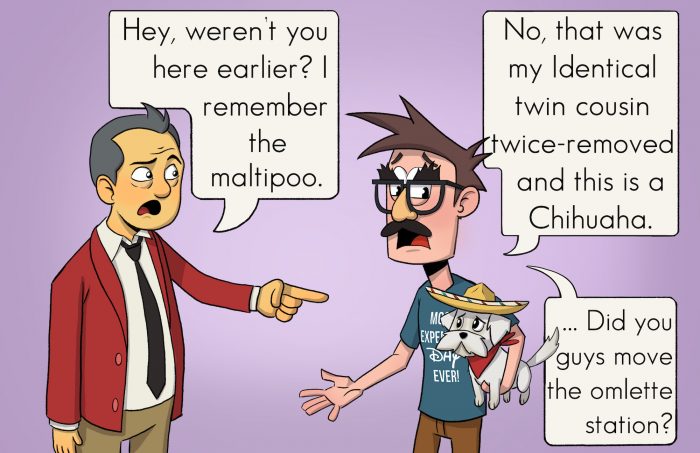 I've found over the years that every artist is different in terms of how they like to be presented information. Some want as much as possible. Others just want the "gist" of the idea so they can make it their own. After a while, a writer and artist team will be on the same page and understand how each works best. Luckily for me, I realized quickly that Brian and I almost shared the same brain, and I only had to do the most basic of sketches and he would come back with something amazing. Here's an example for one of the "layouts" I gave Brian for another segment of the Vacation Planning article, looking at the Disney Dining Plan.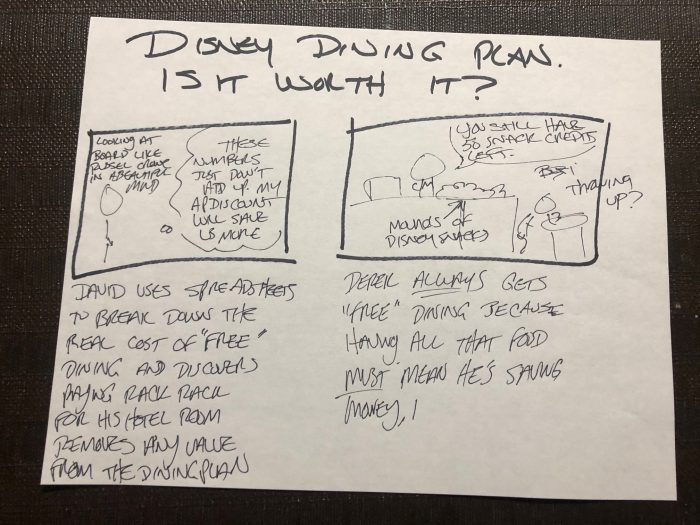 First up is the "David" part of the comic strip, and not only is the drawing better than what I had pictured in my mind (my note said "looking at the board like Russell Crowe in A Beautiful Mind") it was filled with Easter Eggs.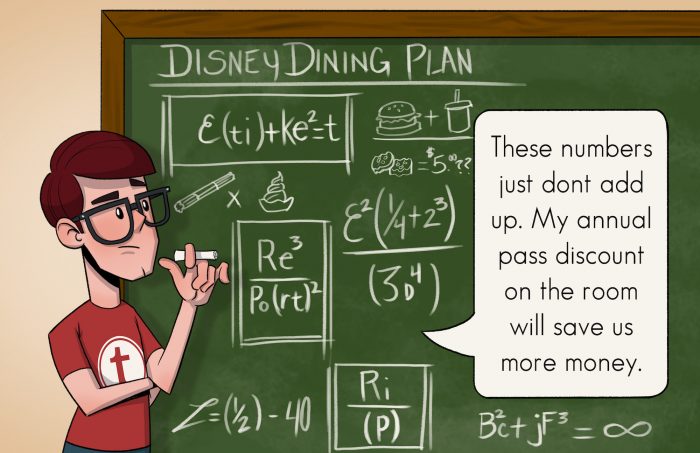 Here is Brian's first sketch of the "Derek" side of the Disney Dining Plan comic strip. After Brian figures out where everything is going to go, we decide on what shirt "Derek" is going to wear. Generally it's going to be something awful, and usually seen in a Disney Outlet Store Photo Report.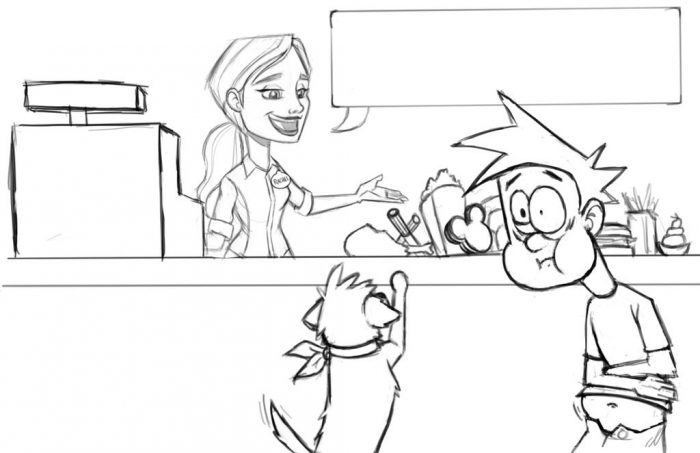 For this drawing, we went with one of the next level bonkers line of MagicBand shirts that came out years ago.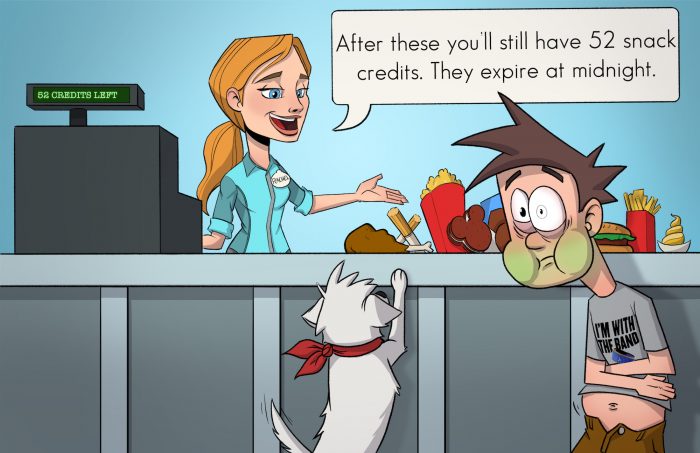 I loved doing the David and Derek article looking at the Do's and Don'ts Covid Protocols at the theme parks, because we got to take a serious look at a very important topic in the last year, while also being able to add some humor into the situation.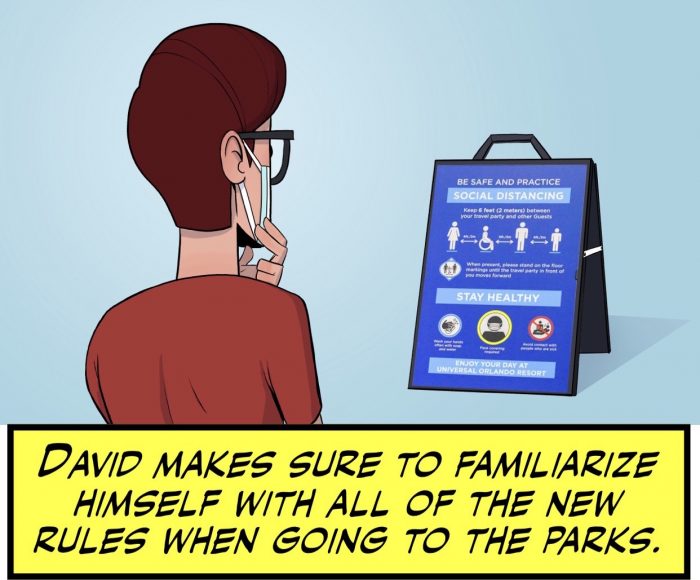 For those who don't know what the "Derek" portion of this comic strip is referring to, may I direct you to the 2020 Turkeys of the Year for more information. The t-shirt for this one was actually a real design last summer that I thought was pretty cool, featuring the Social Distancing Skunk Ape from Gatorland.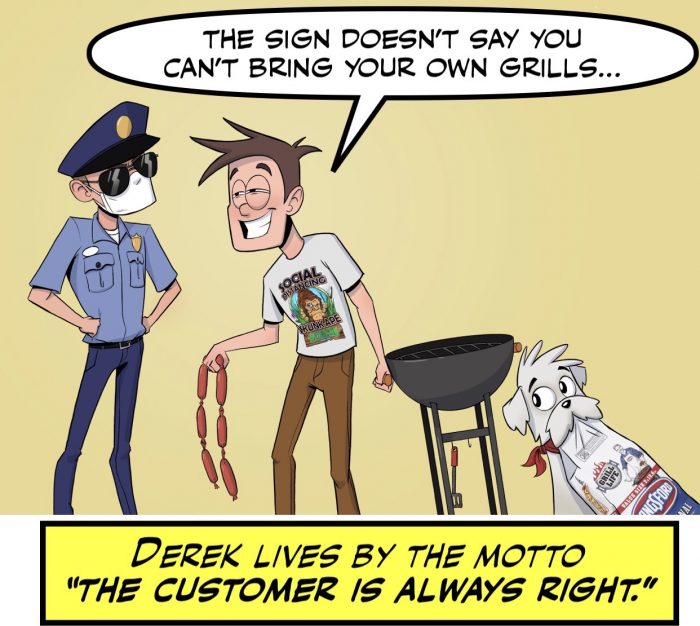 For this very article, I reached out to Brian suggesting a drawing that would have Derek and Bacini pitching ideas to him. I said the idea was inspired by the episode of The Simpsons in which the character Poochie was created. Derek and Bacini are trying to convince Brian to draw them more muscular and heroic. Derek as Arnold Swarzeneggar in his Mr. Olympia days, and Bacini as Superman's dog Krypto. As hard as it is to believe, the shirt Derek is wearing is an actual t-shirt that Disney sold inside the theme parks last year (we once again refer you to the 2020 Turkeys). In the background we see drawings that Brian has done which didn't really fit into this article, including those based on DC comic characters The Joker and Harley Quinn along with the Teenage Mutant Ninja Turtles.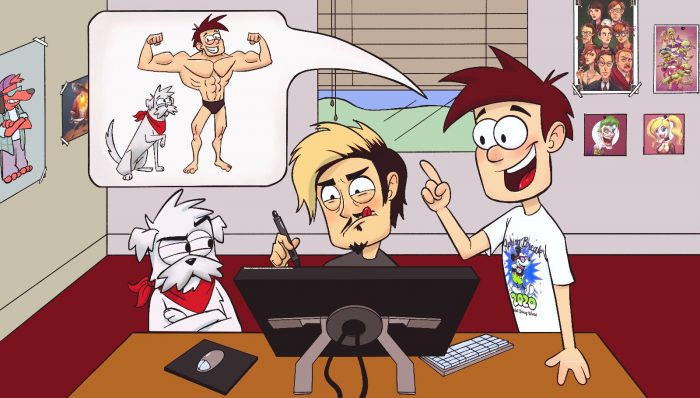 HONORABLE MENTION – Tribute Articles
Unfortunately, over the years we've done some spotlight articles on people in the community who have passed away. Of all the articles, these are the hardest to write but I'm hoping for them to be a lasting memorial to the people they are dedicated to. Brian graciously volunteered to create artwork for these Tributes and I couldn't be more thankful.
The artwork below features my friend Josh easyWDW, and you can read his Tribute by CLICKING HERE.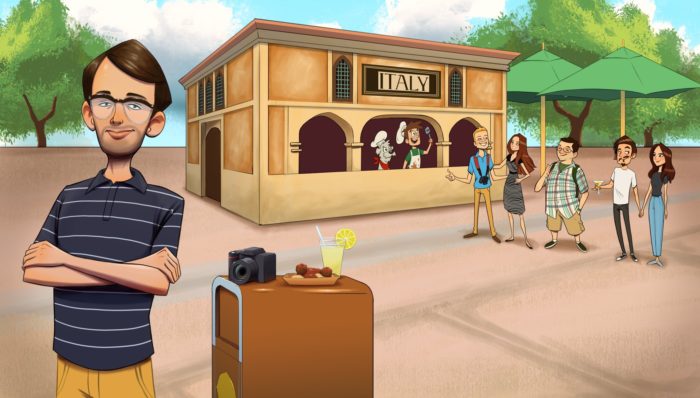 In early 2023, the DisTwitter community suffered another shocking loss with the passing of Ian Barritt. With over 100 runDisney races under his belt, Ian was an inspiration to many. His kindness and generosity were unmatched. You can read more about the lives Ian touched in THIS ARTICLE.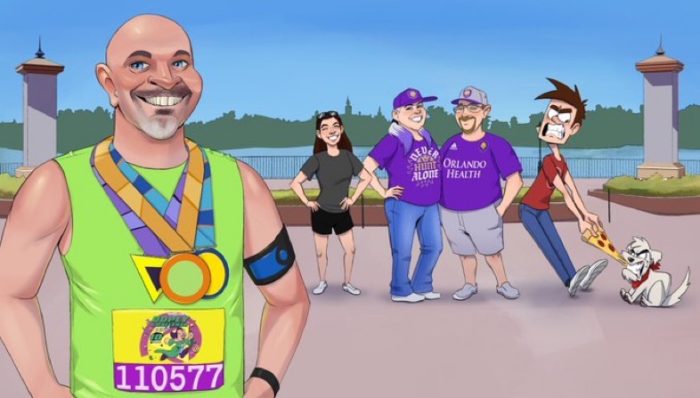 DOUBLE SECRET HONORABLE MENTION – You asked for it… you got it!! MORE BACINI!!!
Readers of the SATURDAY SIX know that Bacini has become a recurring character even outside of the David & Derek series. We've done articles taking him to the Universal hotels like Royal Pacific Resort, Disney resorts like Fort Wilderness, and of course have asked Brian Cooper to draw him many times. In our Never Forget 2020 (No Matter How Hard We Try) article, there was a section on a Boy Scouts book series that took the logo for Disney California Adventure and barely changed it to make it their own. I asked Brian to also take the DCA logo and change it to the SATURDAY SIX. One piece of the DCA logo was the incredible Grizzly Peak rock work, which resembles a bear. Even though I was just looking for the words to be changed, Brian took the time to also change the bear design to Bacini. This is the type of attention to detail rarely seen, because keep in mind the original concept was that this drawing would just be a small design on a t-shirt Derek would be wearing. Just incredible!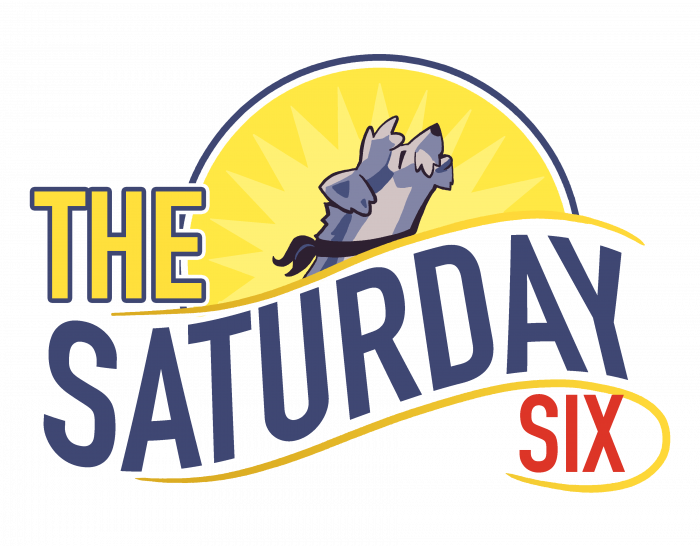 A regular feature of the David and Derek series is one panel featuring "Derek's car."  Last year, we bought Bacini a car seat that he adores. When we make the drive up to Orlando, he'll spend part of the trip looking out the window and the rest of it sleeping.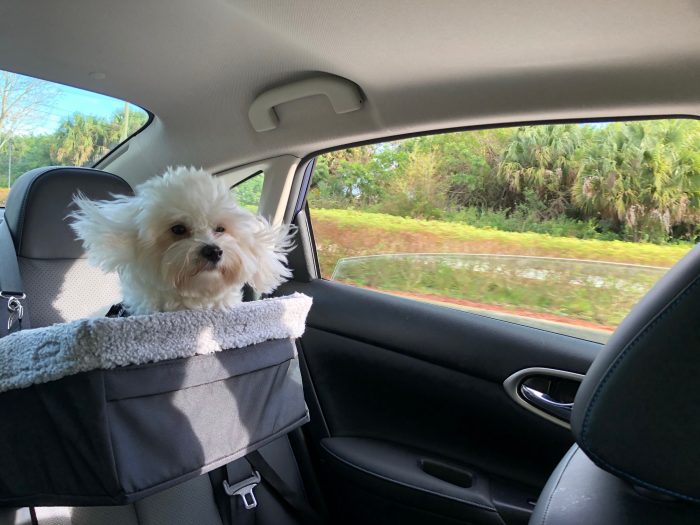 Brian incorporated Bacini's car seat into the drawings.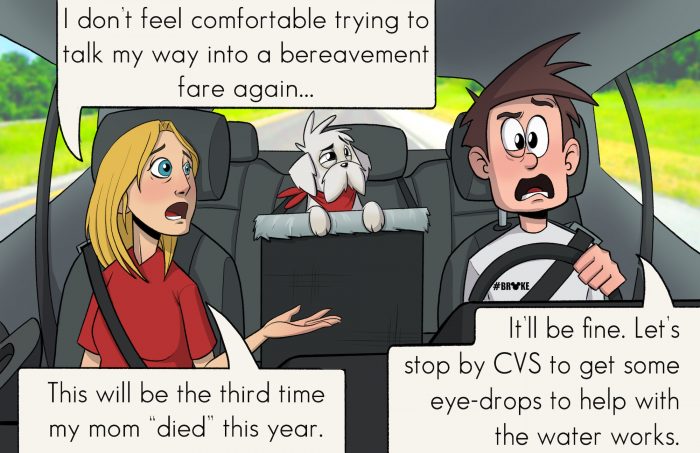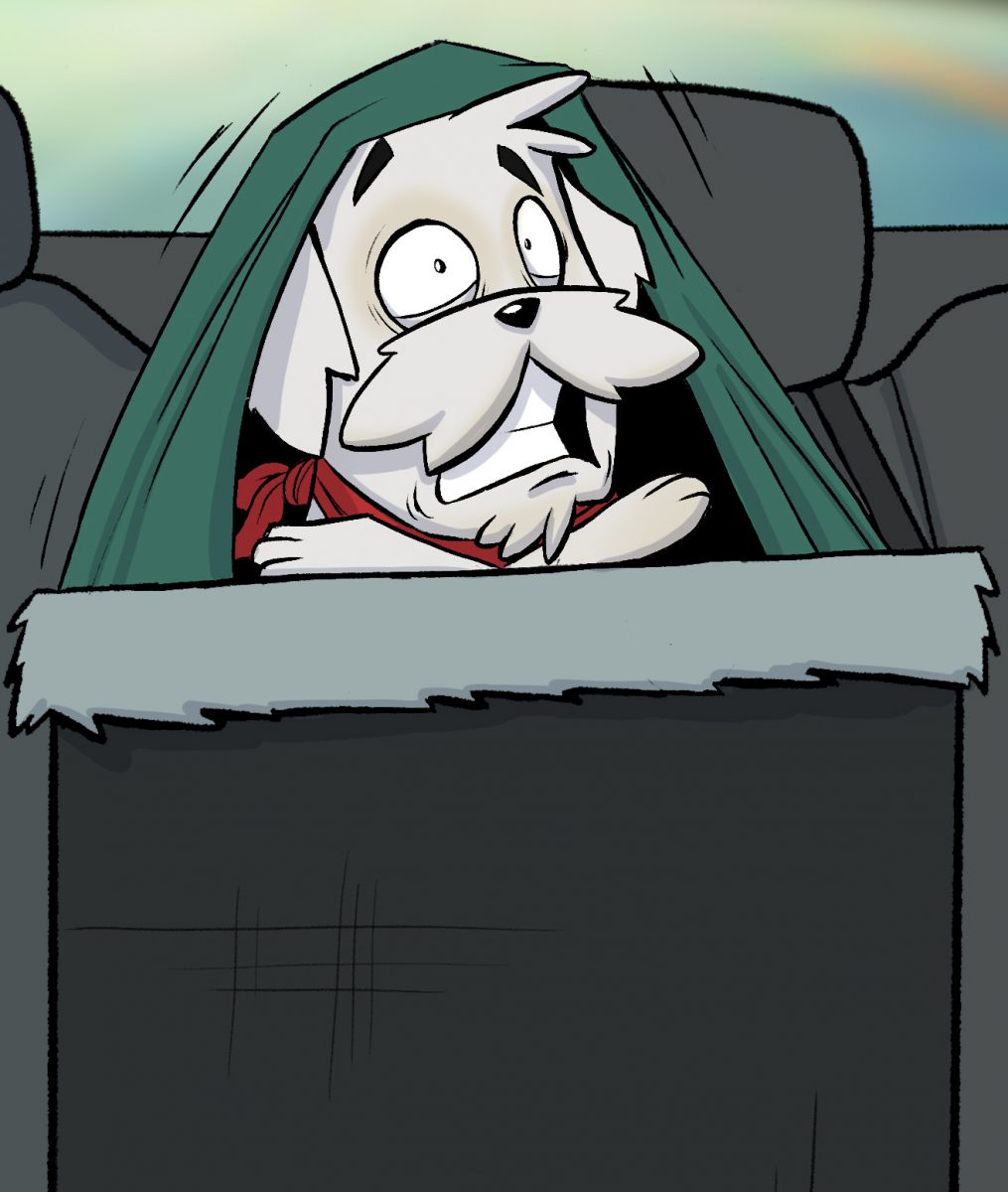 One of the Saturday morning cartoons which made a lasting impact on me growing up was the Davey & Goliath show. These were morality fables presented in clay-mation. The character Davey was generally getting in trouble, while his dog Goliath would try and talk him into doing the right thing. In many of the Brian Cooper drawings which feature Bacini, he is in disbelief of what Derek is doing.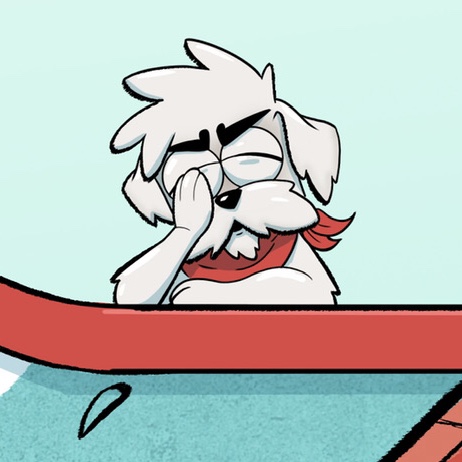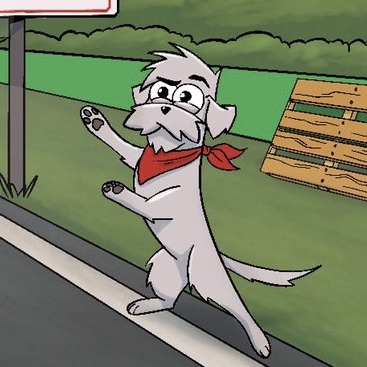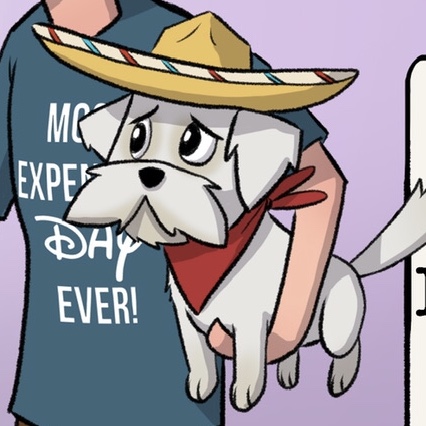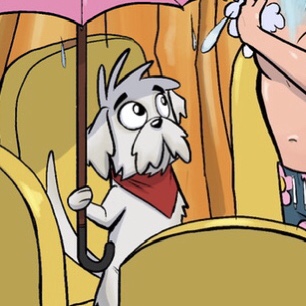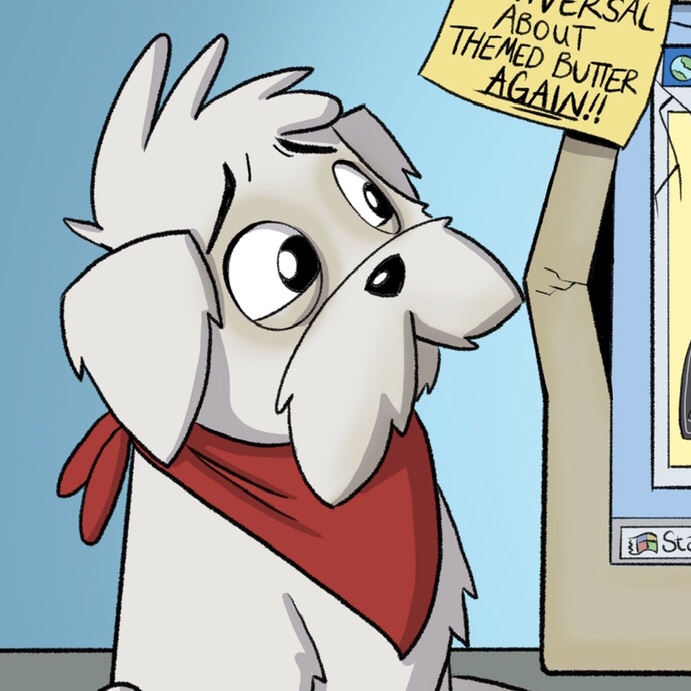 Bacini is not the hero we deserve, but he is the one we need right now.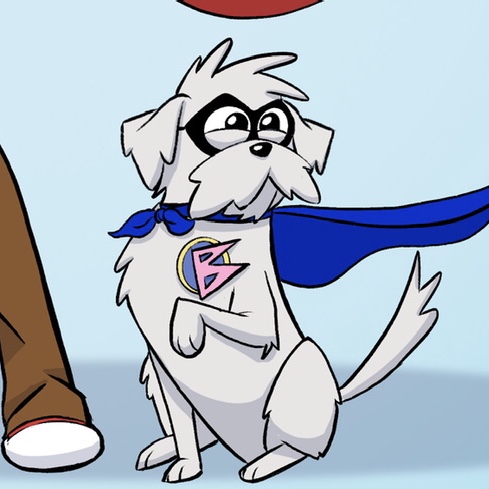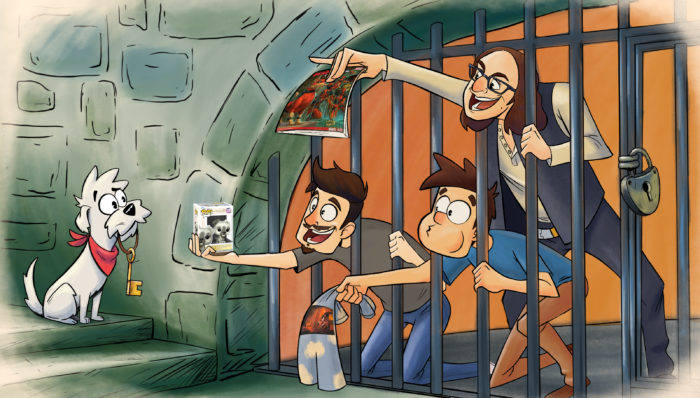 So there you have it: SATURDAY SIX Presents: The Art of BRIAN COOPER! See you next weekend for the latest installment of the SATURDAY SIX, where we'll look at something fun from the world of Disney and Universal. If you enjoyed yourself, be sure to check out The Magic, The Memories, and Merch! articles covering the latest from the Disney Outlet Stores. You can also follow Your Humble Author on Twitter (@derekburgan).
If you enjoyed this article, you will surely like the following: 
Artist Spotlight Class of 2021: SonderQuest | Sam Carter | Brian Cooper | Sterling Denham
Artist Spotlight Class of 2022: Rob Yeo | Ava Buric | Jess Siswick | Hayden Evans
SATURDAY SIX Presents: Artists Inspired by Universal's VELOCICOASTER
SATURDAY SIX Presents: Artists Inspired by Universal's HALLOWEEN HORROR NIGHTS
SATURDAY SIX Artists Inspired by HHN Series: Dead Skull
Special Thanks to The Elite Brandon Glover, the bio-est of all reconstructs @bioreconstruct, Captain Cruiseline Scott Sanders of the world famous Disney Cruise Line Blog, my personal protege Hunter "Elvey" Underwood, artist @SonderQuest, the SAT SIX Fun Squad of Parkscope Joe and "the Dadalorian" Nick, hot shot Michael Carelli, charter member of the Universal Four @Nitro230, and Hermione Granger's tutor Megan Stump for their invaluable assistance with this article. The SAT SIX is inspired each week by goofballs Aengus Mackenzie and LitemAndHyde and you Potterheads will  enjoy Meg's other blog work over at the Central Florida Slug Club.