SATURDAY SIX: The Six Best Souvenir Cups at Walt Disney World
This week's  SATURDAY SIX takes a look at Six Best Souvenir Cups at Walt Disney World. Regular readers of the SATURDAY SIX already know we consider souvenir cups one of the best souvenirs at Walt Disney World. They are relatively inexpensive, and something practical that you can use back at home (which serves double duty as it mentally can bring you back to The World). In the last several years Disney has made some exceptional souvenir cups, and today we are going to look at the best of the best. So sit back, grab a a straw, and prepare yourself as we start off with…
# 6 – WDW Resort Refillable Mug
One thing that has driven us absolutely crazy over the past few years is Disney going to a standard cup for all of it's onsite resorts. Gone are the days of cups unique to each hotel and instead we've received a rarely-changed design that is ubiquitous across property. Compare this to Universal's Cabana Bay Beach Resort,which just opened last year and already has had four different designs for its refillable mugs including  TWO Christmas-themed designs.
Recently Disney introduced a new refillable cup for its onsite hotels, and while we still wish each resort had its own, this is a humongous step in the right direction.
–
What makes this cup so great is all the little details throughout. First it has Mickey, Minnie, Donald, Goofy, and Pluto driving through a stylized version of the iconic Walt Disney World sign. Who doesn't get a smile on their face when driving past this sign? The cup even has Donald taking a picture of it with his phone, something all of us have done as well. The road ahead of Mickey and the gang features Disney's Value Resorts including Art of Animation, Pop Century, and the All-Stars.
This section of the cup features a look at a purple Disney road sign (featuring shout outs to Coronado Springs, Caribbean Beach, and Old Key West) as well as representations of Disney's monorail resorts (The Contemporary, Polynesian Village, and Grand Floridian).
–
Here we have a look at the Wilderness Lodge, Beach Club, Yacht Club. and the Boardwalk.
–
The stickers on Pluto's trailer are also for Disney resorts, including these for Fort Wilderness, Port Orleans Riverside, and Saratoga Springs.
–
Along with these for Port Orleans French Quarter and Animal Kingdom Lodge. Just an INCREDIBLE cup that may not be exclusive to any one resort, but it feels unique and will remind guests of their WDW stay even as they are sipping hot chocolate out of it as its snowing outside in February. You done good Disney, you done good.
–
# 5 – BOATHOUSE Lighthouse
There is no bigger fan of The BOATHOUSE at Disney Springs than us, and while we thought the Baked Alaska was impressive, what we really enjoyed was discovering a wonderful Lighthouse souvenir cup. The Lighthouse cup operates similar to the Coconut cup from Castaway Cay in that you unscrew the top to add in the liquid, but the Lighthouse cup allows you to put in much more soda. Great theming and more soda? Sounds like a winner to us.
–
# 4 – Test Track Cone
The Test Track Cone cup bears more than a little resemblance to the Cozy Cone souvenir cup that made its debut with Cars Land back in 2012. However, our cone cups at WDW have more of a "Tron" feel and that makes them inherently cooler.
–
# 3 – Splitsville Bowling Pin
Yes, Splitsville at Disney Springs is a great place to go bowling, but don't count it out if you're looking for a place to go out for a meal. The menu is shockingly tasty (one of the best pizzas on property, terrific burgers, and who knew the sushi would be good. The sushi!) The Splitsville Bowling Pin is a fun cup, perfectly themed to the restaurant. Splitsville is also blessed to be one of the only places on Disney property to have Coke Freestyle machines. Buying the pin gives you free refills all day long, so keep that in mind if you're planning a day at Disney Springs.
–
# 2 – Orange Bird
The Orange Bird sipper at Sunshine Tree Terrace is one of our all time favorite souvenir cups at WDW, but also one of the hardest to get as it constantly sells out. And why wouldn't it? We don't use the word cute often, but that's the cutest cup we've ever seen.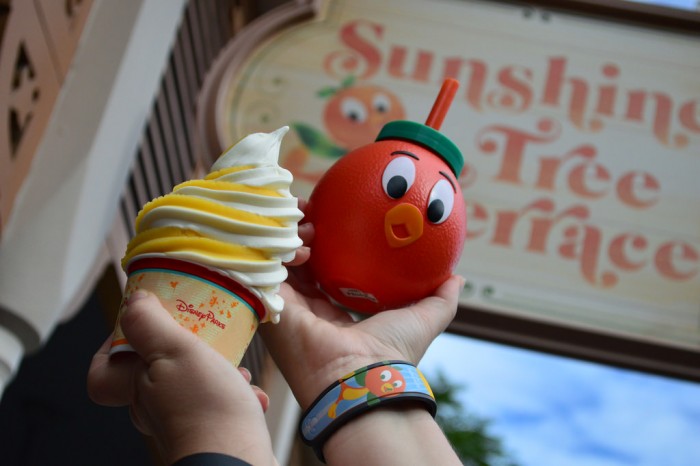 –
# 1 – Country Bears Jug
Look at this cup. What else needs to be said? A souvenir cup at Magic Kingdom that looks like a jug of Grandpa's ol' moonshine. The Country Bears Jug is perfect.
–
HONORABLE MENTION – LeFou's Brew Stein
The souvenir stein available for drinks at Gaston's Tavern is sharp. Remember back when Disney unveiled the concept art for New Fantasyland and it looked like kids were drinking beer? Disney actually came up with a great looking stein that definitely looks like something Gaston would have in the Beauty & the Beast film. The mug itself has been repurposed in other areas of the park, with pictures of other characters instead of Gaston.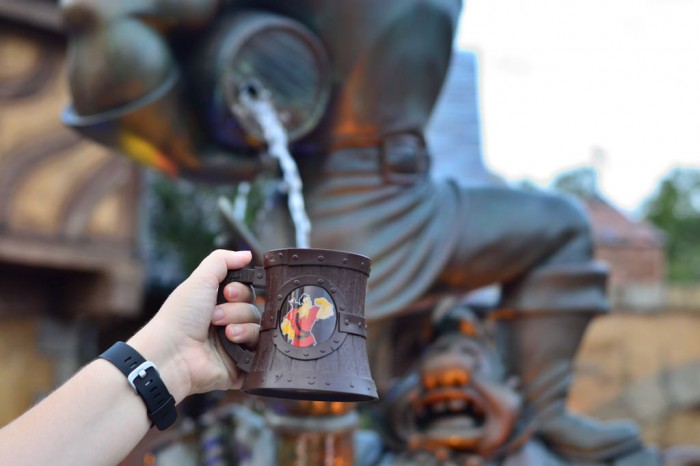 –
DISHONORABLE MENTION – The Doofenslurper Beaker
World Showcase in EPCOT allows guests to sample incredible food and drinks from around the world. Who doesn't want a margarita with chips and guac in Mexico? A hand twisted pretzel and beer in Germany? A pizza at Via Napoli. All incredible. Then you get to the American Adventure and our offering to the world is The Doofenslurper. Served in a unique beaker, where the Doofenslurper falls apart is what it holds. The ingredients say it contains frozen blue raspberry topped with passion fruit sorbet foam. We'll take their word for it.
So there you have it: The Six Best Souvenir Cups at Walt Disney World. See you next weekend for the latest installment of the SATURDAY SIX, where we'll look at something fun from the world of Disney and Universal. If you enjoyed yourself, be sure to check out The Magic, The Memories, and Merch! articles, or, for your listening pleasure, check out the Pardon the Pixie Dust podcast. You can also follow Your Humble Author on Twitter (@derekburgan)
Dumbo
If you enjoyed this article, you will surely like the following:
How To Survive Star Wars Weekends In Six Easy Steps
Six Events That Will NOT Be On Any Theme Park Calendar
Six Things We STILL Can't Believe Actually Happened at Walt Disney World
2015 Theme Park Awards (AKA "The Burgys")
Special Thanks to crack staff photographer Brandon Glover and blogger to the stars Megan Stump for their invaluable assistance with this article. Be sure to also check out Brandon on The Park Blogger podcast with co-hosts Aengus Mackenzie and Brian Carey.