SATURDAY SIX: Six MORE Surprises of Universal's Cabana Bay Beach Resort
This week's SATURDAY SIX takes a look at Six MORE Surprises of Universal's Cabana Bay Beach Resort. We're taking a quick break from our end-of-year celebration articles, and returning back to Loews Cabana Bay Beach Resort. You may remember we were at the hotel earlier this year during its grand opening and were blown away as it changed the definition of "value" resort within the theme park universe. Since that time the other half of the resort opened up, including the Americana and Continental wings with a combined 900 standard rooms. So today we are going to revisit Cabana Bay and look at six more surprises the resort offers to guests, starting with…
# 6 -The Fire Pits
There are a total of four fire pits throughout Cabana Bay, all within walking distance of the two pool bars (Atomic Tonic and The Hideaway Bar & Grill.) These pits can make for a great place to relax at night, especially after a late swim. As an added bonus, there are S'mores kits available in the Bayliner Diner (complete with sticks to use for roasting the marshmallows) allowing you to have a very unique experience on property.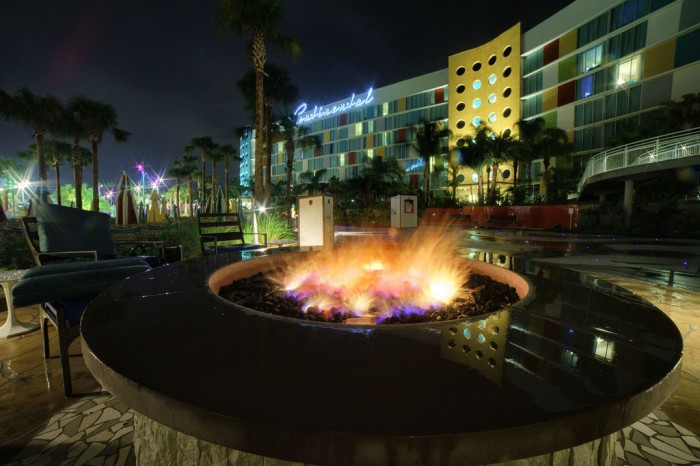 # 5 – The Arcade has actual Universal Prizes
This may be a very minor detail for the vast majority of people reading this, but as a person who is a fan of the incredible arcades at many of Disney's resorts (some of the best are at Pop Century, Art of Animation, and The Contemporary), it's always disappointing to see there is a grand total of ZERO Disney related prizes you can actually win in the arcades. Over at Game-O-Rama, Cabana Bay's arcade, there are many different Universal related prizes you can redeem your tickets for, including Minion plush and iPhone cases. There are various items related to The Simpsons, as well, including gigantic plush for Bart in his Bart-Man persona and Homer as Radioactive Man. What Game-O-Rama lacks in size compared to Disney's best arcades, it makes up in having a higher percentage of great arcade games along with much better prizes for the skill games.
# 4 – The Jack LaLanne Physical Fitness Studio is HUGE
Most hotel gyms are relatively small, and most "value" resorts don't even have one, but the Jack LaLanne Physical Fitness Studio at Cabana Bay may be one of the most impressive hotel gyms I have ever been in. Tons of new equipment (treadmills, recumbent bikes, elliptical machines) along with various cross-training machines and a free-weight section. There is also a very large area for yoga/stretching/etc. There's a good chance the Cabana Bay gym is larger than the actual gym many guests have in their home town. At a value resort…amazing.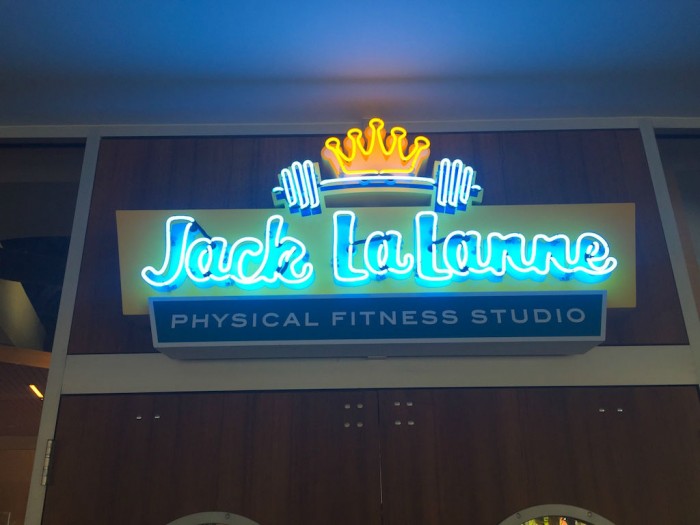 # 3 – SonicFill refillable mug program already has seasonal cups
One of the absolute biggest surprises earlier this year was finding out Cabana Bay had its own refillable mug program, similar to Disney's Rapid Fill. None of Universal's other three on-site hotels offer refillable mugs, so it was interesting to see that Cabana Bay not only had Sonic Fill, but Coke Freestyle machines as well (the only machines available at any  of the Disney/Universal hotels, to boot.)
But Universal wasn't done there. One of the complaints many of us have with Disney's refillable mugs is that they are all the same and the artwork never changes. There is no difference between cups bought at All Star Movies and Pop Century than the ones at the Grand Floridian and Fort Wilderness. While many WDW guests long for the days of resort-specific cups, Sonic Fill already has a second design, focusing on the Christmas holidays.
# 2 – The Lazy River
Anyone who has traveled with kids to the theme parks and stayed at hotels know how much kids just want to play in the pool. While adults appreciate the next generation attractions, world class restaurants, and the intricate details throughout immersive lands, the kids are counting down the minutes to get back into those hotel pools. For me, Lazy Rivers are the E-Tickets of the pool world. I love everything about them, and Cabana Bay's Lazy River is wonderful. While you don't have to use one, a float is highly recommended. Guests can bring their own, or chose from a  variety to purchase at a stand nearby. I loved the "tire" float, and while it doesn't quite fit the theme of the 1950s/1960s, how great would a Simpsons pink donut float be?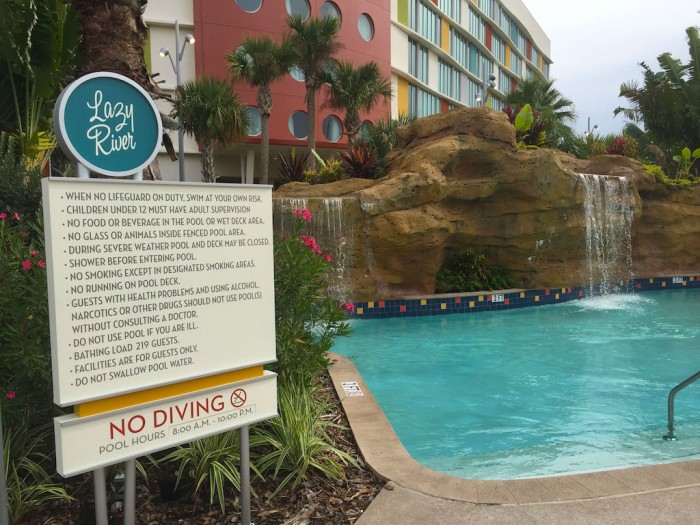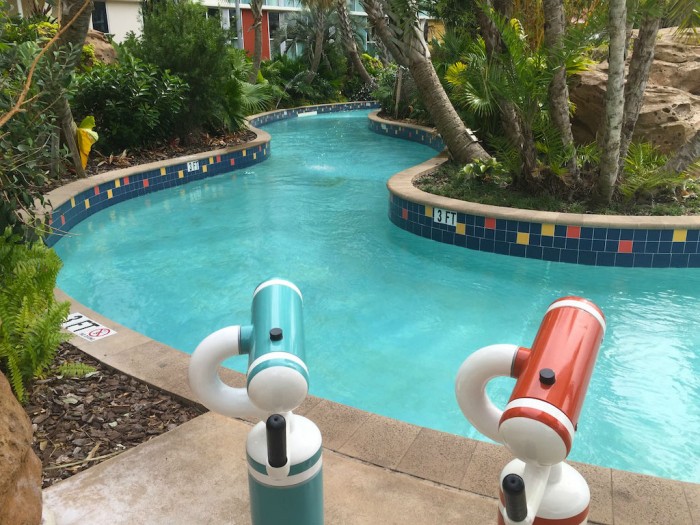 # 1 – Cabana Bay Beach Resort Merchandise
As a person who loves resort merchandise, Cabana Bay knocks it out of the park when it comes to hotel-specific items. This is a stark contrast to Disney's value resorts, which offer very little options to guests (I believe Pop Century only had a pressed penny and a pin.) Cabana Bay had numerous offerings in apparel, retro-themed candy (remember wax bottles?!), glasses, pins, keychains, and more. They also have merchandise available for Galaxy Bowl (the resort's bowling alley) and Jack LaLanne's Physical Fitness Center. With selections from the Wizarding World of Harry Potter, Marvel, Transformers, The Simpsons, Dr. Seuss, Despicable Me, and more, the Cabana Bay gift shop is one of the best stores on Universal property.
HONORABLE MENTION: Real silverware at Bayliner Diner.
It's the little things in life.
So there you have it: Six MORE Surprises of Universal's Cabana Bay Beach Resort. Somehow this hotel gets better each time we visit. See you next weekend for the latest installment of the SATURDAY SIX where we continue our end-of-year shebang! If you had fun, be sure to check out The Magic, The Memories, and Merch! articles, or, for your listening pleasure, check out the Pardon the Pixie Dust podcast.
If you enjoyed In Memoriam – Six things We Lost from the Theme Park World in 2014, you may also enjoy:
Six Surprises of Universal's Cabana Bay Beach Resort
Six "Secrets" of Universal's Portofino Bay Hotel
Six "Secrets" of Universal's Royal Pacific Resort
Six "Secrets" of Disney's Art of Animation Resort.
Special thanks to crack staff photographer Brandon Glover, photo-wunderkind Mike Sperduto, and Megan Stump for their invaluable assistance with this article. Be sure to also check out Brandon on The Park Blogger podcast with co-hosts Aengus Mackenzie and Brian Carey. Also, we'd like to send a thank you to Attractions Magazine, our all time favorite theme park magazine. Did you know that Attractions were the first people CRAZY enough to let me write a theme park based article? It's true, and here's the proof!