SATURDAY SIX: Six Surprises of Universal's Cabana Bay Beach Resort
This week's SATURDAY SIX covers Six Surprises of Universal's Cabana Bay Beach Resort. When Universal broke ground in January of 2013 for its first ever value resort, not too much was known about what guests would get. There were pieces of concept art, but in the theme park world those have to be taken with a grain of salt as they can often be more of an artistic interpretation than reality. For example, I'm relatively confident the Disney Springs we end up getting won't exactly look like the one we were promised. However, at a fan meet for the Unofficial Universal Orlando Podcast last year I was in the audience for a presentation by Russ Dagon, the project director for Cabana Bay. Russ talked about the new things Cabana Bay would be bringing to the Universal family of hotels (including a lower price point and the first ever family suites) but stressed that the concept art we were looking at was pretty much photo realistic. Turns out he was right. Everything in the concept art was there when I walked into Cabana Bay on its grand opening (Monday, March 31, 2014): the outrageously large lobby area, the gigantic representation of an old style diving platform (which houses a water slide in the pool area), and even the '50s and '60s era cars outside the front of the resort for photo ops. After walking around Cabana Bay, it became apparent there were a lot of things this resort brought with it that we weren't told about ahead of time. Today we present six of these surprises…
# 6 – Sonic Fill
Walt Disney World took a lot of criticism last year when it replaced its old refillable mug program with Rapid Fill. Using an RFID chip inside the mug (or paper cup), Rapid Fill only dispenses soda on days that guests have paid for. Universal hotels have never had a refillable mug program, so it was definitely a surprise to see the debut of Sonic Fill at Cabana Bay. Sonic Fill works exactly like Rapid Fill: you pay for the amount of time you want (from $8.99 for one day up to $17.99 for length of stay), and you can use the mug to fill up at any drink station in Bayliner Diner. The great surprise is that not only does Cabana Bay have the regular Coke soda stations we are used to seeing at Disney resorts, but it has 8 Coke Freestyle machines in the Bayliner Diner and 2 more upstairs at Galaxy Bowl. These Coke Freestyle machines can be used with Sonic Fill and promise over 100 drink choices.
# 5 – Food Trucks
People love their food trucks, and Cabana Bay actually has a different food truck stopping by every day. From 11AM to 3PM out in Flamingo Park by the North Courtyard pool, you'll be able to buy items from a local food vendor. While we were there The Yum Yum Cupcake Truck and Tamale Co. stopped by.
# 4 – All the Things to Do
We knew there would be a large pool area and a bowling alley when Cabana Bay opened but not too much else. What a great surprise it was to see so many things for everyone to enjoy at Cabana Bay, both young and old! I'm a big fan of arcades, and while most higher-end hotels have incredibly small arcades, even the huge ones found at Disney value resorts like Art of Animation aren't filled with the best games. Game-O-Rama at Cabana Bay is loaded with great games. It's almost worth checking out the hotel just to play the insane Batman driving game, where you can choose from a variety of Batmobiles, including ones from the old Adam West TV show, Tim Burton's Batman, and the Tumbler from the recent Batman films. There was an air hockey game with a curved table, an innovative take on an arcade classic. There were scaled down carnival games like the one where you throw a ball to knock down clowns. Game-O-Rama is the best theme park hotel arcade I have ever been played in. It is also located directly next to Galaxy Bowl, so you can refill your Sonic Fill mugs at the Coke Freestyle machines 10 steps away.
Outside by the North Courtyard pool area there is an area with ping pong, billiards, hula hoops, and cornhole? I wouldn't have believed it if I hadn't seen it with my own eyes. Incredible!
There is a dedicated play area for children by the North Courtyard pool, a hot tub, a live pool band that plays the hits of the era, and even a fire pit to sit around at night.
# 3 – Outlets Everywhere
This might have been my favorite surprise of all. Throughout the resort there were outlets everywhere and even USB ports in the room itself. At many theme park hotels I go to, it's almost impossible to find easily accessible outlets, and even the ones by the nightstands and usually buried down below. Often times I've even had to unplug the clock just to charge my iPhone. The nightstand at Cabana Bay has a row of outlets above it, and there are many other easy to get to outlets in the room. There are outlets at every booth in the Bayliner Diner, and even outlets by the covered picnic tables outside in the main courtyard.
# 2 – Starbucks
Before Cabana Bay opened we were told a generic "Coffee Shoppe" would be the place to get coffee and pastries in the main building. Lo and behold Cabana Bay instead introduced the first stand alone Starbucks at a Universal or Disney resort. Starbucks stores have been popping up all over in the theme park world, including Downtown Disney, Islands of Adventure, and a new location in CityWalk, so it was almost inevitable to see them make their way into the nearby hotels.
In a great touch, Starbucks has murals on the wall with pictures of the Weeki Wachee Springs mermaids. This is a small taste of Old Florida and fits right in with the retro-hip theming.
# 1  – The Transformation at Night
California Adventure has the Cars Land lighting ceremony, and Disney's Art of Animation Resort does a scaled down version of it at the Cars wing of the hotel. There's just something about seeing neon come alive at night! The Cabana Bay Beach Resort uses a lot of neon inside the hotel for signage (Game-O-Rama, Galaxy Bowl, Jack LaLanne's Fitness Center). but when it turns dusk outside the resort takes on a whole new look with the amount of lighting features. Both the main pool and even the bar itself at Atomic Tonic have eye-catching LEDs, while outside the hotel are larger-than-life Cabana Bay neon features that evoke the glitz of Atlantic City at night.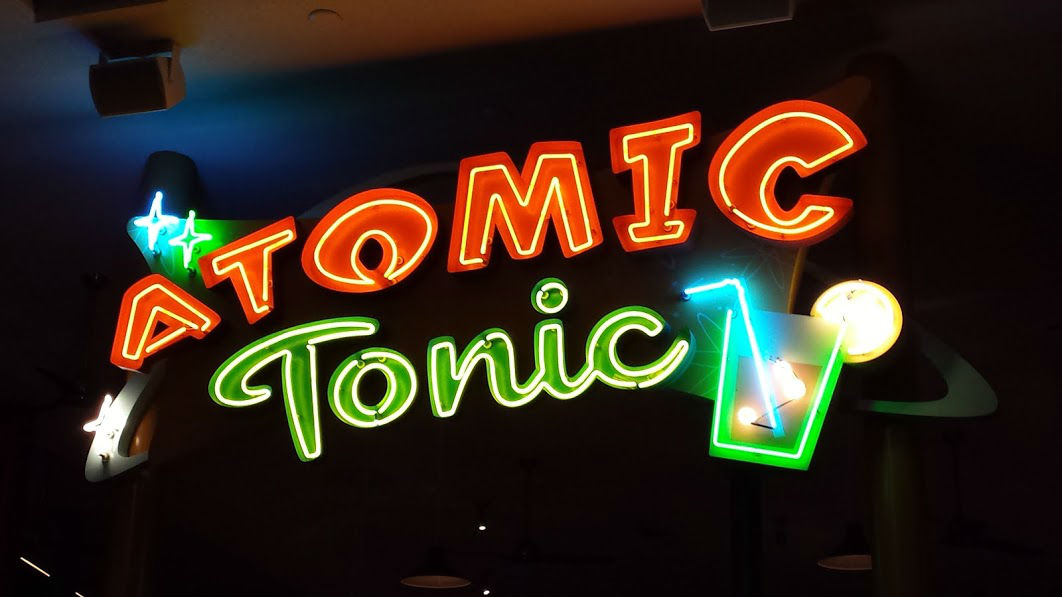 BONUS – The Devil is in the Details…
We could not just stop at six this week and instead are dropping the ultra rare seventh item on our list. There are so many "little things" throughout Cabana Bay that were great to see. Here's a small sampling of our favorites.
The bedside clock was an analog clock, not digital.
The other three onsite Loews hotels (Royal Pacific, Hard Rock, and Portofino Bay) use the same type of room key with a random character from the Universal parks (Spider-Man, E.T., Harry Potter, etc.), but Cabana Bay has 7 designs exclusive to the resort, depicting areas such as Galaxy Bowl, Bayliner Diner, and more.
There is a lot of great old school signage outside at the Atomic Tonic pool bar, but there is also a huge rocket (playing with the idea of sending a monkey to space in the '50s and '60s) along with a Pabst Blue Ribbon paper bag beer coozie. That's right, a tiny insulated paper bag beer coozie.
The gift shop has themed Cabana Bay merchandise, including rock crystal candy and candy buttons. The Swizzle bar has themed napkins and swizzle sticks. The Bayliner Diner serves retro dishes such as Swedish Meatballs and Tuna Casserole. The bathrooms have small Zest soap and bottles of VO5. The list goes on and on. If this is the future of "value" resorts, I'm all in.
So there you have it: Six Surprises of Universal's Cabana Bay Beach Resort. As you can see, there is a whole lot more to this "value" resort than we are used to seeing. We're looking forward to when Phase Two opens later this year with the lazy river. See you next weekend for the latest edition of the Saturday Six, where we will look at Islands of Adventure's Port of Entry. If you had fun, be sure to check out The Magic, The Memories, and Merch! articles or, for your listening pleasure, check out Pardon the Pixie Dust podcast.
Special thanks to Disney Blogger Extraordinaire Morgan Crutchfield, Jesus Navarro, Seth Kubersky and Brandon Glover for their assistance with this article.