SATURDAY SIX: Top Six Photo Ops at Universal
This week's SATURDAY SIX covers the Top Six Photo Ops at Universal. Previously we have covered our favorite Photo Connect experiences at Universal Studios Florida and Islands of Adventure, but this week we are going to look at the six must-get photos when we walk around the parks. For first time visitors, these are the locations that are going to make you stop in your tracks and get out the camera. Some are iconic, others are breathtaking, but all are memorable and should be considered for your vacation scrapbook. Let's start off by heading into the Wizarding World of Harry Potter – Hogsmeade Village….
# 6 – Hogwarts Express and Conductor (Islands of Adventure)
Muggles stepping foot into Hogsmeade Village for the first time are going to love the great photo op with the Hogwarts Express and interacting with the train's conductor. Holding his enchanted pocket watch, the conductor is the go-to person with any question on Hogsmeade as he is always well versed on Potter-lore and everything within this magical land.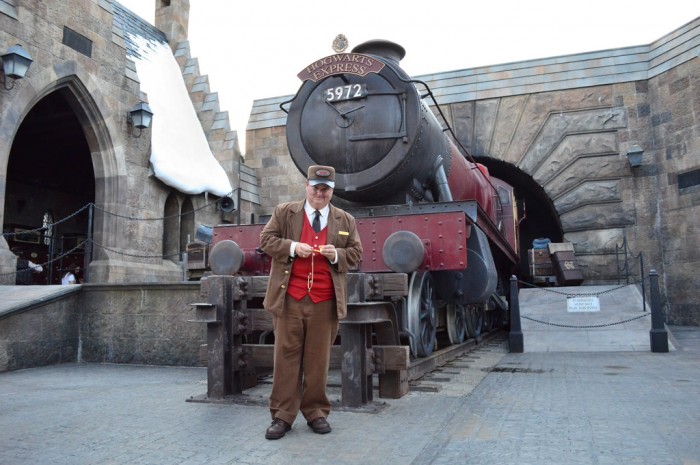 # 5 – Jurassic Park Entrance (IOA)
It may be hard to believe for younger readers who have seen it all thanks to CGI-filled movies and television shows, but back in the summer of 1993 the world was transfixed by Jurassic Park and how Steven Spielberg seemed to bring dinosaurs to life. The film was filled with jaw-dropping moments, but one of the most memorable was the huge gates leading to Jurassic Park for guests on the jeep tour. Universal has created the feel of that moment when you walk into the land from either Toon Lagoon or the Wizarding World of Harry Potter – Hogsmeade.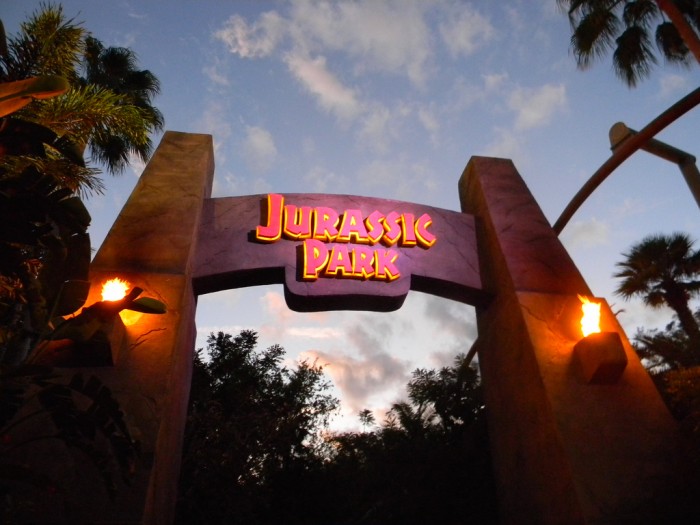 # 4 – Back to the Future's DeLorean (Universal Studios Florida)
One of the greatest and most recognizable automobiles in movie history, the DeLorean from Back to the Future immediately brings a smile to our faces every time we pass by it (along with more than a bit of lament for the old BTTF: The Ride). The movie will be 30 years old next year, but this car is as cool as ever.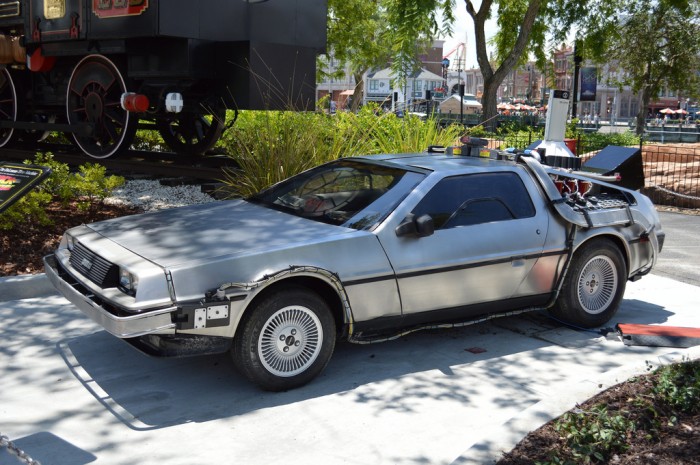 # 3 – JAWS (USF)
Matt Hoooper: "That's a twenty footer."
Quint: "Twenty-five. Three tons of him."
– Jaws
Despite the fact that Diagon Alley displaced this great white from his former home in Amity ("Bruce" can now be found in the nearby San Francisco area of the park, next to the fantastic bar, Chez Alcatraz), guests still line up to get a chance to take their picture with one of the all time greatest "monsters" in movie history.
# 2 – The Universal Globe (USF)
Located directly in front of Universal Studio Florida's entrance is the spinning Universal globe that is just perfect for photos from several different areas (including the bridge leading to CityWalk). Make sure that any camera rookies in your party don't have an itchy trigger finger and wait for the "Universal" logo to turn around and frame your shot.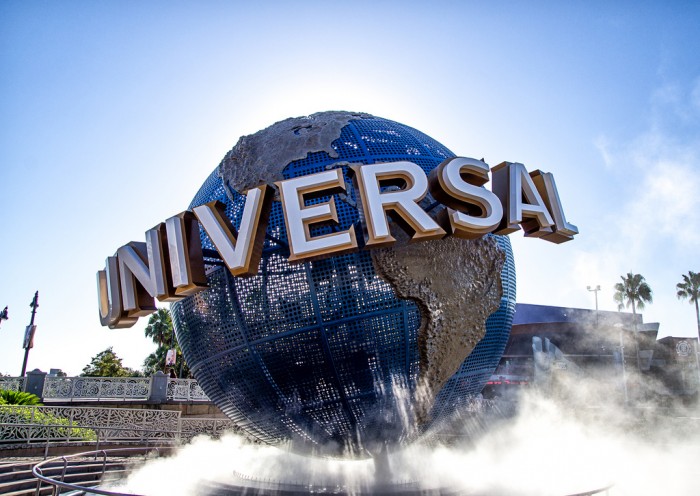 # 1 – Hogwarts Castle (IOA)
Hogwarts Castle is going to make an impression on guests even before they arrive at Universal Orlando Resort as it is so large and majestic that it can be seen from far away. When entering Islands of Adventure and reaching the end of Port of Entry, Hogwarts stands out in the distance, drawing guests like flies to a bug zapper. Upon entering the gates of Hogsmeade Village itself, the castle begins to loom larger and larger until you finally stand in front of it and take in all its beauty. Awe-inspiring.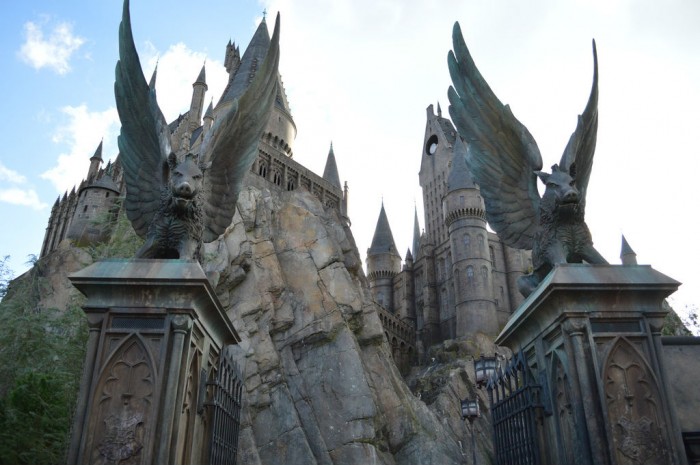 HONORABLE MENTION: Lard Lad (USF)
We at the SATURDAY SIX offices still can't believe this actually exists, but are so happy it does.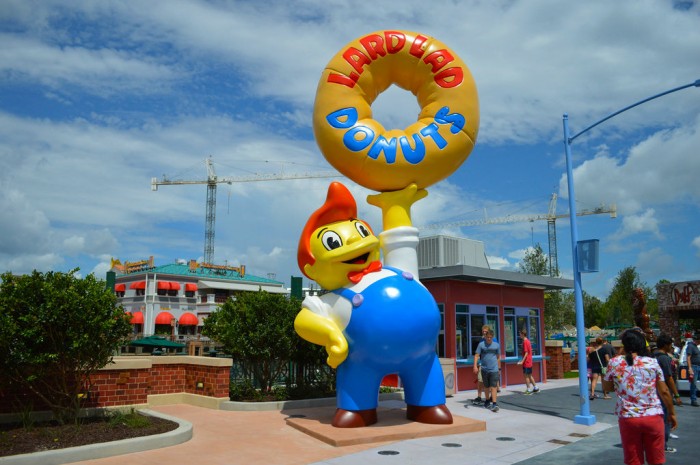 DOUBLE SECRET HONORABLE MENTION: Optimus Prime (USF)
We couldn't forget the fearless leader of the autobots, especially on a week when Transformers: Age of Extinction is released. Optimus Prime, standing tall in his full glory at the entrance to Transformers: The Ride 3-D, is incredibly detailed and absolutely huge (although, believe it or not, actually shorter than Lard Lad and his gigantic donut). Prime's heroic pose even started a viral movement called "Priming," where guests take their picture in front of him in the exact same pose. Try it out, it's fun!
So there you have it: the Top Six Photo Ops at Universal. See you next weekend for the latest edition of the Saturday Six, where we are going to have a special Saturday Six dedicated to the Fourth of July and AMERICA! If you had fun, be sure to check out The Magic, The Memories, and Merch! articles, or, for your listening pleasure, check out Pardon the Pixie Dust podcast.
Special thanks to Mike Sperduto, HateToFly, and crack staff photographer Brandon Glover for their assistance in this article. For Universal fans, be sure to check out HateToFly, along with his co-hosts Brian and Drew, on the Orlando United Radio podcast. OU Radio is an invaluable resource for top notch discussion on Universal news and rumors with three guys who clearly enjoy talking theme parks with each other.