Shula's Steak House Review: A Best Kept Disney Secret?
Located at Walt Disney World's Dolphin Hotel and just outside of Epcot's International Gateway, Shula's Steak House is an old-school-style steakhouse named after Don Shula – the most successful coach in NFL history – and celebrates the 1972 Miami Dolphins' "Perfect Season."
Guests looking to enjoy this signature dining experience can expect high-quality steaks in a dim-lit dining room complete with Frank Sinatra tunes, dark woods and smooshy chairs, and framed photos of the Dolphins team.
What You Need to Know
Shula's Steak House is only open for dinner and serves from 5:00 p.m. to 11:00 p.m.
Guests can also make their dining reservations on Open Table or on the My Disney Experience app. However, if you're already within that 60-day window, check out our handy TouringPlans Reservation Finder!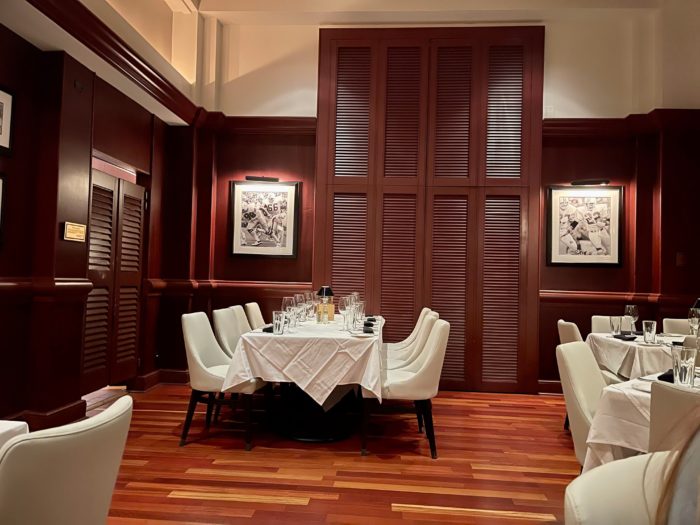 As Shula's is a signature dining experience, guests are asked to adhere to a dress code. Jeans are permitted if in good condition, but tank tops, swimsuits and swimsuit cover-ups, hats, cut-offs, and t-shirts with offensive language or graphics are not.
Note: Shula's Steak House does not accept MagicBands or Disney Gift Cards as a form of payment.
The Bar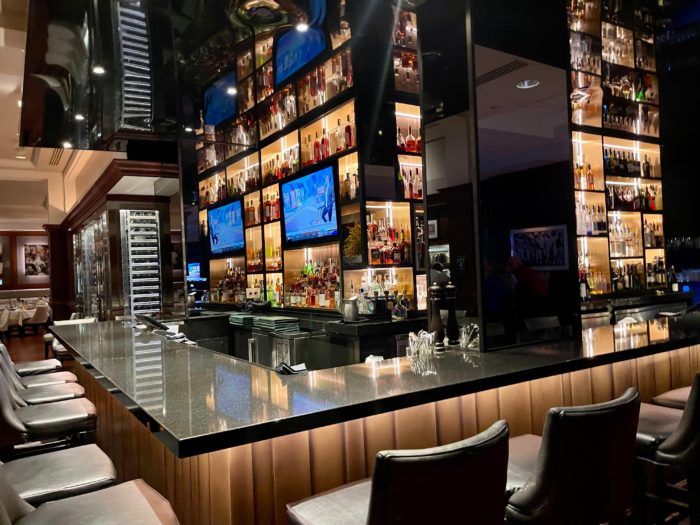 The bar at Shula's Steak House offers a more casual experience. Reservations are not required and the dress code is slightly more relaxed. Guests are free to order off of the lounge menu but be warned – the wine list is longer than some movie credits.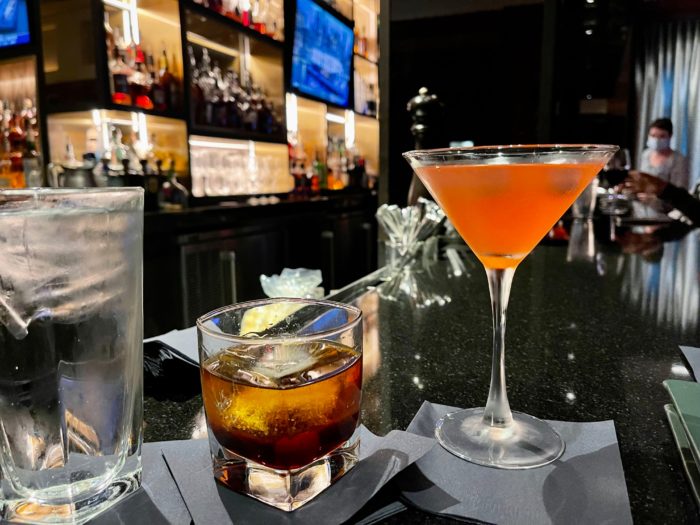 Dark Cherry Smoked Manhattan – $16.00
So the presentation made for a fun video and its beautiful scent lasted several minutes; and even though the drink itself wasn't as fussy as its presentation, the whiskey tastes exactly like the kind of drink that belongs in a real steak house.
Blueberry Martini – $14.00
Sweet, light, and pretty!
The Experience
It's been a while since our park reporter Chrissy, along with members of our team, have been to Shula's. Fortunately, they were incredibly impressed with the quality of the fare and the service!
Upon being seated, they discovered a knife block on their table holding a variety of steak knives where diners could "choose their weapons" for the evening! It was a fun little detail that added to the special feel of the meal.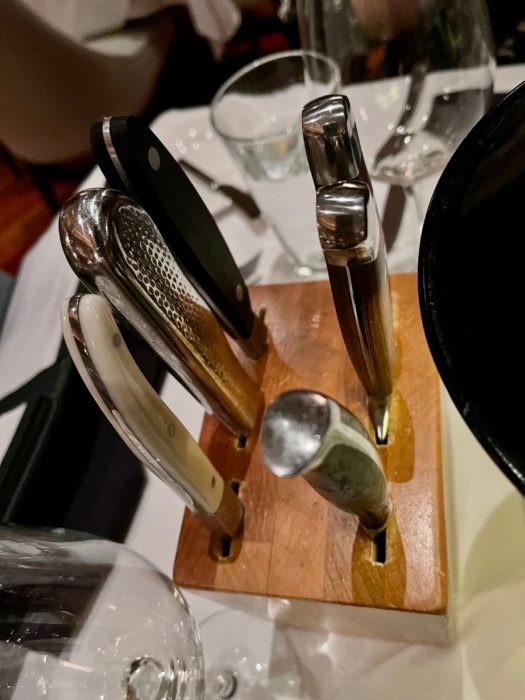 Also, as soon as they sat down, their server informed them about which desserts required advance notice, such as the Molten Chocolate Lava Cake, the Chocolate Soufflé, and the Apple Crisp.
FYI
:
While the latter two aren't on the My Disney Experience menu, they are on the website
.
The Appetizers
Colossal Shrimp Cocktail – $20.00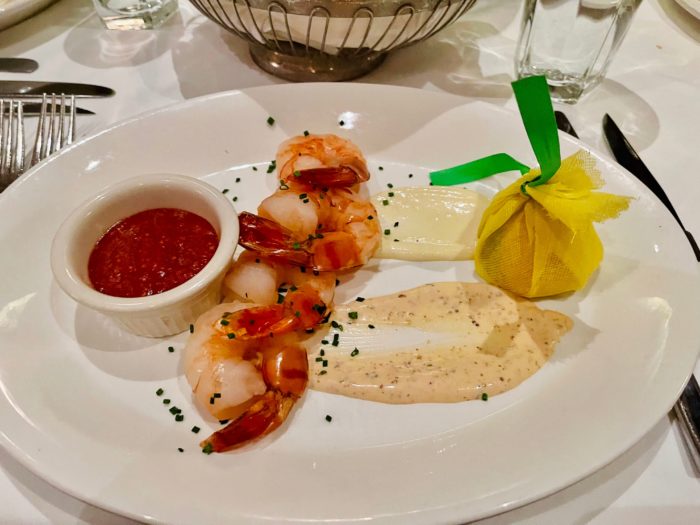 This appetizer was simply four large shrimp with cocktail sauce, Rémoulade sauce, and mustard aioli. While good, it was the least favorite of the appetizers, even though all of Shula's house-made sauces are exceptional.  Someone extremely gifted is back in the kitchen reducing and whisking, and it shows.
Maryland-style Crab Cake – $22.00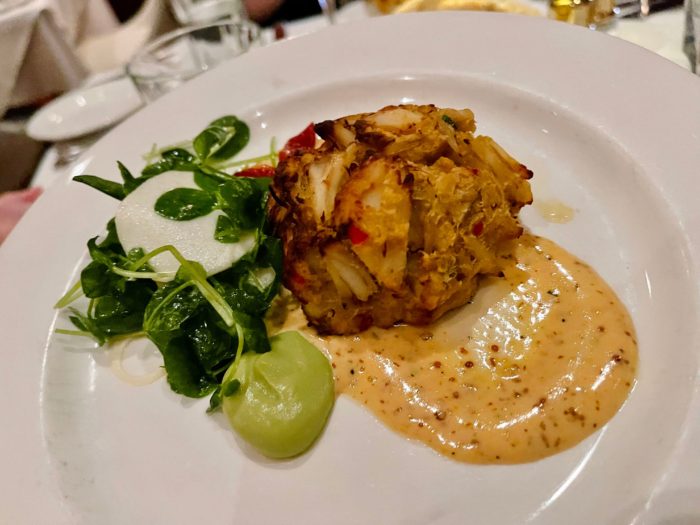 With just enough filling to hold the enormous lumps of crab together and not a smidge more, this crab cake is a tasty blend of crab and herbs. While lovely, this one came in third on their list of appetizers.
French Onion Soup – $14.00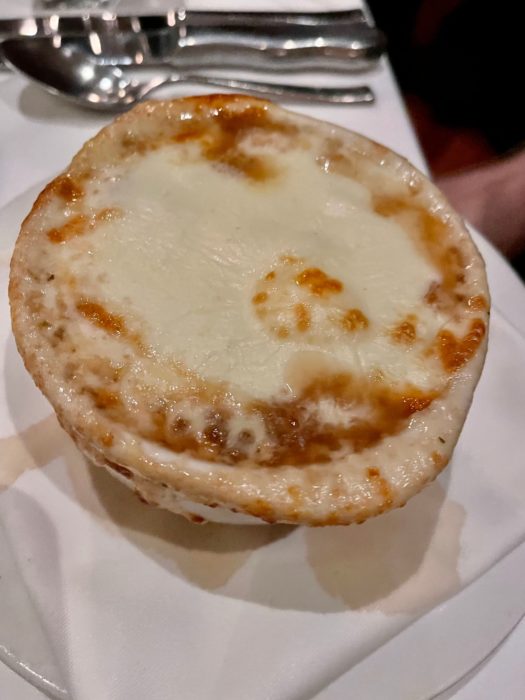 Possibly the best appetizer in terms of value and taste, cheese snobs will love this excellent portion of Gruyere grilled to a perfect bubble. Under the protective cover of warm cheese is a soup that had obviously been reduced and simmered for ages.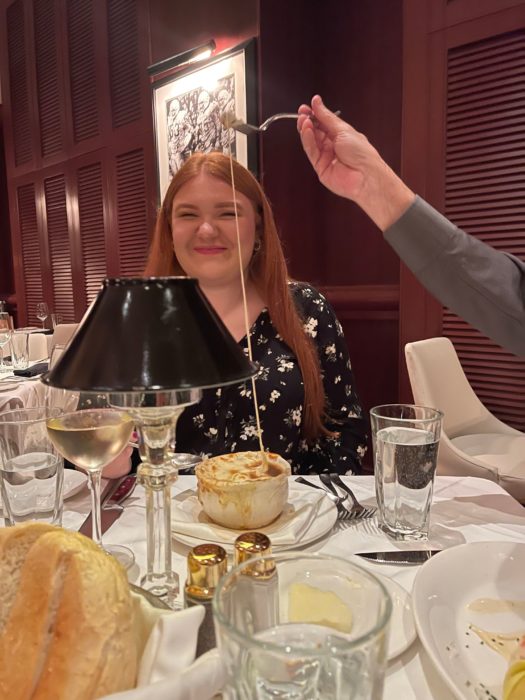 The sweet, caramelized onions and hearty beef broth would be more than enough of a meal for most people. The serving was generous; and while we have video evidence of Len saying he doesn't like French Onion Soup, we also have footage of him pulling a foot of cheese from the lip of the bowl, deciding that he does, in fact, like it after all.
Thick Cut Nueske's Bacon – $19.00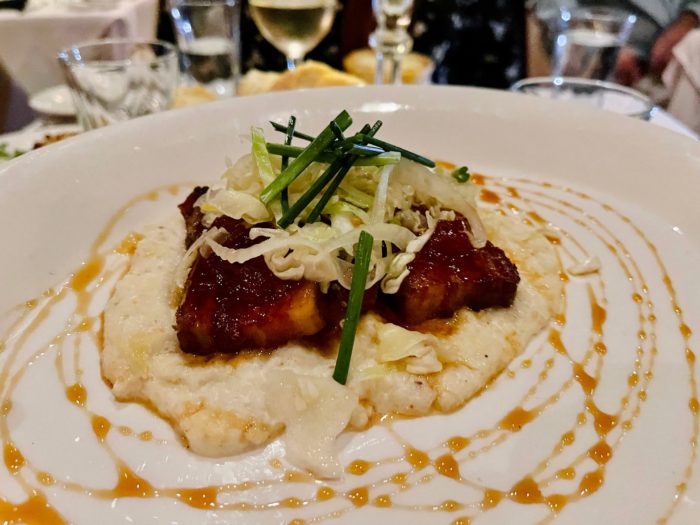 Along with the soup, this was our team's top pick for appetizers. As we never tire of bacon in any form, this was perfect, and the bourbon twist was a dream. With its sweet, deep flavor paired with a scrumptious pile of cheddar grits, this was a "wow" item.
The Entrees
10-oz Filet – $65.00
While perfectly cooked, it was a bit underwhelming in comparison to the star of the meal.
Coaches-cut Prime Rib – $51.00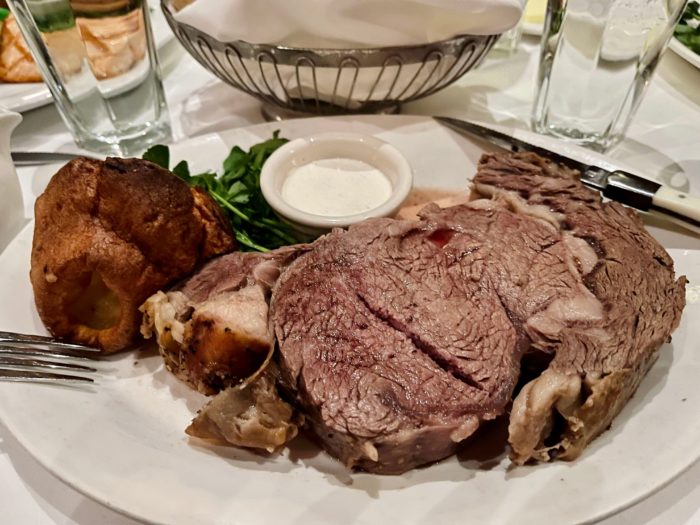 While good, and maybe even great in any other setting, it just wasn't even close to the main event. That said, the Yorkshire Pudding, horseradish cream, and au jus should be side items as we would get them every single time. Again, Shula's Saucier deserves a raise!
Roasted Brick Chicken – $36.00
Yes, it was moist with a gorgeous, crispy exterior; but enough about the chicken already. We MUST discuss the Sherry Jus! Let's just say this stunning sauce caused a bit of a ruckus at the table. Chrissy and the team are still regretting the fact they didn't ask for a cup to-go.
Norwegian Salmon – $37.00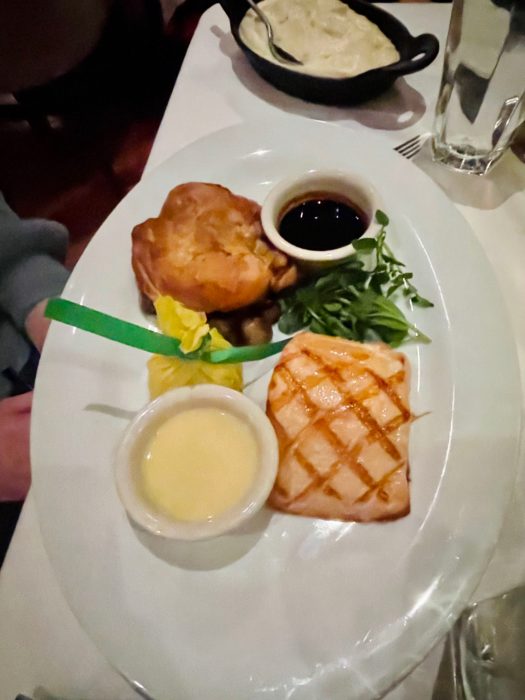 This salmon was so fresh and perfectly prepared. If someone in your party decides to forgo red meat, this is a win.
22-oz Cowboy Ribeye – $72.00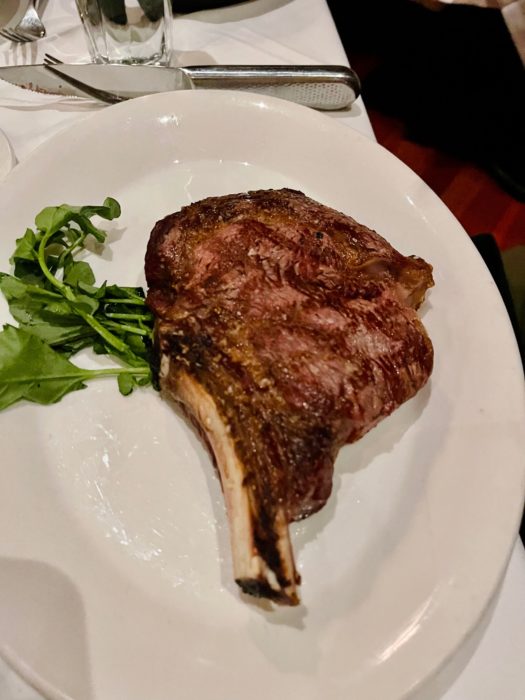 Alright, it's time for the star of the show and the main event: the Cowboy Ribeye.
Seriously, this delicious piece of beef is a masterpiece! Len wisely asked the server which steak he recommends based on flavor alone and was told this was the one. It was easily a ten in terms of flavor. No wonder the other two steaks seemed muted by comparison!
Be warned that this picture doesn't do this portion justice as 22-oz of steak is a whole lotta food! Again, this is more than shareable.
The Sides
Here's a list of Shula's sides in order of the joy they brought to our team:
Creamed Spinach – $12.00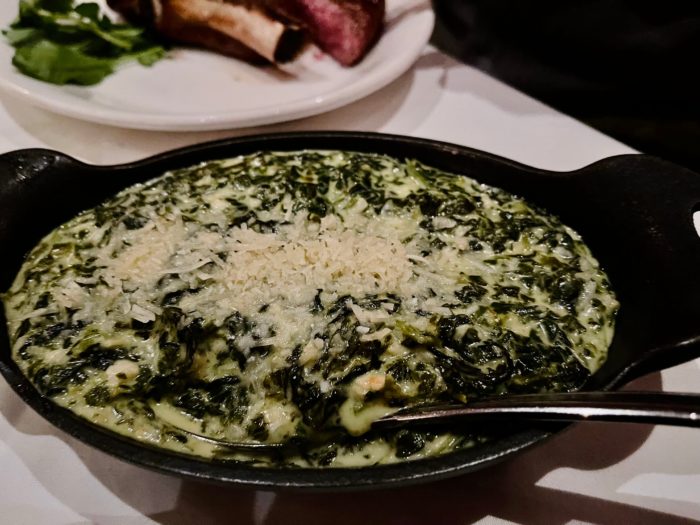 Enough for three and the most perfect example of a steak house side if there ever was one. Perfection.
Mashed Potatoes – $12.00
This dish makes our Thanksgiving sides look sad. We probably don't want to know how much butter and heavy cream was required for this recipe; but even if we did, it's worth it.
Caramelized Brussels Sprouts – $13.00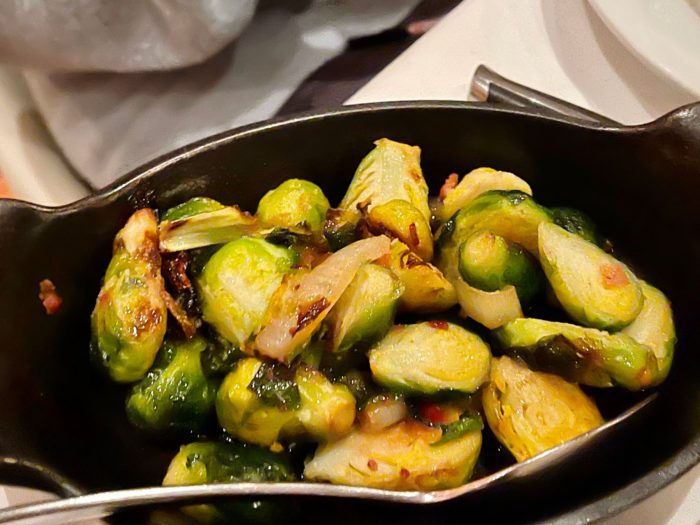 Veggies with bacon are still veggies; but even so, they were yummy.
Macaroni & Cheese – $13.00
Creamy and al dente, but we'd probably skip it for a second helping of the spinach or potatoes.
The Desserts
Once again, we're listing the desserts in the order of which they brought us joy:
Molten Chocolate Lava Cake – $14.00
She's small but mighty. Even though we don't often (if ever?) advocate sharing desserts, you won't be able to eat all of this by yourself. Rich, indulgent, and gorgeous, the Vanilla Creme Anglaise makes this one different and special.
Chocolate Souffle – $13.00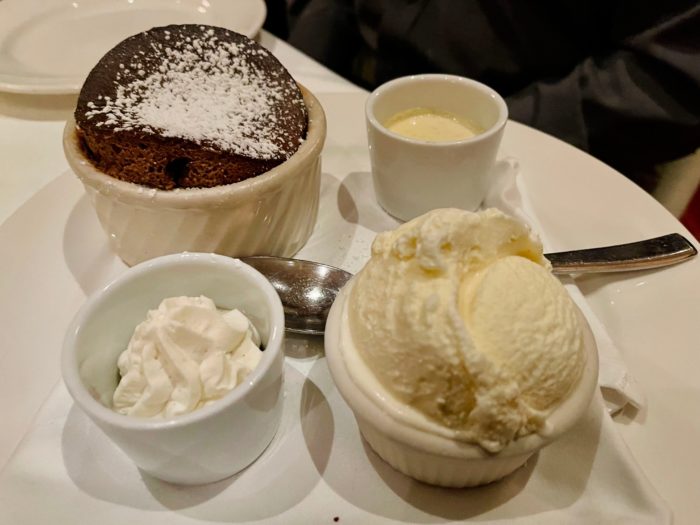 Much lighter than the molten cake, but also just as tasty and impressive!
Apple Crisp – $11.00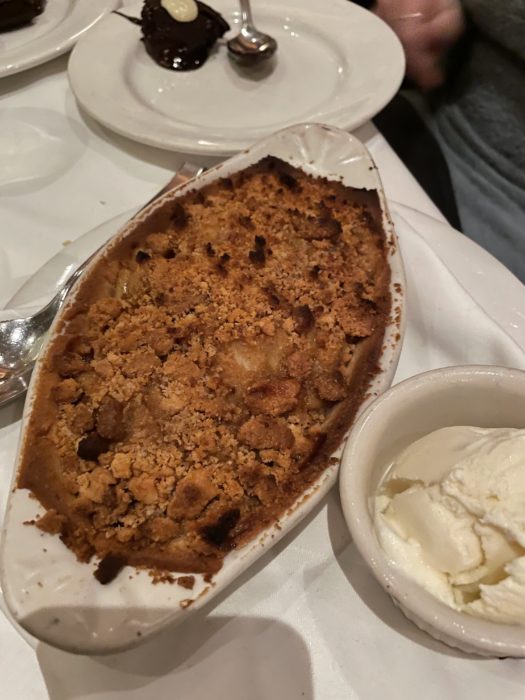 While this was so very good, it's kinda like being the third-place finisher in a marathon. Yes, it's exceptional, but it's not the star.
Final Thoughts
So what's better than fancy whiskey, rich, cheesy soup, a stellar steak, and chocolate?! Isn't that the ideal steak house experience? It was for our team.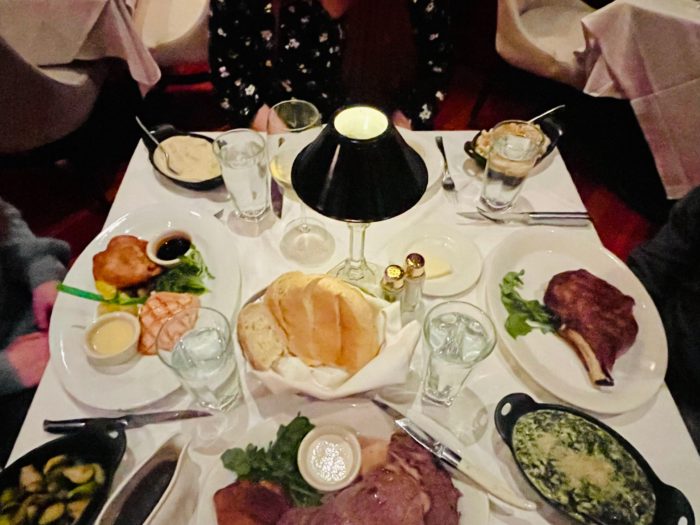 Granted, it's definitely pricey; but since every dish (and side!) is more than enough for two, we suggest sharing to make those portions – and the bill – a bit more doable. After all, there's no chance someone will be able to eat one appetizer, one entree, and one dessert without hauling out a bag of food.
Now, Shula's Steak House isn't for everyone, but if you're looking for a special, slow-paced experience that feels like an event all by itself, this is the place.
Lastly, the wait staff was fantastic. Their kind server even boxed up extra bread as they had two people taking uneaten treats to two different houses. Basically, the service here is almost as important as its Sherry Jus, and that's huge.
Have you ever dined at Shula's Steak House? Is this restaurant on your vacation to-do list? Let us know in the comments!