Six Reasons You Might Want to Stay at a Lower WDW Hotel Category*
* Even if you can afford to stay deluxe
The Walt Disney World deluxe level resorts get all accolades — ooooh fancy! — but there are plenty of reasons to consider staying at a moderate or value resort rather than a deluxe, even if deluxe is in your budget.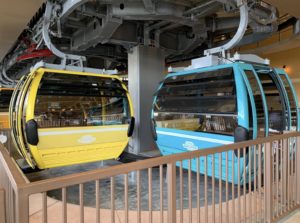 For comparison purposes, I looked at booking a WDW vacation from January 24 to January 30, 2022. Sample rates for that time period include:
Disney's Grand Floridian Resort (deluxe): $689 per night
Disney's Yacht Club Resort (deluxe): $601 per night
Disney's Wilderness Lodge (deluxe): $503 per night
Disney's Animal Kingdom Lodge (deluxe): $417 per night
Disney's Caribbean Beach Resort (moderate): $249 per night
Disney's Coronado Springs Resort (moderate) $233 per night
Disney's All-Star Movies Resort (value): $144 per night
Disney's Pop Century Resort (value) $166 per night
(Note: All rates here are the for the lowest priced room at that resort, many have more expensive offerings with better views or other amenities.)
Although price is a good reason to stay at a lower resort, there are other reasons why you may want to skip a deluxe resort on your next trip. Here are six reasons to consider.
1. You want a door between you and your kiddos.
Some adults want to have private time away from their children. Or maybe you're traveling with unrelated friends. Or your in-laws. You want to be together sometimes, but you want alone time for sleeping or changing. Getting two connecting rooms at a value or moderate resort can put you in the same price range as one deluxe resort. For example, two rooms at Caribbean Beach ($498) is almost the exact same price as one room at Wilderness Lodge ($503), but having the connecting rooms allows you have a door between two subsets of your party.
2. You want an extra bathroom.
My family is comprised of me and my husband, plus my three young adult daughters, all of whom have long, thick hair. When it's crazy hot at Walt Disney World (um, nearly always) we often want to take two showers per day each, with the girls needing lots of time for rinsing out rounds of shampoo and conditioner, and spending time with the hair dryer. When we have access to only one bathroom, the process of getting ready in the morning and winding down at night can feel interminable. One solution is to send some folks to shower by the pool, but getting two rooms, each with its own bathroom, is the easiest way for us to preserve family harmony. As above, there are many options for getting two value or moderate rooms for about the same price as one deluxe hotel room.
3. You want a different number of sleep surfaces.
The typical configuration of a WDW deluxe resort room is a maximum capacity of five guests on two queen-sized beds plus a twin-sized daybed — so, three sleep surfaces. But there are plenty of times when you might be fine sharing a room with someone, but not want to sleep in the same bed. Examples include opposite gender siblings, members of a blended family, friends traveling together, adult parents and children, etc. In this case you might need more than three sleep surfaces to make everyone happy. Getting two rooms at a value resort will typically get you a total of four sleep surfaces (two beds in each room) rather than the three available in one deluxe room. Getting two rooms at some moderate resorts could get you six sleep surfaces (two queen beds plus a child-sized pull-down bed in each room) rather than the three at a deluxe.
4. You want to drive your own car to the theme parks.
Some guests prefer to use their own vehicles to the theme parks rather than using Disney's transportation system. Reasons for this might include desire for a car seat, modifications to a vehicle for a disabled guest, or concerns about COVID transmission. The far regions of the self-parking lots at some of the deluxe resorts may be nearly half a mile away from your room. By contrast, the value and moderate resorts are ringed with parking lots, meaning that you are rarely more than a hundred or so feet away from your parked car, giving you much easier access.
5. You're only visiting EPCOT and Hollywood Studios.
Guests coming to Walt Disney World for a quick stay and only planning to visit EPCOT and Disney's Hollywood Studios may find that staying at resorts on the Skyliner line provides the most efficient transportation to those parks. The resorts served by the Skyliner include value (Pop Century and Art of Animation) and moderate (Caribbean Beach Resort) resorts, as well as the DVC Villa Riviera Resort, but none of the traditional deluxe hotels.
6. You're traveling with a child in a phase represented in one of the value resorts.
The value resorts are highly themed – with GIANT icons outside the buildings. While the amenities at the deluxe resorts may be fantastic, there is often no greater thrill on vacation than seeing your child ecstatically happy. If your child is deep in The Little Mermaid zone, staying in the mermaid section at Art of Animation could absolutely blow her mind.
Other than price, why have you chosen to stay at a moderate or value resort over a deluxe? Let us know in the comments.