Subscribe Now: 1 Full Year of WDW For Only $17.95!
Get full access to the WDW Crowd Calendar, Lines Mobile App, Touring Plans and More!
"Our TouringPlans subscription was a lifesaver on our trip. One of the busiest days of the year, and we never waited longer than 20 minutes!"
- Smith Family, KY
Skyliner is Walt Disney World's newest form of resort to park transportation, opening in September 2019. It joins the monorail, buses, and boats as the fourth major form of point to point transportation. Skyliner is an aerial gondola system, similar to what you might find at many tourist locations in Europe.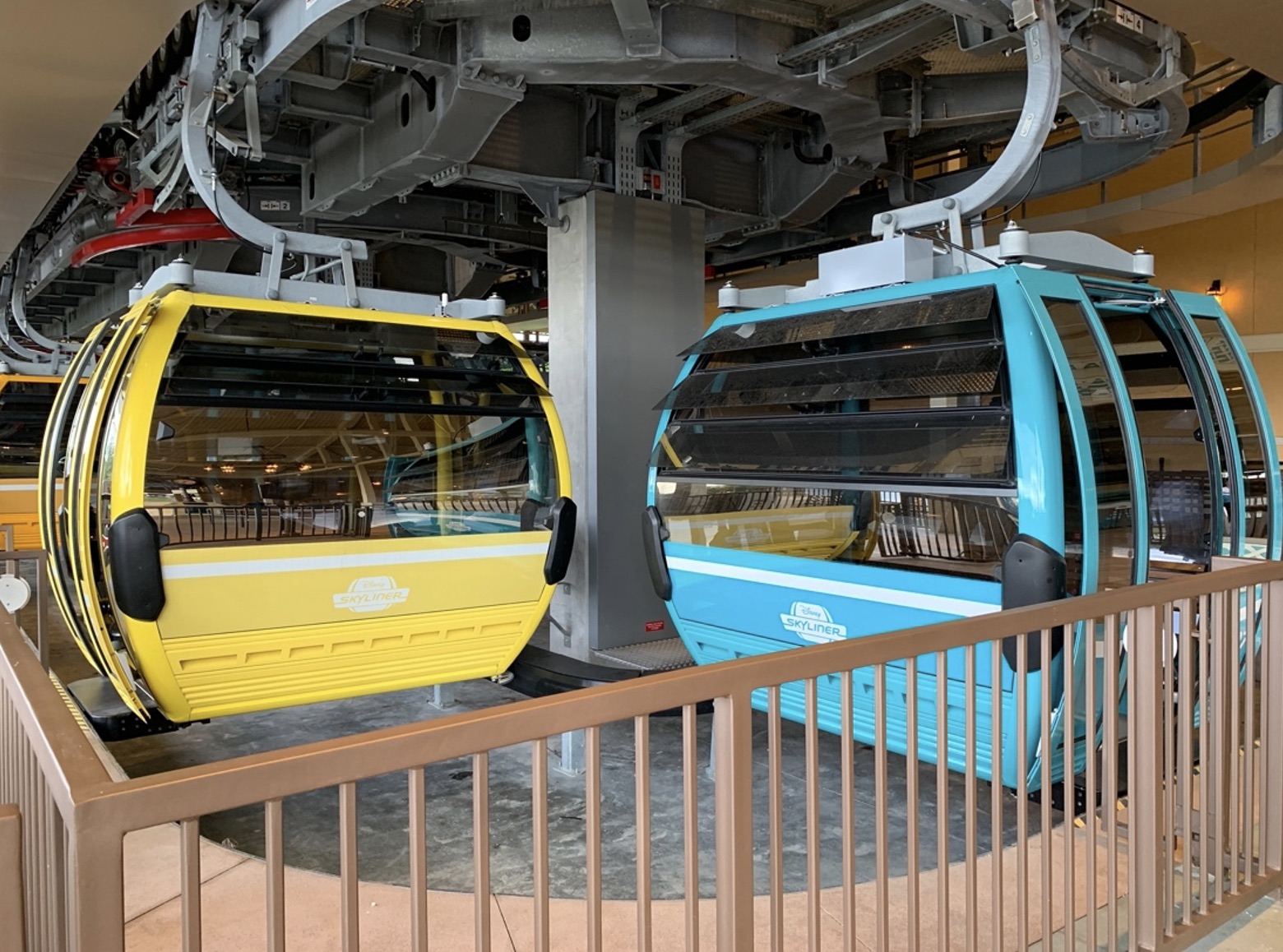 Where does Skyliner go?
There are five embarkation points:
EPCOT (adjacent to the World Showcase entrance of the park. From within EPCOT, the World Showcase entrance is located between the England and France pavilions.)
Disney's Hollywood Studios
Disney's Riviera Resort
Disney's Caribbean Beach Resort (this station is the Skyliner hub)
Pop Century/Art of Animation (at the bridge connecting these two resorts)
You can go to any of the locations listed above via the Skyliner, but some routes require a transfer. For example, to get from Pop Century to Disney's Hollywood Studios, you must transfer at the Caribbean Beach Resort station. There are helpful cast members and good signage to point you in the right direction.
Does it cost money to ride the Skyliner?
No. There is no charge to use the Skyliner system. Use of the system is free and available to all guests regardless of where they are staying. You don't need a ticket, just hop on board.
What are the Skyliner hours?
Hours vary seasonally. In general, you can expect the Skyliner to begin running about an hour before EPCOT and Disney's Hollywood Studios open, and to stop running about an hour after those parks close, but there is significant variability in this. You can ask for the exact hours at any resort concierge desk or theme park guest relations window. There is also signage posted at each station.
How do you board the Skyliner?
Guests board from a stationary platform onto a slowly moving Skyliner cabin. You have a few seconds to board, but you do have to move with purpose. If this seems problematic for your level of mobility, speak to a cast member about boarding from the wheelchair access point (see below) where cabin will not move during boarding.
What happens when there is poor weather?
Even when there are posted open hours for Skyliner, operations may temporarily cease for weather issues, notably high winds or severe lightning. If the Skyliner is not operating, you can use alternate transportation such as WDW's free bus system.
How long does it take to get from Point A to Point B on the Skyliner?
See the chart below. The ride times themselves are consistent within a small range; minor variations may occur due to loading of guests with wheelchairs. The real variability in transportation time comes from the crowd level. Just like any other "ride" at Disney World, when there are larger crowds the wait time to board will be longer.
What are the Skyliner cabins like?
Cabins have two rows of bench seats facing each other. Seats are wooden slats with back support. The cabins feel clean and airy.
How many people does a Skyliner cabin hold?
During normal (non-pandemic) times, each Skyliner cabin has a maximum capacity of ten guests. Depending on demand, you may be seated with other parties. If there's a reason why you don't want to share your cabin with strangers (medical issue, religious issue, impending onboard marriage proposal, etc.) speak to the cast members on site.
If there is a wheelchair or stroller on board, then only six additional guests are allowed.
During the pandemic, there is one party allowed per cabin.
Is there air conditioning in the Skyliner cabins?
No. The Skyliner cabins are cooled via ventilation slats on the windows. When the cabins are moving, this creates a nice cross breeze. It can be quite warm in the Skyliner cabins, particularly if the cabin is stationary for a few minutes, but most guests are pleasantly surprised by the onboard temperature.
Are there restrooms on board?
There are no comfort facilities in the individual Skyliner cabins. There are restrooms at each of the Skyliner stations. Plan to use them before getting on the Skyliner.
Can I bring food on the Skyliner?
There are no prohibitions against eating or drinking on the Skyliner. However, bear in mind that there is no restroom or trash receptacle in your cabin.
Can I bring a stroller onto the Skyliner?
Yes. Strollers with a footprint of 30" x 48" or smaller may be rolled directly onto the Skyliner. This is an advantage over the WDW bus system, where strollers must be folded to board.
Can I ride Skyliner if I'm in a wheelchair or ECV?
Yes. Wheelchairs and ECVs with a footprint smaller than 30" x 48" may roll directly onto the Skyliner. If someone in your party is using a wheelchair or ECV, you will be directed to a separate loading lane where you can board a cabin while it is not moving. When you're safely inside, it will be seamlessly loaded into the line of moving cabins, ensuring continuous service on the system.
Does the Skyliner ever stop in mid-air?
Brief (less than two minutes) stoppages are fairly common, typically to allow a cabin holding a wheelchair to be loaded into the system. Longer stops are extremely rare.
Should I use Skyliner if I have a fear of heights?
There are posted warnings at the Skyliner stations that read, "Those who have a fear of heights or enclosed spaces should not ride." That said, there is a spectrum of fear. The vast majority of guests have no problem riding the Skyliner. If you decide the Skyliner is not for you, check out our post on How to Get Around Without the Skyliner.
What would happen if a Skyliner cabin did stop for a long time?
Every cabin is equipped with an emergency call button that connects directly to security personnel on the ground. Additionally, every cabin has an emergency kit located underneath one of the seats. The kit includes: several packets of drinking water (akin to juice boxes), a glow stick, a notebook and pencil, Instant Ice, and waste disposal bags.
In the worst case scenario, there are rescue vehicles that can assist with a mid-route debarkation.
Is Skyliner noisy?
Not at all. When Skyliner opened were pleasantly surprised at just how quiet the system is. There is an amiable minor rattle when each cabin passes a support post, but otherwise there is almost no noise at all. This makes sense knowing that the cabins pass directly above many of the hotel rooms at Caribbean Beach resort.
TouringPlans Posts About Skyliner:
Last updated on January 23, 2023