Starbucks vs. Joffrey's: Disney's Coffee-Pumpkin Drink Showdown
Somewhere on the internet, I'd wager there was a "PSL Countdown" going last month. Starbucks' famous (or infamous) Pumpkin Spice Latte is a drink that signals the start of the fall season for its many fans. Even Walt Disney World isn't immune from the PSL craze, with Starbucks locations at all WDW theme parks and two locations at Disney Springs, although admittedly in a typical year, Mickey's Not So Scary Halloween Party starts before PSL season begins.
In addition to Starbucks, Walt Disney World also has Joffrey's Coffee and Tea kiosks at their theme parks, and getting into the seasonal spirit, Joffrey's also offers a pumpkin-coffee drink. We're comparing the two drinks to see which one you should get when you're craving that taste of fall.
Starbucks Pumpkin Spice Latte
From Starbucks' web site, the PSL is described as espresso and steam milk combined with a blend of pumpkin and traditional fall spice flavors, finished with whipped cream and Pumpkin Spice topping. Served hot or iced, a 16 oz. serving is $5.65.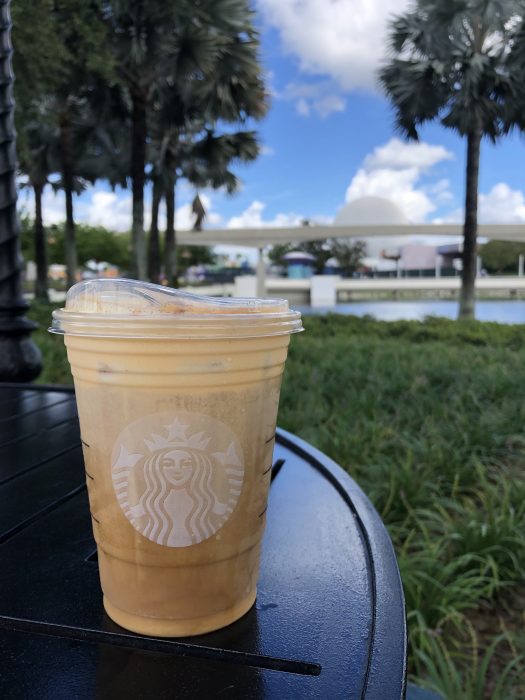 Starbucks also offers a pumpkin cream cold brew, a Pumpkin Spice Frappuccino, and chai beverages that can be modified to include pumpkin pie topping and sauce.
Joffrey's Pumpkin Pie Latte
According to Joffrey's web site, the Pumpkin Pie Latte is like pumpkin pie in your cup–made with espresso, milk, and pumpkin pie syrup. A 16 oz. serving (iced or hot) is $5.69.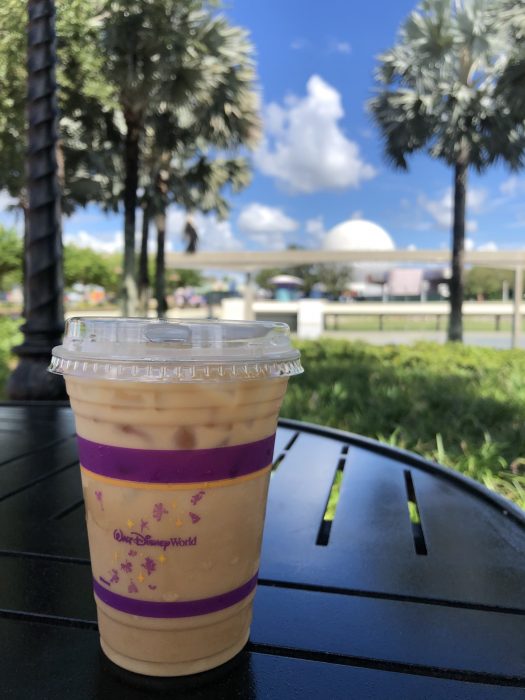 One "extra" at Joffrey's is that you have a "make it spirited" option. The serving size goes down to 12 oz., and the price goes up to $11.99, but you can add in Irish cream, vodka, coffee liqueur, or Irish whiskey.
Joffrey's also offers a pumpkin creme brûlée cold brew and, for those who don't want coffee flavors, a harvest chai latte (which also has the pumpkin pie syrup).
The Verdict
Which should you get? It really depends whether you like the pumpkin spice flavor or the coffee latte flavor more. Our team tried both in one day at neighboring kiosks at EPCOT. The Starbucks version has a more robust pumpkin and spice flavor to it, whereas the Joffrey's version has a more distinct coffee flavor, with the cinnamon/nutmeg/ginger/cloves notes of pumpkin spice blend. For those who want the coffee flavor in their drink, Joffrey's was the clear winner.
If you're looking to save time, usually lines at Joffrey's kiosks are shorter than those at Starbucks, and there are more Joffrey's locations available than Starbucks ones within the theme parks.
Overall, price is practically the same, but being able to "adult-ify" the drink with an alcohol addition at Joffrey's might be an incentive for some people.
So while PSL attracts the major attention, we're leaning towards team Joffrey's on this one.
Do you have strong feelings brewing for one or the other? Let us know which is your preferred drink in the comments.