Ten Things from the Office Supply Store to Bring on Your Disney Vacation
Before heading out on vacation, many folks make a quick run to the drugstore, or to the drugstore section of their local Target, to stock up on dramamine, sunscreen, or bandaids. That completely makes sense, but in addition to the sundries section, you may want to take a swing by the office store or school supply aisle to grab some other sorts of items to make your trip run more smoothly.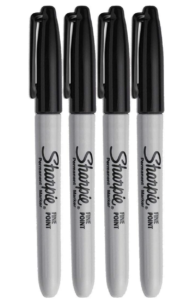 1. Sharpie
Pens are easy to find at Disney World, they sell them in most gift shops and you can always borrow one from the front desk (alas, the in-room freebies seem to be a casualty of COVID), but a regular pen won't do when you need a sharpie. The bold, and permanent, Sharpie can be used to:
Write your cell phone number on the inside of your child's MagicBand – helpful if the band, or the child, gets lost
Labeling your refillable mugs, water bottles, or other drink containers
Conceal a scuff on your luggage or your shoe
Mark a park map with locations of interest
2. Binder clips
The unassuming binder clip punches above its weight class, being useful in numerous situations.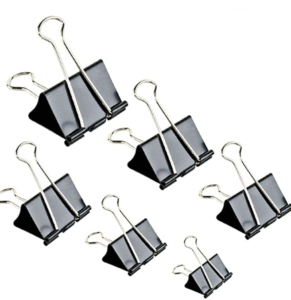 Keeping travel documents clipped together in order
Closing a gap between hotel room curtains
Keeping snack bags closed and fresh
Use different color clips to indicate who is using which towel. (Particularly helpful in Disney Vacation Club rooms or other situations where mousekeeping is not visiting every day.)
Keeping a wet swimsuit from blowing off a chair on your hotel room balcony
Keep a towel from blowing off a chair at the pool
Clip wrapped headphone cords in place so they don't tangle in your pocket or bag
Make a stand to keep your phone upright on your nightstand
Secure a rain cover to a child's stroller
3. Mini scissors
I'm partial to these TSA-approved scissors that resemble a pen when folded into their case.
Cutting the tags off new purchases
Cutting off wristbands from after-hours events in the park
Opening snack bags with clean edges
Cutting airline tags off your luggage
Trimming loose threads on your clothing
Opening packets of medication
The humble Post-It comes in many sizes, shapes, and colors. You can even find flawed (very, very flawed) versions sold in the parks from time to time. But the basic 3″x3″ square in a plain color is the workhorse of the family and probably the one you want to snag for your trip.
Leave notes for your family members about things you're doing or where you're going
Leave notes for your mousekeeper about things you need for your room
Temporarily cover the motion sensor on the many auto-flush toilets to prevent them from startling your preschooler
Leave notes to yourself on the inside of your hotel room door ("Grab your MagicBand before heading to the bus!")
Use as a bookmark in your poolside novel
Write down your favorite TV channel numbers
5. Rubber bands
They come in many sizes. Bring a variety.
Use one to provide an extra measure of security on a child's MagicBand. (Wrap it around one side of the MagicBand several times. Click the MagicBand onto the child's wrist. Then slide the rubberband over the "clicked" part of the MagicBand. Hair ties work too, but small rubber bands are less bulky. )
Keep personal art (like drawings made at the Animation Experience) rolled up for transportation home
Keep phone or laptop charging cables neat for travel
6. Small ruler
Measure items you might purchase to see if they'll fit in your suitcase
Measure items you're carrying to see what size locker you should get
Measure a snack to make even divisions so children sharing the item don't bicker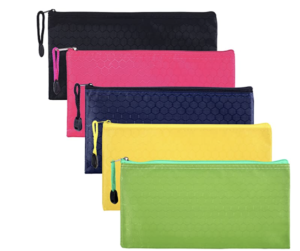 7. Pencil case
Both zippered fabric pencil cases and hard plastic, cigar-box-style, cases are cheaper in the school-supply section than similar items are in other parts of big-box stores
Corral small toys or pieces of travel games
Use as a make-up pouch
Use as a container for a first-aid kit
Use to contain travel documents
Use to contain electronics accessories such as charging cords and adaptors
8. Luggage tags
Bulk quantities of create-your-own luggage tags are often inexpensive at office supply shops.
Make a label for your suitcase (duh)
Make a label for your stroller
Make a label for your child's lovey
Make a label for your diaper bag
(You get the idea)
9. Hardcover Notebook
Document your travels
Use as a cheaper alternative to a Disney-branded autograph book (note, character autographs are paused during COVID)
10. Envelopes
Use to contain travel documents
Keep travel receipts organized
Organize a child's spending cash for each day of your trip
Have any other items that are must-buy at the office supply store before your trip? Let us know in the comments.