The Best Resorts to Book at Reopened Walt Disney World
The process of choosing your Disney Resort hotel is a little different these days. Due to limited amenities and dining options, the presence of the NBA Orlando Bubble, shorter park hours, the suspension of park hopping, and the fact some resorts still haven't reopened, my best resort list has been shuffled around a bit. So with that in mind, coupled with our current global situation, here's what I consider the best resorts to book at reopened Walt Disney World.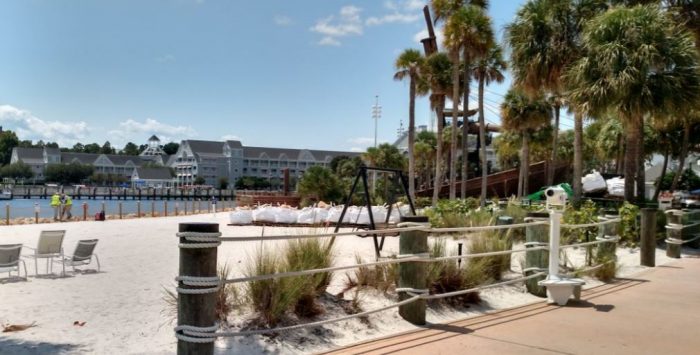 Information About Disney World Resort Hotels
At the time of writing, the following are the only Disney Resort hotels that are open:
Bay Lake Tower at the Contemporary Resort
Boulder Ridge Villas at Disney's Wilderness Lodge
Copper Creek Villas & Cabins at Disney's Wilderness Lodge
Disney's Animal Kingdom Villas at Kidani Village
Disney's Beach Club Villas
Disney's Boardwalk Villas
Disney's Caribbean Beach Resort
Disney's Contemporary Resort
Disney's Fort Wilderness Resort & Campground
Disney's Old Key West Resort
Disney's Polynesian Villas & Bungalows
Disney's Pop Century Resort
Disney's Riviera Resort
Disney's Saratoga Springs Resort & Spa
Disney's Yacht Club Resort
The Villas at Disney's Grand Floridian Resort & Spa.
Note: Villas are Disney Vacation Club (DVC) resort rooms that range in size and occupancy. Non-members can still book DVC Villas.
Disney's Grand Floridian Resort & Spa is scheduled to reopen this month on September 21. Disney's Coronado Springs will then reopen October 14 followed by Disney's Art of Animation on November 1. These resorts are currently accepting reservations for when they reopen. Also, Disney's Polynesian Village Resort was slated to reopen October 4. However, Disney recently announced the resort won't reopen now until summer of 2021 as the Great Ceremonial House and resort rooms are refurbished and enhanced. In addition, the resort's monorail station will be closed at the beginning of October.
Meanwhile, Disney's Beach Club Resort and BoardWalk Inn are to remain closed until further notice. Disney still says future reopening dates are subject to change and guests' reservations could still be modified to other Disney Resort hotels if needed. Other Disney Resorts that are not listed have no reopening scheduled at this time.
Now that we know our options, let's discuss which resorts offer the best experience at this time. Keep in mind, this is not a rundown of every resort that has reopened. I'm only focusing on those I believe offer the best resort experience under the current circumstances.
Disney's Contemporary Resort & Bay Lake Tower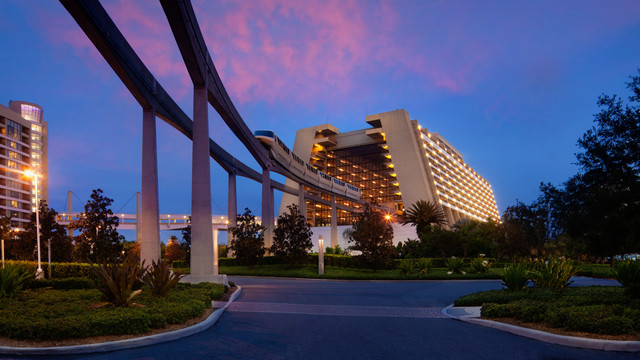 The Contemporary Resort is considered one of the Disney World's best resorts any time; and in our current COVID-19 world, its benefits and amenities still make it one of the best choices for a resort stay.
When spending the day at the Magic Kingdom, the Contemporary's walking path to the Magic Kingdom can't be beat. Plus, its Monorail access is a true luxury since the Contemporary is the first stop when returning from the Magic Kingdom. It allows for convenient resort hopping and access to additional dining options.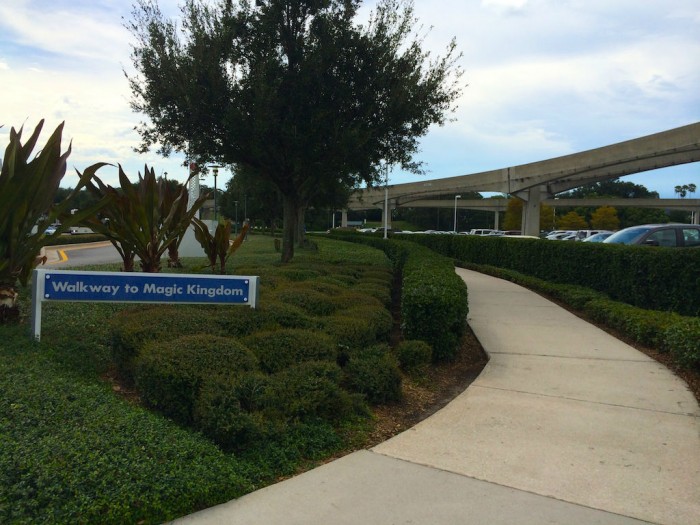 While many Disney resort restaurants haven't reopened and resort guests are limited on their options, guests at the Contemporary can still enjoy California Grill, Contempo Cafe, The Wave of American Flavors, and Chef Mickey's sans characters.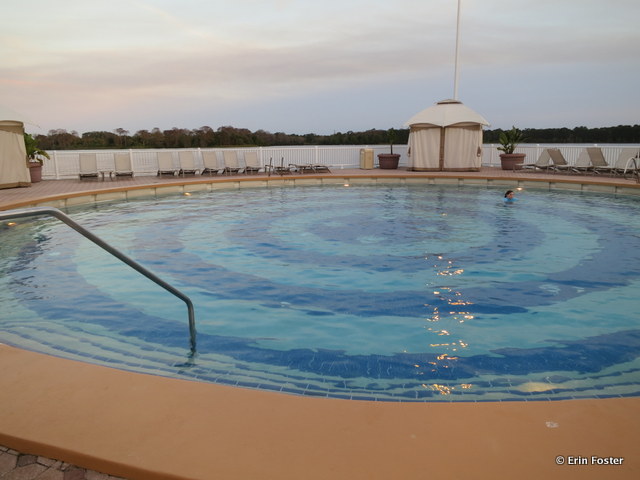 Since park hours are so much shorter these days, I've found the best resort for my family offers the most to do and experience. The Contemporary meets this need thanks to its three gift shops for browsing and splurging, two lobbies (the resort's main lobby and that of Bay Lake), two pools, and incredible views of the park, the lake, and other Magic Kingdom resorts. I mean, if you can't be at the Magic Kingdom as late as you'd like, stay where you can enjoy it from afar.
Disney's Yacht Club Resort & Disney's Beach Club Villas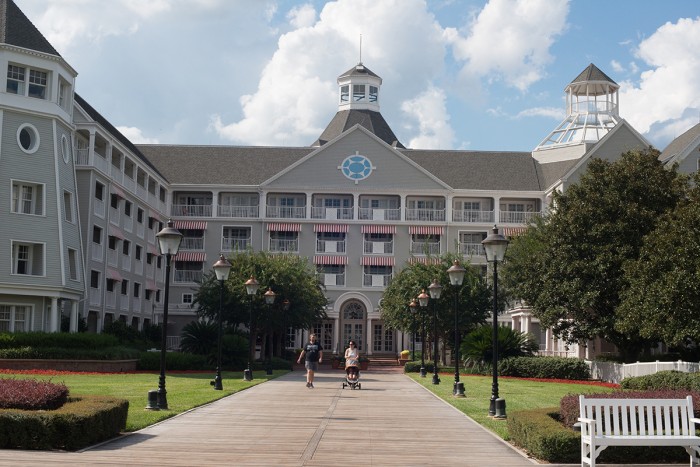 I know the Yacht Club and the Beach Club are two separate resorts, but they share the same pool and sit side by side so… I'm going with it.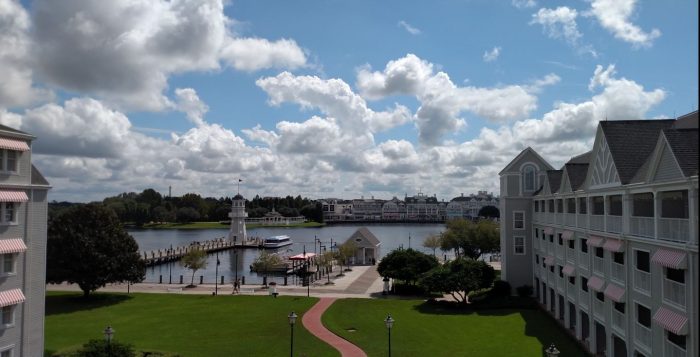 Once upon a time, Disney's EPCOT Resorts were hailed as the best for park hopping and resort hopping. This is due to the fact that Disney's Yacht and Beach Club, the BoardWalk Inn, and the Swan and Dolphin are within walking distance of both Disney's Hollywood Studios, EPCOT, and each other! If that wasn't all, the adjacent Skyliner station allows for further resort exploration.
Even though park hopping isn't a possibility right now, the easy access to the parks is still a perk during those respective park days. Also these resorts surround Crescent Lake and offer gorgeous waterfront views. So even after the parks close, guests can still enjoy walking around the lake, seeing the Boardwalk lit up at night, and enjoying what these resorts have to offer!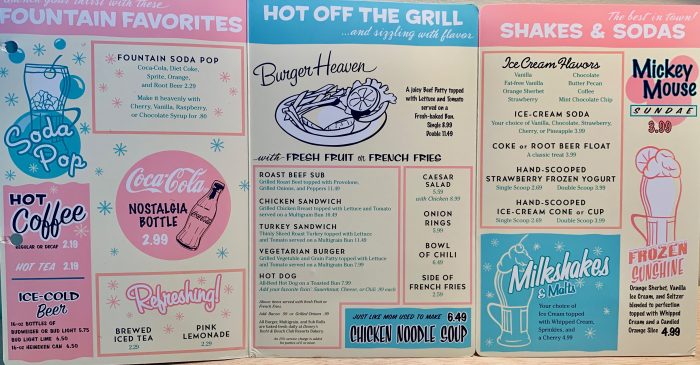 The Beach Club's popular Beaches & Cream Soda Shop has reopened, but Crew's Cup Lounge, the Yachtsmen Steakhouse, and Cape May Cafe are currently closed. Both of the resorts' other dining options are unfortunately kinda forgettable.  Also, it's worth noting that at the time of writing, the Beach Club Marketplace has moved to the resort's Solarium while its original space is under refurbishment.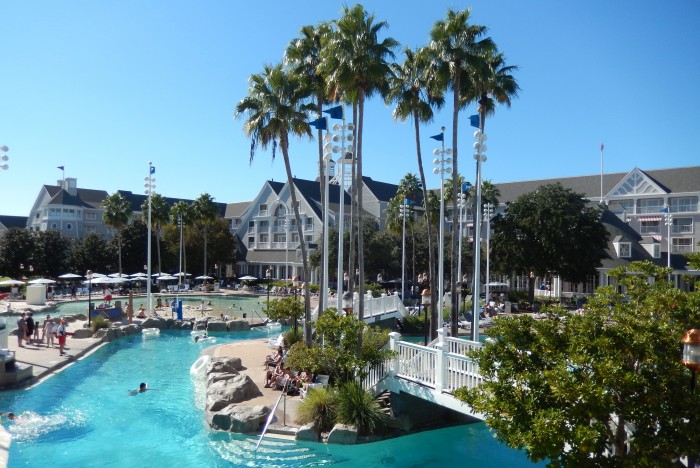 One of the best reasons to stay at the Yacht Club or Beach Club Villas during this time, and honestly at any time, is for Stormalong Bay. Long considered the best resort pool on Disney property, Stormalong Bay is a mini-water park complete with a lazy river, massive slide, and a sand bottom. It's the perfect spot to entertain yourself and the family after the parks close for the day. It also helps to make up for the fact that Disney's Typhoon Lagoon and Blizzard Beach water parks are currently closed.
Boulder Ridge Villas & Copper Creek Villas at Disney's Wilderness Lodge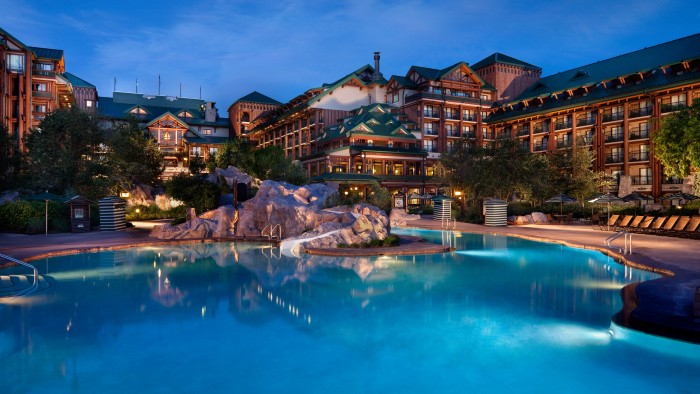 Even though it's not on the Monorail loop, Wilderness Lodge's Copper Creek and Boulder Ridge Villas are only a short boat ride away from the Magic Kingdom. It also sits next door to the Fort Wilderness Resort and Campground and within view of the Contemporary Resort.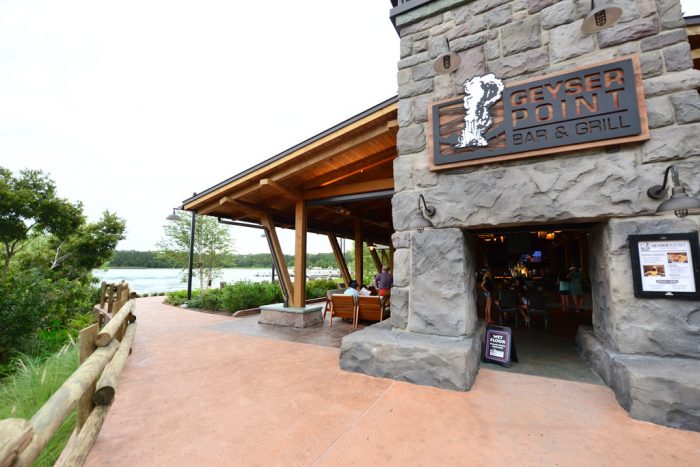 In addition, the popular Geyser Point Bar & Grill, Whispering Canyon Cafe, and Roaring Fork are all open and operating. The only dining that's currently not available at this resort is in-room dining, the Territory Lounge, and Artist Point.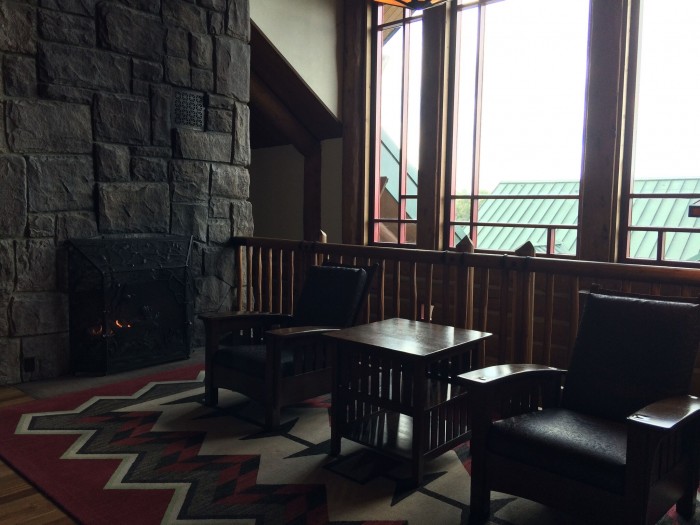 I consider the Copper Creek and Boulder Ridge Villas one of the best places to stay at reopened Walt Disney World because there is so much to see and do! Both resort pools are open and equally fantastic, but this resort offers more than just pool time for when the parks close or when you're looking to distance yourself from crowds.
The resort's main lobby is an experience as it's home to a bubbling spring and footbridge, various fireplaces, massive chandeliers, and nooks and hideaways for discovering and relaxing on multiple floors. It also serves as a sort of mini-museum with a variety of artwork and artifacts from the Pacific Northwest on every floor.
The Boulder Ridge Villas lobby is smaller in comparison to the main lobby, but still holds a number of hideaways, artifacts and displays, a fireplace, and a whole room dedicated to Walt Disney's passion for trains.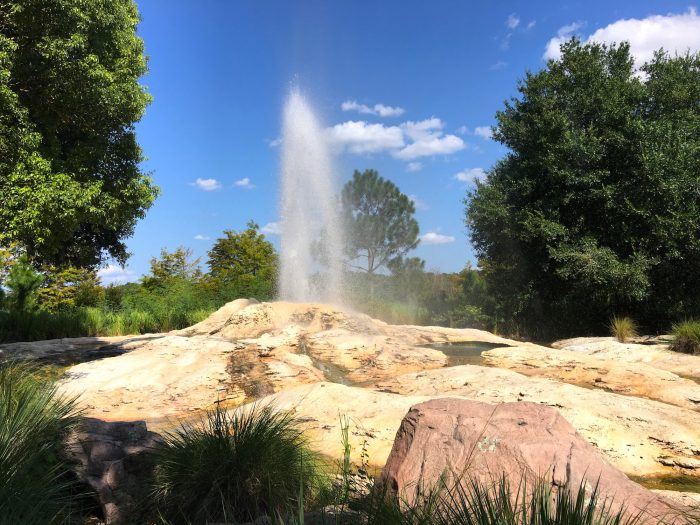 Other resort activities range from a Hidden Mickey hunt, a fantastic gift shop, extensive grounds and pathways, picturesque lakefront views, and a geyser that shoots water up into the air every hour!
Disney's Saratoga Springs Resort & Spa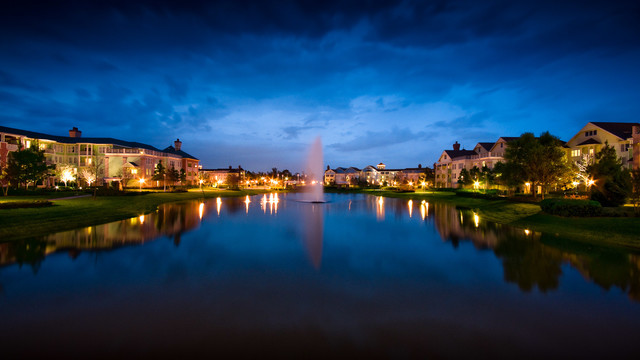 Under normal circumstances, I probably wouldn't list Saratoga Springs as a top choice of resort for a Disney World vacation. Don't get me wrong, it's a beautiful resort with quality rooms and views. My problem with it is that it's too spread out; and unless you're staying in a building near the lobby, you're pretty much isolated to your particular area and bus stop. Basically, it's Deluxe-level DVC accommodations without the full resort experience.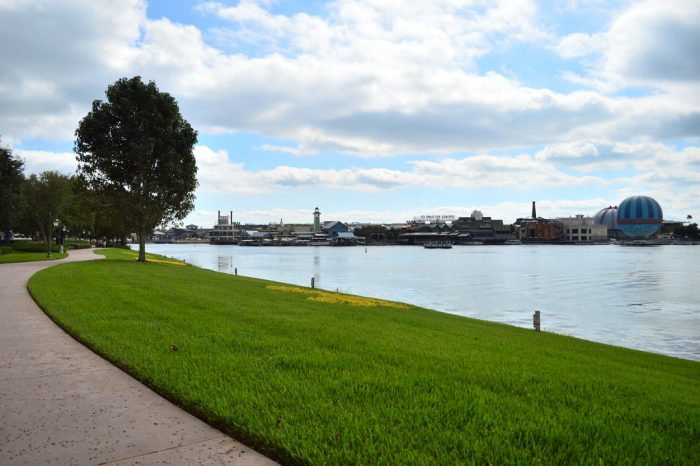 With that being said, a major perk of Saratoga Springs is that it's located next to Disney Springs. There's even a walking path for additional convenience.
Since the Disney Parks and Disney's transportation close down early these days, and since dining options at both the parks and resorts are limited, Disney Springs is the perfect alternative. This shopping and dining district offers later hours, some of the best dining on Disney property, plus entertainment, activities, and shopping.
Therefore, Saratoga Springs guests won't be as limited in their options as some other Disney resort guests might feel during this time.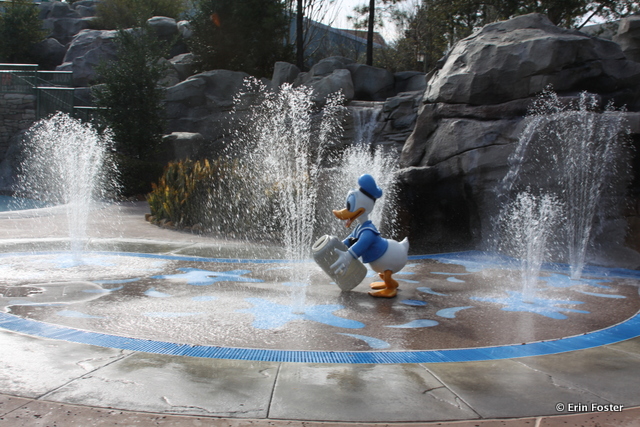 Saratoga Springs is also one of the more affordable DVC resorts on property and offers 5 pools! The Paddock Pool and High Rock Spring Pool are the largest with multiple slides and play areas, but there's also 3 leisure pools each with a whirlpool spa. In theory, you and your family could enjoy a new resort pool each day of your stay!
Resorts I Would Not Suggest at Reopened Walt Disney World
Disney's Animal Kingdom Villas at Kidani Village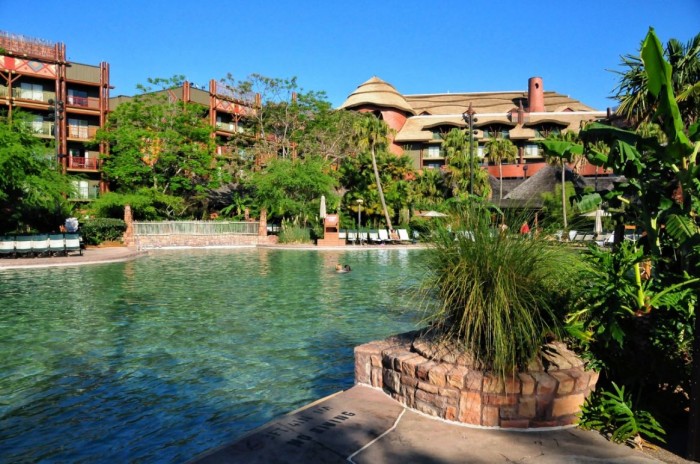 I think Disney's Animal Kingdom is one of the best Disney resorts on property. However, Jambo House, the resort's main building and additional villas, haven't yet reopened.
Kidani Village is beautiful and still offers those signature views of the African wildlife, although I feel it offers too few amenities to justify its cost at this time.
This resort is also isolated, and understandably so for the sake of the animals. Still, it relies solely on bus transportation; and while it does offer the benefit of being next door to Disney's Animal Kingdom, that park currently closes earlier than the others.
So with limited dining options and limited park hours at the nearest park, being isolated may not make for the best experience.
Disney's Polynesian Villas and Bungalows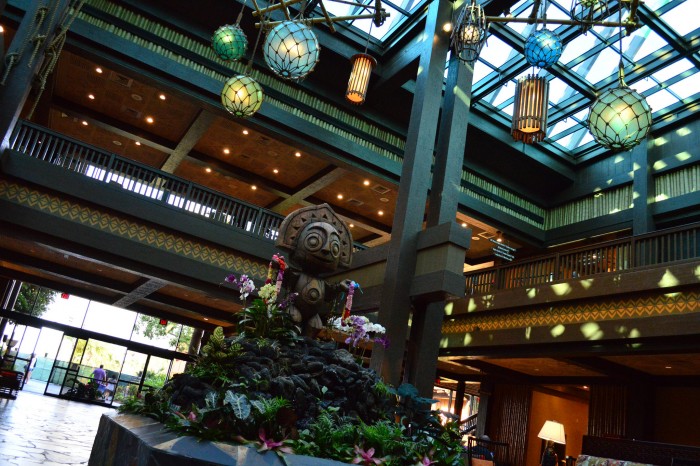 I know, I know. But hear me out! The Polynesian Village would have been on my list for the best resorts if it wasn't about to undergo a refurbishment in its main lobby and suspending the use of its Monorail station beginning in October. Also, 'Ohana still hasn't reopened and neither has Disney's Spirit of Aloha Dinner Show.
Granted, I'm aware guests can still walk next door to the TTC to use the Monorail, and its rooms and pools are still fantastic. However, I still argue that guests won't get enough of this resort's true experience to justify its cost.
Disney's Grand Floridian Resort and The Villas at Disney's Grand Floridan Resort & Spa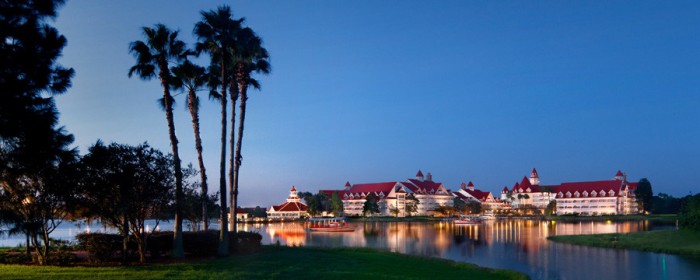 Even though the Grand Floridan Resort is slated to reopen this month, I wouldn't recommend staying here simply because of the NBA Orlando Bubble. Since certain NBA teams are staying at this resort, a large blue wall was constructed to separate players from guests. While understandable, a significant portion of the resort grounds and its amenities are inaccessible to guests. Also, a significant number of this resort's restaurants still haven't reopened.
So that is my take on the best (and worst!) resorts to experience during this unusual time at Walt Disney World. Which resort would be your choice during these unprecedented times?