The Hollywood Brown Derby Provides a Classy Meal of Classic Favorites
The Hollywood Brown Derby at Disney's Hollywood Studios is by far the finest dining experience in Disney's Hollywood Studios. Recently, our in-park team stopped for lunch, and we had to share what was good, what was great, and what we'd skip on our next meal.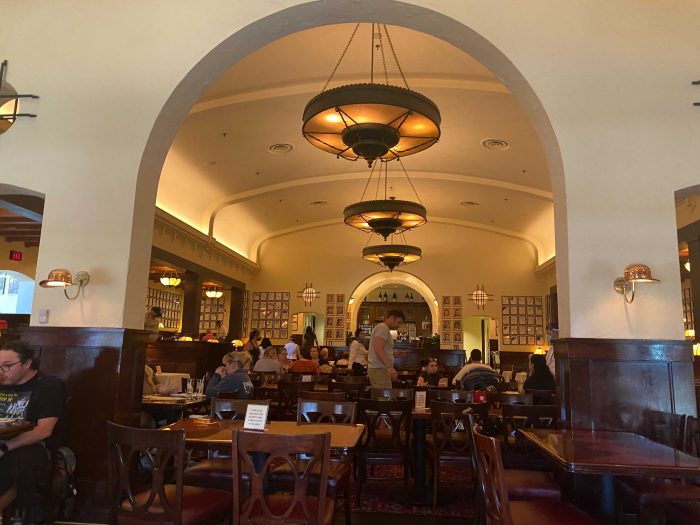 First, a few notes. The Hollywood Brown Derby only offers indoor seating. Although new rules have been instated about masks being required when seated unless actively eating, we noticed no obvious change to the enforcement of mask rules. Also Brown Derby offers a 10% AP discount on meals.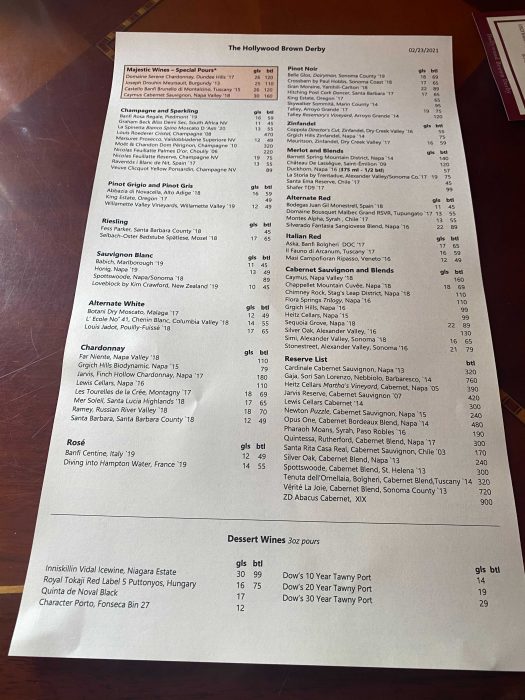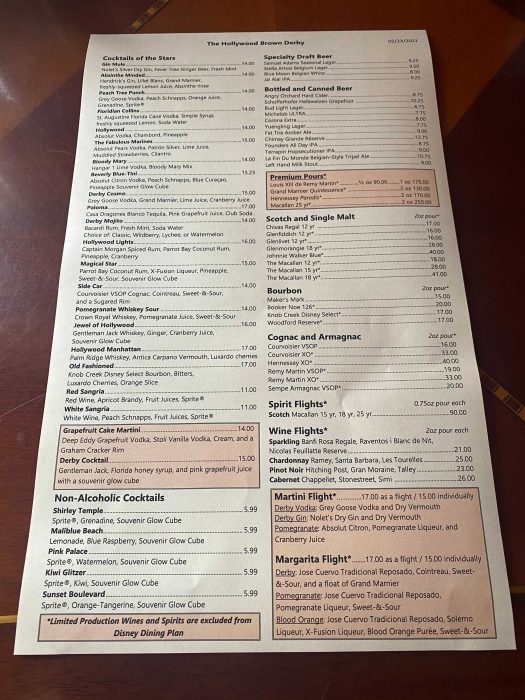 If you're a fan of fine potent potables, you'll find an exceptionally large selection here, far greater than what you will find on Disney's web site.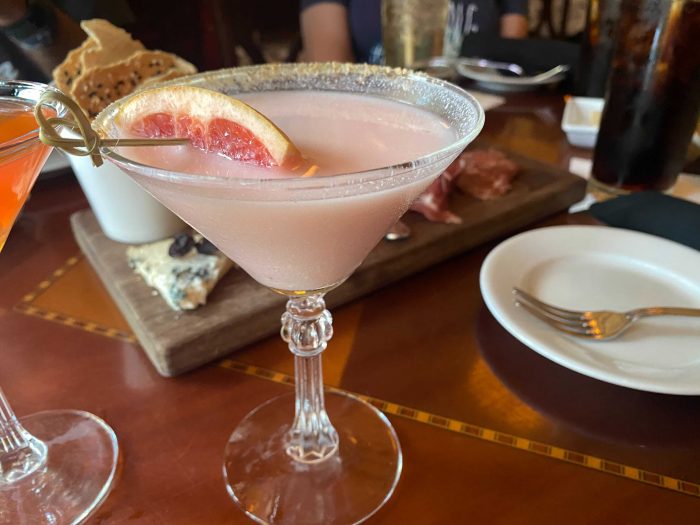 Of course we had to try some out — for science! The Grapefruit Cake Martini is one of their signature cocktails and it's one of the heaviest pours we've had in WDW. The grapefruit vodka flavor was strong but delicious. Plus, it's a pretty drink. If you like the grapefruit cake, or just grapefruit in general, this is beautiful and not the usual. The graham cracker sugar rim is perfect. It cuts the pucker from the grapefruit nicely.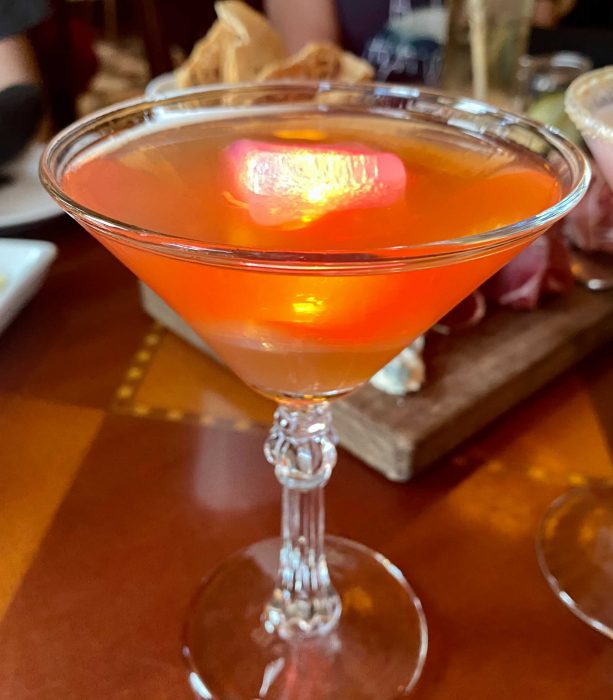 Next up, the Derby Cocktail, with Gentleman Jack, Florida honey syrup, and pink grapefruit juice. This one is a little sweeter, a little warmer on the tongue, but still delicious. You can't go wrong with either of these cocktails if you like the fresh taste of grapefruit.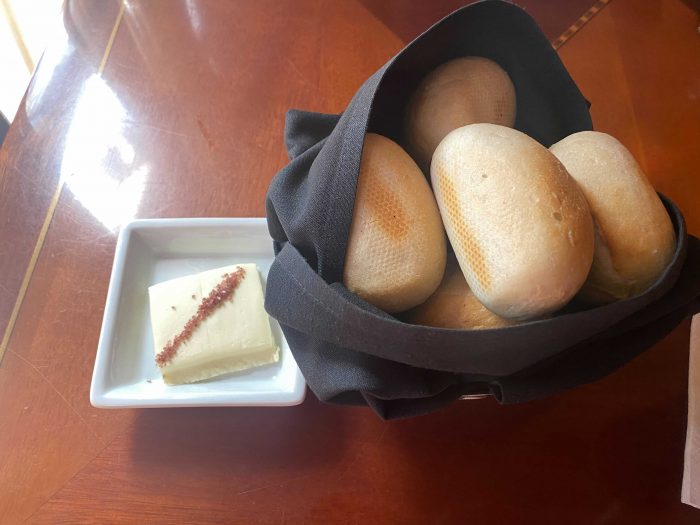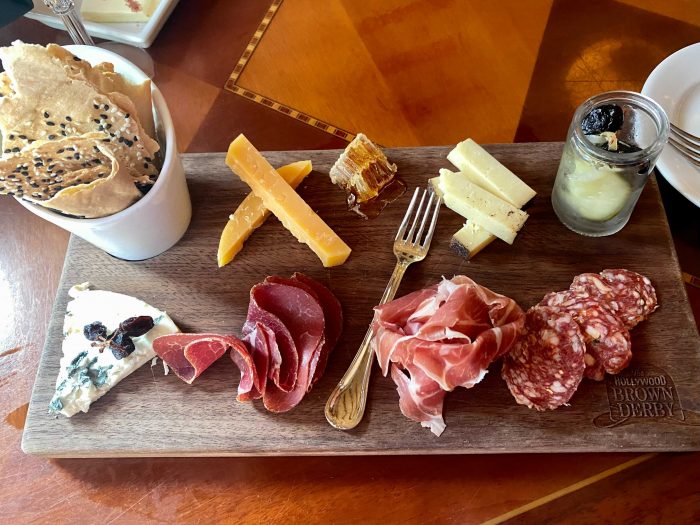 Our meal started with rolls, but of course we had to get the charcuterie board. The Barely Buzzed cheese was a favorite at the table. It's got lavender and espresso and we would have been happy with a hunk of this, some of the crackers, and a cocktail. (But of course, we had to try even more!) The pickles were house made and wonderful. The meats weren't anything special but they were good quality, and the other two cheeses (Reypenar Gouda and a Bayley Hazen Blue) were also wonderful and strong. It was enough to share and was lovely, but comes in second to the board at Via Napoli. The crackers look like they would be tough and thick but they're made of air and love.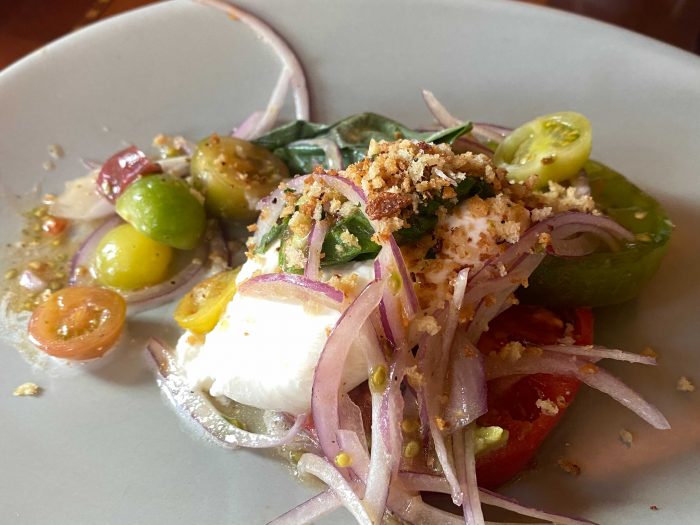 Next up, the Tomato and Burrata salad. It's a good salad, but not great — if you want burrata, the one at Via Napoli is better. And if you want salad, there's really only one choice at the Brown Derby.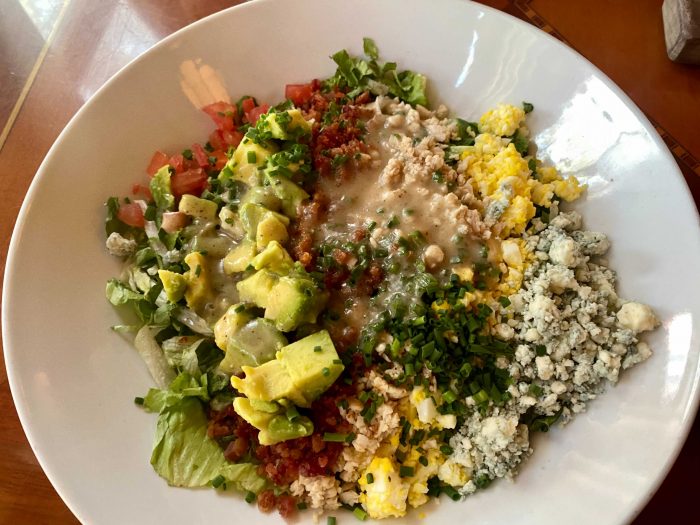 Yes, the world-famous Cobb salad! If you've never had it before, this salad is a great blend of delicious flavors. What makes it a bit unusual is that everything is chopped fine — including the lettuce. Think of it almost like if you made a dinner salad into coleslaw. There's so many great flavors in this dish that all blend together. It's no wonder that it is the signature dish. This is served as an entree, but you can order it and some extra plates to share at your table as a salad course.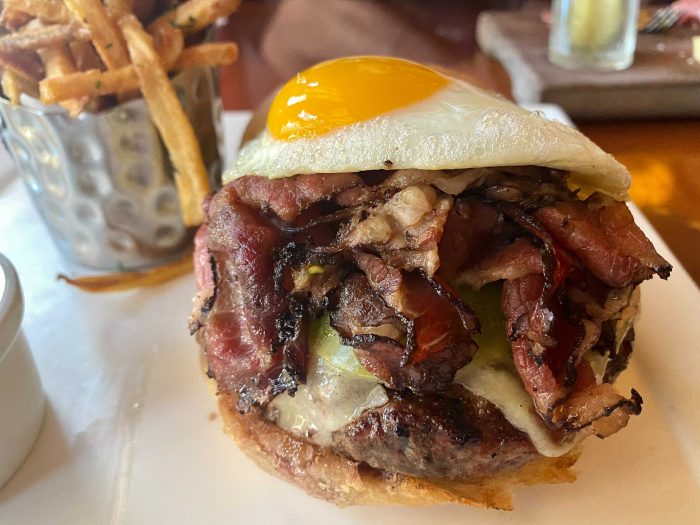 Any time a place has a signature burger, we've got to try it out. The signature burger here includes Pastrami, Gruyère Cheese, Heirloom Tomato, Fried Egg, Cognac-Mustard, and Hand-cut Fries. We ordered it medium-rare and it was simply perfect. Without question, this is the best burger in the park and the egg was a great touch. There's something wonderful about being in a fancy restaurant and ordering a hamburger, but this one is so top-notch that it doesn't feel out of place to do that.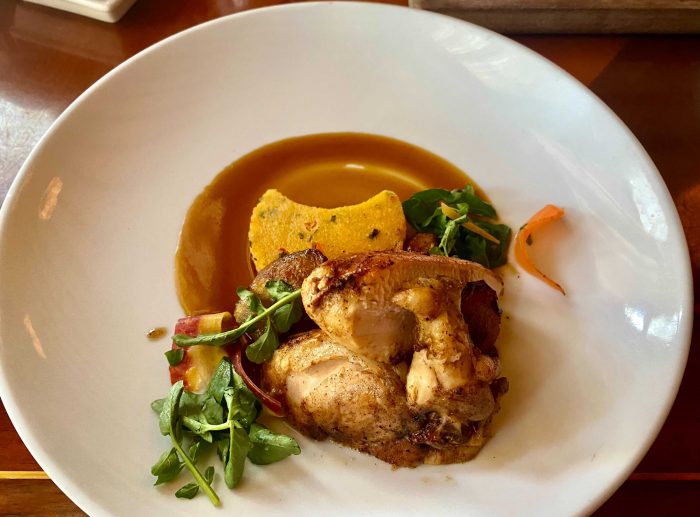 The Bell and Evans Chicken Breast comes with Red Pepper-Toma Cheese Polenta Cake, Honey-glazed Carrots and Madeira Jus. Madeira jus should come in a gallon jug on the side. Is it acceptable to lick the plate clean? Probably not, but it should be. (Pro tip, save a roll to sop up all that jus.)  The chicken was perfectly cooked, beautifully presented, and just yummy. You'll say "I can't eat another bite" and then continue to eat more bites.
Is there a dessert more iconic at Walt Disney World than the Grapefruit Cake? It's one of the reasons you go. It's prettier than some wedding cakes–and tastier.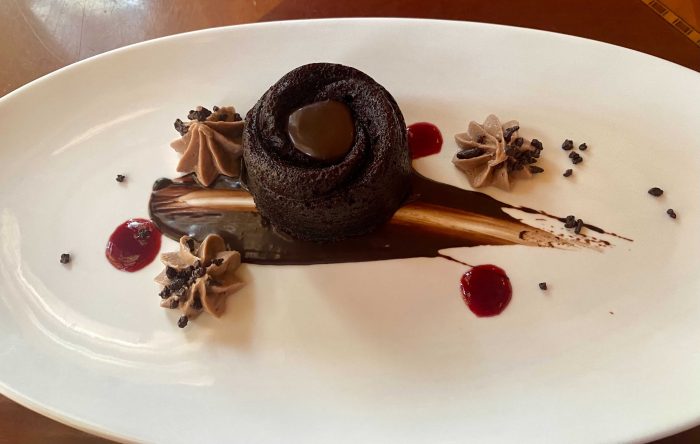 Another dessert option that was delicious is the Chocolate-Coconut Cake. This one was a plant-based option, and we think that the hazelnut cream that comes with it needs to be sold by the quart.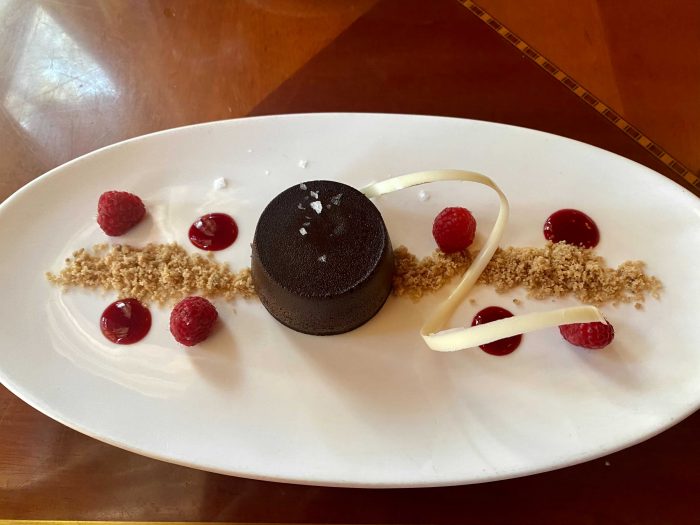 Finally, the Flourless Chocolate Cake was also wonderful. This was a dense, mousse like plate of goodness.  Chocolate and raspberry are classic and beautiful flavors that work together. Add that hint of espresso? Yum.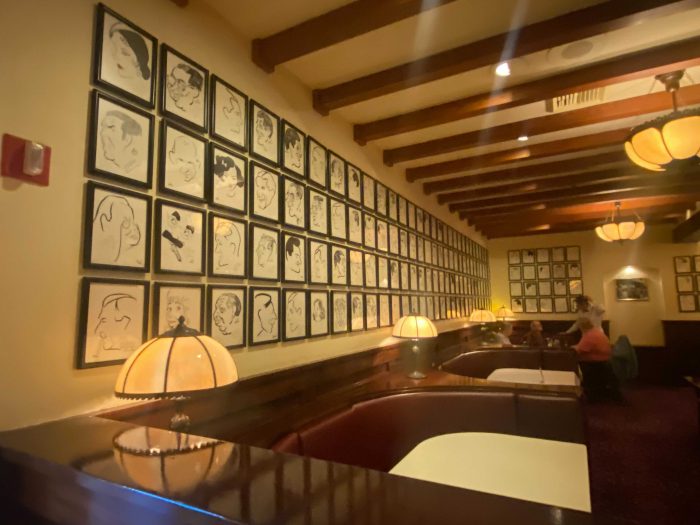 It's so nice to be able to escape the stress of boarding groups and keeping six feet apart while staying stationary as we eat and drink while melting in the sun as other people's kids scream around us. If you're looking for a great place for a midday break, lunch at The Hollywood Brown Derby is a wonderful option. Excellent food and drinks make it worth the price. The cool leather booth is just bonus.
Our TouringPlans readers give The Hollywood Brown Derby an 89% thumbs up rating and place it #35 of 105 table-service options at Walt Disney World.
Have you dined at The Hollywood Brown Derby? Which wins out in your book, Cobb Salad or Grapefruit Cake? Let us know what you think in the comments.