The Newest Flavors of Batuu at Star Wars: Galaxy's Edge
Walt Disney World offers dining experiences and cuisine from all over the world and even from another galaxy!
Disney's Hollywood Studios is home to Star Wars: Galaxy's Edge – a Star Wars-themed land set on the planet of Batuu. However, after a day of building droids and lightsabers, piloting the Millennium Falcon, and escaping the First Order on Rise of the Resistance, every Rebel needs nourishment.
Galaxy's Edge offers blue and green milk at the Milk Stand, popcorn at Kat Saka's Kettle, fan-favorite Ronto Wraps at Ronto Roasters, and drinks and appetizers at Oga's Cantina, along with the main quick service location, Docking Bay 7. Recently, there have been some changes to some of the menus to add a world of new flavors.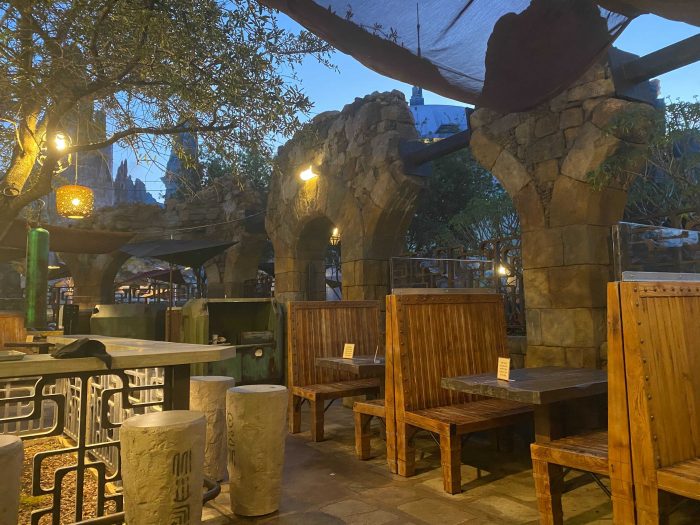 What You Need to Know
Designed to look like a working hangar bar, guests to Docking Bay 7 dine inside in shipping containers or even on the surface of an X-wing! Outside, there's a selection of seating in a crumbling courtyard.
According to the restaurant's story, Chef Strono "Cookie" Tuggs is serving up intergalactic dishes from a food freighter loaded with ingredients from throughout the galaxy. This is why Star Wars fans are likely to notice dishes with names reflecting different planets from the Star Wars Universe.
At the time of writing, Docking Bay 7 is open from 11:00 to park closing serving both lunch and dinner. Indoor and outdoor seating is available, and mobile order is offered through the My Disney Experience app.
The Menu
Docking Bay 7 recently unveiled a slightly modified menu! Items with their Star Wars-ish names range from Peka Tuna Poke to Kaadu Pork Ribs to a variety of chicken Tip Yip.
Also, guests can purchase a spork with a travel bag here for $10.99. Ronto Wraps from Ronto Roasters are available here with a side of root veggie chips for $13.99, but only after 3:00 p.m. when Ronto Roasters closes for the day.
Our park reporter Ivonne recently journeyed to that galaxy far, far away to sample the new fare and to give her take!
So according to her, both the chicken and beef dishes are great and some of the best quick-service she's enjoyed in recent memory!
Pirjanad Hot Chicken Tip Yip – $15.49
Listed as crispy chicken glazed in a spicy chipotle sauce and served with white rice and a relish of sweet corn, shishito peppers, jicama, plantains, and cilantro, Ivonne says the chicken was actually spicy!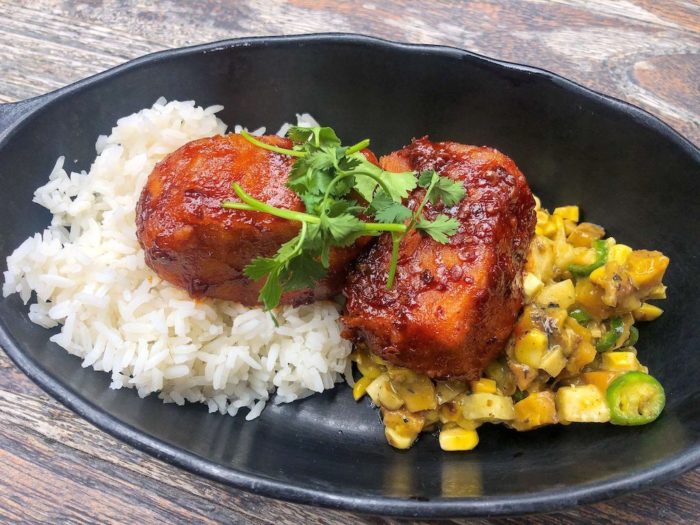 She does admit that she doesn't have a high tolerance for spicy items, however, it's still hotter than most of the spicy quick-service dishes you'll find at Walt Disney World. Also, the corn relish it comes with is delicious, and anything with plantains is alright with her.
Batuuan Beef and Crispy Topato Stir-fry – $19.99
This smoky braised beef glazed in Tamarind sauce is served with stir-fried veggies, crispy herbed yuca, pickled onions, and cilantro.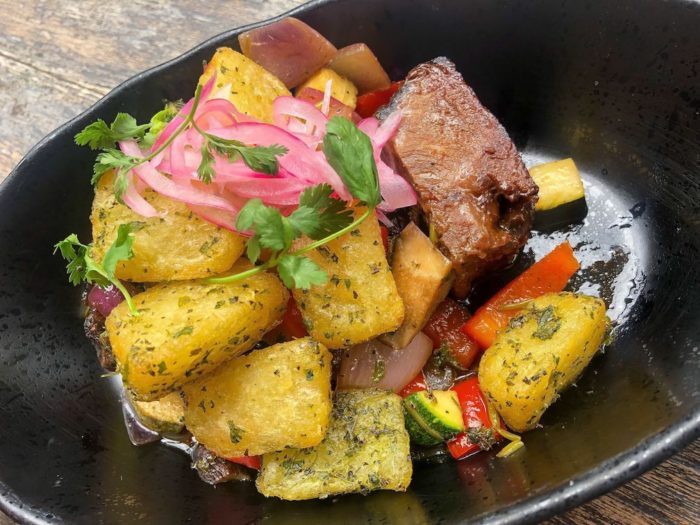 Ivonne also found the beef to be delicious, tender, and flavorful! The yuca was crispy and yummy, and the mixed veggies that it comes with are great as well. She would definitely get both of these dishes again!
Outpost Puff – $6.99
For dessert, Docking Bay 7 features the new Outpost Puff.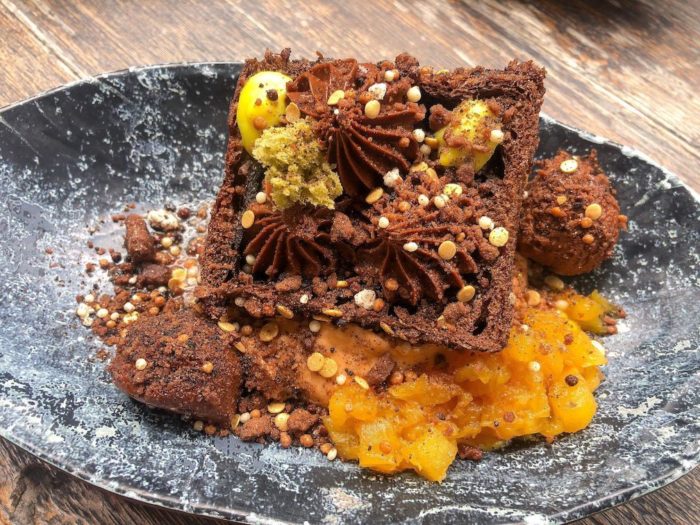 It's a chocolate pastry filled with Guajillo chocolate mousse with Thai tea Panna Cotta, spiced pineapple, and, as the menu describes it, confectionary debris. Is that Star Wars speak for sprinkles? Ivonne says she knows it's a puff and and so it should be dry but the texture was just odd. The chocolate flavor was good, but not enough to make it worth getting again.
Over at Ronto Roasters, there's a few new items as well.
Andoan Fruit with Muja Sauce – $6.99
This is a combination of sticks of jicama cucumber, pineapple, melon, and dragon fruit with a tamarind sauce and peppercorn ash. The side of fruit sticks tasted great on their own, and she didn't mind the peppercorn ash on them but the Taramind sauce? Not so much.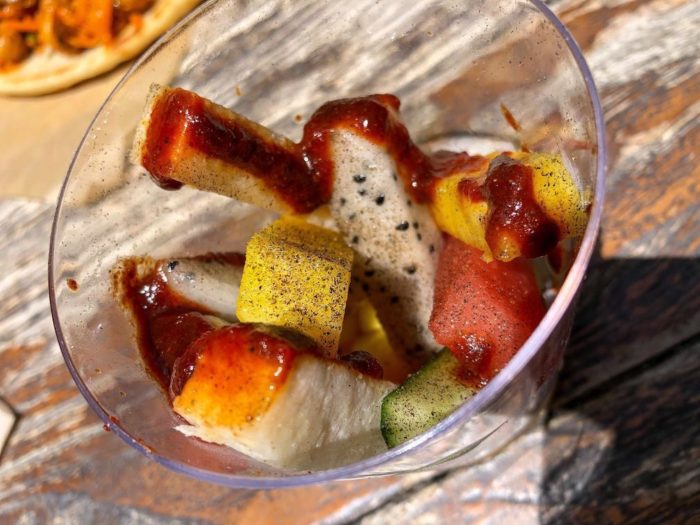 Kyryll Pork Rinds — $7.79
Sadly, she didn't like the side of pork rinds either. The mix of cinnamon, cheddar, and ancho chile is a no.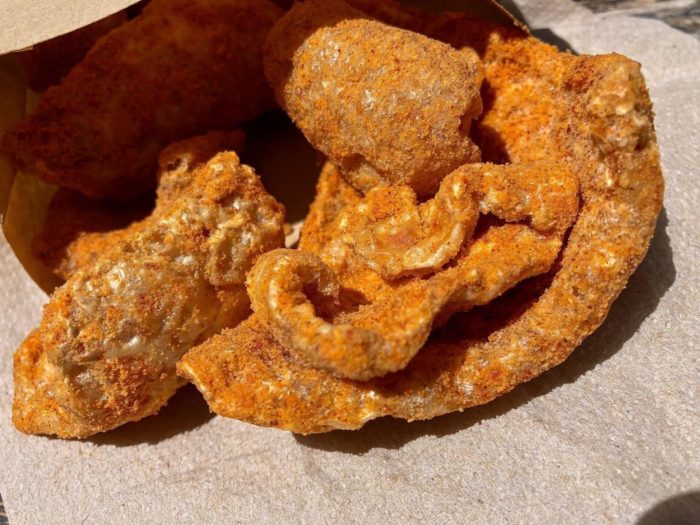 Zuchii Ronto Wrap — $11.99
The Zuchii Ronto Wrap, with grilled zucchini, smoky chickpea-onion slaw, creamy garlic-tahini sauce, and fresh cilantro in pita was a great option. She tried with the creamy garlic sauce on the side since she typically isn't big on sauces of that kind.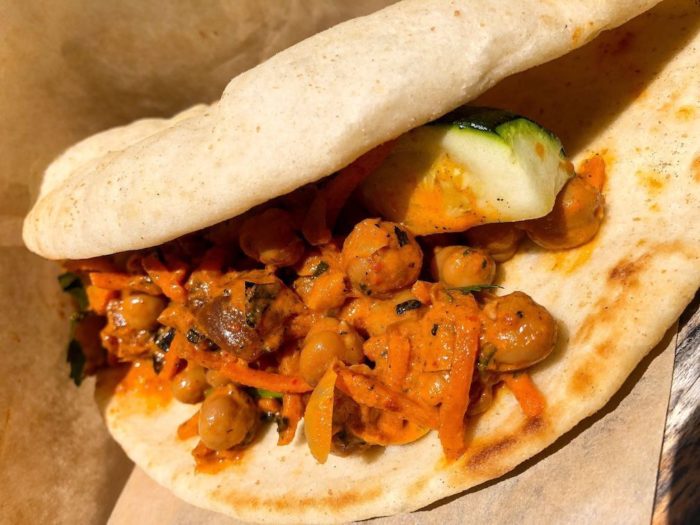 Granted, the sauce was good, but she still enjoyed sans sauce better.
Buttered Blue Grains — $6.49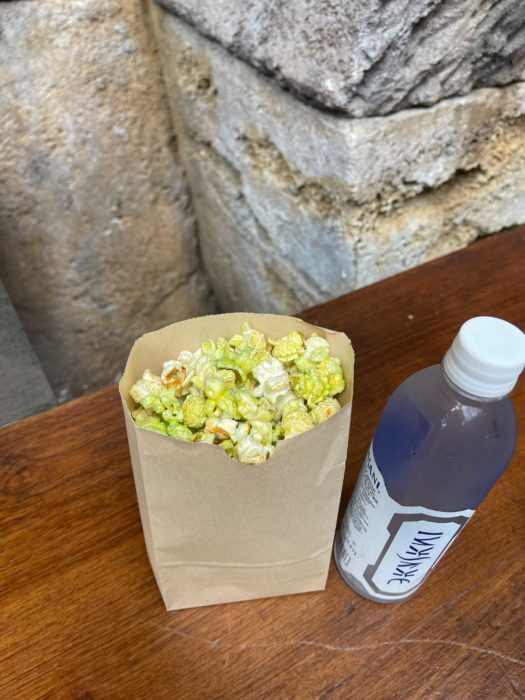 Kat Saka's Kettle has reopened, and with it comes the "buttered blue grains" popcorn. It's popcorn. It tastes like popcorn. It's blue. But just popcorn. Even the bag it comes in screams normal. On the other hand, who can complain about Disney popcorn?
Will you check out Docking Bay 7 on your next visit to Disney's Hollywood Studios? Let us know in the comments!