The Plaza Restaurant: Cozy Dining on Main Street
An often overlooked dining option at the Magic Kingdom is the cozy, turn-of-the-century hideaway known as the Plaza Restaurant.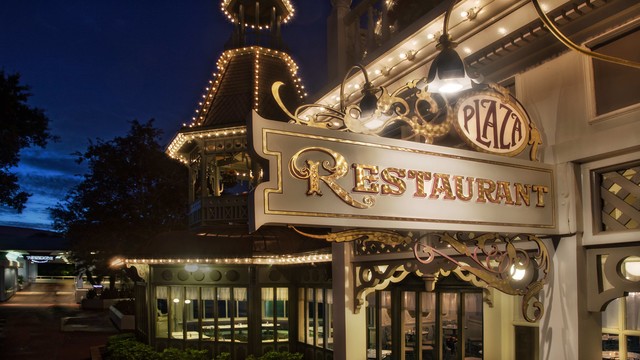 Located at the end of Main Street, U.S.A. and right next to the Plaza Ice Cream Parlor, The Plaza Restaurant has been serving guests since 1971 and features an intimate dining room amidst old-fashioned elegance with views of Cinderella Castle.
What You Need to Know
The Plaza serves American fare ranging from Monte Cristos, home-style meatloaf, salads, and banana splits. Currently, it's open from 11:00 a.m. to 2:55 p.m. for lunch and 3:00 p.m. to 9:00 p.m. for dinner. Annual Passholders are eligible for a 10% discount.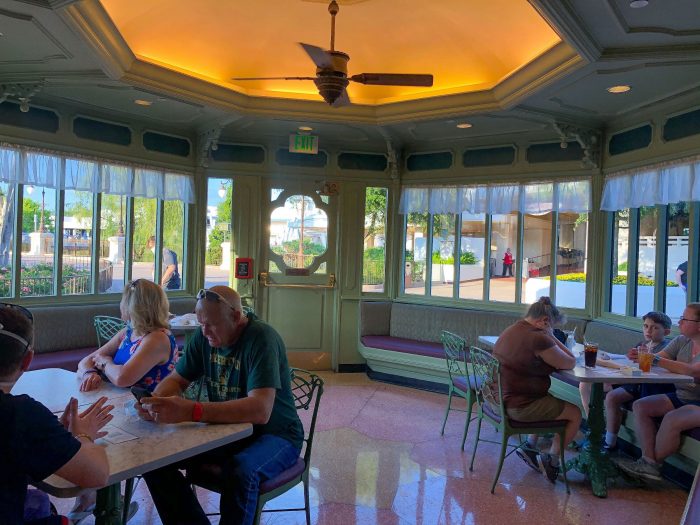 Since seating is extremely limited, Advance Dining Reservations are encouraged and can also be made on the My Disney Experience app; although, if you're already within that 60-day window, consider using the TouringPlans Reservation Finder.
The Menu
Our park reporters Chrissy and Ivonne recently visited The Plaza and found it as charming as it appears. Here's what they enjoyed in order of their ranking:
1. The Monte Cristo Sandwich – $19.00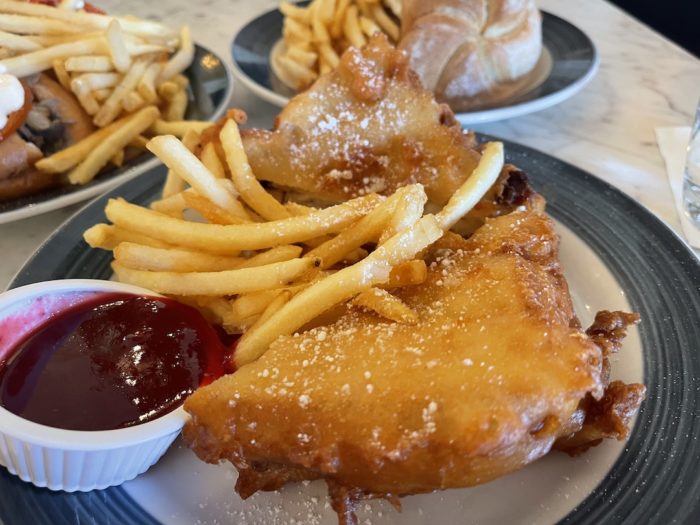 No, we're not lost. This isn't Disneyland, but rather the Magic Kingdom's version of the Monte Cristo and it was Ivonne and Chrissy's favorite dish at The Plaza by far.
Is it the most unhealthy thing you can get to eat in the whole park? Probably. But, it's good enough that you don't care. Crunchy, fried batter, stringy cheese, tart strawberry jam, and sweet powdered sugar – they were back at Bennigan's in 1992 but in the best way. Basically, this alone is worth getting a reservation for.
2. The Main Street Burger – $21.50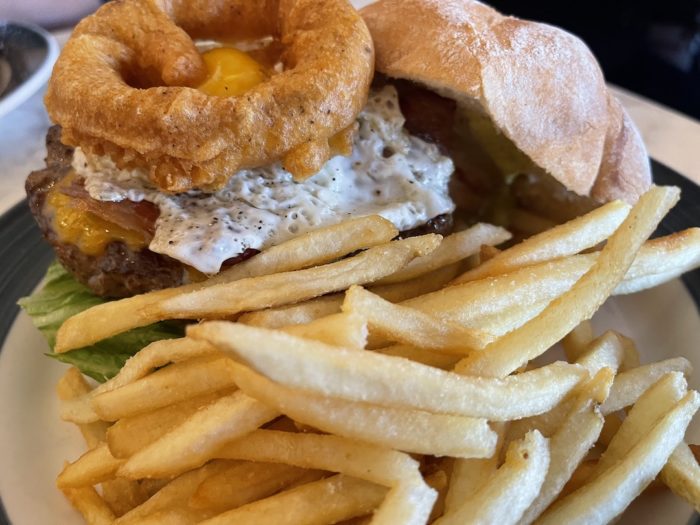 This huge burger topped with a lovely, sunny-side-up egg and a crunchy onion ring made Chrissy and Ivonne so happy. It's not fancy; it's just a good, quality burger and the perfect base for an ice cream splurge.
3. Roast Beef Au Jus – $19.00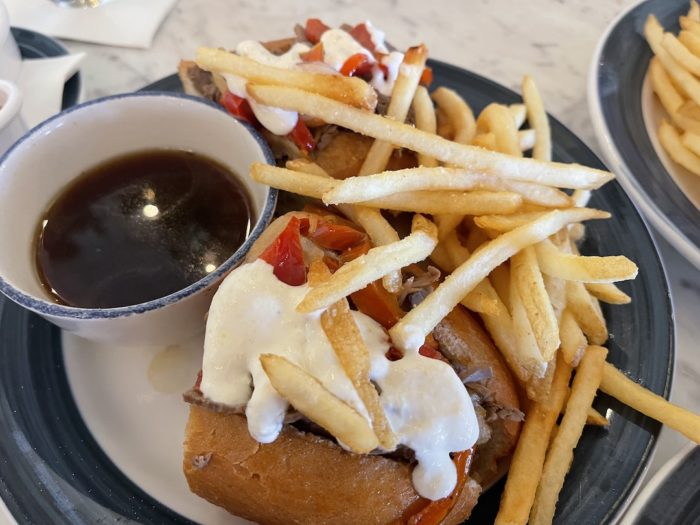 Even though it was still good, this particular item was Chrissy and Ivonne's least favorite. While Chrissy enjoyed the horseradish sauce, Ivonne wished there was cheese like a traditional Philly cheesesteak.
4. Ominbus Sundae – $9.00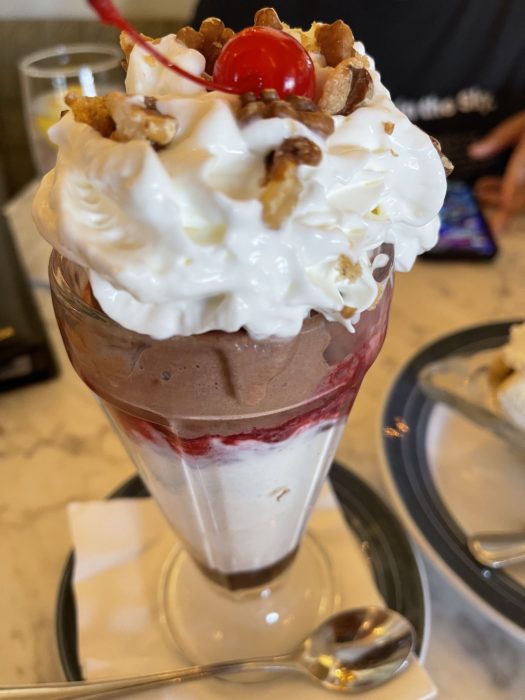 It's a truth universally acknowledged that anything with chocolate and raspberry is a win. No wonder Chrissy found this chocolate, vanilla, hot fudge, and raspberry sauce sundae to be the perfect conclusion to her meal.
5. Original Banana Split – $10.00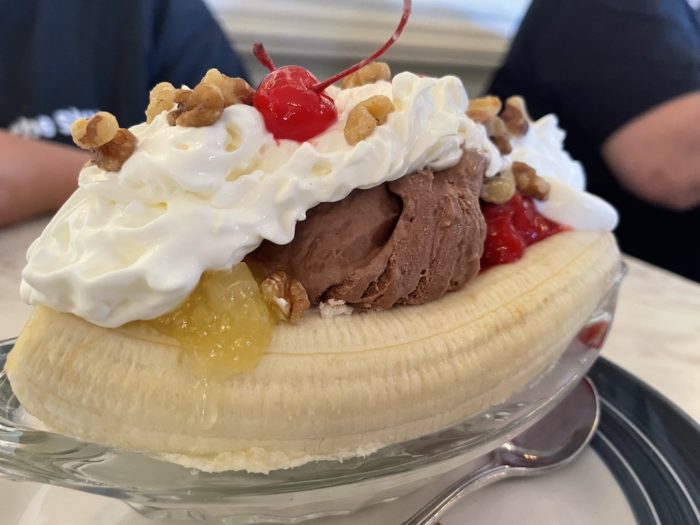 Keeping it classic, Ivonne went for the OG Banana Split which turned out to be huge and delicious as well.
Have you ever dined at The Plaza Restaurant? Is this Magic Kingdom restaurant a hidden gem? Let us know in the comments!