The Tony Baxter Imagineer Touring Plan Challenge
Touring Plans are step-by-step customizable guides for touring each of the parks at Walt Disney World, saving guests up to four hours in line. We even have Ultimate Touring Plans designed to help guests see every attraction, show, parade, and live performance in a Disney theme park in a single day.
Today, I'm introducing a Touring Plan that's not focused on a single park, but rather a single individual: an Imagineer! Since I've already shared the Joe Rohde Imagineer Touring Plan, today I'm introducing the Tony Baxter Imagineer Touring Plan focusing on attractions and locations that best represent Tony Baxter's contributions to the parks.
Who is Tony Baxter?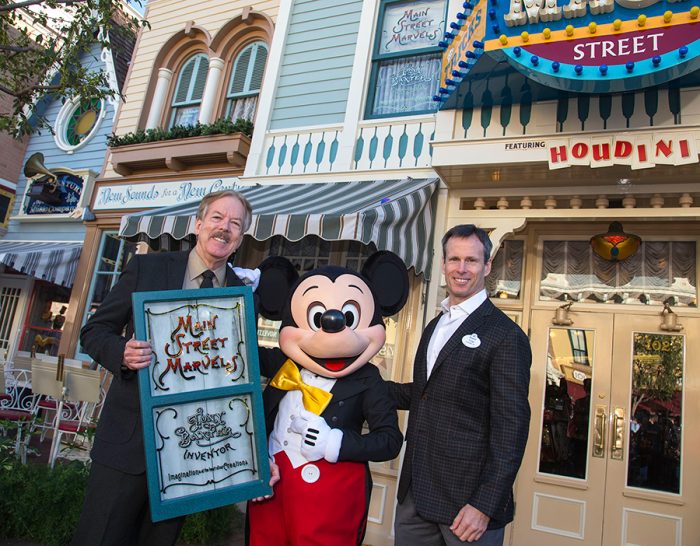 Tony Baxter was the former senior vice president of creative development at Imagineering. He grew up in Orange County, California, and even scooped ice cream at Disneyland's Carnation Plaza Gardens when he was a teenager. Fast forward to 1970, Baxter was hired as an Imagineer and worked on EPCOT, Disneyland's new Fantasyland, Disneyland Paris, and a wave of modern classics like Big Thunder Mountain Railroad and Splash Mountain!
The Tony Baxter Touring Plan Challenge
While I usually use a preexisting Touring Plan as a base model for the Imagineer Touring Plans, this didn't quite work for Baxter's slate of attractions. However, the order of attractions seen in this plan are still based on strategy to save you time in line. Also, participants will need a Park Hopper Ticket in order to fully experience this Touring Plan.
Note: While this plan can't include every project Tony Baxter has worked on, the attractions and activities I've included hopefully best reflect his work and overall impact on Walt Disney World.
Suggested FastPass+ Reservations and Start Times: 
Big Thunder Mountain Railroad

Arrive at Magic Kingdom park opening and ride first thing
If unable to arrive at park opening, book a FastPass+ for 9-10 a.m.

Splash Mountain:

If unable to ride within the first hour of park operation, book a FastPass+ for 10-11 a.m.

Star Tours:

If no FastPass+ was booked for Big Thunder Mountain Railroad or Splash Mountain, book Star Tours at Disney's Hollywood Studios for 12:00-1:00 p.m.
1)  Big Thunder Mountain Railroad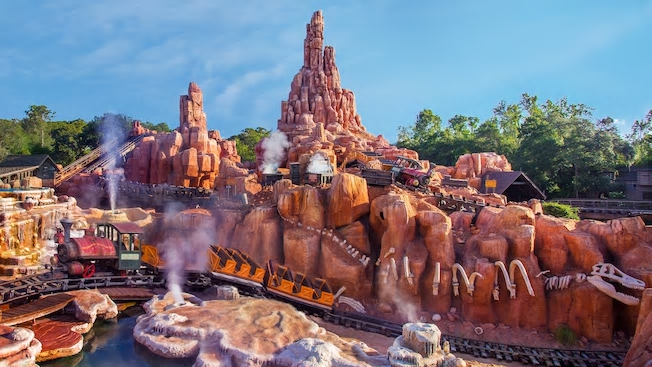 This runaway mine train coaster is the wildest ride in the wilderness! At the Magic Kingdom, Big Thunder Mountain Railroad sits next door to Splash Mountain and offers a mountain-load of family-friendly thrills and fantastic detail.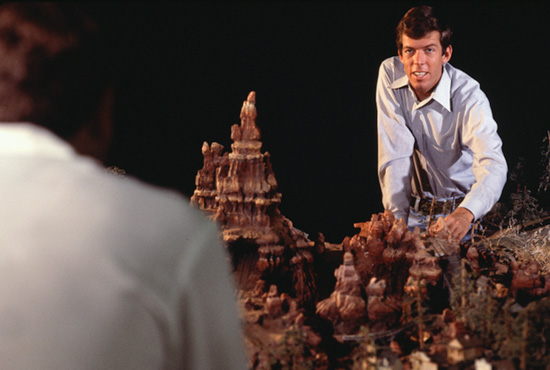 The original Big Thunder Mountain Railroad opened at Disneyland in 1979 and was arguably Baxter's first major Imagineering breakthrough. The coaster was a major success with guests and managed to bring thrill rides to the parks coupled with Disney's signature storytelling and design.  The Magic Kingdom's version then opened the following year on September 23, 1980.
"The charm of the ride was the rock work," he explains. "If you look at the rock work in other parks, you often get a feeling that the train was there first, and then the rocks grew around the train. Big Thunder Mountain was absolutely convincing because it appears that the track was laid to fit an already existing landscape."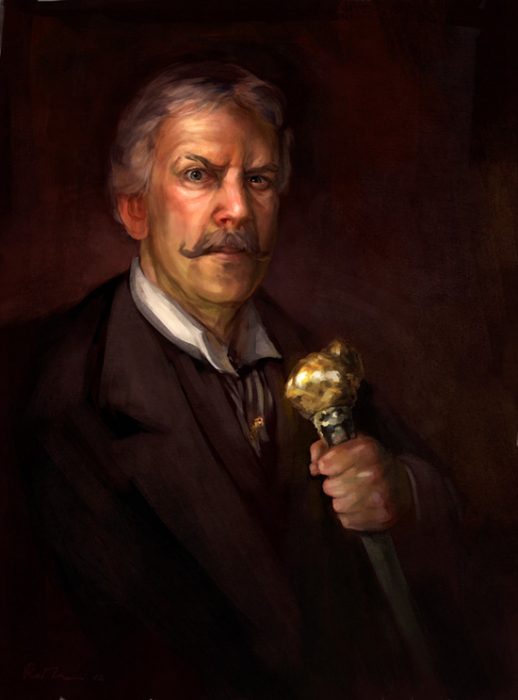 The Magic Kingdom's Big Thunder Mountain received an interactive queue in 2013 and tells the backstory of Barnabas T. Bullion, the founder and president of the Big Thunder Mining Company. If you think Bullion looks a lot like Tony Baxter, you wouldn't be wrong…
2) Splash Mountain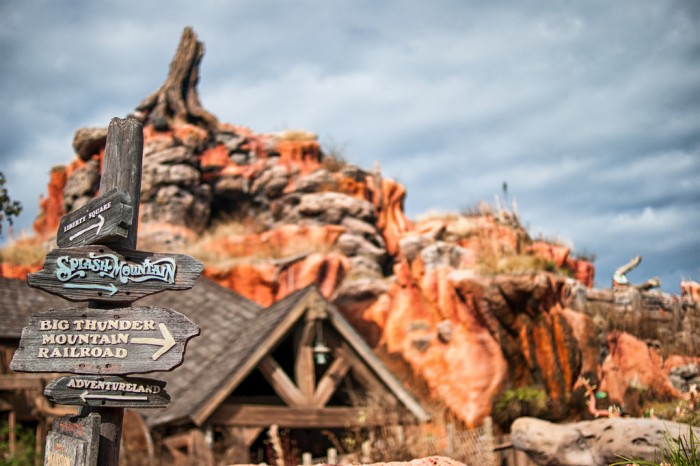 Splash Mountain is a massive log flume attraction with dark ride elements inspired by scenes from Song of the South. Guests follow Brer Rabbit as he searches for his "laughing place" climaxing with its signature five-story plunge into the briar patch!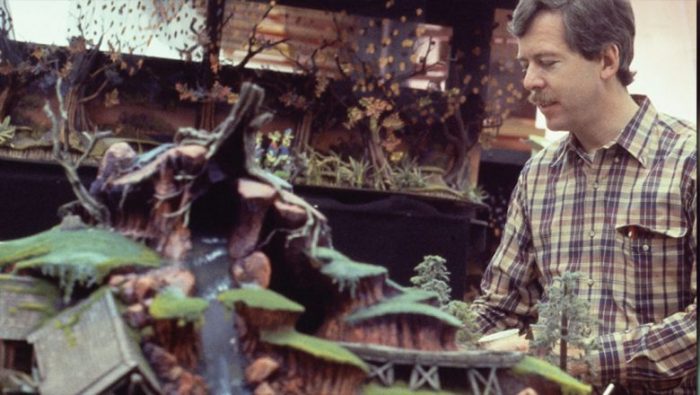 Tony Baxter dreamed up the idea for Splash Mountain while stuck in traffic on the way to work. This attraction would be the first flume ride at a Disney Park. Splash Mountain, initially called Zip-A-Dee River Run, opened in Disneyland's Critter Country on July 17, 1989. Disney World's version later opened at the Magic Kingdom's Frontierland in 1992.
PARK HOP OVER TO DISNEY'S HOLLYWOOD STUDIOS
3) Star Tours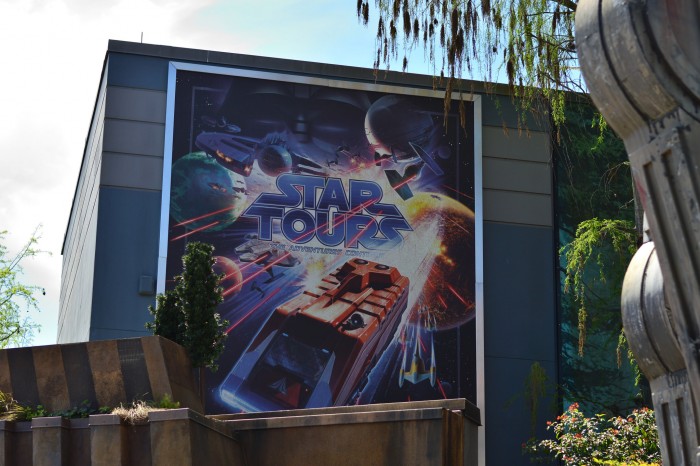 Star Tours: The Adventures Continue is a 3-D flight simulator attraction featuring characters and destinations from the Star Wars saga at Disney's Hollywood Studios. The original Star Tours opened at Disneyland in 1987 and was replicated at Walt Disney World's Hollywood Studios in 1989.
Star Tours: The Adventures Continue opened in 2011 offering randomized scenes from the full Skywalker Saga.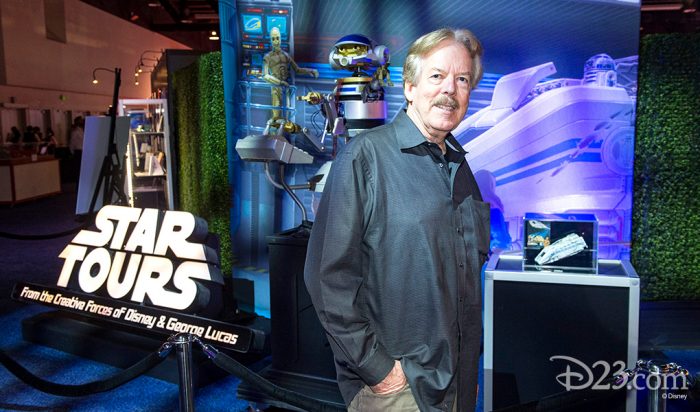 When Baxter realized Disneyland was out of touch with the characters and stories of the day, he approached then-CEO Ron Miller about bringing Star Wars to the parks. While he pitched an idea for a coaster beginning with Yoda on Dagobah, he eventually felt a motion simulator best offered guests the experience of being in the world of Star Wars.
When recalling his first meeting with George Lucas, Baxter said, "I'm standing behind Lucas, who was the closest I was going to get to someone like Walt, and I'm thinking, 'How did I wind up here? If the plane crashes on the way home, this is as good as it gets.'"
PARK HOP OVER TO EPCOT
4) Eat Lunch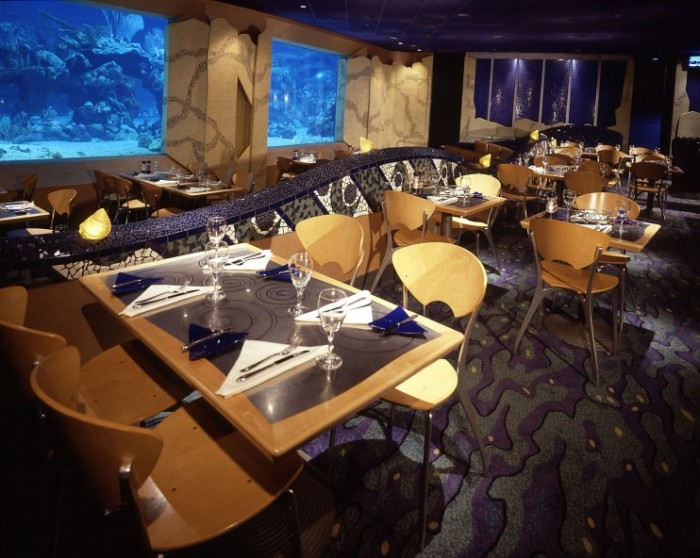 I selected two EPCOT dining locations represent what Baxter wanted for the original EPCOT Center.
Coral Reef Restaurant

Table-Service Restaurant. Baxter's original plan for The Living Seas Pavilion included a restaurant with views of the aquarium. The Coral Reef Restaurant at The Seas with Nemo and Friends may not have been exactly what he had in mind, but it still captures his intent.

Sunshine Seasons

Quick-Service Restaurant. Even though Baxter's plans for The Land never came to fruition, those hot air balloons hanging overhead serve as a homage to what might've been.
5) Journey Into Imagination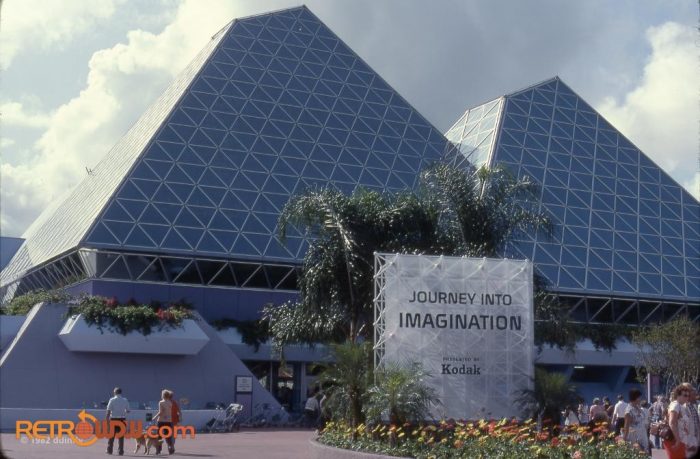 EPCOT's Journey Into Imagination attraction takes guests on tour through the zany Imagination Institute with purple dragon Figment making appearances along the way. Die-hard EPCOT fans know this attraction has changed quite a bit through the years; and its current version isn't necessarily its best.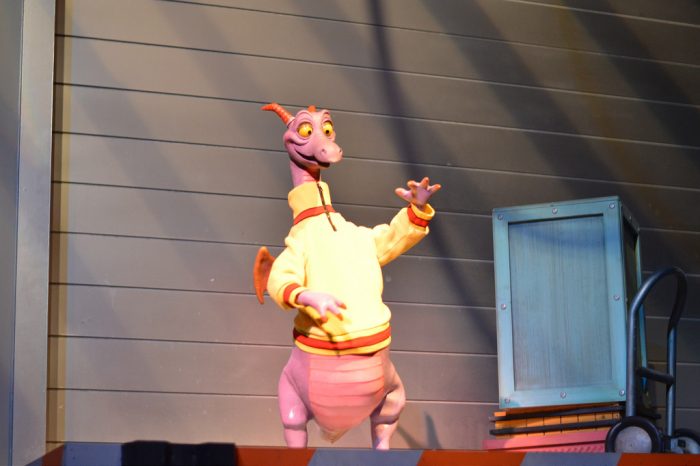 The original Journey Into Imagination dark ride debuted at the Imagination Pavilion in 1983 starring Figment and the Dreamfinder. Tony Baxter created both of these characters. He claimed his idea for Figment was inspired by a conversation in an episode of Magnum, P.I.!
Due to sponsorship issues with Kodak, a new version of the ride titled Journey Into Your Imagination opened in 1999. However, it had no Dreamfinder and minimal presence from Figment. This version closed in 2001 and then reopened with our current iteration: Journey Into Imagination with Figment.
5) The Land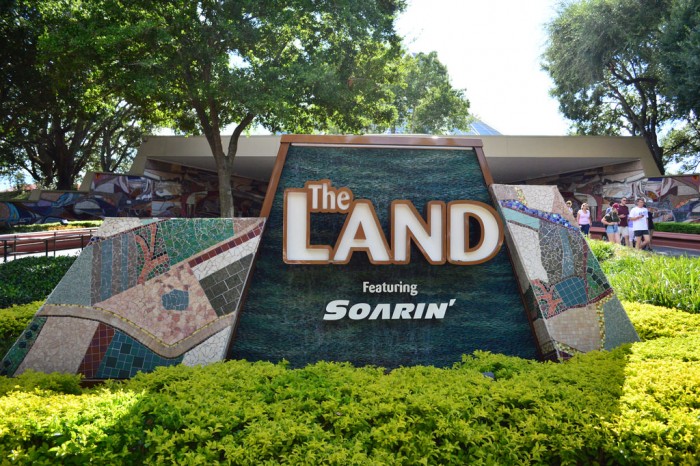 EPCOT's The Land Pavilion opened with the park in 1982 and both celebrates and educates guests about agriculture and the environment. This pavilion is home to attractions such as Soarin' Around the World, Living with the Land, and Awesome Planet, as well as dining locations including Sunshine Seasons and The Garden Grill.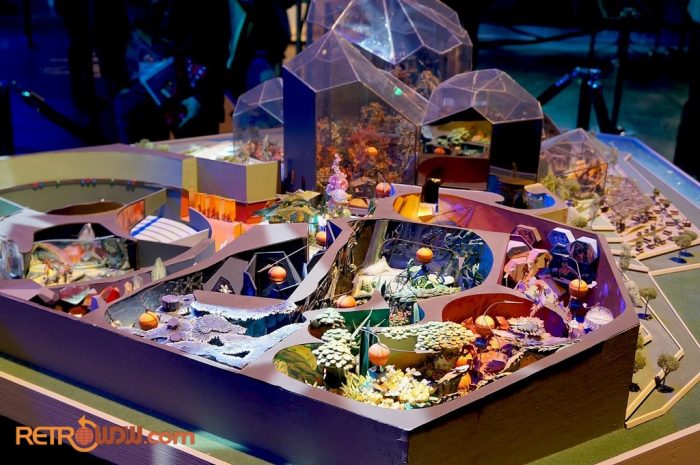 Baxter's design for The Land pavilion consisted of a show-building resembling massive crystals, very similar to the glass pyramids next door at the Imagination Pavilion. Each crystal contained a different ecosystem while a suspended balloon attraction would whisk guests through the different crystals.
Due to a change of sponsor and direction, this version of The Land was never realized and Baxter moved on to work on the Imagination Pavilion. However, his model has been on display at D23 Expos in the past. Also, there are still hot air balloons suspended from the pavilion's ceiling today as a possible homage?
6) The Seas with Nemo and Friends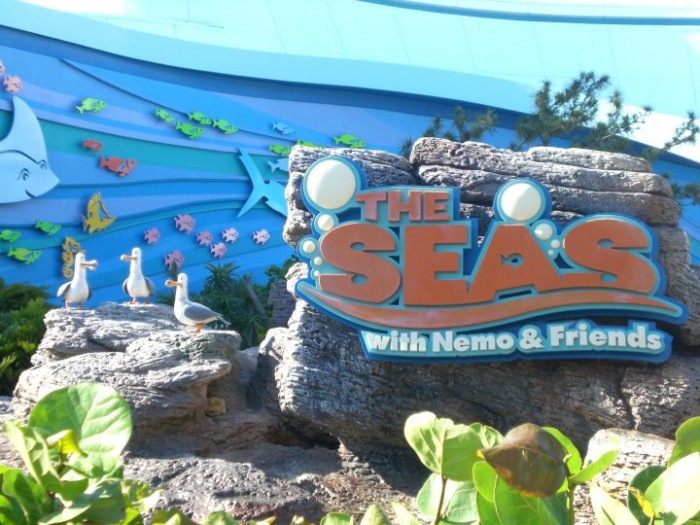 The Seas with Nemo and Friends is home to a Finding Nemo dark ride, the interactive Turtle Talk with Crush show, the Coral Reef Restaurant, and a massive aquarium.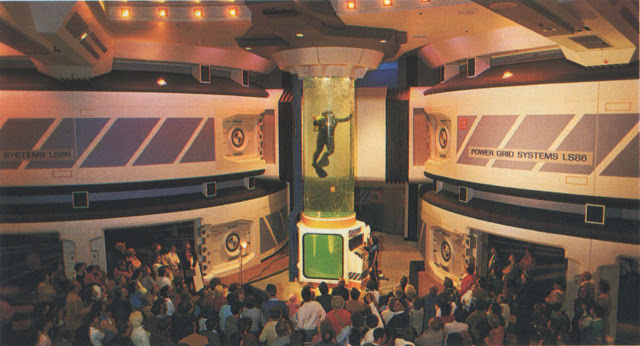 When the pavilion first opened in 1986, it was called The Living Seas and housed The Living Seas attraction and the Coral Reef Restaurant. When developing the pavilion, Baxter planned for a much larger ride where Poseidon tamed a storm and guests explored the undersea world in glass bubbles.
Will you give the Tony Baxter Imagineer Touring Plan Challenge a try when the parks reopen? Let us know!