The Ultimate Guide to the Holidays at Magic Kingdom
Is there anything more merry than Magic Kingdom during the holidays? The Magic Kingdom's Christmas tree and decorations feel warm and cozy. For many Disney fans it isn't really the holiday season until they've strolled down Main Street USA with the holiday wreaths overhead and classic instrumental Christmas music wafting over the air. Each year Magic Kingdom is the first park to go fully festive for the holidays. We've got everything you need to know about celebrating the holidays at Magic Kingdom, without having to go to Mickey's Very Merry Christmas Party.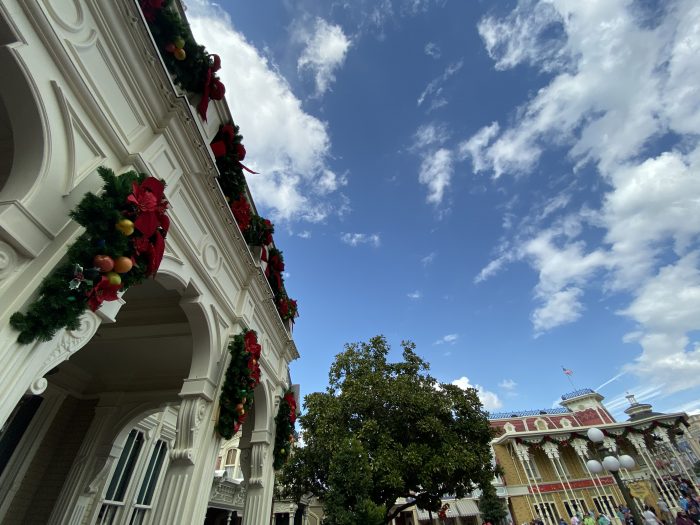 Holiday Decorations at the Transportation and Ticket Center
If you arrive to the Magic Kingdom via the Transportation and Ticket Center you'll already begin your festive frolic thanks to holiday decorations and music right there waiting for you. I recommend taking the Ferry boat from the TTC to the Magic Kingdom and the monorail on the way back. The Ferry boat gives you a more relaxing arrival and you should be able to catch a glimpse of Magic Kingdom's Christmas tree as you cross Seven Seas Lagoon. On the monorail, you'll be able to briefly view The Contemporary's gingerbread display, if taking the monorail to Magic Kingdom or The Grand Floridian's decorations, if taking the monorail back to the TTC, as you pass by. 
Holiday Decorations on Main Street USA
Even before you pass through the train station you will be welcomed to the Magic Kingdom with decorations at the front entrance, including smaller Christmas trees in the flower bed of the train station. This is a great photo opportunity without having droves of people in the background of your photos.
As you pass through the train station the bustle of Main Street is made all the merrier thanks to the toy soldiers who stand proudly at the Town Square. Your jaw may drop as you gaze upon the 65-foot tall Christmas tree that is the centerpiece of the decorations. Be sure to walk up to the tree and notice the train set beneath it that resembles the Walt Disney World Railroad, and the old fashioned ornaments and popcorn garland.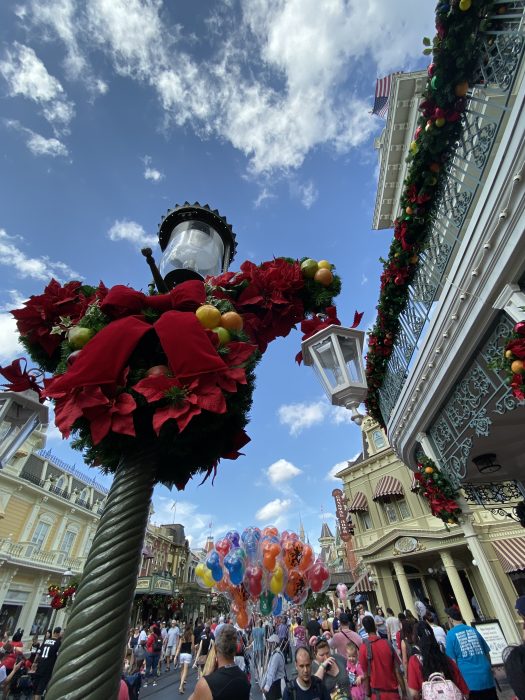 Along Main Street there is fruit-adorned garland on every lamp post and holiday wreaths dangling overhead. Before you get too far down the street, stop and look at the windows of the Main Street Emporium. Like many storefront windows during the holidays, they tell a story, in this case the classic 1980s "Mickey's Christmas Carol". Other storefront windows along Main Street have adorable holiday displays too.
The Main Street Trolley show gets festive decor and costumes. This fun little performance welcomes guests to the Magic Kingdom during three stops along Main Street starting down by the Cinderella Castle Hub then the middle of Main Street and finally the Town Square. Performances are generally 9:10 AM, 10:05 AM, and 10:55 AM.  
The end of Main Street opens up to the Cinderella Castle Hub. Take a moment and enjoy that view. Notice the wreaths around the lamp posts, as evening descends they light up adding holiday warmth to the Castle Courtyard. The castle stage is also decorated for the holidays which during the day adds a sprinkle of holiday fun to "Mickey's Royal Friendship Faire" show.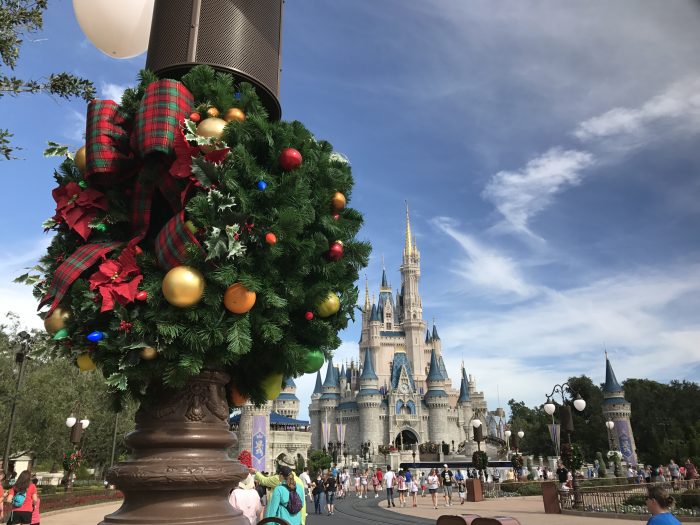 Cinderella Castle Winter Lights
As the sun sets over the Magic Kingdom, get ready for the most breathtaking display of Christmas lights at Walt Disney World. The winter lights on Cinderella Castle are the epitome of a dreamy winter wonderland. The blue and purple hues are the perfect compliment to these bright and brilliant white lights that drench the castle from top to bottom. 
The "Frozen Holiday Wish" minishow is the perfect way to kick off your evening in the park or a great way to end a magical day in the Magic Kingdom. Queen Elsa transforms Cinderella Castle into a frosty, glistening ice castle right before your eyes, every night. Showtimes vary, but is usually 6:15 PM each night. Also check out the holiday garland that dresses the backside of the castle. It is a beautiful touch that completes the look and many guests overlook this detail.
Jingle Cruise 
Speaking of the backside of things, the place where the backside of water is a wonder, the Jungle Cruise, becomes the merriest cruise this side of the Amazon. The Jingle Cruise is tacky. It's cheap. It's fantastic! The queue itself is marvelous, with my favorite genre of Christmas music (big band era) and great vintage looking decorations practically everywhere. As you sail the Yuletide you can enjoy festive finds throughout the cruise, and corny holiday jokes from your skipper.
Tomorrowland Speedway Holiday Decor
Mickey's Very Merry Christmas Party offers new holiday overlays on three attractions. The only one of these three that is visible during the day is Tomorrowland Speedway. The best experience of this overlay would be during the party itself, with the special lighting effects and audio, but you can still catch some of the decor during the day. Or enjoy a different view from the Tomorrowland Transit Authority Peoplemover.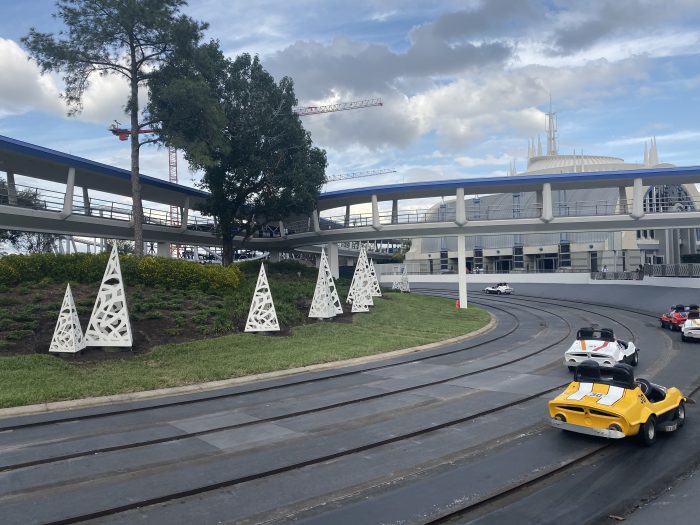 Liberty Square Decorations
Liberty Square is home to a year-round Christmas shop and is also home to simple and home-felt decorations on each lamppost. This isn't over the top, but it is a cozy touch. Dining at Liberty Tree Tavern this time of year is also a festive choice with its family style American homestyle classics like roast turkey, pot roast, and ooey gooey toffee cake. And the tavern is decorated too.
Candy Cane Garden
Before we talk about some the yummy holiday treats you can find at Magic Kingdom, it only seems fitting that I mention Candy Cane Garden. Some guests overlook this spot as it is immediately on your left after passing through the Main Street Train Station. This adorable space next to City Hall is dripping in red and white candy cane stripes. You can almost taste the peppermint. Once upon a time, Santa Claus himself would meet guests during the day, however, he hasn't done so in recent years. This is still a fun photo opportunity full of holiday cheer.
Holiday Food and Drink at Magic Kingdom 
It wouldn't be the holiday season without holiday treats that make your taste buds dance with glee.  It's hard to find a more delightful candy shop at Disney than the Main Street Confectionery. Festive cupcakes and caramel apples beckon from the display case. When I visited the Main Street Confectionery offered vanilla, chocolate, and red velvet cupcakes, each with festive frosting and sprinkles.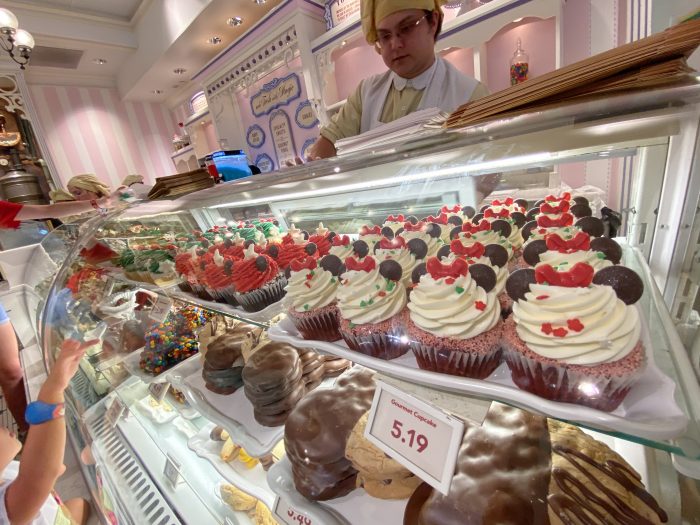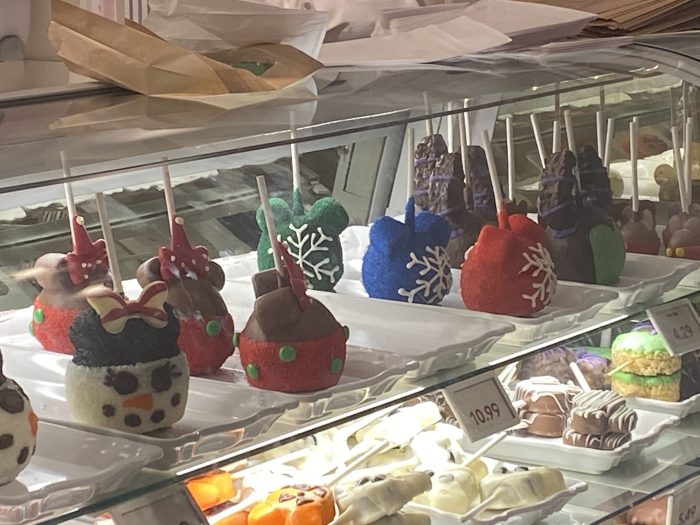 The Main Street Starbucks and Bakery offers your favorite holiday Starbucks beverages and a few baked goods. And the Big Top Souvenirs in Fantasyland also offers holiday-themed treats including caramel and chocolate apples and a vanilla cupcake with snow dusted frosting and topped with a Santa Mickey hat. Yummy holiday packaged snacks and treats line many of the stores' shelves which make nice gifts or a gift for yourself.
This year Disney has rolled out a long list of holiday treats at Magic Kingdom. Some are only available during Mickey's Very Merry Christmas Party, but a surprising amount are actually available daily. They each look scrumptious and worth of every single extra calories and grams of sugar they carry with them. Here's the holiday food and beverage at Magic Kingdom available to all guests.
Olaf's Frozen Hot Chocolate Cake (Main Street Bakery) – Gluten-friendly chocolate cake layered with chocolate crispy pearls, chocolate panna cotta, and marshmallow fluff. This isn't normally how frozen hot chocolate works, but it still sounds worth melting for.
Holiday Mickey Cinnamon Roll (Main Street Bakery) – A Mickey-shaped cinnamon roll garnished with red and green icing and a white chocolate Mickey Santa hat.
Snowflake Brownie (Available Daily at Casey's Corner) – Chocolate brownie decorated with sugar snowflakes and icing. Basically a brownie with pretty decorations.
Christmas Cookie Milkshake (Auntie Gravity's Galactic Goodies) – Cookie butter milkshake topped with whipped cream and a Mickey marshmallow straw. I am personally limiting dairy in my diet, but I might have to make an exception for this one.
Christmas Cookie Sundae (Auntie Gravity's Galactic Goodies) – Cookie butter soft-serve topped with whipped cream, chocolate sauce, sprinkles, and a white chocolate piece. It seems like the white chocolate piece might be themed to the Very Merry party even though this is served daily.
Gingerbread Sundae (Storybook Treats) – Gingerbread soft-serve sundae topped with whipped cream, gingerbread pieces, and a Minnie Mouse waffle topper.
Cherry & Pistachio Float (Aloha Isle) – Cherry and pistachio swirl soft-serve served over cold hot chocolate. A perfectly red and green swirl that sounds very yummy, and it might just tempt me away from a Dole whip, which is a first.
Christmas Churros (Pecos Bill Tall Tale Inn & Café and Outdoor Vending Churro Carts) – Mini churros topped with red and green sprinkles and served with chocolate dipping sauce.
Santa Mickey Waffle Sundae (Sleepy Hollow) – Red velvet waffle topped with mint-chip ice cream, seasonal sprinkles, chocolate sauce, and peppermint powder.
Deck the Halls (Cosmic Ray's Starlight Café) – Frozen eggnog topped with whipped cream, confetti sprinkles, and a chocolate bulb.
Be Our Guest Holiday Dining
Anyone who has watched the holiday movie "Belle's Enchanted Christmas" is going to appreciate the holiday overlay at Be Our Guest restaurant. Christmas decor that features the movie's characters in a stained glass motif adorn the dining room. A magical snowfall takes place outside the grand windows of the ballroom. It can be tough getting a reservation at Be Our Guest so give the TouringPlans Reservation Finder a try.
Holiday Merchandise at Magic Kingdom 
You'll find the same holiday merchandise all over Walt Disney World, and the Main Street Emporium has it all. The other main street shops have a selection of holiday merchandise as well, including scented plush at Main Street Confectionery. Check out what other holiday merchandise you can find here.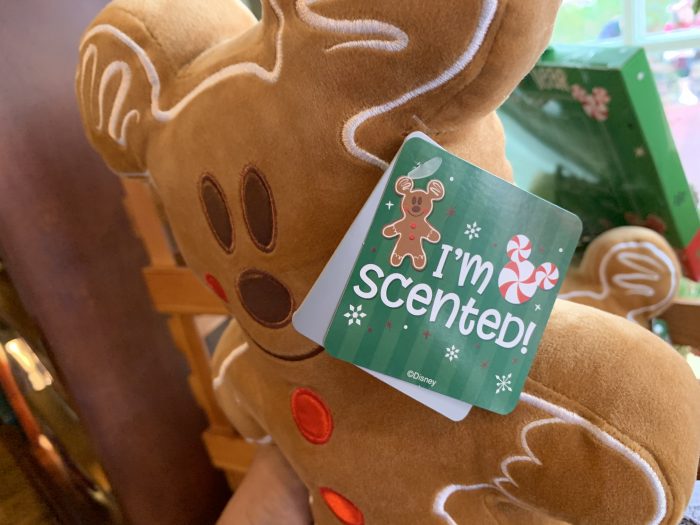 There is also a fun Main Street themed collection of apparel including a red ladies t-shirt with white print that says "Main Street Candy Canes". A ladies baseball shirt and men's baseball shirt each have a "Main Street Christmas Tree Lot" motif. Of course during Mickey's Very Merry Christmas Party you can snatch up exclusive party merchandise, including of course, an exclusive spirit jersey and ornament. This year's motif features a dapper looking Mickey Mouse trimming a Christmas tree.
Tips and Information
For many guests, Magic Kingdom is the most festive park of the four Walt Disney World theme parks. Take your time and keep your eyes open for holly jolly details all around the park.

Many guests line up for the PhotoPass spots along Main Street, especially right in front of the Christmas tree. A great alternative spot is on the hub grass in the hub near Cinderella Castle. Look for PhotoPass photographers here and get a short with the castle in the background and holiday decorations without the crowds of Main Street.

Getting ornaments personalized at the Magic Kingdom Christmas shop is a very popular holiday tradition. The closer to Christmas you get, the longer the turnaround time on your personalized ornament, so get your order in early.