Top 5 Best Disneyland Quick Service Meals For Under $15
Food prices at Disneyland Resort can be overwhelming but some bargains do exist! We consider Plaza Inn's famous fried chicken meal to be one of the best entrees in the park, but not everyone wants to spend $19.49 on a single meal. A standard hamburger can be obtained for around $12, but what if you want something interesting with more of a bang for your buck? In this post we'll go over top 5 best Disneyland Resort quick service meals for under $13.
Updated October 5, 2022.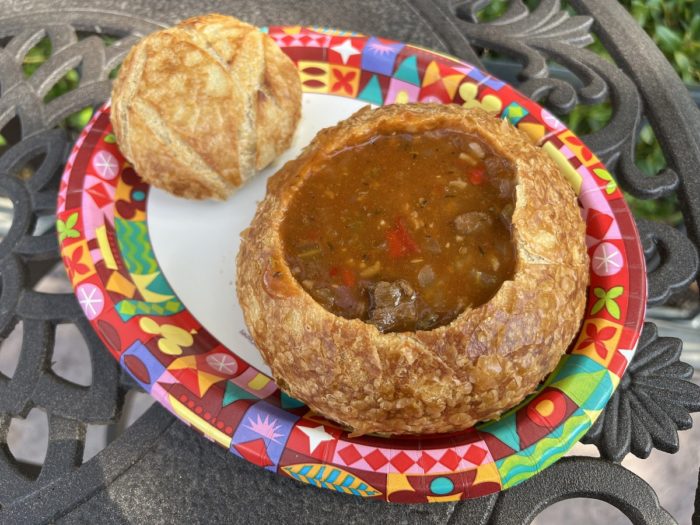 Bread Bowls (Royal Street Veranda and Harbour Galley – Disneyland, Pacific Wharf Cafe – DCA) – $11.99
Doesn't that look delightful? Don't you just want to lay your head on it and take a nap? Pictured above is the bread bowl with Steak Gumbo, which is hearty and delicious. You'll find chunks of steak, rice, onions, peppers, and other goodness in this satisfying and substantial gumbo. Other verities include vegetable gumbo, clam chowder, and various seasonal flavors (such as lobster bisque) throughout the year. If you get your bread at Pacific Wharf Cafe in Disney California Adventure chances are the bread will be even more fresh. They make it on site in the restaurant!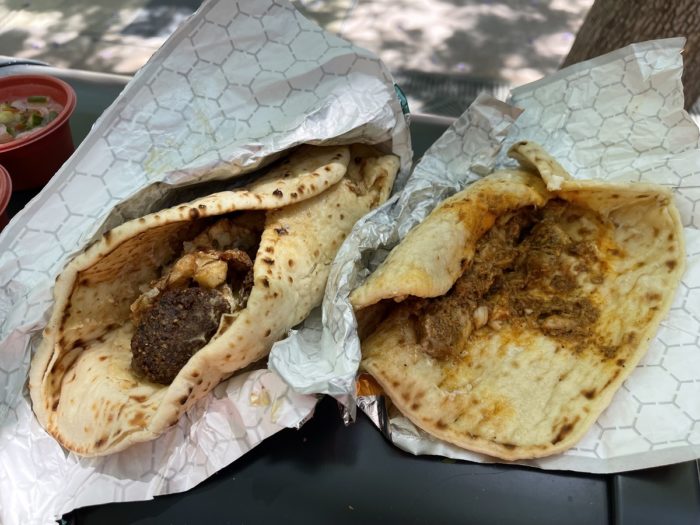 Shawarmas (Shawarma Palace –  DCA) – $13.99
Trust me, the Shawarmas in the picture taste a lot better than they look. New York's Tastiest is a chicken shawarma wrap with Garlic Spread and coconut yogurt-tahini sauce with pickled vegetables. It's flavorful and has a tiny bit of heat, but nothing too extreme, and the coconut yogurt sauce provides a refreshing twist. Also available is the Impossible Victory Falafel which we also really enjoy. You can find these items at Shawarma Palace in Avengers Campus in DCA.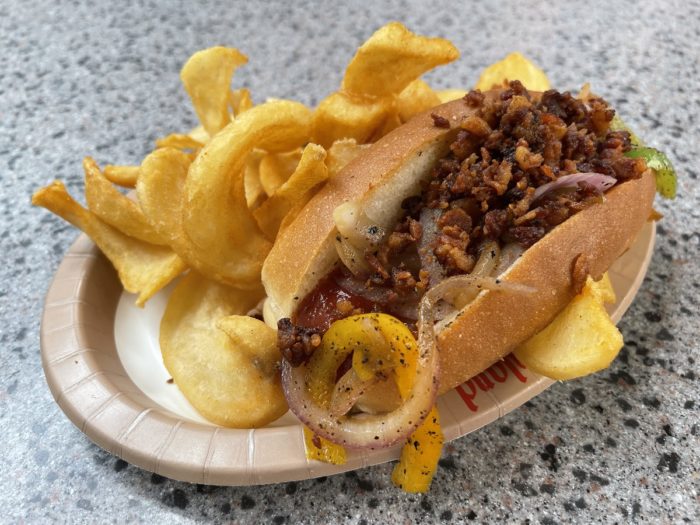 Award Wieners Hot Dogs (Award Wieners – DCA) – $9.79-$10.99
Pictured above is the Bacon Street Dog ($10.59). It includes a beef hot dog dipped in a roasted red pepper ketchup, topped with grilled onions, bell peppers, and crispy bacon, and served on a toasted bun. It also comes with "Filmstrip Fries" which are fantastic. The red pepper ketchup gave it a nice kick and the crunch from the bacon is satisfying. The grilled onions and bell peppers also add a lot of flavor to what would be a boring hot dog on its own.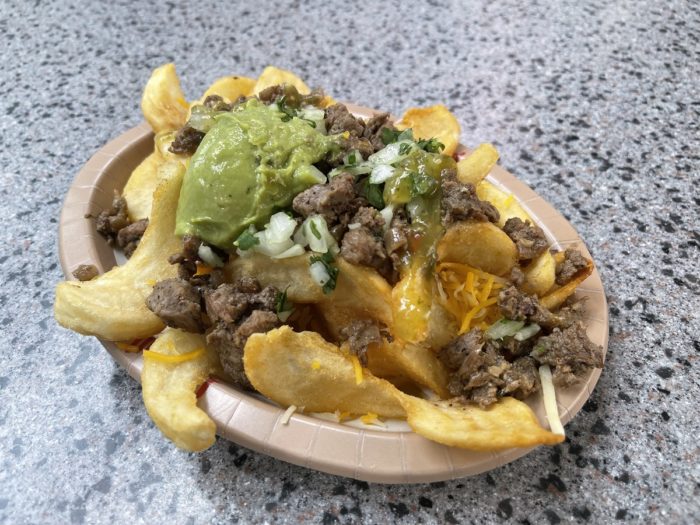 We're also big fans of Award Wieners Asada Fries ($11.99) topped with carne asada, cheddar cheese, cilantro, onions, and guacamole. This isn't fine dining or healthy in any way, but it's very satisfying.
Jolly Holiday Combo (Jolly Holiday Bakery – Disneyland) – $13.49
They may not look like much but this sandwich and soup combo from Jolly Holiday Bakery is fantastic comfort food. The Jolly Holiday Combo is a grilled cheese sandwich served with a cup of tomato soup. You also can't go wrong with Jolly Holiday's other sandwiches on the menu. Oven-roasted Turkey on Ciabatta or Roast Beef and Smoked Cheddar on Hoagie Roll are also very good options, and they're just over $10. All sandwiches, with the exception of the Jolly Holiday Combo, include tasty freshly made potato chips.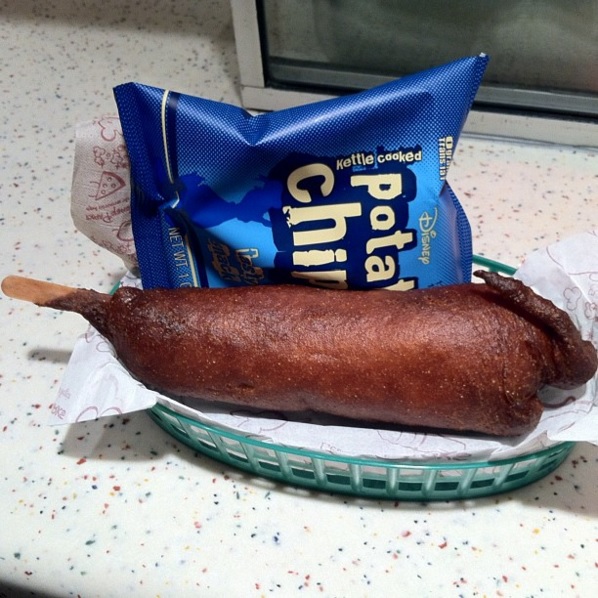 Corn Dog (Little Red Wagon Corn Dogs and Stage Door Cafe – Disneyland, Corn Dog Castle – DCA) – $10.59 
Judging by the length of the lines at Little Red Wagon and Corn Dog Castle, everyone has heard about Disneyland's legendary corn dogs. Their fame is well deserved and while the price did pass the $10 threshold this year, we still think it's a good value. A giant hot dog covered in a deep fried batter shell probably isn't the healthiest option in the world, but there's something about devouring one of these while touring a busy theme park that feels so right. The Little Red Wagon cart in Disneyland has the original corn dog with a hot dog inside, while the Corn Dog Castle over in Disney California Adventure has the hot-link version which is even better. Corn dogs are also available at Stage Door Cafe in Frontierland.
Do you have any recommendations for quick service meals or snacks at Disneyland or DCA? Let me know in the comments below.