TouringPlans Travel Beat 7-1-2023
At Travel Beat we have all the "other" news from the last week or so—the stuff that wasn't big enough to stop the presses for. What did the newsroom bring us this week? Bullets are just ahead if you're in a hurry, and more details follow below. Don't forget to check out the Headline News Recap, in case there was something you missed!
Celebrity Cruise Ships Will Visit Royal Caribbean's private island
Tiana's Water Tower Installed at Magic Kingdom
Genie+ Per Park Pricing Debuts
July 4 Magic Kingdom Fireworks & Military Flyover
Oogie Boogie Bash Ticket Sales Paused
Bounceback Offer Window Begins Next Week
Headline News Recap
If anything you read below tickles your feet, feel free to reach out to our friends at TouringPlans Travel for a free quote.
Celebrity Cruise Ships Will Visit Royal Caribbean's Private Island
If you're a regular reader of the Saturday Six, you've caught Derek's Saturday Six at Sea posts with details of his recent cruise on Royal Caribbean's Wonder of the Seas. An upcoming article will focus on Royal Caribbean's private island: CocoCay. (Hint: he's a fan.) This week we learned that guests sailing on select Celebrity Cruise Lines sailings will also be able to visit CocoCay on their cruises.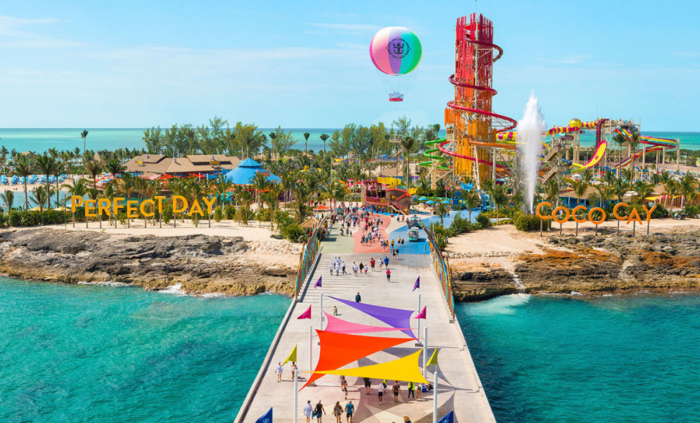 Two Celebrity Cruise ships – the Beyond and the Reflection – will be making stops at CocoCay during the summer of 2024. Royal Caribbean is in the midst of an expansion project to increase the capacity of CocoCay including an adults-only area. Celebrity's visits to the island will begin in April once that work concludes and continue through November 2024.
Tiana's Water Tower Installed at Magic Kingdom
By now you probably know that Splash Mountain is being reimagined into Tiana's Bayou Adventure on both coasts. Social media was abuzz this week as the Tiana's Foods Water Tower was installed overnight at the Magic Kingdom. One of our park reporters stopped by to grab some pics.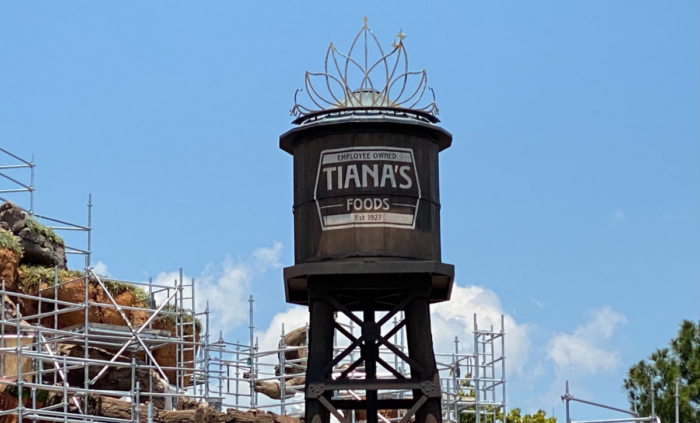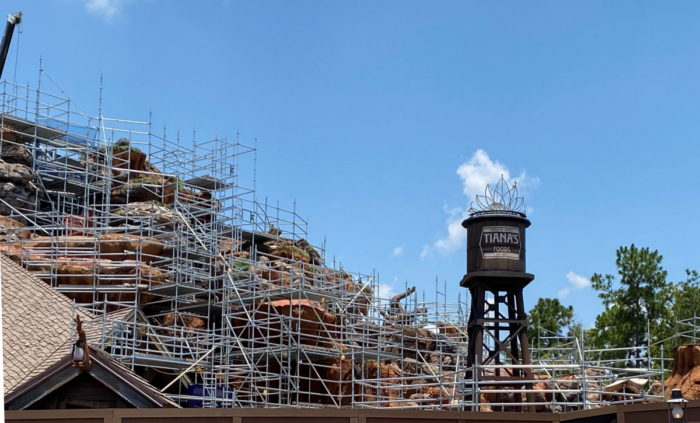 Genie+ Per Park Pricing Debuts
The big news last week was the announcement that Genie+ would move to per-park pricing on June 27th. What did we see on that first day? Here were the prices:
All parks – $27

Magic Kingdom – $27
EPCOT – $18
Hollywood Studios – $24
Animal Kingdom – $16
So it turns out that if you buy Genie+ for Hollywood Studios and later decide you want to park hop and use Genie+ at EPCOT, you have two choices. You can buy a second single-park Genie+ option or you can buy the All Parks option if it's still available. In case you didn't have your coffee yet, that's $24+$18 = $42 or $24+$27=$51. The moral of this story: if you're park hopping and think you might want to use Genie+ in both parks, don't be wishy-washy about it. Here's hoping for the rapid appearance of an option to bridge the price and upgrade to All Parks by paying the difference.
July 4 Magic Kingdom Fireworks & Military Flyover
If you'll be at the Magic Kingdom for the Independence Day Holiday, be aware that Happily Ever After will not be shown on July 3 or 4. If you're willing to brave the crowds on July 4, you probably already know this, but on Monday and Tuesday the sparklers above Cinderella's Castle will be from Disney's Celebrate America! – A Fourth of July Concert in the Sky.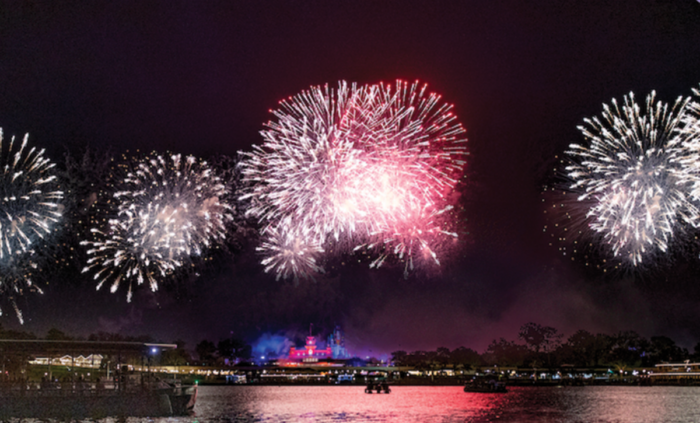 On the 4th only, you can also see something special: a military flyover of Cinderella's Castle. Although Disney World is a no-fly zone, the (weather-permitting) moment has been arranged "as a reflection of The Walt Disney Company's nearly 100-year-long history of supporting the military, dating back to Walt and Roy Disney who both served during World War I"
Oogie Boogie Bash Ticket Sales Paused
General public ticket sales to Disneyland's Oogie Boogie Bash began yesterday, but they didn't continue for long. After just half an hour the online Queue paused; after several hours it was closed completely without any further ticket sales. Short pauses in Disney's online Queues aren't uncommon with major releases like this, but this pause and closure were different: Disney will not resume Oogie Boogie Bash until at least July 7. We know that's the earliest date because Disney's Oogie Boogie Bash page currently says that guests can check back on July 6th for an update, which might include details about when tickets will be available for sale again.
Oogie Boogie's oopsie whoopsie aside, it's worth noting that the online Queues Disney is using to manage demand today are a huge improvement over "drop days" years ago. Back then, you simply kept refreshing the page for hours and hours and hoping against hope that it would finally load.
Bounceback Offer Window Begins Next Week
Starting next week, Disney World will begin offering guests staying at Disney-owned and operated hotels a major discount if they rebook for qualifying dates in 2024 within 7 days of concluding their vacation. Here are the savings:
Save up to 35% on select Deluxe and Deluxe Villa Resorts
Save up to 30% on select Moderate Resorts
Save up to 25% on select Value Resorts
There are qualifying dates in almost every month in 2024. To see available dates and take advantage of this discount, dial x8844 from your in-room phone—or do it the easy way and let a TouringPlans Travel agent sit on hold for you.
Headline News Recap
Not much headline news this week! Our lone entry is a Disneyland Resort late summer room discount: Late Summer 2023 Room Discounts at Disneyland Resort.
That's it for this week's Travel Beat. What news are you most excited about? Let us know in the comments!