Walt Disney World and Universal Orlando Will No Longer Require Temperature Screenings
If you've visited the Walt Disney World Resort or Universal Orlando Resort since the parks reopened, you'll know that one of the things you had to do prior to entering the parks, dining locations, and more is having your temperature checked. Soon, temperature checks will be a thing of the past.
According to Disney in regards to temperature checks: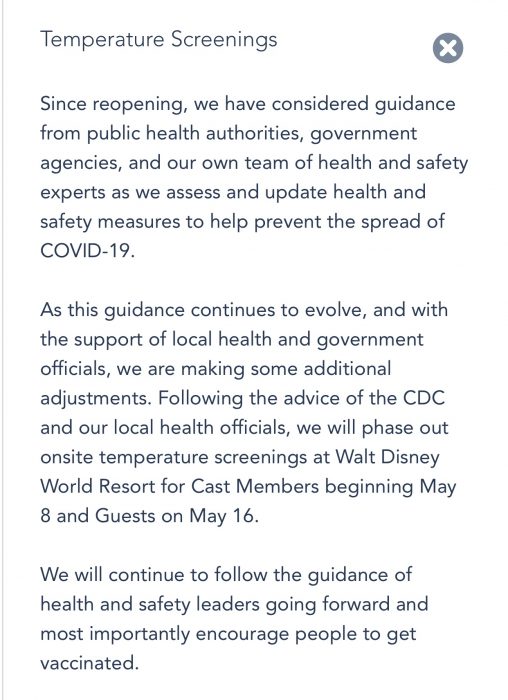 Since reopening, we have considered guidance from public health authorities, government agencies, and our own team of health and safety experts as we assess and update health and safety measures to help prevent the spread of COVID-19.
As this guidance continues to evolve, and with the support of local health and government officials, we are making some additional adjustments. Following the advice of the CDC and our local health officials, we will phase out onsite temperature screenings at Walt Disney World Resort for Cast Members beginning May 8 and Guests on May 16.
We will continue to follow the guidance of health and safety leaders going forward and most importantly encourage people to get vaccinated.
Universal Orlando Resort is also following suit, but for them, the ending of the temperature screenings begins immediately. In addition, they will be changing the social distancing stipulations from 6 feet to 3 feet.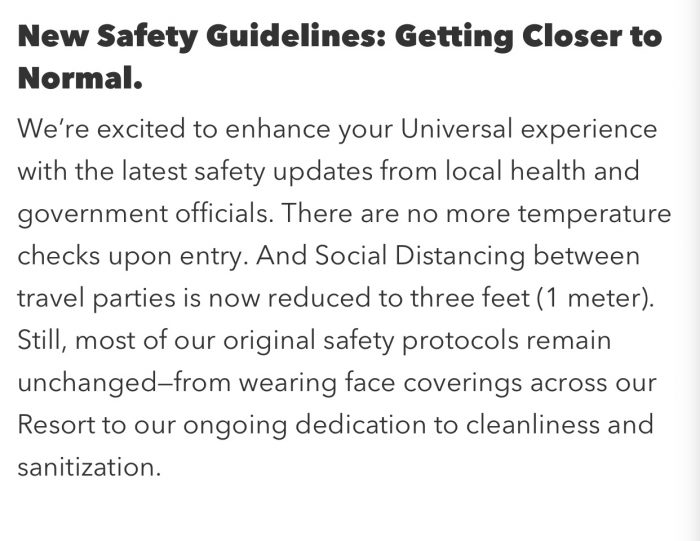 We're excited to enhance your Universal experience with the latest safety updates from local health and government officials. There are no more temperature checks upon entry. And Social Distancing between travel parties is now reduced to three feet (1 meter). Still, most of our original safety protocols remain unchanged—from wearing face coverings across our Resort to our ongoing dedication to cleanliness and sanitization.
It was recently announced by government officials that these types of changes could begin to occur throughout the state.
There is no word if the Walt Disney World Resort will also change their social distancing to 3 feet, but if something does change, we'll let you know. Also, we'll keep you posted as more updates occur in relation to safety guideline updates for both Walt Disney World and the Universal Orlando Resort.